New Age Islam News Bureau
22 Jun 2014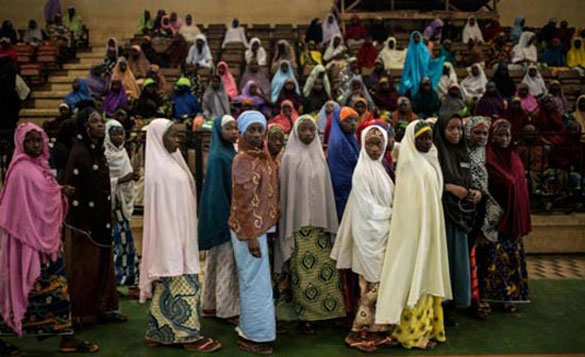 The initiative by the Hijab Sisters of Malawi has generated interest and won itself plaudits across the Muslim community in the country
-----------
• Iran Bans Female Fans From Volleyball Games: Report
• Malawi Young Muslim Women Promote Hijab
• Children in Bangladesh Teaching Mothers How to Read
• Swedish School Where Every Girl in One Class Was Subjected To FGM
• Tunisians Protest After Girl 'Burned Alive' By Father
• 'Girl with Red Foulard' Joins Kurdistan Workers' Party
• Spain: Priest Sexually Abuses a Moroccan Maid for 4 Years
• UK Police Release Muslim Woman Murder Suspect
Compiled by New Age Islam News Bureau
URL: https://www.newageislam.com/islam,-women-and-feminism/new-age-islam-news-bureau/marry-me,-quick!-isis-fighters-'seek-brides'-in-iraqi-town/d/97669
--------------
Marry Me, Quick! ISIS Fighters 'Seek Brides' In Iraqi Town
22 June 2014
Residents of Baiji, an Iraqi town under the control of fighters belonging to the Islamic State of Iraq and Syria, are trying to keep unmarried women safe from attempts to wed them to the Sunni militants, the UK's Independent reported Sunday.
Residents who spoke to the daily said their worst fear came from ISIS fighters going door to door asking about the numbers of married and unmarried women in the house.
"I told them that there were only two women in the house and both were married," Abu Lahid, one resident, told the paper.
"They said that many of their Mujahideen [fighters] were unmarried and wanted a wife. They insisted on coming into my house to look at the women's ID cards [which in Iraq show marital status]."
According to the daily, although ISIS says its men have been ordered not to bother local people if they are members of the Sunni community, in many areas the militants are imposing "puritanical social norms."
The Iraqi military is fighting militants at the country's largest refinery just outside Baiji, just north of the capital Baghdad.
The Shiite-dominated government of Prime Minister Nouri al-Maliki is facing a growing insurgency by Sunni militants who have gained control of large swathes of territory in the north of the country.
Pressure is mounting on Maliki to form an inclusive national unity government.
http://english.alarabiya.net/en/variety/2014/06/22/Marry-me-quick-ISIS-fighters-seek-brides-in-Iraqi-town.html
--------------
Iran Bans Female Fans From Volleyball Games: Report
22 June 2014
Female fans and even women journalists will not be allowed to attend a World League volleyball match between Iran and Italy in Tehran today, official media reported.
Women were reportedly turned away from the Azadi Stadium when Iran played Italy in the first leg on Friday, while female reporters inside the complex were ordered to leave.
"Female journalists are banned from entering the stadium for the next three matches in Tehran," IRNA news agency reported.
Placed in the difficult Group A, Iran has already hosted Brazil in Tehran, as well as one game against Italy.
Two more games are planned in the Azadi Stadium that can hold 12,000 spectators, against Poland on June 27 and 29.
According to the Khabaronline news website, authorities had confronted female journalists holding proper press credentials issued by Iran's National Volleyball Federation on Friday, and ordered them out.
A small group of female fans protested outside, and journalist Fatemeh Jamalpour of the reformist Shargh daily said they were detained by the authorities.
Jamalpour was also taken into custody and held for six hours, she said on her Facebook page.
Since Iran started playing in the World League, only once - in 2013 - have Iranian women been allowed to attend the game. Since then, however, female journalists had been allowed to cover the games.
IRNA did not give any explanation about the new ban on female journalists.
Vice President Shahindokht Molaverdi has protested against the ban on female fans.
She was reported by media as saying that President Hassan Rouhani, who advocates more social freedoms in the Islamic republic, was looking at ways of resolving the issue.
Female spectators are also banned from attending football matches in Iran. Officials say this is to protect them from the lewd behaviour of male fans.
This year, police have also prevented the public screening of World Cup matches from Brazil, despite Iran playing in the tournament.
Football fans are instead forced to watch the games indoors.
But the ban did not prevent thousands of women and girls from taking to the streets on Saturday night to celebrate a laudable performance by Team Melli against heavyweights Argentina, which they lost 1-0.
http://www.outlookindia.com/news/article/Iran-Bans-Female-Fans-From-Volleyball-Games-Report/845940
--------------
Malawi Young Muslim Women Promote Hijab
22 June 2014
LILONGWE – Taking pride in their hijab, a group of Malawian young Muslim women has launched a new initiative to promote decency in the south African country and fight stereotyping and discrimination against girls donning the Islamic headscarf.
"Since the advent of democracy about twenty years today, standards of dressing among women and girls of diverse religious beliefs have gone down. There is indecency in dressing which has invited unto themselves numerous challenges including sexual harassment," Summayah Lemani, a co-founder of the Hijab Sisters of Malawi, told OnIslam.net.
"We have therefore taken up this initiative to promote decency among Muslim women and at the same time reduce levels of risks women expose themselves to, if they are not properly dressed," she added.
Launching the new initiative, Lemani's target was not limited to promoting hijab and decency.
For her, another no less important goal was to correct misconception relating the Islamic headscarf to backwardness.
"Besides promoting decency amongst ourselves, we would like at the same time to demonstrate to the rest of the nation that hijab is not a symbol of backwardness as people of other faith beliefs consider it to be," she said.
"If young women like ourselves take up the lead, we will be able to overcome the stereotyping associated with it."
She added that in some societies in the country, Muslim women putting on hijab were being subjected to various forms of discrimination and ridicule.
"This has discouraged women from putting on the hijab in public places. Through our initiative, we are expected to sensitize a larger Malawian society about the hijab, so that the whole nation could accept us without reservations."
Among others, Lemani said the grouping promotes the hijab through fashion shows where girls parade while putting on hijab.
"During these fashion shows, we are discouraging women from putting on tight clothing including the hijab, which could attract men, she told OnIslam.net.
"The hijab shouldn't very tight to expose ourselves to some risks, then it's going to lose its value and dignity. Through these fashion shows, the young generation of Muslim women has come to appreciate the value of the hijab and what it means to a Muslim woman."
Praise
The initiative by the Hijab Sisters of Malawi has generated interest and won itself plaudits across the Muslim community in the country.
Sheikh Muhammad Idrissa, National Chairperson of Muslim Association of Malawi (MAM) described the initiative as a "breakthrough" towards enforcing respect for religious values within the Muslim community.
"This initiative is a huge breakthrough in making people to respect religious values. This is a move in the right direction and coming at a right time when hunger for hijab among Muslim women in the country is growing," he told OnIslam.net.
"Muslim women feel respected while they put on the hijab. This initiative therefore requires our blessings and support because it's promoting what our religion dictates," Sheikh Idrissa added.
"Previously, young Muslim women were not in favor of the hijab, because they were afraid of being molested, but nowadays, it's common to see girls donning the hijab in public places. This clearly underscores the importance Islam attaches to the hijab."
The renowned Muslim figure asserted the importance of such initiatives to face rising modernism and decreasing decency in the Malawian society.
"Sometimes back before 1994 when Malawi became a pluralistic nation, Muslim women donning the hijab were considered backwards and uneducated. But today, it (hijab) has become a symbol of decency to the extent that our women are being admired by women of other faith groups for their decent dressing," he added.
National Chairperson of Muslim Women Organization, Fatima Ndaila, has also praised the initiative, and appealed for collective support for its success.
"With the freedom of dressing prevailing in the country, women are competing against each other when it comes to dressing; it is therefore a celebrated development to see our girls taking up this effort to promote the hijab," Ndaila told OnIslam.net.
"This is a clear manifestation of how much religious values, are changing the lives of our children. As parents, we are in full support of this initiative."
Malawi is a secular, but diverse religious country.
Islam is the second largest religion after Christianity. Muslims account for 36 percent of the country's 16 million population.
Lemani said her group will not be defeated by the rising influences of modern dressing infiltrating the country.
"We will remain focused to our mission to make Muslim women become role models in dressing. That woman should start with us. We would like through us, Islam to be accorded utmost respect by Malawians of other faiths," she said.
"We are desirous to raise the status of Muslim women through this initiative and attain a decent Muslim society."
http://www.onislam.net/english/news/africa/474069-malawi-young-muslim-women-promote-hijab.html
--------------
Children in Bangladesh teaching mothers how to read
World Bulletin / News Desk
22 June 2014
A Bangladeshi non-governmental organization has launched a campaign to encourage students to educate millions of illiterate mothers in the country.
"Initially, One hundred thousand illiterate or semi-illiterate mothers from 46 districts will be brought under the campaign of DAM (Dhaka Ahsania Mission)," team leader Shadiul Islam told OnIslam.net.
"We will provide technical support as well as books at various phases of the campaign," he added.
Launching the 'Mayer Lekhapara' (Literacy for Mothers) program, DAM aims to teach illiterate mothers how to read, as the make up a large proportion of those who cannot.
Dr. M. Ehsanur Rahman, Executive Director of Dhaka Ahsania Mission (DAM), telling OnIslam.net that "Our primary target is 100,000 mothers, but we hope that we will be able to literate all mothers through this program."
Around 20,000 copies of 'Mother's Book' (Mayer Boi) have already been distributed in ten districts.
"This program is absolutely unique and good endeavor for the poor peoples and as well as Bangladesh also," said SM Raseduzaman, Chairman of Social Agency for Welfare and Advancement in Bangladesh (SAWAB) and council member of the Turkey-based Union of the NGO's of Islamic World (UNIW).
According to the latest survey of Bureau of Non-formal Education, about 37 million people are illiterate in Bangladesh, around one in five people.
http://www.worldbulletin.net/todays-news/139348/children-in-bangladesh-teaching-mothers-how-to-read
--------------
Swedish School Where Every Girl in One Class Was Subjected To FGM
22 June 2014
The shocking scale of female genital mutilation (FGM) in a Swedish school, where every single girl in one class had been subjected to the procedure, has been revealed.
School health services in Norrkoping, eastern Sweden, discovered 60 cases of FGM since March, according to the Norrkopings Tidningar newspaper.
In the class where all of the girls had FGM performed on them, 28 were subjected to infibulation - the most extreme kind where the clitoris and labia are complete cut away, and the genitals are sewn to leave a small vaginal opening.
Additional local services have since been provided to help the girls.
FGM is carried out for cultural, religious and social reasons within families and communities where it is believed to be a necessary preparation for adulthood and marriage.
Along with mental illnesses, the long-term physical consequences of FGM procedures can include chronic vaginal and pelvic infections, abnormal periods, persistent urine infections, possible kidney failure and infertility, according the NHS.
Performing FGM in Sweden has been an offence punishable by a prison sentence since 1982, but in 1999 the government extended the law to include procedures performed abroad.
"We're working to inform parents that they could face prison if they come back and their children have undergone female genital mutilation," Petra Blom Andersson, student health coordinator in Norrkoping, told the newspaper.
FGM is also a problem in the UK, where, it is estimated that over 20,000 girls under the age of 15 are at risk, and that 60,000 women have been operated on.
As is the case in Sweden, girls in the UK are most threatened during the summer months when they visit the countries from where their parents originate.
The World Health Organisation predicts that 125 million girls and women alive today have been subjected to FGM in the 29 Africa and Middle Eastern countries where it is most frequently performed.
http://timesofindia.indiatimes.com/world/europe/Swedish-school-where-every-girl-in-one-class-was-subjected-to-genital-mutilation/articleshow/36943422.cms
--------------
Tunisians protest after girl 'burned alive' by father
22 June 2014
TUNIS: Some 300 people marched in Tunis to condemn the act of a man who allegedly burned his 13-year-old daughter to death because she was walking with a boy.
"No to violence against women and children," "Nowhere is safe," and "Eya is a victim of extremism and fanaticism," were among the messages on banners at the demonstration, dubbed "Silent march for Eya".
According to preliminary results of the inquiry, the girl's father sprayed her with petrol last month and set her on fire after seeing her in the street with a boy, the public prosecutor's spokesman Allala Rhouma said.
The man was arrested and Eya, who lived in Tunis, died in hospital a few days later.
The investigation to establish the exact causes of her death is ongoing, and her father is undergoing psychiatric assessment, Rhouma said.
"It's an odious and terrifying crime. This march is a cry of distress. I am genuinely afraid for the future of our children," said one protester, Radhia Ammar.
The organisers called on the Tunisian authorities and civil society to "act so that these crimes are never tolerated, never become normal", and to protect the rights of women and children "against all physical or verbal aggression taking place under the cover of guardianship".
http://www.dawn.com/news/1113888/tunisians-protest-after-girl-burned-alive-by-father
--------------
'Girl With Red Foulard' Joins Kurdistan Workers' Party
22 June 2014
A young woman in Antalya, who faces up to 98 years in prison for participating in last year's Gezi Park protests, has joined the outlawed Kurdistan Workers' Party (PKK), her mother confirmed in a statement to daily Hürriyet on June 20.
Ayşe Deniz Karacagil spent four months in custody and became publicly known as "the girl with the red foulard" after police and prosecutors linked the color of her scarf to socialism during her interrogations.
Her mother, Nuray Erçağan, has confirmed a report by daily Yeni Özgür Politika, which claimed that Karacagil "decided to join the Kurdish independence struggle in prison by going to the mountains with the name 'Destan Yörük' as her alias."
"Going to the mountains," is a phrase used in Turkey to refer to those who join the PKK's armed fight in mountainous areas. The outlawed group's headquarters and military camps have been based in the Kandil Mountains, located along the Iranian border with Iraq, for nearly 20 years.
"She called me on my birthday. 'Dear mother, I love you so much, I'm an artist of freedom. Don't be sad,' she told me, as if saying goodbye," Erçağan said, adding that she supported any decision taken by her daughter.
"Turkey has lost my child. People want to create their own justice in this country where there is no justice," she also said, stressing that she still worried about her daughter's safety, considering the young people who were killed during the Gezi Park protests.
Karacagil, who was released pending trial on Feb. 7, faces between 24 and 98 years of prison with four of her friends for charges of "membership of a terrorist organization," "opposing the Assembly Law" and "resisting against law enforcement officers."
'Sent to cell full of PKK members'
Meanwhile, her lawyer slammed the authorities' move to transfer their client to a prison full of PKK convicts in an Alanya prison facility located in the Antalya province of Turkey's southern Mediterranean coast.
"When she was staying in the same cell with a DHKP/C [outlawed Revolutionary People's Liberation Party–Front] member in Antalya, she was sent to Alanya without having received any disciplinary penalty. Once there, she was sent to a cell consisting mainly of PKK members. We filed an objection to the prison administration, but it was rejected. During her stay in prison, Deniz learned Kurdish; she listened to them and eventually revolted. It was evident it would end up like this," said Hakan Evcin.
"If you demand 98 years in jail for a young woman just because she participated in a political rally wearing a red foulard, then you shouldn't be surprised at this result," he said.
http://www.hurriyetdailynews.com/girl-with-red-foulard-joins-pkk.aspx?pageID=238&nID=68057&NewsCatID=339
--------------
Spain: Priest Sexually Abuses A Moroccan Maid For 4 Years
22 June 2014
Rabat- Spanish TV channel "La Sexta" broadcasted a video clip of a Spanish priest involved in an alleged sexual abuse of a Moroccan woman who worked for him as maid.
Speaking to the Spanish channel, the woman declared that the priest had been exploiting her for four years, sexually abusing her and subjecting her to psychological and physical torture.
Answering the reasons behind her silence all these years, the Moroccan victim stressed that she was afraid of deportation. "Due to the economic recession in Spain, it had been hard for Spanish job seekers to land a job, so for me as an immigrant it is worse," she said.
"He dominated me, humiliated me, insulted me and kept me dirty," she noted. The alleged victim gave details of the way the priest continuously abused her, adding that whether she accepted or not he forced her to bow to his demands.
The alleged victim depended financially on the priest, which pushed her to think twice before deciding to uncover him.
To catch him red-handed, the Moroccan woman decided to install a hidden camera in front of the kitchen where he used to sexually abuse her.
While he was allegedly abusing his defenceless victim, the priest was conducting weekly mass in the Santa Monica church, in Madrid's Salamanca neighborhood.
In his confession to the police, the priest admitted to having engaged in sexual relations with the alleged victim, but added that they were conducted with her consent.
The priest is now enjoying his freedom pending the beginning of the prosecution.
http://www.moroccoworldnews.com/2014/06/132850/spain-priest-sexually-abuses-a-moroccan-maid-for-4-years/
--------------
UK police release Muslim woman murder suspect
World Bulletin / News Desk
22 June 2014
Mystery continues to surround the stabbing to death of a 31-year-old female PhD student from Saudi Arabia in Essex, a suburb just outside of London, after police released a 19-year-old man who was arrested earlier in connection with the crime.
Nahid Almanea was found with head injuries and 16 stab wounds days ago. She had been attacked as she walked through a public park in broad daylight.
A young man had been arrested after it was found that he had attempted to abuse another woman in the area earlier the same day, but he was later released. Another man, 52, was also ruled out as being the culprit after inquiries.
Tension has been high since the murder, with Muslims claiming that she was targeted due to her wearing of traditional Muslim attire. Many Muslims have also expressed their fears over growing Islamophobia in the UK.
Detectives have acknowledged that her dress may have been a reason for the attack, but they are not ruling out other motives.
http://www.worldbulletin.net/headlines/139347/uk-police-release-muslim-woman-murder-suspect
--------------
URL: https://www.newageislam.com/islam,-women-and-feminism/new-age-islam-news-bureau/marry-me,-quick!-isis-fighters-'seek-brides'-in-iraqi-town/d/97669