New Age Islam News Bureau
23 Nov 2013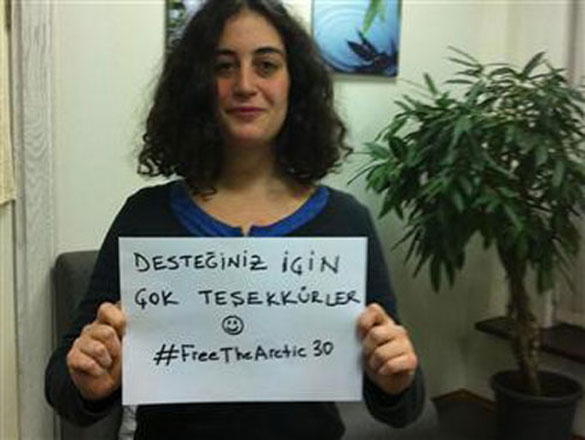 Gizem thanked the massice support from all across the world. Greenpeace photo
-------------
• Yemen Activists Prevent Wedding of 12-Year-Old Girl
• Turkish Greenpeace Activist Gizem Akhan Comes Out Of Russian Jail
• Maryam Nawaz Sharif to Head PM Youth Programme
• 'Allowing University Speakers to Segregate Genders Is Outrageous'
• Women Need Not Be Divorcees to Apply For Welfare Aid – Malaysian Minister
• Saudi Woman, Syrian guilty of Tasatur (Business Cover-Up)
• Fight for justice for Ishrat Jahan almost won, says sister
• Amnesty International USA Applauds Today's Strong Bipartisan Reintroduction of International Violence against Women Act
Compiled by New Age Islam News Bureau
URL: https://newageislam.com/islam-women-feminism/married-saudi-woman-dignity-more/d/34563
------------
Married Saudi Women: My Dignity Is More Important Than Your Love!
Nov 23, 2013
RIYADH – Married couples are in a dilemma when faced with a situation where dignity confronts love. There are those who believe that dignity must win in the end, as it is a "red line" that must not be crossed, according to a report in Al-Riyadh newspaper.
Others say there is no question of dignity when it comes to love. According to their perspective, a human being sacrifices everything for the sake of love. The first type is solid, proud of himself, confident about his personality and believes that it is not only with love that a human being exists. He does not admit his feelings toward his loved one, nor does he sacrifice everything.
The other type believes that a person must be head over heals in love, so as to shine even more. He sees that the cost of love is dignity.
Many married couples commit mistakes in dealing with their "life partner". Some men beat their wives, insult and humiliate them and hurt their feelings.
Despite the love the woman has for her husband, her patience reaches its end. She says, "My dignity does not permit me to continue. This causes her to remove herself from the situation, using the expression "anything but my dignity."
For a woman to live a life with dignity with her husband, she must explain to him the effects of his humiliations on her feelings. She must not keep quiet about anything that hurts her feelings because suppression causes explosion. Also, keeping quiet about his actions causes him to exceed the boundaries in more serious situations.
A woman who is aware learns from daily experiences and tries as much as possible to differentiate between love and dignity. Love can be compensated, but dignity cannot be restored.
Faridah Hussein said, "Trust and dignity are two basic conditions for the success of a marriage, otherwise divorce is the best solution. What demeans a woman's dignity is betrayal or a second marriage. A woman feels hurt deeply. This prevents her from being lenient or forgiving.
She said a woman cannot forgive her husband for betraying her. Even if her love for her husband was at its extreme, he was not concerned about what links them together.
Nawal Al-Aref said when a girl gets married, it is the husband who safeguards her dignity and protects her. Life is not free of slight errors due to pressures, tensions and shouldering the responsibility, but love cannot preserve and protect the marital relations when matters reach the extent of hurting the feelings of one's partner.
At this point, she said, the woman must stand up and say, "My dignity does not allow me to continue in a life that lacks respect."
Al-Aref pointed out that dignity must be understood correctly. It is not when the husband does not provide her with her needs or does not protect her rights. Dignity here means she should not be humiliated by words that hurt her feelings, or be insulted in front of others or do anything that he knows beforehand will hurt her, like beating, humiliating or betraying her.
Maha Al-Ali said she pities women who allow their husbands or others to demean them, while they tolerate all this for the sake of their children and to safeguard their marital life.
Al-Ali criticized the way some mothers and grandmothers raise children, teaching them there is no dignity between a woman and her husband. Some women end up being patient with their husbands who inflict harm on them by beating and embarrassing them. If a woman accepts this from her husband, her life will continue in this way, with concessions and sacrifices. Sometimes the marriage is not worth all these sacrifices. It goes on to the extent that the woman's children never care about her, because in their view she is weak and cannot defend herself.
Sabah Al-Zahhar, a psychologist, said society considers verbal humiliation as quite an ordinary matter, as well as beating the wife. The matter is not deemed as hurting the woman's dignity. Therefore, ending this crisis between married couples begins with equality in social standing and cultural status. This will bring both of them to the same level of dialogue.
Al-Zahhar said a woman suffering from humiliation by her husband should draw his attention to this in a well-mannered way. She should explain to him how this hurts her feelings and dignity because suppression causes explosion.
http://www.saudigazette.com.sa/index.cfm?method=home.regcon&contentid=20131123187502
------------
Yemen Activists Prevent Wedding of 12-Year-Old Girl
November 23, 2013
Sana'a: Yemen activists have managed to foil the wedding of a 12-year-old girl in the western province of Hudieda. This case comes nearly three weeks after the halt of a similar wedding of a 12-year-old girl in the province of Taiz.
Ahmad Al Gurishi, the head of Seyaj Organisation For Childhood Protection, a Yemeni child advocacy organisation, told Gulf News that the girl, Aisha Ebrahim, initially eloped with a young man from her village in the district of Luhia and asked for protection from a tribal leader. According to the traditional tribal norms, if two lovers fled their homes and took a refuge in the house of a tribal leader, he should protect them and give a shelter for their marriage regardless to their age.
"A week ago, two local dignitaries called the organisation and urged us to intervene and stop the marriage," After verifying the girl's age, Al Gurishi said that his organisation contacted the tribal leader who would sponsor the marriage, chief judge of the district and the media. "We intended to put this case under spotlight to mount pressure on the judge to call off the marriage. The judge was not helpful at the beginning."
Al Gurishi said that without pressure from the media, the girl would have been married to the young man. The judge was in favour of the immediate wedding of the two youngsters. "When we put more pressure on him, he suggested that marriage contract be drawn up but that the girl returns to her family — postponing the official wedding to take place after three years." Under long-rooted tribal traditions, Aisha was at risk of being beaten, tortured or killed as she tarnished the tribe's dignity. Since the girl's father was dead, her brother and uncle signed a pledge not to harm the girl when she returns home.
Yemen's ministry of human rights has recently pledged to take more draconian measures to control proliferation of child marriage in the country. Officials at the ministry said that they would immediately stop any child marriage whenever it takes place. Early this month, local representatives of the ministry successfully thwarted the wedding of a 12-year girl in the southern province of Taiz.
Distressing stories about child brides as young as nine and ten years getting married to middle-aged men has created lots of attention from the international community about child marriages in Yemen.
http://gulfnews.com/news/gulf/yemen/yemen-activists-prevent-wedding-of-12-year-old-girl-1.1258792
----------
Turkish Greenpeace Activist Gizem Akhan Comes Out Of Russian Jail
November 23, 2013
Gizem Akhan, one of the Greenpeace activists who has been released on bail by a Russian court after spending two months in prison for staging a demonstration in the Arctic, exited jail on Nov. 22.
"Of course I am very happy. We have been through a hardship but despite being free, the trial has not ended yet," said Akhan, who was detained along with 29 other Greenpeace activists after Russian security forces seized the ship Arctic 30 on Sept. 19.
"I hope they will understand that we are not hooligans but a group of people who are concerned about the world's future and that justice will be served," she said.
Russia's Investigative Committee said it was softening the charges against the crewmembers of the Arctic 30 from piracy to hooliganism, which carries a maximum sentence of seven years.
President Vladimir Putin said Nov. 21 that the group of activists had "noble motives" but that they broke the law when they climbed onto an oil drilling platform in the Arctic Sea.
It is yet unclear if Akhan and the other activists released on bail are banned from traveling. The released 26 activists will stay at a safe place provided by Greenpeace, the organization said.
http://www.hurriyetdailynews.com/turkish-greenpeace-activist-gizem-akhan-comes-out-of-russian-jail.aspx?pageID=238&nID=58410&NewsCatID=353
----------
Maryam Nawaz Sharif to Head PM Youth Programme
Nov 23, 2013
Maryam Nawaz Sharif was on Friday appointed Chairperson of the Prime Minister's Youth Programme and will act as the focal person with the responsibility to coordinate and supervise its implementation.
An official statement said the appointment was on a purely honorary basis. It has six components and was put online for feedback where it received a resounding response. It comprises an interest free loan scheme, a training scheme, skills development programme, free laptops, reimbursement of fees for students apart from business loans
http://www.thehindu.com/news/international/south-asia/maryam-sharif-to-head-pm-youth-programme/article5380550.ece
------------
'Allowing university speakers to segregate genders is outrageous'
Nov 23, 2013
When one younger woman was told to sit at the opposite facet of the area to herboyfriend at a public college discussion previously this calendar year, due to the fact the function was segregated between the sexes, she was vastly upset and calledit "gender apartheid".
Her concerns ended up not irrational. Sitting down on 1 aspect of a corridor simply because of your gender feels, to me, not way too far from sitting down at the back of a bus since of your color.
How can a contemporary Britain sit back again and allow exterior speakers to dictate in which youthful guys and women sit in general public debates, when those very pupils do so from their will?
Universities have been haplessly dragging their heals with the issue of segregation ever because, not knowing really what to do, afraid of causing offence. Their dealing with of the issue has mainly been subdued.
And nevertheless a report in the spring exposed gender segregation, at occasions operate only by college student Islamic societies or in the passions of Muslims, is prevalent. This is a problem that requirements to be addressed, not swept underneath the carpet.
Last evening, universities acquired answers. Properly, the closest point they will get to answers, anyway.
In accordance to Universities United kingdom, the physique that represents vice-chancellors, establishments ought to let speakers to segregate genders if it is demanded for spiritual motives.
The advice is contained in a new official handbook on the issue. In a natural way, there are a few quid pro quos, a couple of 'grey areas' (lawyer communicate for no one has a clue), but on the complete, university chiefs are becoming steer toward segregation.
This is outrageous. What is the level of a university's equality plan – created to promote equal legal rights in between guys and girls of all faiths – if it are not able to or will not be enforced appropriately?
What about that girl's valid views on apartheid? It really is not just her many of the college students attending have complained about segregation.
Do not institutions have a ethical obligation to shield their students' rights initial, prior to speakers' needs?
Universities Uk has properly decided that institutions' responsibilities beneath regulation, not to bar any person on the grounds of their beliefs or sights (the Training Act) outweighs other responsibilities below regulation to aid eliminate illegal
discrimination, and advance equality of chance amongst men and ladies (the Equality Act).
As Boris Johnson, the mayor of London, claimed previously this year, universities are pandering to severe spiritual beliefs ahead of taking into consideration what is morally appropriate from incorrect.
How have they reached this determination? And on what grounds?
Now I did mention before that this is, of training course, a grey area. For case in point, it is arguable, according to Universities United kingdom, that should "feminists" reject the thought, establishments would not be authorized to go through with segregation after all.
(Fairly why they use the phrase 'feminist' like this I don't know, viewing as any individual who thinks men and girls must be treated similarly is technically a feminist, that signifies several hundreds of college students could object to segregation.)
Even now, the position is, there are some get-out clauses universities could locate, in theory, to end segregation getting enforced. But we shouldn't even be obtaining this debate. Not in a twenty first century present day Britain. It is a action backwards for the very culture we are all trying to stay in.
We pleasure ourselves on democracy, on the freedom to choose how we stay.I want my youngsters, and children's young children, to develop up understanding the United kingdom respects freedom of option.
If all the students attending events like this desired segregation, that is up to them. It is certainly their proper to choose that. (And I'm not likely into individuals speaker occasions selling violence, hatred or war – that is a diverse problem for the needs of this website.)
But never ever, ever must an individual, no matter of their religion or qualifications, be forced to sit aside from the opposite intercourse just since of the controversial views of the speaker. We dwell in a modern, grown up Britain. Let's start off performing like it.
http://www.telegraph.co.uk/women/womens-life/10469532/Allowing-university-speakers-to-segregate-genders-is-outrageous.html
------------
Women Need Not Be Divorcees To Apply For Welfare Aid – Malaysian Minister
Nov 23, 2013
TAWAU, Nov 23 (Bernama) -- Women need not be divorcees to receive welfare aid and assistance, Sabah Community Development and Consumer Affairs Minister Datuk Jainab Ahmad Ayid.
In fact, she said any woman, who hails from a poor family or earning less than RM960 a month, could apply for welfare aid and assistance.
"Many just don't understand. Some mothers are even willing to go to Islamic Religious Department's office to ask for a divorce certificate to apply for the welfare assistance even when they are still married to their husbands.
"We don't need to lie by saying that we are divorcees because anyone can apply for the aid as long as they are poor and earn less than RM960 per month. We need to correct this perception," she told reporters after opening the 2013 Women's Day celebration here Saturday.
http://www.bernama.com.my/bernama/state_news/news.php?id=995534&cat=sbe
------------
Saudi Woman, Syrian guilty of Tasatur (Business Cover-Up)
Nov 23, 2013
JEDDAH — The Jeddah Administrative Court found a Saudi woman and a Syrian expatriate under her sponsorship guilty of Tasatur (business cover-up). The Syrian was summoned to the court after authorities discovered SR13 million in his bank account. He told the court the money was proceeds from his wife's business in Syria. The sponsor who appeared in court last week maintained that the Syrian ran her optical shop for a monthly salary of SR6,000. However, the defendants were not able to produce pay slips to prove the claim. At this point, the judge issued the guilty verdict, which both defendants vowed to challenge in an appeal.
http://www.saudigazette.com.sa/index.cfm?method=home.regcon&contentid=20131123187505
------------
Fight for justice for Ishrat Jahan almost won, says sister
Nov 23, 2013
'The conspirators of the killing should be brought to book'
In light of the Central Bureau of Investigation charge sheet in the Ishrat Jahan fake encounter case this July, which indicts the Gujarat police and the State Intelligence, the fight for justice is nearly almost won, but the conspirators of the killing should be brought to book, Ishrat's sister Musarrat said here on Friday.
"It has been proved today that my sister had nothing to do with terrorism. Most of the people involved in the case are now behind bars. The day is not far when even the conspirators will be punished. We are fighting on because we do not want another Ishrat," Ms. Musarrat said at a national conference of the All India Democratic Women's Association (AIDWA) here.
"After the CBI report the blot of terrorism Ishrat was carrying has been removed. Our battle is 90 per cent won. It will go on till the conspirators are punished," she said.
"However," she added, "even today people are confused about her going to Ahmedabad. We are seven siblings and our father passed away early. Someone had to earn to provide for the family. She would give tuitions, but when schools had vacation, she was offered the opportunity to sell products by Javed Sheikh [also killed in the encounter], who was my father's friend. She went to Ahmedabad to earn a living. Can't a girl go out to work without being seen in the wrong light? When we learnt from the media that she was killed in an encounter, we did not know what 'encounter' meant or who Narendra Modi was. A girl who was afraid of cockroaches and lizards would go to kill a person [Mr. Modi]?"
The conference felicitated women victims of violence and sexual assault who put up a brave fight against atrocities and injustice.
A survivor of the horrific Vachathi killings in Tamil Nadu, where 18 women of a tribal hamlet were raped, questioned the linking of a woman's attire with the atrocities committed on her.
"When there are rapes, the society always blames women and their dress. When they do that, do not believe them. That only justifies the act," she said.
http://www.thehindu.com/news/national/other-states/fight-for-justice-for-ishrat-jahan-almost-won-says-sister/article5381109.ece
------------
Amnesty International USA Applauds Today's Strong Bipartisan Reintroduction of International Violence Against Women Act
Nov 23, 2013
New York, NY — With today's strong bipartisan reintroduction of the International Violence Against Women Act (I-VAWA) in the House of Representatives, Amnesty International USA is urging lawmakers to continue to apply a bipartisan approach to passing the critical legislation that would position the United States as an important ally for millions of women worldwide whose right to live free from violence is under daily threat.
The bill comes at a critical moment. As the world prepares to observe the International Day for the Elimination of Violence against Women on Monday, November 25, not a day goes by when women's lives aren't affected by violence. The International Violence Against Women Act would codify President Obama's strategy to make gender-based violence prevention - in homes, communities and conflict zones - a top U.S. diplomatic and foreign assistance priority.
"Living free from violence is a human right, yet one-in-three women will experience physical or sexual violence in her lifetime, said Cristina Finch, Managing Director of Amnesty International USA's Women's Human Rights Program. "Congress has the opportunity to show its commitment to women and girls and help make the one-in-three become none-in-three by supporting and passing the International Violence against Women Act in a bipartisan way. Amnesty International USA looks forward to the bill's reintroduction in the Senate in coming weeks."
Despite the horrific attacks on women and girls in Kenya, Syria, Egypt, India and Pakistan that have recently captured the world's attention, Congress has yet to pass comprehensive legislation to help prevent and reduce common forms of violence against women and girls globally.
Amnesty applauds the strong bipartisan effort in which five Members of Congress joined Rep. Jan Schakowsky (D-Ill.) as original sponsors of the International Violence against Women Act, H.R. 3571: Eliot Engel (D-N.Y.), Chris Gibson (R-N.Y.), Richard Hanna (R-N.Y.), Nita Lowey (D-N.Y.) and Debbie Wasserman Schultz (D-Fla.).
Finch delivered testimony Wednesday at the Tom Lantos Commission on Human Rights Hearing on Gender-Based Violence to urge Congressional action on the International Violence Against Women Act, and published a recent Amnesty International USA blog post, "Why Won't Congress Pass the International Violence Against Women Act?"
Amnesty International is a Nobel Peace Prize-winning grassroots activist organization with more than 3 million supporters, activists and volunteers in more than 150 countries campaigning for human rights worldwide. The organization investigates and exposes abuses, educates and mobilizes the public, and works to protect people wherever justice, freedom, truth, and dignity are denied.
http://allafrica.com/stories/201311221592.html
------------
UIRL: https://newageislam.com/islam-women-feminism/married-saudi-woman-dignity-more/d/34563