New Age Islam News Bureau
17 Jan 2019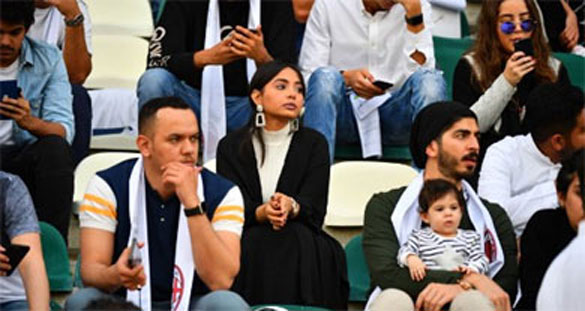 Women are pictured in the crowd as they watch Juventus players take part in training at the King Abdullah Sports City Stadium in Jeddah on Jan. 15, 2019, a day before the Supercoppa Italiana final against AC Milan. (AFP/Giuseppe Cacace)
------
• Malaysia to Revise School Textbook Telling Girls to Cover Up
• Women Throng Saudi Stadium for Italian Super Cup amid Controversy
• Married and Moved To Kerala, Pakistani Woman Granted Indian Citizenship
• More Work Needed To Empower Arab Women — Jordan's Spokesperson, Jumana Ghunaimat
• Lebanese Lawmaker Fights 'Degrading' Citizenship Law against Women
• Women Make up One Third of Bahrain's Foreign Ministry
• Will Continue To Stand By The Iranian People – Three Female Detainees
• Iran: Women Hunger Strikers Entitled To Medical Care, UN Rights Experts Urge
Compiled by New Age Islam News Bureau
URL: https://www.newageislam.com/islam-women-feminism/marriage-with-non-muslim-halala/d/117487
--------
'Marriage with Non-Muslim for Halala Null And Void'
17 January 2019
Darul Uloom Deoband has issued a fatwa declaring that marriage by a divorced Muslim woman with a non-Muslim was null and void. The fatwa said the remarriage of the divorced Muslim woman with her former husband was also not valid as per the Islamic law.
Maulana Mufti Arshad Farooqui, head of the on-line fatwa department of Darul Uloom Deoband, said the marriage by a divorced Muslim woman with a non-Muslim for the purpose of Nikah Halala was invalid.
He said if a Muslim woman was divorced and wanted to remarry her former husband she would have to marry another Muslim man for Halala and then get divorce to marry the first husband.
The issue was brought before Maulana Farooqui by a resident of Mumbai, Munawwar Ansari who said a Muslim woman, after she was divorced by her husband, married a Hindu person and later separated from him and now wanted remarry her former Muslim husband.
Meanwhile, All-India Muslim Women Personal Law Board chairperson Shaista Amber condemned the fatwa, saying the clerics were in the habit of the issuing meaningless Fatwas.
Saying that Darul Uloom Deoband had become a fatwa factory, she said that instead of issuing unwarranted Fatwas, the Islamic seminary should concentrate its efforts and resources on the overall well-being of Muslims and their social and educational uplift.
Amber said a "dirty practice" like Halala could never be part of Islam and its jurisprudence.
https://www.dailypioneer.com/2019/state-editions/---marriage-with-non-muslim--for-halala-null-and-void---.html
--------
Malaysia to Revise School Textbook Telling Girls to Cover Up
JANUARY 16, 2019
KUALA LUMPUR (Thomson Reuters Foundation) - Malaysia has said it will revise a national school textbook after a section suggesting girls should cover up to avoid sexual assault sparked outrage among women's rights supporters.
The book, aimed at nine-year-olds, includes a chapter called "protecting one's dignity" in which a girl's parents are shown telling her to dress modestly or she would be ostracized by her friends and bring shame to her family.
The image went viral on social media, causing anger among campaigners and parents who said it perpetuated the idea that sexual violence could be blamed on how a woman dresses.
The education ministry said in a statement late Tuesday it would cover up the controversial page with stickers "because the infographic can be construed as blaming sexual assault victims".
"We welcome the ministry's decision," Mastura Rashid, a spokeswoman from women right's group Empower, told the Thomson Reuters Foundation on Wednesday.
She said the image "reinforces the stereotype that it is the girl's fault when it comes to sexual violence".
Rights group Sisters in Islam said the portrayal of women in the book was "highly inappropriate".
"Girls should not be taught to accept that being a woman would make you a target and easy prey," the group said in a statement.
The government said last year that it was planning to introduce a dress code for Muslim women in the workplace, sparking a backlash from activists accusing officials of acting like "fashion police".
Women in the Muslim-majority country, which has a large population of ethnic and religious minorities, have been barred from government offices in the past for wearing clothes deemed to be indecent, such as skirts or shorts.
https://www.reuters.com/article/us-malaysia-women-education/malaysia-to-revise-school-textbook-telling-girls-to-cover-up-idUSKCN1PA1F2
--------
Women Throng Saudi Stadium for Italian Super Cup amid Controversy
17 Jan 2019
JEDDAH, Saudi Arabia: Chaperoned by men, thousands of women thronged a Saudi stadium Wednesday (Jan 16) for the Italian Supercup final between Juventus and AC Milan, brushing off a controversy over entry restrictions.
With painted faces and banners, female football fans entered the King Abdullah Sports City stadium in western Jeddah city through designated turnstiles for "families", with solo women barred from purchasing tickets.
The restriction had sparked a furious reaction in Italy, with deputy prime minister Matteo Salvini calling it "disgusting".
But with reports there were up to 15,000 women among the 62,000 crowd, accompanied by men or male children, Italian football league president Gaetano Micciche hailed the turnout a success.
Serie A president Gaetano Micciche said the presence of women in the stadium would go down in history as the first international competition that Saudi women were allowed to watch in a stadium.
Long condemned for harsh restrictions on women, Saudi Arabia last year eased decades-old rules separating the sexes to allow women to enter sports stadiums for the first time with their families.
Advertisement
The decision was part of a wide-ranging reforms spearheaded by Crown Prince Mohammed bin Salman that is aimed at modernising the conservative petro-state.
The reforms include overturning the world's only ban on women drivers last June.
https://www.channelnewsasia.com/news/sport/women-throng-saudi-stadium-for-italian-super-cup-amid-controversy-11132770
--------
Married and Moved To Kerala, Pakistani Woman Granted Indian Citizenship
January 15, 2019
Maryam Youssuf from Pakistan followed her love across the border in Indian's Kerala and is officially now an Indian citizen.
Maryam, who moved to India in 2008 after marriage, was handed over her citizenship certificate early this month, according to reports in Manorama Online.
Lahore native Maryam met Imdad Shamil from Palakkad through social media and the two soon fell in love. However, it wasn't an easy task to make their relationship official and hence Imdad flew to Lahore to meet Maryam and her parents. Touched by the couple's love for each other, Maryam's parents happily agreed for the wedding.
Imdad visited Lahore again with his relatives to tie the knot with Maryam in a religious ceremony which was followed by a wedding reception both in Lahore and Palakkad.
Maryam moved to India in 2008 but applied for citizenship only in 2017 as according to Indian law a person should have resided in the country for at least 7 years in order to apply for Indian citizenship.
The old adage 'love knows no bounds' holds true for Maryam and Imdad who overcame all barriers to be together. The couple have two children and Urdu-Punjabi-speaking Maryam has learnt Malayam as well, said Imdad an employee at a private firm in Palakkad.
https://www.khaleejtimes.com/international/india/married-and-moved-to-kerala-pakistani-woman-granted-indian-citizenship-
--------
More Work Needed To Empower Arab Women — Jordan's Spokesperson, Jumana Ghunaimat
Jan 16,2019
AMMAN — Minister of State for Media Affairs and Government Spokesperson Jumana Ghunaimat on Wednesday said that it is required for professional press to always see the difference between freedom of expression and peoples' privacy.
Ghunaimat said that building societies cannot be through silencing peoples' mouths, adding that the government is committed to improving laws regulating the conduct of media outlets, the Jordan News Agency, Petra, reported.
The minister's remarks came during a speech she delivered at the first regional conference of the Programme "Women in the Media" organised by the International Organization of Newspapers and Media Publishers (Wan-Ifra) in Lebanon.
The conferencewas attended by 160 journalists from Egypt, Lebanon, Jordan, Palestine, and the European and American continents.
Ghunaimat said that women in Jordan occupy various leading political and legislative positions in the government and Parliament, stressing the need for more political and economic empowerment of women in the region, according to Petra.
The minister explained that "woman in the Arab region do more work than man for she needs to prove herself and convince the other [man] that she is up to the role she is performing."
"The woman is not an image but a mind, thought and cause she supports in the society and the press," Ghunaimat, a former edito-in-chief of Al Ghad daily, said.
She also called for organising similar summits to empower and qualify female journalists to meet the standards of press profession.
The minister also said that the government's withdrawal of the cybercrimes and access to information laws from the Lower House aimed at improving the bills regulating the conduct of media outlets.
http://www.jordantimes.com/news/local/more-work-needed-empower-arab-women-%E2%80%94-ghunaimat
--------
Lebanese Lawmaker Fights 'Degrading' Citizenship Law against Women
January 16, 2019
Nine months after being voted into the 128-seat Lebanese parliament as one of six female lawmakers, Paula Yacoubian is urging fellow legislators to help change discriminatory laws that are an "injustice" against women.
Yacoubian, 42, won her seat as a civil society candidate in May's election and prides herself on being the first woman in Lebanon's parliament not aligned with any political party in the country's sectarian political system.
The former journalist turned lawmaker's biggest battle is gaining nationality rights for thousands of stateless children born to Lebanese women.
In Lebanon, women married to foreigners cannot pass their Lebanese nationality on to their husbands or children.
"There is so much injustice. You have thousands of kids in this country that have no rights – they are Lebanese, they grew up here, they speak only Arabic," Yacoubian told the Thomson Reuters Foundation from her Beirut office.
Stateless children cannot access public healthcare, have difficulty getting access to education, and when they are old enough, they cannot work without a permit, according to the law.
Additionally, women in some communities can't inherit or own property regardless of who they marry. Lebanon is far behind other countries in the region, like Tunisia, Morocco, and Egypt, that have provided equal citizenship rights to men and women, activists who have worked on the issue said.
MORE PROTECTION FOR WOMEN
Beyond reform, Yacoubian said it is critical for additional laws to be passed in order to protect young women's health and against forced marriage.
There is no minimum age for marriage in Lebanon. Religious communities can allow girls younger than 15 to marry, according to Human Rights Watch.
Yacoubian supports KAFA, a local campaign group calling on Lebanon to pass a law to make 18 the minimum age for marriage – with no exceptions. She added:
Globally, 12 million girls marry before age 18 every year, according to Girls Not Brides, a coalition working to end child marriage.
KAFA said other Arab countries are a step ahead of Lebanon in setting 18 as the minimum marriage age, including Algeria, Egypt, Iraq, Jordan, Libya, Morocco, Oman, Tunisia, and the United Arab Emirates.
Protecting women against violence also needs "a lot of work" in a country that passed a long-awaited law in 2014 against domestic violence, Yacoubian said.
But rights groups were outraged that authorities watered it down so much it fell short of criminalising marital rape.
A 2017 national study by ABAAD, a Lebanese women's rights group, found that one in four women have been raped in Lebanon. Less than a quarter of those sexually assaulted reported it, the survey said.
TIME FOR DISRUPTION
With women in Lebanon gaining only two seats in parliament in May's election for a total of six, Yacoubian said there needs to be a 33 percent quota to give women fair representation.
"It is their rights first to be represented – to have equal chances. And because this is the real representation of Lebanon … more than half of the country is women. They should be represented in a way that reflects how the society works."
Having women in lawmaking positions will help boost women's rights in a country where men don't view women as their equals – something she has experienced herself in the workplace, Yacoubian said.
"I have MPs who treat me as if I am either a flower or something fragile … We don't have a culture that understands that women are equal to men," she said.
Many months after May's election, Lebanese leaders are still at odds over how to parcel out cabinet positions among rival groups as mandated by a political system that shares government positions among Christian and Muslim sects.
Yacoubian called it a "mafia system" that is running the country based off of religion, money and power – dominated by men.
She said she will "keep fighting" for women's rights and is hopeful legal changes will be made to protect women.
https://www.middleeastmonitor.com/20190116-lebanese-lawmaker-fights-degrading-citizenship-law-against-women/
--------
Women Make up One Third of Bahrain's Foreign Ministry
January 16, 2019
Manama: Women make up one third of Bahrain's foreign ministry personnel in the latest indication of their elevated status in the island kingdom.
"There are numerous opportunities for Bahraini women to hold decision-making positions in the diplomatic corps," Shaikha Rana Bint Eisa Al Khalifa, the Undersecretary of the Ministry of Foreign Affairs, said.
"Today, when we talk about women in the diplomatic corps, we find that 32 per cent of the foreign ministry personnel are women."
Shaikha Rana made history by becoming Bahrain's first undersecretary of the foreign ministry in October 2017.
She attributed the impressive progress in advancing women's rights and opportunities to the directives of Princess Sabeeka Bint Ebrahim Al Khalifa, the wife of King Hamad, and chairwoman of the Supreme Council for Women, the official entity set up to elevate the status of women and empower them politically, socially and economically.
The Council has been pressing all ministries and public entities to set up committees for equal opportunities to guarantee women's rights for career advancement.
"The ministry has dedicated great attention to the empowerment of women in the diplomatic and political fields based on their abilities and skills to hold advanced positions, both locally and internationally," Shaikha Rana said.
The rising profile of Bahraini women was internationally acknowledged when Shaikha Haya Bint Rashid Al Khalifa in June 2006 became the first Arab and Muslim woman and the third woman internationally to be elected president of the United Nations general Assembly.
In Bahrain, the current Speaker of the Council of Representatives, the lower chamber of the bicameral parliament, is a woman, Fawzia Zainal who was elected to the post by her peers after she won her parliamentary constituency in Riffa on November 24. The total number of women in parliament now stands at 15.
Women have also been appointed ministers, undersecretaries, assistant undersecretaries, judges and ambassadors in addition to a multitude of other positions.
Figures indicate that they make up more than 35 per cent of the country's employment force and more than 47 per cent of the public sector.
https://gulfnews.com/world/gulf/bahrain/women-make-up-one-third-of-bahrains-foreign-ministry-1.61470509
--------
Will Continue To Stand By The Iranian People – Three Female Detainees
Jan 16, 2019
Three female protesters detained in the women's ward of the Evin prison —Saba Kord Afshar, Yasamin Ariani and Azar Heydari— have sent out an open letter expressing their protest against high prices and living conditions of the Iranian people, and vowing to stand beside their fellow compatriots. The full text of this letter follows:
Iran, a country, rich with mines and oil wells, a wealthy country with poor people.
This is a sentence we always think about. Most of the Iranian people live below the poverty line, with meager incomes that help them survive but not enjoy life.
For years, we have been told to thank God for one bite of bread. The saying comes from those who have pocketed a lot of money.
God must have thanked a thousand times, but what should we do when our rights have been taken from us?
August 1 was the day when the state media publicly announced that people can peacefully protest against high prices. August 2 was the day we peacefully protested and got arrested.
That day we found out that nothing has changed. Everything is like the murders, arrests and repression of the 80's, 90's, and 2009.
The difference is that now they smile at people; they lie and keep people hungry (both physically and intellectually), and the proof of this is in the painful events that have been repeated for a year: lack of water in Khorramshahr, detention of minorities, economic inflation, execution of political prisoners, the privatization of Haft Tappeh (Sugarcane Complex) and the arrest of workers, school fires, sexual abuse of students, the protests of teachers to obtain their rights, the executions of the "kings of embezzlement," the bus crash at the School of Research and Sciences, and the arrests of those who protested this terrible accident…
Iran has been sanctioned because of its violation of human rights and the allocation of the lion's share of the country's capital to military budgets for internal and external conflicts. Now, the Iranian people have to pay the price for the regime's irresponsibility and put up with the more difficult living conditions.
Perhaps they do not know that these days, the Iranian people have become more aware and will not remain silent in the face of the tyranny imposed on them. The Iranian people will stand hand in hand. Everyone from every ethnicity or social class, they stand against oppression and shortcomings.
We, Saba Kord Afshar, Yasamin Ariani, Azar Heydari –three of those detained on August 2, 2018– continue to stand beside the beloved and aware people of our country and continue to protest along with you against the prevailing injustices.
https://women.ncr-iran.org/2019/01/16/will-stand-by-the-iranian-people/
--------
Iran: Women Hunger Strikers Entitled To Medical Care, UN Rights Experts Urge
16 January 2019
"We urge the Government to immediately and unconditionally provide Nazanin Zaghari-Ratcliffe and Narges Mohammadi with access to the appropriate treatment and care they have repeatedly requested in light of their serious health concerns," the experts said in a statement.
According to the human rights experts, Ms. Zaghari-Ratcliffe, a dual UK-Iranian national, has been denied appropriate health care by the Iranian authorities, after finding lumps in her breasts, enduring severe neck pain, and numbness in her arms and legs. She has also been denied an appropriate mental health evaluation from a doctor outside Evin Prison where she is being held.
The statement explains that Ms. Mohammadi, an Iranian human rights defender, has been also denied appropriate health care for over a year despite suffering from a pulmonary embolism, related blood clots, bleeding and repeated seizures. She also requires follow-up treatment for a gall-bladder operation.
The experts expressed alarm that the denial of appropriate health care has compelled Ms. Zaghari-Ratcliffe and Ms. Mohammadi to start a hunger strike in protest.
"The authorities must urgently address the violations that are the basis of their hunger strike protest, including denial of appropriate treatment and care, which may well amount to cruel, inhuman or degrading treatment, or even torture," the experts said.
The experts also pointed to the findings of the Working Group on Arbitrary Detention and reiterated calls for the immediate release of Ms. Mohammadi and Ms. Zaghari-Ratcliffe. The Working Group found that the two women, placed in custody respectively in May 2015 for charges of spying and in April 2016 for "founding an illegal group", had been detained arbitrarily.
The experts stated that the situation of Ms. Zaghari-Ratcliffe and Ms. Mohammadi is emblematic of numerous reports received related to the denial of appropriate treatment and care of imprisoned individuals in Iran, and urged the authorities to ensure appropriate treatment and care is afforded to all those in need of it.
The experts said that, as Iran is a party to the International Covenant on Economic, Social and Cultural Rights, the Government has an obligation to respect the right of all persons, including prisoners, to have access to health services. As a party to the International Covenant on Civil and Political Rights, the Government has an obligation to protect the right to life.
They also recalled the universally recognized 'Mandela Rules' on treatment of prisoners, which specify that all prisons must ensure prompt access to appropriate medical attention.
https://news.un.org/en/story/2019/01/1030682
--------
URL: https://www.newageislam.com/islam-women-feminism/marriage-with-non-muslim-halala/d/117487
New Age Islam, Islam Online, Islamic Website, African Muslim News, Arab World News, South Asia News, Indian Muslim News, World Muslim News, Women in Islam, Islamic Feminism, Arab Women, Women In Arab, Islamophobia in America, Muslim Women in West, Islam Women and Feminism