New Age Islam News Bureau
14 Jul 2016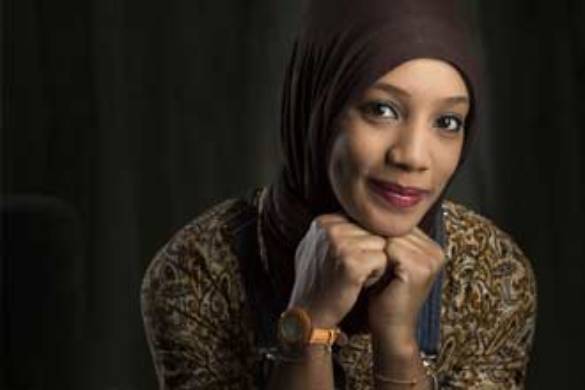 Photo: Runner Shinoona Salah Al Habsi poses for a portrait in Muscat, Oman. Al Habsi competed in the 2012 Summer Olympics in the 100-meter event. (Nikki Kahn/The Washington Post)
• EU Court Advocate Backs Muslim Woman Fired For Wearing Headscarf
• High-Achieving Girls Are 'Vulnerable' To Islamic Radicalisation, London Judge Warns
• Muslim kids to lead their teams to 'Mini Football World Cup'
Compiled by New Age Islam News Bureau
URL: https://newageislam.com/islam-women-feminism/marriage,-motherhood,-education,-sports-female/d/107959
---
Marriage, motherhood, education, maybe sports: female Muslim athletes' expected priorities
July 13,2016
MUSCAT, Oman — After Shinoona Al Habsi entered London's Olympic Stadium four years ago with nerves so turbulent she found her body "dancing, more than shaking," and after she ran the 100 meters for her native Oman — in a brisk 12.45 seconds, fourth place in her qualifying heat — and after she gathered are-you-kidding experiences such as stretching near men's sprinter Usain Bolt, she returned home and heeded a norm.
She got married, in December 2013.
Twenty-six months later, she heeded another norm.
She gave birth, to a son, in February 2016.
This spring, the norms yielded. Al Habsi actually returned to training, eyeing future international competitions. The very sight of her struck some witnesses as shocking in a culture where sport is an occasional frivolity girls (and often boys) quit when they start real life.
"Now when I'm back [training] they tell me, 'What are you doing!' " Al Habsi said.
As some coaches and governments in the Middle East aspire to raise top-flight female athletes, and as they hope for more women in general to partake in recreational sports, it was telltale that even in the midst of a sport, a mother back at training doubles as a marvel. It illustrated the natural discord between the concept of female athletes and norms such as marriage and childbirth, and how expectations from families and cultures can thwart athletic pursuits.
Against the varying cultural grains of the region, athletes such as Farida Osman, an Egyptian student and championship swimmer at the University of California who will compete at the Rio de Janeiro Olympics next month, require a crucial boon: staunch family support. Osman's parents, both Cairo dentists, endorse her persistence even at an age (21) when most childhood teammates have stopped, and her London-based brother, Ahmed, flew clear to Atlanta in March to cheer Farida at the NCAA championships.
Al Habsi has a further boon: staunch husband support.
When she returned from London to Oman, she did what she thought she was supposed to do after marriage. She stopped running — for a year. She got sick repeatedly. A doctor deduced she kept getting sick because she was a runner who wasn't running. As she recollects, her husband, Ali Al Mabsali, a petroleum engineer and a soccer nut, told her, " 'I married you. You are an athlete. I know you are an athlete. I married an athlete and a lady. Not a lady who sits at home.'"
Her many relatives long since knew what her husband meant. She ran with such dispatch as a child that when her family would ask her to run errands, she would run the errands. She ran competitively as a teenager even though the rarity of it worried her mother — "Why this? Why are you going there?" — until she vowed to sneak out if necessary. "When I am running," Al Habsi said, "I feel that I have everything that I need. This feeling. What can I tell you, this feeling?"
Said her 25-year-old aunt, Maryam Al Shukairi: "In our family, no one's stopping her. Some of them, like my aunt, the sister of my father, sometimes they're asking, 'Why she's doing that? Till when she's doing that? She's a lady! She'll be getting married. She will have the kids. Will she continue to do that?' And we are replying them, 'It is important to her. If she wants to compete, even if she will be having a hundred children, it is depending on her.'"
Aunt and niece, so bonded that some relatives think they have their own dialect, laugh serially as they tell paragraphs-long stories about the cultural rarity. They laugh as Maryam recollects when the family — Shinoona has 10 siblings and is the first of the 32 grandchildren of Maryam's parents — squeezed in around the TV to watch Shinoona in London, noticed her nervousness and instructed to the TV, "Concentrate!" They laugh about the soccer zeal of their husbands, whom they sometimes try to outrace to the TV remote.
They know that having a runner in the family provides a rare window on people's reactions. Maryam explains that because her parents hail from Tanzania, the cultural rules might soften slightly as opposed to "the pure Omani," where "more of the things are, 'No, no, no,' " she said. She tells of the greater strictness of rural areas. She also says that, even in her job as a nurse, she had to reassure colleagues who fretted, erroneously, that Shinoona's training might leave her moored in some far-flung place, chronically separate from her family.
Some husbands nowadays, Maryam said, "are accepting whatever is your hope. 'Your hope is this and this and this? Do it.' They are not stopping us." She added, "They don't know the other husbands!" She mentioned one friend who has foregone the wives' lunches out because her husband forbids it.
Even liberal readings of marital and motherly duties in the region can leave little room for sports or exercise.
"For my mother-in-law, it was something crazy!" Samar Nassar said. "She used to tell my husband, 'Are you married to get children, or for your wife to swim?'" Yet after she swam for Palestine in the 2000 Olympics, got married to a supportive husband, swam for Jordan in the 2004 Olympics, and as she heads the organizing committee for Jordan's upcoming Under-17 Women's World Cup in soccer, her mother-in-law has become "my biggest support," she said.
"I can say I come from a relatively liberal family," she said, "but still, we are governed by our culture and our norms, and despite being a liberal family and being married to a liberal husband, there are still cultural expectations for a girl who is in school, or a married woman. For me to be able to swim when I was engaged and married, everything had to be perfect at home. I didn't give a chance for anybody to talk about, to interfere in my swimming.
"So I was up at 5:30 in the morning [to train, before her husband woke]. I made sure that lunch was at the table at 1 o'clock. And our lunches in Jordan are not the typical, easy-to-whip-up meals. They're all vine leaves and stuffed courgettes, so I had to make sure that lunch was on the table, and I had to make sure at night I'm dressed up and tip-top for the social events and gatherings, and sleeping at 12 a.m. and then up by 5:30 a.m.
"To strike that balance and make sure that nothing gives, whether on the social front or the family or my obligations or my swimming, it was tough. But it's doable . . . For a woman, a married woman, that was really pushing the boundaries, but everything is doable with a supportive husband."
Sameera Al Bitar, of Bahrain, is a former Olympic swimmer who participated in the ITU World Triathlon competition in Abu Dhabi in March. (Nikki Kahn/The Washington Post)
'Wow, she is amazing'
Often, sport never even gets to vie with marriage or motherhood. It long since has conceded to a third force also deemed mandatory for girls: education.
As Hassan Afifi, a 41-year-old Egyptian, gave up his dreary finance job in London, rediscovered his abs and started a pro triathlon team called Alameda o.n., he took aim at what he considers a counterproductive view of women's capabilities. "I have a girl and a boy," he said, "and for me the thing that would kill me is if my daughter one day comes to me and says, 'I cannot do this because I'm a girl.' "
He couldn't find Arab women in triathlon, so he hired some elite female triathletes to mentor a developmental team of girls and one woman, the 26-year-old Bahraini former Olympic swimmer Sameera Al Bitar, who has veered into triathlon. Afifi knows the girls might absorb all the time and tutelage yet still eventually peel off, their participation losing out to cultural obligation.
Telling a recent story, he said, "It was as if someone stabbed me. I was at the sports club in Cairo. I found an old university friend of mine. Very open place, and everything, and open-minded people around. And this is someone I studied economics with at university, and she was there because her daughter was doing swim practice. And I was chatting with her, we haven't spoken in about 15 years. 'How are you, blah-blah-blah.' 'This is my daughter in the water.'
"And I'm looking, 'Wow, she's amazing. She's really talented.' 'Yeah, in competition she won her age group, and she came second in the nationals and stuff.' And I'm like, 'Wow, this is amazing, she's only 12,' and I'm like, 'Yeah, does she enjoy it? Does she want to become a champion?' And she says, 'No, no, no, no. I'm not going to put those ideas in her head.' I'm like, 'Why?' And she said, 'Oh, well, if it's her brother, it's fine, but for her, no, she's going to go to university and get married.' I'm like, 'No! No! Why did you say that!' "
Indonesia, the world's largest Muslim nation, has won 14 women's medals in its Olympic history; Turkey has won nine. Algeria's first gold medal came from Hassiba Boulmerka, who won the 1,500 meters at Barcelona in 1992 despite a local imam's publicized objection to her clothing in track and field. Syria's lone gold medal came from Shada Ghouaa at Atlanta in 1996 in the heptathlon, and Habiba Ghribi became the first Tunisian female to win a medal, a silver in the 3,000-meter steeplechase at London in 2012.
Afifi summarized: "You get every year, you have maybe three or four Arab athletes, female athletes, who go to the Olympics, they do something great . . . But they're individuals. And if you look it's not the system that made them. They made themselves by themselves and they defied all kinds of challenges and everything. And this is not what we want to do."
Tennis player Fatma Al Nabhani, 24, poses for a portrait in Muscat, Oman. (Nikki Kahn/The Washington Post)
'I will show everyone'
Osman, the Egyptian swimmer at the University of California, has become the Pacific-12 Conference champion in the 50-yard freestyle and 100-yard butterfly, and has anchored two NCAA champion relays. She states with her customary cheer, "I want to be the first female Egyptian to win an Olympic gold medal." She might have kept it at "medal." Egypt has appeared at Olympics since 1912, with 26 male medals, zero female .
"In swimming," Osman said, "girls usually stop by the age of 16 or 18, maximum. And this is where they start either focusing on academics, or maybe like getting married. Yeah, this is the age where everyone just stops swimming. I'm one of the few people who continue until now. My team used to be, like, 20, and now we're only like two or three who keep on swimming until now. I'm definitely the only girl, in my age group at least.
"I feel like, when we're young and growing up, I feel like families encourage sports, but then when it starts having interference with school or other important things, they just stop straightway. They don't really know how to balance both. They always have to choose one over the other."
The complementary possibilities of sports and academics did occur to Hadia Mohammed Mustafa, an Omani mother of two sons and a daughter, all of whom excelled at tennis with her guidance. Her sons study for advanced degrees in Scotland and Paris, and her daughter, Fatma Al Nabhani, ranked No. 391 in the world in the hard wilds of tennis.
"For example, when first my mom started, her friends and family, they would tell her, 'You are crazy! What are you doing?' " Al Nabhani said. " 'This is the future of the kids, being here and focusing on their study! What will tennis ever do for them?' But they didn't understand that also tennis could be a future, because through tennis, they went to the college, they got scholarships, you know, to play for the universities and stuff, so this is the future as well. And the biggest example, my brother, he was a professional player and now he's finishing his Ph.D."
Tennis player Fatma Al Nabhani, 24, hits to ball to her trainer during practice in Muscat, Oman. (Nikki Kahn/The Washington Post)
She said, "My mom is very strong," and, "I hope I do at least a tiny, small change, that people think I changed their thinking."
Their shared accomplishment as coach-mother and player-daughter magnifies when considering that, as a girl, Al Nabhani lacked the kind of ready rivals who can help a teenager build toward the brutal international terrain. In the Middle East, girls who persist often know a lonely persistence.
"To be honest, when I was younger, if I ever knew that there was a female athlete that made it professionally, and you are able to do it, and reach toward those goals, I would have been more confident of myself and knowing of myself, 'Oh yeah, I can do it,' " Al Nabhani said. "But being the only one and the first to take this experience, it was really tough."
Said Osman, "Two years before I came to Cal, I was actually swimming alone. It was actually kind of boring."
California, then, "was so different," she said. "Because, you know how when you're swimming alone, the coach usually just has practices for you? . . . So it was definitely hard at the beginning. I was definitely struggling, just making the intervals or just being at their level in practice. I used to probably cry every other week, because it was really hard. Just like, I never practiced at 5 a.m. back home."
In Cairo, where she swam for a club in the upscale Zamalek district, she would swim a more genteel 4 p.m.
"When Farida arrived at Cal, she was inexperienced and not a very good trainer," said Teri McKeever, California's coach. "She didn't have a lot of knowledge of the sport, swimming techniques or racing strategies. She had never trained with other top athletes, so she wasn't aware of what she needed to know. Farida has developed into a great racer and is someone you know will bring her best in meet situations."
For the Tokyo Olympics in 2020, at age 25, Osman says, "Definitely."
For the 2024 Olympics, at 29, she says, "That would be, like, wow."
"The Egyptian culture, you need to be married at a certain age," she said, laughing again. "Twenty five is like, 'You're late. Why are you not married until now?' " Next come children: "Egypt, it's like, you have to!" she said, laughed, and said that while you don't have to hurry, people do start asking.
"I definitely want to be a mom," she said. "I don't know when, exactly."
Across the region, a woman who is already a mother could represent Oman in the Olympics. It just won't be the 2016 Rio de Janeiro Olympics. Having just given birth in February, Al Habsi doesn't want to show up subpar. She wants to regain tip-top form, then resume international competition. She scoffs at the 12.45 seconds she ran in London four years ago. "I'm faster now, 11.60," she wrote in a text. She's hoping for ample doubters. She does love those.
"I will show everyone," she said.
The Female Muslim Athlete
Muslim countries from the Middle East might send an unprecedented number of female competitors to next month's Olympics in Rio de Janeiro. With the support of other women and a growing number of men, they have widened the cultural possibilities about the role of women in their societies, including standards about when they should marry, how soon they should start a family and what they should wear while competing. This series is about the courage and perseverance of female athletes in one of the last regions on Earth to celebrate them.
washingtonpost.com/sports/olympics/marriage-motherhood-education-maybe-sports-female-muslim-athletes-expected-priorities/2016/07/13/a7f15a42-2f17-11e6-9b37-42985f6a265c_story.html
--
EU court advocate backs Muslim woman fired for wearing headscarf
13 Jul, 2016
A Muslim woman in France who was fired for refusing to remove her headscarf should have been allowed to cover her head at work, a legal advisor to the EU's top court has stated, adding that the request amounts to "unlawful direct discrimination."
"There is nothing to suggest she was unable to perform her duties as a design engineer because she wore an Islamic headscarf," Advocate General Eleanor Sharpston said in a written opinion on Wednesday, as quoted by Reuters.
The case arose in 2009, when Asma Bougnaoui was asked by her employer, Micropole SA, to remove her headscarf when dealing with clients. When she refused, she was fired.
Although companies can impose strict rules for appearance if it is a "genuine and determining occupational requirement," Sharpston said it was hard to see why the restriction was valid in this particular case.
While opinions offered by advocates general are advisory, the ECJ generally follows their advice in drawing up its final ruling. An ECJ ruling is binding on member states.
Sharpston's statements come just one week after a Muslim law trainee in Germany won the right to wear a headscarf at work when a court ruled that there was no legal basis for the state of Bavaria to prevent her from doing so. However, State Justice Minister Winfried Bausback has said the regional government will appeal the decision.
Meanwhile, Austria's Supreme Court has ruled that employers are allowed to ban face veils if they prevent communication and interaction between employers, employees, and clients.
The Austrian ruling came after a Muslim woman was sacked from her job for telling her bosses that she wanted to wear a full face veil in the future. She also accused her boss of making discriminatory comments, including a remark joking that she was carrying out an "experiment in ethnic clothing," The Local reported.
Although the Supreme Court agreed that her boss' comments were likely discriminatory, it upheld the employer's right to ban face veils, stating that leaving the face uncovered is one of the "undisputed basic rules of communication" in Austria.
The court also ruled that the woman's "stubborn" refusal to comply with her employer's rules meant it was not discriminatory to dismiss her. She was awarded €1,200 (US$1,329) of the €7,000 ($7,758) that she had been seeking.
The debate surrounding female Muslim clothing has been ongoing in Europe for some time now. In May, a Danish education center told six students that they could no longer attend classes unless they removed their face veils. Burqas and face veils have also been banned in parts of Switzerland and Italy, and both Belgium and France have placed nationwide bans on wearing face veils and burqas in public.
rt.com/news/350908-muslim-headscarf-france-discrimination/
--
High-Achieving Girls Are 'Vulnerable' To Islamic Radicalisation, London Judge Warns
13/07/2016
Mr Justice Hayden, who is based in the Family Division of the High Court in London, says he has analysed a number of cases where allegations of children being radicalised have been raised.
The judge says a pattern has emerged in relation to "recruitment to jihadist causes".
He has raised concerns in a ruling on a case involving a "perceptive and intelligent" girl in her mid-teens who was taken off a plane by police when heading for Syria.
Videos relating to Muslim extremism had been found at the girl's family home.
The girl had seen "numerous" videos which contained "violent and death-related images".
Mr Justice Hayden said the teenager had described "images" she had seen - and given "some of the most disturbing evidence I have ever heard".
The judge said the girl could not be identified.
He said social workers had asked him to make decisions about the youngster's future.
"I have now heard a number of cases concerning allegations of radicalisation of children," said Mr Justice Hayden in the ruling.
"In the cases that have come before me a pattern has emerged in which conscientious, hard-working and high-achieving young girls appear to be particularly vulnerable."
The judge said he had analysed the teenager's case at a private hearing in London earlier this year.
"(She) was asked about the number of videos she had seen which contained violent and death-related images," said the judge.
"She told me that they were too numerous to remember and that they no longer had any effect on her.
"Everybody in this courtroom will remember this piece of evidence. It was profoundly disturbing to listen to, not least because it was both uncompromisingly honest and manifestly accurate."
Mr Justice Hayden said he found the girl to be "intelligent and perceptive".
"As she described some of these images she became distant, withdrawn, flat and rather glazed in her expression," he said.
"She gave some of the most disturbing evidence I have ever heard from a child or, for that matter, an adult.
"She told me how violent beheadings, point-blank shootings through the brain and images of mass killings no longer had any impact upon her.
He added: "I am entirely satisfied that she was telling the truth about this. Her demeanour was entirely congruent with her verbal evidence. The impact of this evidence on all those who heard it will remain for a long time."
Mr Justice Hayden said "material" found at the girl's home had titles including: "A Muhajid's Guide to the West", "Hiding the extremist identity", "Miracles in Syria", "The Book of Jihad" and "44 ways to support jihad".
"My primary reason to go to Syria was to join an Islamic State," the girl had told Mr Justice Hayden.
"I believed that this was the best way for me to be a good Muslim.
"I believed that the West were responsible for the suffering of Muslims, particularly in Gaza, where innocent people and especially children were being bombed and killed.
"The UK was implicated in supplying arms.
"I felt a traitor living in the West.
She had added: "I believed that I might be able to study there, for free and that this would enable me to study to become a doctor, which, in turn, would enable me to help others. That was a very attractive promise that was made."
Mr Justice Hayden raised concerns about the girl's parents.
He said her father was "headstrong" and had made "absolutely no effort" to regulate his daughter's internet use.
"I do not believe that he had ever stopped to reflect on the extent to which his daughter could inflict emotional and psychological damage on herself by what she viewed on the internet," said the judge.
"(She) dehumanised herself by viewing a surfeit of death-related images that have left her emotionally numb.
"It is this that is the most striking feature of the case, more so than her reading the polemics or expressions of radicalised views."
But he said there was a "naivety" to her father's behaviour rather than a "deep-seated destructive agenda".
The judge said the girl's mother was "dedicated to a heightened code of Islamic belief".
"I do not find that the mother held radicalised beliefs but I have found that on a spectrum of Islamic observance she is at the most committed end," he added.
"In this family those beliefs proved to be fertile ground for (the teenager's) journey to radicalisation."
He concluded that the girl should live at home in future - but under the supervision of social services staff.
Social workers had plans which would give the girl "space" from her mother, said the judge.
The girl's father had "recognised the impact" that "death-related images" had on his daughter.
Police and social services staff would be vigilant in monitoring computer use.
And Mr Justice Hayden said the girl had the potential to "combat" her "addiction" to violent images.
The judge said the family lived in London.
He said Tower Hamlets Council had asked him to make welfare decisions.
independent.ie/world-news/europe/highachieving-girls-are-vulnerable-to-islamic-radicalisation-judge-warns-34882330.html
--
Muslim kids to lead their teams to 'Mini Football World Cup'
July 14, 2016
Pune : Two Muslim kids from the slums of Pimpri-Chinchwad area of Pune Metropolitan City in the western Maharashtra state of India are making the community and the country proud as they prepare to leave for Sweden to take part in Gothia Cup, touted as the 'Mini Football World Cup', The Indian Express reported.
Both of them are not just going as players, but have been selected to lead their respective under-12 teams.
Incidentally, most of the team members are from the slums of Pimpri-Chinchwad.
Shaista Mohammad Patel 12 year-old and Aaqib Ansari are studying in Class VII and VI in municipal schools. Both the youngsters have been selected as captains by the selection committee of SKF Sports Education Programme, which is sending the 24-member team for Gothia Cup to be held at Gothen-burb in Sweden from July 17-23.
"We have been sending our team from 2007 to participate in the tournament described as the mini football World Cup in view of the participation of a large number of teams from across the world," said Shrikant Savangikar Director of Business Excellence, Quality and Sustainability, SKF.
Shaista says when she told her parents that she has been selected as the captain, they were highly excited. "My father said go ahead and do well for the country," she beams. Aaqib said his family was equally delighted.
Activist Ikhlas Shaikh said, "It is a moment of pride for the community that two kids, especially from the poor community, are leading their sides on the football field at the international level. Intellectuals and well-to-do people from within the community should also come forward and encourage children at a time when some forces are bent on taking them on the wrong path."
The SKF management said religion has nothing to do with sports and both Shaista and Aaqib have been picked to lead their teams on the basis of their merit. "Both are excellent players and have shown leadership qualities and hence were selected to lead the team," said an SKF member.
All players in the two teams are slum-dwellers who are picked by a special bus on every alternate day from their homes for training on the SKF grounds and dropped back two hours later. Savangikar said of the 24 players, 18 are from the slums of Pimpri-Chinchwad, while the other six are from the slums of Ahmedabad.
"The Sports Education Programme is our company's holistic development programme for children belonging to the economically weaker sections of society. Our objective is to bring a new dawn in the lives of these poor children and encourage sports in them, primarily football," Savangikar said.
SKF has set up a sports academy for encouraging children from the underprivileged sections of society to take to sports.
"The academy is equipped with modern amenities to train young footballers through audio-visuals. We also provide the children healthy and nutritious food recommended by a sports nutritionist," Savangikar added.
Vijay Chaudhary, head of the company's communications department, said the Pune programme is implemented with the help of Pune Football Club and the Ahmedabad programme through Kahani Sports Academy. "There are at least 20 teams from India which participate in different age groups in the event," he added.
siasat.com/news/muslim-kids-lead-teams-mini-football-world-cup-985691/
URL: https://newageislam.com/islam-women-feminism/marriage,-motherhood,-education,-sports-female/d/107959
New Age Islam, Islam Online, Islamic Website, African Muslim News, Arab World News, South Asia News, Indian Muslim News, World Muslim News, Womens in Islam, Islamic Feminism, Arab Women, Womens In Arab, Islamphobia in America, Muslim Women in West, Islam Women and Feminism