New Age Islam News Bureau
9 March 2018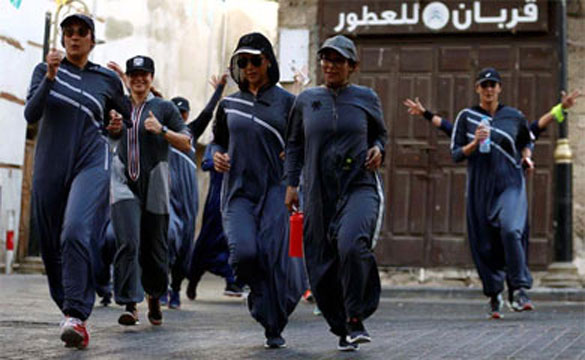 Women run during an event marking International Women's Day in Old Jeddah on March 8, 2018. (REUTERS/Faisal Al Nasser)
-----
• Saudi Women Celebrate Women's Day with a Jog in Jeddah
• Pune Muslim Women to Protest against Triple Talaq Bill
• Pakistan: Punjab's First-Ever Policy Holds out Promise of Women Welfare
• Iranian Security Forces Crack Down On Protest Marking Women's Day
• Malala Yousafzai Joining Islamic Relief Canada to Support Girls' Education
• Uber vows SR1m to Back Women Driving in Saudi Arabia
• Female Mechanic Breaks Social Barrier In War-Torn Yemen
• 'More Than 50%': Saudi Minister Reaffirms Government Call for Women's Central Role In Reforms
• Nigeria: Engineer, Wife, Mum! This Nigerian Female Engineer Is Breaking Boundaries
• How Terrorists Exploit Societal Gaps to Recruit Women
• Iran: NCRI Condemned the Attack on Women's IWD Gathering In Tehran
• Iran: An Activist Kurdish Woman on Trial In Saqqez
• Women In Turkey's Izmir Empower City Services
Compiled by New Age Islam News Bureau
URL: https://www.newageislam.com/islam-women-feminism/mans-right-polygamy-god-given/d/114537
--------
Man's Right To Polygamy Was God-Given: PAS' Women Chief
Nurul Azwa Aris
March 9, 2018
PETALING JAYA: The women members of PAS are backing a state party leader's wish list on International Women's Day yesterday: to allow husbands to practise polygamy.
Nuridah Mohd Salleh, who heads the women's wing of the Islamist party, Muslimat PAS, said a man's right to polygamy was God-given.
When asked how she felt about Perak PAS information chief Wan Tarmizi Abd Aziz's Facebook post, which said Women's Day would be more meaningful if women allow their husbands to marry another, Nuridah referred to a Quranic verse frequently quoted by conservative Muslims to justify polygamy.
"A man is allowed to marry more than one woman as stated in Islam. Who are we to question the decision and Islam?" she told FMT.
Nuridah said she did not think it was a problem if a husband wanted to marry another woman.
"The husband should discuss the matter with his first wife beforehand. He must also show that he is capable of providing for the women.
"If he cannot cope even with one wife then it would be a problem," she added.
Nuridah went on to say that the "next marriage" of a husband should also ensure the happiness of his new wife and their children.
Nuridah has in the past defended her party's so-called "oath of allegiance", which requires a PAS candidate to sign a pledge that he will divorce his wife if he leaves the party after winning the election.
She has also opposed calls to increase the marriage age of Muslim girls from 16 to 18, saying getting married at a young age is not the main cause of marriages breaking up.
http://www.freemalaysiatoday.com/category/nation/2018/03/09/the-good-wife-according-to-pas-women-chief/
--------
Saudi women celebrate Women's Day with a jog in Jeddah
9 March 2018
JEDDAH: A group of women in Jeddah marked International Women's Day yesterday by exercising one of their newly acquired freedoms: the right to go for a jog.
Saudi women have had a momentous year as Crown Prince Mohammed bin Salman lifted a number of key restrictions on their rights. Women can now attend football matches, partake in sports themselves and by the summer will be allowed to drive cars.
In Jeddah's historic district, smiling women wearing traditional full-length robes adapted for sports cheered and one even skipped with joy as they pounded through the sleepy alleys past puzzled shopowners.
The government introduced physical education for girls last year and began licensing women's sports clubs, but Saudis are still coming around to women running in public.
"This is just the beginning of a revolution for women in Saudi Arabia. In jobs, in our lives, in society, everything is going to change for Saudi women," said one of the joggers, university student Sama Kinsara.
Kinsara is studying film, a major she will be able to use at home this year as Saudi Arabia lifts a 35-year-old ban on cinemas.
Yasmine Hassan, a member of the Bliss Runners group organizing the event, said it was aimed at empowering women.
"This is a message that we would like to send them and say, 'Come, you're not alone, we will do this together and the time is now.'"
"Hopefully by next year there are going to be way more rights given to Saudi women, the ones that we deserve," she said.
http://www.arabnews.com/node/1262276/saudi-arabia
--------
Pune Muslim Women to Protest Against Triple Talaq Bill
Mar 8, 2018
Pune: Muslim women of the city would particpate in a protest rally on Saturday against the triple talaq bill, passed in the Lok Sabha last year.
The protest would conducted under the umbrella of Kuljamati Tanjim Sanghatana with guidance from the All India Muslim Personal Law Board (AIMPLB).
The rally, to be started at 4pm, will commence from Jama Masjid on MG Road and end at Azam campus. The protest rally will be conducted under the guidance of Asma Jahra, a member of the AIMPLB.
Addressing a news conference on Thursday, Nazma Saeed Shaikh said, "We are opposed to the triple talaq bill and are staging the protest to voice our opposition. There are many technical flaws in it. First, no Muslim organisations from the country, no Muslim women's group or even the personal law board was consulted while drafting the bill. It was then hastily passed in the Lok Sabha."
Listing the flaws, Shaikh said, "According to the Muslim law, marriage is a civil contract. Any man held for triple talaq will be tried under the criminal code and can attract three years' imprisonment. Second, what will the wife and children do after the man has been imprisoned? If they are living in a joint family, will the family members let the woman, who sent their son to jail, live in the same house? Another issue is the maintainence to be paid to the victim of triple talaq. If the man is imprisoned, he may not get a job after his release. How will he pay?"
Members of Kuljamati Tanjim Sanghatana present at the news conference stated that the bill was against the provision of the Fundamental Rights mentioned in the Constitution of India and therefore, it must not be enacted as a law.
https://timesofindia.indiatimes.com/city/pune/muslim-women-to-protest-against-triple-talaq-bill/articleshow/63224223.cms
--------
Pakistan: Punjab's First-Ever Policy Holds out Promise of Women Welfare
Xari Jalil
March 09, 2018
LAHORE: The Punjab government on Thursday announced the first Women Development Policy at a ceremony at Aiwan-i-Iqbal in keeping with the significance of the International Women's Day.
Minister for Women Development Hameeda Waheeduddin, along with provincial ministers Dr Ayesha Ghaus-Pasha and Begum Zakia Shahnawaz, unveiled the policy. The event was largely attended by women ministers, members of national and provincial assemblies, representatives of health and education departments, police, NGOs, girl guides and media.
The ministers said the steps taken by the Punjab government since 2012 for the protection and welfare of the womenfolk had been without comparison. These measures, they said, have enabled women of Punjab to have the necessary confidence and courage to compete with any other woman in the world.
They also reiterated the fact that a lot of rights of women have been met by the government through legislation.
Addressing the function, Dr Ayesha Ghaus-Pasha said the Punjab government has empowered women by ensuring their equitable access to health services. As many as 130,028 deserving women have been given educational stipends worth Rs6.5 billion, she said, adding that 450,000 girl students are being given monthly stipend for education in less developed areas under the Zewar-e-Taleem Program.
Similarly, 90 new girl colleges have been established by the government from 2012 and free transport facility has also been provided to the students in most of the girl colleges. The Punjab government has arranged 326 ambulances for meeting the needs of expecting women across the province, she said.
She said 836,200 women have been given interest-free loans under the Chief Minister's Self-Employment Scheme.
As for legislation, more than 65 amendments have been introduced in different laws and regulations to provide prompt legal protection to the women. The government is also working to establish separate information desks for women in police stations of the 36 districts and in addition to it, violence against women centres are being established to give a strong legal support to those in need, it was pointed out.
Dr Ayesha urged girls to learn skills to make a contribution to strengthen the national economy. She said women cannot be deprived of their rights including inheritance, economic empowerment and the fundamental rights of health and education.
Begum Zakia Shahnawaz paid tribute to the women who have played their role in different sectors of life. She said Chief Minister Shahbaz Sharif has played his role well by making amendments to laws pertaining to the rights of the women and added that implementation of these laws has also been ensured by the Punjab government.
She paid rich tributes to the democratic character of Madar-i-Millat Mohtarma Fatima Jinnah and said she raised her voice for the protection of democracy in the country.
Minister Hameeda Waheeduddin gave a detail of achievements made by the Women Development Department. She said the women development policy would prove to be a milestone.
Resident UN Coordinator Nail Buhne commended the strong role of Pakistani women and congratulated the Punjab chief minister for introducing the anti-harassment law to protect the women.
A documentary was also shown to highlight the role of women in important spheres of life.
https://www.dawn.com/news/1394055/punjabs-first-ever-policy-holds-out-promise-of-women-welfare
--------
Iranian security forces crack down on protest marking women's day
9 March 2018
Dozens of women gathered in front of the Iranian Ministry of Labor on Thursday, which coincided with Women's Day, to call for more rights, whiloe security forces closed roads around the ministry and deployed troops in the area, according to local media outlets.
A week ahead of the demonstrations, several social media campaigns were launched by activists in the country urging the need for better women's rights in Iran.
According to local newspapers, Iranian security took fierce measures against the protestors to prevent violent outbreaks during which several activists were arrested, they added.
Security forces also prohibited demonstrators from grouping in front of the ministry, reported German news agency Deutsche Welle.
They also "closed all the alleys and pedestrian bridges leading to the headquarters of the Ministry of Labor and deployed troops in the region," tweeted Iranian Journalist Farzana Ibrahim Por quoting eyewitness accounts.
Silence not an option
She continued saying: "I have never seen such a security environment before. They did not allow us to stand for a single moment. The place was crowded with police cars transporting detainees, guidance patrol, motorbikes and security personnel whom were dresses in civilian clothing."
In recent months, several women in the country have protested against the enforced hijab law by removing the head piece and calling for change.
Since December, around 30 women have been arrested in Tehran for defying the requirement under Iran's Islamic legal code to wear a headscarf.
While the government continues to prosecute those who step out of line, both the young and old are putting aside fear and stepping out of the shadows.
Security forces also prohibited demonstrators from grouping in front of the ministry, reported German news agency Deutsche Welle.
They also "closed all the alleys and pedestrian bridges leading to the headquarters of the Ministry of Labor and deployed troops in the region," tweeted Iranian Journalist Farzana Ibrahim Por quoting eyewitness accounts.
Silence not an option
She continued saying: "I have never seen such a security environment before. They did not allow us to stand for a single moment. The place was crowded with police cars transporting detainees, guidance patrol, motorbikes and security personnel whom were dresses in civilian clothing."
In recent months, several women in the country have protested against the enforced hijab law by removing the head piece and calling for change.
Since December, around 30 women have been arrested in Tehran for defying the requirement under Iran's Islamic legal code to wear a headscarf.
While the government continues to prosecute those who step out of line, both the young and old are putting aside fear and stepping out of the shadows.
https://english.alarabiya.net/en/News/middle-east/2018/03/09/Amidst-calls-for-rights-Iranian-women-celebrate-Women-s-Day.html
--------
Malala Yousafzai joining Islamic Relief Canada to support Girls' Education
March 08, 2018
Event to feature Nobel Peace Laureate Malala Yousafzai
Call for Canadians to support Girls' Education around the world
TORONTO, March 8, 2018 /CNW/ - Canada's largest Muslim charity, Islamic Relief Canada, will host Malala Yousafzai for the first time at a fundraising gala in April.
The Nobel Peace Prize recipient is uniting with Islamic Relief Canada to raise funds for Girls' Education projects around the world.
As a recipient of many humanitarian awards, the youngest Nobel Peace Laureate in 2014, and an honorary Canadian citizen, the now 20-year-old will be coming to Toronto to promote girls' rights to free, safe and equal access to continuous education.
Malala is intimately familiar with the challenges faced by girls around the world as they try to seek an education. She is the author of I Am Malala: The Story of the Girl Who Stood Up for Education and was Shot by the Taliban. At only 16 years of age, she received standing ovations for her moving speech on Girls' Education at the United Nations in 2013.
Zaid al Rawni, CEO of Islamic Relief Canada says:
"It is a great honor to host Malala Yousafzai here in Toronto. We, at Islamic Relief Canada, know that at the heart of our work is our unwavering commitment to empowering women and girls. One key component of this is that together we must ensure that every girl is given access and the right to an education. Malala Yousafzai will share her story with Canadians on April 12th and encourage all Canadians to support Girls' Education initiatives around the world. "
Reyhana Patel, Head of Public Relations at Islamic Relief Canada says:
Around 800 people are expected to attend the event which takes places on April 12th at 5:30pm in Toronto, Ontario. Tickets are on sale to the public and can be purchased at: www.islamicrelief.ca/malala
https://www.benzinga.com/pressreleases/18/03/n11330952/malala-yousafzai-joining-islamic-relief-canada-to-support-girls-educat
--------
Uber vows SR1m to back women driving in Saudi Arabia
March 9, 2018
UBER today announced 'Masaruky' ("your path" in Arabic) — a two-year initiative that aims to increase women's participation in the workforce through access to affordable transportation, in addition to increasing women's access to flexible, part time economic opportunities through the Uber technology.
The campaign will kick off with an initial SR1 million pledge to make driving schools accessible to more women who are interested in learning how to drive but may not have the resources to do so.
Commenting on the announcement, Anthony Khoury, Uber regional general manager, said: "With Masaruky and the announcement of the 1 million riyals pledge, we're seeking to contribute to this new chapter for female mobility in the Kingdom.
"In the same way that our technology has brought a positive impact to more than 18 cities around the Kingdom, this will help us in further supporting women towards achieving their economic ambitions and goals — because not only do we enable more convenient ways to move around cities, but we also strive to drive change that is positive, meaningful and economically empowering."
This comes on the back of months of research to understand what transport solutions will best serve Saudi women on the road to Vision 2030. There are currently 1.3 million women in the Saudi workplace — 22% of the total workforce, a figure that the Kingdom's government expects to increase to 30% by 2030.
The research, in collaboration with Ipsos, has found that 93% of Saudi females were positive about the recent lifting of the driving ban, mostly because it will allow them more flexibility to work. 78% said they are likely to get a driving license post ban removal, and almost a third (31%) of those surveyed, indicated that they were interested in driving as an earnings opportunity.
An efficient way to make some extra disposable income and flexible hours were cited as some of the top reasons driving could be an earnings opportunity for women on Uber.
The research has also been supported by regular women listening sessions, the first of which took place late last year with a number of influential female representatives, and was led by the technology company's global CEO Dara Khosrowshahi. Discussions have focused largely on Uber's priorities and upcoming plans for women in the Kingdom. The sessions have proven crucial for both participating women and Uber, giving women in attendance the chance to learn about both the process and economic impact that Uber can have.
Uber has been well received by driver-partners in the Kingdom since its launch. The company recently announced that it has already onboarded over 150,000 Saudi partner-drivers on the app, thanks to the economic benefits facilitated by the technology. Over 65% of Saudi drivers utilize Uber part-time, and have joined the Uber app for the flexibility it provides, allowing them the opportunity to supplement their income. — SG
http://saudigazette.com.sa/article/530030/BUSINESS/Uber-vows-SR1m-to-back-women-driving-in-Kingdom
--------
Female Mechanic Breaks Social Barrier In War-Torn Yemen
March 9, 2018
SANAA — Dressed in a baggy jumpsuit and a grey paisley veil, 24-year-old Dalia Al-Moqadam is an understated pioneer in Yemen — a rare female mechanic in a conservative Middle Eastern country at war.
This week in the rebel-controlled capital Sanaa, Moqadam's cavernous garage — full of gleaming cars — was a refuge from the three-year conflict that has claimed thousands of lives.
For this young Yemeni woman, the biggest worry when starting out was that society, not the violence, would make it hard for her to take on the challenge and follow her passion.
"The difficulties that I faced in the beginning were first of all the field itself — it's cumbersome. Then there was a fear of how society would view a woman working in this field — would they accept it?" Moqadam recalled.
"And what if society doesn't accept the idea? Would I be able to work in the field that I love?"
She said that her family and fellow mechanical engineering students at Sanaa University, from which she graduated in 2017, fully supported her entrance into the field.
"But others reject the idea because they don't have an accurate idea of what mechanics do," Moqadam told AFP. "They think it's all strenuous body work, and that it's not a suitable field for girls. The society just finds the concept very weird," she added, standing in front of a Porsche Cayenne.
Yemen, an impoverished Muslim-majority country on the tip of the Arabian Peninsula, came bottom in the rankings of the World Economic Forum's Global Gender Gap Report released in November.
The Geneva-based organization's report, which tracks disparities in education, health, economic opportunity and political empowerment, placed Yemen below other Middle East states.
Yet no one bats an eye as Moqadam shuffles around the workplace, her navy and tan jumpsuit customized with a skirt instead of pants, international car logos and the garage name Natco embroidered across her back.
She checks an oil leak, swiping brown liquid with a bare finger, then dons thick mechanic gloves to work under the hood.
At the auto shop, located in the upscale southern district of Hadda, clients consult with the young woman about their vehicles.
"Honestly, I was taken aback by Dalia — by her expertise and professionalism in this mechanical work. Despite her age and gender, she's taken on this tough occupation," customer Emad Al-Azzab told AFP.
"She proved that this job is not exclusive to men," he added, smiling.
Wearing a smart suit and a pressed shirt, the general manager of the repair center, Majid Othman, said Moqadam had brought new ideas to the workplace. "We admire Dalia's creativity with mechanics," Othman told AFP.
He said that while it was new for "a conservative society" like in Yemen to have a woman doing the job of a mechanic, it was a good thing, especially for female drivers.
"There are a lot of women driving now in the capital, and so it could be really positive for the maintenance sector to have women available. The female clients may feel more comfortable dealing with another woman than a man," he said.
Moqadam said it is just "a matter of time" before society gets used to the idea of seeing a woman working under the hood. "I was the only girl in my class," she said.
After graduating in 2017, Moqadam took on various traineeships at automotive centers, but a full-time job is more elusive.
The devastating war and a Saudi-led blockade aimed at weakening the Huthi rebels and restoring the government to power has decimated the economy.
Moqadam, who describes mechanics as "awesome", still has an uphill battle when it comes to securing her role in an all-male field.
There are currently no women enrolled in mechanical engineering at her old university, but Moqadam said it was a supportive environment. "It was society that looked at me strangely." — AFP
http://www.saudigazette.com.sa/article/530047/World/Mena/Female-mechanic-breaks-social-barrier-in-war-torn-Yemen
--------
'More than 50%': Saudi minister reaffirms government call for women's central role in reforms
8 March 2018
LONDON: Women should be "central" to achieving the nation's ambitious Vision 2030, Saudi Energy Minister Khalid Al-Falih told Arab News on International Women's Day.
Speaking on the sidelines of the Saudi-UK CEO Forum in London, the minister said that women being able to drive was "insignificant in the wider scheme of things."
"What matters," he said, "is making sure that they have access to skills training and access to jobs. What matters is they have access to investment opportunities so we ensure that the power of women is unleashed to represent their great capabilities."
Al-Falih added: "There is great potential for all Saudi citizens … certainly women will have more than their share, which should be more than 50 percent."
Saudi Arabia has announced a string of reforms in recent months aimed at improving opportunities for women in the Kingdom. Alongside being able to drive, Saudi Arabia's women can now join the Shoura Council, license their own businesses and take part in sports, among many other new freedoms in a country that is in the throes of modernization and change.
Speaking at the same event on a panel, Princess Reema bint Bandar, vice president of the General Sports Authority of Saudi Arabia, said that women joining the Shoura Council has allowed for the "escalation of women's needs."
Princess Reema added the creation of a sports ecosystem for women would be critical to job creation and female empowerment.
She said: "It will benefit women to be included in sports. We want to focus on the ecosystem – we are looking for females that are engineers in the stadiums or trainers which will enable the athletes, for example … which all leads to the end product of the ecosystem: The female athlete."
Saudi Deputy Minister of Labor Tamader Al-Rammah told the audience that contrary to some global perceptions, women's empowerment started in Saudi Arabia in the 1960s with the provision of extensive education for females.
"(Women's empowerment) has been slow but steady," she said. "Today we are ready for it and we can see the changes are happening rapidly."
On the controversial subject of gender quotas, Al-Rammah said: "I think the best way to do it is to have the best person for each position. On the other hand, you should remove all barriers to that position.
"Perhaps after some time, we'll decide that we need quotas. In the meantime, Saudi Arabian women are not shy and the men support us. I don't think we will need quotas, we will get there."
Al-Rammah added that the need to funnel women into the workplace was "urgent."
"We are in a time where we don't have time," she said.
Al-Rammah added 95 percent of new Saudi jobs will require digital skills. She said: "It's very important to set that online goal now. It's important women get online. What's making me not sleep at night is not whether women drive, it's whether they are equipped for the future digitally."
http://www.arabnews.com/node/1261971/saudi-arabia
--------
Nigeria: Engineer, Wife, Mum! This Nigerian Female Engineer Is Breaking Boundaries
8 MARCH 2018
How these career women defy the odds of religion and gender and are making names for themselves in a predominantly male-dominated industry.
In the sweltering heat of noon, while the streets are abuzz with the sound of motorists and commuters, a group of people stand at an ATM queue. It is one of the newer, refurbished models of the machines, where customers can make cash deposits and transfers. Potential users itch with impatience, one of whom is a man standing behind a Hijab wearing lady. The man in question reads the woman's hesitation and orders her to leave the queue if she is unable to operate the machine.
She ignores him, waits her turn and then completes her transaction. As she turns to leave, the same man stops and requests that she help him with his. It turns out he is unable to use the machine. It's difficult to tell if his earlier rudeness was because she was wearing a Hijab or because she's a woman. Unknown to him, he had been standing behind a seasoned and educated electrical engineer, if he had known, perhaps he might have held his tongue.
A Female software engineer shouldn't be an oxymoron in 2018, but they are. There are quite a number of them yet not enough, breaking stereotypes and changing perceptions one source code at a time, to increase women participation in Tech and evidently challenge their status quo as the minority in those industries.
Enter Tomiwa, a married Muslim woman seeking to be all that she can be as a Software Engineer. In her case, the hurdles she'd have to contend with, are being a Woman, a hijab-wearing Muslim and a doting Mother. According to her "There has to be a balance- as a married woman, for instance, I have to work really, really hard at maintaining that balance, I don't want people at work looking at me like being a mother and married is some sort of shortcoming".
These are not roles you would easily find in Tomiwa's impressive resume. She is quite used to the surprised look of recruiters and in other cases, employers, when she's the Software Test-Analyst that walks into the room to be interviewed; Positive or negative, she adds, 'I don't really let their reactions or expectations influence me, I let the work I do, speak for itself" - and when the work speaks, this is what Yewande Odumosu, Principal Solutions Architect, Softcom says, 'Tomiwa has exceptional interpersonal skills. She is a great team player and ensures everyone in the team is properly equipped to deliver as required. She is result oriented and ensures that whatever task she manages is done efficiently and in a timely fashion. She is always willing to go above and beyond for the success of any task and the team as a whole."
Tomiwa is more than happy to be working in one of the organizations with cutting-edge employee practices, where productivity and deliverables are not shaped by gender roles. They instead allow their employees to prove themselves by attempting to provide equal gender opportunities. Tomiwa who is building a fledgeling career is particularly happy to be seen for her productivity. "At work, I have a dual role working as a Test Analyst & Systems Administrator, I especially like that the challenges keep coming." From speaking with Tomiwa, it is easy to tell that growing up in a home where chores and activity where never gender-specific reinforced the backbone with which she tackles the challenges of her career. This in turn, fuels her other dual role of being a working professional and a married, religious woman. Tomiwa describes her love for engineering as a zeal - 'this is a feat I never considered impossible despite naysayers who were quick to point out that engineering is not a girl's job'.
It is difficult not to admire the resilience and dexterity of Tomiwa watching her in her office space, surrounded by fellow Engineers and executing task after task. Tomiwa's colleague, Kabolobari Benakole, UX/UI design lead agrees, " I can't quite imagine how the Engineering team would fare without Tomiwa... She mixes a rare grasp of engineering with the delicate art of a leader, ensuring every sub-team aligns with the overall goals of the Engineering team."
"This place gives me a sense of career growth. I don't want to be in a position where I know it all. I like the feeling of overcoming new challenges. Here, we are allowed to dream and plan for the future so I'm not even thinking about exit plans." The ATM incident earlier mentioned isn't a one-off experience for Tomiwa. The man in question is not the first person to make an assumption about her intellectual capacities as a woman but, she doesn't dwell on such things. On a daily basis, she is dispelling such perceptions by informing innovative changes with other female engineers and their male counterparts.
ISACA is an international professional association focused on IT governance, conducted a study of women currently working in technology fields around the globe. Several issues emerged in the study as particularly significant concerns: The two biggest barriers women say they face in the technology workplace are lack of mentors (48 percent) and lack of female role models (42 percent).
It's clear that women hunger to learn and benefit from the presence of other women in technology. But at the top of the list of barriers for women in the ISACA survey are "limited networking opportunities" and "lack of a strong professional network."
Every year, the International women's day celebration regales women with praises and congratulatory endearments. This year, it's a call to action. The time for platitudes is over. We must now see every woman in the full range of her capacities and achievements. Ernst & Young, for example, is the first of the Big Four to assign full- time, partner-level leadership to diversity recruiting. Ever since the number of women in top executive management positions has increased by more than 20%. They also introduced EY Launch, a programme for ethnically diverse college freshmen, sophomores and transfer students, it builds awareness of accounting as a major and professional service as a profession.
The workspace is clearly the most urgent and necessary environment to enforce the equal capabilities and opportunities between men and women. Women like Tomiwa exist to eliminate the element of surprise, proving that equal opportunities in the Tech industry is not merely on the horizon, but is gradually becoming attainable. In admiration of Ire Aderinokun, Nigeria's first female Google Developer Expert, Aisha Bello, a virtual systems Engineer at Cisco Nigeria, Zainab Ahmed, a software development manager at Konga amongst other women in Technology, shattering the glass ceiling by being pillars of Tech and software engineering- an understated fact. in light of their achievements, Tomiwa only wants to do her best.
http://allafrica.com/stories/201803090028.html
--------
How terrorists exploit societal gaps to recruit women
March 9, 2018
Manama: When a spate of terrorist attacks targeting Saudi Arabia in recent years began authorities turned their attention to the scourge of extremism that had been infiltrating society.
While they focused on nabbing terrorists, no one thought to investigate women—the idea of a woman terrorist was nearly impossible to fathom.
In their uniquely conservative culture, women were almost invariably perceived as docile, caring and shunning violence.
However, researcher Mirvet Abdul Hamid conducted a study in 2015 disproving this idea.
She sounded the alarm and warned that recruitment of women into terror groups was among their major strategies.
If authorities failed to take this into account and confront this, society would be in trouble, she warned.
For terror groups, the special status of women in Saudi society gave them a unique opportunity to exploit them.
As women typically wore black veils over their faces, no one would be able to approach them to verify their identity.
Additionally, their loose-fitting black abayas were perfect for hiding explosive belts and small weapons without being discovered.
In their quest to understand why women are susceptible to terrorist recruitment, sociologists came up with various explanations.
Social media was found to be the main driving factor of how women get pulled into such groups as women tended to believe the hollow promises of living more self-fulfilling lives.
A survey conducted by the Ministry of Islamic Affairs discovered that 53.26 per cent women's involvement with terrorist groups was societal, 32.4 per cent was ideological and 16.33 per cent was emotional.
Daesh used methods that were different from those used by Al Qaida, the study said, explaining the figures.
Daesh allowed women to have more executive roles, which lured women and young girls who saw in the approach a statement of women's liberation from the ultraconservative societies, the study said.
Many women terrorists saw the approach as an opportunity to assert themselves by helping others, actively shape history and achieve self-fulfillment.
Thus, women's brigades led by women were set up within Daesh.
Saudi journalist Mohammad Fahad Al Harthi said that terrorists exploited societal gaps linked to the conservative nature of the Saudi society and the lack of a proper education system.
Siham Al Tuwairi, a columnist, said that most of the Saudi women implicated in terrorism were aged between 30 and 40, unlike the Western women who were much younger.
Many of the Saudi women also lacked the necessary emotional support at home and saw terrorism as an alternative for self-fulfillment, she added, calling for more sensible and more sensitive attitudes within the Saudi society.
In her study recommendations, Abdul Hamid stressed "the need for increased security monitoring of women who exhibit forms of extremism and the tendency to suppor extremist groups, be they in official government sectors or in civil society organisations or voluntary work."
"This will help prevent them from inciting terrorism or taking financial donations illegally or facilitating any logistical support for extremist organizations," she said.
Prominent women terrorists:
Khulood Al Rukaibi, a Saudi woman, had given her son an explosive belt in 2016. Authorities were able to foil the suicide attack.
According to Al Arabiya, Khulood, known by Daesh as "Om Mohammad", was in her late 40s with an elementary level education.
Her husband reportedly failed to be the "Man of the House", but the couple had six children – four boys and two girls.
One of the sons was fighting in Syria.
But for the mother, that was not enough. She contributed to the recruitment of two of her sons– Hamad and Nassar – and her brother Nasser to carry out attacks in Saudi Arabia and target citizens, religious scholars, security forces and military, security and economic facilities in different areas in Saudi Arabia as well as religious sites in Al Ahsa and security headquarters.
Khulood was the brain and the power behind the Daesh cell planning to carry out attacks and provided logistical and material support.
Her role sounded the alarm that the role of women within terror groups was no longer confined to simple tasks, but now included leading responsibilities and military action.
She was the only woman in the 17-member cell that also included 13 Saudis, an Egyptian, a Yemeni and a Palestinian.
Om Owais, was the first Saudi women who was put on trial for joining Daesh.
She was 27, well-educated and working on her master's degree. She became fascinated with social media, particularly microblogs.
She set up several accounts under various names and used them to promote the Daesh ideology and to call for demonstrations and action against the state.
She was not alone, and dozens of other women were also using social media for their pro-Daesh propaganda. When they were discovered by the security agencies, 46 of them are believed to have fled to Syria where they joined the terror group. Some of them took their children with them, investing in them as future fighters.
Om Awais who pledged allegiance to Al Baghdadi printed pro-Daesh pamphlets and plastered them on the walls of mosques and other public places in Qassim in a bid to win new supporters.
She even used her video and photography skills to produce clips and posters to call for the release of prisoners held in security-related cases.
Her activism pushed her to support publicly the 2015 terrorist attack on the premises of an intelligence agency in southern Saudi Arabia in which four men were killed.
Throughout her action, she kept in touch with other women with the same ideas and tendencies. Theirs was a small community of women dedicated to serving the terror group, supporting and motivating one another, driven by a desire to be recognized as successful in serving their cause, even if it meant devastation, destruction and deaths.
She was sentenced to six years in jail.
Abeer Al Harbi, a Saudi woman, concealed an explosive belt under her feet as her husband Fahad Al Harbi drove more than 1,000km from Riyadh to Aseer province in southwestern Saudi Arabia.
The belt was used on August 6, 2015 in an attack on a mosque inside the Special Forces headquarters in Abha during the duhr (noon) prayers, killing 15 worshippers - five soldiers, six military trainees and four Bangladeshi workers – and injuring 33.
Lady Gioi Aban Bali Nang, a Filipina, was arrested in Saudi Arabia on suspicion of helping a Syrian man make explosive belts for suicide attacks in the kingdom in 2015.
She was reported to have gone missing from her employer 15 months earlier.
http://gulfnews.com/news/gulf/saudi-arabia/how-terrorists-exploit-societal-gaps-to-recruit-women-1.2182236
--------
Iran: NCRI condemned the attack on women's IWD gathering in Tehran
08 March 2018
Thursday, March 8, 2018, on the International Women's Day, a group of courageous Iranian women gathered outside the Labor Ministry on Tehran's Azadi Ave.
The women held placards which read, "No to gender-based discrimination", "no to discriminatory labor law", "equal and fair wages for women", "Freedom, equality, justice."
Security forces, plainclothes agents and female troops had been stationed in the area, on alert before the gathering started. To prevent the formation of the gathering and disperse the crowd, they viciously attacked the participants and brutalized them with batons and shockers. At least 20 women were arrested.
Security forces did not allow anyone to take pictures or shoot films of this gathering. A number of young men who had come to support the IWD gathering were also arrested and taken to SSF Station 137 on Gisha Ave.
The secretariat of the National Council of Resistance of Iran issued the above statement and called on international organizations defending human and women's rights to vehemently condemn the raid on women and take urgent action to free those arrested.
http://www.women.ncr-iran.org/iran-women-news/4866-iran-ncri-condemned-the-attack-on-women-s-iwd-gathering-in-tehran
--------
Iran: An activist Kurdish woman on trial in Saqqez
08 March 2018
Kurdish woman activist, Najibeh Salehzadeh, was put on trial on Tuesday, March 6, 2018, for disseminating propaganda against the Iranian regime.
Ms. Salehzadeh is the wife of labor activist Mahmoud Salehi. She was tried at the First Branch of the Court of Saqqez. Her charge is based on her interviews with foreign radios.
She rejected the charge in the court and said, "If defending my husband is considered propaganda against the state, then I have no objections."
Ms. Salehzadeh was accompanied by her husband in the court.
http://www.women.ncr-iran.org/iran-women-news/4863-iran-an-activist-kurdish-woman-on-trial-in-saqqez
--------
Women in Turkey's Izmir empower city services
March 9, 2018
There is no doubt that Turkey's third-largest city Izmir has a feminine nature. Legends say its name was derived from Smyrna, a leader of the famed female warrior tribe Amazons that once lived in northern Turkey. It is a beautiful city with a calm climate and a tolerant lifestyle, passionately-loved by its inhabitants and capturing the hearts of most of its visitors. Women from Izmir are also widely-regarded as the most beautiful in Turkey, though those who dispute the idea say it is a matter of self-confidence.
This self-confidence shows itself in the city services too, since globally, it is rare to see an all-female firefighter brigade putting out blazes or a subway mechanic crawling underneath the cars and checking rolling equipment.
There are hundreds of women working in the ranks of the Izmir Metropolitan Municipality, making up some one-fourth of all municipal employees. In the past, women were generally employed in cleaning services or in clerical positions, but now, more and more women are signing up for jobs stereotyped to be only fit for males due to physical strength.
But this perception quickly erodes when locals see that the firefighters climbing 30-meter fire ladders with their heavy suits or withstanding 5-bar pressure from fire hoses are actually women.
Hülya Ercan, 28, said that as a child, she never thought of becoming a firefighter since she had never seen one or known women firefighters existed at all.
"It was not my dream job in childhood, but I have always wanted to have a dynamic and different job. I wanted to touch people's lives and extend a helping hand to them. Today I intervene in all kinds incidents like fires, rescuing people and animals, traffic accidents and suicides," Ercan said.
She recalled that her family was concerned at first for her well-being in light of the dangers of the job, but they were supportive after she began and now they are proud of her work.
Despite being a firefighter for the last five years, Ercan notes that she still faces questions about whether she really intervenes in fires or takes part in rescue operations. "They can't believe that a woman could do such a job, but we're doing it and we're here."
In the city's 180-kilometer (112-mile) -long rail systems, women fill all types of positions, from subway operator to tram maintenance or catenary system repairs. Most Izmir residents have grown familiar with female bus drivers since the mid-1990s and train operators since the mid-2000s, but seeing women taking part in mechanical maintenance jobs is quite new.
Bahar Aksu, a planning and mechanical maintenance engineer at the Izmir Metro, says she's proud of her job. "It is hard working at a repair shop but it is not impossible to achieve. When I first started here and took my toolbox to repair the tram, I heard people saying, 'What are you doing, please allow us.' But when I get more involved, we started working together by learning more from each other," Aksu said.
Working as a tram driver for the last two years, Emine Ambarcı says her family and friends were very surprised in the beginning, but got used to it. "I chose this job because it was my dream and it was interesting. I actually wanted to demonstrate that women can do this job. Our occupation requires a lot of attention and devotion," Ambarcı said.
"Izmir is used to seeing women in subway operator seats, and people are not surprised to see us any longer. Males, females, children approach us with kindness. Children wave [at us]. My family and my friends are proud of me."
Tuğçe Tiriç graduated from rail systems engineering and now works for the municipality, taking part in the maintenance of catenary system, tram tracks, transformers and toll validators. "I'm very happy with my job right now. We constantly make rounds on the tracks to keep transport flowing for the people of Izmir," Tiriç said.
Despite perpetual risk of confrontation with shopkeepers, hawkers or beggars, Sema Çiftçi has worked as a municipal police officer for the last 11 years and she says her training on legislation, close defense tactics and anger management helps her to overcome obstacles.
"Our duty requires working on 24-hour basis shifts, without weekends or religious and national holidays. We operate in the farthest backstreets and in the city center. We know every point of the city. We know the city not only street-by-street or neighborhood-by-neighborhood, but also by its people, village headmen, children, shopkeepers, local servicemen. This makes us more effective individuals in our social lives," Çiftçi said.
https://www.dailysabah.com/turkey/2018/03/08/women-in-turkeys-izmir-empower-city-services
--------
URL: https://www.newageislam.com/islam-women-feminism/mans-right-polygamy-god-given/d/114537
New Age Islam, Islam Online, Islamic Website, African Muslim News, Arab World News, South Asia News, Indian Muslim News, World Muslim News, Women in Islam, Islamic Feminism, Arab Women, Women In Arab, Islamophobia in America, Muslim Women in West, Islam Women and Feminism