New Age Islam News Bureau
5 Jul 2019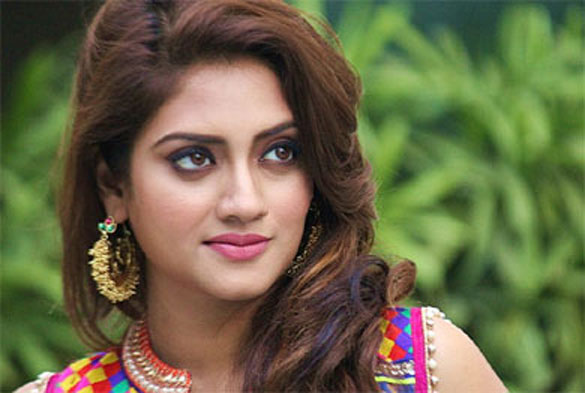 Muslim woman MP Nusrat Jahan, trolled by radicals for wearing emblems of Hindu matrimony, and called for "togetherness and tolerance for all faiths".
------
• Istanbul Columnist Insulting Muslim Women Sentenced To One Year And Six Months In Prison
• Yogyakarta State Schools Roasted For Obliging Students to Wear Hijab
• Terrorist Groups Use Telegram to Groom Female Militants
• Saudi Football Pro Who Had To Fight To Achieve Her Goals
• Irish Woman Who Joined Islamic State Denies Training Young Girls As Fighters
Compiled by New Age Islam News Bureau
URL: https://www.newageislam.com/islam-women-feminism/mamata-attends-rath-yatra-celebrations/d/119092
--------
Mamata Attends Rath Yatra Celebrations with Nusrat, Calls for 'Togetherness and Tolerance for All Faiths'
July 4, 2019
In a gesture loaded with symbolism, TMC supremo Mamata Banerjee Thursday attended an ISKON Rathyatra festival with the party's Muslim woman MP Nusrat Jahan, trolled by radicals for wearing emblems of Hindu matrimony, and called for "togetherness and tolerance for all faiths".
Panned by the BJP over "Muslim appeasement", Banerjee attended the elaborate ceremony with Jahan, actor-turned-TMC lawmaker from Basirhat, where they performed Hindu rituals, including pulling the chariot of Lord Jagannath.
Days after a radical Muslim cleric of Saharanpur criticised Jahan for marrying a Hindu and wearing 'sindoor', a Hindu symbol of matrimony, calling it un-Islamic, Jahan defiantly attended the ceremony with her businessman husband Nikhil Jain.
Looking resplendent in a lime green saree, red bangles, 'mangalsutra' and vermilion, she participated in the aarti with her hudband, holding coconuts in hand.
Banerjee warmly put her arm around Jahan's shoulder before the prayers.
"Togetherness and tolerance for all faiths is the real religion," Banerjee said.
Urging people to embrace peace and unity, the chief minister wished well for everyone and chanted "Jai Jagannath", "Jai Hind" and "Jai Bangla" before the chariot-pulling ceremony commenced from the Albert Road centre of the International Society for Krishna Consciousness (ISKCON).
"I am a believer of Islam and respect all religions. I don't pay heed to radicals. I know my religion and faith," declared Jahan, who has stood her ground despite radical clerics pouring scorn on her for marrying a Hindu and sporting symbols married women of her husband's community wear.
"I don't pay heed to things which are baseless. I know my religion. I have been a Muslim by birth and I am still a Muslim. It's about faith. You have to feel it inside your heart & not in your head," she said.
Bakhtiyar Raza Barelvi, a prominent Muslim cleric told a TV news channel that what the 29-year-old actor-politician was doing was "un-Islamic" and unacceptable to the people who follow the faith.
Zafar Sareshwala, a businessman from Ahmedabad, and chancellor of Maulana Azad National Urdu University, came out in support of Jahan.
"Nobody should have anything to do with what she does. She is an adult. I have seen Muslim women in Bangladesh wearing 'Tika' (vermilion mark on the forehead). You cannot say from appearance who is a Muslim and who a Hindu," he said.
Sareshwala, considered close to the BJP, said the Rathyatra festival in Ahmedabad used to be a "tinderbox" until a few years ago and has now become an "island of peace" where a Muslim man is the first to garland the Lord.
"In West Bengal, we participate in festivals irrespective of caste, creed or religion. Bengal symbolises amity," the Nusrat Jahan said.
Jahan was heavily trolled recently for wearing vermilion and sporting a mangalsutra at her oath-taking ceremony in Parliament.
Slamming the critics, the MP had tweeted she represented an "inclusive India... which is beyond the barriers of caste, creed and religion".
On Thursday, the Basirhat MP conveyed her gratitude to ISKCON for inviting her to the Rathyatra celebrations and extended her best wishes to all.
"NusratPutsIndiaFirst . Thank you @nusratchirps for inaugurating the 48th Kolkata Rathayatra. ISKCON is extremely grateful for the message and positivity which has been generated by your participation in today's festival. Let united India win," ISKON spokesperson Radharamn Das wrote on Twitter.
Though Banerjee attended the Rathyatra festival of ISKON in the past too, her presence with Jahan at the ceremony on Thursday was seen as an attempt by her to counter the BJP's charge of Muslim appeasement while seeking to send out the message of religious inclusivity.
https://www.business-standard.com/article/pti-stories/mamata-attends-rathyatra-celebrations-with-nusrat-calls-for-119070401036_1.html
--------
Istanbul Columnist Insulting Muslim Women Sentenced To One Year And Six Months In Prison
05.07.2019
A columnist who likened headscarf-wearing Muslim women to prostitutes was sentenced to one year and six months in prison for "inciting hatred." A court in Istanbul ruled for the sentencing of Isil Özgentürk, who penned the controversial column for Cumhuriyet newspaper in January.
Prosecutors have sought her sentencing for implying that headscarves originated from the costumes of prostitutes in ancient times.
Though a large proportion of Muslim women wear headscarves in Turkey, they have often been targets of a secular mindset that imposed bans on headscarf-wearing students in the past.
Headscarf-wearing women occasionally face harassment from ultra-secular fanatics, either in the form of verbal harassment or physical attacks.
https://www.dailysabah.com/investigations/2019/07/05/columnist-insulting-muslim-women-sentenced
--------
Yogyakarta State Schools Roasted For Obliging Students to Wear Hijab
July 5, 2019
A state elementary school principal in Yogyakarta's Gunung Kidul regency has canceled an order to oblige first-year students to wear Muslim attire after public protest and a reprimand from the local administration. In the latest case of resistance against Islamic conservatism in educational institutions, the principal of SD 3 state elementary school in Karangtengah, Puji Astuti, bowed to pressure to annul the regulation, which was initially to be implemented in July. "The first circular to inform [parents about] the regulation, and its revision, were [annulled] on Wednesday," Gunung Kidul Education Agency secretary Sudya Marsita said on Thursday. "Maybe [Puji Astuti] really wanted to develop good character in the students, but she went out of control," Sudya added. The central government has never obliged students to wear Muslim attire at state scho...
https://www.thejakartapost.com/news/2019/07/05/yogyakarta-state-schools-roasted-for-obliging-students-to-wear-hijab.html
--------
Terrorist Groups Use Telegram to Groom Female Militants
JULY 04, 2019
Jakarta. Terrorist groups have found a cheaper way to recruit militants: through encrypted chat rooms on text-messaging apps like Telegram and WhatsApp, a terrorism expert said in Jakarta on Wednesday.
The Islamic State and its affiliates have been using Telegram to spread their doctrines and ideology, as well manuals on bomb-making and how to launch a terrorist attack, according to Salahudin, a researcher from University of Indonesia's Study Center on Terrorism and Social Conflict.
Text-messaging apps and social media platforms are an effective place to spread the terrorist group's propaganda since they cost almost nothing, allow them to overcome geographical boundaries and are super secure since messages can be encrypted, he said.
"After less than one year [of communicating in chat rooms], new recruits are able to launch an attack," Salahudin said during a short course on terrorism reporting held by the Alliance for a Peaceful Indonesia in Jakarta.
In the past, using traditional recruitment method, radical organizations like the Al Qaeda-affiliated Jamaah Islamiyah would spend at least five to ten years to radicalize their recruits before they could be considered ready to launch an attack, Salahudin said.
But now, as the expert pointed out, someone like A.K., a female terrorist who was arrested in August 2017 in Bandung, could be radicalized within less than four months after receiving instructions from almost 60 chat rooms on Telegram.
IS and its affiliates reportedly have around 60 to 70 chat rooms on Telegram that they use to radicalize new recruits.
By Salahudin's calculation, joining even just five chat rooms will get you 500 messages filled with extremist propaganda every day.
Targeting Female Militants
IS deliberately targets women in these chatrooms to be recruited as fighters, Salahudin said. The old narrative that women were simply the victims of their terrorist husbands, that they were being used for "reproduction," no longer holds.
Terrorist groups now favor female militants because they are more skillful at avoiding detection, offer moral support for male fighters and can be used in propaganda since they tend to attract more media attention.
According to Salahudin, female militants are often lauded for their steeliness. For example, in March, the wife of terror suspect Abu Hamzah chose to detonate a bomb that killed her instantly along with her children in Sibolga, North Sumatra, rather than being captured by the police.
https://jakartaglobe.id/context/terrorist-groups-use-telegram-to-groom-female-militants
--------
Saudi Football Pro Who Had To Fight To Achieve Her Goals
MAY ROSTOM
July 05, 2019
DUBAI: It wasn't too long ago that Saudi women were barred from entering sports stadiums, let alone taking part in sport.
Saja Kamal recalls that as a 12-year-old she had to disguise herself as a boy in order to watch her football idol play in her hometown.
"My favorite Saudi player, Yaser Al-Qahtani, was playing in Dammam, and I desperately wanted to watch the game," she says. "My father snuck me into the stadium after putting my hair up in a bun under my cap and dressing me in baggy clothes."
With her parents' support, Kamal has realized her dream of becoming a footballer. Now 29, she is an advocate of women's participation in sport in Saudi Arabia. The new reforms in the Kingdom are certainly encouraging.
While Kamal was fortunate enough to grow up in a liberal household, her parents paid a price for allowing her to practice football.
"My story started in Saudi Arabia when I was four. My dad registered me with the Saudi Aramco Soccer Association on a private compound in Eastern Province.
"Women in Saudi Arabia don't play football, especially not in public," she said. "As a young footballer, I was the only Saudi girl who was involved in the sport until I graduated from high school. My father was the only local who enrolled his daughter to play."
His decision did not find favor with other Saudi men. Growing up in a culture where young girls were not encouraged to play sports was a trying experience for Kamal, who had to fight to achieve her goals.
"Not being allowed to practice football at school or university, or in public, and not being able to access stadiums or join a gym, just didn't make sense to me. I wasn't going to just sit there and take it.
"My passion was football and I wanted to practice it, and I did," she said.
With no football teams on school grounds, Kamal practiced in a camp in her free time. She improved rapidly and was selected to represent Saudi Arabia abroad in youth tournaments, including the Schwan's USA Cup in Minnesota.
"Playing internationally helped me meet some of my idols and other top players from around the world," she said. "However, despite representing Saudi Arabia in over six countries and playing for more than 12 years, we were never officially an actual national team."
When it was time for Kamal and her sister to go to high school, her father sent both to Bahrain. That allowed Kamal to join the Arsenal Soccer School and became a right-forward.
"We had to commute two hours daily to attend high school in another country," she said. "But as a result, I received a strong education in English and graduated from high school as a full international baccalaureate student, thus skipping the foundation year of university, before flying to Boston to obtain my bachelor's, master's and PMP (Project Management Professional) qualification simultaneously."
Kamal's studies didn't stop her love for the sport. She played for Northeastern University's women's team while in college before moving back to Saudi Arabia to coach the women's team at Al-Fursan Football Club.
At present, she is based in Dubai, where she works as a senior government consultant and coaches women's teams in her spare time.
Kamal recently joined Equal Playing Field, an NGO focused on encouraging women to take part in sports. Together with 30 other football pros she broke the world record for playing the highest-altitude football match in history, on top of Mount Kilimanjaro. A few months later, the group set a new record for the lowest-altitude game, near the Dead Sea in Jordan.
"Casually entering the same stadiums I snuck into as a kid inspired me to push forward and build an official Saudi national women's team," she said.
"Joining Equal Playing Field was driven by those changes and resulted in my determination to break the Guinness World Records."
http://www.arabnews.com/node/1520896/saudi-arabia
--------
Irish Woman Who Joined Islamic State Denies Training Young Girls As Fighters
July 5, 2019
Lisa Smith, the Irish woman who joined Islamic State, has said she was never involved in fighting and has denied training nine to 12 year-old-girls to use weapons.
The Dundalk woman, who served in the Army and Air Corps before converting to Islam and travelling to Syria about four years ago, has said she never picked up a gun during her time in Syria and was not allowed to fight. She said she wanted "an actual caliphate, as in a Muslim country" but that she did not want "a brutality group".
"Even if I wanted to go fighting, I tried to go fighting, they wouldn't let me," Ms Smith said in a BBC interview published on Friday. She said she never picked up a gun because she had to care for her daughter. "I'm not a terrorist, I'm not out to kill anyone."
Ms Smith said there was "a lot of brutality" under the Islamic State, also known as Isis, but refused to comment on the murder, rape and enslavement of Yazida women. "I don't know who's telling the truth and who's lying. I'm not saying you might be lying, I'm saying I don't know. I actually have to hear the truth on both sides and then I can make a decision."
Asked whether she had trained nine to 12 year old girls in how to handle weapons, Ms Smith said it was "so not true". "Bring these girls to my face, when we all sit here and they can see my face and we'll speak and we will see the truth."
Not many people in Syria had known she had a military background, she said, adding that she had intentions of hurting anyone.
"If you asked me am I going to hurt anyone? No. Have I any intentions to do anything? No. I'm just interested in trying to bring my daughter up and get her educated. I don't even think I'm radicalised.
"All I know is I just came to an Islamic State and I failed. So, at the beginning I didn't come to kill any one and when I was there I didn't kill anyone and when I go home I'm not going to kill anyone. I just think I'm the same."
Ms Smith, from Dundalk, Co Louth, is currently being held in the Al-Hawl displacement camp in Syria for the wives and children of Islamic State fighters. She moved to Syria, via Tunisia, in 2015 shortly after leaving the Air Corps where she worked as a flight attendant on the Government jet and as a driver to senior officers. She had also previously served with the Army as part of the 27th Infantry Battalion. Ms Smith has said that while she was in Syria she married a British man name Sajid Aslam who was killed a few months ago.
The Irish Government has indicated that Ms Smith and her daughter will be allowed to return home and that it is currently examining ways to get them out of Syria. Once back in Ireland she is likely to face a security assessment and ongoing surveillance in light of her suspected sympathies with the terrorist organisation. Gardaí will also assess if she has committed any offence that could be prosecuted in Ireland, such as giving financial support to Islamic State.
https://www.irishtimes.com/news/ireland/irish-news/irish-woman-who-joined-islamic-state-denies-training-young-girls-as-fighters-1.3947554
--------
URL: https://www.newageislam.com/islam-women-feminism/mamata-attends-rath-yatra-celebrations/d/119092
New Age Islam, Islam Online, Islamic Website, African Muslim News, Arab World News, South Asia News, Indian Muslim News, World Muslim News, Women in Islam, Islamic Feminism, Arab Women, Women In Arab, Islamophobia in America, Muslim Women in West, Islam Women and Feminism