New Age Islam News Bureau
6 Sept 2019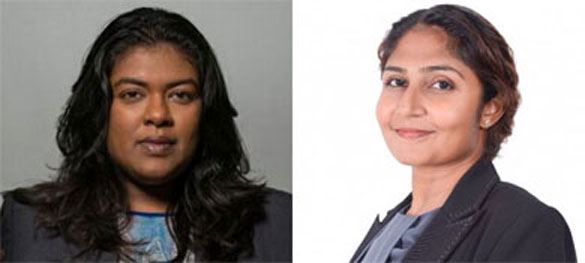 Dr Azmiralda Zahir and Aisha Shujune Mohamed as the first female justices of the Maldives Supreme Court
----
• Hindu Women Making Strides in Government Jobs in Pakistan
• Young Female Football Fan in Iran Sets Herself on Fire To Protest Jail
• Hindu Girl, Kidnapped In Pakistan, Reunited With Family: Report
• Muslim Children Get Catholic Education In Flexible Madagascar
• The Movers List: Khadijah Safari is helping women smash through the barriers by bringing religion and MMA together
• First Friday rally in Ashland supports congresswomen, Ilhan Omar and Rashida Tlaib
• Spain Issues Arrest Warrants for ISIS Women Trapped In Syrian Camps
• NASFAT Tasks Women on Effective Parenting
• Police Rescue Hafizabad Woman Held Captive By Brothers For 10 Years
Compiled by New Age Islam News Bureau
URL: https://www.newageislam.com/islam-women-feminism/maldives-overcomes-islamic-opposition-appoints/d/119673
--------
Maldives Overcomes Islamic Opposition and Appoints Two Women as Supreme Court Judges
September 5, 2019
Male, September 5 (Maldives Independent): In a historic vote on Tuesday, parliament confirmed the president's nominationsof former judges Dr Azmiralda Zahir and Aisha Shujune Mohamed as the first female justices of the Supreme Court.
Both nominees were approved with 62 votes in favour. Independent MP Mohamed Nasheed Abdulla cast the sole dissenting vote while Jumhooree Party leader Gasim Ibrahim abstained.
President Ibrahim Mohamed Solih's Maldivian Democratic Party controls 65 seats in the 87-member People's Majlis.
Shujune, whoresignedfrom the civil court in 2014, was among the first two female judges appointed to the bench in 2007. Dr Azmiralda was the most senior female judge in the country until herresignationfrom the High Court in May 2016.
President Solih's nomination of the pair last month sparked a backlash from religious scholars who contended that Islamprohibitswomen from serving as judges.
Clerics condemned the move on Twitter and some shared an opinion issued by the fatwa council, in which the advisory body backed the view that women cannot pass judgment on criminal matters or property disputes. There was a consensus among scholars of all sects of Islam that judges must be male, they said. Some scholars from the Hanafi sect say women can adjudicate civil matters and family disputes but most scholars do not agree with any exceptions, the council noted.
The religious conservative Adhaalath Party, which is part of the MDP-led ruling coalition,backedthe council's opinion but acknowledged the lack of consensus on the question. The party called for respect of differing opinions on disputed matters and appealed against branding people as disbelievers or apostates. A person who endorses an incorrect opinion should not be considered a sinner, it added.
Tuesday's confirmation vote came after parliament's judiciary committee evaluated the nominees, both of whom were sent for approval after endorsement from the Judicial Service Commission.
During the final debate, MDP MPs reiterated the ruling party's stance that the appointments would be an important step towards empowering women and achieving gender equality. Opposition lawmakers also backed the appointment of women to the bench and Independent MP Ahmed Usham commended the nominees as qualified and capable individuals.
The former judges were nominated after parliamentamendedthe Judicature Act to increase the size of the Supreme Court bench from five to seven justices.
https://newsin.asia/maldives-overcomes-islamic-opposition-and-appoints-two-women-as-supreme-court-judges/
--------
Hindu Women Making Strides in Government Jobs in Pakistan
Sep 05, 2019
Islamabad: Pakistan's minority Hindu community, especially women, has long been sidelined when it comes to climbing up the ladder to reach public posts, but not anymore.
Pushpa Kumari is the latest example of Hindu women making impressive strides. The 29-year-old, who hails from the scheduled caste Kohli community, became the first Hindu female assistant sub-inspector of police after passing the provincial competitive examinations in Sindh.
In January, Suman Pawan Bodani, became the first Female Hindu Civil Judge of Pakistan. Bodani, who hails from Sindh's Shahdadkot area, stood 54th in the merit list for the appointment of civil judge/judicial magistrate. Last year, another woman from Kohli community, Krishna Kumari, became the first senator of Pakistan.
Pushpa, who has been inducted into Sindh Police, did not always dream of becoming a policewoman. She graduated in 'critical care' from Dow University of Health Sciences in 2014, and until last year worked as an intensive care unit (ICU) technologist at a trauma Centre, the Express Tribune reported.
"There are many Hindu girls in the medical profession; she told the daily while explaining her choice. I wanted to do something different and that is why I decided to appear in the public service commission exam for police.
Pushpa applied for the vacant ASI post in 2018. She sat for her written public service commission exam in January this year. The exam was followed by a final interview. Then, two weeks ago, she finally saw her name appear in the final list of qualified candidates.
Pushpa's dream does not stop here. My plan now is to obtain a masters degree in criminology. I also intend to appear in other exams, particularly if the Sindh government announces a post for the deputy superintendent of police, she told the daily.
With my choice to join the police, other girls and women will decide to be daring in their career choices and maybe join the police, army, air force or navy, she said.
The youngest of five siblings, Pushpa grew up in a middle class family in the Samaro town of Sindh's Mirpurkhas district. Her mother works for the population welfare department as a family planning technical officer. Her father runs a grocery store.
Both her parents seem to have instilled a drive for success in each of the five siblings. Like her, they, they too are on a quest to appear in competitive exams, she told the daily.
My brother Bharat Kumar, for instance, went to New Delhi on scholarship and completed his master's degree in sociology from the South Asia University, she said. My maternal uncle, who is a Grade 19 officer, is the source of inspiration for me.
Pushpa worked for the non-governmental Marie Stopes Society' in her hometown before joining the medical field which she ultimately stepped away from. She now lives in Karachi with her husband, Narain Das, who works as a supervisor for Bahria Town.
https://www.timesnownews.com/international/article/minority-hindu-women-making-strides-in-government-jobs-in-pakistan/483376
--------
Young Female Football Fan in Iran Sets Herself on Fire To Protest Jail
September 04, 2019
Radio Farda
A young woman who set herself on fire on September 1 outside the public prosecutor's office in Tehran is among football-starved Iranian women detained outside Iran's main sports arena, Azadi stadium.
"The 29-year-old is suffering from third-degree burns, and currently under life support," says the CEO/president of Motahari Emergency and Burns hospital in the Iranian capital city.
Meanwhile, the state-run news agency, Rokna, cited the sister of the victim, as saying, "They detained my sister on March 12, 2019, when she tried to enter Azadi Stadium, and watch Tehran's Esteqlal soccer club home match against the United Arab Emirates' Al Ain, FC."
According to Rokna, security forces arrested the woman who has bipolar disorder and is under treatment.
The security agents took the woman, whose name has not been released, to the infamous Qarchak prison, in Varamin south of Tehran.
She was later released on bail, Rokna reports, adding, "At the time of the self-immolation, the official in charge of the prosecutor's office told the girl that she faced a six-month sentence in jail. The girl protested but told that since the judge was on bereavement leave, a court would be held later to hear her protest."
The woman was so enraged she set herself on fire with the gasoline procured before visiting the public prosecutor's office.
Iran is the only country in the world that bans women from sports stadiums. The unwritten law has been supported by religious conservatives and political hardliners in Iran since 1980, a year after the downfall of the pro-West monarch, Shah Mohammad Reza Pahlavi and the establishment of the Islamic Republic.
In the meantime, banning women from watching live soccer matches in Iranian stadiums is against regulations set by the International Football Federation FIFA.
Article 4 of FIFA's regulations stipulates, "Discrimination of any kind against a country, private person or group of people on account of race, skin color, ethnic, national or social origin, gender, disability, language, religion, political opinion or any other opinion, wealth, birth or any other status, sexual orientation or any other reason is strictly prohibited and punishable by suspension or expulsion."
FIFA has given the Islamic Republic until October to pave the way for women to freely enter sports arenas and watch men's live soccer matches. Otherwise, Iran could face removal from all international soccer events.
https://en.radiofarda.com/a/young-female-football-fan-in-iran-protesting-jail-sets-herself-on-fire-/30146238.html
--------
Hindu Girl, Kidnapped In Pakistan, Reunited With Family: Report
September 05, 2019
KARACHI: A Hindu girl, who was allegedly abducted and forcibly converted to Islam before being married to a Muslim man in Pakistan's Sindh province, has been reunited with family, according to a media report.
Reno Kumari, resident of Rohri, was kidnapped when she was on her way to a local college on August 29.
Her parents had claimed she was abducted by a Muslim man.
Police arrested 12 persons in Ghotki in connection with the case, The Express Tribune reported.
Ramesh Kumar, a lawmaker from the ruling Pakistan Tehreek-e-Insaf (PTI), claimed that this is the first time a kidnapped Hindu girl has been reunited safely with her family.
The issue of forced conversions of minority women came to the spotlight after a 19-year-old Sikh girl was allegedly forced to embrace Islam after being married to a Muslim youth in Punjab province.
The girl was reunited with her family after days of negotiations between Punjab governor and a 30-member committee of the Sikh community.
India had expressed strong concern over the incidents of forced conversion and asked the neighbouring country to take remedial action to stop such cases.
Hindus form the biggest minority community in Pakistan. According to official estimates, 75 lakh Hindus live in Pakistan. However, according to the community, over 90 lakh Hindus are living in the country.
Majority of Pakistan's Hindu population is settled in Sindh province where they share culture, traditions and language with their Muslim residents.
https://www.ndtv.com/world-news/hindu-girl-kidnapped-in-pakistan-reunited-with-family-report-2096361
--------
Muslim Children Get Catholic Education In Flexible Madagascar
September 06, 2019
The bell of St. John's Catholic high school, next to the cathedral in Antsiranana in northern Madagascar, sounds for the noon break, and hundreds of students pour into the street.
Among them is Michael Beafara. With his schoolbag on his back, he hails a tuk-tuk taxi, for there is no time to lose - it is Friday, and he needs to get to the mosque for midday prayers.
En route, he will stop off at home to swap his khaki school shirt, which has the cross emblazoned on the breast, for an ochre djellaba.
"I try to go to the mosque on Fridays and at the weekend," says the 16-year-old Muslim, who has been enrolled in Catholic schools since primary education.
The arrangement may raise eyebrows in other countries, especially where religious friction is high.
Not so in Madagascar, an island nation whose traditions of religious tolerance will this week be on display for Pope Francis, who arrives on Friday for the second leg of a three-nation African tour.
At Beafara's school, run by the Daughters of Mary, nearly one in eight of pupils are Muslim.
At Saint Joseph high school, also in Antsiranana, Muslims account for more than one in five of the enrolment, whereas they account for less than 10 percent of Madagascar's overall population.
As in other poor countries, Catholic education is prized by many families, who cite discipline, quality teaching and access to a social network as among its prime advantages.
In 2017, students at Catholic schools in Madagascar notched up a 63-percent success rate for the baccalaureat - the all-important school-leaving exam, which is modelled on the famous French "bac".
In contrast, only 38 percent of students succeeded in the baccalaureat at state schools. Eleven percent of school students overall are enrolled in Catholic schools.
Parents of Muslim children told journalists that they were unbothered by the religious component of education in Catholic schools, which includes a commitment by pupils to learn the Christian catechism and follow classes in Christian morality entitled "Education about life and love".
"There are so many common areas between Islam and Catholicism," said Michael.
"Whether you are a Catholic or Muslim, we all pray to the same God," said his father, Leonce Beafara, a former civil servant who grew up in a Christian household but married a Muslim.
Mixed backgrounds such as this are common northern Madagascar, which has the largest concentrations of Muslims in the country.
The success comes with a price - school fees range up to 60,000 ariary ($17.15 euros) per month per child, which can be a heavy burden in a country where two-thirds of people survive on less than $2 per day. State education is free.
By 1.30 pm, classes are St. John's resume - time for religious lessons.
Michael greets his friends with a hearty Islamic salutation, "As-salaam-alaikum" (Peace be unto you). He has had enough time to get back into his school blouse with the cross on it - only Catholic symbols are permitted in the school. At the entrance, there is a statue of the Virgin Mary, and there are crucifixes in every classroom.
Many students questioned by journalists said they were surprised that religious cohabitation should even be considered an issue.
"It's completely normal," said Izad Assouman, 18. "We are equal, we respect each other," said Michael, who has permission to take time out of school during Ramadan to prayer at the mosque.
The students said they approved a recent decision by President Andry Rajoelina to name Aid ul-Fitr - the end of Ramadan - as a public holiday, alongside Christian holidays.
"Muslim pals invite me sometimes to come over for the end of Ramadan," said Frederic Robinson, a Catholic student.
Sister Marie Theodosie, who is the bookkeeper at St. John's, said peaceful co-existence is rooted in the region's traditions and similar lifestyles. Many families eschew pork and women of both religions favour long, conservative gowns.
The school's youthful computer science teacher, Soafa Jaoriky, is a Muslim but says with a little laugh that she knows the Catholic prayers.
"When I was I child I forced my (Muslim) mother to learn them so that she could teach them to me."
Facilitating enrolment by Muslims, Catholic schools in Antsiranana do not request a certificate of baptism from new students - unlike many schools in the capital Antananarivo, where Muslim students are less numerous.
Tolerance and cohabitation are one thing, but religious conversions are rare, according to Father Gidlin Bezamany, in charge of the Catholic schools in Antsiranana.
Catholic schools "are not there for proselytising," he said. (AFP)
https://en.qantara.de/content/muslim-children-get-catholic-education-in-flexible-madagascar
--------
The Movers List: Khadijah Safari is helping women smash through the barriers by bringing religion and MMA together
Emma Ledger
September 06, 2019
Khadijah Safari's path to becoming the founder of a thriving martial arts organisation was born more out of necessity than ambition. "I converted to Islam in 2009 and didn't want to train in a mixed-sex gym anymore," says Khadijah, a 5'4" black belt in Muay Thai boxing. "I decided to set up my own females-only class in west London, so created flyers and just went up to women asking them if they would be interested.
"That first session was amazing - it brought so many women from different walks of life together, all united in one place. I think they felt more safe and less inhibited when training as a result."
Although the training was open to anyone, part of Khadijah's mission was to show that Muslim women are capable of being powerful and athletic without being held back by stereotypes. "The hijab is removed during training, meaning that there were no barriers and we were all equal," she explains. "My plan was to create my own martial arts organisation for all women, but where there was space for religious women to train and be respectful of their religion and their sport at the same time," says Khadijah. "Anyone of any age and any background is welcome."
Today Khadijah's company Safari MMA (Mixed Martial Arts) has reached more than 3,000 people and currently has nine locations in the south east, with two more opening this year and plans to go nationwide. As well as Muay Thai, she and her instructors teach Thai boxing, cardio classes, workshops and kids boxing.
"My mission is to reach as many people as possible," says Khadijah. "We recently launched an instructor training course for women because I want women to know it's a career option. There's been huge demand for it. We trained one lady who is deaf who will be able to teach martial arts using sign language.
"We've also partnered with a mental health charity to set up classes for people with mental health issues. I'd love to partner with prisons and work with ex offenders too."
Lucozade Sport's Movers List has included Khadijah as one of 50 people who are using sport to encourage more active lives, and her work has empowered many people to embrace a new sport, thus boost their confidence both physically and emotionally.
"The end goal is always self improvement," says Khadijah, 37. "I like teaching people to have self belief, to break through goals. To have that mentality that you can achieve anything you want if you put the work in.
"Most people come to lose weight and get fit. I teach one woman who has lost 57kg through training, it's been a major turnaround as she struggled with her weight for so long.
"But training can give people so much more than just better fitness. I had a victim of domestic violence who credits learning Muay Thai with giving her the confidence to come out of that situation. I also had a woman come who wanted a promotion at work. She came purely to help boost her confidence. A month or so after she started training she got what she wanted.
"I could never have predicted what women would get from learning martial arts, but now I feel like it's my duty to pass that knowledge on. I enjoy it so much because I see the end results, how it's often a life changing experience and not just a sport. It's a space where people don't have to worry about others watching them or what others think. You instantly become part of a community. There's no way I would be able to stop doing martial arts now. I'm only just getting started."
https://www.independent.co.uk/sport/the-movers-list/the-movers-list-lucozade-khadijah-safari-women-in-sport-mma-religion-a9094176.html
--------
First Friday rally in Ashland supports congresswomen, Ilhan Omar and Rashida Tlaib
September 06, 2019
A rally to stand with congresswomen Ilhan Omar and Rashida Tlaib is planned for 6 to 8 p.m. Friday, Sept. 6, at the Ashland Plaza.
The intention is to "support a respectful dialogue about Israel's occupation of the West Bank and blockade of Gaza, and support the right to criticize Israel and boycott Israeli companies and products," according to a press release.
The release also states that the groups organizing the event, Rogue Valley Jewish Voice for Peace and The United Nations Club at Southern Oregon University, oppose anti-Semitism.
Avram Sacks, membership coordinator for Jewish Voice for Peace in the Rogue Valley, said the two congresswomen are the first Muslim women elected to Congress and have been attacked for addressing the lack of a "fair and objective discussion of Israeli policy in the U.S. media or in the U.S. Congress."
He said the group is not anti-Israel nor anti-Semitic.
"We are living the values and ethics of Judaism when we point out that the Palestinians are living under a military occupation, which denies them their basic human rights, controls their movements from place to place, keeps many of them in deplorable living conditions and often kills and injures them when they peacefully demonstrate," Sacks said.
He said the congresswomen's words are often twisted in the media.
"Acts of violence and hatred toward Muslims and Jews have increased dramatically since President Trump took office," Sacks said. "We know that, historically, authoritarian governments maintain their power by pitting one group against another. Standing with Ilhan Omar and Rashida Tlaib is sending a message that we will not let hate and lies divide us. In standing with them we are advocating for a vibrant Democracy in which unpopular voices can be heard, and in which minorities, people of color and women are treated with dignity and respect."
https://ashlandtidings.com/news/top-stories/first-friday-rally-in-ashland-supports-congresswomen
--------
Spain Issues Arrest Warrants for ISIS Women Trapped In Syrian Camps
September 05, 2019
Spain's High Court, the Audiencia Nacional, has recently issued arrest warrants for four women who traveled to Syria in 2014 to join the Islamic State (ISIS).
All four are currently being held in two detention camps run by Kurdish militias in Syria, two sources close to the investigation have told EL PAÍS.
Three of the women are Spanish nationals and the fourth is a Moroccan woman who was married to a jihadist with Spanish citizenship. He was killed in ISIS' self-proclaimed caliphate. The latter woman has three children who hold Spanish nationality.
The four – who have a total of 17 children under their care, including a newborn – are wanted by several Spanish courts for "terrorism-related crimes," according to police sources.
The alleged jihadists – Luna Fernández, Yolanda Martínez, Lubna Mohamed Miludi and Loubna Fares – are being held in camps for relatives of ISIS fighters. Fernández and Martínez are at Al Roj camp, in northern Syria, near the border with Turkey. Miludi and Fares remain in Al Hol, the camp in northeast Syria that all four were taken to after the fall of Baghouz, the last ISIS redoubt, in February.
The Spanish government has been analyzing the case since April, when EL PAÍS revealed their presence at the Syrian camps, where living conditions have been described as extremely unsanitary and dangerous. A committee of officials from the Foreign, Interior and Justice ministries are reviewing the case and considering repatriation options, in line with similar action by other European Union countries such as France or Germany.
There are security concerns on the table as well: at least two of the four women – Luna Fernández and Yolanda Martínez, who converted to Islam – are classified as "dangerous" in police records.
If they returned to Spain, they would be immediately arrested and probably held in preventive custody. They could face charges of collaborating with, or being members of, a terrorist organization, a crime that entails prison terms of six to 12 years.
While the executive studies the case, several investigating courts have issued arrest warrants against all four women. Spain has no extradition agreement with Syria, which has been at war for eight-and-a-half years. It does have a business attaché in Beirut who periodically visits the capital city Damascus.
Legal sources said that the government is proceeding very cautiously as the case has criminal, security and even humanitarian implications, given the presence of minors. In May, the NGO Doctors Without Borders reported that 8,000 women and more than 3,000 children inside the Al Hol camp have no access to medical care.
In April, prosecutors at the High Court asked the Interior Ministry for a report on the Spanish women, who were asking to go back to Spain with their own children as well as the ones they are caring for. They all claim that they followed their husbands to the conflict zone without realizing what they were getting into. Counter-terrorism sources noted that at least two of them, Yolanda Martínez and Luna Fernández, show up in earlier High Court investigations into a jihadist cell known as the Al Andalus brigade.
The investigation is dragging out in Spain, which still has an acting government following the inconclusive April 28 election. By contrast, Germany and France have been moving more rapidly, the former having brought four children back from Syria in mid-August, with the latter having already repatriated a dozen orphans.
https://elpais.com/elpais/2019/09/05/inenglish/1567677346_569423.html
--------
NASFAT Tasks Women on Effective Parenting
By Shakirah Adunola
September 06, 2019
Nasrul-lahi-li Fathi Society of Nigeria (NASFAT) has urged Muslim women to create an enabling environment for their children in order to imbibe the precepts, ethics and functional practice of Islam.
Speaking during the 20th edition of the celebration of NASFAT yearly Women's Week, themed, 'The Muslimah as a catalyst for maintaining peace and harmony'
The Chief Missioner of NASFAT Imam Mahroof Abdulazeez Onike advised parent to mentor their children and expose them to Islamic culture early in life.
"Parents would be much more fulfilled in life when their children and wards understand Islamic principles and practice from childhood.
The Chief host of the week and NASFAT Women Affairs Secretary, Alhaja Samiat Mumuni advised the participants to seek adequate knowledge in order to boost their understanding of Islam.
She stated that the theme was deliberately chosen in view of the critical role of women at the family and societal levels.
Alhaja Mumuni disclosed that the major highlights of the events commemorating the landmark event include the celebration of the elders and Al qonitat/Widow, visit to hospitals, Nigeria Correctional Services and Rehabilitation Centre.
According to her, other activities of the week are Women Connect With Missionaries in an interactive session for the purpose of learning and sharing knowledge about the deen. Noting that participants would also test their knowledge level in a quiz competition. In addition the women would showcase the importance of clean environment by engaging in Environmental Sanitation in different locations of the country where NASFAT branches are located.
President of NASFAT, Engr. Kamil Bolarinwa represented by the Vice President 2, Alhaji Abdulrauf Ayodeji, admonished the participant of the event on the importance of good parenting in order to raise responsible and morally upright Muslims.
https://guardian.ng/features/nasfat-tasks-women-on-effective-parenting/
--------
Police Rescue Hafizabad Woman Held Captive By Brothers For 10 Years
September 06, 2019
HAFIZABAD: Police in Punjab on Friday rescued a woman from a house in the city of Hafizabad who had been held captive in a small room for almost ten years.
The woman, identified as Naila Bibi, was kept captive in the house by two of her brothers over an inheritance dispute, according to reports. One of the brothers of the rescued woman has been arrested.
The brothers of Naila Bibi only fed her once a week and did not clean her room. When she was rescued by police, the bed in which she was dwelling was covered with her own excrement.
Naila Bibi was cleaned up with the help of a neighbour and was sent to the hospital for a medical check-up. She appeared to be suffering from significant physical and psychological trauma from the captivity.
Earlier on Thursday, a former woman Member of the Provincial Assembly was found dead in her house in Naseerabad. The woman, identified as Parveen Sikandar Gull, 60, lived alone in the upper portion of the house.
Police suspected she might have been strangled as marks of rope were found around her neck.
She had been elected as a member of Punjab Assembly on the ticket of Pakistan Muslim League (Quaid-e-Azam) during the tenure of former president Pervez Musharraf.
Parveen Sikandar also served as the secretary of Pakistan Women Hockey Federation. Meanwhile, Chief Minister Usman Buzdar has sought a report from on the incident from the Punjab police.
https://www.geo.tv/latest/246835-hafizabad
--------
URL: https://www.newageislam.com/islam-women-feminism/maldives-overcomes-islamic-opposition-appoints/d/119673
New Age Islam, Islam Online, Islamic Website, African Muslim News, Arab World News, South Asia News, Indian Muslim News, World Muslim News, Women in Islam, Islamic Feminism, Arab Women, Women In Arab, Islamophobia in America, Muslim Women in West, Islam Women and Feminism