New Age Islam News Bureau
15 May 2015
• India: Hijab No Deterrent, IAS Officer Determined To Work for Marginalised Sector
• You Will Become Muslims When We Rape You, ISIS Told Yazidi Girls
• UN Pushing for Abortions on Babies of Girls Raped by Boko Haram
• KP, Pakistan, To Open 1,000 Community Girls Schools
• Malala Fund to Finance Education of AJK Children
• Lindsay Lohan Holds the Quran As She Leaves Her Community Service
• Outstanding Saudi women honoured
• Qatar Elects Two Women for First Time
• Jodhpur Girl Moves Petition To Annul Child Marriage
• First Woman to Run for Aligarh Muslim University Students' President Found Dead
• 'Brides for Sale' Song Help Afghan Rapper Escape Teen Marriage
• Afghan Girl Awarded the Madeleine K. Albright Award
• Parent Pressure to Score High Drives Saudi Students to Drug Abuse
• Palestinian Entrepreneur Brings High Fashion To The West Bank
• Mennonite Education Provided To Afghan-American Muslim Woman Leads Her to Key Roles in World Peace Building
Compiled by New Age Islam News Bureau
URL: https://newageislam.com/islam-women-feminism/maldives-islamic-ministry-unveils-special/d/102973
-----------
Maldives Islamic Ministry Unveils Special Prayer Garb For Women
15 May, 2015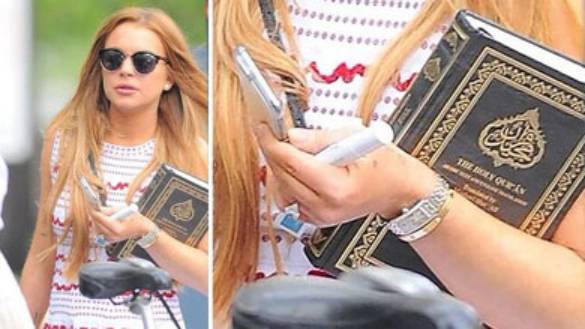 Troubled actress Lindsay Lohan was recently seen holding the Quran. (Courtesy: Splash news)
---------
The ministry of Islamic affairs has unveiled special prayer garb for women today, following alleged complaints over women failing to wear the appropriate clothes at the mosque.
The new garb consists of a white Burqa with a large white underskirt. An un-named individual donated the first 50 pieces of clothing to the Islamic Center today.
"Sometimes, when women who go to the mosque to pray they do not wear appropriate clothes, which leads them to reveal awra. That's why the individual donated the garbs on his own accord" said deputy minister Mohamed Ali today.
The islamic ministry plans to place similar pieces of clothing at mosques throughout the country. The mosques will be responsible for washing and laundering the prayer clothing.
Women usually pray in a separate area at mosques. At many mosques, the women's quarters are walled off by wooden walls.
Speaking to Minivan News, deputy Islamic minister Dr. Aishath Muneeza said that the ministry had been considering placing prayer garb at mosques before the donation from a private individual.
"We receive a lot of complaints, mostly from tourists. In other countries, a lot of mosques provide prayer garbs and socks so that there is easy accessibility into the mosque," she said.
Dr. Muneeza said it will not be compulsory for women to wear the new clothing, but said it is provided for women who may not have clothing suitable for prayer when they enter the mosque.
"For example, now very busy women can also pray at a mosque, instead of going all the way home to pray," she said.
http://minivannews.com/politics/islamic-ministry-unveils-special-prayer-garb-for-women-98077#sthash.NympaYjN.VmoaGnWO.dpuf
------------
India: Hijab No Deterrent, IAS Officer Determined To Work for Marginalised Sector
15 May, 2015
Kozhikode: It's a long pending dream come true, not only for her but for the entire Muslim community in Kerala, especially the Muslim women.
Atheela Abdulla is not the first woman IAS officer in the state, but what makes her special is the fact that she has emerged as the first civil servant in Hijab. "There is an option to wear or not to wear it. I opted the choice of wearing it. As a civil servant, I am obliged to not raise such question and do justice to my duty and post," Atheela says.
Currently, she is posted as the Sub Collector and Additional District Magistrate in Malappuram, the district with second largest Muslim population in the country after Murshidabad in West Bengal.
Born at Valayam near Kuttyadi in Kozhikode district to Abdulla, an NRI businessman, and Biyyathu, a school teacher. Atheela completed her primary and secondary studies in Good Faith School in Kuttyadi. After completing the higher secondary studies from the Muslim Educational Society (MES) residential school at Chathamangalam in Kozhikode, she earned her MBBS degree from MES Medical College, Malapparamba in Malappuram.
But, the career as a doctor was not sufficient to fulfill her obligations to the society. "While it comes to lending service to the society, a doctor is confined with various restrictions. To become an IAS officer means a full time servant with adequate scope of service," Atheela says.
Moreover, like most of the high school going girls, she always dreamt about a career as a civil servant with recognition. It was easier said than done. The challenge was not just the studies. Married, with two daughters, it was Atheela's family, especially her in-laws, who helped her realize her dream. But what drove the family to help her accomplish her desire to become an IAS officer?
Her mother-in-law, Thahira, a retired school teacher, lent her support to Atheela with a "desire to draw Muslim girls towards civil service."
"Our daughter-in-law has earned her place. This achievement might help in drawing more Muslim girls to civil services," Thahira says.
Atheela's husband Dr Rabeeh is pursuing his post graduation in medicine at Pariyaram Cooperative Medical College.
So, with hard work, burning the proverbial mid-night oil, Atheela became the IAS officer of Kerala cadre in 2012. She was appointed as the sub-collector trainee in Kannur district of Northern Kerala in 2013.
During the training period, her efforts to uplift the society received accolades as she initiated various schemes meant for child welfare. While it comes to discharging her duty as a civil servant, the doctor-turned-civil servant dreams of ensuring better service for the common men in different departments of the government. "One of my prime priority is to develop my office as friendly as possible for all who approach it for various purposes. I often come through several beneficiaries, who fail to get satisfying answers while approaching the government offices," she says.
Atheela is trying to wriggle out of being typical bureaucrats by making her office accessible to everyone and ensuring everyone gets satisfaction to his/her queries. "I try that none should leave my office without getting an answer," she says.
According to her, environmental issues, which are least considered by the government officials, will be given befitting cognizance. And while it comes to her priority list, the welfare of senior citizen also assumes major consideration.
But it is her vision, her dream as an IAS that she says she will lay stress on the social sector in a bid to ensure the uplifting of the marginalised sector. "The social sector is in dire need for an emancipation."
http://twocircles.net/2015may15/1431672296.html#.VVWco45VhHw
-----------
You Will Become Muslims When We Rape You, ISIS Told Yazidi Girls
15 May, 2015
(CNSNews.com) – Yazidi girls kidnapped by Islamic State of Iraq and Syria jihadists were given the chance to convert to Islam but told if they refused they would automatically become Muslims anyway the moment an ISIS fighter raped them, U.S. lawmakers heard on Wednesday.
During a House Foreign Affairs Committee hearing on ISIS' war on religious minorities, a representative of a California-based, non-profit organization recounted the testimony of some of the Yazidi girls she met and counseled during recent trips to Iraq.
"In one night [in Sinjar town in northern Iraq] ISIS came and took all these girls," said Jacqueline Isaac, vice-president of the group Roads of Success.
"And they told them first – they gave them an option. They said, 'Will you become a Muslim? Will you convert to Islam?'
"And many of them said no," Isaac continued. "And they told them, 'You are going to be Muslim regardless, because we are going to sleep with you. And the moment that we do that, once we rape you, you will be Muslim.'"
Foreign Affairs Committee chairman Rep. Ed Royce (R-Calif.) asked whether the kidnapping and sale of women and girls from religious minorities was "an outcome of lawlessness, or is it part of a more deliberate ISIS policy to destroy and to subjugate those who do not share their fanaticism."
Isaac replied that it was the ISIS philosophy, with regard to Yazidis in particular, not only to torture, but to destroy them. "They want them off the face of this earth."
Isaac said while the ISIS atrocities had begun with the Yazidis, they would ultimately affect not just Christians but "every woman that doesn't fit within their philosophy."
She described the region as a nerve center of a "menace" that needs to be stopped.
"Right now all the crazies from all over the world are coming to this center point, to this nerve center," she said, adding that the "snake" had to be destroyed at the head.
"Their sex trafficking is systematic and will continue," Isaac warned. "And it can reach our families if we don't do something about it."
Yazidis are ethnic Kurds whose religious practice predates Islam and Christianity and has links to Zoroastrianism. Historically based around Sinjar, the community was an early target of ISIS, along with minority Christians, as the terrorists captured territory across the traditional Christian and Yazidi heartland in the Nineveh plains, last summer.
Hundreds of thousands of people fleeing the ISIS advance sought shelter, many in the nearby Kurdish autonomous region.
In her written testimony, Isaac said she had spent time during her most recent visit last March with people displaced or affected by ISIS violence in Iraq as well as in Egypt.
"It is clear to me that ISIS aims to eliminate all religious minorities in the region," she said. "ISIS continues to destroy the towns and livelihoods of the ancient Yazidi, Christian and other religious minority communities. The survivors are calling on the world to save their ancient communities from complete destruction."
She called in particular for more U.S. military and humanitarian support for the autonomous Kurdish region, which she said had become a haven for many fleeing minorities – "a place of equality, religious freedom and most importantly, safety."
"The Kurdistan Regional Government's track record proves that the people of Iraqi-Kurdistan are reliable friends to the United States and standard bearers of decency in the region," Isaac said. "They have acted with humanity and bravery to protect innocent civilians fleeing from terror – regardless of race, creed or religion."
Isaac conceded that the U.S. could not do everything, everywhere, but argued that defeating ISIS, "both as an idea and as a military movement" was a U.S. national security interest, while preserving human life and property was "commensurate with our highest ideals."
http://cnsnews.com/news/article/patrick-goodenough/you-will-become-muslims-when-we-rape-you-isis-told-yazidi-girls
-----------
UN Pushing for Abortions on Babies of Girls Raped by Boko Haram
15 May, 2015
In Nigeria, the Islamic terrorist group, Boko Haram, has released women and girls from captivity and some are pregnant. Since 2009, the terrorist organization has been capturing, raping and sometimes forcing girls to marry in Nigeria. For example, in 2014, they abducted 500 girls from the northern part of the country, of which 276 were from a secondary school.
Now, unfortunately, the United Nations Population Fund (UNPFA) is pushing for abortions on girls who are pregnant from rape. A pro-life group called the Society for the Protection of Unborn Children recently spoke out against the UNFPA in a press release.
They wrote:
"While rejoicing that women and children, held captive by Boko Haram, have been rescued, the Society for the Protection of Unborn Children (SPUC) www.spuc.org.uk a campaigning organization with an outreach to Africa, is concerned by the presence of the United Nations Population Fund (UNFPA) which claims to be offering "counseling" to the freed women who are pregnant.
UNFPA is one of the leading international groups promoting abortion in the developing world. It is sending huge numbers of reproductive health kits to displacement camps in Nigeria where women rescued from Boko Haram have been taken. The term "reproductive health" is used to cover a range of interventions including abortion. SPUC fears that these emotionally vulnerable, malnourished women will be pressured into aborting their babies."
Thankfully, the Church of Nigeria recently stated that they oppose abortion, even in situations like these. A representative from SPUC, Antonia Tully, added, "Press stories have focused almost exclusively on the reported high number of pregnancies among the released women. It is extremely worrying that some of these women may undergo abortions, which could cause them further physical and emotional trauma in their already weakened state. The deaths of their unborn babies would add to the toll of lives lost in this tragic situation."
As LifeNews previously reported, since President Obama took office in 2009, the UNFPA has given millions of dollars to China's "population dynamics and family programs". In other words, the pro-abortion group works along side the Chinese government to enforce their brutal one-child-policy. In fact, according to the Population Research Institute, abortion and forced sterilizations are more prevalent in countries where the UNFPA is active.
http://www.lifenews.com/2015/05/14/un-pushing-for-abortions-on-babies-of-girls-raped-by-boko-haram/
----------
KP to open 1,000 community girls schools
15 May, 2015
PESHAWAR: Khyber Pakhtunkhwa Chief Minister Pervez Khattak said that as many as 1,000 community-based girls schools were being established throughout the province during the current year.
In a statement issued here, he said over 50,000 girl students would be enrolled in these schools.
Mr Khattak said that Rs100 million had been allocated for the stipends of female students of middle school level to promote girls' education and minimize dropout ratio at primary level. The scheme, he said had been introduced in seven selected districts of the province having low enrollment of children that would be increased by two per cent.
He also referred to the provision of hard area allowances for female education supervisors, saying these female supervisory staff would get additional allowances which was 50 per cent of their basic pay. He said that the allowance was allowed in Kohistan, Battagram, Torghar, Lower and Upper Dir, Shangla and Tank districts.
Pervez Khattak said that the government was committed to introducing reforms in every sector to make institutions service-oriented.
He said that recruitment mechanism in government departments had been made transparent by involving NTS to the satisfaction of the people of Khyber Pakhtunkhwa.
http://www.dawn.com/news/1181885/kp-to-open-1000-community-girls-schools
----------
Malala fund to finance education of AJK children
15 May, 2015
MUZAFFARABAD: The international fund established by Malala Yousafzai for raising girls' literacy has decided to finance education expenses of poor children in Azad Kashmir as well.
Viki Jonson, the director of the Unesco Malala Fund, along with representatives Zaffar Hayyat Malak and Waqar Shams called on Azad Kashmir's Education Secretary (Schools) Raja Muhammad Abbas to inform him about the decision.
Jonson told Abbas that the Malala fund would bear expenses of all reading material (books and notebooks) of deserving children besides providing each student from the backward areas a monthly stipend of Rs500.
Raja Abbas expressed the hope that the initiative would prove to be a milestone in raising girls' literacy in the area.
He also assured the delegation of his full cooperation.
http://www.dawn.com/news/1181849/malala-fund-to-finance-education-of-ajk-children
-----------
Lindsay Lohan holds the Quran as she leaves her community service
15 May, 2015
Lindsay Lohan was spotted in New York leaving her court-appointed community service gripping a copy of the Quran, the Muslim holy book, British newspaper the Daily Mail has reported.
Lohan was sentenced to 125 hours of community service in 2012 after pleading guilty to reckless driving and lying to police. She is currently serving out her sentence in a children's center in Brooklyn, New York.
It has been widely reported that the actress has been known to explore religions. She was raised a Catholic and in her younger years was often seen wearing a Christian crucifix. She was also seen wearing a Jewish Kabbalah - the red string bracelet in later years.
In 2012 she reportedly joined Courtney Love's Buddhist chanting group. But the most recent speculations suggest she is now exploring Islam.
In 2014 Lindsay made a documentary-series about her life with Oprah Winfrey where she told the talk show host that she was a "very spiritual person."
"I've become more spiritual as time has gone on. I'm really in touch, whether it's prayer or meditation… there are so many greater powers than me in the world. I've been blessed and lucky enough to have been given a gift to share with other people," she said in her docu-series.
Previously the 28-year-old was known for her partying antics, and opened up about her addiction to alcohol to Oprah in her documentary entitled "Lindsay".
The Quran advocates a life free of alcohol for Muslims and Lohan has recently said that she intends to embark on an "emotional detox", free from alcohol and dating.
http://english.alarabiya.net/en/variety/2015/05/14/Lindsay-Lohan-holds-the-Quran-as-she-leaves-her-community-service.html
----------
Outstanding Saudi women honoured
15 May, 2015
Saudi Arabia is proud of its women leaders and their immense contribution in various fields, Princess Reema bint Bander Al-Saud has said. "It gives me great pleasure to see women being recognized for their boundless achievements," she added.
Princess Reema, CEO of Alfa International and founder of Alf Khair charities, said this while announcing the winners of the prestigious second annual Arab Woman Awards-KSA, 2015, at a hotel in Riyadh recently.
This year, outstanding Saudi women from across various fields such as business, energy, entrepreneurship, charity, media, government, sports and literature were honored at a ceremony that was preceded by a press conference.
The winners were chosen by an exclusive panel of judges chaired by Princess Reema. The panel included Lina Al-Maeena, Amina Al-Jassim, Lateefa Al-Waalan; and Basma Felimban.
This year's winners are Lubna Al-Olayan (Businesswoman of The Year), Hiba Al-Ali (Finance), Amal Fatani (Education), Noura Bouzo (Art), Sofana Dahlan (Leading Entrepreneur), Hadeel Al-Abbasi (Literature), Reem Al-Kanhal (Fashion Designer of The Year), Najlaa Al-Basam (Young Designer award), Somayya Jabarti (Media), Dalma Malhas (Sports), Zakiah Al-Bundagji of Friends of Jeddah parks for the leading Humanitarian, Bayan Al-Zahran (Legal), Tala Al -Sahhaf (Young Talent), Nabila Al-Tunisi (Energy) and Arwa Al-Aama (Woman In Government), Mishaal Ashemimry (Inspirational Woman of the Year).
Selwa Al-Hazzaa, head of ophthalmology department at King Faisal Specialist Hospital and member of the Shoura Council, received two awards for her Medical and Lifetime Achievements.
http://www.arabnews.com/saudi-arabia/news/746541
----------
Qatar elects two women for first time
15 May, 2015
Qataris have for the first time voted two women onto the Gulf emirate's only directly elected body, the Central Municipal Council, officials announced on Thursday.
Sheikha Jufairi and Fatma Al-Kuwari both won seats in Wednesday's election to the 29-member council, which has advisory but no legislative powers.
Elections director General Majed Ibrahim al-Khulaifi confirmed that it was the first time in the emirate's history that two women had been elected.
Jufairi is a political veteran by Qatari standards and has sat on the council since she was first elected in 2003.
Kuwari, though, is one of 14 first-time winners who will make up almost half of the membership of the new council.
Five female candidates stood on Wednesday and some had called for a quota system to be introduced to ensure better representation for women.
Voting is limited to Qataris aged 18 and over, even though citizens make up little more than 10 percent of the population (around 280,000 people).
Although the electorate of more than 23,000 is split almost equally between men and women, the gender imbalance between the candidates remains striking.
Officials said that turnout was almost 70 percent, with more than 14,600 people voting.
That was markedly higher than at the last election in 2011 when turnout was just 43 percent.
Wednesday's vote was only the fifth time there have been direct elections in Qatar.
http://english.ahram.org.eg/NewsContent/2/8/130219/World/Region/Qatar-elects-two-women-for-first-time.aspx
-----------
Jodhpur girl moves petition to annul child marriage
15 May, 2015
JODHPUR: Nineteen-year-old Santadevi, who was married as an infant, moved a petition in the family court seeking annulment of her child marriage. The court has issued summons to Sanwlaram, to whom she was married, and has listed the matter for May 25.
Sanwlaram and his parents have been threatening her to accept the marriage. She wanted to file a petition with Sanwlaram's consent, which could have expedited the annulment process. "Had it been consensual, the legal process of annulment would have been expedited," Santadevi told TOI on Wednesday.
She appeared in the family court with her father Padmaram on Wednesday afternoon after completing all the formalities. "I was a little scared while coming here, as my in-laws had threatened me this morning that they would not let me reach the court and take me away with them," said Santadevi.
But after filing the papers, she said now she is more confident and everything depends on the court. "I am hopeful now that I will get what I was looking forward to," she said.
Kriti Bharti of Sarathi Trust, who has been assisting her in the legal process, said that the court will give Sanwlaram three chances to appear before it. "But if he failed to appear in the court even then, the court will decide the case ex-party," said Bharti.
The panchayat of Santadevi's village Rohichan Khurd had not only threatened to ostracize their family but also imposed a penalty of Rs 16 lakh, if she proceeded with annulment. But even this threat has not deterred her family, who stood by her in her battle to break free from this 'marriage'.
"Now we are preparing %to file a case against the %identified members of the panchayat and community for harassing Santadevi %and abetting child marriage," said Bharti.
"But we want the matter to be investigated by the city police and not the local police from the girl's village as we feel that they may be influenced by the community," she said. On the other hand, an adamant and unrelenting Sanwlaram is said to have warned Santadevi that court did not mean anything to him and the matter would be solved in the local panchayat only. Attempts to talk to Sanwlaram directly failed.
The state government has also intervened in the matter and obtained the details of the case. Deputy Director of Social Justice and Empowerment Anil Vyas said that a direction has already been issued to the local police to ensure protection of the family. "Besides this, we have gotten in touch with the panches and locals of the village from the community and are trying to counsel them," said Vyas.
http://timesofindia.indiatimes.com/india/Jodhpur-girl-moves-petition-to-annul-child-marriage/articleshow/47275387.cms
------------
First Woman to Run for Aligarh Muslim University Students' President Found Dead
15 May, 2015
ALIGARH: Four years ago, Asma Javed made headlines when she became the first woman to run for student body president at the prestigious Aligarh Muslim University, defying convention. The 28-year-old was found dead in her apartment.
Asma is suspected to have died four or five days ago. The police broke into her home in Aligarh's Civil Lines area after neighbours complained of a foul stench. Asma's brother Salman had also suspected something was wrong when he called her repeatedly and found her mobile switched off.
"I hadn't spoken to her since May 9. The neighbours kept saying there was a horrible smell from her flat. Our uncle also stays nearby. I went to the police and we got the door opened," said Salman Javed.
"The body was completely decomposed. We are investigating how she died," said Shrikrishan, a senior police officer. Her door was locked from outside, which was seen as a strong sign that she may have been murdered.
Some cash and her tablet were missing from the apartment.
Asma ran for the post of students' president in 2011. She had been living alone since her husband reportedly left for South America. Her family alleges that her death could be linked to her campaigns for women students in the university.
Asma, known to be vocal about women's rights, completed her doctorate from the university two years ago. Her family says she wanted to join a teacher's course.
http://www.ndtv.com/others-news/first-woman-to-contest-aligarh-muslim-university-polls-found-dead-in-her-apartment-762972
---------
'Brides for Sale' song help Afghan rapper escape teen marriage
15 May, 2015
Devastated by her parent's decision to marry her off to a man to use her dowry money for her brother's wedding, a teenage Afghan girl narrowly escaped teen marriage by composing and singing a rap song for forced marriages.
The song titled "Brides for Sale" touched the hearts of her parents after seeing their child in a wedding dress with a barcode on her forehead and her face bruised and pleads with her family not to sell her off.
The song starts "Let me whisper, so no one hears that I speak of selling girls. My voice shouldn't be heard since it's against Sharia. Women must remain silent… this is our tradition."
Her name is Sonita Alizadeh who grew in Iran after her fled Afghanistan where she learned karate, photography, guitar in a non-profit organization that taught undocumented Afghan kids.
Her music quickly got recognition after she started singing and rapping and met an Iranian director who helped her polish up her style and make music videos, and that led to a few awards.
"It means so much to me that my family went against our tradition for me. Now I'm somewhere that I never imagined I could be," Alizadeh quoted in a report by Public Radio International said.
The 18-year-old artist is currently in United States and continues to her studies after she was awarded a full scholarship to an arts academy in Utah.
According to reports, child marriage affects some 15 million girls every year in South – particularly in Afghanistan, Pakistan and India where marriages under the age of 16 are widespread, especially among poor families.
In addition to cultural reasons, other major contributing factors for child marriages are the settling of feuds and to pay off debts. Often, the husbands are much older than the bride.
http://www.khaama.com/brides-for-sale-song-help-afghan-rapper-escape-teen-marriage-9422
--------
Afghan girl awarded the Madeleine K. Albright Award
15 May, 2015
Khalida Noori, 24, an Afghan girl who is fighting for women's right in restive Kandahar province, the birthplace of Taliban, has been awarded the Madeleine K. Albright Award in the United States.
Noori received the award through America's National Democratic Institute (NDI), which recognizes the contribution of outstanding women in advancing democracy and political participation of women across the globe.
Noori runs the Worker Women Social Organization (WWSO), a grassroots group based in Kandahar, which provides educational opportunities for girls and women and then find them jobs in governmental organizations.
She says several women have been graduated from WWSO who are now the earning hands of their respective families.
Senator Barbara Mikulski, a U.S senator talked about the importance of involving women in the politics "As Madeleine Albright and the leaders of NDI know so well, when we share our stories, whether in Congress or Kandahar, we inspire women everywhere to fight for opportunity. Every culture responds to a passionate message. Every community can be changed. But first, it takes the power of the one to organize the many."
First lady Rula Ghani who attended the ceremony said that the women are among the strongest women who with very limited means strive to make better life for themselves and their families
"They live under very difficult circumstances. Yet, with very limited means, these women are striving to make a better life for themselves and their families. They are the glue that keeps society together, they are the conscience that goads the leaders onto the right path. They are hardworking, persistent, resourceful, and they are tough. If they need support and help it is not because they are weak or clueless but because they are strong and will put every little bit of support to good use."
Worker Women Social Organization (WWSO) president said she will use the $25,000 grant to raise females in Kandahar to join the next generation of the political leaders of Afghanistan.
http://www.khaama.com/afghan-girl-awarded-the-madeleine-k-albright-award-3347
-----------
Parent pressure to score high drives Saudi students to drug abuse
15 May, 2015
About 40 percent of Saudi students become drug addicts because of the increased use of narcotics during exam times. And it happens when parents and guardians put pressure on them to score high marks. Drugs help them stay awake and study.
"Some children are given the impression that certain narcotics help them memorize well and stay awake during night," said Dr. Nizar Al-Saleh, consultant of the National Committee to Combat Drugs.
He said Captagon pills are sold among students by different names. "Children with weak personalities, who do not receive proper care and guidance at homes and schools, fall victims to drug traffickers," he said.
Al-Saleh said drugs give false notion to children that they would sharpen their memory. "Actually they would weaken them and cause them to perform poorly in exams," the consultant said. He said a shortage of experts to deal with drug addicts would have a negative impact on youth.
He called upon parents to keep a close watch on their children to protect them from drug peddlers. "Tension during exams is one of the main reasons Saudi students use drugs," Al-Saleh pointed out.
"Drug addiction is one of the major problems facing Saudi society," said Dr. Saeed Al-Sareeha, director of studies at information. "A drug addict can destroy the whole family."
http://www.arabnews.com/featured/news/747061
---------
Palestinian entrepreneur brings high fashion to the West Bank
15 May, 2015
For those living in the GCC - particularly in the United Arab Emirates - it can be incredibly easy to take the finer things in life for granted. Convenient transport, delicious world cuisine, and a myriad of shopping options are just few of the luxuries available for residents. In fact, according to several recent market reports, the UAE is the biggest consumer of high fashion/designer wear in the whole region.
For 29-year-old fashion entrepreneur Ruba Abdulhadi, living in the GCC as well as the rest of the Middle East, highlighted the massive differences in access to designer and luxury goods in her home country. And so an idea was born. The Amman-based Palestinian, along with business partner Badea Jaber, recently launched their shopping website Elmuda.com, which has become the very first website of its kind to deliver to the West Bank. Al Arabiya News met with Abdulhadi to find out more about the project.
How would you summarize Elmuda?
It's an online ecommerce platform, where fashion lovers can browse more than 150 brands around the world… you can buy unique pieces from London to LA, Berlin to Lebanon, Paris to Dubai, and Milan to Palestine. The idea behind it is to give people in the region access to all different brands such as Rani Zakhem, Alexander McQueen, and Lina Brax bags, for instance.
There are lots of shopping sites in the region… what do you feel makes you unique?
One unique feature we provide is our content, as we are not only a shopping site. You can 'shop' for our content. We create a luxury lifestyle and that doesn't necessarily mean expensive. It means better quality and service, and we set high standards in service just the way I would like to be serviced.
Growing up in Ramallah, I didn't have much access to fashion and many other things. It was just a fantasy for me. But I certainly had the passion for it. And then when I was older, after completing a year-long exchange program at Harvard Business School, I decided to work towards realizing my personal passion. Because of everything that went on while growing up, fashion was sort of a defense mechanism - escapism if you will. Creating this business for me therefore is very personal, because I want to give ladies access to everything they thought they couldn't reach starting with fashion.
Which explains where you are delivering…
Yes. We deliver everywhere in the region and to Palestine, but only to the West Bank, as we do not have access to the remaining territories. Unfortunately, it takes 10 days to deliver to the West Bank, but we are working on finding a way to be able to deliver in three-to-five working days like the rest of the region.
How important do you feel fashion is to the Middle Eastern woman?
Fashion is art and a way of living. You can't really separate it from yourself, so even if you think you're not fashionable enough, or not that into it, you definitely have a style that defines you, or in other words, reflects who you are. A doctor will dress differently to a filmmaker, and in the Middle East specifically, we see this a lot due to the culture we lived and grew up in. Each country in the region has a different fashion vibe, and in a way represents that specific culture. People in Beirut dress differently to Amman and differently to Saudi Arabia… each fashion statement can represent the country's history, culture, political situation, religious beliefs, or even economic status.
I'll tell you a true story; a friend of mine travelled from Ramallah to Amman, and then to Beirut - that's an eight-hour trip - just to pick up a Hermès bag. Why? Because they would only deliver it to its Beirut store. And those are the kind of lengths the Middle Eastern consumer is willing to go for a unique fashion item.
Who are your fashion icons?
At the top of my list has to be Queen Rania of Jordan, as I love her effortless, chic look. Victoria Beckham's style is powerful and sexy. She always uses the best fits for her figure and she oozes confidence.
Summer is coming up… What trends should we look out for?
One thing about summer is that you need to leave all your old uptight clothes to something more liberating. This season, it's all about the minimalistic approach - less fuss in the color and fabrics. There's a lot of denim-on-denim and whites, and I'm assuming that this trend has been inspired by our daily life as we juggle everything.
One item I love during the summertime is my low-top Converse sneakers in bright tweed, suede or, for the most signature look, classic white. The beauty about Converse kicks is that you can match them with virtually anything, from a pair of jeans or shorts, to dresses, formal or casual. If you want to spice up a neutral or bland outfit, stand out in statement sneakers by Yves Saint Laurent.
And what tips do you have for dressing during Ramadan?
The holy month of Ramadan and its family gatherings makes it my favorite month of the year. With Ramadan being in June, avoid anything too warm, as it will just irritate you while fasting. I would suggest two styles; kaftans are loose fitting, breezy and can be worn for Iftar and Sohour. Then there's the androgynous suit, like the DKNY + Cara Delevinge collection.
What are your fashion no-no's?
Wearing trends just for the sake of it. One of my favorite Salvatore Ferragamo campaigns is: "I'm not an illusion, I'm a woman." Just wear what fits you and looks good on you. Less is more anyway.
Finally, what's next for Elmuda?
Women are driven by trends and new things, so we aim to be different - in everything from the packaging, and voice and tone to the service. We're also planning on signing new boutiques and designers, including Middle Eastern ones of course. The vision is to become the number one destination for luxury in the Middle East, providing people information on what to buy, access to these goods and the lowest level of risk possible for an amazing experience.
http://english.alarabiya.net/en/life-style/fashion-and-beauty/2015/05/14/Palestinian-businesswoman-brings-high-fashion-to-the-Middle-East.html
----------
Mennonite Education Provided To Afghan-American Muslim Woman Leads Her to Key Roles in World Peace Building
15 May, 2015
The culturally mixed background of the Afghan-American Muslim keynote speaker fit well with the diverse attendees from 21 countries at the first "Frontier Luncheon" during the six-week Summer Peace building Institute.
Palwasha L. Kakar told the audience of about 100 that her religious faith underpins all her efforts to empower women across the Islamic world. "In the field, it's really faith that allows us to overcome obstacles," she said in her May 6 speech, facilitated in part by the Center for Interfaith Engagement at Eastern Mennonite University.
Tailoring her message to the professional peace builders in her audience, Kakar outlined two projects under her purview as senior program officer for Religion and Peacebuilding at the United States Institute of Peace: (1) mapping the religious sector of Libya and (2) promoting women's rights within the Islamic constitutional framework of Afghanistan.
For the pacifist Christians present, however, the glimpse she provided of her background may have been even more interesting. Kakar's undergraduate degree came from a sister Mennonite institution, Bethel College in Kansas.
Kakar rushed through highlights of her personal story to focus on the situations in Libya and Afghanistan. The following fleshed-out version of her history was culled from three Bethel College news articles, all pertaining to her 2014 selection as Bethel College's Young Alumnus. The extracts are republished courtesy of Bethel's writer, Melanie Zuercher. — Bonnie Price Lofton
Daughter of culturally mixed marriage
Kakar's mother grew up Mennonite in the Midwest. "When she married my father, she agreed to raise the children Muslim," Kakar said. "When she was pregnant with me, the first child, she went to study Islam with a Muslim women's group, and she decided to convert to Islam."
Kakar was born in Seattle and spent her first 11 years there.
"When I was growing up, my mother was in medical school and my father was working on a PhD, and my Mennonite grandparents came to take care of me. My grandmother would take me to Friday prayers [at the mosque] and stay to listen to the sermon. On Sunday, she would take me to church, so I grew up also hearing Mennonite hymns."
In 1989, the Soviets pulled out of Afghanistan after a 10-year occupation. "My parents were eager to go back to Afghanistan. However, because of the ongoing war and conflict, we only got as far as Peshawar, where I met my extended family in a refugee camp.
"I quickly noticed that of all the girl cousins, I was the only one going to school. Their families, especially my uncles, wouldn't let them go. I would get into conversations with my uncles – which pushed me to understand their very traditional mentality.
Changing through faith-based conversations
"Through this kind of discussion, I found what could really convince them was that, in Islam, it is not only girls' right, it's their obligation, to be educated. Along with my parents, I was able to convince my uncles to allow their daughters to go to school.
"Now one of my cousins is a teacher, one is in medical school and others are continuing their education. I realized the importance of talking at the level people are at, and how important faith is in helping people think differently.
"We hear from the IMF and the World Bank how women's education is connected to the economic strength and health of a country. In places like Afghanistan and Libya, it's important to get this information out, but also to frame it in the context of religion."
When Kakar came to Bethel, she was leaving a "very conservative" Muslim context and coming to the Mennonite one of her [maternal] grandparents, Ruth and Erwen Graber.
"In both, faith was very important," Kakar said. "It was the lens through which to view the world."
The lens of conflict resolution
She continued, "At Bethel, I took classes in conflict resolution and mediation with a goal of educating other societies, especially in Pakistan and Afghanistan, on women's rights, and of understanding gender and Islam from a perspective that would help expand women's rights in Muslim countries and societies."
Kakar has always felt strongly that "it was important to work carefully from within the context, the framework – not push an ideology [such as 'global human rights'] from outside."
Many non-governmental organizations shied away from any kind of faith-based development work, she said, but her experience told her that in conservative Islamic societies, the only agenda that would work was a religious one.
At the Asia Foundation, with which she spent most of the last decade in a variety of roles, she found one NGO willing to say, "It's OK to work in a religious framework, it's good to work with religious leaders," she said.
Among the many things she did was organize tours for religious leaders from Afghanistan to see how leaders in other Islamic societies – such as Turkey, Malaysia and India – worked on community issues, especially related to gender.
"Women and men went on separate tours," she said, "but when they came back, we asked them to reflect on their experience together. It was an experiment" – one that became as important a lesson to the men about the gifts of educated, articulate women as the tours themselves.
"All these bearded men were nodding their heads, saying, 'Yes, we agree with you, sister.' There was suddenly no Us and Them. They all had the same cause. That was amazing to see."
Community-based discussions
Another project Kakar worked on was organizing community discussion groups, which she based upon faith discussions she's experienced at Bethel.
She took that idea about "safe space" into creating a place where men, in particular – the religious leaders and community elders – could experience "an internal process led by faith."
The discussions in the community groups centered on women's rights within Islam, Kakar said, "illustrated with personal experiences, stories and case studies. These became places where some things began to be resolved, where a woman's rights were protected" – for example, land inheritance or the choice not to marry.
"Religious leaders told us that when we began the groups, they were hesitant to talk about domestic violence and other issues openly within the community. Hearing the experiences of leaders when they did speak out helped other leaders gain the courage to speak that they hadn't had before."
The community discussion groups would not have succeeded, Kakar said, "without the acceptance of it being all right to approach situations from a faith basis, [a value] I attribute to my Bethel education and to the Asia Foundation being open to this approach."
New openness to faith-based work
As other NGOs observed the success of the groups, they began asking for the material to use in their own work.
"Now the tide is changing," Kakar said. "There is much more openness to using a faith-based approach and to work with religious leaders to change attitudes toward women and their rights."
Kakar did her undergraduate work in global studies, and Bible and religion, graduating from Bethel in 1999. Her first job was director of the Newton Area Peace Center, which is now Peace Connections.
After earning a certificate in intensive Arabic-language study at Zarka (Jordan) Private University, Kakar began graduate studies at Harvard University, completing a master's degree in 2004 in theological studies, focused on gender, religion and politics.
Kakar is fluent in Pashto and English, proficient in Dari, and has basic knowledge of Urdu and Arabic. She has written extensively on women's rights in Afghanistan and Iran.
http://augustafreepress.com/mennonite-education-provided-to-afghan-american-muslim-woman-leads-her-to-key-roles-in-world-peacebuilding/
----------
URL: https://newageislam.com/islam-women-feminism/maldives-islamic-ministry-unveils-special/d/102973