New Age Islam News Bureau
20 Nov 2018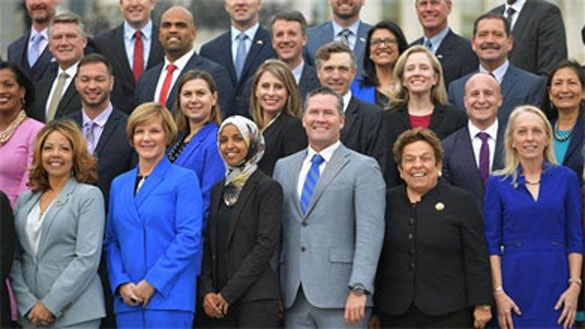 Democratic congresswoman-elect Ilhan Omar, MN, (3rd L, front row) poses along with others for the 116th Congress members-elect group photo on the East Front Plaza of the US Capitol in Washington, DC on November 14, 2018. (AFP photo)
-----
• Newly Elected Muslim Congresswoman Fights for Right to Wear Hijab in Congress
• Record Number of Women Contest in Bahrain's Local Elections
• Indonesian Minister Explains Why His Daughter Wears Niqab
• Tunis Female Suicide Bomber Had Sworn Allegiance to ISIS, Says Minister
• Another American Girl Arrives In Pakistan, Marries Lahore Man
Compiled by New Age Islam News Bureau
URL: https://www.newageislam.com/islam-women-feminism/malaysias-first-female-shariah-high/d/116929
--------
Malaysia's First Female Shariah High Court Judge Decides If Men Can Take a Second Wife
November 20, 2018
Malaysia's first female Shariah high court judge, Justice Nenney Shushaidah deals with cases where men seek second marriages, BBC reported on Tuesday.
Nenney deals with more than five of such trials in a day and over 80 in a week. She believes that in her capacity as a Shariah expert she can work towards protecting women in Muslim-majority nations.
She leads the bench in cases ranging from financial disputes to social issues, often involving young Muslims but her expertise is mainly in child custody and cases of polygamy- considered legal in Malaysia in adherence to the Shariah codes. However, there are many factors she considers before ruling in favour of a second marriage.
Malaysia's first female Shariah high court judge, Justice Nenney Shushaidah deals with cases where men seek second marriages, BBC reported on Tuesday.
Nenney deals with more than five of such trials in a day and over 80 in a week. She believes that in her capacity as a Shariah expert she can work towards protecting women in Muslim-majority nations.
She leads the bench in cases ranging from financial disputes to social issues, often involving young Muslims but her expertise is mainly in child custody and cases of polygamy- considered legal in Malaysia in adherence to the Shariah codes. However, there are many factors she considers before ruling in favour of a second marriage.
"She loved her husband and wanted me to grant him permission to marry a second wife. So I did."
Women rights group "Sisters in Islam" stressed that there is a dearth of female representation in the courts and "strong sense of patriarchy" pervades in the system.
"The Sharia legal context in Malaysia not only selectively discriminates against women, it vilifies them as the cause of social immoralities," said spokesperson Majidah Hashim.
https://tribune.com.pk/story/1851120/9-woman-decides-men-can-take-second-wife/
--------
Newly Elected Muslim Congresswoman Fights for Right to Wear Hijab in Congress
Nov 19, 2018
Minnesota Representative-Elect Ilhan Omar has announced she will challenge a 181-year-old law that bans wearing headwear, including the Islamic hijab, in the United States House of Representatives.
Omar announced the decision on Saturday, voicing support for a Democrat proposal to end the ban that was publicized last week.
The rule change was proposed by former House Minority Leader Nancy Pelosi, ranking member of the House Committee on Rules Jim McGovern and the Muslim representative-elect.
Democrats say the ban will be lifted to allow others to wear headgear on the floor based on religious or medical considerations.
The current laws of the House of Representatives prevent Ilhan from wearing hijab as they oblige all members to be "uncovered" in order to enter the building and address the floor. The ban was instituted in 1837 as to push back against the British custom of wearing hats in parliament. The new rule would clarify that religious head coverings, including Muslim head scarves (hijab), are not included in this ban.
The law was called into question after Omar and Rashida Tlaib succeeded in becoming the first two Muslim women to be elected for the US congress after the recent midterm elections.
A number of politicians from both sides of the aisle as well as numerous organizations have backed the move.
"We support the effort to update this anachronistic policy and to bring the House of Representatives into conformity with the Constitution and its existing protection of religious freedom," said the Council on American-Islamic Relations (CAIR), the nation's largest Muslim civil rights and advocacy organization.
"Islamic head coverings, Sikh turbans, Jewish yarmulkes, and Mennonite bonnets are all expressions of religious belief and are therefore already protected by the First Amendment to the Constitution, which states that 'Congress shall make no law respecting an establishment of religion, or prohibiting the free exercise thereof,'" added CAIR National Executive Director Nihad Awad.
Omar, previously a Somali refugee and a community activist, easily won over her republican opponent Jennifer Zielinski after campaigning on a platform promoting criminal justice reform, more accessible healthcare and the abolishing of Immigration and Customs Enforcement (ICE).
Support for Palestine
The new hijab-wearing representative of Minnesota has, however, come under much scrutiny for her position on Palestine and her recently announced support for the Boycott, Divestment, Sanctions (BDS) movement, prompting many reactions on social media.
A hashtag campaign using #IStandWithIlhan was launched in her support last week.
Omar is, nonetheless, not the first recent representative-elect to make headlines about Palestine.
The newly elected New York City representative Alexandria Ocasio-Cortez drew much attention in May for harshly criticizing Israel for the high number of Palestinians killed during the weekly "Great March of Return" demonstrations.
Two months later and after facing much criticism, Cortez slightly backed down from her past remarks, saying that "I am not the expert on geo-politics on this issue."
Cortez's backtracking has, however, led some observers to doubt whether the Democratic Party can truly tolerate members promoting pro-Palestinian views.
https://www.presstv.com/Detail/2018/11/19/580541/RepElect-Ilhan-Omar-fights-to-wear-hijab-in-congress
--------
Record Number of Women Contest in Bahrain's Local Elections
By Ismaeel Naar
19 November 2018
Bahrain will field a record number of women candidates in the upcoming parliamentary and municipality elections to be held on November 24, although two of the three incumbent female MPs have decided to opt out of this year's race.
While two women legislators, Dr. Jameela Al Sammak and Fatima Al Asfoor, have chosen not to seek re-election, at least 41 women candidates are contesting in parliamentary elections, while eight women have filed their candidacy in municipality elections.
Women candidates taking part in elections include eminent professionals and celebrities in the island kingdom, including lawyers and even an Olympian and Asian Games gold medalist.
Growing confidence
Among those candidates running for parliament is Fawzia Zainal, who is contesting elections for a third time, after having coming close to winning a seat in 2014. Zainal, who first ran for elections in East Riffa district, fell short of a mere 288 votes in a run-off round against her male opponent in 2014.
"In 2006, I ran against four men and came in second with 1,764 votes. In 2006, the experience was still new for both myself and the voters where we were just practicing getting familiar with elections and practicing the right to vote. I received a lot of questions about my gender and people were still getting to know who to pick the right candidate for their districts," Zainal told Al Arabiya English.
Four years later, electoral districts were re-drawn. Zainal's district was re-assigned to the Southern governorate (5th district). She had to wait until 2014 when voters no longer viewed gender as an issue for selecting candidates.
"It was a much closer race four years ago and I entered a run-off vote against my male opponent. But this difference in votes was very small this time around," she said. The difference between her and Khalifa al-Ghanem was just 288 votes.
"I received 3,217 in the last elections. How could I deny the voters the trust they placed in me and not try again. Many of them have been telling me that third time's a charm, I hope they are right," she told Al Arabiya English.
Unlike other countries in the region, Bahrain has no quota for female representation in parliament and many Bahrainis view such a system to be in contravention of Bahrain's constitution and the National Action Charter, a document passed in 2001 that set in motion a wide range of political, social and economic reforms in the kingdom, which gained the approval of 98.4 per cent of the people in a national referendum at the time.
Shy candidates
Many say it has been a difficult road for women candidates as Bahrain's previous parliaments were dominated by Islamist parties from both the Sunni and Shiite sects, which opted not to include women on their lists. In the first elections of 2002, all 31 women candidates lost in the elections. In 2006, a total of 18 women candidates took part but only one candidate, Lateefa al-Gaood, won a seat by default after her two male opponents dropped out of the race before election day. She became the first woman in the Gulf Arab region to be elected to parliament and was able to retain her seat four years later after running unopposed once again.
Eventually, three women won their seats by vote when Fatima Al Asfoor, Roua Al Hayki and Jameela Al Sammak got elected in the Northern Governorate, an area of Bahrain that has traditionally been among the most conservative in the country. In the last election of 2014, 22 women contested and that number has doubled this year to 41.
"Many women candidates stand in elections, but we don't hear anything from them to make us want to vote for them. This is partly because we are in a society where men shout the loudest," Mohammed Al Sayed, spokesperson for Citizens for Bahrain – a group that monitors and analyzes elections as an independent volunteer group, told Al Arabiya English.
"We need strong female candidates who are confident campaigners and have a lot of active supporters campaigning on their behalf. We hope we see some strong women deputies this year who set the example for the role Bahraini women can play in the decision-making process – like some of the excellent women we have in the Shura Council," he added.
The glass ceiling
Although many believe women would fare better this year, the path to victory may not be so easy. Unknown vandals have defaced and torn up billboards of Zainal plastered on the walls in the Southern fifth district while other candidates have complained of receiving online threats.
Adding to the drama, incumbent Roua Al Hayki is pitted against two other women candidates – Latifa Al Gaoud (a close relative of the senior al-Gaoud of the same name) and Aalia Rashid Al Junaid. It is feared these women candidates may split the female vote against their five male opponents.
Despite the challenges, independent candidates including women are touted to succeed as Bahraini analysts predict constituents will vote out incumbents. "Although public opinion is difficult to gauge in Bahrain, the outgoing parliament is said to be perceived as ineffective. Unlike previous parliaments, this one has failed to question any cabinet ministers in an open session, exercise any meaningful influence over government policy, or even hold the government to account over the delivery of its program," Hasan Alhasan, a PhD researcher at King's College London, told Al Arabiya English.
Although it may seem like an uphill battle for some, Zainal says its high time women shine this time around. "There are 47 of us running in both elections. We're hoping to increase our numbers and reflect proportionately the population of Bahraini women. Hopefully, we can make it more than half this time around," she said laughing nervously.
https://english.alarabiya.net/en/features/2018/11/19/Record-number-of-women-contest-in-Bahrain-s-local-elections.html
--------
Indonesian Minister Explains Why His Daughter Wears Niqab
November 20, 2018
Coordinating Political, Legal and Security Minister Wiranto wrote a public letter on Monday to respond to public comments after pictures were posted on social media of his family during the funeral of his grandson, Achmad Daniyal Al Fatih, on Friday. Wiranto's daughter, Lia Wiranto, who lost her seventh child, a 15-month-old toddler, was seen in a picture wearing a niqab. Next to her was the mourning father, wearing a white Muslim turban.
The funeral pictures made the rounds on social media, surprising some people that the country's top official on security, which deals with radicalism and terrorism, would have a daughter and son-in-law wearing attire often associated with radicalism and terrorism. The pictures also reminded some of Wiranto's late son, who went to South Africa to study the Quran and died there in 2013.
Here are the excerpts from his letter:
Some years ago, when my son, the late Zainal Nurizky, died while he was studying the Quran in South Africa, some people said Wiranto's son was a follower of radical Islam, a terrorist cadre and other things. Under his own volition, he asked for my permission to leave Gadjah Mada University, a very reputable institution, because he was concerned with the young generation's behaviour that did not show exemplary character.
Through the internet, he chose an institution that did not have any political agenda, a place to strengthen his understanding of the Quran, which put forward brotherhood and peace. It was not a school for terrorists. Unfortunately, a year into study, which was supposed to be for seven years, he died of an illness, while he was reciting the holy verses. So when people derided him and made slander, I just laughed, because I would not deign to respond to them.
Now, when my grandson, Ahmad Daniyal Al Fatih died, his mother, father and older siblings wore Muslim attire: Niqab and white turban, and many people were surprised, social media was abuzz talking about them. Some were happy to see them, some were insulting and casting prejudice. Some tried to relate [the Muslim attire] with my position as the Coordinating Political, Legal and Security Minister.
To allow my son and my grandson to meet Allah the Most Beneficent in peace, I think it would not be wrong for me to explain about my family and the life principles I taught them.
Now, in 2018, I have devoted myself to the Mother Land for 50 years, 32 years in the military and 18 years in politics and government. I have done a lot to protect the country's unity, sovereignty and dignity. Achievements, praise, slander and insults, I have lost count of them but they do not dampen my love for this country and my belief in the state ideology Pancasila, Saptamarga (soldiers' oath), which have been in my body and soul.
With that as the foundation, I taught them to feel a sense of belonging, to love, to defend this country wherever they are, whatever they do, because they were born and raised here, got their education and lived their life, even found their resting place. "Don't mix religion with state ideology, don't exploit religion for political gain and financial benefit. Learn about religion to equip yourself in the afterlife and for the benefits of fellow humans, the nation and state."
"You can wear anything you want as long as you are comfortable. But the most important thing is don't use your appearance only to show off about how Islamic you are, because the depth of your religion is not measured by your clothes and appearance, but mainly by your morals and behaviour."
I give my family the freedom to be anything they want as long as they don't veer off the principles I taught them. I always emphasized that they should do good for the country, instead of making the country suffer.
I have been lucky to receive the trust to become the Indonesian Military's chief, but none of my children or my children-in-law followed my footsteps in the military, or became a supplier of primary weapons systems. I founded the Hanura Party, but none in the family have become the party's executives. Indeed, I have asked them in earnest to not abuse my position for their personal interests. I am grateful that at this moment, we, the whole family, can still hold onto that principle.
I thank anyone who has given their attention and prayers to me when my grandson died. I hope all those would become the light for him when he meets God, the Most Beneficent. Amen.
http://www.thejakartapost.com/news/2018/11/19/a-fathers-love-wiranto-explains-why-his-daughter-wears-niqab.html
--------
Tunis Female Suicide Bomber Had Sworn Allegiance to ISIS, Says Minister
19 November 2018
An unemployed graduate who blew herself up in Tunisia's capital last month had sworn allegiance to ISIS extremist group, the interior minister said Monday.
Mona Guebla detonated a bomb near police cars on the busy upmarket Avenue Habib Bourguiba in central Tunis on October 29, killing herself and wounding 26 people, mostly police officers, Hichem Fourati told parliament.
Guebla had used "secret communication channels" to make contact with "terrorist leaders inside and outside the country" and to swear allegiance to IS, he added.
Fourati said the 30-year-old had received online instructions on bomb-making from "terrorist elements" based in the country's mountainous east, the epicentre of a long-running jihadist campaign of attacks targeting Tunisian security forces.
The attack was the first to rock the Tunisian capital since 2015.
Police sources said the assailant appeared to have used a homemade bomb rather than an explosive belt.
Guebla, who lived in a marginalized rural area in the eastern Mahdia region, was studying for a doctorate and spent hours on the computer locked in her room, but her family said there was no indication she was being radicalized.
After her death, authorities found "a quantity of raw materials used in the manufacture of explosives" at her house, Fourati said.
Local media have reported that her distraught family refused to receive the body and did not attend her burial.
https://english.alarabiya.net/en/News/north-africa/2018/11/19/Tunis-female-suicide-bomber-had-sworn-allegiance-to-ISIS-says-minister.html
--------
Another American Girl Arrives In Pakistan, Marries Lahore Man
November 19, 2018
In yet another case of an American arriving in Pakistan to marry a local, a 21-year-old woman has tied the knot with a 24-year-old Lahore man.
Maria Angelo, travelled all the way from the US to meet the love of her life, Mohsin Ali, in Gulshan-e-Ravi neighbourhood of the provincial metropolis.
The duo had reportedly fallen in love after becoming friends on the social media. Angelo also embraced Islam before formally entering her marital life.
Earlier this month, an American woman, 41, travelled all the way to meet the love of her life, a 21 year old man from Sialkot. Helena fell in love with Kashif on the social media and decided to tie the knot with the young man. The woman also embraced Islam before beginning her marital life.
In April, an Indian woman who came to Pakistan to attend the traditional Baisakhi festival married a Pakistani man and embraced Islam.
After her marriage, Kiran Bala's name was changed to Amna Bibi, who said that she wanted to tie the knot with Azam, a resident of Hanjarwal, Lahore, and that she didn't want to return to India.
Based on these grounds, Amna requested the authorities to extend her visa so that she could stay in Pakistan. According to the woman, she also received assassination threats following her marriage.
https://tribune.com.pk/story/1848890/1-another-american-girl-arrives-pakistan-marries-lahore-man/
--------
URL: https://www.newageislam.com/islam-women-feminism/malaysias-first-female-shariah-high/d/116929
New Age Islam, Islam Online, Islamic Website, African Muslim News, Arab World News, South Asia News, Indian Muslim News, World Muslim News, Women in Islam, Islamic Feminism, Arab Women, Women In Arab, Islamophobia in America, Muslim Women in West, Islam Women and Feminism