New Age Islam News Bureau
27 Aug 2014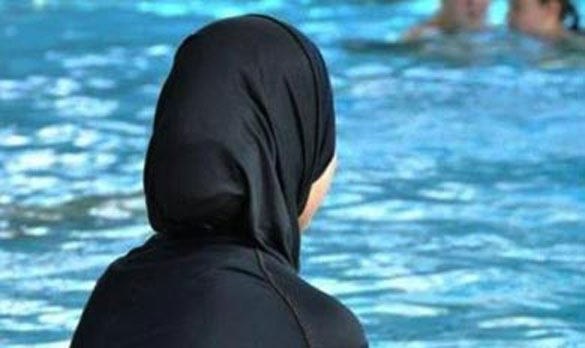 Women are banned from wearing a Burkini in Morocco. (AFP)
----------
• Women Can Travel Alone Without Mahram: Moroccan Islamic Scholar
• Egyptian Feminist Sends a Bold Message to ISIS as She Pose Nude and Bleeds On IS Flag
• No Burkinis! Morocco Hotels Ban 'Halal' Suit
• Swaziland: Swazi Girls Face Public Whipping
• Riyadh, Jeddah Top Cases of Marriage Annulment
• Over 1,400 UK Children Raped and Trafficked by Men of 'Pakistani-Heritage'
• Saudi Labour Ministry to Tackle High Rates Of Female Employees Quitting
• Bangladesh Grassroots Women Entrepreneurs Awarded For Excellence
• Ombudsman, Anna Says Banning the Hijab at Somali School Is Discrimination
• Lesbian Iranians Sahar and Maryam Have Marriage Blessed By Gay Imam in Sweden
• Uganda's First Female Coach of the Women's Football Team
Compiled by New Age Islam News Bureau
URL: https://newageislam.com/islam,-women-and-feminism/new-age-islam-news-bureau/malaysian-women-join-middle-east-jihadists-as-'comfort-women'/d/98764
------------
Malaysian Women Join Middle East Jihadists as 'Comfort Women'
27 August 2014
Malaysian women are believed to have joined the Islamic State of Iraq and Syria (Isis) forces to offer Jihad Al-Nikah or sexual jihad, senior intelligence officials told The Malaysian Insider.
Authorities confirmed that three Malaysian women have journeyed to the Middle East to join up with Isis forces.
Jihad Al-Nikah refers to a controversial concept where Sunni women allegedly offer themselves in sexual comfort roles to fighters for the establishment of Islamic rule.
The concept originated from a Wahhabi edict around 2013, that called for Sunni women supporters to come forward for sex jihad and boost the morale of fighters battling against Bashar al-Assad's regime in Syria.
"These women are believed to have offered themselves in sexual comfort roles to Isis fighters who are attempting to establish Islamic rule in the Middle East.
"This concept may seem controversial but it has arisen as certain Muslim women here are showing sympathy for the Isis struggle," an intelligence official told The Malaysian Insider.
Speaking on condition of anonymity, the official said one of the Malaysian women had travelled to the Middle East in December last year.
"The woman, in her 30s, went to Turkey before meeting up with middlemen who helped her to complete her journey to Syria via land routes.
"Another Malaysian woman in her 40s is believed to have linked up with Isis forces sometime in April this year," the source said.
The intelligence official said Malaysian women were not the only ones who were performing sexual jihad as there were also other Muslim women involved.
"Intelligence exchanged with other countries revealed that Sunni Muslim women from Australia and the United Kingdom had also joined up with Isis."
The intelligence official said Isis had issued a decree or edict in June this year ordering for the conscription of Jihad Al-Nikah or sexual jihad.
Shortly after the town of Mosul in Iraq was captured by Isis forces, people were ordered to send unmarried women to jihad for sex," the intelligence official revealed.
"In its proclamation, Isis threatened to impose shariah law on all those who failed to comply with the edict or decree," the official added.
The intelligence official said British counterparts had revealed that more than 600 British Muslims are believed to be fighting for Isis.
"This figure also includes British Muslim women who are not fighting on the front line, but are still involved by performing sexual jihad.
"Australian intelligence officials have revealed that more than 100 Australian Muslims are in Syria fighting alongside Isis," the intelligence official said.
Although Putrajaya had initially revealed that about 30 Malaysians might have travelled to the Middle East to fight for Isis, the actual figure is believed to be higher.
"Checks with our foreign counterparts and intelligence disseminated reveal that there may be up to 50 Malaysians in the Middle East," the official told The Malaysian Insider.
So far, three Malaysians have reportedly died in Syria while fighting against the forces of Syrian President Bashar al-Assad.
Mat Soh, 52, was reportedly killed after being hit by a tank shell during fierce fighting between Isis and Syrian forces last week.
In June, 26-year-old Ahmad Tarmimi Maliki died after a suicide incident which killed more than 20 Iraqi soldiers at their base in al-Anbar in May.
The identity of the third Malaysian who perished in the incident has yet to be confirmed by authorities here.
Since the conflict in Syria erupted in March 2011, more than 190,000 fatalities have been reported thus far, according to the United Nations.
The most gruesome murder occurred on August 20 when Isis released a footage of a jihadist, who spoke with a southern English accent, beheading American photojournalist James Foley.
Foley was captured in Syria in late 2012. The video footage showed him being murdered in the desert.
The video, entitled "A Message To America", was posted on YouTube in a warning to US President Barack Obama over air strikes against the militants in Iraq.
Before he was killed, the 40-year-old war reporter was forced to read a statement that blamed America for his death.
http://www.themalaysianinsider.com/malaysia/article/malaysian-women-join-middle-east-jihadists-as-comfort-women-reveals-intelli#sthash.Zvr54ILA.dpuf
------------
Women Can Travel Alone Without Mahram: Moroccan Islamic Scholar
Aug 27, 2014
Tinjdad, Morocco – In a paper presented at the tenth forum of the Youth of Justice and Development Party held in Rabat from August 24 to 31, Muslim scholar Ahmad Raisouni stated that it is permissible for a woman to travel alone without a "Mahram" (i.e., her husband or one of her relatives whom she cannot marry).
According to the Hadith of the Prophet (PBUH), "It is not permissible for a woman who believes in Allah and the Last Day to travel one day's distance without a Mahram."
However, the leader of the Movement of Unification and Reform, the advocacy arm of the ruling party PJD, said that once a woman is safe in her travel she does not need to be accompanied by a Mahram.
In his paper entitled "Renewal of Islamic Thought: Vision and Approach," Raisouni said, "Women today are travelling for work inside and outside the country. If the travel is safe, then she is allowed to travel alone for education, work or to attend meetings."
Muslim scholars have different interpretations of the Hadith of the Prophet, regarding the prohibition on women travelling alone. Some adhere to the plain language of the Hadith, while others see that the reason behind the prohibition was the lack of safety and security at the time and now because travelling is safe, there is no harm if a woman travels without the company of a Mahram.
Ahmad Raisouni, the Deputy Head of the International Union for Muslim Scholars, called for the renewal of Muslim thought and its approach to certain social issues.
http://www.moroccoworldnews.com/2014/08/137334/moroccan-islamic-scholar-women-can-travel-alone-without-mahram/
-----------
Egyptian Feminist Sends a Bold Message to ISIS as She Pose Nude and Bleeds On IS Flag
27 August 2014
Challenging the strict nature of Islam, Egyptian feminist Aliaa Magda Elmahdy made a bold statement to ISIS as she and a friend literally bleed and defecate on the Islamic flag. The blogger has taken to social media to protest the current issue involving ISIS as they have taken control one-third of Iraq and used women as a target for their strict rules.
Elmahdy posted the controversial picture of herself and another female on Saturday, Aug. 23, on her Facebook account as her way of fighting back against the Islamic terrorist group. But there are reports that Arab nations did not print the photo because of what states on the flag: "there is no God but Allah."
"The two women are shown defecating and menstruating on an Islamic State flag while completely naked in an apparent protest against the ISIS terrorist group," Inquistr reports. "The woman on the right is dressed in a black Hijab and has her back to the camera, although she is also shown giving the camera the middle finger in an insult presumably targeted at ISIS. It's claimed that Arab media has avoided publishing the viral photo since the words 'there is no God but Allah' are printed on the ISIS banner."
This is not that first time that Elmahdy protested in nude, back in 2011 she caused outraged among liberal Muslims when she posed nude on her Facebook, claiming that her photos "scream against a society of violence, racism, sexism, sexual harassment and hypocrisy."
The strict Sharia Law states that women must wear full veils and not leave their house without a male relative as an escort. Shopkeepers are even forced by jihadists to cover all their mannequins. In the northern city of Mosul, women are being forced to have female genital mutilation.
With these strict new laws, a majority of Muslims do not agree with IS and several Muslim leaders are now condemning the terrorist group. Now the richest terrorist group in the world, some are now worried that they might be capable of destroying an entire American city.
U.S. politicians claimed that ISIS is developing a weapon of mass destruction (WMD) for they have discovered scores of WMD owned by Saddam Hussein before the US invasion in 2003. Now the jihadists are in control of nuclear, chemical and biological WMD.
http://au.ibtimes.com/articles/564140/20140827/egyptian-feminist-bold-message-isis-aliaa-magda.htm#.U_zqR8VdU4U
------------
No Burkinis! Morocco hotels ban 'halal' suit
27 August 2014
Some private pools in Morocco's tourism hot spots have banned women from wearing burkinis, sometimes described as halal swim-suits, which cover the body and have a head covering attached.
Several resorts in the touristic city of Marrakesh have reportedly banned the burkini in their private pools, with many citing "hygiene reasons," according to local news reports.
Mazagan beach resort, located in al-Jadida which is south of the economic capital Casablanca, told Al Arabiya News that burkinis are not allowed to be worn in the resort and that only "ordinary swim-suits" are permissible.
Local news websites have published posters used by the management of private swimming pools to inform users that the burkini is not allowed. One posted in Morocco World News came in three languages and says "Burkini not allowed" and "Bathing suits mandatory."
This is reportedly even the case if the burkini is made of special swimming material.
Abdelaziz Aftati, an MP of the ruling Moderate Islamist Justice and Development Party, sent a complaint to Tourism Minister Lahcen Haddad, after a woman wearing a burkini was reportedly banned from a swimming pool in al-Jadida, according to Morocco World News.
Aftati told the press that it is unacceptable to restrict people's freedom and their beliefs, saying the move signified the "rudeness of the new colonization."
In 2009 in France, a 35-year-old convert to Islam threatened legal action after she was evicted from a public pool for wearing a "burkini."
http://english.alarabiya.net/en/variety/2014/08/26/No-Burkinis-Morocco-hotels-ban-halal-swimsuit.html
------------
Swaziland: Swazi Girls Face Public Whipping
27 August 2014
Girls who do not turn up for King Mswati III at the forthcoming annual Umhlanga Reed Dance in Swaziland will be publicly whipped.
They have been told that if they travel to the event in which tens of thousands of bare-breasted girls dance in front of the King, but do not attended the ceremony, they will be beaten on the buttocks when they return to their homesteads in Mbilaneni.
Thami Thikazi, the headman of the Mbilaneni chiefdom, said if parents disagreed with the punishment they would be forced to wield the lash themselves.
The Swazi Observer, a newspaper in effect owned by King Mswati, reported Thikazi saying, 'In case parents distance themselves from such, we are going to order them to be the ones administering the punishment in the form of strokes on the buttocks should it be found that they (girls) did something intolerable. The punishment will take place in full view of everyone.'
Tens of thousands of girls and young women known as 'maidens', from all over Swaziland attend the ceremony at Ludzidzini each year. It is billed as a tribute to the King and his mother, but in past years it has been noticed that many of the maidens do not attend the ceremony, preferring instead to go off to have fun with their friends.
More than 50 maidens from Mbilaneni have been chosen to attend the Reed Dance this year. Thikazi said in order to be chosen to represent the chiefdom they had to 'be of good morals and upbringing.'
He added, 'We therefore have to see to it that they face the music once they misbehave and parents should be ready to discipline.'
The sinister nature of the Reed Dance was revealed in 2012 when about 500 children were ordered to sing a song vilifying political parties. This was part of a clampdown on dissent in the kingdom, where King Mswati rules as sub-Saharan Africa's last absolute monarch.
The children were taught a song to sing at the dance which had lyrics that when translated into English said political parties 'set people against each other' and said that if political parties were allowed to exist in the kingdom the king's people 'could start fighting each other'.
Political parties are banned in Swaziland, but there is increasing pressure from pro-democrats for this to change. Some traditional authorities also believe that support for the present system that puts them in control is on the wane. In Swaziland pro-democracy demonstrations have been attacked by police and state security forces.
This was not the only year in which children were compelled to sing the king's praises. In 2009, the South Africa Press Association reported, 'During the four-hour event, children sang songs which glorified Mswati and condemned his enemies.
'"This land is your land our king, your enemies want to destroy you," they sang.'
http://allafrica.com/stories/201408270827.html?aa_source=sptlgt-grid
------------
Riyadh, Jeddah top cases of marriage annulment
27 August 2014
Riyadh and Jeddah have topped the Kingdom's cities for having the largest number of marriage annulment cases owing to the husbands' failure to pay alimony and the wives' dissatisfaction with their marriages in the first nine months of the current year, local media said quoting data released by the Ministry of Justice.
Riyadh courts received 10 cases of wives' complaints against their husbands for failing to pay alimony whereas Jeddah courts received 5 with one case each in Dammam and Abha.
There were four cases in Riyadh of wives dissatisfied with their husbands compared to one case in Jeddah, Al-Eqtisadiyah daily said.
Legal adviser Abeer Al-Ahmed attributed the growing number of cases in Riyadh and Jeddah to the increased legal awareness among women.
She said that the more awareness women have, the more they tend to follow legal ways to get their rights.
http://www.arabnews.com/saudi-arabia/news/621496
------------
Over 1,400 UK Children Raped and Trafficked by Men of 'Pakistani-Heritage'
27 August 2014
More than 1,400 children were sexually exploited in Rotherham, South Yorkshire, over a period of 16 years, a report has concluded.
An independent investigation has found evidence of "appalling" exploitation between 1997 and 2013, involving children as young as 11.
The victims identified in the report include both girls and a small number of boys, and almost all the perpetrators were of Pakistani heritage.
While some of the cases were historic, it was highlighted that the abuse "continues to this day".
The inquiry, carried out by Professor Alexis Jay, examined how Rotherham Council's children's services department dealt with cases involving child exploitation.
She stated there was a "collective failure" by both the police and the local council to stop the abuse. In the summary of her findings, she said the state had failed to protect "some of the most vulnerable children in the borough".
The report found councillors and council officials were told about the abuse in 2004 and 2005 "in the most explicit terms", but it highlighted evidence of a "macho, sexist and bullying culture" within the council, which stopped it providing an effective response.
Jay said there was evidence that senior people in the council and police wanted to "play down" the "ethnic dimensions" of the sexual exploitation, for fear of being labelled as racist.
"It is hard to describe the appalling nature of the abuse that the victims suffered," she said.
"They were raped by multiple perpetrators, trafficked to other towns and cities in the north of England, abducted, beaten and intimidated.
"There were examples of children who had been doused in petrol and threatened with being set alight, threatened with guns, made witness to brutally violent rapes and threatened they would be next if they told anyone.
"Girls as young as 11 were raped by large numbers of male perpetrators."
Jay added that the people of Rotherham "would be appalled" at the findings. Rotherham has an estimated population of around 258,000 and is approximately six miles from Sheffield city centre.
In the 2011 Census, the ethnic minority population of Rotherham was around 8%, the largest of which was the Pakistani and Kashmiri community.
In just over a third of cases, victims were previously known to services in the town because of child protection and neglect.
The report, commissioned by Rotherham Council in 2013, followed the jailing of five men from Rotherham for sexual offences against girls in 2010.
Umar Razaq, 24, Razwan Razaq, 30, Zafran Ramzan, 21, Adil Hussain, 20, and Mohsin Khan, 21, were found guilty of a string of sexually related offences against the girls, one aged 12, two aged 13 and one aged 16.
http://www.ibtimes.co.uk/rotherham-child-abuse-inquiry-over-1400-children-raped-trafficked-by-men-pakistani-heritage-1462666
------------
Saudi Labour Ministry To Tackle High Rates Of Female Employees Quitting
27 August 2014
Labour Minister Adel Fakeeh has announced that his ministry is addressing the issue of high quitting rates among females working at women's stores.
The minister's statement came on the sidelines of his visit to a women's call centre at Mobily in Jeddah.
"The Ministry of Labour is in the process of conducting specialized studies on the reasons behind high employee turnover at these shops and finding radical solutions to this problem," he said.
"The ministry has closely coordinated with the Technical and Vocational Training Corporation (TVTC) to train large numbers of Saudi women as retail personnel in a bid to quell turnover rates."
He said the ministry is already developing programs in collaboration with the Human Resources Development Fund (HRDF) to support female employment. Such support includes enhancing salaries and benefits.
"The ministry is also conducting several studies to highlight new employment prospects for Saudi women in the private sector. The findings of the studies will be announced as soon as they are ready."
He pointed out that the Ministry of Labour submitted new draft laws to regulate women's work in general, but ruled out the possibility of employing females at pharmacies.
"There are not enough female pharmacy graduates. Saudi women can, nevertheless, work at pharmaceuticals and pharmacies at the administrative and financial levels," he said.
http://www.arabnews.com/saudi-arabia/news/621426
------------
Bangladesh Grassroots women entrepreneurs awarded for excellence
27 August 2014
Mokseda Begum, a housewife from Thakurgaon district, decided to take matters into her own hands after her husband died.
Struggling to make ends meet, she sought training from the Department of Youth Development to be a tailor.
Emboldened by her newly acquired skills, Mokseda decided to set up a handicraft venture. In 2000, with a capital of Tk 50,000 she started Ononna Hostoshilpa and there has been no looking back since.
Today, she employs 30 regular workers and around 300 on contract and has Tk 15 lakh tied to the business.
A beacon for women entrepreneurs, Mokseda, 52, was yesterday conferred the Grassroots Women Entrepreneur Award 2013 at a ceremony at the capital, organised by the Association of Grassroots Women Entrepreneurs, Bangladesh in association with IFIC Bank.
Like Mokseda, two other successful women entrepreneurs from the grassroots level were felicitated at the awards ceremony, the first of its kind in Bangladesh.
Kohinoor Akter from Jessore, the proprietor of Kohinoor Handicrafts, got the first runner-up award, while Shahnaaz Begum from Dinajpur, the owner of Glamour Fashion House and Rose Beauty Parlour, bagged the second runner-up title.
Speaker Shirin Sharmin Chaudhury handed over the awards to the three entrepreneurs, who also got cash prizes. The winner got Tk 3 lakh, the first runner-up Tk 2 lakh and the second runner-up Tk 1 lakh.
She also handed over loans to some grassroots women entrepreneurs after launching a financial product of IFIC Bank at the event. The product, Pranto Nari, aims to provide credit to small women entrepreneurs.
The speaker of the parliament urged women entrepreneurs to diversify their products and businesses.
"Diversify your products, designs, patterns and colours to make your wares attractive in the competitive market." She said women's empowerment has emerged as a major component to achieving the Vision 2021. In addition to creating entrepreneurship opportunities for women, training on managerial, risk management and business operation are also needed, she said, while requesting the public and private sector organisations to come forward to this effect.
Coordination between creating opportunity and ability to make the most of it is most important, she added.
Bangladesh Bank Governor Atiur Rahman said 15 percent of a refinancing scheme for the SME sector has been kept for women entrepreneurs in a bid to increase their participation in the economy.
In the first six months of this year, the central bank has refinanced Tk 842 crore in favour of 10,000 women entrepreneurs, he said. Banks and non-bank financial institutions have disbursed Tk 3,347 crore in favour of 41,695 women entrepreneurs last year.
Although half of the country's population is women, the number of women entrepreneurs is insignificant. "It is not possible to attain the desirable economic growth without ensuring the participation of women in mainstream development."
Mousumi Islam, president of Association of Grassroots Women Entrepreneurs, said the organisation initiated the award with a mission to empower the grassroots women who are actively involved in entrepreneurship. "We will continue this and arrange the award every two years."
Meher Aforze Chumki, state minister for women and children affairs; Shah A Sarwar, managing director of IFIC Bank; and Shaym Sunder Sikder, chairman of the Bangladesh Small and Cottage Industries Corporation, also spoke.
http://www.thedailystar.net/business/grassroots-women-entrepreneurs-awarded-for-excellence-38859
------------
Ombudsman, Anna Says Banning the Hijab at Somali School Is Discrimination
27 August 2014
Prague, Aug. 26 (ČTK) — Czech ombudsman Anna Sabatová has stood up for the Somali student of a secondary medical school in Prague who has been forbidden to wear a headscarf at school, server Lidovky.cz has reported, referring to the ombudsman office's internal document.
Muslim girls and women use the scarf, also called the Hijab, to veil their hair and neck.
Sabatová says banning Muslims from wearing the Hijab at school amounts to discrimination, the server writes.
The school argues its rules ban any headgear.
The Somali girl and another Muslim female student from Afghanistan reportedly terminated their studies at the school early over the headscarf ban, and they made their case public last autumn.
The Somali girl has turned to the ombudsman, the public protector of citizens' rights, Lidovky.cz writes.
Sabatová has concluded the school indirectly discriminated against the girl, because the Hijab is an outward manifestation of her religion.
Sabatová has also criticized the Czech School Inspection for its "lax" assessment of the case, the server writes.
http://praguepost.com/czech-news/41171-ombudsman-says-banning-the-Hijab-at-school-is-discrimination#ixzz3BXNKdTjv
------------
Lesbian Iranians Sahar and Maryam Have Marriage Blessed By Gay Imam in Sweden
27 August 2014
A lesbian couple from Iran have had their marriage blessed by a gay imam.
Sahar Mosleh and Maryam Iranfar – who are expecting their first child together – kissed and embraced as French Algerian Ludovic-Mohamed Zahed officiated the ceremony, earlier this month during Stockholm's Pride celebrations.
The women, whom are both Muslim, were married in a civil ceremony in accordance with Swedish law four years ago, but they are believed to be the first lesbian couple to have been publicly blessed in such a way, Swedish news channel SVT writes.
Maryam, who is heavily pregnant, and Sahar, who suffers from congenital brittle bones, met nine years ago online.
Ahead of the blessing, they spoke to Dn.Se about their relationship.
Maryam said: "We have waged war against all kinds of prejudices you can fight. And we still do.
"Many take for granted that I am Sahar's personal assistant and not her wife."
The 32-year-old added: "We live in a world where Islamophobic xenophobia increases. It is clear then, and seems like a great recognition that our love will be blessed in public by a imam."
Sahar, 36, said: "I knew immediately that this was the woman I wanted to marry, have children with. It scared Maryam who thought I was 'very prescriptive'. It really scared me because until then I had lived a polygamous life; I had not had any thoughts about being tied down."
Algerian-born imam Zahed is a household name among LGBTQ activists from Muslim countries.
He said: "I am very grateful for this beautiful union and to be able to give my blessing to this happy couple".
Imam Zahed, whose goal is to spread the message of tolerant Islam, added: "I'm glad that this is a happy couple that now form family after many years of struggle.
"It's a long journey to leave your homeland, come to a foreign country and manage to form a new life together".
In Iran the primary punishment for lesbianism is 100 lashes.
According to Islamic penal codes: "If a female is convicted of lesbianism three times, and punishment is enforced each time (under the law of Hadd), the death sentence will be issued the fourth time," the Iran Human Rights Documentation Centre writes.
Jan Hjärpe, a professor of Islamology at Lund University, described the event to SVT as a watershed in the Muslim world.
He said: "The blessing can be an event that will be discussed in the Muslim world. It can arouse angry reactions among some extremist groups, while other groups can go out with statements that support the blessing."
He also warned that in extreme cases, some groups could respond by issuing a fatwa.
http://www.huffingtonpost.co.uk/2014/08/20/lesbian-muslim-iranians-sahar-mosleh-maryam-iranfar-marriage-blessed-gay-imam-sweden_n_5694050.html
------------
Uganda's First Female Coach of the Women's Football Team
27 August 2014
Women playing football has become more accepted in Uganda over the past 15 years. Since 2007, the national women's team even has a female coach, Majidah Nantanda. Still, according to Nantanda, "women's football is not a priority for the nation. Women aren't being taken seriously."
Growing up with five brothers, football-mad Majidah Nantanda had half a team to compete against at home in Makindye, a suburb in Uganda's capital, Kampala. But at her school, in the 1990s, there were two sports rules: 'Netball for the girls and football for the boys', recalls the 32 year old, as she stands on the side-lines of a boy's game in Makindye.
"So I'd sneak out of netball to watch the boys play."
From the age of eight, her brothers realised they had some fierce competition, so they introduced her to the neighbourhood boys, who Nantanda would play with during her holidays.
"My mum never told me you're not supposed to play football," Nantanda says, adding that her single mother, a businesswoman, bought her a kit and later gave her transport money to go to games.
Despite only getting a chance to perfect her talent in her spare time, it didn't stop the Ugandan from captaining the first national women's football team before becoming the first female national coach in 2007.
Girls' schools competition
The country's sports fans have been encouraged recently by Ugandan Stephen Kiprotich picking up gold in the men's marathon in the London 2012 Olympics, and countryman Moses Kipsiro winning the 10,000 meter at the Commonwealth Games in Glasgow earlier this month.
But "there is no sport that promotes Uganda more than football", Federation of Uganda Football Association (FUFA) spokesperson Ahmed Hussein insists. "Even if people go and win medals at international level [in other sports], nothing beats football," Hussein says.
Nantanda says women playing football in Uganda has become more accepted over the past 15 years.
Today in this East African country there are at least 64 girls' schools competing in the annual national secondary girls' football championships, and many other women who aspire to be the next Nantanda.
This month, in fact, a team of 18 female footballers from Uganda could have travelled to Canada to participate in the FIFA U-20 Women's World Cup.
"They would have been so happy. For most of them it would have been their first time on a plane, and for all of them, the first time in North America," says Nantanda, who would have made the journey with them as coach.
Great disappointment
However, Uganda's football federation FUFA withdrew from the second qualification match against Ghana for financial reasons. The ladies of the Ugandan team, aged between 16 and 20 years, are getting on with their lives after having their hopes dashed at the last minute by a governing body that hasn't grasped the potential of Uganda's female football players, says Nantanda.
"Women's football is not a priority for the nation," says the coach. "We are not catered for like the men's national team. The Cranes [the men's national team] are paid a lot of money, but [... ] they don't take us [women] seriously."
A total of 25 aspiring sports stars, coached by Nantanda, had trained for months while also studying at school or university and holding down part-time jobs. Last September, the women beat neighbouring South Sudan 13-0 on home soil in Kampala.
In defence, Hussein says Uganda is the only country among FIFA's 209 members that doesn't have an annual designated budget from the government. He stresses that although the government is "passionate" about the game, often approaching with support, the money they give isn't enough. FUFA are funded by local corporations such as Airtel, NIC and Nile Breweries, ticket sales and FIFA development grants.
Corruption claims
The United Nations have stressed the potential contribution that sport can make towards achieving the UN Millennium Development Goals, stressing it is about participation, inclusion and citizenship, and a certain percentage of FUFA grants must be spent on women's football along with youth football and refereeing.
In 2004, Uganda's football association was warned by FIFA that if they continued to use their yearly grant for the national team they risked losing it. In the past, FUFA have also denied corruption claims.
Nantanda sympathises with the girls. After all she has had her own struggles. "Not everyone's happy that I'm a national coach," she says, adding most football coaches in Uganda are male. "A woman doing something different will straight away be attacked by men. If you're not [emotionally] strong enough you'll just give up."
But that's something Nantanda has never done, even when she's been the only female alongside 60 men at an elite coaching session. "I interact with these men and I do everything they do," she says.
Women's competition
Nantanda doesn't know when the under 20s team will play next. Many women have stopped training and forgotten about football altogether. Hussein says their Ghana match coincided with the men's senior team travelling to South Africa for the African Nations Championship finals. Both competitions would have cost the federation "well over" 400 million shillings (155,000 dollars).
"People believe that the national senior team should be given a lot of precedence, as opposed to the women's team or even to junior teams," says Hussein. "But we're looking at entering the women's team in future international tournaments."
He says there could be a pilot project in the next couple of years in Uganda in order to form a women's national football league. "We believe that if the women's team is properly handled they can get their own funding from different companies, the corporate world could come in and support them," he says.
"Don't drop out"
Nantanda still speaks to her under 20s and encourages them to train. But the coach, who admits she does mostly "volunteer work", says she is putting more of her effort into "grassroots development", encouraging girls in villages across Uganda to take up football through her charity Growing the Game for Girls.
Through Tackle Africa, Nantanda she is also getting rural communities hooked on football to teach them about HIV prevention and management. There's one piece of advice she gives all women, regardless of whether they have an upcoming tournament.
"Continue with your studies," she reiterates. "You won't get paid through football. "It's not only about playing for the national team. I want these girls to be better women in the future and not waste their education."
http://allafrica.com/stories/201408261407.html?viewall=1
------------
URL: https://newageislam.com/islam,-women-and-feminism/new-age-islam-news-bureau/malaysian-women-join-middle-east-jihadists-as-'comfort-women'/d/98764