New Age Islam News Bureau
15 Oct 2019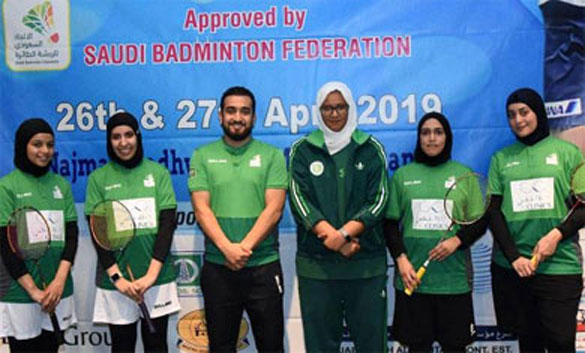 Rana Abu Harbash, Shaza Saleh, Shahd Al-Muhaysheer and Aziza Nazmi will represent the Kingdom in the Cairo tournament. — Courtesy photo
-----
• 'Braking' Boundaries: Palestinian Women Seek New Chances
• Saudi Women's Badminton Players Undergoing Rigorous Practice
• French Female Extremist Gang Sentenced To Up To 30 Years in Jail
• Female Supporters Of Zakzaky Accuse Govt. Of Holding Abducted Girls
• Bill to Protect Women from Domestic Violence Tabled In KP Assembly
• Kurds Targeted In Turkish Attack Include Thousands of Female Fighters Who Battled Islamic State
• Australian Women Plead For Help As Syrian Army Closes In
Compiled by New Age Islam News Bureau
URL: https://www.newageislam.com/islam-women-feminism/malaysian-muslim-women-agree-polygamy/d/120000
--------
Malaysian Muslim Women Agree On Polygamy, but Only A Third Say Hubby Can Take New Wife
Zurairi Ar
15 October 2019
KUALA LUMPUR, Oct 15 — Seven in 10 Muslim women here agree that polygamy is a right accorded to Muslim men, a survey by rights group Sisters in Islam (SIS) on Muslim women's realities in Malaysia published today found.
However, only nearly one-third of respondents said they would allow their husbands to marry another woman while they are still together.
"An overwhelming 70 per cent of the respondents accept that a husband has the right to practise polygamy if he can treat all the wives fairly.
"However, only 32 per cent among them would allow their husbands to take another wife," said the report titled "Perception and Realities: The Public and Personal Rights of Muslim Women in Malaysia".
In addition, two-thirds of respondents felt that it is fine for a wife to demand divorce if her husband decides to marry another wife.
Women polled in the East Coast states of Kelantan, Terengganu and Pahang had the highest proportion of agreeing with polygamy at 79 per cent, compared to the South (69 per cent), North (66 per cent), Central (65 per cent), and East Malaysia (67 per cent). East Coast women were also those agreed the most that polygamy is still relevant and could be accepted today at 70 per cent, compared to the South (65 per cent), North (51 per cent), Central (54 per cent), and East Malaysia (50 per cent).
The rights of the current wife have been increasingly chiselled away over the years with legal amendments in 1994 and 2005 made to the Islamic Family Law (Federal Territories) Act 1984.
The 1994 amendment allows for secret polygamous marriages, by permitting the registration of illegal marriages — that were entered into without the court's permission — with the payment of a small fine.
Muslim men who wanted to marry an additional wife previously had to show the marriage was both "just and necessary", but the 2005 amendment loosened it to either "just" or "necessary", with the risk of adultery by the husband also accepted as a necessary condition.
A previous survey by SIS in collaboration with Universiti Kebangsaan Malaysia, Universiti Sains Malaysia and University of Malaya between 2007 and 2012 also showed that polygamy was often conducted in secret, without court approval and without the knowledge of the current wife—causing families often suffer financial setbacks and emotional trauma.
In March, SIS said the number of Muslims asking for free legal advice on polygamy is rising, with polygamy cases recorded at its Telenisa legal aid clinic rising from 75 in 2016 to 106 in 2017, and 176 in 2018.
According to Telenisa, cases of subsequent marriages that went unregistered in Malaysia amounted to 11.4 per cent of the 176 polygamy cases it handled in 2018, with affected wives losing their rights to the inheritance and matrimonial property while their children are regarded as illegitimate.
The survey was implemented by research firm Ipsos between 2018 and 2019 through two phases, with the quantitative phase involving 675 Muslim women across the country aged between 18 and 55.
https://sg.news.yahoo.com/malaysian-muslim-women-agree-polygamy-034407227.html
--------
'Braking' Boundaries: Palestinian Women Seek New Chances
October 15, 2019
HEBRON, Palestinian Territories: As the 30-ton truck weaves through the crowded Palestinian streets, groups of men stop and gawp at the diminutive figure of Dalia Al-Darawish in a purple headscarf seated behind the wheel.
Darawish is preparing for an exam to become one of only a handful of qualified female Palestinian truck drivers, a test the 26-year-old sees as about more than just driving.
"It is symbolic," she said. "It shows we can do anything — that as a woman you can work, drive a trailer or whatever."
The mother-of-two is among several Palestinian women pushing boundaries in the traditionally conservative city of Hebron in the Israeli-occupied West Bank, amid a growing assertiveness of women's rights.
Darawish said she had faced criticism from both sexes as she trained, but the men were far more vocal.
"They are some who supported, a minority," she said. "But then there are people shouting in the street, 'No, why are you driving a trailer?!'"
"Whenever I made any mistake you would find men shouting, 'It's impossible (for you)'."
At the driving center, she shakes slightly as her black-moustached examiner Issam Bedawi explains the test.
After briefly demonstrating her ability to detach and re-attach the trailer, the two clamber up into the carriage and drive off.
Recent months have seen protests in the West Bank after a 21-year-old woman was allegedly killed by her family members after posting a photo with her soon-to-be fiancé on Instagram.
The demonstrators are demanding more protection for women, but also a more prominent political movement for women's rights.
Palestinian women still often give up their careers to care for children.
A World Bank study last year found that 58 percent of skilled women between 25 and 34 were unemployed, compared to 23 percent of men.
The general unemployment rate for women (44 percent) is double that of men, according to official Palestinian statistics.
Wafaa Al-Adhami had long dreamt of being an artist, but didn't have the opportunity to study growing up.
But five years ago and with the kids older, she returned to her passion, studying hours of videos about artists on YouTube.
"Painting and art courses are expensive and I had no time," she said. "So I loved educating myself."
"Every artist has their own style, and I wanted to find mine," she said.
From her living room table with an array of children passing through, she developed a specific layering technique for her work, pouring the paint onto the canvas before sculpting and manipulating it.
The result is a 3D texture that she says is unique among Palestinian artists.
Her inspiration ranges from Palestinian icons such as the Dome of the Rock mosque in Jerusalem to more Jackson Pollock-inspired surrealism.
A recent 40-work exhibition was a big hit.
Elsewhere in the city, 31-year-old Asia Amer has set up what she believes is Hebron's first women-only restaurant.
The idea behind the Queen Restaurant, she said, is to give women a space to feel at home.
Those who normally wear the hijab can remove the headscarf if they wish.
"I felt that it was the right of women to have a place they can relax in — where there are no restrictions or people watching her," she said.
"I am proof that Palestinian women don't just stay at home to cook and look after the children."
Back at the driving test center, Darawish pulls the trailer to a stop and waits nervously as Bedawi tallies up the score.
"I'm happy to say she passed," he announces. "Everything I asked of her during the test she did fantastically."
Darawish doesn't even know if she will work as a truck driver, as right now she is still looking after her children.
But she said she wanted to help drive change in attitudes.
"(Society) has changed a little. There have been some developments, but not enough," she said.
"If there had been big movement, men who see a woman driving a trailer would be happy or they wouldn't say anything at all."
https://www.arabnews.com/node/1569081/middle-east
--------
Saudi Women's Badminton Players Undergoing Rigorous Practice
October 14, 2019
RIYADH — The Saudi women's badminton team members are continuing their intensive practice in their camp in Riyadh prior to the Egyptian International Badminton Championship, to be held in Cairo from Oct. 17 to 22.
Rana Abu Harbash, Shaza Saleh, Shahd Al-Muhaysheer and Aziza Nazmi will represent the Kingdom in the tournament.
They are making their final preparations in their training camp at a sports facility in Riyadh's Leadership Development Institute.
President of the Saudi Badminton Federation confirmed that the Cairo tournament will also witness the participation of Saudi referees Hatoun Al-Sadhan and Muhammad Basoudan. "This is the fourth time they are participating in the tournament," he said.
http://saudigazette.com.sa/article/579811/SAUDI-ARABIA/Women-badminton-players-undergoing-rigorous-practice
Russian Women Stranded in Syrian Isis Prison Seek Help as Turkey Mounts Offensive – RTVI
Dozens of Russian women in a camp for Islamic State prisoners in northern Syria are seeking help from their motherland as Turkey's incursion against the Kurds has thrown the region into disarray, the international Russian language news outlet RTVI reported on Monday.
Turkey's defense minister said Monday that Syrian Kurdish YPG fighters had emptied a jail holding Islamic State prisoners and their families in a part of Syria where Ankara is mounting an offensive. The region's Kurdish-led administration said 785 Islamic State-affiliated foreigners escaped a camp at Ain Issa. The British-based war monitor Syrian Observatory for Human Rights, citing sources in the camp, said around 100 people had escaped.
RTVI published a series of Russian-language audio messages Monday it said were sent by women held in Ain Issa, claiming that the Kurdish guards had ordered them to leave. One woman said a group of women had decided to stay in the camp in defiance of the orders.
"There are many of us from Dagestan and the Caucasus," one woman was heard saying. "They're the only ones who remained while the others have fled. There's a lot of us, around 200 people."
Chechen human rights activist Kheda Saratova estimates that around 50 Russian women are being held in Ain Issa.
"We don't know what to do. We're sitting here, thinking what to do," another woman said in the audio message.
Saratova told RTVI she had forwarded the women's appeals to Russia's human rights chief, the Russian Foreign Ministry and the head of the Federal Security Service (FSB).
Turkey launched a cross-border operation against the YPG militia in northeastern Syria last week, after U.S. President Donald Trump decided to withdraw forces from two posts in the area in a move that drew strong international criticism.
The Turkish assault has prompted alarm that it could allow Islamic State militants to escape Kurdish-run prisons in northern Syria and regroup. Ankara has dismissed those concerns.
Trump, providing no evidence, tweeted Monday that the Kurds might be releasing Islamic State prisoners deliberately to lure U.S. troops back. Escaped fighters could be "easily recaptured by Turkey or European Nations from where many came, but they should move quickly," Trump said.
Relatives have identified at least 1,779 Russian women and children in Syria and Iraq who want to return from former Islamic State territory, Saratova said earlier this year. She had previously said that 21 women and 105 children had returned to Russia over a two-year period.
Only children were accepted for repatriation after November 2017, following warnings by FSB Director Alexander Bortnikov about terrorism risks posed by adults. Russia is a target for Islamic State, particularly since President Vladimir Putin sent his military to intervene in the Syrian war in 2015 in support of President Bashar al-Assad's forces.
Islamic State is a terrorist organization banned in Russia.
https://www.themoscowtimes.com/2019/10/15/russian-women-stranded-in-syrian-isis-prison-seek-help-as-turkey-mounts-offensive-rtvi-a67735
--------
French Female Extremist Gang Sentenced To Up To 30 Years in Jail
15 October 2019
A French court on Monday sentenced five members of an all-female extremist cell to between five and 30 years in prison over a failed bid to detonate a car bomb outside Notre-Dame cathedral in Paris.
The case is the first to involve a group of women attempting to stage an attack in France, which has been repeatedly targeted by extremists since 2015, causing the loss of 255 lives.
The five women, aged between 22 and 42, were arrested after a car packed with gas cylinders was found parked near the bustling esplanade in front of the cathedral in the heart of the capital on November 4, 2016.
The two main defendants, Ines Madani and Ornella Gilligmann, had doused the car with diesel in the middle of the night and tried but failed to set it alight with a cigarette.
They were sentenced to 30 years and 25 years in prison respectively.
The women are believed to have been acting on the orders of Rachid Kassim, a French ISIS propagandist also suspected of ordering the grisly murder of a French police couple at their home in June 2016.
Kassim is believed to have been killed in an air strike near the Iraqi city of Mosul in February 2017.
Madani, 22, was arrested a few days after the failed attack in a Paris suburb along with two other defendants, Sarah Hervouet and Amel Sakaou, who were each sentenced to 20 years.
The three burst out of the apartment to which they had been tracked down by police, brandishing knives.
Hervouet stabbed an officer in the shoulder, while Madani was shot in the leg.
Gilligmann was arrested in southern France.
A fifth woman, Samia Chalel, was also tried for allegedly helping hide Madani. She was sentenced to five years in prison.
The court heard how Madani posed as a male extremist online to try recruit women for IS and won over Gilligmann in messages exchanged online.
Madani's lawyers described her as a lonely young woman with half-baked attack plans and a death wish -- a far cry from the prosecution's characterization of a determined gang of would-be killers.
Madani told the court on Monday she regretted her actions.
"At the time all my plans involved death. Today, my plans are about life," she said.
Gilligmann, a married mother of three, spoke emotionally of the "shame" she had brought on her family and asked for forgiveness from the victims of terrorism.
Her lawyers argued she had acted out of love for a fictitious extremist named Abou Junayd, for whom she left her husband.
https://english.alarabiya.net/en/News/world/2019/10/15/French-female-extremist-gang-sentenced-to-up-to-30-years-in-jail-.html
--------
Female Supporters Of Zakzaky Accuse Govt. Of Holding Abducted Girls
Oct 15, 2019
Danjuma Abdullahi
The announcement was made during a press conference by female supporters of Sheikh Ibrahim Zakzaky, who accused soldiers of the Nigerian army of abducting twenty-three girls in December 2015 during the massacre in the northern Nigerian town of Zaria.
The ladies demanded for the release of the girls and asked all people of conscience and civil society organizations to make the issue of the twenty-three Muslim girls an important national and international agenda in order for the truth to prevail.
The ladies also said that seven hundred and five people are still unaccounted for following the 2015 Zaria Massacre, and their families are still waiting for answers regarding the whereabouts of their loved ones.
Hundreds of Zakzaky supporters are reported to have been killed and buried in mass graves outside the northern Nigerian city of Zaria. The whereabouts of several others remains unknown.
Zakzaky supporters have a list with the names of the twenty-three girls abducted and believed to be held by security forces.
Both the army and the police did not respond to Press TV's request for an interview on this matter.
Zakzaky supporters also want to know when the Nigerian government is going to start the process of prosecuting the people responsible for the 2015 Zaria Massacre.
They accuse security forces of continuing with the persecution of Zakzaky supporters judging by the attacks on their religious processions.
https://www.presstv.com/Detail/2019/10/15/608696/Female-supporters-of-Zakzaky-accuse-govt-of-holding-abducted-girls
--------
Bill to Protect Women from Domestic Violence Tabled In KP Assembly
Khalid Kheshgi
October 15, 2019
PESHAWAR: The much-awaited legislation to protect women from domestic violence was moved in the Khyber Pakhtunkhwa Assembly on Monday, but the bill was referred to the select committee of the house after some of the members sought amendments to the proposed law.
Provincial Minister for Food Qalandar Lodhi tabled the Khyber Pakhtunkhwa Domestic Violence against Women (Prevention and Protection) Bill 2019 in the assembly. Some lawmakers from the treasury and opposition benches proposed the amendments to the bill.
Minister for Law and Parliamentary Affairs Sultan Mohammad Khan requested the chair to refer the bill to the select committee to ensure detailed discussion on it. Jamaat-e-Islami Member Provincial Assembly Inayatullah Khan and JamiatUlema Islam-Fazl's (JUI-F)'s MunawwarKhan said that the proposed law should be sent to the Council of Islamic Ideology (CII) as they felt certain clauses in it were against the basic teachings of the Holy Quran and Sunnah. Under the proposed bill, domestic violence means the violence committed by the accused against the victim with whom the accused is in a relationship.
After the passage of the bill, the provincial government would constitute in each district a protection committee to deal with the domestic violence against women. The proposed law suggests punishment to the accused and those who file false and frivolous complaints. The provincial government will also establish shelter homes and launch a toll-free helpline for reporting the violence-related incidents in the province.
The proposed law was drafted during the rule of the previous government of the Pakistan Tehreek-e-Insaf(PTI) and sent for consultation to the CII, which rejected several of its portions.
The Khyber Pakhtunkhwa Assembly also passed a bill related to enforcement of women's rights in the inherited properties. JUI-F woman MPA NaeemaKishwar had proposed amendments to the Khyber Pakhtunkhwa Enforcement of Women Property Rights, but none of these were approved and the bill was adopted by a majority.
The bill states that the Constitution of Pakistan provides due respect to the women in the society and guarantees their right of ownership. However, it noted that the women rights in inheritances are often violated by their family members using coercion, fraud, fabrication, forgery and cheating.
Under the proposed law, any complainant can approach the ombudsperson for getting their share in the inherited properties. The provincial assembly also adopted the Khyber Pakhtunkhwa Legal Aid Bill which would provide legal assistance to the marginalised sections of the society and needy persons involved in cases of petty nature.
https://www.thenews.com.pk/print/541338-bill-to-protect-women-from-domestic-violence-tabled-in-kp-assembly
--------
Kurds Targeted In Turkish Attack Include Thousands of Female Fighters Who Battled Islamic State
Haidar Khezri
October 14, 2019
Kurdish fighters under attack by Turkey have described President Donald Trump's decision to withdraw U.S. troops from northern Syria as a "stab in the back."
Since bombing began on Oct. 9, Turkish military operations against the Syrian Democratic Forces in northern Syria, Washington's staunchest and most effective allies in the war against the Islamic State, has killed at least 11 civilians and an unconfirmed number of Kurdish fighters, with estimates ranging from dozens to hundreds.
Kurdish fighters are key partners to the U.S. in the Middle East. From 2003 to 2017, they helped overthrow the regime of Saddam Hussein, battled al-Qaida and pushed the Islamic State out of northern Iraq and Syria.
Kurdish women have fought on the front lines in all these battles, as they have done since the 19th-century Kurdish commander Kara Fatma led an Ottoman battalion of 700 men and 43 women against the Russian Empire.
That was unusual for the period – but, then again, Kurdish women have long been exceptions in the mostly conservative Middle East.
Who are the Kurds?
Kurdistan, where I was born, is among the largest nations in the world without a state. Around 35 million Kurds inhabit a mountainous zone straddling Turkey, Iran, Iraq, Syria and Armenia.
The Kurds were first split up politically in the 17th century, when their territory was divided between the Ottoman and Safavid empires. Back then, the Roman scholar Pietro Della Valle traveled to the region and was surprised to find "Kurdish women commuting freely without hijab." He noted in his 1667 travelogue that "they engage with Kurdish men and foreigners without any problems."
After World War I, a treaty between Britain and France, called the Sykes-Picot Agreement, drew arbitrary borders across the Middle East, creating colonial protectorate states. The partition again fragmented the Kurds, this time across four countries: modern-day Turkey, Iran, Iraq and Syria.
The Kurds have been fighting for their sovereignty ever since. In recent decades, they have succeeded in establishing autonomously governed regions within Iraq and Syria.
But in Iran and Turkey, the Kurds continue their armed struggle. Both countries to view this ethnic minority as a terrorist threat and legally repress Kurdish populations.
This setup has put Kurdistan – domestically a rather peaceable, prosperous place with significant oil reserves – squarely in the center of a geopolitical quagmire.
Until Trump's recent turnaround, the U.S. had backed the Kurds in Syria, Iraq and Iran, where they were critical to defeating the Islamic State and served as jailers to about 11,000 captured IS fighters.
But Turkey – a U.S. ally – sees the armed Kurds in Syria as an extension of the rebel Kurdistan Workers' Party, or PKK, which has been fighting for Kurdish autonomy in Turkey since the 1980s.
In May 2018, over 250 people were killed when Turkey bombed the Kurdish-majority Syrian city of Afrin, which Turkish armed forces considers a "terrorist corridor."
The feminists of the PKK
The Marxist-Leninist PKK, founded in 1978, may be an enemy of the Turkish state, but it is also one of the most feminist movements in the Middle East.
The group held its first congress on women's rights in 1987, in which PKK co-founder Sakine Cansiz – who was assassinated in 2013 – proposed that its "liberation for all" rhetoric must include women's liberation, too.
Today the party's political agenda explicitly recognizes religious minorities, dissidents and women as the crux of democracy.
In the autonomous Kurdish regions of Iraq and Syria, women have the same legal rights as men. Indeed, the Iraqi Kurdish regional government has a higher proportion of women than the United Kingdom – 30% versus 20%.
The charter of the semi-autonomous Syrian Federation of Kurdistan, founded in 2012, requires that women must hold a minimum of 40% of all government posts. Every Kurdish Syrian public institution must also have two co-presidents, one male and one female.
Women also make up 30% of Kurdish fighters deployed across the Middle East. More than 25,000 Kurdish women are deployed in Syria as the Women's Protection Units, an all-female militia inspired by the KPP's feminist liberation ideology.
In contrast, about 14% of U.S. military service members are women.
Female Kurdish troops rescued thousands of Yazidis trapped by the Islamic State on Iraq's Mount Sinjar in 2014 and helped liberate the city of Raqqa from the Islamic State in 2017.
Equal in battle but not everywhere else
Despite the relative freedom of women in Kurdistan compared to elsewhere in the Middle East, Kurdish society is not entirely gender equal.
In 2014, only 12 of 250 judges in Iraqi Kurdistan were female, and just one of 21 government ministers was. Female genital mutilation, child marriage and honor killings – in which male family members murder women who are alleged to have disgraced their families – persist, particularly in rural areas of Kurdistan.
And, in my experience, feminist debates like equal pay for women and #MeToo aren't yet a topic of conversation in Kurdistan.
Historically, too, it's noteworthy that many famous female Kurdish leaders succeeded only because their empowerment did not challenge the male establishment.
During World War I, Lady Adela Khanum, leader of the Kurdish region of Halabja, saved the lives of numerous British army officers on the battlefield, earning her the nickname "Princess of the Brave."
But she originally rose to power because she inherited the position when her husband died. While ruling Halabja from 1909 to 1924, she did not push a women's rights agenda.
The hard labor of freedom
Kurdish women who were seen as threats to male authority have often been punished, sometimes with death.
That's what happened to the very first woman to fight in the Kurdish army. Margaret George Malik quickly rose up among the all-male ranks in the 1960s to lead troops in the Kurdish war for independence from Iraq.
She was murdered in 1969 under mysterious circumstances. Some historians believe that Malik was killed by her lover because she rejected his marriage proposal. Others say she was assassinated by the Kurdish leadership, which feared her growing influence.
Either way, Malik's murder speaks to the battles Kurdish women still fight today.
It's meaningful that in the Kurdish language, the word for woman – "jin" – shares a root with the word for life: "jiyan." And both jin and jiyan are related to the word "jan," or labor pains.
In a region surrounded by threats – from Turkey's attacks and Islamic State terrorism and patriarchy at home – the women of Kurdistan are fighting for their life and liberty. And the cost is hard, dangerous labor.
https://theconversation.com/kurds-targeted-in-turkish-attack-include-thousands-of-female-fighters-who-battled-islamic-state-125100
--------
Australian Women Plead For Help As Syrian Army Closes In
Oct 15, 2019
Two Australian women held in Syria have made desperate pleas for help as a notorious army closes in.
"Until now Australia hasn't done anything for us," sobs one young mother of two children.
"And we understand the world has hate, but we're asking just as regretful humans, don't let us fall into the hands of the regime, please."
She's among more than 60 Australian women and children living in the vast al-Hawl camp for relatives of Islamic State members.
Syrian government soldiers and militia are moving in as part of a deal to protect Syria's Kurds, but they're expected to show little regard for anyone connected with IS.
Syrian government troops crossed into Kurdish-controlled territory after a deal was struck to protect the Kurds from a Turkish invasion.
They entered frontline towns yesterday in the back of lorries, cheered on by some locals.
The Assad government executes IS prisoners and no-one is sure what it will do to the group's women and children.
"Don't let us fall into the hands of the regime. If this happens, Everybody in the world knows the war crimes this guy does.
"Please don't let us fall into this. It won't be able to be rewinded, it won't be able to be taken back. If this happens that's it for my kids."
The audio was provided to the ABC by Kamalle Dabboussey, the father of one of the women in the camp.
The camps holding the IS women were always unstable but since Donald Trump cleared the way for Turkey's invasion they've become chaotic.
Another woman in al-Hawl, Sahra Ahmad, sent this message to her sister.
"I'm so scared, I don't know how much longer I can do this for. They just found a woman's body in the toilets, she was all mutilated."
Zara Ahmed has been living in a tent in al-Hawl with her three young boys since the fall of IS's caliphate in March.
Zara's sister Sonya Abbas urged Australian officials to help the women and children before they were captured by the Assad regime.
"How will they treat them, I'm a bit afraid. Will they get their revenge that way because will they get their revenge that way, towards the women? Even though the Australian women and children are not (ISIS), the regime wouldn't understand that."
It's unlikely there'll be a rescue effort — the government wouldn't send in a team to collect the women and children when north-east Syria was reasonably stable … and now the region is a war zone.
Sonya Abbas said all she needs is a letter from the government consenting to their release and she'll go in and get them.
She's already gone into al-Hawl several times to see Zara and her niece and extended family. She has ten relatives in the camp — including six children.
"It's very very concerning. Maybe a week or two ago we could have had them out of there, or out of danger, now it's become more complicated, even though we probably can get them out," she said.
The situation in Syria is deteriorating. Turkey is advancing on several major towns and has killed dozens of civilians with artillery, rockets and snipers.
Turkish-backed militias have filmed themselves executing at least two prisoners.
Despite Donald Trump's assertion that he wasn't abandoning the Kurds, the US is withdrawing its remaining 1000 special forces soldiers from Syria.
It's also getting harder to find out what's happening: most foreign journalists in north-east Syria pulled out yesterday ahead of the advancing Syrian government troops. Journalists caught by the regime are detained.
https://thenewdaily.com.au/news/world/2019/10/15/syria-women-is-camp/
--------
URL: https://www.newageislam.com/islam-women-feminism/malaysian-muslim-women-agree-polygamy/d/120000
New Age Islam, Islam Online, Islamic Website, African Muslim News, Arab World News, South Asia News, Indian Muslim News, World Muslim News, Women in Islam, Islamic Feminism, Arab Women, Women In Arab, Islamophobia in America, Muslim Women in West, Islam Women and Feminism