New Age Islam News Bureau
26 Jun 2018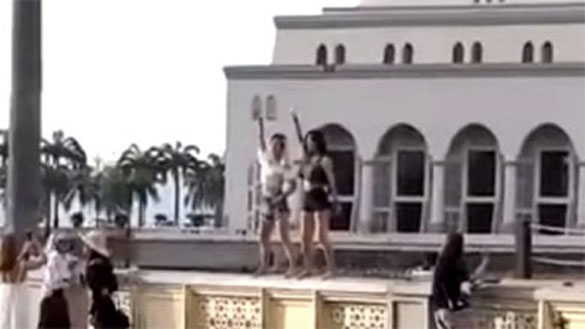 The incident lead to a temporary halt to tourists visiting the Malaysian mosque
-----
• Mangaluru: Student's Body Protests Ban on Hijab in Classrooms
• Hyundai Hosts Female Saudi Drivers in Korea
• 'Because I Can': Ride-Hailing App Welcomes Saudi Women Drivers
• Saudi Women Lawyers Up By 240% in Three Years
• India More Dangerous For Women than Afghanistan and Syria, Says Global Poll
• U.S. Among 10 Most Dangerous Countries for Women
• World Cup Sees Iranian Women Score Spot in The Stands
Compiled by New Age Islam News Bureau
URL: https://www.newageislam.com/islam-women-feminism/malaysian-mosque-bans-tourists-after/d/115648
--------
Malaysian Mosque Bans Tourists after Women Visitors' Dance Video Goes Viral
Jun 26, 2018
The City Mosque of Kota Kinabalu in Sabah, Malaysia has temporarily barred tourists from entering the compound following a video clip of two women 'acting disrespectfully' in front of the iconic building.
As per a report by The Star Online, a leading Malaysian tabloid, City Mosque Chairman Datuk Jamal Sakaran said despite the fact that the tourists were briefed about the do's and dont's at the mosque, such an act is 'regrettable'. "We opened our doors to visitors because we want to introduce people to the beauty of Islam, but such action has tarnished the image of our religion."
He further added that the mosque receives between 500 and 1,000 visitors every day and the management provides special tour guides, robes, baju kurung, headscarves and kopiah for them. However, many tourists don't respect the sanctity of the mosque. He added, "Our immediate action is to close the mosque to visitors. All express buses, Grab cars and taxis are not allowed to bring ­tourists into the compound or park their vehicles in the area."
Currently, only taxis registered with the mosque management are being allowed to bring visitors to the mosque. The management is also planning to call for more RELA members for security. The chairman also said that the management will be holding a discussion with the tourism players to avoid such incidents in the future.
A video clip of two women dancing on the fence-wall, right in front of the main building, had gone viral on social media. The man who recorded the video can be heard saying "Kenapa la dia tidak tumbang? (Why doesn't she fall?)" Online communities are also condemning this act for disrespecting a place of worship. Pertubuhan Penyatuan Islam Sabah, a non-government religious body, has also lodged a police complaint.
https://www.moneycontrol.com/news/trends/current-affairs-trends/malaysian-mosque-bans-tourists-after-women-visitors-dance-video-goes-viral-2633001.html
--------
Mangaluru: Student's Body Protests Ban on Hijab in Classrooms
Chethan Misquith
Jun 25, 2018
MANGALURU: Alleging that the management of St Agnes College had been denying students permission to wear hijab, Muslim girl students on Monday staged a protest in front of the college at Bendorewell in Mangaluru.
"Hijab is our dignity. It is our protector. Who are you to remove it," said the students, during a protest organised by the Campus Front of India.
"We are not allowed to wear hijab in the college this year onwards. When our Constitution and the government allows us to wear hijab, how can the college remove our right," questioned Fathima, a student.
"All Muslim girls studying at St Agnes Institutions will boycott classes until the institution gives us back our right to wear hijab," she said.
Fathima said the institution preaches religious equality and the principle of secularism were taught even during moral science classes. She wondered why the institute had not been practicing what it preached.
Riyaz, a member of the state committee of Campus Front of India, said a delegation representing female Muslim students arrived at the campus two days ago to "politely" speak to the principal and get the issue resolved.
However, neither the principal nor any lecturer was willing to talk. He said they tried approaching the teaching staff even on Monday morning, however, the latter shooed them away saying they were busy.
Meanwhile, the institution in a communique stated that it was committed to respect every student.
"St Agnes College is a minority institution catering to women's education in particular. We respect every student who chooses to study here. The management has framed rules and regulations to maintain order and discipline. Accordingly, the college rule states that the students are not permitted to wear headscarf inside the classrooms only. However, we have no objection if they wear it outside. The students and their parents are aware of this rule before seeking admission in our college. Yet, a few students have gone on a protest without even submitting memorandum. If there are any issues with any student, the management will settle the matter with the students and their parents," Sr Jeswina, principal, St Agnes College said.
https://timesofindia.indiatimes.com/city/mangaluru/mangaluru-students-body-protests-ban-on-hijab-in-classrooms/articleshow/64736444.cms
--------
Hyundai Hosts Female Saudi Drivers in Korea
June 24, 2018
Three Saudi-based female influencers have visited Korea as part of Hyundai's outreach to women drivers in the Kingdom, and as brand ambassadors for the carmaker.
The three women include entrepreneur and lifestyle influencer Bayan Linjawi; radio presenter, travel blogger, and fashion lover, Shadia Abdul Aziz; and business-owner and fashion career coach, Reem Faisal.
During their tour of Korea they received detailed briefings about Hyundai and its products, and toured production, design and research facilities.
The program gave them an understanding of the innovative and advanced thinking that underpins today's Hyundai models, and also included opportunities to experience Korean culture and heritage.
"This is an exciting moment for women and for motoring in Saudi Arabia, and Hyundai is committed to playing an active part in this historic change," said Hyundai's Head of Operations for Africa and the Middle East, Mike Song. "Hyundai's models will appeal strongly to women from all walks of life, from younger more style-conscious drivers, to those who value practicality and quality. Our brand ambassadors are part of our strategy to highlight those qualities to women as they take their place behind the steering wheel."
Hyundai has identified design and safety as key buying factors for female drivers in Saudi Arabia, and offers these attributes in a variety of segments, including sedans and SUVs. It has identified established names including the Azera, Sonata and Tucson as key products to promote, as well as the new Kona premium compact SUV.
The brand ambassadors will use a selection of these Hyundai models as they join the first ranks of Saudi female drivers, and will share their experiences with fans and followers.
Included in their roles will be being part of digital commercials, social media postings, and event appearances under the umbrella of Hyundai's Saudi campaign #whatsnext.
http://www.arabnews.com/node/1327296/corporate-news
--------
'Because I Can': Ride-Hailing App Welcomes Saudi Women Drivers
June 25, 2018
RIYADH: Reem Farahat waited for a ride request. Her phone pinged. "I've already cried twice," she said, heading out to work as one of Saudi Arabia's first female drivers for Careem.
The Dubai-based ride-hailing app, along with global behemoth Uber, reacted to Saudi King Salman's September announcement of an end to the Kingdom's ban on female motorists by saying it would begin to hire women.
On Sunday, when the king's decree took effect, nearly a dozen Careem "captainahs" — all Saudi women — were ready to pick up riders.
"This morning, when I got in the car, I felt the tears coming," Reem said as she stocked her car with chilled water bottles for her riders.
"I pulled the car over and cried. I could not believe that we now drive... It's a dream. I thought it would be totally normal, I'd just get in the car and go. I was surprised by my own reaction."
She took a long pause.
"I didn't expect it," she said. "I'm doing this because I can. Because someone has to start."
Seventy percent of Careem's customers in Saudi Arabia are women, according to company statistics, a figure largely attributable to the Kingdom's now-obsolete ban on women driving.
Uber puts its equivalent figure closer to 80 percent.
At Careem's offices on Sunday, staff gathered to celebrate the women's first day on the job.
Farahat's first ride request came just hours after the ban was officially lifted.
"This is my first ride. I'm excited. I'm excited to know who I'm picking up, what their reaction is going to be," she said.
The driver — who also works with her father as a quality control consultant, is training in life coaching, and scuba dives with her sister off the Red Sea city of Jeddah — picked up Leila Ashry from a local cafe.
Walking toward the car, Leila spotted Reem, did a little jump of joy on the sidewalk, and was already chatting as she opened the door.
"Oh my god I can't believe it's you. I can't believe you're here. I can't believe I'm here," Leila said.
"I've been tweeting to my friends that my ride is coming and it's a woman! And you're so pretty! And I can sit in the front now — wait, can I actually sit in the front next to you?"
Some 2,000 women have signed up to get their Careem licenses since September, said Abdulla Elyas, co-founder and CPO — "chief people officer" — of the ride-hailing app. They are all Saudi women, from their 20s to their 50s.
Uber also plans to introduce women drivers to their service this autumn.
"They come from completely different backgrounds," Elyas told AFP.
"We have women who have degrees, a master's degree. We have women who have no degree at all. We have women who want to do this full time. We have women who want to do this part time (for) an additional income, who are already working."
Most of those who had been licensed by Sunday, like Reem, had permits from foreign countries, enabling them to skip driving courses and take the final exam for a Saudi license.
The "captainahs" can pick up any customer, man or woman.
Both the driver and rider have the right to end the ride at any point.
Leila, a young medical student with a pixie cut and bright smile, says she would still choose a woman.
"This automatically feels a lot safer... being a female and dealing with sexism on a day-to-day basis. There's just something about it that feels wonderful. But it's not only that. It's also women joining the workforce," she said.
Sitting in the front passenger seat, she recalled previous rides with male drivers.
"Before, sometimes they would stare at me from the mirror," she said.
"It's just like that thing we share with women, where we just automatically understand what it's like to be in that position where you feel their eyes on you but you can't say anything, you can't do anything against it."
She turned to chat to Reem, and sang a riff from a West Side Story tune before saying: "If you can do it, then I can do it."
"See? That's what I was talking about," Reem said. "It's that ripple effect."
http://www.arabnews.com/node/1327881/saudi-arabia
--------
Saudi women lawyers up by 240% in three years
June 26, 2018
MAKKAH — The number of Saudi women lawyers has increased by about 240 percent in the past three years compared to the years from 2013 to 2015, according to the department of lawyers at the Ministry of Justice.
The department said the Kingdom now has 280 women lawyers from 10 about five years ago.
It said during the past three years alone, the ministry issued about 77.5 percent of the licenses. According to the department, in 2018, the ministry issued 95 licenses to Saudi women lawyers.
http://saudigazette.com.sa/article/537595/SAUDI-ARABIA/Saudi-women-lawyers-up-by-240-in-three-years
--------
India More Dangerous For Women than Afghanistan and Syria, Says Global Poll
26/06/2018
LONDON -- India is the world's most dangerous country for women due to the high risk of sexual violence and being forced into slave labor, according to a poll of global experts released on Tuesday.
War-torn Afghanistan and Syria ranked second and third in the Thomson Reuters Foundation survey of about 550 experts on women's issues, followed by Somalia and Saudi Arabia.
The only Western nation in the top 10 was the United States, which ranked joint third when respondents were asked where women were most at risk of sexual violence, harassment and being coerced into sex.
The poll was a repeat of a survey in 2011 that found experts saw Afghanistan, Democratic Republic of Congo, Pakistan, India, and Somalia as the most dangerous countries for women.
Experts said India moving to the top of poll showed not enough was being done to tackle the danger women faced, more than five years after the rape and murder of a student on a bus in Delhi made violence against women a national priority.
"India has shown utter disregard and disrespect for women ... rape, marital rapes, sexual assault and harassment, female infanticide has gone unabated," said Manjunath Gangadhara, an official at the Karnataka state government.
"The (world's) fastest growing economy and leader in space and technology is shamed for violence committed against women."
Government data shows reported cases of crime against women rose by 83 percent between 2007 and 2016, when there were four cases of rape reported every hour.
The survey asked respondents which five of the 193 United Nations member states they thought were most dangerous for women and which country was worst in terms of healthcare, economic resources, cultural or traditional practices, sexual violence and harassment, non-sexual violence and human trafficking.
Respondents also ranked India the most dangerous country for women in terms of human trafficking, including sex slavery and domestic servitude, and for customary practices such as forced marriage, stoning and female infanticide.
India's Ministry of Women and Child Development declined to comment on the survey results.
Afghanistan fared worst in four of the seven questions, with concerns over healthcare and conflict-related violence.
Kimberly Otis, director of advancement at Women for Afghan Women, said women and girls faced severe gender-based violence, abuse, illiteracy, poverty, and other human rights offenses.
"The ongoing war and conflict are getting worse in Afghanistan, which puts the lives of women and girls at increasing risk," said U.S.-based Otis, a survey participant.
Afghanistan's Public Health Minister Ferozuddin Feroz said the deteriorating security situation was making life difficult for women, with large parts of the country still in the control of Taliban fighters after nearly 17 years of war.
"Nowadays, suicide bombings and armed conflict is the third (highest) cause of deaths and disability in Afghanistan," he told the Thomson Reuters Foundation in an interview in London.
"Instead of focusing (spending) on maternal health, on nutritional status, we spend it on trauma."
The impact of a seven-year war drove Syria into third place in the survey, amid concerns over access to healthcare and both sexual and non-sexual violence.
"There are so many dangers for girls and women," said Maria Al Abdeh, executive director of Women Now For Development, which supports women's centers in Syria.
"There is sexual violence by government forces. Domestic violence and child marriage are increasing and more women are dying in childbirth. The tragedy is nowhere near an end."
Somalia, where more than two decades of war has fueled a culture of violence and weakened institutions meant to uphold the law, was again named as one of the five most dangerous countries for women.
Saudi Arabia ranked fifth, with women's rights experts saying there had been some progress in recent years, but the recent arrests of female activists ahead of the lifting of a ban on women driving showed much more needed to be done.
"One of the worst laws that prevent women from having equal opportunities is guardianship - because every woman is subjected to a male guardian. She cannot get a passport, cannot travel, sometimes she cannot work," said Ahlam Akram, founder of BASIRA (British Arabs Supporting Universal Women's Rights) in the UK.
"We need to completely obliterate this system. I think change is coming, but it takes time."
Experts said the surprise addition of the United States in the top 10 most dangerous countries for women came down to the #MeToo and Time's Up campaigns against sexual harassment and violence that have dominated headlines for months.
"People want to think income means you're protected from misogyny, and sadly that's not the case," said Cindy Southworth, executive vice president of the Washington-based National Network to End Domestic Violence.
"We are going to look back and see this as a very powerful tipping point ... We're blowing the lid off and saying '#Metoo and Time's Up'."
Rounding out the top 10 most dangerous countries for women were Pakistan, Democratic Republic of Congo, Yemen and Nigeria.
India, Libya and Myanmar were considered the world's most dangerous nations for women exploited by human traffickers in a global crime worth an estimated $150 billion a year.
"In many countries the simple fact of being female creates a heightened risk of becoming a victim of slavery," said Nick Grono, chief executive of the Freedom Fund, the first private donor fund dedicated to ending slavery.
The poll of 548 people was conducted online, by phone and in person between March 26 and May 4 with an even spread across Europe, Africa, the Americas, South East Asia, South Asia and the Pacific.
Respondents included aid professionals, academics, healthcare staff, non-government organization workers, policy-makers, development specialists and social commentators.
https://www.huffingtonpost.in/2018/06/26/india-more-dangerous-for-women-than-afghanistan-and-syria-says-global-poll_a_23467843/
--------
U.S. Among 10 Most Dangerous Countries for Women
Jun. 26, 2018
CAIRO – 26 June 2018: The United States was named as the only Western nation among the 10 most dangerous countries for women on Tuesday in a survey of global experts, after the #MeToo campaign triggered a flood of complaints about sexual harassment and assault.
The Thomson Reuters Foundation survey asked about 550 experts in women's issues which of the 193 United Nations member states they considered most dangerous on a range of issues, with India topping the list followed by Afghanistan and Syria.
The United States came 10th overall, but ranked joint third with Syria when respondents were asked where women most risked sexual violence, harassment and coercion into sex, and sixth regarding non-sexual violence such as domestic and mental abuse.
Experts, advocates and survivors said a rising awareness of assault against women pegged to the #Metoo movement, the country's outsized role on the world stage and a tolerance of violence added to the perception of danger in the United States.
"I can understand why people would perceive us as being a country that is dangerous for women because we kind of are," Abby Honold, a sexual assault survivor and activist in Minneapolis, told the Thomson Reuters Foundation.
Honold has been promoting legislation before the U.S. Congress that would train police in improved ways to question sexual assault victims.
"We try to sell that we are a country of freedom and also of safety, but there are a lot of people in our country that are not safe, and victims of sex assault and domestic violence are certainly in that group," she said.
The #MeToo campaign against sexual harassment went viral last October, with Hollywood producer Harvey Weinstein accused of sexual misconduct by more than 70 women dating back decades.
Weinstein this month pleaded not guilty to charges of rape and sexual assault.
#METOO
Hundreds of women have now publicly accused powerful men in business, government and entertainment of sexual misconduct, and thousands joined the #MeToo social media movement to share stories of sexual harassment or abuse.
"There now is a platform and national conversation, and more women and girls feel safe talking about the harassment and violence they've been subjected to," said Jennifer Becker, senior staff attorney at Legal Momentum, a U.S.-based non-profit that works on legal rights for women.
"The United States has visibility. That conversation is being viewed around the world."
Cindy Southworth, executive vice president at the National Network to End Domestic Violence, said media coverage of the United States had built an image of violence against women, but questioned its accuracy.
"People watch the U.S.," she said. "They watch our elections. They watch our media coverage. They watch our celebrity violence against women cases.
"The perception is understandable, but not based on reality."
Other countries are much more dangerous for women who face conflict and practices such as female genital mutilation or child marriage, according to the United Nations.
Rates of femicide are more extreme in Latin America, and 49 countries have no laws to protect women from domestic violence, according to UN Women.
But U.S. statistics can paint a grim picture.
Almost one in five women have been raped, and more than one in three experienced rape, violence or stalking by an intimate partner, according to 2010 statistics by the U.S. Centers for Disease Control and Prevention.
The Thomson Reuters Foundation's poll involving 548 respondents was a repeat of a similar survey in 2011 that found Afghanistan, Democratic Republic of Congo, Pakistan, India, and Somalia were seen as the most dangerous countries for women.
https://www.egypttoday.com/Article/2/52812/U-S-among-10-most-dangerous-countries-for-women
--------
World Cup sees Iranian women score spot in the stands
June 26, 2018
For many of the thousands of joyful women packed into Tehran's largest football stadium, their first ever chance to watch a game at a sports arena was a victory for freedom despite Iran's agonising World Cup elimination.
Cheering and with their cheeks painted with the national colours, women showed they were just as caught up in the World Cup fever sweeping the country as they seized the opportunity to attend a live screening at the 100,000 capacity Azadi (Freedom) Stadium, which, like other sports arenas, has been off-limits to them since the the Islamic revolution of 1979.
While the exuberance turned to tears when Iran missed the chance to snatch a last gasp winner against Portugal, ending their tournament dreams, some in the mixed gender stands said they would still treasure the landmark night watching an open-air screening of the national team.
"It felt weird to buy my ticket online, it's so exciting to come to the stadium," said Arezou, a psychologist in her thirties.
"When I felt the heat of the crowd in the stadium, I told myself I really wanted to remember this moment as one of the best of my life."
The decision to throw open the gates of the iconic stadium came after Iran's opening victory over Morocco, when tens of thousands took to the streets of the capital in rare and wild celebration, many of them women.
Many Iranian clerics oppose women attending football matches, saying they must be protected from the masculine atmosphere, though the ruling is frequently criticised from across the political spectrum.
"It's the first time I have come to the stadium. I really wanted to be here and I am so happy! Even if we don't win, it will still be a victory and we are proud of our players," said Raana, a flight attendant.
Nail-biter
A good natured family atmosphere prevailed among the young crowd in the stands, who watched the crunch match in Russia on a screen placed below twin portraits of Iran's supreme leader, Ayatollah Ali Khamenei, and the founder of the Islamic republic, Ayatollah Ruhollah Khomeini.
The match was one of nail-biting drama and controversy after Portugal captain Cristiano Ronaldo caught Iran defender Morteza Pouraliganji with an elbow to the face.
In an electrifying game that went down to the wire, Portugal defender Cedric was penalized in stoppage time for a handball, and Karim Ansarifard converted from the spot to give Iran a lifeline.
Mehdi Taremi nearly snatched a dramatic winner after a deflected shot rolled into his path, but he fired into the side netting as Iran were eliminated, ending their hopes of reaching the knockout phase for the first time.
New freedoms?
The vacillation by Iranian authorities over whether mixed spectators would be allowed to attend open-air screenings of the country's World Cup bid shows their deep sensitivity over women's rights.
Iran's opening game had initially been due to be shown live in stadiums and parks but authorities cancelled all open-air screenings just hours before kick-off forcing fans to watch in cinemas.
After the public celebrations of that victory, Tehran provincial council buckled and again said stadiums would screen the games.
"I really hope this is the start of a culture in which women can go see games in stadiums. From now on, it's possible," said Arezou.
At half-time, from a podium on the Tehran pitch, well-known actress Behnoosh Bakhtiari thanked President Hassan Rouhani for the evening and expressed hope that similar opportunities will follow.
A moderate conservative, who was re-elected in May 2017, Rouhani has said repeatedly he wants to see women at sports stadiums, but the idea has met fierce opposition from hardliners.
After the game, fans both female and male celebrated in the streets into the early hours, undaunted by Iran's elimination.
http://www.egyptindependent.com/world-cup-sees-iranian-women-score-spot-stands/
--------
URL: https://www.newageislam.com/islam-women-feminism/malaysian-mosque-bans-tourists-after/d/115648
New Age Islam, Islam Online, Islamic Website, African Muslim News, Arab World News, South Asia News, Indian Muslim News, World Muslim News, Women in Islam, Islamic Feminism, Arab Women, Women In Arab, Islamophobia in America, Muslim Women in West, Islam Women and Feminism