New Age Islam News Bureau
26 Sept 2016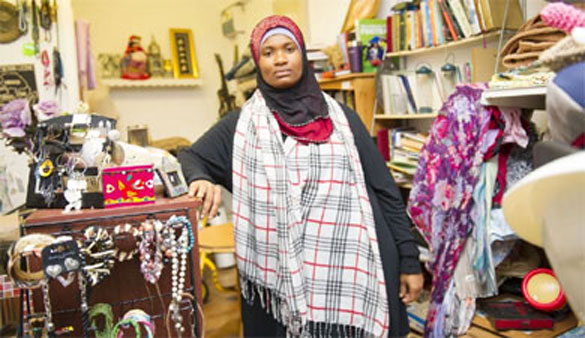 Kamara helps women keep their children from being recruited by ISIS
-------
• Mothers of Muslims Sign On To Fight Against Isis
• Female Saudi Chefs Excel in Profession
• Sex Slavery Thriving On Facebook and WhatsApp, Mark Zuckerberg, Are You Listening?
• Headscarf-Wearing Muslim Woman Poses for Playboy Magazine
• Two Women Detained On Suspicion of Planning Terror Attack in France
• Hijab Should Be Banned From Passport Photos, Says Swiss Politician
• Christian Teenager in Pakistan Arrest for Blasphemy after Facebook Picture Is 'Insanity'
Compiled by New Age Islam News Bureau
URL: https://www.newageislam.com/islam,-women-and-feminism/new-age-islam-news-bureau/malaysian-moh-shouldn't-consult-fatwa-council-on-abortion-in-zika-cases/d/108676
----
Malaysian MoH shouldn't Consult Fatwa Council on Abortion in Zika Cases
Monday September 26, 2016
KUALA LUMPUR, Sept 26 — The Ministry of Health is abdicating its responsibility by referring to the National Fatwa Council for guidelines on abortions in Zika cases, the Association of Women Lawyers (AWL) said today.
The women's lawyers group said there was no basis for the ministry to consult the National Fatwa Council as the law does not require a religious body to give their opinion and pointed out that matters relating to Islam are confined to personal law and doctrines, according to the Federal Constitution.
"Given that the risks associated with Zika infections in individual pregnancies can only be determined by a medical practitioner's professional judgment on the matter, the move by the Ministry of Health is an abdication of responsibilities and creates a bad precedent for future cases involving pregnancy risks.
"It is important to be mindful of the legislation and reproductive rights of the woman, so as to prevent resort to unsafe abortions," AWL treasurer Daniella Zulkifili said in a statement.
Health Minister Datuk Seri Dr S. Subramaniam said earlier this month that Islamic authorities must present a unified guideline regarding abortions for cases of pregnant women infected with the Zika virus that has been linked to microcephaly, a birth defect, in order to help the government draft "appropriate guidelines".
AWL said today that the law allows abortion in cases where the doctor believes that continuing the pregnancy would put a woman's life at risk or affect her mental or physical health.
"In this context, it is important to take cognisance of the mental health consequences for women in cases involving risk of foetal abnormality, which have been well documented globally.
"It is clear therefore that a decision on abortion should be based on medical considerations in relation to the pregnancy risks. While religious views may influence an individual's decision, this is a matter of personal choice," said AWL.
The women's lawyers group also stressed that Article 12 of the Convention on the Elimination of All Forms of Discrimination against Women (Cedaw), an international treaty, guarantees women the right to proper sexual and reproductive health care access.
The Health Ministry has so far reported four cases of Zika infections in Malaysia, including a pregnant woman living in Johor Baru.
http://www.themalaymailonline.com/malaysia/article/lawyers-moh-shouldnt-consult-fatwa-council-on-abortion-in-zika-cases
--
Mothers Of Muslims Sign On To Fight Against Isis
SEPTEMBER 25, 2016
Many young Muslims are becoming victim to the lure of violent ideology and vulnerably being led to their deaths by extremist organizations that seem to be above the law and efforts to stop them.
Ibrahim Kamara was fighting for the Islamic extremists in northwest Syria, yet still wanted to desperately reach out to the woman who mattered most to him, his mother. The teenager from Britain recorded a video on his phone, as another jihadi who fought alongside him told the media, yet his mother never saw the video before Ibrahim was killed in an airstrike.
Although lost to and taken by this violent organization, the bond between mother and child continues. This tie is being used as a means to combat radicalization via a course created by Edit Schlaffer, a sociologist from Austria, which is for troubled regions such as Kasmir. It aims to put mothers of extremists and young Muslims at the forefront in the fight against Islamic extremism.
Time shares how the course better enables mothers of young Muslims to curb any draw to extremism.
"On a recent July morning, the first British graduates of the Mothers Schools, which Schlaffer runs through her Vienna-based NGO, Women Without Borders, gathered at the town hall in the city of Luton in England. Over 10 weeks, 45 women had attended sessions on subjects like monitoring internet access, better communicating with teenagers and identifying signs of radicalization in children. 'We as mothers are so close to our children, we have to bring sense into the world, and we have to start with our children [and] guide them through these troubled times,' Schlaffer told them. 'Mothers will make this world safe for us all.'"
Khadijah, the mother of Ibrahim, rode the train from her home in Brighton to attend a session and speak to women about her experience and the anger she felt, along with the denial and hurt produced by her son's involvement with ISIS and death in Syria. Many mothers in attendance shared that Khadija's words were a powerful testimony and a stern warning about what may occur if signs of radicalization are ignored in sons and daughters.
Rozina Jarral, 39, attended the course to learn how she could relate better to her 13-year-old son. She commented on how surprising it was to her that ISIS so frequently uses the internet to lure teens and youths.
"It's been an eye-opener. I didn't realize about social media and how that could lure children in. What I took away from it was how to create a loving, caring environment at home, to keep the communication going, because when there are arguments at home they will want to go outside, and that is where people could take advantage."
Schlaffer created the Mothers School course back in 2013 after being involved in a project in Tajikistan, where she was told by many women of their worries over the increasing influence of Wahhabism, which is an extreme branch of Sunni Islam. The course creator then conducted a survey involving 1,000 people to determine how strong an influence a parent can be on youths, and devised the course based on the results of the survey. It was then introduced in Pakistan, India, Indonesia and areas in sub-Saharan Africa. Since its beginnings, 1,500 women have graduated from the course. Schlaffer, however, admits that she never thought there would be a need for such a course in Europe.
The publication reminds that Europe is certainly not immune to the effects and forces at work by extremism, sharing that up to "4,294 Europeans have traveled to fight with radical groups in Syria and Iraq, according to the latest figures from the International Centre for Counter-Terrorism in the Hague." The attacks on Paris, Brussels and in Germany over the past year, have caused a sense of unrest and unease across much of the continent.
Schlaffer comments on the sudden need in Europe for her course.
"We have always worked in countries of crisis and transition, and all of a sudden [we have] this crisis of identity in Europe. [We] are so strategically placed to serve as a buffer between radical influences and those who are targeted."
Although the course has demonstrated there are very real concerns for mothers of Muslims, it has also become a platform where these women seek to remind that not all Muslims are out to do harm, drawing on the rise of Islamaphobia.
http://www.inquisitr.com/3539495/mothers-of-muslims-sign-on-to-fight-against-isis/
--
Female Saudi Chefs Excel in Profession
Sep 26, 2016
JEDDAH — Female Saudi chefs are vigorously competing in the culinary industry, dedicating their abilities and expertise to offer distinctive dishes that express their passion for cooking.
But success has come at a price, with some obstacles and difficulties.
Chef Somayya Al-Idrissi said she encountered difficulties in the field cooking in the Kingdom.
"This area is relatively new in Saudi Arabia and there are misconceptions about the profession of chefs, which scares young women from pursuing this experience. But my determination and my enthusiasm to hone my talent led me to the pursuit of excellence even though it is difficult," she said.
Al-Idrissi's passion for cooking began when she was a child, but she started cooking professionally in 2009.
"At that time, I couldn't find adequate support and training. But in recent years, the situation has improved significantly. Now we have academies for specialized education to teach cooking. The Saudis Chefs Association was also established," Al-Idrissi said.
Chef Amal Fakih talked about her suffering in the profession.
"Of course I faced many difficulties at the beginning like any other Saudi chef. First, there was criticism and a lack of acceptance from the community. Chefs were looked down on as inferior especially that traditional ideas about women's roles put them in the house and with children," Fakih said.
She hopes to establish the Academy of Certified Cooking in Saudi Arabia that would graduate Saudis chefs with the necessary skills to start their own businesses.
Fakih now has an academy for young chefs offering several workshops and training programs to associations and centers in Jeddah.
Mona Musili that there was no culture of respect toward the profession of cooking several years ago.
"People thought that I was working as a waitress. But today there has been support for those who wish to go into this field. Young people have more confidence to study what they want, but the study of cooking does not mean that a person has become a professional and can open his own restaurant. They need experience and practice to gain access to the resources necessary to take responsibility for a full kitchen including cleanliness and even offering creative ways of serving dishes," Musili said.
She said the experience she gained through her work in Paris cleaning and dealing with people was the best part of the years she spent studying.
"But that does not prevent anyone from getting a degree in this field to learn the basics in cooking, so you must customize the short courses or long to teach the foundations of cooking for all," she said.
http://saudigazette.com.sa/saudi-arabia/female-saudi-chefs-excel-profession/
--
Sex Slavery Thriving On Facebook and WhatsApp, Mark Zuckerberg, Are You Listening?
Dessidre Fleming,
Monday, 26 Sep 2016
Yes, the international law prohibits slavery. And yet, slavery is very, very existential. We're in the 21st century—the digital age. And slavery is as prevalent as it was in the dark ages. It's just the medium that has changed now. Technology—the boon of our lives; that's what organisations like the ISIS and Boko Haram are using to facilitate the trade, no holds barred. In fact, the Islamic State has openly advocated the revival of sex slavery, without any fear whatsoever. We could debate over why they have no fear. But, there isn't much of a debate, really.
According to a Business Insider story published earlier this month, sex slavery is thriving on social media, courtesy of apps like WhatsApp, Telegram, Threema, Surespot and even Facebook. Shocking? I'm not done yet.
James Cockayne of 'The Conversation UK' opened the lid on a thriving network of slave trade that operates through most of the major social networking apps. This report comes to light after Nadia Murad Basee Taha, an ISIS victim of trafficking, recounted her horrific experience, last December, following which the UN Security Council requested the Secretary-General to come up with a report on human trafficking in conflict areas. And the deeper you dig, the murkier it gets.
Young Nadia begged the UN Security Council to wipe out ISIS. But, that was just the tip of the iceberg.
According to Yazda, an international Yazidi non-profit organisation, an estimated 5,000 Yazidi women, children and men are being held captive in sex slavery by the ISIL. Group rape against innocent young girls have been reported, while minor girls—under the ages of 12—have been subjected to rape and forced marriage. On their website, the organization recalls the plea of a young woman in a desperate call for help over a telephone conversation: "We have no choice. We have to accept what they tell us to do or we will die." "Bomb us. We prefer death over being abused by the hands of these cold-blooded murderers," said another woman.
According to the UN Report, "Yazidi women and girls over the age of nine are subjected to brutal sexual violence. Some were handcuffed behind their backs during the rapes while others had their hands and legs tied to the corners of the beds. Many women and girls reported being injured as a result of the rapes, suffering bleeding, cuts, and bruising."
"[H]e raped me every day that I was with him... He told me that if I did not let him do this thing to me that he would bring four or five men and they would all take turns raping me. I had no choice. I wanted to die", says one of the women who were interviewed by the UN.
HOW THEY WORK?
In his story for 'Business Insider', James writes that the ISIS fighters used Telegram, a popular encrypted communications app to set up online slave auctions, photos of women were circulated, along with their age, location and price.
James Cockayne writes in The Conversation UK that displaced female Syrian refugees had also been traded on WhatsApp. An article by The Guardian highlights that "the agents would send pictures of their prospective catch by WhatsApp to the network's top echelons, earning $2,500 per woman if the deal went through."
As simple as uploading photo on Facebook and WhatsApp, asking 'Do you want to buy her?' An e-commerce strategy for women in sex slavery; Facebook and WhatsApp marketing at its rudimentary best. Mark Zuckerberg, are you listening?
http://www.mensxp.com/technology/web-and-social/32390-sex-slavery-thriving-on-facebook-and-whatsapp-mark-zuckerberg-are-you-listening.html
--
Headscarf-Wearing Muslim Woman Poses for Playboy Magazine
September 26th, 2016
Being photographed for Playboy magazine means posing in a two-piece suit or, sometimes, naked.
But Noor Tagouri , a Muslim journalist, broke this stereotype and posed for the men's magazine in its October issue "Renegades."
Donned in a boyish leather jacket, jeans, a glittering headscarf and a pair of sneakers, Tagouri grinned before the camera and afterwards discussed the issues she faces as a first-generation Libyan-American.
"I know what it's like to have the narrative of our community be skewed and exploited in the media. I was like, 'Hey, I know what it's like to be misrepresented in the media. I won't do that to you. I want to tell your story because it's important and deserves justice'," she told Playboy. Also, she believes that wrapping a headscarf and practicing Islam helps her gain trust and empower fellow Muslim women to excel in their fields.
Tagouri, 22, aspires to become the next hijab-wearing news anchor in the US. Currently, she works as a video reporter for Newsy, an American video news network. "I will have succeeded in effecting change when all girls realize they can do anything they want without having to sacrifice who they are as a person. I may dress a little different…but being a storyteller, motivational speaker, entrepreneur and unapologetically myself has opened so many doors for thousands of people," she told the magazine.
Her open lifestyle and views on Muslim women drew criticisms online, but Tagouri brushed off these pessimistic comments and focused on crafting her dreams. "I don't read or pay attention to any of it. It's just negative energy and unhealthy. I make sure to keep a great circle of people around me who keep me grounded," she said.
"Whether it's at work or at home, the people who have my best interest at heart voice their concerns and their critiques, and I work on them," she added.
Tagouri is the second Muslim woman to pose for the magazine. Back in April 2011, Sila Sahin, a Turkish-German actress, posed half-naked for Playboy but was nearly banished by her Muslim relatives
http://newsinfo.inquirer.net/818934/headscarf-wearing-muslim-woman-poses-for-playboy-magazine
--
Two Women Detained On Suspicion of Planning Terror Attack in France
September 25, 2016
Two young women suspected of planning an attack in France were detained by police in the southern French city of Nice, a person familiar with the investigation said Sunday, the latest sign that Islamic State is shifting its focus from the battlefield in Syria to orchestrating terror plots in Europe.
The two young women—17 and 19 years old—had been in contact with Rachid Kassim, a French recruiter for Islamic State, on the Telegram Messenger messaging app, the person said. Mr. Kassim, who is believed to be in Islamic State territory, couldn't be reached for comment.
Mr. Kassim called on the women to attack specific sites in France to avenge the death of Abu Mohammed al Adnani, a founding member and chief spokesman for Islamic State, who was killed on a battlefield in northern Syria last month, the person added, without providing further details.
Even as Islamic State loses territory in Syria and Iraq, the mushrooming of small-scale terror attacks in Europe has allowed the militant group to keep people here on edge, without having to train and equip teams to pull off highly sophisticated operations.
Over the past year, a spate of terror attacks has left more than 200 people dead in France.
http://www.foxnews.com/world/2016/09/25/two-women-detained-on-suspicion-planning-terror-attack-in-france.html
--
Hijab Should Be Banned From Passport Photos, Says Swiss Politician
Sep 26, 2016
Geneva: A Swiss politician has said that women should not be allowed to wear hijab in their passport photographs.
According to a report in the Independent, Walter Wobmann, a member of the right-wing populist Swiss People's Party, said that hijab-clad women should be asked to remove headscarves during passport photograph procedure.
Wobmann argued that it is unfair with others as people are often banned from wearing caps or headbands, where as hijab-clad women are excused.
He claimed that the policy was an act of 'unequal treatement'. "It is unacceptable that you can wear a hijab in a photo but not a cap. This is not a question of religious freedom but of equal treatment," said Wobmann.
He also said that the official guidelines for passport and driving license in the country allow Muslim women to wear hijab for reasons of faith - as long as it is identifiable.
The rule states, "Headcoverings are in principle unacceptable - exceptions are only made for medical or religious reasons. In those cases the face must be visible and there should not be shadows on the face."
Wobmann has also actively campaigned against burqa and minarets in Switzerland.
http://www.deccanchronicle.com/world/europe/260916/hijab-should-be-banned-from-passports-says-swiss-politician.html
--
Christian Teenager in Pakistan Arrest for Blasphemy after Facebook Picture Is 'Insanity'
Mon 26 Sep 2016
The arrest of a Christian teenager in Pakistan for liking an "inappropriate" photograph on Facebook has been condemned as "insanity".
The British Pakistani Christian Association (BPCA) said words "cannot express the insanity, the depravity of this situation".
Nabeel Masih, 16, is accused of blasphemy charges for clicking the like button under an image of the Kaaba in Mecca, one of the holiest sites in Islam.
A Muslim alerted officers to the post saying he found it insulting to his religion, police said.
The teenager has been held in custody ahead of a trial. If found guilty, he could face the death penalty.
BPCA chairman Wilson Chowdhry said: "If this kind of thing is sanctioned by the government - and by not interfering swiftly to put an end to it, they will in effect be sanctioning it - then the Pakistani government has taken leave of all moral sense, and any semblance or pretence of protection for its Christian and minority citizens.
"Pakistan already has the shame of officially being the 6th worst country in the world for abusive treatment of its Christians, only a hairs-breadth behind Syria, where Isis is massacring and raping Christians en masse.
"The precedent set by allowing this farce, this abomination to continue a second more will confirm that the insane are in charge of the asylum, that for all its protestations of promoting human rights, the deeds show that the Pakistani state is in bed with the worst of extremists."
Pakistan's blasphemy laws mean anyone accused of insulting Islam can be sentenced to death. The laws are often used by Muslims to settle personal scores.
Asia Bibi is one of the most high profile victims of the law. The Christian mother was sentenced to death in 2010 for allegedly insulting the Prophet Mohammed during a discussion with Muslim women.
She is exploring her final appeal option before she is put to death.
http://www.premier.org.uk/News/World/Teen-s-arrest-for-blasphemy-after-Facebook-picture-is-insanity
--
URL: https://www.newageislam.com/islam,-women-and-feminism/new-age-islam-news-bureau/malaysian-moh-shouldn't-consult-fatwa-council-on-abortion-in-zika-cases/d/108676
New Age Islam, Islam Online, Islamic Website, African Muslim News, Arab World News, South Asia News, Indian Muslim News, World Muslim News, Women in Islam, Islamic Feminism, Arab Women, Women In Arab, Islamophobia in America, Muslim Women in West, Islam Women and Feminism