New Age Islam News Bureau
08 April 2022
• Karnataka: Goons Force Temple To Evict 72-Yr-Old Muslim Woman Shop Owner
• The Good In Women Traveling Freely To Saudi Arabia Without Male Companions
• Camp For Saudi Women's Futsal Football Team Begins In Riyadh
• Debate On Iranian Women's Access To Soccer Games Flares Up Again
• Ukranian Woman Influenced By Adhan Converts To Islam During Ramazan
• 'Arab Women Artists Today' Lecture Series Concludes
• Turkish Women Fight In Court For Free HPV Vaccine Against Cancer
Compiled by New Age Islam News Bureau
URL: https://www.newageislam.com/islam-women-feminism/malaysian-actress-eyka-farhana-ramazan/d/126755
-------
Malaysian Actress Eyka Farhana Told Off For Wearing 'Sexy' Black Dress During Ramazan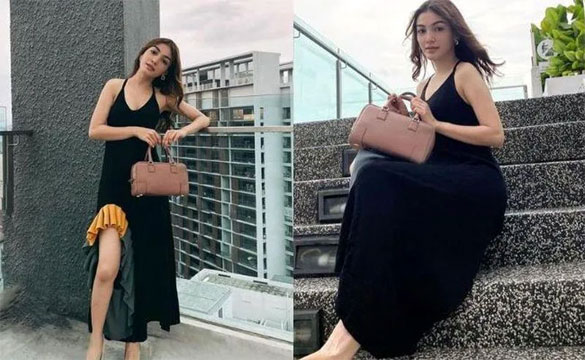 The 27-year-old said she had to post the image because of a work agreement. — Picture via Instagram
-----
08 Apr 2022
By Melanie Chalil
PETALING JAYA, April 8 — Actress Eyka Farhana caused a stir on social media for wearing a black dress that some described as too sexy during Ramazan.
The 27-year-old recently posted an image of her in a strappy black number with a semi-ruffled hem but the post is no longer available on her Instagram account.
Eyka told mStar that the photo was taken before Ramazan and she had to post it on social media as part of a job commitment.
"That picture was taken before Ramazan and I had to post it because it involved work.
"I know my limits during the month of Ramazan," she said.
The actress was promoting an international handbag brand but followers were quick to give her a dressing-down on her choice of outfit.
Many told off the Autumn in Wales star for appearing "too sexy".
Prior to the image being deleted, Eyka's Instagram post received 20,000 likes along with a barrage of negative comments.
"It's puasa month, please post something more appropriate," one user said.
"You should cover your aurat (intimate parts) during fasting month," a second user said.
"It's puasa time, dear Eyka," another added.
Despite looking fashionably on point, the actress is often accused by haters online for wearing increasingly revealing clothes.
Last month, Eyka told Berita Harian that she prefers being herself and wearing what she feels comfortable in.
The actress whose real name is Wan Atiqa Farhana Wan Sarmizi asserted that her outfits did not cross the line.
"It's not like my cleavage is showing or anything like that," she told the Malay language daily.
"I wear whatever I'm comfortable in and I feel my followers can accept it.
"I don't want it to be a case of I'm different when people meet me in person compared to what I share on social media."
Source: Malay Mail
https://www.malaymail.com/news/showbiz/2022/04/08/malaysian-actress-eyka-farhana-told-off-for-wearing-sexy-black-dress-during/2052321
--------
Karnataka: Goons Force Temple To Evict 72-Yr-Old Muslim Woman Shop Owner
7th April 2022
A 72-year-old Muslim woman shop owner was forced to shut down her shop at the historic Chennakeshava temple in Belur.
This came about soon after Karnataka BJP minister JC Maduswamy's justified banning Muslim vendors within temple premises as per the rules of the Hindu Religious Institutions and Charitable Endowments Department (HRICED), 2002.
Noor Jahan's family who was given an eviction notice by the temple authorities on March 28 have lost their only source of income, since then.
Hindutva belonging to the Vishwa Hindu Parishad (VHP) and Bajrang Dal in Belur have been urging the management of the temple to evict non-Hindu shopkeepers from the temple premises. Following this, the temple management issued a notice to do away with shops run by minorities.
The same was backed by the BJP-led Karnataka government who stated the HRICED rule to justify that shops, buildings, and vacant sites located near temples should not be auctioned to non-Hindus.
The plight of Noor Jahan:
The 50-year-old shop run by Noor Jahan has been selling toys, bangles, idols, and other items.
The shop was earlier looked after by her husband, Mehaboob Sharief, until he passed away in 2008, after which his son, Rehman Shareif took over. However, Rehman left the family six years ago, and since Noor Jahan has been taking care of the shop, her daughter-in-law and two grandchildren.
The contract of the shop, which remains in her son's name, was renewed in 2018 and the family paid the rent regularly.
"We have been paying a monthly rent of ₹7,351 to the temple administration. As per the contract agreement, we still have one year to either terminate or renew the agreement," The Hindu quoted Noor Jahan.
The officials of the temple said that actions have to be taken as per the rulings.
"We issued a notice asking the shopkeeper to close the shop, as per the rule. The shopkeeper has complied. Further, the issue has been brought to the notice of the Commissioner of Endowment," said the temple's Executive Officer, Vidyullatha.
Source: Siasat Daily
https://www.siasat.com/karnataka-woman-aged-72-loses-business-after-hindutva-boycott-muslims-2304186/
--------
The good in women traveling freely to Saudi Arabia without male companions
Heba Yosry
08 April ,2022
Before the advent of Ramazan, Saudi Arabia announced that women over the age of eighteen would now be allowed to enter both Mecca and Medina to perform religious rites without a male chaperone. The news was met with celebrations from Muslim women once barred from performing Hajj and 'Umra because they didn't meet the legal statute of either being over fifty or traveling with a male relative. Several Muslim women plan to visit the holiest shrines unfettered by male companionship.
This move comes after several actions that aim to advance women's rights inside the Kingdom. Moreover, the Kingdom has been exerting multiple efforts to modernize its image and provide a more open and tolerant understanding of Islam to overcome the past rigidity of Wahhabism that once reigned the land. This latest step proves the dedication of the current Saudi regime to a modernist plan that isn't merely exemplified on the secular/cultural front but, most importantly, on the religious one.
Saudi Arabia is central to the Muslim world. We pray five times a day and orient ourselves to Mecca regardless of where we are. Saudi sets the Muslim calendar since it hosts Muslims during Hajj and 'Umra. Whether one is Sunni or Shia, we all circle the Kaaba seeking refuge from the world's cruelty in the proximity of his abode. The centrality of Saudi Arabia is indisputable and not merely based on geographical privilege but in various aspects.
As an Egyptian, Saudi Arabia holds a special place for me, and I believe for many Arabs as well. The kinship between Saudis and Egyptians is evident on the governmental and popular levels. I remember as a young girl when Saudi opened its doors for Egyptians to participate in its economic boom after the discovery of oil. Almost no family in Egypt had some relatives living in Saudi during the eighties.
Families would move to Saudi and return to Egypt on their annual vacations loaded with luxuries that were scarce to nonexistent for us. They also came back saturated with a strict interpretation of Islam. The word Haram, meaning forbidden, would get thrown around in family gatherings to label innocuous actions that those family members used to do before. Going to the beach was haram for girls, listening to music; haram, dancing; haram, innocent mingling between the sexes; haram and love; haram.
As a young girl, I was baffled by the number of innocent pleasures that I was supposed to forsake to be a good Muslim girl according to this Islam. I kept asking myself; if Islam was a complete religion during the Prophet's lifetime, how could all these actions, once considered acceptable, become forbidden suddenly?
I didn't understand that there were different types of Islam, and I was being told that I should comply with the injunctions that forbid more than allowing me to be a good Muslim. And the changes were present not only in my extended family, but there was a wave of changes washing over the streets of Egypt and especially in major cities. Women were starting to embrace a more conservative attire congruent with an Islam that ensures women's presence is perfectly concealed, hidden in plain sight.
It filled me with dread when, as an eleven-year-old girl performing 'Umra with my family, I went to the mall to get ice cream in between prayers and found two strange men following me. The men started shouting at me, "cover your face, woman! Fix your hijab, woman!" I wanted to tell them I was not a woman yet. I couldn't cover my mouth and eat ice cream simultaneously, but I couldn't. I fixed my veil and hurried out of their sight and away from their shouting.
Those men were part of a special force that ensured compliance with visible Islamic law. Those men will no longer be found on Saudi streets and in Saudi malls. Those men exemplified a bygone era of Islam that I hope I will never see revived. Now women can plan their trips to Saudi, go for ice cream in between prayers and enjoy all-female companionship without being compelled to hide who they are. Women can go to Saudi alone, and we all should be celebrating.
Source: Al Arabiya
https://english.alarabiya.net/views/2022/04/08/The-good-in-women-traveling-freely-to-Saudi-Arabia-without-male-companions-
--------
Camp for Saudi women's futsal football team begins in Riyadh
April 07, 2022
RIYADH — The training camp for the first Saudi women's national futsal football team inaugurated here on Wednesday.
The eight-day camp is part of the first phase of the preparatory practice session before participating in the third Gulf Games in Kuwait in May, and the third West Asian Futsal Championship for women to be held in Jeddah in June.
The preparatory camp will include technical and physical training sessions with the aim of enhancing the fitness and technical level of the players, under the supervision of the Croatian Technical Director Mato Stankovic, while the second phase of the training program will be held in Jeddah from April 16 to 25.
Alia Al-Rasheed, general supervisor of the women's national teams, said that this camp comes within the framework of a program drawn up by the technical staff. "Our goal now is for the national team to be fully prepared to participate in the Gulf Games in Kuwait, and the most important event for us is participation in the West Asian Championship, which will be a main nucleus for our participation in the Asian Cup qualifiers and upcoming sports participations," she said.
The Gulf Games in Kuwait had been postponed because of the COVID-19 pandemic, with the multi-sport event now scheduled for May 11 to 21. The third edition of the Games had been set to begin on January 9 and conclude on January 19, but this has been pushed back by a further four months.
The inaugural edition of the Gulf Games was held in Manama in 2011, with the event intended to be staged every four years. However, it has not taken place since 2015, when Dammam in Saudi Arabia hosted. Kuwait's edition of the Gulf Games was originally scheduled for April 2020, but attempts to hold the event have been hampered by the pandemic.
Source: Saudi Gazette
https://saudigazette.com.sa/article/619129
--------
Debate on Iranian women's access to soccer games flares up again
Kourosh Ziabari
April 8, 2022
The incidents of March 29 in the northeastern city of Mashhad rekindled a dormant debate on the right of Iranian women to attend soccer matches as spectators.
Iran's national football team, which previously qualified for the 2022 FIFA World Cup, was slated to play Lebanon in its final World Cup qualifier showdown last Tuesday. Nearly 2,000 women purchased tickets to watch the game at the Imam Reza Stadium, but in front of the venue gates, they were abruptly told they couldn't watch the match.
Having valid tickets, the women resisted and chanted in protest, but were met with tear gas and pepper spray. Some women were reportedly beaten with batons, and others sustained injuries from pepper spray.
Authorities in Mashhad, one of the holiest Shiite cities in Iran, autonomously enforce an array of restrictions on civil liberties that exceed norms in the rest of the country. These include a de facto ban on live music performances and a stricter hijab mandate, particularly at the Shrine of the 8th Shiite Imam Reza, where all female pilgrims are required to wear chadors, a head-to-toe covering.
The city is mostly conservative, owing to its credentials as a pilgrimage hub, but the younger generation is more progressive — which helps explain why 2,000 women in the religious city bought tickets to watch a men's football game.
Since 1979, the government has banned women from entering stadiums, although it is not codified in any legislation. Women in Saudi Arabia, the United Arab Emirates, Qatar, Bahrain, Syria, Iraq and a host of other Muslim-majority countries have access to stadiums.
In March 2018, FIFA President Gianni Infantino traveled to Tehran and met then-President Hassan Rouhani to obtain assurances that women would not be excluded from stadiums.
Since then, on a handful of occasions involving Iran's national football team, women were allocated minuscule quotas to watch matches under tight security measures and in segregated areas of the stadiums. Many observers say the concessions are only to steer clear of possible FIFA punishments.
But after the episode in Mashhad, it is unclear how the relationship between Iran's football federation and FIFA will evolve, or whether Iranians should brace for retribution. Iran's opposition in exile has been running petitions and urging FIFA to banish Iran from the World Cup.
President Ebrahim Raisi has asked the Ministry of Interior to report on the Mashhad incident. But it is unlikely the ministry, which supervises law enforcement, will independently investigate what happened and come up with a transparent public report on why the 2,000 women were barred from the match despite possessing tickets and having been told that they would be allowed in.
Some experts say allowing women into stadiums remains a social fault line in Iran because the government believes it will open the floodgates to young girls and women demanding greater freedoms, including the abolition of the state's strict Islamic dress code.
An expert on gender studies and Iranian women says the heavy-handed police crackdown in Mashhad illustrates how gender discrimination in Iran does not differentiate between religious and secular citizens.
"The majority of women who were assaulted with pepper spray by the state security forces did not actually necessarily come from secular or less religious backgrounds," said Sara Tafakori, a lecturer in media and communication at the University of Leeds. Such repressive measures "are often seen by conservative and traditional women as legitimately directed towards secular women," she told Al-Monitor. "But the indiscriminate character of this state violence is actually a good indication of the broadly patriarchal nature of the restrictions imposed on women."
Annahita Mahdavi West, an associate professor at Long Beach City College in California and a commentator on Iran, says women "are changing the socio-political [and] cultural fabric of the Iranian society one step at a time, and above all, Iranian women also bring concepts of joy with their sports practices, dances, music, singing, and even participation as soccer fans." But, she told Al-Monitor, "sadly, joy is a psychological dynamic that goes against the morbid culture that the regime has built in Iran."
In September 2019, Sahar Khodayari, a 29-year-old football fan, immolated herself in front of a Tehran court that had warned her she might face a six-month prison sentence after attempting to enter the Azadi Stadium, disguised as a man, to watch a football match featuring her favorite squad, Esteghlal FC. Her death sent shockwaves nationally and drew much greater attention to the issue. She is known as the Blue Girl, after the jersey colors of the team she adored.
Source: Al Monitor
https://www.al-monitor.com/originals/2022/04/debate-iranian-womens-access-soccer-games-flares-again
--------
Ukranian woman influenced by adhan converts to Islam during Ramazan
APR 08, 2022
Impressed by the adhan (the Islamic call to prayers) during her visit to Turkey, a Ukrainian woman converted to Islam as Ramazan, the Islamic holy month of compassion and mutual understanding, continues.
While Daria Yaroshenko was eating at a restaurant during her visit to the historical Iznik district of northwest Bursa province with her husband, she heard the call to prayer coming from the Church of Hagia Sophia, also known as the Orhan Mosque.
Yaroshenko, who was fascinated by the adhan, then went to the mosque with her husband and met the muezzin Osman Çakmak, who recited the call to prayer. Stating that she wanted to convert to Islam after she heard the adhan, Yaroshenko told Anadolu Agency (AA) on Thursday that she was very impressed by the muezzin's voice.
"I felt something tremble inside me. I researched the Quran on the internet and then I decided to become a Muslim," she said.
The Ukrainian woman currently lives in the northwestern city of Yalova and changed her name to Derya after she converted to Islam.
Noting that she was very affected by the ongoing war in Ukraine, Yaroshenko said she was worried about her relatives. She added that she would return to her country when the war was over.
The Russia-Ukraine war, which started on Feb. 24, has drawn international outrage, with the European Union, the United States and the United Kingdom, among others, implementing tough financial sanctions on Moscow. At least 1,480 civilians have been killed in Ukraine and 2,195 injured, according to a United Nations estimate, with the true figure feared to be far higher. More than 4.24 million Ukrainians have fled to other countries, with millions more internally displaced, according to the U.N. High Commissioner for Refugees.
Meanwhile, Iznik mufti Üzeyir Yavaş said that Yaroshenko contacted them after being impressed by the call to prayer. "We are extremely happy for this wonderful event that took place in the holy month of Ramazan," Yavaş said, adding that they also gifted Yaroshenko a Quran.
"We congratulate our sister, her husband and our muezzin who recited the call to prayer. The good recitation of the prayer can lead to such wonderful events," he said.
Source: Daily Sabah
https://www.dailysabah.com/turkey/ukranian-woman-influenced-by-adhan-converts-to-islam-during-Ramazan/news
--------
'Arab Women Artists Today' lecture series concludes
08 Apr 2022
The series "Decolonizing Art Narratives: Arab Women Artists Today" concluded on Wednesday featuring the artist Youmna Chlala. The lecture series brings together critical female Arab voices in art and design.
Youmna Chlala presented her projects and arts through a series of photos of her works explaining the details and story behind it. She said that most of her work revolves "about the way we engage with material, each other, space and time." The lecture series was conducted via Zoom.
"I moved a lot between sculpture and drawing, all of it going back to the idea that through the body and the way it engages space, we can get a little bit closer to try to understand where we are," she explained.
The lecture series is a collaboration between Virginia Commonwealth University School of the Arts in Qatar (VCUarts Qatar) Painting and Printmaking Department, and the Fire Station.
Chlala was born in Beirut and is based in New York. She is an artist and a writer whose work investigates the relationship between fate and architecture through drawing, video, sculpture, prose and performance. The Peninsula asked how as an Arab woman artist she can contribute to the art development in the Arab world, she responded saying it's not about representation but the exchange between artists and institutional spaces.
"I think the world in good ways and difficult ways doesn't function as an isolated island anymore and so it's very easy for arts to be another vehicle of exchange and I think the most important thing for me is not so much how to represent, but how to exchange between artists or between institutional spaces all over the world opens up this question of what is an Arab woman artist and how does she provide new ways of seeing and new ways of being that are sort of outside of the mainstream discourse," she explained.
The COVID-19 pandemic has affected all of the sectors in the industry, including the art world. Chlala said that pandemic made artists assess the importance of their participation in the world of arts.
"There has been some art scenes that have continued and never stopped that even in the pandemic era have kept moving. And those are sort of untouched and I think there are some that took a pause and re-considered like what it means to be always moving in the world," she said.
Chlala continued: "I do think what the pandemic did is it didn't reshape our relationship to the art world but it made us re-consider, for each person has a different answer – how important it is to and how we want to participate in the art world, I think that is one way how I see it, kind of positive moment, and it's to reconsider how to spend our time and what we are making."
Youmna Chlala is a Professor of Humanities and Media Studies at Pratt Institute in New York. She has exhibited at the Hayward Gallery, The Drawing Center, Rotterdam International Film Festival, Dubai Art Projects, Kunsthal Charlottenborg, Henie Onstad Kunstsenter and MAK Center for Art and Architecture.
She also participated in the 33rd Bienal de São Paulo, 7th LIAF Biennial in Norway, and 11th Performa Biennial.
Chlala is the author of the poetry collection, The Paper Camera (Litmus Press, 2019). She is the recipient of a 2018 O. Henry Award and a Joseph Henry Jackson Award. She is co-editing a new series for Coffee House Press entitled Spatial Species.
Source: The Peninsula Qatar
https://thepeninsulaqatar.com/article/08/04/2022/arab-women-artists-today-lecture-series-concludes
--------
Turkish women fight in court for free HPV vaccine against cancer
April 08, 2022
ISTANBUL: When Turkish university student Yagmur Varkal found out she would have to pay for a vaccine protecting her against cervical cancer, she took health authorities to court to get a refund — winning a landmark victory.
Buoyed by her win last month, other women have since filed legal action to demand free access to vaccines against human papillomavirus (HPV), which more than 100 countries already provide to girls, according to the World Health Organization.
Campaigners in Turkey hope the Ankara court ruling could set a precedent, and pave the way for universal access.
"We're very happy about the outcome. Our legitimate cause has been validated," said Varkal, 24, whose legal fight was backed by the Children and Women First Association campaign group.
"But we will not stop, our main target is to make sure that the vaccine is available for all girls and boys," Varkal told the Thomson Reuters Foundation.
The Health Ministry did not immediately reply to a request for comment on Varkal's case.
One of the most common sexually transmitted diseases, HPV normally causes no symptoms and goes away on its own. But the virus can cause cancer of the cervix in women and transgender men, as well as cancers of the throat and male organ.
Cervical cancer is the fourth most common cancer in women globally, and claims about 1,250 lives in Turkey each year.
Vaccinating girls against HPV can cut cervical cancer cases by about 90 percent, studies have found, prompting a growing number of countries to offer free vaccination — most commonly for girls aged from nine to 14, when they are most effective.
But Turkey, which has a population of more than 84 million, has yet to include the HPV vaccine on the list of vaccinations its provides without charge.
At the same time, economic woes that have seen inflation reach 20-year highs and the currency halve in value against the dollar over the past year have made paying privately less affordable for many.
At 2,372 Turkish lira ($160) – more than half the monthly minimum wage following the currency collapse – the vaccine is too expensive for most Turkish women and girls.
Vaccine price
Access to HPV vaccines varies across the region. They are routinely provided in 37 of the 53 countries in the WHO's European region, which includes Turkey.
Greece, Armenia, and others fully cover immunization costs, while residents of Ukraine, Azerbaijan, Lebanon and Iran have to pay for their own vaccines, according to data from the HPV Information Center, an information hub co-led by the International Agency for Research on Cancer.
Candan Yuceer, a Turkish doctor and member of parliament, estimated that fewer than 1 percent of Turkish women and girls have been vaccinated against HPV.
"This ratio means that (vaccination) doesn't exist. It's unacceptable to ignore these deaths when thousands of lives could be saved," Yuceer said.
Conservative social values are also a barrier to broadening access to the jabs in Turkey, where public conversations about sex or women's health are typically considered taboo, women's campaigners said.
Zeynep, a 36-year-old woman from Istanbul, said she felt "angry, scared, and upset" after becoming infected with HPV because of the social stigma attached to sexually transmitted diseases.
"Coming from a conservative family, I blamed myself," said Zeynep, who asked not to be identified by her real name.
But after talking with friends, Zeynep realized that many of them had also had the virus.
Class-action lawsuit
Activists say Varkal's March 10 victory at an Ankara court over the government-run Social Security Institution, which funds health care including vaccines, sets an important precedent that could eventually lead to widespread access to the HPV jab.
More than 25 women have applied to Turkish courts for their own refunds as part of a class-action lawsuit supported by the Children and Women First Association, which has also worked with pharmacists lobbying for free vaccination.
"There is only one goal left before us: a decision must be made by politicians to include the HPV vaccines in the national immunization program," said Cem Kilic, a pharmacist leading the free vaccination campaign.
Nilda Baltali, of the Children and Women First Association, said that until the vaccine is offered free of charge, women will continue to face a higher risk of cancer.
"Our efforts are for the right to life," she said.
Source: Arab News
https://www.arabnews.com/node/2059056/middle-east
--------
URL: https://www.newageislam.com/islam-women-feminism/malaysian-actress-eyka-farhana-ramazan/d/126755
New Age Islam Islam Online, Islamic Website, African Muslim News, Arab World News, South Asia News, Indian Muslim News, World Muslim News, Women in Islam, Islamic Feminism, Arab Women, Women In Arab, Islamophobia in America, Muslim Women in West, Islam Women and Feminism