New Age Islam News Bureau
9 Aug 2013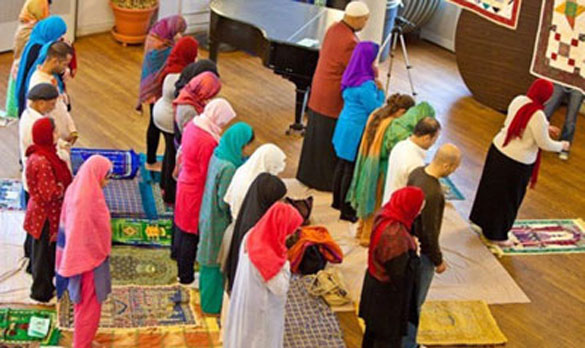 Women promote mosques 'for all' in Britain (Photo courtesy: The Huffington Post)
-----------
• Ban Women from Eid Events: Religious Activists of Saudi Kingdom
• Women Promote Mosques 'For All' In Britain
• Bomb Kills 14 Women and Children in Afghan Graveyard on Eid
• Forced Underage Marriages Continue in Gaza
• Stringent Steps Under Way to Reduce Sexual Harassment in Saudi Kingdom
• Beauty Queens and Civil Liberties: A Peculiar Malaysian Dilemma
• Mohammed Morsi's Wife, Makes First Appearance since Ouster In Egypt
• Expats Manage Most of Saudi Women's Businesses
Compiled by New Age Islam News Bureau
URL: https://www.newageislam.com/islam,-women-and-feminism/new-age-islam-news-bureau/malay-girl,-is-an-easy-target-for-the-holier-than-thou-types/d/12959
--------------
Malay Girl, Is an Easy Target for the Holier-Than-Thou Types
9 August 2013
Most Malaysians believe that Umno Baru and Perkasa champion Ketuanan Melayu (Malay Supremacy); but actually Ketuanan Melayu should be renamed Ketuanan Lelaki Melayu (Malay male supremacy or KLM).
Over the years, the Muslim girl, or particularly the Malay girl, is an easy target for the holier-than-thou types. In Malaysia, there is no equality between the races or sexes. Non-Malays are inferior, and the Malay woman is subservient to the male.
Malay men who want the ultimate say, will threaten their wives with divorce or that they will marry a younger wife. In Malay society, threats of eternal damnation also have a hold on women.
If Malaysia is to reform, then Malay women must lead the fight. If a non-Malay were to lead the way, this struggle would be construed, by Umno Baru, as 'communist inspired' or a plot by the Singaporean Chinese to assume control over Malaysia.
Currently, Umno Baru Malay men hold the reins of power. They are prepared to cheat and perhaps kill, to protect their turf. They refuse to move out of their comfort zone.
Many Malays forget that there should be equality in Islam; nevertheless, Malay men exert their authority, using religion as their tool. Perhaps, the thought of 72 Vestal virgins waiting in heaven, is a prime motivator for them to stamp their authority on earth.
Days after the Miss Malaysia World 2013 beauty contest debacle broke, it was the turn of dog lover, Maznah Mohd Yusof to face the wrath of the sanctimonious men from the Federal Territories Islamic Department (Jawi).
Maznah is correct to stand her ground. She has done nothing wrong. Rational thinking Muslims were not insulted.
A few years ago, Kartika Dewi Sukarno incurred the wrath of the religious authorities for drinking beer. Her personal life was dragged into public view. It caused a breakdown of her marriage and further family tragedy befell her.
Malay men will exact the most severe punishment and humiliation on Malay girls who possess free spirits and minds of their own.
Soon after the Kartika incident, three Malay girls were whipped for having sex outside of marriage. Little is heard of the men with whom they were having a dalliance.
In other cases, men who committed statutory rape were released or given the choice of marrying the underage girls, thus prolonging their humiliation. What future has a girl who has to give up her education and become a sexual aid, to a sexually depraved man who will soon tire of her?
Shattered dreams
The visibly crestfallen Muslim finalists of Miss Malaysia World 2013 were informed by Anna Lim, the contest organiser, of the final decision of Jawi, that Muslim women could not enter the competition.
Anna failed to reach a settlement with Jawi despite her best efforts. She realised the destructive impact of Muslim women being prevented from fulfilling their ambition.
She said, "While the other finalists are geared-up for the contest, the Muslim women are left with shattered dreams…"
Many Malaysians will empathise with the four Muslim finalists – Sara Amelia Bernard, Wafa Johanna de Korte, Miera Sheikh and Kathrina Ridzuan – and Maznah, the dog-trainer. They were threatened with fines and jail. They also had to endure insults and threats on social media sites.
The feelings of betrayal and rejection which these girls felt, are experienced by many non-Malays with potential in academia or some other industry. Quotas in education and similar fields, deny Malaysians from fulfilling their aspiration.
People are left frustrated. Some become bitter, others simply move on. Malaysians who want to contribute towards a better nation are denied the opportunity.
Those who think that all scholarships are given to deserving Malays are wrong. Many wealthy Malays with political connections grab the places which should otherwise have gone to poor Malays.
In the Miss Malaysia World debacle, Jawi has said that entering the beauty contest is sinful. Many Muslims maintain that the girls will be exposing their Aurat. What is the definition of Aurat? Isn't Aurat the sexual organs or the intimate parts of the body?
These girls are not displaying their assets like they would in the Playboy mansion. They are not auditioning for a place in a bordello. They are not in training to be guest-relations-officers (GROs).
Today's beauty contest is a test of personality, charm, intellect, self-confidence, perseverance, communication skills and the ability to think on one's feet. It is a highly competitive field.
All the beauty contest aspirants have been given a strict directive to dress modestly. The finals of Miss World will be held in Sentul (West Java) and Bali. Indonesia is the world's most populous Muslim country.
To the civilized world, Malaysian Ulema seem to act like the Taliban. Umno Baru's Najib Tun Razak wrongly claims that Malaysia is a moderate Muslim nation.
If the non-Muslim finalists in the Miss Malaysia World 2013 had downed their sashes to show their support for their Malay counterparts, Jawi would have been vilified by most Malaysians.
Jawi's interference in the beauty contest is not about religion. It is politics Umno Baru style.
If the non-Muslim finalists had refused to continue until their Malay peers were reinstated, their political statement would have reverberated around the world; but to ask that of the girls, would be asking too much.
Ugliness of Umno Baru
Talent should not be denied a chance to flourish. Perhaps, some groups will highlight the plight of the Malay beauties at the finals in Indonesia. The battle between the Malay beauties and the beasts is not over yet.
Jawi claims that there is a long-standing fatwa against the participation of Malay girls in beauty contests. Most people are not aware that a fatwa is just an opinion or guide, to how one should lead one's life as a good Muslim.
Only under syiah rule can a fatwa become a law, without first being debated in, and enacted by parliament.
The banning of the four Muslim girls in the beauty contest exposed the ugliness of Umno Baru.
This ban may have instilled a bitter resentment in Malays, just as the deep sense of betrayal in the non-Malays over the race-based policies they face in everyday life.
Beautiful Malay girls are denied the right to exploit their beauty, especially as winners of beauty contests frequently progress to successful careers.
The ban on Malay girls entering beauty contests, and Malays with dogs, is about bullying and controlling Muslims.
It is also to divide Malays from non-Malays. It is to increase the segregation started by former PM Dr Mahathir Mohamad.
If Malay girls do not fight to regain their rights, their beauty will be snatched from them today, and perhaps, their brains (an education) tomorrow.
Who knows what other personal liberties Jawi and Umno Baru will strip from Muslims, if we do not make a stand.
Footnote: Selamat Hari Raya to everyone. Maaf zahir dan batin. When you balik kampung, spread peace and goodwill, and tell everyone you can about the injustices of Umno Baru.
http://www.freemalaysiatoday.com/category/opinion/2013/08/09/muslim-girls-are-easy-targets/
--------------
Ban Women from Eid Events: Religious Activists of Saudi Kingdom
9 August 2013
AL-JOUF — A decision to allow women to attend Eid Al-Fitr activities at the Prince Abdul Elah Cultural Center in Sakaka has angered some religious activists, Al-Hayat daily reported.
The activists have taken to Twitter and other social networking sites to urge authorities to ban women from participating in Eid activities, claiming that allowing them to do so was against Islamic values.
They said they would not allow women to enter or participate in these events.
Prince Fahd Bin Bandar, Emir of Al-Jouf, has already approved the mayoralty's plan for the Eid Al-Fitr holidays.
On its website, the mayoralty said women and children could use the western section of the center and participate in the events.
A source within the mayoralty told Al-Hayat the local body was working on organizing activities specifically for women for the first time in an attempt to cater for all sections of society.
The activists who opposed women's participation said allowing them to attend such activities was against the values of Islam, which they claimed ordered women to dress modestly and stay home, away from such public events.
Some even said men who allowed their women to go out and attend such activities did not have a shred of decency.
An activist tweeted that such festivals should not have been planned, let alone held, in the first place while people in Syria were being killed.
All those against the activities have called upon the general public to boycott the festivals and not attend them.
However, many tweeters have also criticized the calls for banning women from participating in Eid Al-Fitr events.
They said women all over the Kingdom will participate in the events that will be held during the holidays.
A woman tweeted: "Strangely enough, most of those activists spend Eid Al-Fitr in Jeddah, Riyadh and Dubai, where they attend such events together with their families."
Another said: "Every guardian is free to allow his wife, sister or daughter to attend such activities or not. No one else should make this decision on the guardian's behalf."
http://www.saudigazette.com.sa/index.cfm?method=home.regcon&contentid=20130809176344
--------------
Women promote mosques 'for all' in Britain
9 August 2013
In the damp basement room of a Caribbean restaurant in London, Naima leads prayers for an audience of male and female worshippers.
They face Mecca, directed by an arrow scrawled on a blackboard in pink chalk.
But Naima -- she did not want to give her full name -- had just begun the Al-Fatiha when a young woman got up and hurried out of the room in Camden in the north of the British capital.
As if on cue, "Should I Stay or Should I Go" by punk band The Clash was playing in the restaurant.
Leila Bakkioui, 25, clad in a headscarf, admitted she was reeling.
"I went downstairs to pray and a sister led the prayer," she explained breathlessly to her friend Tana Rasekh, who was waiting for her in the restaurant.
Rasekh said: "When she came out, I thought she had seen a ghost."
Bakkioui, a young mathematics teacher, had stumbled into a group of Muslims working towards a more "inclusive" Islam, where men and women pray in the same room, with women sometimes leading the prayers.
Tamsila Tauqir helped to launch the Inclusive Mosque Initiative (IMI) in November last year after she became frustrated by what she saw in mosques in Britain and the wider Muslim world.
She said the practices of Islam are still based on "cultural traditions of patriarchy" based on texts that were compiled "three hundred years after the death of the Prophet."
"There is nothing in the Quran that says that women and men can't pray together or that women can't lead prayers," said Tauqir, whose long black shirt with long sleeves matches her Dr. Martens shoes, while a keffiyeh is arranged around her neck.
But Bakkioui strongly disagrees.
"What you saw is not Islam. It's corrupt," she told AFP.
"Women can't lead if there are men in the room. And they stay behind. When you pray you bend down and you don't want to think 'he is looking at my bottom'! It's the last thing you want to think about."
Her friend Rasekh agrees. "You can't make things up the way you want," said the 26-year-old mother of two.
A few tables away, a dozen IMI members were breaking their Ramadan fast.
"I understand that people are shocked because we have been taught that men and women pray separately, but I have adapted," said Sophia, a 33-year-old French woman who works in telemarketing. She is attending the prayer group for the first time.
Even in the oppressively warm summer weather, Sophia, a tall woman who has her dark hair pulled up into a bun, insisted on wearing a green cardigan "to cover my arms" during Ramadan.
"A lot of people forget to focus on the essential things. They just do what everyone else does without taking the time to read the Koran," she said.
She admitted she doesn't agree "with everything that goes on around this table," pointing to the presence of a handful of homosexual men at the session that evening.
One of her friends added: "It is contradictory to be gay and Muslim."
IMI, which says it has 500 people on its mailing list, does not yet have a permanent home -- Tauqir describes it as a "nomadic mosque."
The group has pointedly not found a mosque willing to host their meetings.
"We meet two or three times a month and we hire rooms," Tauqir said. "We are looking for donations to have a physical space in London and somewhere else."
Tauqir admits she has received "dismissive" comments about the group, but insists they were not "threatening."
When contacted by AFP for comment on IMI, two leading Islamic organizations in Britain failed to respond.
Hassan Wanini, a Kenyan man taking part in an IMI session for the first time, predicted that if the group continued to grow, "there will be a backlash."
"But the Prophet himself suffered a lot to be Muslim. In his time he was seen as a liberal. We are just carrying on what he was doing," he said.
http://english.alarabiya.net/en/perspective/features/2013/08/09/Women-promote-mosques-for-all-in-Britain-.html
--------------
Bomb kills 14 women and children in Afghan graveyard on Eid
9 August 2013
JALALABAD, Afghanistan — A bomb killed 14 women and children at a graveyard in eastern Afghanistan on Thursday as the country celebrated the Eid Al-Fitr holiday marking the end of Ramadan, officials said.
Many Muslims visit the graves of deceased relatives during Eid as part of traditional celebrations after the holy month of fasting.
Haji Ghalib, a pro-government tribal leader and former district police chief, told AFP that the explosion had targeted his family at an all-female event to commemorate his late wife in the Ghani Khel district of Nangarhar province.
He said the mourning group was gathered over his wife's grave to recite the Qur'an when the blast erupted, killing 14 people. "I'm shocked, I can't talk," he said.
Ahmad Zia Abdulzai, the Nangarhar governor's spokesman, told AFP: "Seven women and seven children were killed and four others, three women and a child are wounded."
Abdulzai added that the bomb appeared to have been hidden near the grave, and suggested the motive may have a personal enmity. There was no immediate claim of responsibility.
Nangarhar, which straddles a main route from Pakistan's tribal belt — a hub for Taliban and Al-Qaeda-linked militants — to Kabul, has seen a series of attacks and battles in recent weeks.
On Saturday, suicide bombers targeted the Indian consulate in the provincial capital Jalalabad, detonating a car bomb and killing nine civilians, including seven children in a nearby mosque.
The Taliban, who were ousted from power in a 2001 US-led invasion, denied any responsibility for the consulate attack.
More than 20 Afghan policemen and dozens of insurgents were also killed in Nangarhar a week ago when hundreds of fighters ambushed a security convoy returning from an operation to rescue a politician being threatened by the Taliban.
Earlier on Thursday, President Hamid Karzai delivered an Eid address that again urged the Taliban to halt 12 years of fighting as the country seeks stability before next year's elections and the withdrawal of NATO-led troops.
In a thinly-veiled reference to neighboring Pakistan, Karzai appealed to the Taliban to resist being controlled by foreigners and said the militants should support their own country.
"You are working for others, (foreign) guns are put on your shoulders, and innocent Afghan people are being killed by it, homes are destroyed," he said.
"Give up on it, be Afghan."
Karzai said the rebels would be welcome to open a political office in Kabul, after their new office unveiled in Qatar in June triggered a collapse in efforts to start peace talks.
"If you'd opened your office in Kabul, like other (political) parties in Afghanistan, you would have been respected," he said.
"The gun that is given to you by strangers — leave that gun and take up shovels and work at your home. This is your home and you will never be disgraced, in other lands you are strangers and will never get respect." — AFP
http://www.saudigazette.com.sa/index.cfm?method=home.regcon&contentid=20130809176371
--------------
Forced Underage Marriages Continue in Gaza
9 August 2013
Sitting alone in her gloomy room, 17-year-old Mariam recalled the year and a half she spent at the house of her husband, whom she was forced to marry when she was 15 to escape poverty.
As Mariam gazed at the small doll in her hands, suddenly her mind was flooded with memories in which she was continuously beaten and verbally abused in the house of her husband. Her father's voice, however, interrupted this chain of memories.
"Mariam!" he shouted. She rushed to answer him.
He told her, firmly, "You should return to your husband's house no matter what he did to you. You should learn to accept this. Do you understand?!"
As she spoke to Al-Monitor, Mariam, a girl with flawless olive skin, described this scene in her own sad words, giving details of the bitter experience of her marriage to a 37-year-old man. Her father forced her to marry him after he became unable to meet her basic living needs and educational requirements.
In 2012, of about 17,000 marriages were registered in the courts of the Gaza Strip, 35% were cases in which the brides were under 17 years old. These marriages are concluded without the courts knowing the girls' real ages. Meanwhile, about 2,700 divorce cases were registered in the same year, and in 25% of these the wives were underage, Bakr Azzam, a lawyer specializing in Sharia issues, told Al-Monitor.
Mariam explained that due to her young age she wasn't capable of meeting the demands of married life.
"I was taken away from my small toys, taken out of my school forcibly and delivered to my husband whom I had only seen once, in front of the judge who officiated my marriage contract," she added.
Mariam recently ran away from her husband's house and returned to her father's, after concluding that she could not bear to stay with her husband. He dates other women under the excuse that his wife is young and thinks like a child, not living up to the intellect of a man of his age. Mariam's husband also beats her whenever they have an argument.
"When I told my father about this, he told me, 'This is normal and most young people are facing such a situation these days,' but I did not accept it," she said.
Mariam, who now wants a divorce, is not the only underage girl who was forced to marry despite her physical and mental unreadiness for marital life.
Sarah had a similar experience, but for different reasons.
As she spoke to Al-Monitor, Sarah looked at a photo of herself when she was still single. She had a bright face and childlike features. Today, however, she has become a girl with a scrawny body, a slim face and caved-in eyes that look very tired.
"I got married when I was 16 years old. My father and my brothers forced me to marry a 17-year-old boy so that they would not have to pay my living expenses and could get rid of my father's accumulated debt," she said, her face somber.
She pointed out that marital problems began only one week into the marriage due to the demands, made by both her husband and his family, that a girl of her age could not meet. "My family did not take into account the fact that I was still a child," she said.
Sarah went through a major crisis when she got pregnant. She had to undergo a Caesarean section due to complications during delivery. After four hours of pain and crying, she gave birth to a premature baby boy.
As tears started to fall from her eyes, she added, "I couldn't take all of this. I ran away from my husband's house, leaving everything behind. I shouted in front of everyone that I wanted a divorce."
Two years after her marriage, Sarah finally got her divorce. She is 18 years old now, but never wants to get married again due to this bitter experience, which left her with a fear of married life.
Sociologist Fadel Abu Hein said that there are many reasons that prompt Palestinian families to force their daughters to marry at such an early age. These include poverty, unemployment and a low standard of living, in addition to customs and traditions.
According to a report by the International Labor Organization issued in June 2013, "The number of unemployed Palestinians rose by 15.3% between 2011 and 2012, with the unemployment rate reaching 23%." The report adds, "The situation is particularly acute in Gaza, where unemployment has reached 31% and is almost 50% amongst women. … 18.4% of young Palestinians were neither in the labor force nor in education, including 31.4% of young women."
In an interview with Al-Monitor, Abu Hein said, "Girls under 17 years of age are subject to inhumane treatment during marriage. They are forced — perhaps beaten — to accept a marriage that is approved by their fathers, without taking into account their opinion or letting them mature and complete their schooling."
He explained that most of the poor families that cannot meet the basic needs of their daughters seize the opportunity to make a contract and marry off their underage girls. This rids them of their financial burden, which includes their tuition fees and health expenses.
Abu Hein said that most families in Palestinian society are looking for girls between the ages of 15 and 19 to marry their sons. They believe that young girls are more likely than adult women to adopt the habits of the husband's family.
"What is happening is a fatal error and a threat to society. It destroys the girl and her character," Abu Hein warned. He pointed out that underage girls are not physically or intellectually ready for marriage, which leads to marital problems and a lack of ability on the girls' part to meet the domestic and sexual needs of their husbands. This leads to divorce in many cases.
For his part, Azzam said: "The Marriage Law requires girls to be at least 17 years old to be able to marry," asserting that marriage contracts concluded outside of this law are legally void.
He explained, "The Islamic courts in the Gaza Strip are committed to marrying girls above the legal age, but there are dozens of contracts made in courts either by changing the girl's birth certificate or estimating her age and concluding the wedding contract based on the parents' testimony."
The sociologist added that there are other marriage contracts concluded outside the framework of the courts, when the family is faced with dire circumstances and inhumane conditions. In these cases, a cleric officiates the marriage contract for an underage girl after obtaining the permission of the family's representative. Once the girl reaches the legal age, the marriage is registered in the Sharia Court.
Mariam and Sarah are just two examples of the social and economic problems suffered by Palestinian society. Their story is closely linked to old traditions that do not allow girls the right to decide their fate, and a lack of legal and legislative action to grant them this right. Moreover, there are no regulations that deter a parent from forcing his daughter to marry under the legal age.
Rasha Abou Jalal is a writer and freelance journalist from Gaza specializing in the political news, humanitarian and social issues linked to current events.
http://www.al-monitor.com/pulse/originals/2013/08/underage-marriage-child-palestinians-gaza.html#ixzz2bW6ztaXo
--------------
Stringent Steps Under Way to Reduce Sexual Harassment in Saudi Kingdom
JEDDAH: DIANA AL-JASSEM
9 August 2013
The government has taken steps to address the issue of sexual harassment after an increase in the number of such cases in the Kingdom. The Shoura Council has finalized an anti-sexual harassment law that prescribes punishment for violators including jail terms and lashes. A recent report in a local newspaper confirmed that Saudis are responsible for 59 percent of all reported sexual harassment cases in the country.
The report said that out of the 2,779 sexual harassment cases that had been reported in one year, 1,669 involved Saudis. The report also confirmed that non-Saudis contributed to 39.9 percent of sexual harassment cases.
Riyadh had the biggest share of sexual harassment cases at 650. Jeddah reported 250 cases, the Eastern province saw 210 cases, Makkah had 180 cases and in Madinah, 170 cases were filed.
S. Ahmad, a Saudi teenager enrolled in a government school, said she witnessed many sexual harassment cases, mostly with taxi drivers and blamed foreigners for committing these crimes.
"I usually take a taxi every day to return to home after finishing my job. I found that Yemeni taxi drivers are highly prone to committing sexual harassment," she said.
"Saudis sometimes try to flirt, but when they receive a negative reaction, they stop. However, I think most Saudis prefer harassing young women and expats, while foreigners harass everyone."
Munirah Qinan, a Saudi director of a government school in Jeddah, said that most Yemeni or Saudi taxi drivers gather in front of the school to drop off young women.
"I always warn students' parents not to let their daughters return home by taxi. Unfortunately, most these harassment cases are committed by Arabs, notably Saudis and Yemenis," she said.
Cases involving foreigners are relatively few in comparison to cases involving Saudis despite rumors that harassment is rampant among foreigners.
Yemenis topped the list, with a total of 100 cases against women and 40 cases against children, said the report. Egyptians ranked second, with the court issuing judgments in 50 cases against Egyptians guilty of harassing women and 10 cases involving children.
Pakistanis ranked third, with 25 cases involving women and 23 cases with children.
Bangladeshis were involved in 39 cases, and Syrians in 37 cases. In addition, there are cases against Palestinians, Jordanians and Sudanese violators.
Dima M., a 22-year-old Syrian girl, was sexual harassed by an Indian guard when she was 12.
"My family used to send a meal to the guard every day. I would play at the building entrance with my brothers in front of the guard for many years. One day, in Ramadan, I went to the guard to give him his meal before Maghrib prayer. When he took the meal he tried to hug me. I immediately pushed him away and escaped," she said.
Dima told her story to her mother after many years.
http://www.arabnews.com/news/460703
--------------
Beauty queens and civil liberties: A peculiar Malaysian dilemma
9 August 2013
KUALA LUMPUR, Aug 8 — Miera Sheikh has always dreamed of becoming a beauty queen, an ambition that some may dismiss as frivolous.
When the 19-year-old and three other young Muslim women were recently barred from competing in the Miss Malaysia World 2013 beauty pageant, no one took to the streets to protest the violation of their civil liberties, unlike the time when thousands of Malaysians protested for the right to free and fair elections.
But the simple fact is this, forbidding those four young women from participating and even watching the beauty pageant is to deny them a personal freedom.
"They did not allow us to join the beauty pageant even though I would like to join," Miera told The Malay Mail Online yesterday.
"One of my passions is to promote my own country by doing good activities and something to do with society," said the SPM graduate, who hopes to pursue a career in modelling or acting.
The Islamic authorities deemed Miera's simple desire to represent Malaysia in an international beauty contest illegal, pointing to a fatwa (religious edict) that was issued and gazetted under the Federal Territories Islamic Administration Act in 1996.
Miera, however, pointed out that she had joined three other beauty pageants before the Miss Malaysia World 2013, placing as a finalist in the Miss Malaysia Tourism 2013, as well as first runner-up in the Miss Malaysia Kebaya 2012 and in the Pencarian Si Gadis for YOURS magazine 2013.
"Therefore, I presumed that the issue of Muslim girls' participation has been cleared or allowed by this organiser for this Miss Malaysia World," said Miera.
Miss Malaysia World 2013 organiser Datuk Anna Lim expressed her disappointment that the country could not be represented by Malays, the majority group, in an international beauty pageant.
"The main concern is race, not religion," Lim said.
"Being 1 Malaysia, I have no prejudice or favour towards any race. As long as they are Malaysians, I think an opportunity should be given," she added.
Lim said Malay girls are "very pretty", noting their tan skin, good manners and good education as definite pluses in any competition.
The way things stand now, Malaysia will never be represented by a Malay/Muslim woman in an international beauty pageant even though the Malays make up a majority of the population.
Miera said she accepted the religious authorities' decision with an "open heart" and called it a "blessing in disguise" as "I take it as a lesson for me to be more matured since I am now aspiring to be in the entertainment line."
"Besides support from friends, my family has been my great supporter," said Miera.
"Especially my dad, who has given me his full support and understands my passion, interest and dreams. However, he never fails to remind me of our roots and to stand as a Muslim until our last breath," added the young woman, who has mixed blood as her father's ancestors are Arab, while her mother is of Arab-Malay, Pakistani, Australian and Javanese ancestry.
Sara Amelia Bernard, another of the dropped contestants, advised other girls who wished to join beauty pageants to be a "good role model to younger girls."
"Be true to yourself," the 20-year-old told The Malay Mail Online.
"Have values and virtue... don't skip meals — eat healthy and exercise. Read a lot of books, always be updated on news and current affairs around the world," she added.
Sara Amelia also stressed that it was crucial to be kind and compassionate.
The young woman said recently that she and another dropped finalist, Wafa Johanna De Korte, received the most criticism for speaking out against the prohibition by the Federal Territories Islamic Department (JAWI).
The four dropped finalists — including Kathrina Ridzuan — were accused of insulting Islam, leading to an investigation by JAWI.
Kathrina and Wafa Johanna did not respond to calls or messages when contacted by The Malay Mail Online yesterday.
Melinder Kaur Bhullar, a Punjabi, was crowned Miss Malaysia World 2013 last Friday.
http://www.themalaymailonline.com/malaysia/article/beauty-queens-and-civil-liberties-a-peculiar-malaysian-dilemma#sthash.6Pkw5elp.dpuf
--------------
Mohammed Morsi's Wife, Makes First Appearance Since Ouster In Egypt
By MAGGIE MICHAEL and TONY G. GABRIEL
9 August 2013
CAIRO — The wife of Egypt's ousted President Mohammed Morsi told thousands of his supporters Thursday to remain defiant in the face of the military-backed government's warnings that security forces will clear the ongoing protests, promising her husband "is coming back, God willing."
Naglaa Mahmoud made her first appearance since the July 3 military coup, which followed mass rallies demanding her husband's removal from office. He's been held by military authorities since then. Showing up on the first day of the Muslim holiday of Eid el-Fitr, marking the end of Ramadan, appeared aimed at galvanizing support after the group fell from power after just one year of Morsi's rule.
Wearing a flowing veil that covered most of her body, Mahmoud spoke to the crowds gathered at a sit-in at Rabaah al-Adawiya mosque in Cairo's Nasr City suburb. She recited a verse from the Quran before delivering what she described as "good news," saying Egypt "is Islamic."
"We are victorious," Mahmoud told the crowd, saying protesters would overcome.
Initially, the Egyptian press suggested that Mahmoud was held with her husband in undisclosed location along with one of her children. Demonstrators at Nasr City cheered her arrival to the makeshift stage. She did not say where she had been since the coup.
Morsi is held with his top aides, a number of whom have been transferred over the past days to a prison in southern Cairo. They face charges including instigating violence in various incidents that led to deadly street clashes over Morsi's rule.
Morsi's children also have joined the Nasr City protest camp and called for release of their father.
The camp is the site of one of two sit-ins by Morsi's Muslim Brotherhood group and its allies. Protesters demand Morsi's reinstatement, restoration of the suspended constitution drafted under Morsi and the return of his Islamist-dominated legislative council which was also disbanded.
Egypt's interim leaders and the military say they'll stick with a fast-track transition plan that calls for elections by early next year.
Critics believe that the Brotherhood_ one of the country's oldest religious and political groups – is rejecting any meditation with the new government to spark a possibly bloody confrontation with security forces. The Brotherhood publicly says the government has offered nothing as they don't want to restore Morsi to power.
Mohammed Aboul-Ghar, the leader of Egyptian Socialist Democratic party whose members hold key positions in the new government, said that the Brotherhood is holding ground in hopes that a crackdown could win them public sympathy.
"The Muslim Brotherhood are political animals," he said. "They are preparing for a comeback to power through ballot boxes. The way back is through winning support when bloodshed among its ranks turns the public against the Egyptian leadership."
Foreign diplomats and Arab foreign ministries have tried to mediate a peaceful resolution between the two sides. However, the recent visit by U.S. Sens. John McCain and Lindsey Graham sparked outrage when they called for the release of "political prisoners" in reference to Brotherhood leaders now charged with instigating violence. The senators also called Morsi's ouster a coup, while Secretary of State John Kerry has described the military's move as "restoring democracy."
Walied el-Masry, one of the founders of the youth campaign Tamarod – which spearheaded a petition demanding Morsi step down – called the comments confusing.
"They have no clear position," el-Masry said. "We are not interested in pleasing them. What we care most about is the Egyptian people."
The interim government concluded on Wednesday that all diplomatic efforts have failed and that it will clear the sit-ins. Prime Minister Hazem el-Beblawi has described the decision "final and irreversible."
On Thursday, el-Beblawi told Egyptian state-run television that the government will take action to protect its citizens.
"We are trying to find a balance between the need to bring back security and fight outlaws and at the same time give to those who have refused to cooperate so far the opportunity" to do so, he said.
It appears that any state crackdown will wait until next week. The Cabinet statement said the government was keen not to take action during the celebrations that mark the end of Ramadan, which started Thursday and continue for four days. Authorities talked earlier about using gradual measures to end the protests, such as besieging the sit-ins to prevent people from getting in while allowing them to leave.
On the first day of Eid el-Fitr, the Rabaah el-Adawiya protest camp took on a festival-like atmosphere. Organizers set up playgrounds for children and coffee shops in the middle of a sea of tents and blankets spread across the street to house thousands of protesters. A couple even got married before the crowd.
However, men in helmets and sticks still kept watch as sand-bag and brick walls stood on the perimeter of the protest.
Mahmoud Abyad, a Brotherhood protester who has been camping at the mosque since June 28, said that he expects a government crackdown to happen "soon."
"But we are not afraid. ... People are here to defend their country and to defend Islam," Abyad said.
http://www.huffingtonpost.com/2013/08/08/naglaa-mahmoud-appearance_n_3726028.html
--------------
Expats manage most of Saudi women's businesses
JEDDAH: DIANA AL-JASSEM
9 August 2013
The Ministry of Commerce has disclosed that expats have benefited most from partnerships in commercial ventures, particularly those for which licenses were held by Saudi women.
In a recent report, the ministry said 60 percent of such business partnerships with expats in the Kingdom were owned by Saudi women and that these cases surfaced following the announcement of the amnesty. In addition, many of these business ventures were being managed by illegal expats.
Saudi Arabia allows women to acquire commercial licenses and carry out business activity, but some businesswomen opt for expats to manage the show because of the restricted number of fields in which they can operate.
According to the report, some women depend on their husbands or relatives to manage their businesses, but most preferred expats to run the business.
Arab News spoke to a cross-section of Saudi women who owned businesses in Jeddah and Riyadh, and most of them blamed the trading system in the Kingdom for their dependance on expats.
Nuha Al-Shammari, who owns an abaya gallery in Riyadh, said her business was 10-years-old but she had taken over the management of the shop only recently.
"We have seen the limited opportunities available for Saudi businesswomen, which is evident from the fact that fewer number of Saudi women are seeking employment. Recently, we were honored when the king allowed Saudi women to work in retail sector, which is why I replaced the illegal expat workers who were managing my gallery," she said.
Revealing her plans to expand her business, she said: "The increased opportunities available now for women, coupled with the amnesty period, is encouraging and we are looking to open new galleries in Jeddah and Dammam, which will be managed by Saudi women," Al-Shammari said.
Another Saudi woman, who chose to remain anonymous, told Arab News that she has a business under her name but that it is managed by her husband.
"My husband works in the government sector and he is not allowed to get into business. Hence, he asked me to open a business and register it under my name. The business, which involves trading in raw material, is mostly managed by my husband. He put in the capital for the business and my role in confined to registering the establishment in my name."
Manna Khalid, a Saudi owner of a restaurant and café in Jeddah, said she found expats to be the perfect people to manage the business that she owns.
"I started my business 17 years ago, when women were not allowed to work in restaurants. I turned to one of my close relatives to run the show, but he was dishonest and pilfered money. I shut down the business for six months, and reopened it later after I got new visas for workers from the Philippines," she said.
http://www.arabnews.com/news/460700
--------------
URL: https://www.newageislam.com/islam,-women-and-feminism/new-age-islam-news-bureau/malay-girl,-is-an-easy-target-for-the-holier-than-thou-types/d/12959