New Age Islam News Bureau
1 Feb 2013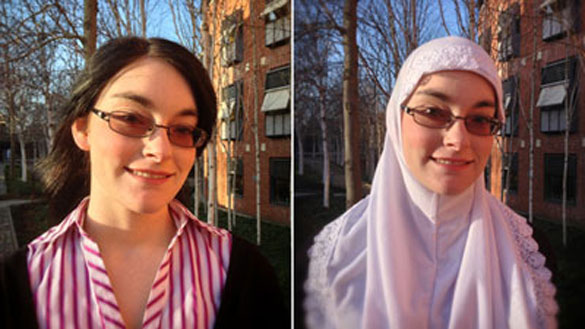 • Pakistani Young woman found raped, strangled and burnt away by acid
• Women Adopt Freedom to Smoke, but Face Greater Risks
• Somali Govt Charges Woman Who Says She Was Raped
• Mixed Reaction on Marriage of 13-Year-Old Bali Girl to a 39 Yrs Old Father of Two
• 9-Year-Old Girl Raped, 'Killed' In Bangladesh
• Youths in Bangladesh Launch Campaign for Dowry-Free Marriage
• Hijab for A Day: Non-Muslim Women Who Try the Headscarf
• 300 Muslim Women Join BJP
• Assaults on Armenian Women in Istanbul Unsettle Christians and Muslims
• Facebook Row: Court Scraps Charges against Palghar Girls
• Trial of Bahraini Princess is a Part of Government's Accountability Drive: Minister
• Hillary Clinton to Continue Her Work for Afghan Women
Compiled by New Age Islam News Bureau
Photo: Hijab for A Day: Non-Muslim Women Who Try the Headscarf
URL: https://newageislam.com/islam-women-feminism/malala-yousafzai-nominated-nobel-peace/d/10226
---------------
Malala Yousafzai nominated for Nobel Peace Prize
Feb 1, 2013
OSLO: Malala Yousafzai, the shot Pakistani schoolgirl-turned-icon of Taliban resistance, and ex-Eastern bloc activists are among those known to be nominated for this year's Nobel Peace Prize, as the deadline expired on Friday.
This year's award will be announced in early October, but speculation was already underway as the deadline for nominations ran out on February 1.
Fifteen-year-old Malala Yousafzai was shot by a Taliban gunman at point blank range as she travelled on a bus to school on October 9, targeted for promoting girls' education.
She has since become an internationally recognised symbol of opposition to the Taliban's drive to deny women education, and against religious extremism in a country where women's rights are often flouted.
"A prize to Malala would not only be timely and fitting with a line of awards to champions of human rights and democracy, but also ... would set both children and education on the peace and conflict agenda," said the head of the Peace Research Institute of Oslo, Kristian Berg Harpviken.
Others known to have been nominated are human rights activists whose names have been mentioned in previous years, including Belarussian human rights activist Ales Belyatski -- currently behind bars -- and Russia's Lyudmila Alexeyeva.
Belarus, which former US President George W. Bush's administration had branded as the "the last dictatorship in Europe", is governed by authoritarian President Alexander Lukashenko, who has cracked down even further on opponents of late, rights groups charge.
In neighbouring Russia, authorities "unleashed the worst political crackdown in Russia's post-Soviet history," according to Human Rights Watch (HRW).
Trying to predict who will win the Nobel Peace Prize is a difficult task, complicated by the fact that the list of nominees each year is kept secret for 50 years.
But thousands of people are eligible to nominate candidates -- including former laureates, members of parliament and government around the world, some university professors, and members of certain international organisations -- and they are allowed to reveal the names they have put forward.
As a result, it is known that French, Canadian and Norwegian MPs have all separately nominated Malala.
Beliatsky's and Alexeyeva's names have meanwhile been put forward by two Norwegian lawmakers.
"They have both defied authoritarian state structures and the illegal and illegitimate abuse of power," one of the two MPs, Jan Tore Sanner, said.
The Norwegian Nobel Committee is quick to point out that a nomination should not be interpreted as any kind of recognition on its behalf. In the past, Adolf Hitler, Joseph Stalin, Benito Mussolini, and even Michael Jackson have all been nominated.
Some names are already being tossed around as possible recipients of this year's prize even though it is not yet known if they have been formally nominated. They include Bill and Hillary Clinton, the Military Religious Freedom Foundation of the US, and Nicholas Winton of Britain who saved Jewish children in Prague just before the outbreak of World War II.
Other possible candidates are Israeli former nuclear technician and whistle-blower Mordechai Vanunu, who leaked Israeli nuclear secrets to a British newspaper, Coptic Christian Maggie Gobran, dubbed Egypt's " Mother Teresa" for her work to help the poor in Cairo's slums, and Denis Mukwege, a pioneering doctor who founded a clinic for rape victims in the Democratic Republic of Congo.
The Norwegian Nobel Committee is made up of five members designated by the Norwegian parliament. It has been known to come up with some surprising -- and occasionally controversial -- choices, as in 2009 when it honoured US President Barack Obama just months after he took office, or last year when it gave the nod to the crisis-ravaged European Union.
Its choices have caused such a stir that some have accused the committee of violating the last will and testament of the prize founder, Swedish inventor Alfred Nobel (1833-1896), who had a fairly narrow definition of "champions of peace."
The Nobel Peace Prize will be announced in early October and will be handed over at a formal ceremony in Oslo on December 10.
http://timesofindia.indiatimes.com/world/europe/Malala-ex-Eastern-bloc-activists-nominated-for-Nobel-Peace-Prize/articleshow/18290702.cms
--------------
Pakistani Young woman found raped, strangled and burnt away by acid
February 1, 2013
LAHORE: A young woman was found raped and strangled, her face burnt away by acid, in Islampura police jurisdiction on Thursday.
The duty officer at Islampura police station said that the body had been spotted near T-spur No 4 of the River Ravi and reported to the police. He said that the woman appeared to have been in her early 20s. The body had been found wrapped in a cloth. She had likely been raped and strangled elsewhere and then dumped here, he said. The acid had been poured on her face after the murder so it would be difficult to identify her, he added.
Riaz, a resident of Bund Road, told The Express Tribune that as he went to his workplace by bicycle in the morning, he saw the body with smoke rising from it, apparently due to the acid. He said that there were bruises on the body and the young woman was wearing jeans and a shirt. He said that the clothes were torn in some places.
A large crowd gathered around the body after news spread that a young woman had been found dead.
The police made announcements through mosque loudspeakers asking people to come forward to identify the body, but no one came forward. The body was sent to the morgue for an autopsy.
http://tribune.com.pk/story/501262/young-woman-found-raped-strangled/
--------------
Women Adopt Freedom to Smoke, but Face Greater Risks
Dessy Sagita | January 31, 2013
Misperceptions about freedom of expression and gender equality have been blamed for the growing number of female smokers in Indonesia.
National Commission on Tobacco Control adviser Kartono Muhammad said many women started their smoking habit as a form of retaliation to public attitudes.
"Many of the women who smoke were influenced by their boyfriends, friends and considered smoking as [a form of] freedom, liberalization," Kartono said on Tuesday.
Kartono said that data from the Health Ministry showed that smoking prevalence among women increased by fourfold, from 1.3 percent in 2001 to 5.2 percent in 2007.
It also said smoking in 2007 rose threefold among males and fivefold among female teenagers, compared with data from 1995.
Kartono said that in the past, female smokers were held in a negative light and that it was considered inappropriate for women to smoke.
This perception prompted women to retaliate and translated freedom of expression incorrectly by smoking, despite the fact that smoking impacts on women were greater compared to men.
Female smokers are at a greater risk than at any time in recent decades from lung cancer and other ailments linked to their tobacco use, according to a study.
The research in the New England Journal of Medicine found a marked increase in deaths among female smokers from lung cancer, chronic obstructive lung disease and other health ailments.
The study of more than 2.2 million adults 55 years and older found that women who smoked in the 1960s had a 2.7 times higher risk of lung cancer than those who never smoked.
But among present-day female smokers, the risk is 25.7 times higher.
The researchers found that the increased risk from smoking has been significant enough to outweigh the effects of medical advances.
The study was led by Michael Thun, a physician recently retired as vice president emeritus of the American Cancer Society.
He said it was worrisome that the "increase in risk among female smokers has continued for decades after the serious health risks ... were well established."
A proliferation in "light" and "mild" cigarette brands marketed toward women explains part of the increase, he added. "Smoke from these cigarettes is inhaled more deeply into the lungs of smokers to maintain the accustomed absorption of nicotine."
http://www.thejakartaglobe.com/news/women-adopt-freedom-to-smoke-but-face-greater-risks/568637
---------------
Somali Govt Charges Woman Who Says She Was Raped
2013/01/31
MOGADISHU, Somalia (AP) — The Somali government has charged a woman who has said she was raped by security forces, according to an international human rights group, which says the case is politically motivated.
The group said a journalist who interviewed her was also charged.
Human Rights Watch said three other people including the woman's husband were charged with assisting the alleged rape victim to evade investigators. The rights group said in a statement Wednesday that Somali government should drop the politically motivated charges.
The woman was charged in Mogadishu court Tuesday of insulting a government body, inducing false evidence, simulating a criminal offense and making a false accusation while journalist Abdiaziz Abdinur has been charged with insulting a government body and inducing the woman to give false evidence.
Under the Somali penal code Abdinur faces up to four years in prison for the first charge and two years for the second. The charges against the woman carry punishments of up to three and six years respectively, according to Human Rights Watch.
Rights groups say the arrests are linked to an increase in media attention due to reports of the high prevalence of rape and other sexual violence in Somalia, including attacks allegedly committed by security forces.
"Bringing charges against a woman who alleges rape makes a mockery of the new Somali government's priorities," said Daniel Bekele, Africa director at Human Rights Watch.
Rape is rampant in Mogadishu, where tens of thousands of people who fled last year's famine live in poorly protected camps. Government troops are often blamed.
"The police 'investigation' in this case was a politically motivated attempt to blame and silence those who report on the pervasive problem of sexual violence by Somali security forces," Bekele said.
Attempts to contact officials from the Somali government for comment were unsuccessful. Most government officials evaded calls and questions from an Associated Press reporter.
Human rights watch said the woman's husband and a man and woman who helped introduce her to the journalist were charged with assisting the alleged victim to evade investigation, which carries up to a four-year term, and assisting her to secure a profit for the rape allegation, carrying up to a five-year term.
The charge sheet indicates that the government believes there was a conspiracy to discredit it and somehow acquire financial gain, the rights group said in a statement.
The rights group says the charges the five face stem from a January 8 interview between Abdinur and the woman about her rape allegations. Abdinur did not report the story to any media outlet.
Human rights watch says on Jan 10, he was called to report to the Somali Central Investigations Department of the police and when he did, was detained without charge.
Since then he had been interrogated repeatedly and his home was searched, the rights group said. It said the woman retracted her claim after being interrogated for two days by the police without legal counsel; the police then publicly presented her to the media. She was released but her husband was detained in her stead. Credible local sources say it was for insisting that his wife had been raped, Human Rights Watch said.
http://www.nytimes.com/aponline/2013/01/31/world/africa/ap-af-somalia-rape-victim.html?ref=africa&_r=0
---------------
Mixed Reaction on Marriage of 13-Year-Old Bali Girl to a 39 Yrs Old Father of Two
BY I WAYAN JUNIARTA
2013-01-31
The marriage of a pregnant 13-year-old village girl to a 39-year-old father of two in Bali has been met with reactions ranging from disgust to thinly veiled approval by the island's scholars, activists and religious leaders.
According the police, the child bride was still in the fifth grade in Jehem, Bangli, in 2012 when I Wayan Cidra said that he loved her.
Cidra, however, was already married with two sons. His oldest was the same age as the girl.
The girl accepted Cidra's advances, and told police that she, too, had fallen in love.
When the girl became pregnant, Cidra asked her family to marry the girl. The pair were married on Jan. 23 in a Balinese Hindu ceremony witnessed by the extended families of the girl and Cidra and Jehem customary village chief Made Widana.
Full report at:
http://www.thejakartapost.com/bali-daily/2013-01-31/mixed-reaction-marriage-13-year-old-bali-girl.html
---------------
9-Year-Old Girl Raped, 'Killed' In Bangladesh
February 1, 2013
Police arrested four persons, including a college student, Wednesday night on charges of alleged rape and killing of a nine-year-old house worker at the capital's Uttara.
The arrestees include her employer Khademul Bashar, his brother-in-law and an HSC examinee Jubaer Hossain, 18, and Bashar's two "acquaintances"--Kamrul Hasan and Rafiqul Islam.
Full report at:
http://www.thedailystar.net/newDesign/news-details.php?nid=267420
---------------
Youths in Bangladesh Launch Campaign for Dowry-Free Marriage
February 1, 2013
A campaign for dowry-free marriage has been launched in Dilpasha union under Bhangura Upazila, thanks to the initiative of some local youths and the chairman of the union.
The youths started the anti-dowry campaign with the help of UP Chairman Ashok Kumar Ghosh at different villages of the union last week.
Full report at:
http://www.thedailystar.net/newDesign/news-details.php?nid=267332
---------------
Hijab for A Day: Non-Muslim Women Who Try the Headscarf
By Catrin Nye
31 January 2013
World Hijab Day calls on non-Muslim women to try out life under the traditional head scarf. Can it lead to more religious tolerance and understanding?
"Because I'm not very skilled I'm wearing what you could call a one-piece Hijab - you just pull it over your head. But I've discovered the scope is endless. There are all sorts of options."
So says Jess Rhodes, 21, a student from Norwich in the UK. She had always wanted to try a headscarf but, as a non-Muslim, didn't think it an option. So, when given the opportunity by a friend to try wearing the scarf, she took it.
Full report at:
http://www.bbc.co.uk/news/magazine-21283301
---------------
300 Muslim Women Join BJP
Jan 28, 2013
NAGPUR: As Nitin Gadkari is gearing up for 2014 elections after quitting as the Bharatiya Janata Party (BJP) president, over 300 Muslim women joined the party in a function held at his residence on Sunday. Gadkari is reported to be also banking on Muslim votes substantially. Jaitun Patel, a woman candidate fielded by him in Mominpura, had won in the Nagpur Municipal Corporation election last year.
After being embroiled in controversy over investment into the Purti Group promoted by him, Gadkari has been aggressively mustering support for the forthcoming elections. A massive membership drive was also held by the party a month ago. According to sources in party, the thrust is on garnering votes from segments which have not been otherwise traditionally BJP voters. There is a focus on women's votes too, said a source.
Full report at:
http://articles.timesofindia.indiatimes.com/2013-01-28/nagpur/36595476_1_muslim-women-nitin-gadkari-muslim-votes
---------------
Assaults on Armenian Women in Istanbul Unsettle Christians and Muslims
By James Martone
February 1, 2013
ISTANBUL (CNS) -- As a light snow fell, Bahija Geyimli exited Immaculate Conception Armenian Catholic Church after Mass in the Samatya neighbourhood, the heart of Istanbul's Armenian community. If recent attacks in the area had scared her, she wasn't showing it.
Wrapping a wool scarf around her head, Geyimli, 71, descended the church's ancient stone steps.
"There are robberies," she acknowledged Jan. 27 in response to a question about a series of assaults that have targeted Armenian women like her.
Geyimli said she thought the women had been attacked because "Armenians are known for keeping money and other valuables."
"It's for money. ... It's not because they were Christian," she told Catholic News Service.
She walked through the church courtyard and headed for an empty Samatya side street, alone, carrying a big black purse.
Four attacks have occurred since December in Samatya, a once-flourishing Christian Armenian and Greek neighbourhood bordering the Marmara Sea. The area today mostly is inhabited by Muslims who make up the vast majority of Turkey's population of 75 million. Turkish media reported that all of the victims -- at least three of whom were in their 80s -- were Armenian Christians; three were assaulted in their homes while one was stabbed to death. One woman was assaulted on her way to church by three men who tried to kidnap her before they were chased away by passersby, according to the reports. Valuables were stolen in at least three of the incidents.
Full report at:
http://www.catholicnews.com/data/stories/cns/1300408.htm
---------------
Facebook row: Court scraps charges against Palghar girls
2013/01/31
A local court in Palghar on Thursday scrapped all the charges against Shaheen Dhada and Rinu Srinivasan, girls from Palghar Tehsil in Thane district who were arrested for posting a comment against shutdown of city after the death of Shiv Sena chief Bal Thackeray.
Following the arrest of the two girls, the State government and police authorities had come under heavy criticism for all quarters, after which the authorities withdrew all the charges. The police report on the arrest had also recommended departmental action against police officers who arrested the girls.
Full report at:
http://www.thehindu.com/news/states/other-states/facebook-row-court-scraps-charges-against-palghar-girls/article4365469.ece
---------------
Trial of Bahraini Princess is a Part of Government's Accountability Drive: Minister
Bahraini princess on trial for torture
Minister says trial is part of government's accountability drive
January 31, 2013
Abu Dhabi: A Bahraini shaikha who works as a police officer is on trial for torturing two doctors while they were in detention during political unrest in the Gulf Arab kingdom in 2011, according to a senior official at Bahrain's Public Prosecutor's office.
Shaikha Noora Bint Ebrahim Al Khalifa is also facing a separate trial for physically assaulting Aayat Al Qormozi, a young female opposition activist, while she was in detention during the same period, Nawaf Hamza, head of the Public Prosecution's Special Investigation Unit, said.
"The charge is that she used torture, force and threats against the victims Zahra Al Sammak and Kholoud Al Durazi to make them confess to a crime," Hamza, referring to the two doctors, said by telephone.
According to Al Sammak's lawyer, the alleged torture took place in March and April 2011, a period when the kingdom was convulsed by unrest following the start in February of demonstrations led by Shiites demanding democratic change in the country.
Full report at:
http://gulfnews.com/news/gulf/bahrain/bahraini-princess-on-trial-for-torture-1.1140150
---------------
Hillary Clinton to Continue Her Work for Afghan Women
February 1, 2013
WASHINGTON: Outgoing Secretary of State Hillary Clinton warned Thursday that the United States remains very concerned about the future of women in Afghanistan as US troops prepare to leave the country.
She pledged to keep the "issue front and centre" revealing for the first time that she will stay on as co-chair for the US-Afghan Women's Council based at Georgetown University after she steps down Friday as America's top diplomat.
"The well-being of women and girls in Afghanistan continues to be an enduring concern of the United States," Clinton told a small group of journalists including AFP just hours before she was due to leave government.
"There is still a set of beliefs that do not permit women to be viewed as full human beings and there is still a lot of violence, some of it family, village related, some of it Taliban originated, that put girls and women at risk," Clinton said.
Full report at:
http://dawn.com/2013/02/01/clinton-to-continue-her-work-for-afghan-women/
-------------
URL: https://newageislam.com/islam-women-feminism/malala-yousafzai-nominated-nobel-peace/d/10226