New Age Islam News Bureau
25 Jul 2013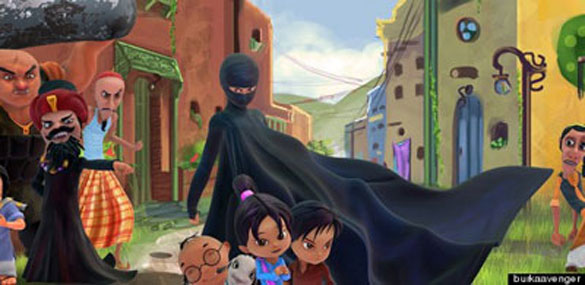 Photo: The cartoon is the brainchild of Pakistani popstar Aaron Haroon Rashid
---------
• Escaped Child Bride Nada al-Ahdal: I'll Kill Myself if Forced to Marry
• Saudi 'Princess' Fraud Trial: I'm so Rich I Spent £1m on Perfume
• Islamic Clerics Oppose Lebanese Law Protecting Abused Women
• Female Superhero Burqa Avenger Fights for Women's Rights in Pakistan
• Indonesia's Working Women Struggle to Succeed
• Frustrated, Unable To Marry, 32-Year Egyptian Girl Ends Her Life
• Archiving Of Crimes against Women Begins In Pakistan
• Women in Urdu journalism in Pakistan, Harassed at work
• Working Women Face More Tasks during Ramadan
• 64% Omani Women Sought Jobs In 2012
• U.S. Allies Lead in Female Genital Mutilation
• Sole Woman in Mali Presidential Race Spreads Word on the Streets
• Tunisian FEMEN Activist on Trial for Assaulting Guards In Prison
Compiled by New Age Islam News Bureau
URL: https://www.newageislam.com/islam,-women-and-feminism/new-age-islam-news-bureau/malala-yousafzai-inspires-girls--education-activists-in-somalia/d/12756
-----------
Malala Yousafzai Inspires Girls' Education Activists In Somalia
BY MAJID AHMED
Jul 25, 2013
Mogadishu — The speech of 16-year-old Pakistani activist Malala Yousafzai at the United Nations this month has served as an inspiration for the fight for women's rights and girls' education in Somalia.
Last October, Yousafzai nearly died when Pakistani Taliban gunmen shot her in the head for advocating girls' rights to education. Instead of retreating in fear, Yousafzai increased her activism after the attack.
"Malala Yousafzai is a symbol for girls around the world," said Somali Women's Association for Development activist Ayan Abdirahman. "Malala Yousafzai has proven, through her determination and courage, that we can overcome social hurdles, terrorists and anything that can stand in the way of our campaign to protect girls' rights to education."
In a speech before the UN Youth Assembly in New York on July 12th -- her 16th birthday -- Yousafzai called on her peers to stand up for universal education in the face of extremism and for governments worldwide to ensure free compulsory schooling for all children.
"The Taliban shot me on the left side of my forehead. They shot my friends, too. They thought that the bullets would silence us -- but they failed. And out of that silence came thousands of voices. The terrorists thought they would change my aims and stop my ambitions. But nothing changed in my life except this: weakness, fear and hopelessness died, and strength, power and courage was born," Yousafzai said.
"So here I stand, one girl among many," she said. "I speak -- not for myself, but for all girls and boys. I raise up my voice -- not so that I can shout, but so that those without a voice can be heard."
"The extremists were, and they are, afraid of books and pens," she said. "The power of education frightens them. They are afraid of women. The power of the voice of women frightens them."
"Let us pick up our books and our pens; they are our most powerful weapons. One child, one teacher, one book, one pen, can change the world," Yousafzai said.
The UN dubbed July 12th "Malala Day", coinciding with the release of a joint report by the UN Education, Scientific and Cultural Organisation and Save the Children on the global state of education. According to the report, 28.5 million children living in conflict-ridden countries were out of school, and 55% of the 57 million children out of school worldwide were girls.
Less than 25% of Somali girls attend school:
In Somalia, the imbalance between girls and boys going to school is pronounced.
"Somali girls constitute the majority of children who do not attend school, and this is especially true in poverty-stricken communities in which girls are bereft of the right to attend school," said Ayan Abdirahman of the Somali Women's Association for Development. "The rate of girls attending school in Somalia is less than 25% in a country that is thought to have the lowest rate of school attendance in the world."
Social hurdles impede Somali girls from attending school, such as a traditional preference for educating boys over girls and a widespread belief that educating girls is a waste of resources, she said.
"The majority of girls do not get the chance to go to primary school, as most mothers and fathers -- particularly in poorer communities -- prefer to send their male children to school when their resources are limited," Abdirahman told Sabahi. "Girls undertake domestic duties or are married off at a young age to relieve the family of their economic burden."
Girls who are forced to marry at a young age drop out of school because they fear being teased when they become pregnant, she said.
Fatima Osman Gure, 17, is a student at the Mamur Secondary School in Mogadishu, however her family could not afford to send her three younger sisters -- aged 15, 12 and 9 -- to school.
"I consider myself lucky because I have had the opportunity to attend school, and I hope this will help me to have a bright future so I can help my country too," she told Sabahi, adding that she worries about the future of her sisters.
Educating girls crucial for Somalia's development:
Despite government calls for strengthening polices for girls' education and efforts by non-governmental organisations to mobilise social campaigns, much more needs to be done, said Fartun Ahmed of the Galkayo Educational Centre for Peace and Development.
"Although the number of girls attending school has increased more than before, rigid family practices towards girls hinder them from going to school and limit their academic advancement," she told Sabahi.
"The problem lies in the traditional culture of Somali society, which usually belittles the rights of girls and women," Ahmed said. "So we have to focus on raising awareness among local communities with regard to the importance of educating girls, making education more accessible and creating equal opportunities for all children to attend school."
Mohamed Ismail, a 24-year-old law student at the University of Somalia, said Somalis should rally around Yousafzai's words and press the cause of girls' education because educating girls is crucial for Somalia's development.
"Malala Yousafzai's struggle is an example of courage to be followed by all girls in this universe because she is defending a fundamental right of any girl in the world, which is the right to education," he told Sabahi.
"Educating girls is hugely important; as the saying goes -- an educated girl means an educated society. This will raise economic productivity, reduce poverty as well as bring down the rates of infant and child mortality and deaths among mothers," Ismael said.
http://allafrica.com/stories/201307240368.html?viewall=1
-----------
Escaped Child Bride Nada al-Ahdal: I'll Kill Myself if Forced to Marry
By Toyin Owoseje
Jul 25, 2013
An 11-year-old girl who escaped becoming a child bride has threatened to kill herself if she is forced to marry in a harrowing three-minute message to the world.
Nada al-Ahdal said she was saved from being married off twice by her parents - in return for a hefty dowry - after her uncle intervened.
In a short clip posted online she speaks about fleeing to her uncle's home to escape the forced engagement and states she would rather die than be forced to undergo an arranged marriage.
"Go ahead and marry me off - I'll kill myself," she warns in the video, which was apparently filmed in a car.
"Don't they have any compassion?' I'm better off dead. I'd rather die."
She continues: "It's not [the kids'] fault. I'm not the only one. It can happen to any child.
"Some children decided to throw themselves into the sea - they're dead now. They have killed our dreams, they have killed everything inside us. There's nothing left. There is no upbringing. This is criminal, this is simply criminal."
The young girl also reveals that her maternal aunt killed herself after being married off at the age of 14.
"She lasted one year with her husband," Nada says. "She poured gasoline all over her body and set herself on fire. She died."
She concludes her message by claiming that her parents have ruined her dreams and she wants to have nothing to do with them.
The video in which she makes her heartrending plea garnered almost six million views within just hours of being posted on YouTube.
Nada's uncle, Abdel Salam al-Ahdal, a montage and graphics technician at a TV station, told local news website, Now: "When I heard about the groom, I panicked. Nada was not even 11 years old; she was exactly 10 years and 3 months.
"I could not allow her to be married off and have her future destroyed, especially since her aunt was forced to marry at 13. I did all I could to prevent that marriage. I called the groom and told him Nada was no good for him.
"I told him she did not wear the veil and he asked if things were going to remain like that. I said 'yes, and I agree because she chose it.' "
Religious Roots
The practice of marrying off pubescent girls is widespread in Yemen and has drawn the attention of international human rights groups seeking to force the government to outlaw child marriages.
Among its adherent, Abdullah Ibrahim, who married off his youngest daughter when she was 12, told the Times: "The Prophet Muhammad married Aisha when she was nine years old. It is part of our culture."
http://www.ibtimes.co.uk/articles/493812/20130723/escaped-child-bride-nada-al-ahdal-video.htm
-----------
Saudi 'Princess' Fraud Trial: I'm so Rich I Spent £1m on Perfume
By Toyin Owoseje
July 24, 2013
A woman who allegedly conned London property developers out of £14m by posing as a Saudi princess has told the high court that she is so wealthy that she spent almost £1m on perfume in two months.
Sara al-Amoudi, 30, is accused of being a former prostitute who swindled Amanda Clutterbuck, 56, and Ian Paton, 45, out of luxury flats in Knightsbridge and Chelsea by masquerading as royalty.
She is said to have boasted of 'limitless wealth' and even convinced HSBC to lend her £4m, while a statement from Barclays suggested she had £165m in her account.
The 'princess' denies the allegations and told the judge that she can prove her wealth is genuine with pictures of her enormous shopping sprees.
She claimed that she was so addicted to blowing up to £100,000 during shopping spheres that she had to seek medical help for her addiction.
"I have a problem with shopping - I go to doctor. In the last two months my perfume, only the perfume - $1.4m [£912,000]. I can show you the pictures," she said.
"I'm afraid I'm addicted to spending money, and get through enormous amounts of cash. I can easily spend £50,000 to £100,000 in one spree."
Mr Paton and Miss Clutterbuck claim they lost everything after getting involved in a multi-million-pound scheme to redevelop prime sites in the capital with Amoudi.
They claim that they realised they had been tricked after the joint venture collapsed.
"I thought I was living through an Alfred Hitchcock film, in which reality seemed to be totally distorted. Mr Nichol had drunkenly admitted that the so-called Saudi Arabian "princesses" were in fact prostitutes," Clutterbuck said in a statement.
However, Amoudi told the court she had an affair with Paton and that he borrowed some £5m of money she received from Saudi Arabia. She also claimed that six exclusive London flats were signed over to her name to make repayments to her.
She claimed she was an honest woman and had been given £10 million in cash by her family in the last decade, which she kept hidden under her bed.
Amoudi has been seen arriving at court in a chauffeur-driven black Rolls Royce, with an HRH number plate.
http://www.ibtimes.co.uk/articles/494296/20130724/saudi-princess-trial-fraud-m-rich-spent.htm
-----------
Islamic Clerics Oppose Lebanese Law Protecting Abused Women
By: Jean Aziz
Jul 25, 2013
Two weeks ago, Lebanese women were compelled to recognize once again that they are left to be victims of violence in many forms — including murder — without any legislation protecting them or holding the aggressor accountable. The reason for that is the position of some clerics, who justify these views using religious convictions and concepts.
Roula Yaacoub was the 24th Lebanese woman to be killed in the past three years, and whose murder has thus far gone legally unpunished. It seems that she died from torture and abuse at the hands of a suspect who is none other than her husband. Lebanese laws lack explicit articles that protect women in this regard, under the pretext of religions, which have their own personal status laws in Lebanon and prohibit any modern legislation negating their religious provisions.
Roula's murder, which took place in the town of Halba in northern Lebanon on July 9, has brought to the forefront the issue of the draft law on protecting women from domestic violence, which has been frozen for four years now and still provokes many absurd religious stances. In 2009, the preliminary draft law was drawn up by NGOs concerned with human rights and women's rights in Lebanon. Under the pressure of these organizations, the draft law became a serious proposal and was put its last form by the Ministry of Justice's Consulting and Legislation Committee in March 2009. Afterwards, the law spent years on the agenda of the Lebanese cabinet, which finally endorsed it on April 26, 2010, and referred it to parliament.
After more than a year, the law made it to a parliamentary subcommittee tasked with studying it. The committee held its first meeting in May 2011, and that was enough to flare up the situation. As soon as the subcommittee launched discussions, pressure from some Muslim clerics showered onto its members to the extent that the stances of some MPs seemed to be a reflection of what their religious authorities dictated.
On June 23, 2011, Dar al-Ifta, which is the religious Sunni authority in Lebanon, issued a statement reiterating the "unequivocal refusal of any draft law that violates the provisions of Islam under shiny titles, such as protection against violence." The statement said that the law risks "disintegrating Muslim families in Lebanon and preventing children from being raised according to Islam, in addition to causing a conflict of competences between the concerned civil and Islamic courts."
This statement came as a result of pressure from Sunni clerics who, days earlier, on April 17, 2011, staged a protest in opposition to the law on protecting women. The Islamic Association for Preachers, an organization of Sunni clerics in Lebanon, was the one calling for this protest.
During the protest, Sheikh Mohammed Bin Darwish Abu Qataa al-Naqshabandi delivered a speech calling for "dismissing the law from discussions, because it violates the sacredness of God and annuls Sharia provisions that humans have no opinion on."
The protesters continued to unabashedly pressure the officials: on Dec. 4, 2011, they visited Speaker of Parliament Nabih Berri, asking him to withdraw the law. Following this visit, Naqshabandi said that "Islam is a religion that wishes to preserve the masculinity and manhood of the male, and every human being has rights."
Despite the deep political rift between Sunnis and Shiites in Lebanon, clerics from both sects agreed on the refusal of the draft law. At the beginning of May 2011, Deputy Secretary-General of Hezbollah Sheikh Naim Qassem announced his opposition to an article in the law that stipulates the following: "Whoever coerces his wife by violence and threat into sexual intercourse shall be imprisoned for offense of domestic violence." This article made both Sunnis and Shiites coordinate a movement rejecting women's protection. On July 26, 2011, the Sunni Mufti reiterated again, "Muslims in Lebanon refuse a draft law that violates the Sharia provisions derived from the Quran and the Hadith, which protect and safeguard women and families in our society." Then, on August 8, 2011, a meeting between Sunni and Shiite clerics re-stressed both parties' rejection of the draft law that was considered to be inspired by "the directives of Western organizations and their dubious sources of funding."
Based on all these stances, it becomes clear that the reasons for their refusal are as follows:
First, the clerics refuse because their authority on personal status laws is undermined. They are clinging to their status as the only authority governing the affairs of individuals and the family — outside the purview of the state's institutions, even when the rights or physical safety of individuals are being violated.
Second, the clerics refuse the principle of equality between men and women stipulated in secular Lebanese laws because, through the lens of some, it negates the provisions of Sharia law. In that concern, verses 12 and 34 of Surat An-Nisa' in the Quran respectively read: "A male shall have as much as the share of two females [regarding inheritance]," and, "Men are guardians over women."
Third, and what is more complicated and problematic, is that the clerics refuse any clear and explicit secular law that punishes a man in the event that he physically abuses his wife or any woman that is seen as being under his control according to religious conviction. This is because according to some, this law negates the explicit aforementioned Quranic text (i.e., Surat An-Nisa', verse 34): "As to those women on whose part you fear disloyalty and ill-conduct, admonish them (first), (Next), refuse to share their beds, (And last) beat them (lightly); but if they return to obedience, seek not a way against them: For Allah is Most High, great (above you all)." A number of clerics see, in accordance with this verse, that beating a woman is possible and permitted.
Fourth, the clerics reject that marital rape be considered an offense. This was mentioned in the aforementioned statement of Dar al Ifta, arguing that the suggested law on protecting women "introduces new crimes such as the heresy of the rape performed by the husband against his wife and the criminalization of this act."
Sheikh Nabil al-Wazza, a media official from the Islamic Association for Preachers, explained this point in a speech on June 17, 2011, when he reiterated, "The obedience of the wife to the husband is an obligation in Islam." Sharia refuses to consider "the coercion of a wife into sexual intercourse as sexual assault; this is the right of the husband." Wazza based his view on a statement attributed to the Prophet Muhammad, in which he says: "If a man invited his wife [to his bed] and she refused, the angels will damn her until the morning." Wazza averred that "equality [between men and women] opposes the core of the Islamic faith."
The issue here is also attributed to Islamic texts considering the coercion of a woman into having sex with her husband as the husband's right, and therefore there is no such thing as marital rape, since the husband would in this case only be claiming what is rightfully his. Moreover, it is interesting that the head of the parliamentary committee entrusted to examine the draft, a Sunni lawmaker from the city of Tripoli and the former head of the Bar Association in North Lebanon, insisted on identifying rape as "the act by which a person takes what is not rightfully his." By this definition, he intends to preserve the religious interpretation that considers forcing the wife to have sexual intercourse as a right exercisable by the husband.
On the other hand, women's organizations have demanded that rape be defined as an "act of coercively obtaining something" whether or not its involves the perpetrator's wife. Moreover, a feminist activist recounted in a news conference in Beirut on July 23, 2011, that during one of the discussions that took place at one of the parliamentary committee meetings in which she was an observer, she heard a clergyman telling a story he witnessed and experienced. It was about a girl who was forced to marry a man she did not know and therefore refused to have sexual intercourse with him. According to the clergyman, the girl asked to be tied to the bed so that her husband could do it. Moreover, in the clergyman's opinion, this incident is normal and it is impossible to consider this to be rape by a man of his wife.
Thus, after more than four years since the law was proposed, religious objections have succeeded in obstructing and preventing its approval. This is in addition to several other Lebanese laws making women victims of discrimination or ill-treatment under the pretext of religious beliefs and laws of God that human beings are not entitled to modify or replace.
In the meantime, these crimes continue to claim the lives of women: 24 women were killed during the period of examination of the frozen draft law. Furthermore, 473 domestic violence-related complaints were lodged by women in 2009 in Mount Lebanon, while 353 other complaints — including cases of beatings, abuse and attempted murder — were also lodged. The judicial rulings issued by the Lebanese courts in 2010, in all domestic violence cases without exception, led to no condemnation of the aggressor and to the cessation of prosecution against him. This is because for some, religious norms and social traditions prevail over missing legal texts.
The image of the sit-in organized in a square in downtown Beirut on Sunday, July 14, 2013, and called for by women activists following the murder of Yaacoub — who was beaten to death in front of her five children — stirred feelings of sorrow and grief. The protesters were less than a dozen, less than half of the number of women killed by domestic violence in four years. Meanwhile, massive crowds constantly answer the calls of clergymen, showing unconditional support.
Jean Aziz is a contributing writer for Al-Monitor's Lebanon Pulse. He is a columnist at Al-Akhbar, the Lebanese newspaper, and the host of a weekly political talk show on OTV, a Lebanese TV station. He also teaches communications at the American University of Technology and the Université Saint-Esprit De Kaslik in Lebanon.
http://www.al-monitor.com/pulse/originals/2013/07/womens-rights-activists-lebanon-domestic-violence-law.html#ixzz2a5BKjKYm
-----------
Female Superhero Burqa Avenger Fights for Women's Rights in Pakistan
July 25, 2013
ISLAMABAD - Wonder Woman and Supergirl now have a Pakistani counterpart in the pantheon of female superheroes — one who shows a lot less skin.
Meet Burqa Avenger: a mild-mannered teacher with secret martial arts skills who uses a flowing black Burqa to hide her identity as she fights local thugs seeking to shut down the girls' school where she works.
Sadly, it's a battle Pakistanis are all too familiar with in the real world.
The Taliban have blown up hundreds of schools and attacked activists in Pakistan's northwest because they oppose girls' education. The militants sparked worldwide condemnation last fall when they shot Malala Yousafzai, a 15-year-old schoolgirl activist, in the head in an unsuccessful attempt to kill her.
Action in the "Burqa Avenger" cartoon series, which is scheduled to start running on Geo TV in early August, is much more lighthearted. The bungling bad guys evoke more laughter than fear and are no match for the Burqa Avenger, undoubtedly the first South Asian ninja who wields books and pens as weapons.
The Urdu language show is the brainchild of one of Pakistan's biggest pop stars, Aaron Haroon Rashid — known to many as simply Haroon — who conceived of it as a way to emphasize the importance of girls' education and teach children other lessons, such as protecting the environment and not discriminating against others. This last point is critical in a country where Islamist militants wage repeated attacks on religious minorities.
"Each one of our episodes is centered around a moral, which sends out strong social messages to kids," Mr. Rashid told the Associated Press in his first interview about the show. "But it is cloaked in pure entertainment, laughter, action and adventure."
The decision to clothe the superhero in a black burka — also often spelled burqa, a full-length robe commonly worn by conservative Islamic women in Pakistan and Afghanistan — could raise eyebrows because some people view the outfit as a sign of oppression. The Taliban forced women to wear Burqas when they took control of Afghanistan in the 1990s.
The version worn by the Burqua Avenger shows only her eyes and fingers — though it has a sleeker, more ninja-like look than the bulky robes of an actual Burqa.
Mr. Rashid, who is certainly no radical Islamist, said he used a Burqa to give a local feel to the show, which is billed as the first animated series ever produced in Pakistan.
"It's not a sign of oppression. She is using the Burqa to hide her identity like other superheroes," said Mr. Rashid. "Since she is a woman, we could have dressed her up like Catwoman or Wonder Woman, but that probably wouldn't have worked in Pakistan."
The series is set in Halwapur, a fictional town nestled in the soaring mountains and verdant valleys of northern Pakistan. The Burqa Avenger's true identity is Jiya, whose adopted father, Kabbadi Jan, taught her the karate moves she uses to defeat her enemies. When not garbed as her alter ego, Jiya does not wear a Burqa or even a less conservative headscarf over her hair.
The main bad guys are Vadero Pajero, a balding, corrupt politician who wears a dollar sign-shaped gold medallion around his neck, and Baba Bandook, an evil magician with a bushy black beard and mustache who is meant to resemble a Taliban commander.
Caught in the middle are the show's main child characters: Ashu and her twin brother Immu and their best friend Mooli, who loves nothing more than munching on radishes in the company of his pet goat, Golu.
In the first episode, Pajero wants to shut down the girls' school in Halwapur so he can pocket the money a charity gave him to run it. He finds a willing accomplice in Bandook, whose beliefs echo those of the Taliban and many other men in conservative, Islamic Pakistan.
"What business do women have with education?" says Bandook. "They should stay at home, washing, scrubbing and cleaning, toiling in the kitchen."
Bandook padlocks the gate of the school and orders the crowd of young girls outside to leave. Ashu steps forward to resist and delivers a defiant speech about the importance of girls' education — perhaps marking her as a future activist.
"The girls of today are the mothers of tomorrow," says Ashu. "If the mothers are not educated, then future generations will also remain illiterate."
Bandook is unmoved, but the Burqa Avenger appears and fights off the magician's henchmen with martial arts moves reminiscent of the movie "The Matrix." Using his magical powers, Bandook disappears in a puff of smoke. The Burqua Avenger hurls a flying pen that breaks open the padlock on the school's gate as the children cheer.
The show, which is slickly animated using high-powered computer graphics, does a good job of mixing scenes that will entertain children with those that even adults will find laugh-out-loud funny.
In one episode, Bandook builds a robot to take over the world's major cities, including London, New York and Paris. As he outlines his dastardly plan with a deep, evil laugh, one of his minions butts in and says, "But how will we get visas to go to all those places?" — a reference to how difficult it can be for Pakistanis to travel, given their country's reputation.
A group of orphans who were provided an early screening of the first episode at an orphanage on the outskirts of Islamabad laughed and cheered as the Burka Avenger vanquished her enemies.
Ten year-old Samia Naeem said she liked the crusading heroine "because she saved kids' lives, she motivated them for education and school."
Mr. Rashid, the pop star, funded much of the program himself, but also had help from an outside donor who preferred not to be credited.
He leveraged his musical background in the process. Each of the 13 episodes completed so far contains songs written and performed by him and other major Pakistani rock stars, such as Ali Azmat and Ali Zafar. Mr. Rashid is producing an album of 10 songs and music videos that will be broadcast alongside the show. He has also created a Burka Avenger iPhone game and a fully interactive website that will accompany the show's launch.
In one of the music videos, Mr. Rashid and local rap star Adil Omar sing in praise of the Burka Avenger, while standing in front of a pair of colorfully decorated Pakistani trucks festooned with bright lights.
"Don't mess with the lady in black, when she's on the attack," they sing.
Burka Avenger website, trailer and iPhone game: http://burkaavenger.com
http://www.washingtontimes.com/news/2013/jul/24/female-superhero-burka-avenger-fights-womens-right/?utm_source=RSS_Feed&utm_medium=RSS
-----------
Indonesia's Working Women Struggle to Succeed
By Angela Buensuceso
July 25, 2013.
Ask the chief executive of one of the country's largest banks what it takes for a woman to excel in the workplace and the answer is clear.
"You have to manage everything well," says Parwati Surjaudaja, the president director of Bank OCBC NISP.
While countries in the West continue to aim for reductions in yawning pay gaps and a gradual dismantling of the glass ceiling, the developing world is, for the most part, a long way behind in building the foundations for greater female participation in the workforce.
Not so in Indonesia.
According to World Bank data, 51 percent of women are employed in the workforce, compared with 78 percent of men, which compares favorably with the numbers of women in Malaysia and India's workforces, at 44 percent and 29 percent respectively, in comparison to the 77 percent and 81 percent of males employed in those countries, respectively.
"The way society is constructed now is much more conducive to allowing women to succeed," Parwati says.
But the Indonesian labor market is a broad canvas and a woman's ability to succeed in it is equally varied.
Women in white-collar jobs may find it less difficult to break through the glass ceiling in Indonesia, but the "sticky floor" of the nation's factories makes it harder for women in blue-collar lines of work to get off the ground.
Only 51 percent of working women held labor jobs, compared with 84 percent of men.
In a country where participation in education has, in fact, seen a reverse gender gap at the introductory level, with a 101 to 100 ratio of female to male enrollment, Hana Satriyo, the director of gender and women's participation at The Asia Foundation, says that the primary issue is not access to education.
The illiteracy rate among females, however, is of greater concern.
The Central Statistcs Agency says 8.8 percent of women are unable to read or write — more than double the 4 percent of men.
A higher illiteracy rate among women inevitably erodes the country's headline female-employment figure, but for many working-age women, the barriers to entry are more abstract and are made of perception.
A woman's 'double-burden'
"Women who work face a double-burden in society. They can work but are also perceived to have the main responsibility of caring for the family at home," says Miranda Fajerman, an equal-opportunities adviser in Indonesia with the International Labor Organization.
Parwati agrees that professional women are forced to prioritize because the expectation that they are responsible for the family unit is deep-rooted in most of Indonesian society.
The consequences of such expectations, however, are more keenly felt where there are fewer opportunities.
"Research shows that women tend to find it more difficult to enter the labor force after giving birth to children," Fajerman said. "They are less likely to be hired in the labor industry because they are seen as vulnerable."
Most of the women earning a living in blue-collar employment do so in in the informal sector or as migrant workers.
Female-led enterprises are often smaller, more unstable and less capitalized than businesses run by men because women have less access to the credit and resources on which growth is predicated.
Women in Indonesia continue to earn less than men for similar work in all sectors, but, according to the World Bank, the pay gap in the labor industry here is one of the largest in the East Asia and Pacific region.
This is in part, due to the regrettable but no less common practice of hiring women as temporary employees, regardless of whether that accurately reflects their work situation.
Mobilizing the female workforce
Employers hire female workers on temporary contracts because they can, Fajerman says, and because it is instructive of a widely held view that women will be absent more frequently as a result of motherhood, incurring greater cost to the employer.
"Hiring a woman may be more expensive in the short term, but in the long term investing in a female employee is worth it," says Yulia Immajati, a consultant on gender.
The World Bank's most recent report on Indonesia's quarterly economic performance highlights that, in the last decade, blossoming GDP and a commensurate reduction in poverty have gone hand-in-hand with improved gender equality.
"If done properly, the greater integration of women in the workforce would positively influence Indonesia's economy," Yulia says.
The World Bank does, of course, support greater female participation in the workforce, saying that greater gender equality and access to resources and opportunities could result in higher productivity that would benefit both women and men.
The allocation of resources on the basis of skills and abilities, as opposed to gender, could, it says, increase productivity by as much as 14 percent per worker, with measurable improvements in poverty reduction.
The future
According to Yulia, the status of women in the working world has improved significantly over time and Indonesia has enshrined some sound laws protecting women's rights and encouraging participation.
"How serious the government is in upholding and enforcing these laws, however, is a mixed picture," Hana says.
"There is a strong political commitment but this commitment has not, so far, been translated as significantly into the national budget," Yulia says.
The picture is likely to remain mixed.
Yulia says that Indonesia has much work to do, "but we're getting there," while Parwati adds that the juggling of family and work responsibilities is not an issue that is going to disappear any time soon.
"You have to manage everything well," she says. "But that's why God created women — we can handle it."
http://www.thejakartaglobe.com/news/indonesias-working-women-struggle-to-succeed/
--------
Frustrated, Unable To Marry, 32-Year Egyptian Girl Ends Her Life
July 25, 2013
A 32-year-old girl who was frustrated by her not being able to marry ended her life in the Egyptian governorate of el-Menya, south of Cairo, the state-owned Al Ahram newspaper reported on Tuesday.
Hana Mohammed Abdullah killed herself using a knife after eating Sohour, a meal consumed by Muslims at dawn before fasting in Ramadan, according to Al Ahram newspaper.
Her father was quoted as saying that she was suffering "psychological" problems because she was not married at the age of 32 and that she became even more depressed after her younger sister married.
A criminal investigation team confirmed the father's statement, denying the possibility of a criminal offense, according to the newspaper.
http://english.alarabiya.net/en/News/middle-east/2013/07/24/Frustrated-unable-to-marry-Egyptian-girl-ends-her-life.html
-----------
Archiving Of Crimes against Women Begins In Pakistan
July 25, 2013
LAHORE: The Women's Development Department, in the first week of July, launched an initiative to archive crimes against women in the province.
The archive will initially have information on three categories of crimes against women… gender based, domestic violence and acid attacks.
Women Development Department Secretary Irum Bukhari told The Express Tribune that documentation of these crimes would help the government understand the proportions and scope of the problem.
"We will only know once we have the precise data. The information would also help the authorities solve the problems, she said.
The archive could serve several purposes. Most importantly, it would help the department formulate policies to tackle women's problems in a more efficient and effective way, said Bukhari.
Shirkat Gah-Women's Resource Centre Advocacy and Communications Director Fauzia Viqar said that the statistics available at the moment were sketchy. "In most cases, crimes against women go unreported and there are several problems with the records," she said.
She said that there was a need to reform police diaries and the system used to report cases of violence against women. The way data is collected does not capture the social, economic or psychological aspects of the crime. "Therefore, it is hard to appreciate the enormity of a problem," she said.
Bukhari said that NGOs usually documented crimes through media reports. This method, she said, has a structural problem. "Newspapers do not cover all events," she said.
She said that the police reported such crimes, but there is no standard method of collecting data and sharing it. "This leads to frequent discrepancies in data…rendering it useless," said Bukhari.
Every report in the archive, she said, would assess the nature of the crime, location of occurrence, circumstances, number of people involved, the type of injuries; whether the case was sent to trial and what the outcomes were.
A statistical report based on quarterly police reports would be released each July, starting from 2013.
The creation of the archive is part of the Punjab Women Empowerment Package 2012, which aims to, "Provide ways and means to effectively safeguard women's rights and… expanding opportunities available to them."
http://tribune.com.pk/story/581121/womens-development-archiving-of-crimes-against-women-begins/
-----------
Women in Urdu journalism in Pakistan, Harassed at work
July 24, 2013
KARACHI: "My eyes are up here," she snaps at the reporter as, mid-conversation, his attention drifts away from her face towards her chest. He giggles; she shrugs it off as just another display of myopic male mentality.
Sadly, these incidents are not uncommon; female broadcast and print journalists share that discrimination and harassment shadow work – in the newsroom, or out in the field.
Of sticks and stones
"Some reporters harass their own female colleagues. A male colleague once offered to 'help' me with an assignment if I agreed to meet him at night in an internet café," says *Ayesha, a 31-year-old reporter at a leading Urdu-language newspaper. "When I refused to meet him, he revoked the offer."
Quetta-based broadcast journalist *Nadia recalls similar early experiences.
"Back when I started, if I went to meet the police or a government secretary, they would get a bit too friendly," she recalls. "One official told me to meet him alone in his office at a specific time, and emphasised that I should not bring my cameraman."
The schools are full, the field is empty
For female field reporters in Pakistan, a major issue for women is that harassment often goes unreported and unpunished.
Despite the unwelcoming environment, females continue to join the field of journalism undeterred. A report of the NGO "UKS" that was published this month, titled Who's Telling Our Story: A Situation Analysis of Women in Media in Pakistan, reveals that the number of women and men enrolled in mass communication departments at major universities all over Pakistan is more or less the same.
Paradoxically, the UKS data also brings to light that from the total number of employees at major media houses, only 1.8% are female.
Veteran journalist Afia Salam shares that "When we spoke to final year students [when collecting data for the survey] they told us their families won't permit them to work since mahol acha nahi hai (the atmosphere is not good). Families are afraid to let their daughters work night shifts and use public transport to come home after sunset," she explains.
Salam adds that apart from a handful of English-language daily publications, the environment and policies at magazines and newspapers is not conducive to women working.
"The perception of women is skewed also because of their portrayal in the media," she says. "Parents think that the media is all entertainment and showbiz."
Broadcast journalist Sana, who hails from a conservative Pashtun family, says she encountered similar setbacks. "My relatives would taunt me and ask if I wanted to model on TV. When I told them that I was going to be a reporter, they were happy."
An ugly assault
Senior TV journalist Quatrina Hosain relates an ugly episode that took place right before the general elections. Hosain tells The Express Tribune that she was assaulted by a group of 30 men at a PTI rally in Wah Cantt, where she had driven to interview party candidate Ghulam Sarwar. Without going into the gory details, Hosain says, "I don't know if they were told to teach me a lesson, but I do know that the nature of the assault was really horrific. There were multiple people grabbing at various parts of my body. I was scared that if I fell or any of my clothes were torn, no one would have been able to prevent a rape from taking place. I felt like a cornered animal."
In the aftermath of the incident, Hosain "had flashbacks." "I was rude to people who were asking to help me with my bag at the airport. I felt vulnerable and my brain was wired into flight mode. In public spaces, I would desperately search for women so I could go and stand near them," she says.
She says she was mortified when people on social media accused her of concocting the story to "boost ratings" for her show.
Hosain explains that she did not register an FIR because she did not want the episode to become a political issue. "It happened to me because I am a woman. Men ask us 'why were you there'. Luckily for me, I reached out to friends and family and got therapy. I am not afraid to talk about it."
http://tribune.com.pk/story/581217/women-in-journalism-harassed-at-work/
-----------
Working women face more tasks during Ramadan
July 25, 2013
The demand for domestic help and cooks has gone up in the Kingdom with the advent of Ramadan, with most working women finding it hard to manage household chores, including cooking.
Domestic help and cooks expect higher wages, which, in some cases, amount to half the earnings of women who seek assistance. Ramadan is an occasion when the families' priority for an elaborate fare on the dinner table is pretty high, as is the tradition in the Kingdom.
Sarah Alayan, a Saudi banking employee, advocating Ramadan vacation for women, says such a move would help women to pay more attention to the family needs and cooking up good meals during the Holy Month.
"Apart from enjoying time with the family, devoting time to Allah while fasting and going to work at the same time is impossible," says Alayan, adding that the only time she gets a few minutes off from work is during the Suhur and Asr prayers.
Alayan says that very often, families order food from outside during Ramadan because by the time the working women reach home, there is not enough time to put together a meal. "Otherwise, it is always a rush. As soon as I get home, I go straight to the kitchen to start preparing for the iftar meal," she said, and pointed out that though she was a Saudi woman, she doesn't have a maid. "I don't them and I prefer it this way."
Many working women were of the view that one rarely finds an understanding husband who is willing to help out his wife in the kitchen. And this often leads to arguments at home during Ramadan, they say.
"As usual, the husband likes to see the table spread with mouth-watering dishes but doesn't believe in lending a helping hand in the kitchen," says Lujain Sharif, a business development manager at a reputed company in Al-Khobar. "It is actually the mindset of men that is to blame. The woman's place is the kitchen and a man entering a kitchen is not acceptable. This has been drilled into the minds of most Arab men," she said, but hastens to add that she was making a general statement and not referring to her husband or any other particular person.
"It is a battle for me as a working mother of two. After spending 6-7 hours a day at work during Ramadan, I have to rush home to start preparing a meal for iftar right away. It is very tiring. After iftar, cleaning up, tidying the home and looking into kids matters takes the rest of the time until it is time for Isha and I have to go for Taraweeh prayers to the nearby mosque. Soon after Taraweeh prayers, we go shopping. Every day during Ramadan is a very hectic schedule for me," she said.
Stating that she cannot afford a maid, especially due to increased expenditure during Ramadan, she said: "Maids demand big amounts nowadays even for simple tasks. For example, they demand SR 3,000 just for cooking, which is almost half my salary."
Other working women depend on the services of women who prepare home-made dishes and deliver them to houses. "Especially during Ramadan, many relish home-cooked food rather than from outside," says Umm Haya.
"It is a good source of revenue generation for some people during the Holy Month. I take orders to prepare snacks and sweets for iftar, and other dishes for dinner and sahoor," she said.
Umm Haya takes orders for home-cooked food during Ramadan every year and delivers them at the doorsteps of her customers.
http://arabnews.com/news/459005
-----------
64% Omani women sought jobs in 2012
July 25, 2013
Muscat: The National Centre for Statistics and Information (NCSI) has revealed some startling facts in its report entitled 'Omani Women'.
Outperforming their male counterparts, Omani women jobseekers constituted 64 per cent of the total number of persons who sought employment, according to the data of jobseekers for 2012, and that 20.5 per cent of the workers in the private sector were women.
The report also showed that women have been constituting half of the total Omani population for more than a decade. It also revealed that more than half of those females were in the childbearing age of (15 - 49 years) and that one third of them were children under the age of 14 in 2013.
The total fertility rate was 3.7 live births for every woman in the child-bearing age for 2010 and 2011. As for the road accident fatalities in 2013, women constituted 22 per cent.
The report also indicated that women constitute 18 per cent of the State Council's members in its term (2011 - 2015).
http://www.timesofoman.com/News/Article-20313.aspx
-----------
U.S. Allies Lead in Female Genital Mutilation
July 25, 2013
By Lloyd Billingsley
Female-genital-mutilation-fgmUNICEF, the United Nations Children's Fund, has issued a new report on FGM/C, female genital mutilation/cutting, that raises troubling questions about the practice and the American response to it, particularly in nations such as Egypt.
"Girls and women are made to have their external genitalia removed fully or partially– some when they are just infants, others when they hit puberty," explains UNICEF, "in the name of preserving female honour, chastity, beauty, ensuring their marriageability." Kheiriya Abidi, a 10-year-old Somali girl is "terrified of the blood, the pain and physical torture she will have to suffer if her genitals are cut." As another description notes, untrained practitioners do the cutting with instruments such as broken glass, tin lids, scissors or unsterilized razors, and without anesthesia. This causes intense pain and trauma, and poses health risk such as HIV transmission, and worse.
UNICEF notes that more mothers are now aware that "FGM/C can lead to their daughter's, or a girl's, death." The report finds a "sharp decline" in FGM/C in numerous countries. Among adolescent girls in Benin, the Central African Republic, Iraq, Liberia and Nigeria, FGM/C has dropped by as much as half. All told, female genital mutilation has been inflicted on more than 125 million women and girls, roughly equivalent to the entire population of Japan. Nearly half of the victims reside in Ethiopia and Egypt, a country much in the news.
UNICEF explains that FGM/C is not an Islamic custom, not in the Quran, and not practiced by many Islamic communities. But female genital mutilation and cutting remains prevalent in Egypt, an Islamic country where about 80 percent of women aged 15 to 19 have been cut compared to 96 percent of women in their late 40s. By these numbers, the vast majority of Egyptian woman and girls are victims of female genital mutilation, performed in Egypt by a trained physician in more than 75 percent of cases.
In 2008, under Hosni Mubarak, Egypt criminalized all forms of FGM and the number of mutilated girls dropped by about one third. But the rise of Islamism and the Muslim Brotherhood canceled those gains. Under Mohamed Morsi, the courts rejected challenges to FGM/C. Nehad Abud Komsan, director of the Egyptian Center for Women's Rights, explained that the Muslim Brotherhood and Salafist politicians "are destroying years of efforts to protect girls and women in Egypt and, unfortunately, by using religion."
Geeta Rao Gupta, deputy executive director of UNICEF, charges that "FGM/C is a violation of a girl's rights to health, well-being and self-determination." She says that "legislation alone is not enough" and wants "this harmful practice" abandoned. So for UNICEF female genital mutilation is a human rights issue — this from an agency of the United Nations, which generally performs poorly on the human rights front in the Middle East and Africa.
The United States has often denounced human rights violations in the USSR, Russia, Cuba, North Korea, South Africa and other countries. But concerns over FGM/C as a human rights violation failed to gain traction in U.S. policy toward Egypt, where the last two U.S. ambassadors have been women: Margaret Scobey and Anne W. Patterson, the current incumbent.
On the other hand, former U.S. Secretary of State Hillary Clinton has offered solidarity with African women opposed to FGM/C. "We cannot excuse this as a cultural tradition" she said, invoking "the rights of young girls to be free from both physical and mental violence." That emerged in a February 2013 statement from Geeta Pasi, U.S. ambassador to Djibouti.
President Obama signed "Transport for Female Genital Mutilation" an amendment to the National Defense Authorization Act for 2013. But the president has not made FGM/C an issue in Egypt or Kenya, where genital mutilation of women and girls remains accepted practice. That is still the case in much of Africa and the Middle East, but American feminists, allegedly concerned about violence against women, have not made female genital mutilation one of primary causes.
Following the release of the UNICEF report, the top issue on the website of the National Organization for Women was justice for Trayvon Martin, followed by praise for the Supreme Court decision on gay marriage. Muslim activists have likewise failed to raise the FGM/C issue.
In Pakistan, where FGM/C is reportedly on the increase, the victims include British girls of Pakistani origin. Girls are told they are going on vacation to see relatives but remain "unaware that their parents are taking them to Pakistan to carry out the FGM procedure."
Pakistani-American Sadia Saifuddin, the first Muslim to serve as a University of California student regent, is not denouncing FGM/C or calling for the UC system to divest itself from countries that allow the practice. Rather, she spearheads a campaign to divest UC funds from companies affiliated with the Israeli military.
Violence, torture, mutilation, terrorized, trauma, death. The vocabulary leaves no doubt that female genital mutilation is savage barbarism. By calling for its worldwide elimination, the United Nations Children's Fund shows itself stronger on a vital human rights issue than American politicians, feminist groups and Muslim activists.
http://frontpagemag.com/2013/lloyd-billingsley/u-s-allies-lead-on-female-genital-mutilation/
-----------
Sole woman in Mali presidential race spreads word on the streets
July 25, 2013
A black Mercedes pulls up in a grimy street in Bamako and the back door swings open. A satin-shoed foot emerges beneath a crisp brocade gown and steps gingerly on to the litter-strewn asphalt.
Haïdara Aïssata Cissé, the only woman standing for president in Mali's upcoming elections, is greeted by deafening chants of "Chato! Chato!", her nickname.
Cissé is clearly popular among the market traders in Niaréla, the old business district of Bamako where sleek office buildings, hotels and embassies stand incongruously among ragtag, low-rise stalls.
She is the only candidate to visit the area – or indeed to include walkabouts in their campaign schedule at all. Most other presidential hopefuls have concentrated on rallies in stadiums, and visiting local dignitaries and elders.
Cissé tiptoes around the fresh produce laid out on the ground in the market stalls.
"They are so excited," she says. "They have never seen a politician come to them before."
It has been six months since France began a military intervention in its former colony to oust Islamist militants who had imposed sharia law in northern cities such as Timbuktu and Gao.
The capital, Bamako, was never occupied but its fragile economy has been crippled by the events of the past 18 months, including a military coup. Sunday's election has been imposed on Mali by the international community despite widespread fears that the country is not ready.
Cissé, a 54-year-old MP and former travel agent, is an outsider among 27 candidates for the presidency. But determined campaigning – and plenty of walkabouts – have improved her following and helped win the backing of Mali's women's groups.
If there is no outright winner on Sunday and the presidential election goes to a second round on 11 August, Cissé could drive a hard bargain between run-off candidates vying for the female vote. Despite the odds, she says she will be the next occupant of Koulouba, the head of state's palace on a rock overlooking Bamako. She even believes she can get there without giving away the tea, sugar, T-shirts or cash that are common currency in Malian elections.
"One of the market women said 'give me a wrap with your face on it and I'll wear it'," she said. "So I explained to her that there are 703 local authorities in Mali and if I give away fabric to all the women in every commune, it will cost me a billion CFA francs [£1.5m] which might be better spent on a project to help the poor. She liked that and said she would vote for me."
In common with the other candidates, Cissé does not provide a printed manifesto. She claims it would be copied by her rivals. But she tells a rally at Koulikoro, north of Bamako: "If I am elected, I will launch a Marshall plan to create 500,000 jobs. I shall introduce a programme of excellence to reform education and training. I shall create grants of 100,000 CFA francs [£128] for the poorest mothers so that they can put their children, especially girls, in school."
In a country where welfare and education have, in living memory, been the responsibility of western aid agencies and Islamic solidarity, development issues are not vote-winners. Unicef, the United Nations children's fund, has drawn up a primer for candidates listing some of Mali's shocking statistics: 90% of women have undergone female genital mutilation; one million children are out of school; 2.2 million people defecate in the open air. Righting those wrongs seems less of a priority for ordinary Malians than building a strong army after the country had to depend on France – and now United Nations multidimensional integrated stabilization mission – Mali Minusma – to secure its borders.
For that reason, Cissé's campaign calls for "a united and strong Mali". It is the slogan of almost all of the candidates.
Traoré Oumou Touré, president of Cafo, an umbrella organisation for Mali's women's groups, said that to do well Cissé must fight a gender-blind campaign. "Mali's crisis is the result of poor governance which, in turn, is the result of a dysfunctional society. Cissé must be seen as the candidate standing for equity, balance and the happiness of all men and women."
Despite looking slightly out of place in her Senegalese gown and pointy shoes, Cissé seems to impress.
Mariam Coulibaly, a trader, says: "She asked us about our lives. We said we need a market building because selling vegetables on the ground is not hygienic. It is the first time I have seen someone like her come into the market. Usually the only place you see politicians is on posters."
http://www.guardian.co.uk/world/2013/jul/23/woman-mali-presidential-race
-----------
Tunisian FEMEN Activist on Trial for Assaulting Guards In Prison
July 25, 2013
Her name is Amina Sboui and she is 19 years old. For the last two months, her home has been inside the four walls of a cell at the Messadines women's prison in Tunisia. On Monday she appeared in court, after being accused of assaulting guards and defaming public servants. She was wearing a thin pink T-shirt, revealing a tattoo on her arm, while her co-defendant, her cellmate, a girl named Rabia, wore a sifsari, the traditional Tunisian veil.
Her name is Amina Sboui and she is 19 years old. For the last two months, her home has been inside the four walls of a cell at the Messadines women's prison in Tunisia. On Monday she appeared in court, after being accused of assaulting guards and defaming public servants. She was wearing a thin pink T-shirt, revealing a tattoo on her arm, while her co-defendant, her cellmate, a girl named Rabia, wore a sifsari, the traditional Tunisian veil.
But Sboui is not just any Tunisian prisoner, she is a member of FEMEN, the Ukrainian-based feminist group that has staged outrageous and provocative protest demonstrations across Europe. Sboui gained international recognition in March when she posted pictures of herself on the Internet to protest the mistreatment of women in her country. In true FEMEN fashion, she was bare-breasted and had inscriptions on her body such as "my body belongs to me" and "f*** your morals."
Sboui was arrested in May after she was caught writing the name of the Ukrainian activist group on the wall of a cemetery in the city of Kairouan, in the center of Tunisia, while denouncing a gathering of hard-line Islamists. She was subsequently charged with undermining public morals and desecrating a cemetery. She has spent two months in prison in that case, although no trial date has yet been established.
Her appearance before a judge this week in the court in M'Saken stemmed from a separate incident in prison, however. Sboui claimed that her cellmate Rabia was beaten and mistreated by four guards, compelling her to intervene by pushing the guards off of Rabia's body. Sboui also alleged her cellmate was forced to stand in the hot sun for five hours as a punishment for not saluting the prison guards as required. Prison guards pressed charges against both prisoners for insulting and defaming them during the course of their duties.
"I am being tried, because I condemned the torture of detainees and the violence used against them," Sboui told Agence France-Presse. One of Sboui's defense attorneys, Radhia Nasraoui, has asked the charges to be dismissed, saying the prison guards acted in retaliation and fabricated charges against her client. The judge in the current case will deliver his final verdict on July 29 -- the two women face a possible year in prison for contempt and six months for defamation.
Human Rights Watch has asked for a pre-trial release. "It does not matter to me if I am held in prison for a long time," Sboui allegedly said, according to a support committee formed on her behalf. "To be behind bars is not as hard as to be outside, watching a religious dictatorship take over Tunisia." HRW's deputy Middle East and North Africa director, Eric Goldstein, recently said that the Tunisian court "should scrutinize carefully the serious charges against Amina Sboui, which seem motivated more by a desire to punish her provocative activism than by evidence of wrongdoing."
Despite Tunisia's reputation as one of the most progressive states in the Muslim world with respect to women's rights, since the revolution that toppled dictator Zine El Abidine Ben Ali two and a half years ago, Islamic fundamentalist groups have sprouted up. Indeed, the current government is controlled by moderate Islamists linked to the Ennahda movement. Sboui's provocative behavior has pushed the limits of such tolerance in the country.
FEMEN leader Inna Shevchenko, now living in exile in France, said Tunisia is the starting point for a new campaign she wants to call the "new Arab Spring" for women. "Countries [which participated in the] Arab Spring [revolution] were [ultimately] a big disappointment for society," Shevchenko told Deutsche Welle, the German broadcaster. "Also with the changing political situation -- and Islamist parties which are leading governments, in Tunisia as well -- they are trying to increase the levels of oppression."
http://www.ibtimes.com/tunisian-femen-activist-trial-assaulting-guards-prison-while-awaiting-trial-unrelated-charges
-----------
URL: https://www.newageislam.com/islam,-women-and-feminism/new-age-islam-news-bureau/malala-yousafzai-inspires-girls--education-activists-in-somalia/d/12756