New Age Islam News Bureau
20 Jun 2020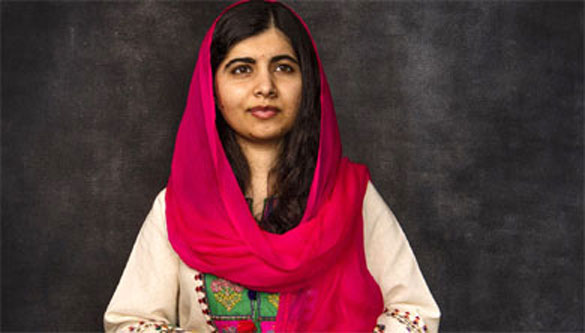 Malala Yousafzai was an advocate for women's education when she was shot by the Taliban.
-----
• Afghan Female Cyclist in France Prepares for Olympics
• Arab Israeli Woman Draws Surfers to Her Fishing Village
• Imprisoned Saudi Princess Lost All Contact with Family Who Have 'No Idea' Whether She's Dead or Alive: Report
• Education and Employment Initiatives for Afghan Women
• Women of Anatolian Nomadic Tribe Lead Yearly Migration
• Muslim Woman Arrested in Miami Protest Forced To Remove Hijab For Booking Photo
• Women's Participation in Sports In Saudi Arabia Rose By 149 Percent Since 2015: Minister
• Years After Liberation, Syrian Women Still Trying to Recover From Daesh Brutalities
• Sexual Threat Against HDP Leader's Wife Backfires as Turks Rally Around Women
Compiled by New Age Islam News Bureau
URL: https://www.newageislam.com/islam-women-feminism/malala-yousafzai-graduates-oxford-eight/d/122171
--------
Malala Yousafzai graduates from Oxford eight years after Taliban shot her
Jamie Prentis
June 19, 2020
Eight years after being shot in the head by the Taliban for campaigning for girls' education in Pakistan, Malala Yousafzai has graduated from the most prestigious course on offer at Oxford University.
Malala
✔
@Malala
Hard to express my joy and gratitude right now as I completed my Philosophy, Politics and Economics degree at Oxford. I don't know what's ahead. For now, it will be Netflix, reading and sleep. 😴
View image on TwitterView image on Twitter
674K
6:03 AM - Jun 19, 2020
Twitter Ads info and privacy
95K people are talking about this
The Nobel Prize winner and activist, 22, shared images on Twitter of herself smiling, covered in celebratory cake and confetti.
"Hard to express my joy and gratitude right now as I completed my philosophy, politics and economics degree at Oxford," she wrote.
"I don't know what's ahead. For now, it will be Netflix, reading and sleep."
Philosophy, politics and economics at Oxford is renowned for developing political leaders including former UK prime minister David Cameron and Pakistan's Benazir Bhutto and Imran Khan.
Ms Yousafzai first rose to prominence at the age of 11 after blogging about life under the Taliban, but after angering the extremist group for speaking out she was shot and nearly died in October 2012.
Ms Yousafzai was flown to Britain for medical treatment and settled in the city of Birmingham.
She was at school there when she heard in 2014 that she had won the Nobel Peace Prize along with Indian activist Kailash Satyarthi "for their struggle against the suppression of children and young people and for the right of all children to education".
The youngest ever Nobel laureate at the time, she has continued to speak out for girls' education.
https://www.thenational.ae/world/europe/malala-yousafzai-graduates-from-oxford-eight-years-after-taliban-shot-her-1.1036078
--------
Afghan Female Cyclist in France Prepares for Olympics
June 20, 2020
Afghan female cyclist Masooma Alizada, a former member of the Afghan national cycling team who a now living in France, has been nominated for next year's Olympics Games, competing for the Refugee Olympic Team.
Masooma trains in a club in France and is hopeful that she will return to the country and boost cycling here in Afghanistan.
"I was selected for the Olympic games for the migrants' team (Refugee Olympic Team) with 100 other athletes in 2019," she said.
The head of Afghanistan's Cycling Federation, Fazl Ahmad Fazli, said he hopes that Masooma will succeed in the Olympics in Tokyo.
"It is good news that Masooma Alizada has been selected for the games," he said. "I believe that Masooma Alizada has the ability to perform well in the competition. It is a big achievement for Afghan female athletes."
In France, Masooma attended a cycling competition in 2016, representing Afghanistan, and she won second place and was invited to join a cycling club afterwards.
"In the competition in 2016, my sister me and sister Zahra Alizada got the second and third position respectively," she said. "It is my goal to return to Afghanistan one day to work for women's cycling."
She has been a member of Afghanistan's national cycling team since 2017.
https://tolonews.com/sport/afghan-female-cyclist-france-prepares-olympics
--------
Arab Israeli woman draws surfers to her fishing village
June 20, 2020
JISR AL-ZARQA: Standing barefoot on an Israeli beach, Hamama Jarban blew her whistle and watched her students race toward the water clutching their colorful surfboards.
Each weekend she welcomes enthusiastic would-be surfers to the shore, teaching them how to lie and then stand on their boards.
"I am a child of the sea, my father used to throw us in the water when we were little and tell us to swim," she said.
Wearing a black wetsuit and cap, the 41-year-old's surfing venture brings much needed income to Jisr Al-Zarqa, the only remaining Arab village on Israel's Mediterraean coast and one of the poorest in the north.
Her father, together with her grandfather, also taught her how to fish, but Jisr Al-Zarqa is nowadays subject to environmental restrictions on fishing.
Arabs constitute around 20 percent of Israel's 9 million-strong population and say they are discriminated against by the Jewish state.
Jarban received qualifications as a surfing and swimming instructor, as well as a lifeguard, from Israel's leading sports training facility, the Wingate Institute.
Along with her brother Mohammed, she started teaching surfing 6 years ago to children and young adults from the village and elsewhere in northern Israel.
While most of the surfers are Israeli Arabs, Jarban said she once taught two Jewish girls on holiday from Jerusalem.
On one Saturday morning, some of the young recruits wore blue tops with the club's "Surfing 4 Peace" logo across the back.
Thirteen-year-old Sari Ammash said he still finds it hard to balance on the surfboard, but has gained better control since starting lessons last year.
The beach sits in an idyllic spot, close to a forest and a river that the surfers must cross before starting their lesson.
Ream, a 21-year-old architecture student, travels more than 30 km for the lessons.
"I love sport, I used to play basketball, and now I enjoy training with Hamama," she said.
Jarban also works as a lifeguard in summer and volunteers with the maritime rescue unit in Caesarea, a nearby upmarket coastal resort.
The contrast with her village — with its overcrowded housing and narrow streets — could not be starker.
Prime Minister Benjamin Netanyahu has a home in Caesarea.
To physically separate the two places, in 2002 a 5-meter-high dirt wall was erected, which Caesarea residents said was intended to shield them from the noise of the Muslim call to prayer, as well as village parties.
The barrier runs for 1.5 kilometers (about a mile) and has been planted with flowers and trees by the resort town's residents.
In Jisr Al-Zarqa, tin shacks line the shore, while fishing boats bob at anchor, left idle by a dispute over fishing rights.
The Israel Nature and Parks Authority gave the area environmental protection in 2010, restricting fishing and coastal construction.
Villagers say they were promised development and infrastructure in return, but this never came.
A spokeswoman from the parks authority said they have worked with the village council to invest funds and build a promenade, while stopping construction work on the protected land.
"People should dismantle any building that is not legal, we have inspectors to watch," she told AFP.
Jarban has herself become embroiled in a dispute after building a wooden hut to store surfboards.
In a letter from the authority seen by AFP, she was ordered last month to demolish it or face legal action.
"We have suffered heavy losses," Jarban said of her village.
https://www.arabnews.com/node/1692526/middle-east
--------
Imprisoned Saudi princess lost all contact with family who have 'no idea' whether she's dead or alive: report
June 15, 2020
Relatives of a Saudi Arabian princess, who has purportedly remained imprisoned for over a year after trying to fly to Europe for routine medical care, are now fearing the worst about her health, claiming that they have not been able to get in contact with her since April.
Saudi Princess Basmah bint Saud bin Abdulaziz, 56, who is a prominent human rights activist, and her daughter Souhoud Al-Sharif, 28, were "kidnapped" from their home in the western port city of Jeddah, Saudi Arabia on March 1, 2019. What happened to her after that remained a mystery to the outside world until 13 months later.
On April 17, 2020, a series of tweets from the princess' verified Twitter account, which were soon deleted and then reposted on April 27, 2020, pleaded for her cousin, Crown Prince Mohammed bin Salman, to release her from the Al-Ha'ir Prison, a maximum-security prison located approximately 25 miles south of Riyadh, the Persian Gulf kingdom's capital.
It has been nearly two months since relatives have been able to contact the princess over the phone, according to a report published Sunday by NBC News. An unnamed "family confidant" said if "she's dead or alive we have no idea, we literally have no single clue."
"My health is continuously deteriorating which may lead to my death, it's VERY critical, and they know it," read a letter purportedly written by the princess and repeatedly posted and reposted on her Twitter account throughout the month of April.
"This week Muslims around the globe begin our holy week of Ramadan, one that most of us shall spend with family, even if much limited owing to the ongoing pandemic," the letter said.
It continued: "In this month of mercy, our holy Ramadan, I once more call upon my uncle, Custodian of the Two Holy Mosques, King Salman bin Abdulaziz, and my cousin, Crown Prince Mohammed bin Salman Al Saud, to find it in their hearts the sense of justice that ought to be impregnated in any Muslim during Ramadan, and beyond, and reminisce their relative held arbitrarily in the worst conditions possible, in spite of her service for the kingdom."
The letter also claims Ha'ir prison officials have repeatedly stated the mother and daughter are not subject to any charges or an ongoing investigation, yet they remain imprisoned.
On May 13, a tweet from her verified account but signed HRH (Her Royal Highness) Media Office said relatives have not been able to contact the princess since her public cry for help in April.
"The direct and indirect weekly communications from Princess Basmah bint Saud with her family have been cut off completely since the tweet on April 17th, 2020. We have not received any information about her deteriorating health or legal status," the media office said.
"The silence on her health and legal status is disturbing. It has been kept secret in her homeland and from her relatives," the office continued. "The media office is hereby urgently requesting the authorities, once more, during this month of Ramadan, to compassionately free Princess Basmah and her daughter, Souhoud Al-Sharif, who were arrested on March 1st, 2019 without charge."
The office tagged President Trump, House Speaker Nancy Pelosi, and Rep. Alexandria Ocasio-Cortez, among other American officials.
Before the princess was "abducted" from her home, she had reportedly been on house arrest under 24/7 surveillance after trying to leave Saudi Arabia to head to Switzerland for medical care in December 2018, German broadcaster Deutsche Welle reported.
Her flight – ultimately bound for Geneva – was expected to stop in Turkey, which was considered an enemy of Saudi Arabia at the time. But she never boarded the plane and was reportedly stopped by men at her home before heading to the airport.
The Gulf Kingdom has received widespread condemnation after a United Nations investigation found Saudi officials were likely responsible for killing and dismembering Jamal Ahmad Khashoggi, a journalist and Washington Post columnist, inside the Saudi consulate in Istanbul on Oct. 2, 2018.
The princess is the granddaughter of the country's founding king, Abdul Aziz Ibn Saud, and the daughter to its second ruler, the later King Saud bin Abdulaziz. Relatives suspect she may have been detained after seeking her multi-billion-euro inheritance, Insider reported.
She worked as a businesswoman and human rights activist and had spoken both at Cambridge University and in Washington, D.C. on the role of women in the Middle East.
In November 2017, hundreds of Saudi royals were detained inside The Ritz-Carlton Hotel in the capital city of Riyadh. They were forced to pledge their allegiance to Crown Prince Mohammed bin Salman and sign away most of their assets in order to secure their release.
Although male members of the Saudi royal family have been rounded up in the past, the princess is one of the first female family members known to be targeted – presumably because of her international role advocating for women's rights.
https://www.foxnews.com/world/saudi-arabia-princess-prison-cut-off-contact-prison-dead-alive
--------
Education and Employment Initiatives for Afghan Women
JUNE 8, 2020
SEATTLE, Washington — In Afghanistan, women are notoriously overlooked and discriminated against. Women in Afghanistan do not have simple liberties that most women in other countries have rights and access to. Particularly within the fields of education and employment, women are deprived of access to these opportunities. This lack of equality led to education and employment initiatives for Afghan women so they can freely have access to government, military and church positions.
Unfortunately, the Afghan government fails to support women's rights in Afghanistan. This failure ensures there is still a sizable chance the fight for women's rights will continue to stagnant or even regress. However, the current fight for women's rights and opportunities in Afghanistan progresses.
Government and the Taliban in Afghanistan
The Taliban maintains a lack of support for women's rights in Afghanistan. This lack of support caused controversy among women and the Taliban. The Taliban has a history that displays violence against women and young girls and lacks support for women's rights. Also highlighted is the failure to support basic human rights in Afghanistan. Amongst these rights are education and employment, which are two of the main issues for women living in Afghanistan.
The Afghan government is inconsistent in its support of women's rights. Recently, some administrations have avoided or turned their backs on the issues that are plaguing women in their country. This lack of support from their government on issues such as inclusion in government, education and employment only hurts the campaign of women to improve their situations and gain basic rights. The Afghan government has been inconsistent in its support. Fortunately, this has only made activists fighting for women's rights rally together stronger and continue to gain allies.
Education and Employment Initiatives
Women and activists do have a few allies who are willing to help ensure that women receive their rights and have the chance to gain more opportunities in Afghanistan. The European Union and the United Nations Development Programme (UNDP) are two major allies for women in Afghanistan. Both partners are working on education and employment initiatives for Afghan women.
As a part of the initiative, the EU and UNDP seek to provide women with more opportunities for education and employment by helping women flourish in college or higher education. Both parties are ensuring that women can graduate from schools and receive training and education in their fields and degrees. This initiative will send at least 50 women to schools where they can excel in fields of agriculture and statistics between 2020 and 2025. The goal of this initiative is to ensure that women will experience key economic growth and opportunities within the next five years. This initiative between the EU and UNDP will help create more equity for Afghan women.
Another ally for women's rights in Afghanistan is the nonprofit organization Women for Women International. Women are behind this organization, acting as the driving force for change in Afghanistan. Women for Women International believes in empowering women to be at the center of change for the education and employment initiative for Afghan women. Empowered, they will have a better chance to sustain change and development. This organization brings women together to address concerns such as economic and social obstacles that continue to cause issues for women in Afghanistan. It believes that the knowledge and awareness that it shares will empower women to help change their scenarios in Afghanistan.
Looking to the Future
The fight for women's rights in Afghanistan is lengthy and continuous. The inconsistent support for their rights by the Afghan government and the Taliban's actions have only made it harder to overcome the discrimination and lack of women's rights. The good news is that women in Afghanistan have allies that support the education and employment initiatives for Afghan women.
The EU and UNDP are fighting for women's rights by granting 50 women education. Education will help women access future opportunities for employment. This initiative is determined to help women economically in Afghanistan. Women for Women International assists women in Afghanistan as well. It encourages women to empower one another and bring awareness to women in Afghanistan who are seeking equality. The EU and UNDP believe this is the center of change for women in Afghanistan and will ensure that continued success can be achieved by women.
https://www.borgenmagazine.com/education-and-employment-initiatives-for-afghan-women/
--------
Women of Anatolian nomadic tribe lead yearly migration
June 20 2020
The Sarıkeçili tribe treks the cool highlands of Anatolia every year come spring, grazing their animals, and the women of the Yörük Turkic ethnic group are indispensable to this tough migration.
Continuing their stay in the cool and fertile Tuğlu Plateau in the western Anatolian province of Afyonkarahisar's Hocalar district, Sarıkeçili nomads spend every day working in makeshift tents in difficult living conditions.
Yörük women wake up every morning with sunrise and prepare breakfast for the shepherds who will climb pastures to graze their goats.
Later, women start housework, cook and make cheese from milks, complete milking the goats returning from the pastures towards sunset for use in cheese making the next day.
"This lifestyle continues the same for six months of the year," Firdevs Şahin, a Yörük woman, said.
"Our only source of income is from small ruminants and the products we obtain from it," added Şahin.
The Sarikeçili are a tribe within the Yörük group, a semi-nomadic pastoral Turkish people that is one of the oldest in Turkey. They have been crisscrossing Anatolia for centuries.
https://www.hurriyetdailynews.com/women-of-anatolian-nomadic-tribe-lead-yearly-migration-155833
--------
Muslim woman arrested in Miami protest forced to remove hijab for booking photo
June 20, 2020
By Wilson Wong
A Muslim woman arrested during a Black Lives Matter protest in Miami was forced to remove her hijab for a booking photo, which a Muslim civil rights advocate called a "severe violation of religious freedoms."
It also prompted supporters to start an online petition demanding justice for Alaa Massri, 18, one of seven people arrested June 10 during a peaceful protest against racial injustice. The arrests occurred after demonstrators spray-painted the Christopher Columbus and Juan Ponce de León statues in Bayfront Park, the Miami Police Department said in a statement.
Protestors covered the face and hands of Columbus in red paint and spray-painted "BLM" and "George Floyd" at the base. The demonstrations turned chaotic when officers arrested the vandalism suspects. The police department said in a news release that some demonstrators assaulted officers and damaged a police vehicle.
"City of Miami, we support peaceful protests but there will be zero tolerance for those who hide behind the peaceful protestors to incite riots, damage property, and hurt members of the public or our officers," department officials said in a statement.
Massri did not immediately return a request for comment Friday, but a Change.org petition said the college student was aiding injured protesters before her arrest. The petition had received more than 45,000 signatures as of Friday afternoon.
Massri was arrested on suspicion of battery against a police officer, resisting an officer with violence, and disorderly conduct, according to her arrest report. At the Turner Guilford Knight Correctional Center in Miami, her booking photo was taken without her hijab, which was not returned to her for the seven hours she was held there, according to the petition.
But a spokesman for the Miami-Dade Corrections and Rehabilitation Department said Friday that policies are in place to accommodate people who wear head coverings for religious reasons.
"Arrestees, who claim or appear to be of a particular faith, are allowed to keep their head-covering once it has been searched for contraband and the booking photograph has been taken," said Juan Diasgranados, public affairs manager for the jail.
Omar Saleh, an attorney for the Council on American-Islamic Relations, a Muslim civil liberties and advocacy group, said that removing religious head coverings during booking procedures — whether a hijab, yumalke, or turban — is a "severe violation of religious freedoms."
Facilities enforce religious rights differently across Florida, Saleh said, adding "Miami does not have specific booking procedures relating to Muslim women wearing a hijab."
He said removing religious head coverings during booking procedures violates the Religious Land Use and Institutionalized Persons Act, a federal law that protects the religious rights of inmates, unless officials can demonstrate that removing them is necessary to achieve a compelling government interest.
"We are committed to ensuring that individual's faith-based beliefs and practices are respected and will review this incident to ensure compliance with our policies and this commitment," Diasgranados said.
The petition demands the department not pursue charges against Massri and take down her booking photo from online databases.
"It's not isolated. We've heard it before, and there have been lawsuits filed across the nation to rule this practice as unconstitutional," Saleh said, citing a few jurisdictions in California and Portland, Maine.
In April, a Muslim woman filed a federal civil lawsuit in Yonkers, New York, claiming she was forced to remove her head covering before taking her booking photo last August. Ihsan Malkawai was arrested on "false allegations of abuse," which were later discovered to be unfounded, and was without her hijab for 36 hours until her husband bailed her out of jail, the lawsuit said.
"This isn't treatment that's unique to Muslims, but it's one where Muslim women who wear hijabs certainly bear the brunt of," Saleh said. "There needs to be change."
https://www.nbcnews.com/news/us-news/muslim-woman-arrested-miami-protest-forced-remove-hijab-booking-photo-n1231607
--------
Women's Participation In Sports In Saudi Arabia Rose By 149 Percent Since 2015: Minister
20 June 2020
Women's participation in sports in Saudi Arabia has risen by about 149 percent since 2015 as a result of the Kingdom's wide-reaching reforms over the past few years, according to Sports Minister Abdulaziz bin Turki al-Faisal.
"We've seen an increase of active women participation in sports by about 149 percent from 2015 till today. Only five years ago, women were not allowed to participate in the street but it's a completely different ball game today," the minister said during a webinar organized by the London Business School's (LBS) Riyadh Chapter.
In recent years, the Kingdom has made changes to several government policies and promoted the inclusion of women in sports in both professional and recreational activities, he added.
For all the latest headlines follow our Google News channel online or via the app.
Over the past five years, 22 women's national teams have participated in various competitive regional games, the minister said.
In February, Saudi Arabia launched its first women's football league, known as the official Women's Football League (WFL).
Female equestrians were also allowed to ride alongside male equestrians for the first time in the Kingdom in December 2019 at the Diriyah Equestrian Festival.
The developments in the sports sector are all part of Saudi Arabia's Vision 2030 plan – a sweeping set of reforms that aims to diversify the country's economy.
https://english.alarabiya.net/en/News/gulf/2020/06/20/Women-s-participation-in-sports-in-Saudi-Arabia-rose-by-149-pct-since-2015-Minister.html
--------
Years After Liberation, Syrian Women Still Trying to Recover From Daesh Brutalities
JUN 19, 2020
It has been four years since Turkey launched its first operation in northern Syria, Operation Euphrates Shield, with an aim to clear the region of terrorist elements such as Daesh. However, despite the elapsed time, locals, especially women, in the liberated Syrian provinces still struggle to leave behind the trauma of the Daesh occupation as memories from that time continue to haunt them.
Turkey's Interior Ministry recently released a booklet on humanitarian security in liberated northwestern Syria which sheds light on the women's suffering in the region. The booklet makes a comparison between the past and the present in an attempt to analyze Turkey's contribution to humanitarian security in the region. The booklet, which includes interviews with about 300 Syrians from the provinces of Azaz, al-Rai, Jarablus, al-Bab, Afrin and Jindires, particularly focuses on the social, economic and psychological troubles that Syrian women faced during the Daesh occupation.
One of the main problems that the interviewed women addressed was the inability to access health services due to Daesh's restrictions. According to the statements, women were only allowed to be treated by female doctors, which limited their health access remarkably due to the lack of female doctors in the region.
"During the Daesh occupation, we were not allowed to go out. Many patients died since they were unable to leave the house," a woman from al-Bab said, adding that there are now three or four doctors in al-Bab, enabling them to go and receive treatment whenever they need it.
Another woman expressed that they were unable to see a doctor even if they were allowed to because of the constant violence on the streets. During the Daesh era, medical procedures could only be done in al-Bab, the woman added.
According to the booklet, most of the health problems faced by the women in the region stem from bearing children at very young ages. This is why a lot of attention is focused on the health of women and infants. Thanks to the normalization steps Turkey has taken in the region, there have been reasonable improvements in women's and children's health, the report says.
A woman from a health center in Jindires said that thanks to Turkey's efforts, the locals are now able to receive information on how to stay healthy and avoid diseases.
The Daesh terrorist group held vast swaths of territory across Syria and Iraq from its rise in 2014 until its military defeat last year.
Turkey was one of the first countries to recognize Daesh as a terror group in 2013, soon after it emerged. The country has since been attacked by Daesh terrorists numerous times, including in 10 suicide bombings, seven bombings and four armed attacks that killed 315 people and injured hundreds of others.
In response, Turkey launched military and police operations at home and abroad to prevent further terrorist attacks.
Since 2016, Turkey's Euphrates Shield and Olive Branch operations in northwestern Syria have liberated the region from YPG/PKK and Daesh terrorists, facilitating the return of 400,000 Syrians who fled the region amid terror threats.
Torture as common practice for Daesh
When it comes to personal security, the booklet says that during the Daesh occupation, people were being executed in the streets while some women were enslaved and children were forcibly recruited.
Torture was a common practice among Daesh terrorists, so much so that a public building in Jarablus turned into a torture center at that time, the report says.
Extrajudicial executions were another practice for Daesh, which operated in a "denouncing" system that punished many innocent people without any proof of a crime committed.
A local security forces member in al-Bab stated that they were constantly "facing death" during the Daesh era.
"A woman was punished for standing in front of her house although she was wearing a headscarf. She was forced to receive religious education. A man was punished by being forced to run as the terrorists were shooting toward his feet. He was punished for his wife's crime, which was not wearing a black veil," he said.
"They (Daesh terrorists) were demanding the women they like from their families. If the father was to object, they would either arrest or kill him. They manage to get that woman somehow," said another member of the local security forces.
She added that after three months of marriage, they would marry off the woman to another Daesh terrorist by simply saying, "I divorce her," and this cycle was repeated over and over again.
"The women were being used sexually at all times," she highlighted.
Daesh's expansion in Iraq and Syria featured horrendous public abuses. Largely unseen but equally egregious were the widespread detentions and kidnappings by the terrorist organizations, in which thousands of people were snatched from their homes, cars and at checkpoints and subsequently went missing. The terrorist organization also frequently filmed its members executing the people it abducted or detained. Daesh systematically committed torture, rapes, forced marriages, extreme acts of ethnic cleansing, mass murder, genocide, robbery, extortion, smuggling, slavery, kidnappings and the use of child soldiers.
https://www.dailysabah.com/politics/war-on-terror/years-after-liberation-syrian-women-still-trying-to-recover-from-daesh-brutalities
--------
Sexual threat against HDP leader's wife backfires as Turks rally around women
Jun 20, 2020
On June 13, Turkish social media was rocked by a crude threat from a pro-Justice and Development Party (AKP) account. The target was Selahattin Demirtas and his wife, Basak Demirtas. Demirtas, the former chair of Turkey's pro-Kurdish People's Democratic Party (HDP), has been imprisoned since Nov. 2016 along with his co-chair Figen Yuksekdag.
Vedat Muti tweeted that Demirtas "has been in prison while his wife is free," saying, "She must be hot by now, one should extinguish her fire."
Muti has been arrested, said Mahsuni Karaman, attorney of the Demirtas family. The complaints against him included intimidation, slander, incitement and sexual threats, Karaman explained.
Muti's Twitter account was suspended. Screen shots provide ample information about his status as an "AK troll," as certain pro-AKP social media users are called. These accounts often display flattering images of Turkish President Recep Tayyip Erdogan and most of their followers are others like them.
A hashtag meaning "We stand with Basak Demirtas" trended and political figures spoke in solidarity with the Demirtas family, condemning the tweet. Justice Minister Abdulhamit Gul denounced the tweet as well.
Female politicians and journalists who are critical of the government are frequently subjected to sexual objectification, rape threats and slurs from such accounts. It's credited as one of the reasons the number of women in politics is dwindling in Turkey.
One of the strongest voices against the offensive words has been that of Meral Aksener, leader of ultra-nationalist IYI or Good Party. In a searing speech at the parliament, Aksener said bluntly, "This corruption will continue until the people who govern over us take a clear stance against it. So I am calling the government and especially President Erdogan to make their point of view known."
Aksener asked that "dirty hands" be kept off women and said these sorts of explicit sexual threats owe to the indifference of the government.
Such sexual comments about "lonely" women can have grave consequences. If a woman is singled out as "lonely," meaning without a husband — divorced, widowed or simply home alone — she becomes a social anomaly. A patriarchal society dictates a woman's place is with a man, and "lonely" women are the pariahs. Not virgins but still of childbearing age, they are associated with promiscuity and their sexuality must be controlled. This perception forces women to remarry as soon as possible, even into "levirate" marriages, where widows are compelled to marry their dead husband's brothers.
This sort of entitlement can lead to rape and even murder. Systemic rape often goes unreported as women suffer in silence. In the notorious case of Nevin Yildirim, for example, she quietly suffered rape for three years while her husband was working out of town for long periods of time. She got pregnant by her rapist and the town exploded in gossip. Yildirim murdered the rapist to defend her honor and was sentenced to life in prison.
The state's patriarchal Islamist ideology has made women's bodies vulnerable. In its logic, women are the property of men. Each political conflict is seen as a battle. When the battle is over, the winner can have the loot, including the women and girls. For example, after the July 15 attempted coup, pro-AKP social media posts claimed that the "wives of putschists are our trophies." During the referendum of 2017, an employee of Istanbul Municipality posted on social media that it was war, and when those who oppose the presidential system lose the referendum, "we can have their daughters and wives."
Suleyman Demirtas, younger sibling of Selahattin, told Al-Monitor, "These sorts of threats are made to further polarize society and keep women locked in the house and obedient to men at all times. The HDP champions women's struggle for equality, and it is not a gift or a blessing from the men. Kurdish women and women who are working in HDP's ranks have earned it all by themselves. If women are obedient and subservient to men, this helps the establishment to limit competition and turn women into servants of men at all levels."
It should be noted that although the HDP is a pro-Kurdish party, the movement embraces all ethnicities.
Gulistan Kocyigit, an HDP parliamentarian from Mus province, told Al-Monitor how meticulously the HDP and Kurdish movement have worked over the years to create an equal representation and a support network among female political activists.
"Our establishment has been designed around trust," Kocyigit said. "That encourages more women to participate in the political process. That is precisely what the AKP aims to block. These types of attacks signal to women, 'Politics is not for you.' They know and fear that women acting on their own free will are able to destroy the patriarchal system and mindset."
Kocyigit provided several examples of how Kurdish women who may have been housewives only a few years back are now at the forefront of the political process. Kocyigit also explained that although Kurdish women are specifically targeted, they are not the only ones that the larger system wants to control. "Even a white scarf my colleague [Remziye Tosun of Diyarbakir] wears to the parliament has been made an issue with the patriarchal political system," said Kocyigit. Tosun is not a part of the political elite and she is not rich, but she made it to the parliament as a part of HDP, Kocyigit emphasized.
Huda Kaya, a HDP parliamentarian from Istanbul, told Al-Monitor, "The words against Demirtas reflect the government's perspective on women. I have also been targeted with slurs and threats. In the last weeks, the threats have intensified from calling for making us into concubines to other offensive words I will not repeat. These minds rely on the AKP's power. They know there will be no consequences, no punishment for their acts or words."
"The Turkish state is a party to the European Council's Istanbul Convention, which aims to minimize violence against women. But in practice, this convention is not in effect," Eren Keskin, a prominent attorney and vice president of the Turkish Human Rights Association, told Al-Monitor. "All sorts of violence against women is political. And this is the perspective with which I approach the violence against Demirtas."
Within hours of Keskin's interview with Al-Monitor, unknown perpetrators broke into her house to threaten her.
https://www.al-monitor.com/pulse/originals/2020/06/turkey-sexual-threats-against-basak-demirtas-backfire-hdp.html
--------
URL: https://www.newageislam.com/islam-women-feminism/malala-yousafzai-graduates-oxford-eight/d/122171
New Age Islam, Islam Online, Islamic Website, African Muslim News, Arab World News, South Asia News, Indian Muslim News, World Muslim News, Women in Islam, Islamic Feminism, Arab Women, Women In Arab, Islamophobia in America, Muslim Women in West, Islam Women and Feminism