New Age Islam News Bureau
11 Apr 2017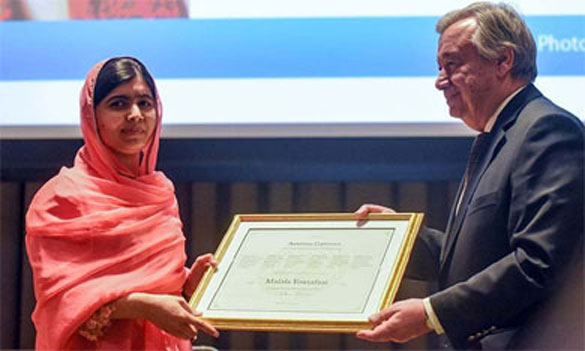 Malala Yousafzai attends a ceremony with United Nations Secretary General Antonio Guterres after being selected as United Nations messenger of peace in New York.
-----
• This Egyptian Muslim Woman Died Defending Christians On Palm Sunday
• Two Female Suicide Bombers Detonate Explosives In Nigeria
• Young Emirati Women Open To Challenges At Workplace
• Saudi Shura Council Denies It Will Support Motion To Allow Women To Drive
• Female Egyptian Officer 'Did Not Back Down' In Coptic Blast
• Muslim Gifts Cow To Daughter At Wedding
Compiled by New Age Islam News Bureau
URL: https://www.newageislam.com/islam-women-feminism/malala-receives-highest-un-honour/d/110726
--------
Malala Receives Highest UN Honour To Promote Girls' Education
11 APR 2017
UNITED NATIONS: United Nations Secretary General Antonio Guterres appointed Nobel laureate Malala Yousafzai a UN Messenger of Peace on Monday to promote girls education.
At 19, Ms Yousafzai is the youngest Messenger of Peace, the highest honour given by the UN for an initial period of two years.
She was also the youngest person to win the Nobel peace prize in 2014 when she was 17.
"You are not only a hero, but you are a very committed and generous person," Mr Guterres told her.
Other current Messengers of Peace include actor Leonardo di Caprio, for climate change, actor Charlize Theron, whose focus is prevention of HIV and eli­mination of violence against women, and actor Michael Douglas, for disarmament.
Ms Yousafzai has become a regular speaker on the global stage and visited camps in Rwanda and Kenya last July to highlight the plight of refugee girls from Burundi and Somalia.
The education activist came to prominence when a Taliban gunman shot her in the head in 2012 as she was leaving school in Swat. She was targeted for her campaign against efforts by the Taliban to deny women education.
"The extremists tried all their best to stop me, they tried to kill me and they didn't succeed," Ms Yousafzai said on Monday. "Now this is a new life, this is a second life and it is for the purpose of education." She now lives in Britain, where she received medical treatment after she was shot.
https://www.dawn.com/news/1326147/malala-receives-highest-un-honour-to-promote-girls-education
--------
This Egyptian Muslim Woman Died Defending Christians On Palm Sunday
By Carol Kuruvilla , Rowaida Abdelaziz
11 APR 2017
A Muslim police officer who died in the line of duty during a terrorist attack on Coptic Christians in Egypt is being hailed as a hero.
At least 44 people died, and more than 100 were injured, during bombings that targeted a Coptic cathedral and another Coptic church on an important holy day on the Christian calendar, Palm Sunday. The Islamic State has claimed responsibility for the attacks.
Brigadier General Nagwa El-Haggar was one of at least seven Egyptian officers killed on that day, three of whom were Muslim women. She was reportedly posted at the entrance to St. Mark's Coptic Orthodox Cathedral in Alexandria on Sunday, where the Coptic Pope Tawadros was leading a Palm Sunday mass. The suicide bomber attempted to enter the cathedral through a main gate, but was stopped by security officers, according to the state-owned news organization Ahram Online. The attacker then detonated the bomb outside the cathedral.
The Saudi Arabian news site Arab News reports that El-Haggar was conducting inspections on people entering the cathedral grounds when she saw her male colleagues struggling with the suspect. She was killed while rushing to help her colleagues.
Seventeen people died in the blast at St. Mark's Coptic Orthodox Cathedral, and 48 others were injured, according to Reuters.
Hours earlier, another suicide bomber had managed to slip past security at St. George's Church in Tanta. The attacker detonated a bomb at the altar, killing at least 27 people and injuring 78 others.
In addition to El-Haggar, two other female officers were killed in the attacks: Sergeants Asmaa Hussein and Omneya Roshdy, according to Daily News Egypt. These three women may be the first female officers in Egypt's police force to be killed in the line of duty.
In an interview with Dream TV host Wael Ibrashy, El-Haggar's nephew, Islam Fathi, said that his aunt was "known for her kindness."
"We are proud of General Nagwa," Fathi said.
Even though his aunt was Muslim, Fathi said she would sometimes say her prayers at the church.
"I say to our Coptic Christian brothers and sisters. Do not be sad," he said. "Muslims and Christians are one. It's not about Muslim attacking Christians. No. My aunt was a Muslim. She was a believer ... She was protecting Christians who were also praying in the Church."
In recent months, the Islamic State has ramped up attacks on Coptic Christians in Egypt. Christians make up 10 percent of Egypt's population. Sunday's attack have left some members of the community wondering whether Egypt's President Abdel Fattah al-Sisi has done enough to protect them.
Al-Sisi has declared a three-month state of emergency for the country, and ordered troops to help police secure public spaces.
http://www.huffingtonpost.com/entry/this-egyptian-muslim-woman-died-defending-christians-on-palm-sunday_us_58ebba3ae4b0c89f91204f1f
--------
Two Female Suicide Bombers Detonate Explosives In Nigeria
11 APR 2017
MAIDUGURI: Two female suicide bombers detonated explosives on the edge of a university campus in northeast Nigeria on Monday, blowing themselves up but causing no other casualties, disasters agency NEMA said. The bombers detonated their vests close to the perimeter fence of the University of Maiduguri at around 04:00 a.m. (0300 GMT), a NEMA spokesman said. There was no immediate claim of responsibility. Maiduguri is the city that has been worst hit by an eight-year-old insurgency by the Boko Haram group. It was the second suicide bombing there in three days. -Reuters
Two female bombers blew themselves up on Saturday at a mosque in the Jiddari Polo district on the edge of Maiduguri, injuring four people, said NEMA.
http://nation.com.pk/international/11-Apr-2017/two-female-suicide-bombers-detonate-explosives-in-nigeria
--------
Young Emirati women open to challenges at workplace
April 10, 2017
Dubai: Young Emirati women are more likely to step out of their comfort zones to advance their skills and build a good career path, even if it comes at the expense of starting with slightly a lower salary, participants at the Careers UAE job fair said on Monday.
Most fresh Emirati graduates at the career fair have certain expectations for a starting salary, which they said can be between Dh15,000 to Dh20,000, however, young Emirati women said they are willing to compromise if the company, public or private, will offer them a good working experience and the right coaching and mentorship.
Employers are also aware of the change in the mindset of young women and say recent trends show that the younger generation of Emirati women are more open for challenges and are expanding their horizons.
Amna Makki, a 23-year-old Emirati communication engineering graduate was among the huge number of Emirati women who flocked the halls of Dubai World Trade Centre on the second day of the three-day fair to meet with employers and apply for vacant positions.
"I don't mind if it's a private or government job, but I do have a starting salary in mind which is Dh15,000," she said. "I like to go for something within my specialisation, and if I found an offer in a company that would be willing to give me proper training but with a lower salary, I'd go for it."
Makki said that as a fresh graduate, she believes she needs to build her experience and skills. "It's a bonus for me and at the same time I will benefit more in the long-run."
Echoing a similar opinion, Fatima Jaafar, 23, Zayed University graduate, said: "I studied psychology as a major and based on the market, I know that my starting salary should be Dh15,000, but getting the right training is important for me at this stage because I don't have any experience."
Jaafar let go of job opportunities outside her field because she said she wants to build a good career in what she likes to do.
Emirati women accounted for 82 per cent of active jobseekers in the Ministry of Human Resources and Emiratisation's database, figures revealed in a report conducted by Hopscotch.ae recently.
The report showed that women seeking to join the workforce feel the need for support in terms of flexibility (79 per cent), competitive pay (58 per cent), childcare (53 per cent), maternity leave (49 per cent) and mentorship and training (46 per cent).
Salma Al Zaabi, for example, a mother in her early 20's, graduated as a health service administrator. She said that she left her previous job because she was unhappy with the shifts. She has an Dh18,000 salary in mind.
"As a mother, it can be challenging for me in this case to focus on the salary instead of the working hours because I'm a mother. I'm open to anything in the public or private sector."
Asim Amiri, Emiratisation business partner at the Al Futtaim business conglomerate said based on recent trends, young job applicants, especially females, are mostly compromising flexible working hours for jobs that offer training that lead to faster career advancement.
"They are better at accepting the private sector's timings and are more focused on how they can progress in their careers and reach high positions. Before, Emiratis focused on finding a good job with a good salary and flexible working hours, but as the country is advancing, their vision has expanded," he said.
Amiri added that young Emirati women are committed to their jobs and feel engaged at the workplace. "Emirati women also mostly looked for office-jobs, but now they don't mind positions outside the office." He mentioned an example of a Emirati woman trainee who became a manager in three years.
Noora Al Haddad, Emiratisation Specialist at Al Rostamani Group said a huge number of young Emirati women have been applying at the fair since it opened.
"They are eager to know about the jobs on offer in the private sector and the timing is not a big issue for them anymore," she said. "We noticed that they are ready to accept more challenges that they used to see as barriers before."
The 17th edition of Careers UAE is being held until Tuesday as public and private organisations reveal a wealth of job opportunities for Emiratis across more than 15 industries.
http://gulfnews.com/news/uae/society/young-emirati-women-open-to-challenges-at-workplace-1.2009042
--------
Saudi Shura Council denies it will support motion to allow women to drive
April 10, 2017
Manama: A Saudi Shura Council member has rejected claims that the body would discuss and support a motion to allow women to drive in the country.
Sami Zaydan says it's a "social issue" not a legal one and the Shura Council was not the appropriate forum to discuss the matter.
Reports last month claimed that the Shura Council, where women hold 30 of its 150 seats, would back the motion.
"The whole matter depends on a high decision. I personally encourage such a move that would equate Saudi women with their sisters in the other Gulf states," he told the London-based daily Al Hayat.
The Shura Council prerogatives only deal with discussing and amending laws, he explained.
There is no law preventing women from driving but proponents of maintaining social traditions have blocked women from taking the wheel.
Women are allowed to drive in the other GCC countries — Bahrain, Kuwait, Oman, Qatar and the United Arab Emirates.
The Council spokesman, Mohammad Al Muhanna, also denied that the body would take up the issue.
Several women have defied social tradition, often times filming themselves while driving cars and sharing it on social media, in order to challenge social norms.
http://gulfnews.com/news/gulf/saudi-arabia/saudi-shura-council-denies-it-will-support-motion-to-allow-women-to-drive-1.2008872
--------
Female Egyptian officer 'did not back down' in Coptic blast
10 April 2017
JEDDAH: Three women Egyptian police officers died in Sunday's bombings of two Coptic Churches, the first females to die in the line of duty from the Egyptian police force.
Egyptian Interior Ministry said that Brig. Gen. Nagwa Al-Haggar, 53, died heroically when she rushed to the aid of her male colleagues to prevent a suicide bomber from entering Church of St. Mark's in Alexandria. The attacker detonated his bomb, killing Al-Haggar and Major Emad Al-Rakaybi.
The two other female police sergeants, Asmaa Hussein and Omneya Roshdy, were among a total of seven police officers killed on Monday.
Sgt. Asmaa Mohamed, a colleague of Hussein and Roshdy, told CBC channel that one of her colleagues was planning to get married in a month, while the other left two daughters behind. "But, despite everything, we continue to be on duty— whether me or my colleagues," Mohamed said.
Details on how the other two female officers died were not immediately available.
A security source said that Al-Haggar "is considered the first woman to be killed during duty in the female police force in the history of the Interior Ministry," Egyptian media reported.
Due to the nature of Al-Haggar's work, she never expected to become a victim of a terror attack.
For several years, she worked peacefully with almost no great risks in the Work Permits Department at the Security Directorate of Alexandria. She was then summoned to secure the Church of St. Mark in Alexandria on Sunday.
Al-Haggar was assigned to be in charge of inspecting people entering the church and to maintain the security of worshipers arriving for Palm Sunday services.
Al-Haggar was conducting her inspections when she observed Major Al-Rakaybi and other police officers struggling with a man who was attempted to break into the church. Al-Haggar ran to Al-Rakaybi to assist him when the terrorist detonated his bomb, killing all Al-Haggar, Al-Rakaybi and other officers.
Al-Haggar's picture along with Al-Rakaybi were posted on the official Facebook page of the Egyptian Ministry of Interior with a caption: "When the terrorist was exposed by the security forces, he blew himself up with members of the designated security service outside the church, resulting in the martyrdom of a number of police officers from the Security Directorate of Alexandria."
Other male police officers killed in the attack were Essam Adeeb, Mohamed Ibrahim and Mohamed Hassan.
Al-Haggar was close to the fight and did not back down despite the danger that began to emerge in the place, according to Egyptian media.
Al-Haggar comes from a family of police officers — married to a major general and a mother of a captain. She graduated from the Police Academy in 1987.
Last year, Al-Haggar lost a son, Mahab Ezz, who was a student in the Police Academy. Mahab died of a heart attack.
Al-Haggar martyred shortly after marrying off her eldest son, Mahmoud Ezz, which aroused the sympathy of many Egyptians on social media.
Daesh has reportedly claimed responsibility for the twin attack.
Muslim extremists have increasingly targeted Egypt's Coptic Christians, who are the largest ethno-religious minority in Egypt and consists roughly 10 percent of the country's population.
Earlier this year, Daesh released a video footage vowing to liberate Cairo and bring explosives. "To my brothers in captivity: rejoice, you believers, do not falter or grieve," the jihadist said in the video. "I swear to God we will very soon liberate Cairo and free you from captivity. We will come bearing explosives. I swear we will, so rejoice you believers."
http://www.arabnews.com/node/1082276/world
--------
Muslim gifts cow to daughter at wedding
Apr 11, 2017
ROHTAK: In possibly the first such instance in Haryana, a Muslim man gave a cow to his daughter as a wedding gift on Monday during the `nikkah' (marriage) at Kharkhodda village of Sonipat district.
Noor Khan, father of the bride, said his daughter loved cows and used to offer bread and jaggery to any cow that she came across. "Once my daughter Gulshana even urged me to keepone at our house, but I could not do so due to lack of space," said Khan.
The indulgent father, however, promised to give his daughter a cow as a wedding gift. He kept his word on Monday by gifting her calf of a desi breed, which costs anything between Rs 11,000 and 15,000.
Talking to mediapersons, Gulshana said she was happy that her father fulfilled his promise. "I consider cow as a sacred animal and will not compromise on its well-being at my in-laws' house," said Gulshana. Dinesh Kumar, a close friend of Noor Khan, lauded the move. He said, "The government launches several welfare schemes related to cow protection but these fizzle out. We spend a lot of money on social functions like weddings and birthdays, but giving cows in a marriage is a good initiative and should be followed by everyone."
Praising the initiative, Sant Gopal Dass, who was one of the invitees at Gulshana's wedding, said religious scriptures espouse communal harmony. Dass, who has participated in several protests to protect cows, said if a Muslim family could gift a cow during wedding, others too should follow suit and cut down on wasteful expenditure.
http://timesofindia.indiatimes.com/city/chandigarh/muslim-gifts-cow-to-daughter-at-wedding/articleshow/58119641.cms
--------
URL: https://www.newageislam.com/islam-women-feminism/malala-receives-highest-un-honour/d/110726
New Age Islam, Islam Online, Islamic Website, African Muslim News, Arab World News, South Asia News, Indian Muslim News, World Muslim News, Women in Islam, Islamic Feminism, Arab Women, Women In Arab, Islamophobia in America, Muslim Women in West, Islam Women and Feminism