New Age Islam News Bureau
9 Dec 2014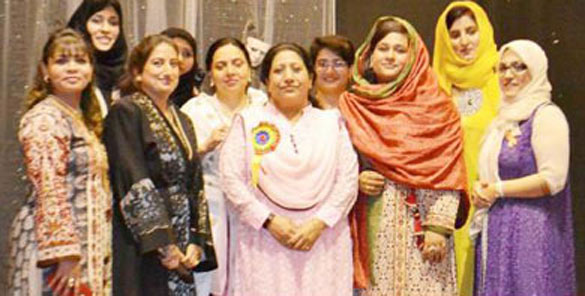 The ladies chapter of the Pakistan Writers Club pose for a photo with chief guest Lubna Khayyam
----------
• Women Educators Facing 'Numerous' Challenges in Saudi Arabia
• Pakistani Women Stand Together To Put an End to Violence against Women
• Encouraging Saudis to Let Women Work
• Gazan Female Entrepreneur Launches Ride-Sharing App
• Very Few Families Shun Saudi Women Prisoners after Release: Official
• NSHR Workshop Sheds Light on Women's Rights
• Shirin Ebadi: To Fight Fundamentalism and Gender Violence, 'Throw Books,' Not Bombs
• Some Veiled Women Encounter Suspicious Glances after Abu Dhabi Murder
• Female PTI Activist Fights Off Advancing Mob
• Palestinian Girl Gets Prosthetic Leg in Eastern NC
• Punish Culprits Who Abused Girl, Say Islamic Scholars of South India
Compiled by New Age Islam News Bureau
URL: https://www.newageislam.com/islam,-women-and-feminism/new-age-islam-news-bureau/malala-invites-five-inspiring-girls-to-nobel-peace-prize-ceremony/d/100400
-------
Malala Invites Five Inspiring Girls to Nobel Peace Prize Ceremony
09 Dec, 2014
KARACHI: Malala Yousafzai, the young campaigner for girls' education, has invited five inspiring girl champions to join her at the Nobel Peace Prize ceremony, a press statement from the Oslo-based Malala Fund said on Monday.
For this first-ever Nobel Peace Prize 'Girl Delegation', Ms Yousafzai will be joined by Shazia Ramzan and Kainat Riaz, her school friends from Swat who got shot along with her in an attack in 2012; Kainat Soomro from Sindh, Mezon Almellehan from Syria and Amina Yusuf from Nigeria.
The young women will be her special guests when she receives the award at the ceremony to be held on Wednesday.
"Though I will be one girl receiving this award, I know I am not a lone voice," the statement quoted Ms Yousafzai as saying.
"This Nobel Peace Prize is for all girls everywhere who want education. These courageous girls are not just my friends, they are now my sisters in our campaign for education for every child," she added.
Commenting on the invitation, Shazia Ramzan said: "I am very happy that Malala is receiving the Nobel Peace Prize. This is an honour for Malala, for all Pakistani people and for education. Thank you, Malala, for letting us share this special moment with you, our friend."
The ceremony to receive the award will be held in Oslo on Wednesday
Her friend Kainat Riaz said: "I am very excited that I am going to Oslo. I so wanted to be there when Malala receives the Nobel Peace Prize. I will always support her. This is a big honour for her, for us and for Pakistan."
On Oct 10, the Norwegian Nobel Committee named Malala Yousafzai and Indian children's rights activist Kailash Satyarthi as the 2014 Nobel Peace Prize Laureates in recognition of their struggle against the oppression of young people.
Know more: Malala invites Nawaz, Modi to attend Nobel ceremony
Ms Yousafzai is the youngest recipient of this honour at the age of 17.
According to AFP, visitors to the Nobel Peace Centre in Oslo can catch a reminder of the very different circumstances that led to Malala Yousafzai's rise in the international spotlight.
The centre has on loan the uniform the then 15-year-old Malala was wearing in 2012 when a Taliban militant shot her on a school bus in response to her campaign for girls' education.
"My school uniform is very important to me.... The day I was attacked I was wearing this uniform. I was fighting for my right to go to school," she said in a statement as the uniform was handed over to the centre on Friday.
"Wearing a uniform made me feel that yes, I am a student," she said.
"It is an important part of my life. Now I want to show it to children, to people all around the world. This is my right; it is the right of every child, to go to school."
She recovered after being flown for extensive surgery in England and has remained there with her family since — continuing both her education and activism.
http://www.dawn.com/news/1149676/malala-invites-five-inspiring-girls-to-nobel-peace-prize-ceremony
------------
Women Educators Facing 'Numerous' Challenges in Saudi Arabia
09 Dec, 2014
Women's sections at universities in the Kingdom have organizational, social, personal and financial challenges as well as a struggle to find qualified staff, according to a female dean at Prince Salman Bin Abdulaziz University.
Azizah al-Ruwais, dean of the university's preparatory year, said women's sections are challenged organizationally because female employees do not occupy high decision making positions in committees and administrative councils, Al-Watan newspaper reported.
Presenting her study, titled "Reality and Aspirations," on the third day of the Public Administrative Leaderships Conference in Riyadh at the Institute of Public Administration, she said: "They also have limited authority and are not involved in the strategic planning of the institutes, not to mention the poor communication between the male and female sections."
With regard to social challenges, she claimed society does not yet accept women in leadership positions and does not trust them.
"Society still does not accept women having meetings after hours," she said. The personal challenges women's sections face includes women not having much faith in themselves in a patriarchal society, she told the conference.
"They also face challenges in balancing work and family as well as coping with her biological nature."
The fourth set of challenges is financial as there are not enough equipment in the women's section facilities, she said.
"Moreover, the women's sections are allocated lower budgets than their male counterparts and the attention and care of the institute is directed toward the men's sections as they are at the forefront."
The last set of challenges has to do with qualifications, she said. "There is a shortage of qualified administrators in the women's section and a lack of awareness of the institutes' charters and regulations.
"As a result, there aren't any training programs to generate more qualified women."
Al-Ruwais said the Ministry of Higher Education needed to phrase its regulations in a way that ensured equal administrative rights to men and women.
Presenting a paper at the conference, Haila Al-Fayez, assistant professor of administration and educational planning at Imam Muhammad Bin Saud Islamic University, claimed that women empowerment at an administrative level at King Saud University and Imam University was "average".
http://english.alarabiya.net/en/perspective/features/2014/12/08/Women-educators-facing-numerous-challenges-in-Saudi-Arabia.html
------------
Pakistani women stand together to put an end to violence against women
09 Dec, 2014
RIYADH — The ladies chapter of Pakistan Writers Club (PWC-LC) marked the United Nations International Day for Elimination of Violence Against Women last weekend at the Embassy of Pakistan.
The evening featured arts and performances highlighting issues related to putting an end to violence against women across the globe.
PWC-LC Convener Dr. Wardah Qureshi presided over the function, which was hosted by Deputy Convener PWC-LC Dr. Erum Qalbani and PRO PWC-LC Aisha Khanum.
The evening also played host to Lubna Khayyam, wife of Pakistan Chargé d'Affaires; Najaat Soboh, disability advisor to the UN; Saida Oihabi, wife of UN Food and Agriculture Organization (FAO) official; Margaret Beisty, motivational speaker against domestic violence; as well as delegates from Netherlands, Norway, Singapore, Sri Lanka, Switzerland, Thailand, United Kingdom, United States and Uruguay.
The venue, decorated with black and white masks, clearly portrayed the theme of the day — victims and abusers.
"The blank faces represent the silent and anonymous inflictors of abuse in a society," said Asma Tariq, senior member PWC-LC. "We wanted to show how these abusers often lie hidden in plain sight and force their victims into silence as well."
The young girls walking the runway showcased the different forms of abuse that society perpetrates on girls and women.
Clippings were shown from Oscar winning documentary Saving Face, which featured the plight of acid attack victims and their inspirational stories of triumph against overwhelming odds.
In a play staged for the audience a young woman also struggled to find a happy ending,just like the women in the documentary.
The play, "A Tale Untold," produced and directed by Asma Tariq, told the story of a young woman who at the height of her happiness was chained, bound and thrown into despair by society.
The play concluded with how only with the help of other people the young woman fought her way back to life and sanity.
"It is always society which throws women into despair, and it is only society which can bring them back to life," said Madiha Noman, the event coordinator.
Ambreen Faiz presented a fitting and poignant eulogy to Parveen Shakir, one of Pakistan's prominent female poets and a well known writer of women and their status in society.
Shakir's words reflected the pain felt by the victims as well as the survivors of abuse when she wrote, "O, how these strangers bury me alive within these walls (and) bind me with chains of their honor."
These sentiments were also echoed by Margaret Beisty, a motivational speaker and survivor of domestic abuse, when she said that a woman's forced silence is what keeps her down.
She also went on to explain that often violence against women is not as dramatic as an acid attack.
"Most domestic violence goes unseen," said Beisty as she recounted her own moving tale of domestic abuse, as well as the inspirational strength of her mother that helped her whole family move past their painful ordeal.
Financial dependence on their abuser, according to Margaret, is one of the key reasons why some women are still trapped in abusive relationships.
She also recommended establishing refuge for those women who are not financially independent.
Guest of honor Saida Oihabi and guest speaker Najaat Soboh appreciated the efforts put forth by the PWC-LC.
Najaat also said that survivors shown in the play can encourage the victims to take a stand.
Khayyam congratulated PWC-LC on its promotion of art and culture amongst the Pakistani community, along with giving talented women in the community a platform to showcase their talent and creativity.
She acknowledged the importance of societies' roles in women's rights and elaborated the role played by the governments of Pakistan in safeguarding the rights of women.
"Gender equality is specifically guaranteed in the constitution of Pakistan," said Khayyam, adding, "Pakistan is moving forward legally and socially by creating awareness against any practices that cause violence and discrimination against women."
Qureshi also appreciated Kingdom of Saudi Arabia and King Abdullah in taking steps in the interest of women through opening more universities for girls as well as including women in the Shoura Council.
She also expressed her gratitude to the guests and thanked the event sponsors, and concluded the evening by presenting memento shields to Khayyam, Soboh, Oihabi and Beisty. A shield was also presented to PWC-LC Finance Officer Farah Ehsan for her tireless contributions.
The event concluded with the singing of national anthems of Pakistan and Saudi Arabia.
http://www.saudigazette.com.sa/index.cfm?method=home.regcon&contentid=20141209226893
------------
Encouraging Saudis to let women work
09 Dec, 2014
New York: Claudia Goldin, a Harvard professor, is not just an expert on working women. As one of the nation's most prominent economists, she also exemplifies the growing stature and independence of women in American society. So it was unusual to find Goldin covered in an abaya while meeting in Saudi Arabia not long ago with government officials in an opulent hotel that offered male-only seating areas and forbade women from using its spa.
Her trip was part of an effort by a group of star academics who have taken on a project with the Saudi government aimed at helping women there overcome hurdles that prevent them from getting jobs. For the professors — women who have researched the female struggle to advance in the American workforce — the situation offers more than culture shock. It presents a chance to step back in time.
"It's almost this stereotype of the way we were," Goldin said. "It's even more than that — because it's the way we were, on steroids, with a lot of luxury goods. It's an extreme version."
Saudi Arabia's oil reserves have helped make it one of the wealthiest countries in the Gulf region. At the same time, the country is socially conservative, with rigid cultural attitudes and restrictions on women that include preventing them from driving.
Goldin, who has written academic papers such as "From the Valley to the Summit: A Brief History of the Quiet Revolution that Transformed Women's Work," is now turning her attention from a nation with one of the highest rates of working women to a nation with one of the lowest. In doing so, she and others on the team are trying to understand how Saudi women can overcome the barriers to working — within the nation's cultural context.
"I think of it as being on Star Trek," Goldin said. "I'm helping another planet, but I'm having nothing to do with their culture. I'm accepting of their culture."
During their time in the capital city of Riyadh, Goldin noted, she and her colleagues were treated with respect. She sat next to the Saudi labour minister at a dinner and even held a menacing falcon in a nation where falconry, the "sport of kings," is the manliest of hobbies.
Saudi Arabia is home to 20 million Saudi citizens, as well as several million foreigners. As of last year, roughly 680,0000 Saudi women were employed, less than 11 per cent of adult women, in contrast to about four million Saudi men at work, or 60 per cent, according to government figures.
Maha K. Taibah, adviser to the Saudi minister of labour on human capital development, says that the government hopes to double the number of working women over the next few years. Policies to do so include building day care facilities near job sites and creating jobs for women in sectors like health care, manufacturing and information technology.
"Currently in Saudi Arabia, women perceive staying at home as the default," Maha said. "Our programmes at the ministry are eager to change that default to staying at home as an option among other options that may fulfil women's aspirations."
The Saudi labour ministry has enlisted Harvard's Kennedy School of Government to help find more jobs for women as part of a broad project to get more Saudis, men and women, to work in a nation that has long relied on a foreign workforce in the private sector.
Ambitious
"It's unprecedented how big and ambitious this is," said Jennifer Peck, an economics professor at Swarthmore College, who is working on the project with the Kennedy School.
The effort to find jobs for women could have big implications for Saudi society, which is why it is bound to stir controversy among the more traditional elements of the kingdom. If more women join the workforce, overall attitudes about them could begin to change, much the same as happened in the United States decades ago when women went to work in huge numbers, said Patricia Cortes, associate professor of markets, public policy and law at Boston University.
"Changes in the labour market pushed changes in norms or beliefs," said Cortes, who is working on the project with Goldin.
It is clear many more Saudi women want to work; about a third of those with bachelor's degrees report being unable to find a job. Many educated women say they are frustrated that they cannot put newly acquired knowledge and skills to work.
"On average, they are better schooled than men, but they have no labour market experience and no idea what you need to do to get a job," said Steffen Hertog, an associate professor of comparative politics at the London School of Economics who is also working with the Kennedy School.
The Kennedy School and the Saudi labour ministry are analysing data on the Saudi labour market and trying to come up with solutions for matching women to jobs, said Rohini Pande, a leader of the project.
Others involved in the project include Marianne Bertrand, an economist at the University of Chicago.
The project is an unusual one for researchers like Goldin who have spent their careers looking backward in history.
"I don't generally do stuff in real time," Goldin said. "I do stuff from decades ago."
Goldin is waiting on the Saudi government for economic data on families: who earns the money, how much they earn, where they live.
"We in the US have these answers in the current population survey of the census," Goldin said.
Echoes of America's economic and political struggles are apparent in the work the researchers are carrying out.
For instance, Goldin and her research partners are working on how to evaluate a government plan to hire more Saudi women for retail jobs in stores that sell lingerie, perfume and women's clothing. The challenge is complex.
Some women in Saudi Arabia are reluctant to take the jobs, viewed as foreigners' work. But the bigger problem is getting to work.
Saudi officials have created a pilot programme to offer transportation subsidies for taxis to women taking new jobs at one of Riyadh's shopping malls. But the cost of expanding that programme could be so expensive that government officials might as well create a public transit system. But would they need special, women-only buses? Or would women be relegated to the backs of buses?
Several dozen women last year operated vehicles in public in Riyadh, a move that was celebrated in October with anniversary protests and a social media campaign.
Goldin says she is accustomed to striking a detached, objective tone familiar to academia, but the work on Saudi women borders on activism, a notion she has yet to come to terms with.
"It could be seen that way, but we've had no interactions with women who want jobs, only with people who are world travellers or are members of the government," she said. "To the extent that is an activist role, it's a very odd one."
New York Times News Service
http://gulfnews.com/news/gulf/saudi-arabia/encouraging-saudis-to-let-women-work-1.1420536
------------
Gazan Female Entrepreneur Launches Ride-Sharing App
09 Dec, 2014
A young Gazan entrepreneur released a new ride-sharing application that allows citizens in the Gaza Strip to find nearby taxis and car-driving Facebook friends when connected to a Wi-Fi network, The Guardian reported Sunday.
The new application called "Waselni" was created in the summer by Mariam Abultewi who is now the first female CEO in Gaza.
"Drivers spend a lot of time there [al-Nuseirat refugee camp] trying to find the right passenger, and the passengers spend a long time in the street waiting for the right taxi," Abultewi said.
The startup has now around 2.000 subscribers and 70 drivers who all give a percentage of their Wassaleni-related earnings to the company.
Abultewi - who conceived the app in 2011 - launched the service in May, but when the Gaza conflict began over the summer, she halted the service.
"We now have happy customers, but recently we want to relocate Waselni to other markets, because Gaza is not stable," she told Al Arabiya News last month during the fifth global entrepreneurship summit in the Moroccan city of Marrakech.
Abultewi is now looking to start the service in Morocco.
http://english.alarabiya.net/en/media/digital/2014/12/08/Gaza-s-first-female-entrepreneur-launches-ride-sharing-app-.html
------------
Very few families shun Saudi women prisoners after release: Official
09 Dec, 2014
RIYADH – The number of families refusing to take in female prisoners after their release do not exceed 1 percent, according to a spokesman from the Directorate General of Prisons. Col. Ayoub Bin Nuhait told Makkah daily: "Many prisoners are shocked to be stigmatized by society after their release.
We are trying to raise awareness that released prisoners are no longer corrupted members of the society.
"The prison has taken care of rehabilitating them before releasing them back into society."
When a female prisoner is unwelcomed by her family, the directorate intervenes by assigning experts and researchers to look into the case.
The directorate is currently working with several government agencies to ensure that the released prisoners' transition back into society is as smooth as possible.
He said: "We also encourage and celebrate education. Nine hundred and seventy-eight released prisoners joined and graduated from 14 different universities in the Kingdom.
Last year we celebrated the graduation of 718 released prisoners, three of which were master's degree students."
The general directorate has been in support of alternative punishments to imprisonment.
"In 1985, the directorate set a regulation to hand down a lesser sentence to prisoners who have memorized the entire Holy Qur'an," said Nuhait.
Meanwhile, the general manager of the Directorate General of Prisons Maj. Gen. Ibrahim Al-Hamsy said as part of its preparation for remote court hearings, the directorate would install surveillance facilities in various prisons in the Kingdom by May.
http://www.saudigazette.com.sa/index.cfm?method=home.regcon&contentid=20141209226884
------------
NSHR workshop sheds light on women's rights
09 Dec, 2014
RIYADH – The National Society for Human Rights (NSHR) held a workshop on Saudi Arabia's contract with the Committee on the Elimination of Discrimination Against Women (CEDAW), Al-Hayat reported.
In order to write the first report to the United Nations General Assembly on the rights of Saudi women, NSHR wanted to establish a transparent agreement between CEDAW and the Kingdom.
Around 25 government directorates and civil service associations were invited to discuss the Kingdom's reservations against some of CEDAW's bylaws.
The attendees of the workshop were from ministries of Islamic affairs, education, higher education, interior, National Society for Human Rights, and Al-Nahda Society.
Speakers at the workshop included Thuraya Obaid, Faridah Binani, and Latifah Al-Shilan who all introduced the background of CEDAW, its mission and vision and the Kingdom's stance on its bylaws.
CEDAW has set bylaws to combat discrimination against women worldwide and promote gender equality.
In 2000, the Kingdom said it would aim to conform to all bylaws that conformed to Islam.
Accordingly, Saudi Arabia issued many regulations in 2003 in support of gender equality such as social insurance rights, health insurance rights and employee vacation rights.
Today, local associations are working on involving women in the promotions and marketing and sports industries.
The Kingdom has also supported and agreed to implement the committee's bylaw on equal rights in marriage, where men and women have the same rights in marriage and divorce, women are protected against forced marriages and a minimum age before a person could get married would be set.
The new policies ensured for women the security of maternal rights, support for family responsibilities, health and career services and academic scholarships.
The Kingdom has also worked on raising awareness of the important role of women in the economic and social sectors.
The Council of Ministers issued decisions to all organizations employing women.
The decisions stated that all institutes must have a women's section and the availability of well-equipped nurseries for infants in the workplace, women taking maternity leaves do not lose any labor rights, private companies are allowed to employ women and more sports and arts centers should be available for them to develop their talents and skills.
http://www.saudigazette.com.sa/index.cfm?method=home.regcon&contentid=20141209226888
------------
Shirin Ebadi: To Fight Fundamentalism and Gender Violence, 'Throw Books,' Not Bombs
09 Dec, 2014
With passion and humour, Iranian human rights activist and Nobel Peace Prize laureate Shirin Ebadi called for an intellectual response rather than military action against religious fundamentalism in a talk Thursday, Dec. 4, at Princeton University.
"What counts is to eliminate the grounds that these type of people thrive on," such as illiteracy, said Ebadi, who spoke in Farsi with friend Shirin Ershadi serving as translator. "Western countries should use the budget that they allocate to fight groups like ISIS to building schools. Instead of throwing bombs on ISIS, we have to throw books at them.
"We have all witnessed how the terrorists are scared of schools. Look at what happened to Malala Yousafzai," said Ebadi, referring to the Pakistani teenager who was shot by the Taliban for advocating for girls' education and who was a co-recipient of the 2014 Nobel Peace Prize.
Ebadi, who won the Nobel Prize in 2003, is a lawyer who has fought for democracy and human rights, particularly for women and children. Ebadi visited Princeton's Woodrow Wilson School of Public and International Affairs Dec. 3 and 4 as the 2014 Joseph S. Nye Jr. '58 International Lecturer. Her visit also was part of the Wilson School's Leadership through Mentorship program, in which prominent policymakers visit the school for several days to meet with students.
Introducing Ebadi, Wilson School Dean Cecilia Rouse called Ebadi "one of the world's notable champions of human rights" and said, "She has dedicated her life to protecting and defending Iran's most marginalized and vulnerable."
Ebadi was Iran's first female judge, but she and all other female judges were removed from their posts after Iran's 1979 revolution. She was able to return to private practice as a lawyer in 1992, defending many controversial political and human rights cases against the government. Using some of her Nobel Prize award funds, she established the Center for the Defenders of Human Rights in Iran. She has not returned to Iran since 2009 due to heightened pressure on human rights activists.
Updating the interpretation of religious laws
Ebadi began by talking about the widespread existence of discrimination and violence against women, listing examples of widows shunned in India, genital mutilation in Liberia, domestic violence in Italy and economic inequality in Finland, as well as legal inequality and terrorist kidnappings in Islamic countries.
"Unfortunately, I have to say, in all countries of our world and all of our societies, violence against women still exists. But it appears differently in different countries and different societies," she said.
Similarly, religious fundamentalism and violence exist in many countries, Ebadi said, giving examples of the persecution of Muslims in Myanmar, Chechnya and China. But as a Muslim woman, she said, she wanted to specifically address whether Islam and Shariah — Islamic law — call for violence against women.
At its birth, Islam afforded women more rights than they had in Arab countries, such as giving them the right to inherit property, she said. While laws governing the relationship with God, such as rules about praying or fasting, cannot be changed, those that deal with people's relationship to society should be modernized, Ebadi said.
For example, she said, adultery by women is not accepted in Shariah, but the penalty should be adjusted from stoning, which was prevalent 15 centuries ago, to financial penalties in a divorce, and should be applied for both men and women, Ebadi said.
"This way the general spirit of the law regarding adultery will be preserved but the punishment is changed according to the time that we live in," Ebadi said. "On the basis of the same argument, modern Muslims believe that they can change many rules of the Islamic law and bring them up to the standard of human rights.
"Muslims, and specifically Muslim women, expect the media in the West, the schools in the West, universities in the West, intellectuals in the West, to help them in this matter and bring their voice to the rest of the world," she said. She added, "Most importantly, governments that claim that they support human rights should not be supporting the fundamentalist governments that do not support women's rights."
Governments will not be able to defeat fundamentalist ideology with military action, pointing to the United States' 13-year fight against the Taliban in Afghanistan, Ebadi said.
"Young people should know that violence is contagious, and if we resort to violence, we will see violence," she said.
Instead, "we can and should live in peace and in friendship," Ebadi said. "This world may be like a dream today, but let's not forget that dreams have been the source of many movements in the world."
Students engage with Ebadi
In the question-and-answer session, freshman Omid Abrishamchian asked Ebadi what the United States' role should be in on the world stage. She said that as a leading power, the United States should accept and participate in international legal conventions, such as the International Criminal Court, and U.S. citizens should vote for politicians who respect international law.
"I liked the fact that she's very outspoken in her opinions, and she brought her answer to our level too, in terms of how we should vote," said Abrishamchian, who plans to major in operations research and financial engineering. "Anytime you have the chance to hear a Nobel Peace Prize laureate talk, it's an opportunity worth taking."
During her visit, Ebadi met with students over lunch, dinner and coffees; attended an undergraduate class, "Civil Society and Public Policy," taught by Stanley Katz, a lecturer with the rank of professor in public and international affairs; and had multiple one-on-one meetings with students during office hours. In total, about 125 students had the chance to meet with her in small, off-the-record settings to discuss her work, students' career paths and policy issues.
Magda Anchondo decided to attend the talk after being inspired by Ebadi during a lunch meeting the previous day. Anchondo, a Master in Public Affairs student, co-chairs the Gender and Policy Network at the Wilson School and her work focuses on adolescent sexual and reproductive health.
"I particularly liked her emphasis on discrimination and violence against women. I liked how she touched on it on a universal spectrum, and how she got into the crux of how it's one thing for Western governments to say that it's wrong and then to also collude with them in commercial engagements," she said. "Reproductive health has also been fraught with a lot of talk of discrimination against women in the United States and internationally, so it was good to get a more cerebral view of things that are going on rather than tackling a specific issue."
Leadership through Mentorship program visitors this fall have included former president of Ireland Mary Robinson, who is now the United Nations Special Envoy for Climate Change, and Princeton alumnus David Risher, president of World reader, a non-profit that aims to improve global literacy rates by providing e-readers to schools in the developing world.
The program continues in the spring semester with guests including former U.S. Secretary of Health and Human Services Kathleen Sebelius, environmental economist and Harvard University professor Robert Stavins, and social justice activist Sister Simone Cambell.
http://www.princeton.edu/main/news/archive/S41/80/51O87/index.xml?section=topstories
------------
Some veiled women encounter suspicious glances after Abu Dhabi murder
09 Dec, 2014
Abu Dhabi: The stabbing death of an American teacher in the capital is fostering wider repercussions on residents across the country as many women who don the traditional abaya and face veil are reporting increased distrust when they go out.
The slaying on December 1 of Ibolya Ryan, 47, in a Boutik Mall washroom last Monday (December 1) has not only rocked the nation and international community, but created a sense of fear among people, they say.
The distrust has been fuelled by word that Ryan's alleged killer was a veiled woman, as was seen in videos of the attack that were released by the UAE Ministry of Interior.
"I wear a headscarf myself, but am a little bit apprehensive about woman in face veils. That said, this shocking incident has led to a sense of unease for all women, whether they wear the headscarf, abaya or veil," said R.M., a Jordanian media executive in the capital.
Headscarves and face veils are commonly worn by Muslim women in the Arab World. While the headscarves and modest clothing are mandated by Islam, the niqab is not obligatory and is often worn due to traditional norms.
Women who wear abayas told Gulf News that they have received suspicious glances from security personnel and visitors at many malls across the UAE. Such instances have been reported not only in the capital but also in other emirates.
Public crimes such as the mall stabbing are unheard of in the UAE which boasts a strong record of security for all its people.
And to uphold this, law enforcement and intelligence officials conducted a swift and careful investigation that led to the arrest of the Emirati suspect within 48 hours of the brutal attack.
Gulf News investigates
Despite this, the fear persists, and perhaps it is most palpable at the scene of the crime.
When a Gulf News reporter donned an abaya and visited Boutik Mall, she was followed by security personnel. Many women also left a restroom when they spotted her inside, while others walked away when she tried to approach them.
The effect has also been felt in other cities. S.S., a Sudanese researcher, said she had been using a public restroom in a mall in Dubai when a woman walked in and demanded that all veiled women leave.
"The woman was perhaps joking, but I felt offended on behalf of all veiled women. The majority of women who wear abayas and the niqab are upstanding residents who are equally shocked by this incident, but unfortunately this has had far-reaching effects on them," said S.S., a resident of Ras Al Khaimah.
Another Dubai-based Emirati who wears an abaya said that she has come across people who are worried enough to support a ban on the niqab, despite the UAE's Arab Muslim culture.
One resident who has lived in the capital for more than 20 years said that for the first time, he is worried about encountering veiled women, especially in mall settings.
"It may sound unreasonable because this is the first such instance in the UAE, but I worry that there is no one checking on their identities. My mother and sister however also wear the abaya so I know that they too have been affected by the furtive glances from other people when they go out," Mohammad, 25, said.
R.M. suggested that malls and public settings include female security guards who can check on veiled women if required.
"We have had similar attacks in my native land of Jordan, and there is now added security. Perhaps this would be a better decision that an outright ban on the niqab, which many women are comfortable in across the Arab World," she added.
Officials at the capital's popular shopping facilities said they have not increased security following the incident.
"Though we have not increased our security management and systems recently, we are constantly upgrading our procedures and systems. Our premises are monitored by CCTV cameras, including loading areas and parking structures. And we employ some of the best manpower and technical security solutions that are audited regularly," said Nauma Thakur, general manager at Al Wahda Mall.
http://gulfnews.com/news/gulf/uae/crime/some-veiled-women-encounter-suspicious-glances-after-abu-dhabi-murder-1.1423829
------------
Female PTI Activist Fights Off Advancing Mob
09 Dec, 2014
ISLAMABAD: Even amidst chaotic scenes in Faisalabad, scenes of a lone woman fighting off an angry and advancing mob were the most dramatic.
Surrounded by government supporters in Faisalabad on Monday, Pakistan Tehreek-e-Insaf's Lubna Malik truly did fight like a cornered tiger.
Workers of the ruling Pakistan Muslim League-Nawaz surrounded and began advancing on Malik, the lone woman, at Ghanta Ghar Chowk, after she raised PTI's 'Go Nawaz Go' slogan during an interview with a television channel.
But Malik was not intimidated. Malik recalled the ordeal while speaking to The Express Tribune.
"I was in the middle of an interview with some TV channels when I raised the Go Nawaz Go slogan in response to PML-N workers' Ro Imran Ro slogan and they started gathering around me.
"They (PML-N workers) started using abusive language, picked up their sticks and started marching towards me," she added.
Malik who reached the venue for the address at 11:15 am says she managed to get her hands on a stick too. "I managed to get one stick with which I tried to stop them, at first, and then started beating them up to push them back."
Responding to a question, she said, "The police was deployed there but they did not come forward to rescue me," adding, "The police did not cooperate because it was taking PML-N's side."
The PTI leader who was seen swinging at the PML-N supporters with her stick as they gathered around her, claimed, "PML-N workers were following me wherever I was going, I had almost taken a complete round of Ghanta Ghar Chowk in a bid to reach my car, but they followed me."
The scene lasted for around four to six minutes but Malik boldly faced the rowdy PML-N workers, unflinching and determined.
The PML-N workers continued to gather her till PTI supporters and passers-by intervened and asked to let her go.
"It was then that the police came forward and joined the rescuers, including members of civil society and the PTI youth wing," she said.
Shifting her focus to the deadly clash which erupted between her party and PML-N workers, which claimed the life of one PTI activist, Malik said, "The government has taken the collusion course."
"This does not happen anywhere else in the world that the government starts protesting along with the opposition," she added.
Ironically enough, not only does the gritty Malik hail from a political family historically associated with the PML-N and the Pakistan Muslim League-Quaid in Sargodha, she is also the first female politician from her family.
Having studied Art at the National College of Arts, with a degree in ceramics, she has been a part of PTI for the past nine years. Previously, Malik was the district president of the party but is currently officiating as the party's Punjab Women Wing joint secretary.
http://tribune.com.pk/story/803586/cornered-tigress-female-pti-activist-fights-off-advancing-mob/
------------
Palestinian girl gets prosthetic leg in Eastern NC
Associated Press
09 Dec, 2014
GREENVILLE — Fourteen-year-old Hiba Shahin never had the chance to run, jump or play, but that soon will change.
Shahin, who came to Greenville from Palestine in the Gaza Strip about three months ago, will be leaving next week with a new prosthetic leg.
"I can jump. I can ride a bicycle. I can do whatever I want," Shahin said. "I feel so good, so free."
Shahin was born without a left leg, and throughout her life, she has been on crutches or in a wheel chair. While her siblings and friends ran through the neighborhood playing, she had to watch.
Then her family received a call from the Eastern North Carolina Chapter of the Palestine Children's Relief Fund (PCRF). It had found a doctor who would fit Shahin with a prosthetic leg.
PCRF is an organization in Kent, Ohio, that provides medical care to sick and injured Arab children in the Middle East, either by providing free services where they live or providing transportation, a place to stay and treatment in another country.
Heeba Sarsour, who lives in Greenville with her husband and four children, heard about the organization and started a chapter in eastern North Carolina. The group she gathered began trying to raise interest in the charity
"We started raising awareness and trying to find out how many people would be interested in being involved," she said.
Then they began to raise money and look for a doctor in the area willing to do the work for free. Their technique for finding the doctor was simple enough. They began calling offices on the phone and asked.
"Obviously we get denied, but there's always that chance that somebody is willing to take on a case," she said.
They found a clinic in Goldsboro. William Stauffer of N.C. Orthotics and Prosthetics agreed to their request, Sarsour said.
Since Shahin arrived, they have been making weekly trips to Goldsboro to fit and customize the leg. The doctor thought she might need physical therapy to get used the leg, but at the last visit, Shahin was able to put on the leg and begin using it.
She should be able to take the leg with her and return to the Middle East.
During the three months since Shahin has been living with the Sarsours, she has become like one of the family.
"She opens her house for me," Shahin said. "I like her and I love her so much, and I really like her husband, all of them."
For the Sarsour family, the project has been rewarding because it brought members of the Muslim community together in Eastern North Carolina to help children.
After Shahin returns home, they will start preparing to bring another child to the Greenville area for treatment. It may be a child with birth defect like Shahin, or possibly a child who was injured in the war or who needs treatment for an illness, she said.
"As long as we can find doctors willing to help, they'll send children," she said.
Last month, the group held a goodbye party at the Chick-Fil-A at 3020 Evans St. When owner Ben Dixon heard they wanted to hold the party there, he donated a portion of the evening's sales to the group.
As for Shahin, she is anxious to see her mother, three sisters and brother. Her father is a journalist in the region.
"I miss them so much," she said.
http://www.journalnow.com/news/state_region/palestinian-girl-gets-prosthetic-leg-in-eastern-nc/article_4ae039aa-7e78-11e4-9c3f-67f9135c6f04.html
------------
Punish Culprits Who Abused Girl, Say Islamic Scholars of South India
09 Dec, 2014
KOZHIKODE: The Darul Huda sexual abuse case in which an LKG student was abused by two youngsters at a school at Parakkadavu, near here, has put the AP Sunni faction headed by A.P. Kanthapuram Abubacker Muzaliyar in a fix.
The majority of Islamic theologians have come out against the Sunni sect for justifying the heinous act and supporting the attempts made by the head of the institution Perode Abdurahman Sakhafi to protect the real culprits. He had also openly blamed the victim and the family in his speech.
It may be recalled that Mr Sakhafi, one of the leaders of the sect, has been absconding since the police registered a case against him. Moves are also afoot to derail the investigation by changing the investigation team.
Noted religious scholars of various Islamic sects raised concerns over the way such culprits were protected in the name of Islam.
"The sexual abuse of a child is not a religious issue to be supported or protected. It is a criminal act which should be punished under the law of the land," Mr I.P. Abdussalam, state leader of the Mujahid movement, told DC.
"It is a shame for the entire community that such inhuman characters, who stood with the abuser instead of the victim, run schools in the name of Islam," he pointed out.
"I am afraid of the kind of religious education such shady leaders impart in institutions under them," he added.
Mr C.T. Abdurahim, educationist, Islamic scholar and patron of Dayapuram Educational and Cultural Centre, argued for better accountability of civil society. "Religious freedom is constitutionally ensured in our country and that only applies to matters of faith," he added.
"The concerns of the victim's family are the concerns of all those who believe in humanity," said Abubacker Faisy Malayamma, another leading light of EK Sunni faction.
"Such issues may occur in all institutions and we handle them in tune with the law of the land," said Hussein Madavoor, eminent scholar of Kerala Nadvathul Mujahidheen, another prominent Islamic group.
"I am not ready to attack any group at this juncture, but it is suspected that there were clear anomalies on the part of the institution in dealing with the issue," he opined.
http://www.deccanchronicle.com/141206/nation-current-affairs/article/punish-culprits-who-abused-girl-say-islamic-scholars
------------
URL: https://www.newageislam.com/islam,-women-and-feminism/new-age-islam-news-bureau/malala-invites-five-inspiring-girls-to-nobel-peace-prize-ceremony/d/100400