New Age Islam News Bureau
31 Oct 2014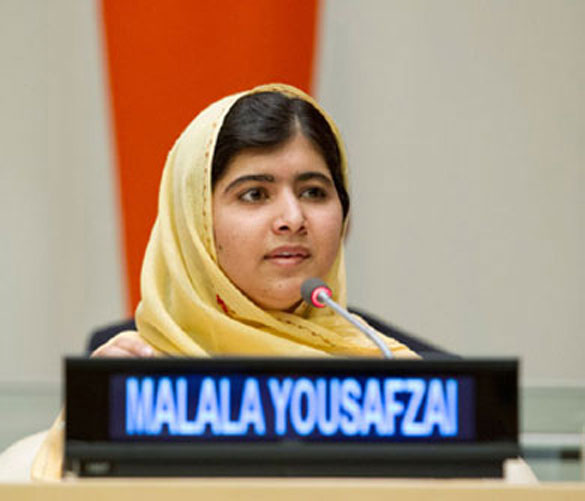 Malala Yousafzai. UN Photo/JC McIlwaine
---------
• Child Sex Abuse Rate Is Alarmingly High In Saudi Arabia
• British Muslims Urged To Wear Headscarf
• Minor Married Off For Rs 12 Lakh Property in Tamil Nadu, India
• Instagram: Big business for women in the Kingdom
• Muslim women's group to challenge fatwa against liberalism, pluralism
• Where's The Outrage Over Saudi Treatment Of Women?
• Women on Front Lines in Syria, Iraq against IS
• In the Words of Suaad Allama: The Plight of Iraqi Women Refugees
• Indonesian Judges Deny Woman's Lawsuit against Mother
• Bangladesh: Women's Reserved Seats Elections in December
Compiled by New Age Islam News Bureau
URL: https://newageislam.com/islam-women-feminism/malala-donates-prize-money-$50,000/d/99809
-----------
Malala donates prize money of $50,000 to Gaza schools
October 31, 2014
PAKISTAN's Malala Yousafzai has donated the entire sum she received from the World's Children's Prize to the reconstruction of schools in Gaza, UK's The Guardian reported Wednesday. The Nobel peace prize winner made the $50,000 donation after receiving the prize for the rights of the child in Marienfred, Sweden. "This funding will help rebuild the 65 schools damaged during the recent conflict. Innocent Palestinian children have suffered terribly and for too long," Malala said. "The needs are overwhelming – more than half of Gaza's population is under 18 years of age. They want and deserve quality education, hope and real opportunities to build a future," she said.
Malala said the money would be granted to the country through the U.N.'s relief agency UNRWA and aims to rebuild 65 schools. By winning the price, Malala becomes the first person to receive both the children's prize and the Nobel in the same year. — Al-Arabiya
http://www.saudigazette.com.sa/index.cfm?method=home.regcon&contentid=20141031222898
-----------
Child Sex Abuse Rate Is Alarmingly High In Saudi Arabia
31 October 2014
Studies show that the rate of child sexual abuse in the Kingdom is alarmingly high with one in every four children exposed to sexual harassment at some point in their early lives.
The Orphan Care Department in the Eastern Province organized recently a lecture for foster families entitled "Sexual Harassment and Adolescence" to inform parents about the importance of protecting children from sexual harassment.
The event took place on the premises of the Directorate General for Social Affairs in Dammam in the presence of 75 foster families.
Many papers were presented on the issue including a study conducted byWafa Mahmoud, assistant professor at King Saud University, who revealed that there was a high percentage of cases involving children being sexually abused. She pointed out that one out of every four children experienced sexual harassment.
Another study by Munera Abdulrahman showed that 49.23 percent of sexually abused children are aged 14 or below.
Sheikha bint Ouda Al-Ouda, a social and educational counselor, said that there were no accurate figures on the extent of child sexual abuse in the Kingdom owing to the topic being considered taboo with families fearing scandal or even being ostracized by close family members.
Al-Ouda explained that the main reason for the occurrence of child sexual abuse is the silence and the complacency of the family, particularly the mother. "The mother needs to play a more active role in monitoring drivers, housekeepers, and ensure that their children dress modestly. Some mothers don't mind sending children to corner stores, or with a relative, or letting them sleep with male members of the family, including the father," she said.
Al-Ouda recommended maintaining self-control after the occurrence of a sexual abuse case and refraining from blaming the child. "A child needs support and a feeling of being safe," she said, adding parents should not resort to self-blame but keep in mind the real aggressor who needs to be punished.
Al-Ouda also called for believing in what the child says and building trust in parents' relationships with their children. "The more the parents trust the child's story, the more accurate details they will be able to get from the child," she underscored.
She also advised parents to teach children to seek other sources of support. "If parents fear that they will lose control over their emotions, they need to take the help of a social guidance specialist," she said.
Reflecting on the ways to avoid sexual harassment, Al-Ouda said: "Get your children into the habit of reading verses from the Qur'an and help them to share an open relationship with you where they don't fear telling you about themselves."
She also urged schools to carry out their responsibilities to society by developing educational programs to raise children's awareness of sexual harassment in school and other places.
She urged school authorities and parents to provide their children with self-defense skills, good thinking skills and the numbers of the nearest police station.
http://www.arabnews.com/saudi-arabia/news/652861
-----------
British Muslims Urged To Wear Headscarf
October 31, 2014
LONDON - British Muslims are being urged to wear a new Hijab - as a challenge to extremist groups who 'spout hatred' about the Armed Forces.
The scarf is backed by mainstream Muslim groups including the Islamic Society of Britain and profits from its sale will be donated to the Poppy Appeal.
The scarf, which costs £22, will be launched today (Friday) to mark 100 years since the first Muslim soldier was awarded the Victoria Cross for his bravery during the WW1. Khudadad Khan, a machine gunner in an Indian colonial regiment, fought on the Western front during WW1 in support of the British Expeditionary Force. Sughra Ahmed, President of the Islamic Society of Great Britain, said he wanted to take attention away from the 'angry minority' of extremists who spout hatred.
'We're launching this today as it's exactly 100 years since the first Muslim soldier was awarded the Victoria Cross for bravery - Khudadad Khan from Pakistan, who was fighting for Britain on the Western Front in the First World War.'
'It's also a way for ordinary Muslim citizens to take some attention away from extremists who seem to grab the headlines.
'This symbol of quiet remembrance is the face of everyday British Islam - not the angry minority who spout hatred and offend everyone.
http://nation.com.pk/international/31-Oct-2014/british-muslims-urged-to-wear-headscarf
-----------
Minor Married Off For Rs 12 Lakh Property in Tamil Nadu, India
Julie Mariappan
Oct 31, 2014
CHENNAI: A minor girl from Salem was allegedly sold to a businessman for Rs 12 lakh. The Class X student of a government-aided school in Suramangalam was then married to the divorcee from Cuddalore on October 12. The incident came to light when the girl's mother complained to the Childline, seeking custody of her minor daughter. The marriage was solemnized in the presence of local leaders and families of both sides in Pennadam in Cuddalore district.
The girl's mother has now filed a habeas corpus plea in the Madras high court for the girl to be produced in court. The 14-year-old is the eldest daughter of Begum* and Sathik Basha. Babu, the son of a local politician, befriended the girl's advocate mother while frequenting her house to discuss a civil suit. He exerted pressure on her parents to get her married to him by threatening to commit suicide.
"He offered a property worth Rs 12 lakh and we could not withstand the pressure and agreed to the proposal," said Begum. The girl's parents then found that Babu had a two-year-old son from an earlier marriage.
On a complaint from Begum demanding to get back her daughter, the Cuddalore district social welfare office swung into action on Saturday. When the officials visited Babu's residence, they were informed that there was nothing to worry.
"Even the girl said that it was her parents who sold her to Babu. She did not show any sign of distress. As we had no proof to suggest she was a minor, we left," Cuddalore district social welfare officer R Bhuvaneswari told TOI.
Begum sent the girl's birth certificate to officials, who went back to Babu's house on Thursday night and rescued her with the help of police. "She will be produced before the child welfare committee shortly," Bhuvaneswari said.
http://timesofindia.indiatimes.com/city/chennai/Minor-girl-married-off-to-businessman-for-Rs-12-lakh-property-in-Tamil-Nadu/articleshow/44989089.cms
-----------
Instagram: Big business for women in the Kingdom
October 31, 2014
According to the latest statistics, Instagram has over 200 million active users. Everyone posting on the social networking site could, at least in theory, reach all of these. Thus, it is no wonder that soon following its launch in October 2010, Instagram became a popular tool for young Saudi entrepreneurs to market their products. Many even set up their business through the picture-sharing app. If it wasn't for Instagram, their businesses wouldn't have existed.
In the Kingdom, especially women have been taking their chances by turning their hobby into a rewarding career, and home-baked sweets are among the most popular fields.
Perhaps the most famous example is Ahlam Al-Najdi with 2.28 million followers. Al-Najdi became famous with her clay sculptures – mostly of mouthwatering food that makes you doubt and regret that clay is indeed inedible – and the stunning pictures she shot of them, but appears now to be into nail art as well. Although the 31-year old, who lives in Riyadh, does not directly sell her stuff through Instagram, she did write two books on her craft and earns enough to live from. "I think my work proves that with a bit of ambition and persistence, it's possible for any young person in Saudi Arabia to build a successful business," she told BBC News in an interview.
With nearly 3,000 followers, Hawazen Ismail isn't even close to the popularity some home cooks in the Kingdom enjoy. However, it is more than enough to keep her busy throughout the days and give her a decent sum of money. Ismail, known on Instagram under the name dorenta_gourmet, says she had been baking for a long time, but since she joined Instagram and saw other people having their own business she decided to give it a try as well. Initially, she sold a mix of sweet and savory products, but soon let go of her olive pastes and salad dressings to focus on her appealingly looking cakes. Her specialty? Pavlova cake with lots of fresh fruits on top.
"During regular months, I sell somewhere between 60 and 90 cakes per month," she says, adding that in Ramadan this number went up to 130 items, all of them prepared by her alone. "On some days, I was working for 14 hours on all the orders."
Her secret is the quality of ingredients, Ismail believes. "I only buy the best products and never skimp on the quality of the ingredients," she says, even if that means a higher production cost. As she uses many different products it is also not possible for her to buy in bulk, but the home chef thinks people appreciate the quality and do not mind paying a bit more.
Sarah and Hessah Al-Jalajel were born and raised in Riyadh. Learning their kitchen skills from their mother and grandmother, the two sisters began their home bakery nearly two years ago, baking sweets and selling them to family and friends. "We love mixing new flavors together and always seek for delicious sweets and learn how to make them," says Sarah, who adds that their family encouraged them to do something they loved and enjoyed.
Initially, they marketed their products on BlackBerry Messenger and WhatsApp, but when they joined Instagram and Twitter their business really started booming, with the former being the most helpful, according to Sarah, as it enables them to share pictures and chat with their customers in the comments section.
With more than 43,000 followers, SJ. Appetite can justly be called a success, and the two sisters are currently looking at how to expand. "It's a full time job, from 8 am until 5 pm. We have employees for purchasing, baking, cleaning, and soon we'll employ someone for promoting and marketing [our products]," relates Sarah. Meanwhile, the idea of opening a store is becoming increasingly feasible.
A major help while establishing themselves was the exchange of ideas and experiences with Saudi and expat businesswomen through Instagram. Up to now, the sisters say they advertise for other businesses their followers might need, including makeup, clothing, and designers.
Chef Vivian Vieira is a Brazilian-born but Jeddah-based chef who gives cooking classes at home and through WhatsApp. For her, Instagram is the main source of exposure to ladies who want to improve their cooking and baking skills. However, the 450,000 followers did not come easily. "In the beginning it was hard to get any followers," Vieira relates. She found that sharing her page with people like her – and, in turn, share their page – helped her enormously.
Currently, combining the business with taking care of her daughter is a full time job. "I give about one 5-day cooking class at home each month, and about two to three on WhatsApp." Workshops include cake decorations, cup cakes, cookies, French macaroons, but also Chinese, Arabic, and Brazilian cuisine.
The drawback of having a business through Instagram, she says, is that it takes a lot of time. "I need to translate recipes, make the dishes, photograph them, and upload them to Instagram." Another negative side is that people do not always appreciate the recipes or think she charges too much for her cooking classes. But with 7 ladies for each home cooking class and up to 50 joining her WhatsApp classes the Brazilian does not complain.
http://www.saudigazette.com.sa/index.cfm?method=home.regcon&contentid=20141031222856
-----------
Muslim women's group to challenge fatwa against liberalism, pluralism
BY ZURAIRI AROCTOBER 31, 2014
KUALA LUMPUR, Oct 31 ― A Muslim women's group is set to file a legal challenge today against a fatwa, or religious edict, by the Selangor Islamic Religious Council (Mais) declaring any persons or groups "professing liberalism or religious pluralism" as "deviants".
The challenge will be filed in the Kuala Lumpur High Court jointly by SIS Forum (Malaysia) Bhd ― commonly known as Sisters in Islam ― together with several individuals who have been labelled "liberals" before, including prominent feminist Zainah Anwar and former law minister Datuk Zaid Ibrahim.
"Liberalism" encompasses a wide array of ideas, but its proponents commonly espouse notions such civil rights, freedom of speech and of religion, free trade, private property, and free and fair elections.
Meanwhile, "religious pluralism" maintains that no one religion holds the sole and exclusive source of truth, often promoting harmonious co-existence and understanding between all faiths and their adherents.
The challenge today will name Mais and the Selangor Fatwa Council as respondents.
The fatwa, gazetted on July 31, 2014, singled out SIS by name, in addition to "any individuals, organisations or institutions".
It also deemed any publications with elements of liberalism and religious pluralism as "haram", or prohibited, and liable for seizure by religious authorities.
In addition, the fatwa urged local Internet regulator Malaysian Commission of Multimedia and Communications (MCMC) to block "any social websites" opposed to Islamic teachings and laws.
"Any individuals professing liberalism and religious pluralism teachings must repent and return to Islam's path," said the fatwa, which is effective since September 1 if not challenged.
Fatwas are opinions issued by Islamic clerics on a multitude of issues. Although these are advisory in nature, Malaysia occasionally gazettes some into law.
It is understood that SIS contends that, as a company registered under the Companies Act, it does not profess a belief and therefore is out of Mais' jurisdiction.
"It (the fatwa) violated natural justice, that is we were not notified nor given a chance to defend ourselves," SIS' programme manager Suriani Kempe told Malay Mail Online recently.
However, the challenge is expected to antagonise conservative Muslims, with PAS Youth declaring SIS as an "insolent" and "extremist" group out to challenge the monarchy and Federal Constitution today.
In addition, pro-clergy Muslim group Geng Ustaz Cintakan Ulama (Gang of Ulama-loving Ustaz) has also planned a rally against SIS in front of the Kuala Lumpur Courts Complex this morning, according to its president Norazli Musa.
Malaysia's religious authorities have long derided liberalism and pluralism, with Friday sermons nationwide claiming a conspiracy by "enemies of Islam" to manipulate Muslims through ideas like secularism, socialism, feminism and positivism, in addition to the two.
This was repeated by Prime Minister Datuk Seri Najib Razak, who in April said that Islam is now being tested by new threats under the guise of humanism, secularism, liberalism and human rights.
Just last week, the federal Islamic Development Department (Jakim) warned Muslims nationwide in its Friday sermon against falling for the arguments put forth by the liberal proponents of their creed as the ideas they propagate deviate from the true teachings of Islam.
Muslim groups have also set "liberals" in their crosshairs, with Ikatan Muslimin Malaysia (Isma) claiming in April that liberalism is the manifestation of Satan's struggle to mislead mankind.
The group has also consistently labelled liberalism, Christianisation, non-Muslim's chauvinism and religious pluralism as threats against the Malay-Muslim community.
http://www.themalaymailonline.com/malaysia/article/muslim-womens-group-to-challenge-fatwa-against-liberalism-pluralism
-----------
Where's the outrage over Saudi treatment of women?
October 29, 2014
Imagine a nation that treats a huge section of its population as little more than slaves. A nation where many are not allowed access to a full education or a professional career. Picture a place where some citizens can count themselves lucky if they are allowed to show their faces in public, let alone attend a sporting event.
Now imagine this: a football stadium in Riyadh, Saudi Arabia, this Sunday. A sweltering cauldron of sound. The Western Sydney Wanderers run on to the pitch to play the second leg of the final of the Asian Champions League against Al-Hilal.
Then, at the opening kick-off, the Wanderers all sit down and decline to play until Saudi Arabia agrees to recognise women as equals.
Our apologies. We'll now interrupt this broadcast and return to normal programming.
Advertisement
You can safely assume this Sunday's final will pass without a mention of women's rights in Saudi Arabia. There may be only one woman in the crowd of 65,000 - devout Wanderers fan Kate Durnell. And she has only been given permission to attend because she will be accompanied by her father and will wear a Hijab.
Where is the anger, much less the outrage? Whatever happened to that generation in the 1970s who helped change the world? Did they all grow fat and old and decide sport was no longer a worthy weapon in the battle for
Say what you like about the 1970s. The naff idealism. The quaint notions of peace amid the threat of nuclear holocaust. At least it was a time when the world belatedly woke up to the evils of the apartheid system in South Africa and decided to do something about it.
Australian sport caught up with public opinion as Sir Donald Bradman directed that a cricket tour of South Africa be cancelled.
"We will not play them until they choose a team on a non-racist basis," declared Bradman who, just a year earlier, had not believed politics should mix with sport.
When the Springboks arrived in 1971 for a series of Tests, more than 700 Australians were arrested for disrupting the tour.
Such was the public outcry that games were played behind barbed wire. Unions banded together, forcing the tourists to travel around the country on air force planes.
These strident public protests eventually led to a stiffening in the resolve of politicians.
By the late 1970s, the world was condemning South Africa. And, little more than a decade later, the practice of measuring a person by the colour of their skin in that country was peeled away.
So where is the outcry as the Western Sydney Wanderers head to Saudi Arabia?
This is a nation that has long suppressed its women. They are not allowed to drive a car. In fact women under the age of 45 require a male guardian's permission to open a bank account, to seek a job, to undergo elective surgery and even to travel.
Enforcement is often swift and brutal and carried out by the Mutaween – a select group of religious police with the powers to detain Saudis and foreigners for whatever they deem "immoral".
Where's the moral outrage? Have we had to look the other way because of the diplomatic nuances required to live in a post 9/11 world?
Does our reliance on the Middle East oil pipeline preclude the West from speaking out against clear and present human injustices?
Or maybe we've just lost the zeal, the passion and the desire to make the world a better place.
Maybe we decided that soccer superiority beats civil rights hands down.
Garry Linnell co-presents the Breakfast show with John Stanley on 2UE
http://www.smh.com.au/comment/wheres-the-outrage-over-saudi-treatment-of-women-20141029-11dijm.html
-----------
Women on Front Lines in Syria, Iraq Against IS
Oct 25, 2014
Just over a year ago, Afshin Kobani was a teacher. Now, the Kurdish Syrian woman has traded the classroom for the front lines in the battle for Kobani, a town besieged by fighters from the Islamic State extremist group.
The 28-year-old Kurdish fighter, who uses a nom de guerre, said she decided to join the fight in her hometown when she saw IS advances in Syria.
"I lost many friends to this, and I decided there was a need to join up," said Kobani, who declined to reveal her birth name. "This is our land — our own — and if we don't do it, who else will?"
Perched on the other side of the Turkish border, the Syrian town of Kobani has been under an intense assault by IS for more than a month. The town — surrounded on the east, south and west by IS — is being defended by Kurdish forces in Syria.
Among those fighters are thousands of women, an unusual phenomenon in the Muslim world in which warfare is often associated with manhood. In April, Kurdish fighters created all-female combat units that have grown to include more than 10,000 women. These female fighters have played a major role in battles against IS, said Nasser Haj Mansour, a defense official in Syria's Kurdish region.
The Kurdish women now find themselves battling militants preaching an extreme form of Islam dictating that women only leave the house if absolutely necessary. Earlier this month the Syrian Observatory for Human Rights, which monitors events in Syria, reported IS militants beheaded nine Kurdish fighters, including three women, captured in clashes near Turkish border.
After more than a year of fighting, Kobani has risen through the ranks to become a commander of a mixed-gender unit. "We are just the same as men; there's no difference," she said. "We can do any type of job, including armed mobilization."
There is nothing new about Kurdish women fighters. They have fought alongside men for years in a guerrilla war against Turkey, seeking an independent Kurdistan which would encompass parts of Turkey, Syria, Iraq and Iran. The campaign for Kurdish independence has been pursued mainly by leftist militant groups that championed gender equality, such as the Kurdistan Workers Party in Turkey.
Suicide bombings have long been part of the Kurdish women fighters' battleground repertory.
Early this month, Deilar Kanj Khamis, better known by her military name Arin Mirkan, blew herself up outside Kobani, killing 10 IS fighters, according to Kurdish forces. Haj Mansour, the Kurdish defense official, recounted that Kurdish fighters were forced to withdraw from a strategic hill south of the besieged town. Khamis stayed behind, attacking IS fighters with gunfire and grenades as they moved in. Surrounded, she detonated explosives strapped to her body. The Kurds then recaptured the position — but lost it again on Wednesday.
In Kobani, Sheikh Ahmad Hamo's daughter Rukan signed up for the fight for Kurdish independence at the age of 18, and was quickly sent to Iraqi Kurdistan, in Iraq's north. That was eight years ago. For the first six years, she didn't contact her parents or her nine siblings. Her mother, Salwa Moussa, traveled to northern Iraq in March last year in the vain hope of seeing her daughter.
Five months after that, she phoned home. "When she called, she had a mountain accent. Her mother didn't recognize her," said Hamo. "When we talked to her, we were happy, but we were also crying."
http://abcnews.go.com/International/wireStory/women-front-lines-syria-iraq-26448142
-----------
In the Words of Suaad Allami: The Plight of Iraqi Women Refugees
Oct 31, 2014
An award-winning Iraqi lawyer and activist for women's rights from Sadr City in Baghdad, Suaad Allami founded the NGO "Women for Progress" in 2007. It manages a legal clinic and "one-stop shop" for legislative advocacy, domestic violence counselling, vocational training and other services. She was invited to speak at this year's Security Council Open Debate on Women, Peace and Security on 28 October, which focuses on displaced women as leaders and survivors.
She gives us a glimpse at how thousands of Iraqi women and girls are coping...
Across Iraq, families with small children and babies in arm walk for hours on end under the scorching heat, searching for a safe haven from the extremist violence of ISIS militants. Carrying what few belongings they can that might aid their survival, they abandon their lives for a future in which the only certainty is their displacement.
This is not the first time Suaad Allami, an Iraqi lawyer and women's activist, has witnessed the upheaval of her society by terrorist violence. But she says the takeover of the northern city of Mosul by ISIS this June, "was a shock to all of us" — particularly women and girls. The ensuing wave of violence has displaced approximately 1.8 million people internally, according to the UN Office for the Coordination of Humanitarian Affairs.
Refugee and internally displaced women and girls who are fleeing the conflict in Iraq face heightened risks of sexual and gender-based violence in the cramped and unsafe confines of refugee camps, where families share little but "a mattress, some blankets, a water container and one restroom for the whole camp," says Ms. Allami.
The close quarters of the camps has put a strain on daily life, particularly given Iraq's conservative society, where women and girls do not normally mix with men and boys of other families.
Young girls' education has been disrupted as families take shelter in their former schools, and women have been impacted by the loss of economic opportunities, unable to go back to their jobs or find others while they are displaced.
In the absence of fathers and brothers who have left their families to fight ISIS, many women have taken on the responsibilities of their husbands and the care of other family members, says Ms. Allami.
"If the woman is a victim of gender-based violence or trafficking, that's because of her economic conditions that force her to accept or to live with this abuse," says Ms. Allami.
She says she's also concerned about the possibility of early marriage among girls, which could be used to alleviate economic hardship. This is why economic empowerment initiatives are crucial for women, she says.
Painting a picture which echoes across conflict zones, Ms. Allami speaks of the horrific abductions of displaced Yazidi women and girls in particular, who are being forced by ISIS militants to convert to Islam, or be killed.
"They [ISIS militants] are using them as a tool against the men who are fighting them. They sell them from group, to other group, to other group. And each time, they rape them," she says.
While displaced women are most concerned about meeting their immediate needs – food, water and shelter – Ms. Allami says social services are needed to address their long-term recovery. For Yazidi women who have escaped back to their families, for example, there are no services to help them deal with the stigma of sexual violence, she says.
While a number of UN agencies, international organizations and local NGOs are on the ground working to alleviate the situation, Ms. Allami says Iraq has no crisis management system "to meet the needs immediately of the IDPs or refugees," especially given the influx of refugees from Syria.
Ms. Allami hopes her presence at the Security Council's Open Debate on women, peace and security will demonstrate that Iraqis need more than military solutions.
Iraq's national security system and efforts to address extremism must acknowledge preexisting conditions faced by women and include them in the peacebuilding process, she stresses in her address.
"Women must be supported in their efforts to connect formal and informal justice systems," she says, calling on the Security Council and Member States to recommit to the full implementation of the women, peace and security agenda. "All human beings have the right to be safe and live a life of dignity."On behalf of the NGO Working Group on Women, Peace and Security, Suaad Allami read a statement to the UN Security Council on 28 October 2014. She focused on three key issues: women's participation, multi-sectoral responses and conflict prevention. Photo: UN Women/Ryan Brown
http://www.huffingtonpost.com/un-women/in-the-words-of-suaad-all_b_6068196.html
-----------
Indonesian Judges Deny Woman's Lawsuit against Mother
October 31 2014
Fatima, 90, who was sued by her daughter Nurhana and son-in-law Nurhakim due to a land dispute, can now let out a sigh of relief.
Nurhana and Nurhakim last month sued Fatima for living on a 397-square-meter plot of land in Cipondoh, Tangerang, where she has resided for more than 10 years. The land's certificate was still under Nurhakim's name, although Fatima's late husband, Abdurrahman, had paid for the land and had been paying land tax over the years.
Fatima said a payment of Rp 10 million (US$824) was witnessed by her children. She added, however, that she and her husband did not ask for any proof of purchase because her husband trusted Nurhakim.
The couple sued Fatima and her three children because they were unwilling to give up the land and demanded that they pay Rp 1 billion.
"Considering that the plaintiff's lawsuit and demands are unclear, the panel of judges declares that defendants one to four are not guilty," presiding judge Bambang Krismawan said during the trial on Thursday as quoted by kompas.com.
Meanwhile, Nurhakim's lawyer, Singarimbun, said that his client would file an appeal. "We will file an appeal because [what the defendants have done] is against the law," he said.
Through their other lawyer, Luhut Sinaga, Nurhana and Nurhakim claimed that in 1987, Fatimah borrowed the land deed from Nurhakim for "some business". Fatimah reportedly never returned the certificate, instead promising money to her daughter and son-in-law, but the funds never materialized, Sinaga said.
http://www.thejakartapost.com/news/2014/10/31/judges-deny-woman-s-lawsuit-against-mother.html
-----------
Bangladesh: Women's Reserved Seats Elections in December
31 October 2014
The Election Commission will hold elections to the reserved seats for women in more than 350 Upazila Parishad across the country in December.
"The commissioners have decided to hold the elections. But the schedule is yet to be finalised," an assistant secretary of the EC told The Daily Star yesterday.
According to the Upazila Parishad Act 1998, the number of seats equal to one-third the number of union parishads or municipalities located in an Upazila will be reserved for women who will be appointed as member of that particular Upazila Parishad.
Out of 487 Upazilas, elections to 472 of them across the country were held in different phases from February 19 to May 19. Until elections to the seats reserved for women are held, formation of Upazila Parishads will remain unfinished as the elected women are entitled to act as members of the parishads.
http://www.thedailystar.net/city/womens-reserved-seats-elections-in-december-48229
-----------
URL: https://newageislam.com/islam-women-feminism/malala-donates-prize-money-$50,000/d/99809