New Age Islam News Bureau
13 Jul 2019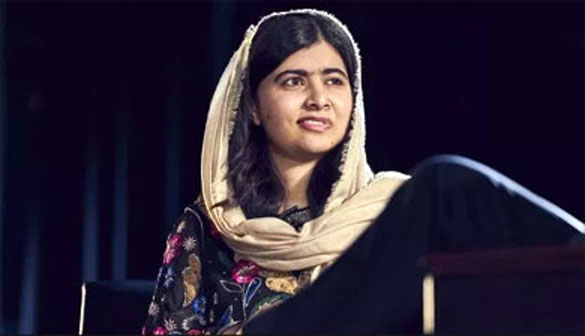 The United Nations had declared July 12 as Malala Day to commemorate not only young activist's birthday, but also the day she delivered a powerful speech at the UN to call for worldwide access to education.
------
• Princess Reema Bint Bandar: Walking in Her Father's Footsteps
• Women in Syria's Raqqa Enjoy Newfound Freedoms after Islamic State
• Afghan Women Note Taliban Shift after Doha Talks
• Saudis to Let Women Travel Without A Male
• Crackdown On Dissent Accompanies Reform For Saudi Women
Compiled by New Age Islam News Bureau
URL: https://www.newageislam.com/islam-women-feminism/malala-day-malala-yousafzai-–/d/119179
--------
Malala Day: Malala Yousafzai – Household Name in Fight for Women's Right
July 12, 2019
Nobel-Prize winner and a brave heart Malala Yousafzai has turned 22 on July 12.
The United Nations had declared July 12 as Malala Day to commemorate not only young activist's birthday, but also the day she delivered a powerful speech at the UN to call for worldwide access to education.
Malala Yousafzai, a Pakistani activist for female education is the youngest Nobel Prize laureate, has led a rather risky life in order to fight for the education of girls in a previously Taliban-dominated area.
In 2008, Malala Yousafzai started writing about the rising influence of the Taliban in Pakistan for BBC Urdu, under a pseudonym.
Malala, who became the extremist group's target after publicly speaking about girls having the right to education, gained worldwide recognition when she was shot in the head by a Taliban gunman in 2012. At 15, she was attacked on her way home from school. A year later in 2013, while recovering from her injuries in a hospital in Birmingham, Malala decided to continue fighting for girls' education and started the Malala Fund along with her father, Ziauddin Yousafzai.
Currently, the 22-year-old student of Philosophy, Politics, and Economics at the University of Oxford is a household name in the fight for women's rights.
Malala is Pride of Pakistan: CM Punjab
Chief Minister Punjab Usman Buzdar said on Friday that Malala Yousafzai is an example to follow for others as she lit the candle of knowledge in the darkness of ignorance.
On her birthday, recognized as Malala Day, the chief minister said that celebration of Malala Day at the global level is a tribute to the efforts made by the Pakistani girls for providing education to the local women.
Buzdar said that Malala defeated fanaticism through education and proved that human beings can do anything with hard work and consistent efforts.
Buzdar said Malala Yousafzai is a pride of Pakistan in the world who emerged as a symbol of bravery and commitment at an early age. The Punjab government is following the policy of providing equal opportunities for education and development to all women, he concluded.
Malala's Quotes
On her 23rd birthday, here are some quotes by Malala that will leave you inspired and motivated:
"When someone takes away your pens you realize quite how important education is."
"Education is our basic right. Not just in the West; Islam too has given us this right. Islam says every girl and every boy should go to school. In the Quran it is written, God wants us to have knowledge. He wants us to know why the sky is blue and about oceans and stars."
"One child, one teacher, one book, one pen can change the world."
"With guns you can kill terrorists, with education you can kill terrorism."
"Extremists have shown what frightens them most: a girl with a book."
"If one man can destroy everything, why can't one girl change it?"
"No struggle can ever succeed without women participating side by side with men. There are two powers in the world; one is the sword and the other is the pen. There is a third power stronger than both, that of women."
"When the whole world is silent, even one voice becomes powerful."
"Ignorance allowed politicians to fool people and bad administrators to be re-elected."
"Kindness can only be repaid with kindness. It can't be repaid with expressions like 'thank you'."
https://www.globalvillagespace.com/malala-yousafzai-household-name-in-fight-for-womens-right/
--------
Princess Reema Bint Bandar: Walking in Her Father's Footsteps
RAWAN RADWAN
July 12, 2019
RIYADH: Saudi Arabia's ambassador to the US, Princess Reema bint Bandar, caused a stir on social media after an image of her standing in her new office in Washington D.C. became public, taken in the same office as was occupied by her father, Prince Bandar bin Sultan, 35 years ago.
The prince had a similar portrait taken of himself when he was appointed ambassador, and many Twitter and Instagram users reposted the two images side by side. Some commented on how the newly appointed ambassador was "walking in her father's footsteps" with one adding "like father, like daughter."
Young Saudis continued to repost the images with messages of good luck, as the ambassador started her new role.
Prominent Saudi writer @husseinshoboksh wrote: "Her father's daughter … Ambassador Rima bint Bandar bin Sultan."
@HSajwanization tweeted: "Stunning portrait of Princess Reema bint Bandar AlSaud @rbalsaud, Saudi ambassador to the USA in her new office in Washington. Almost 40 years ago, her father, Prince Bandar bin Sultan AlSaud, former Saudi ambassador to the USA, took exactly the same picture."
@Fatimafahad90 tweeted one of Princess Reema's quotes, alongside her picture: "Saudi Ambassador to the US Princess Reema Bint Bandar: 'Financial literacy is key to empower women.'"
@im_lama_ tweeted: "'We are not working for anyone outside this nation, we are working for this nation.' (Princess Reema Bint Bandar)"
The princess was sworn in as the Kingdom's ambassador on April 16, taking the oath in front of King Salman in Riyadh, officially making her Saudi Arabia's first female ambassador. Some 35 years earlier, her father performed the same oath, holding the prestigious post from 1984-2005.
Assuming office on July 4, the 11th Saudi diplomatic representative to Washington has extensive experience with US politics and diplomacy, having lived in the US capital when her father was ambassador.
http://www.arabnews.com/node/1524796/saudi-arabia
--------
Women in Syria's Raqqa Enjoy Newfound Freedoms after Islamic State
By Sirwan Kajjo
July 11, 2019
WASHINGTON - Women in the Syrian city of Raqqa say their lifestyle drastically changed after U.S.-backed forces freed their city from the Islamic State terror group.
The Syrian Democratic Forces liberated the city in October 2017. Since then, Raqqa residents have been determined to bring a sense of normalcy back to their city, which was once the de facto capital of IS's self-proclaimed caliphate.
Throughout the partially restored market in downtown Raqqa, shops selling women's clothing and cosmetics now openly showcase their merchandise, something unthinkable during IS rule.
"Now, I can exhibit anything I want in front of my store," said a 37-year-old man who owns a women's boutique.
"When Daesh was here, we had to hide things like revealing clothes and lingerie in the back of the store. Men couldn't sell these things to women, so we had to hire women to sell to other women," he told VOA, using the Arabic acronym for Islamic State.
Under IS rule, strict social codes were imposed on the local population. Men and women who were not related weren't allowed to interact.
Women, in particular, were required to wear black dresses covering their entire bodies and faces. Those who disobeyed received harsh punishments, including imprisonment and flogging.
"I remember how my friend's older sister was humiliated on the street by two female IS members because they thought her face wasn't covered properly," said a 21-year-old woman who was a teenager when IS ruled Raqqa. She declined to be identified for security reasons.
The terror group had established a vice police force, locally known as al-Hisbah, whose sole mission was to implement Islamic laws and persecute those who did not adhere to them.
"There is no comparison between now and then," said Khitam al-Musa, 30, of Raqqa.
"At least now, I can walk on the street freely. I can buy what I want. In the past, I could have been arrested for the silliest reason," she told VOA. "I was taken to interrogation a few times because I painted my fingernails and wore open-toe sandals. It was unbearable to be a woman under [IS] rule."
The SDF, a Kurdish-led military alliance that has been an effective partner of the United States in the fight against IS, has established a progressive governing system in areas under its control in northeast Syria.
Women's rights and gender equality are the basis of SDF's newly formed entity, SDF officials claim.
"What the SDF has offered is a very unique alternative form of governance not only compared to IS's style, but also compared to the Syrian regime," said Sadradeen Kinno, a Syrian researcher who closely follows Islamic militancy in the war-torn country.
Kinno told VOA that while residents in Raqqa and other areas recently liberated from IS enjoy the liberty the SDF offers, it would take a long time before the group could enforce its progressive ideas among a largely conservative population.
"Individual freedoms are important for women and people in general, especially if you've just experienced life under one of the most oppressive groups in the world," he said. "But it will certainly be a major challenge for the SDF to find a receptive population for its broader gender democracy."
https://www.voanews.com/extremism-watch/women-syrias-raqqa-enjoy-newfound-freedoms-after-islamic-state
--------
Afghan Women Note Taliban Shift after Doha Talks
July 12, 2019
An Afghan campaigner who took part in breakthrough talks with the Taliban said Thursday that she saw subtle improvements in the attitude towards women of the insurgents, who severely curtailed their rights while in power.
In a meeting earlier this week in Qatar, the Islamist militants sat down with Afghan representatives and issued a joint statement that called for assuring women's rights "within the Islamic framework of Islamic values."
The conference, co-organized by Germany, came as the United States negotiates with the Taliban to pull troops from Afghanistan -- with women's rights not explicitly on the agenda.
Asila Wardak, a women's rights campaigner who works for the Afghan foreign ministry, said she was surprised at the positive atmosphere in Doha as women mingled directly with the Taliban over dinner and tea breaks.
"It was interesting to me as an Afghan woman as they didn't shake hands but they warmly welcomed us," she told a symposium at Georgetown University on the peace process, speaking by video from Kabul.
Two Taliban delegates even showed flashes of humor, telling the Afghan women that they heard they would be coming and saying, "'Please don't give us a hard time,'" she said.
"Maybe I'm wrong but their attitude has totally changed towards women, towards government employees," she said.
"But I do not say that their behavior (changed) or, ideologically or strategically, they didn't change anything," she said, pointing to a massive blast in eastern Afghanistan that killed 12 and injured dozens of children just as the Qatar talks were opening.
Ghizaal Haress, a constitutional scholar at the American University of Afghanistan, said it remained unclear what the Taliban were saying by signing the declaration in Doha.
"The term 'Islamic regime' is very vague, it's very broad and there is a fear of what it will mean under the interpretation of the Taliban," she said.
"Do we mean an Islamic regime like the one in Malaysia or Indonesia? Do we mean an Islamic regime like Saudi Arabia or Iran? Or do we mean one like Pakistan?" she said, referring to governments with varying degrees of openness toward women.
The Taliban were notorious for their harsh treatment of women during their five-year rule of Afghanistan, which ended with the US-led invasion after the September 11, 2001 attacks.
The insurgents forced women to cover themselves completely under burqas, banned them from working and restricted most education for girls.
- US says watching women's role -
President Donald Trump is impatient to withdraw US troops from Afghanistan, believing the mission is not worth the cost after nearly two decades.
His administration is aiming to reach an accord with the Taliban by September.
Such a deal is expected to have two main pillars -- a US withdrawal from Afghanistan and a commitment by the militants not to offer sanctuary to jihadists.
But Zalmay Khalilzad, the US negotiator who has held seven rounds of talks with the Taliban, told the Georgetown event in a video message that he will ensure that women "have a seat, or several seats, at the negotiating table."
Alice Wells, the acting assistant secretary of state for South and Central Asia, said that Afghanistan's future relationship with the United States will "depend heavily" on preserving the gains made by women.
"No current or future Afghan government should count on international donor support if that government restricts, represses or relegates Afghan women to second-class status," she said.
https://news.yahoo.com/afghan-women-note-taliban-shift-doha-talks-214732617.html
--------
Saudis to Let Women Travel Without A Male
By CATHERINE PHILP
JULY 13, 2019
Saudi Arabia is to begin easing its laws forbidding women to travel without the permission of a male relative, removing the most contentious provision of its notorious guardianship customs.
The move would be the most significant change yet to a system under which adult women are treated, in effect, as minors, requiring the consent of designated male relatives to perform even basic tasks.
It would allow women over the age of 18 to travel abroad for the first time without male permission. They would, however, still require a guardian's consent to acquire a passport, or to marry or seek work.
Saudi officials said the directive had come "from the top"; a reference to Crown Prince Mohammed bin Salman, who has tasked a government committee to begin overhauling guardianship laws as part of his reform agenda for the kingdom.
"There is no question that the leadership, the government and the people want to see this system change," a senior Saudi royal told The Wall Street Journal. "The current discussion is about how to make this happen as soon as possible without causing a stir."
News of the plan emerged as Saudi Arabia prepares to host next year's G20 summit, hoping to put to rest the international condemnation surrounding the murder of Jamal Khashoggi in its Istanbul consulate last year. UN special rapporteur on extra-judicial executions Agnes Callamard has urged governments to boycott or move the summit, calling it "a slap in the face" for human rights defenders.
Saudi Arabia has come under increasing international pressure over its treatment of women, with a number of young Saudi women seeking asylum abroad this year to escape the guardianship system. Rahaf Mohammed al-Qunun, 19, fled to Bangkok while on a family holiday in Kuwait in January, barricading herself into an airport hotel room and calling for help on Twitter until she was rescued by the UN refugee agency. She was later granted asylum in Canada.
Floating the plan without an official announcement follows in a pattern for the introduction of reforms in the deeply conservative kingdom. The crown prince, known as MBS, has spoken of the need for Saudi Arabia to find a more moderate expression of Islam and for women's empowerment as a tool of economic reform.
Picking one element of the guardianship system to relax, and testing the public reaction before it is made official, is seen as the royal court's way of avoiding "a stir". However, there could be a backlash, and not only from clerical circles, if easing restrictions were to lead to a large ­exodus of young women seeking to escape family control.
MBS has also been wary of granting rights that activists have fought for, particularly women's rights or freedom of speech. Last year, a month before the historic lifting of the ban on women driving, the authorities rounded up a number of leading female activists who had campaigned against the guardianship system as well as for the right to drive. Those women ­remain in jail.
Princess Reema bint Bandar, 44, Saudi Arabia's first female ambassador, presented her credentials to the State Department in Washington this month to begin her tenure. She is believed to have been released from the guardianship system after a divorce. Princess Reema has argued in favour of measures to make it easier for Saudi women to work, saying the country cannot develop when half its workforce stays at home.
The need for more women to be economically active was seen as a key factor in the lifting of the driving ban last year.
Travel restrictions on Saudi women are typically enforced through a government app called Absher, on which men can grant or deny permission for their female charge to travel.
https://www.theaustralian.com.au/world/the-times/saudis-to-let-women-travel-without-a-male/news-story/492e3a6e7a9d218915a40088d857d4fa
--------
Crackdown On Dissent Accompanies Reform For Saudi Women
catherine philp
july 12 2019
'I am my own guardian," became the rallying cry for Saudi women on social media campaigning against the archaic system of guardianship that controls the nation's women.
Few of those still using that Twitter handle today do so from inside Saudi Arabia, where a crackdown on dissent has accompanied the reform agenda of Mohammed bin Salman.
The same day in 2017 that the Saudi government announced it would lift the ban on women driving, activists who had campaigned for just that received phone calls from security forces, warning them not to try to claim the move as a victory for their movement.
https://www.thetimes.co.uk/article/crackdown-on-dissent-accompanies-reform-for-saudu-women-wd8rc3nxf
--------
URL: https://www.newageislam.com/islam-women-feminism/malala-day-malala-yousafzai-–/d/119179
New Age Islam, Islam Online, Islamic Website, African Muslim News, Arab World News, South Asia News, Indian Muslim News, World Muslim News, Women in Islam, Islamic Feminism, Arab Women, Women In Arab, Islamophobia in America, Muslim Women in West, Islam Women and Feminism