New Age Islam News Bureau
22 Dec 2018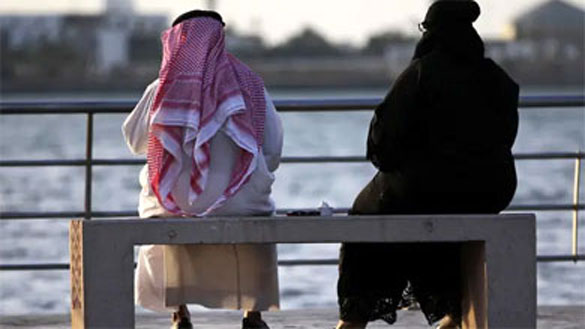 In this Sunday, May 11, 2014 photo, a Saudi couple sit on a bench overlooking the sea, in Jiddah, Saudi Arabia. (File photo: AP)
------
• Hyderabad Woman Allegedly Given Triple Talaq Over Phone for Having Baby Girl
• Suicides of Young Women, Girls in Iran Speak Of Intolerable Pressure
• State Becoming Complainant In Honour Killings Makes No Difference In Pakistan
• Egyptian Laws Protecting Women
Compiled by New Age Islam News Bureau
URL: https://www.newageislam.com/islam-women-feminism/makkah-tops-other-saudi-regions/d/117236
--------
Makkah Tops Other Saudi Regions in Khula Divorce
2018-12-10
MAKKAH — With 51 cases in the last two years, the Makkah province came first in the Kingdom in the number of khula incidents, where divorce is granted on the request of women by courts, Al-Watan newspaper reported on Monday.
Under the Islamic law, women can seek divorce through courts after returning the dowry paid to them by their husbands at the time of marriage.
The Justice Ministry's branch in Makkah province said there was a notable rise in khula cases in the region especially in the past two years.
According to Badr Al-Shatri, a lawyer and a legal consultant, there were no khula cases in eight regions of the country. They are Asir, Tabuk, Hail, the Northern Border Province, Jazan, Najran, Al-Baha and Al-Jouf.
He noted that most husbands usually object to the khula verdicts at the Courts of Appeal but said the appeal judges often ignore their objections and approve the khula deeds.
Al-Shatri said any woman who requests khula from her husband should pay him back the amount of dowry he had paid her at the time of their marriage. "She should also abandon all her rights resulting from the marriage," he added.
Al-Shatri said the wife should make her request for khula at the family affairs court, which will fix a date for her and her husband to attend a hearing.
He said after listening to the two parties, the court might approve the separation of the couple under the khula law.
Shatri said in its essence, a khula divorce is granted when it becomes impossible for the couple to live together and continue the married life. The lawyer believes that financial differences are the main cause for khula, followed by drug addiction by husbands.
"Men who are drug addicts tend to be violent toward their wives and this drives the women to ask for khula," he said.
According to the ministry, there were 14 khula cases in Qassim during the last two years, 13 in Madinah and 11 in the Eastern Province.
http://saudigazette.com.sa/article/549923/SAUDI%20ARABIA
--------
Hyderabad Woman Allegedly Given Triple Talaq Over Phone for Having Baby Girl
December 20, 2018
A woman in Hyderabad has alleged that she was given triple Talaq by her husband over the phone after she gave birth to a baby girl. The incident, which took place in the city's Tolichowki area around three weeks ago, came to light after the woman lodged a complaint with the police and approached the media.
The accused, identified as Shareef, is said to be working as a principal in a school in Tolichowki area. Speaking to reporters, the woman said that the marriage took place on January 6, 2017 and everything was smooth for the first month.
"They didn't ask for any dowry before marriage, but still we gave whatever we could afford. A month into the marriage, he started torturing me asking what my family has given them. They used to beat me even when I was pregnant. My mother-in-law also used to thrash me. After the girl child was born around three months ago, the torture increased. Mentally they harassed me, till I started suffering from depression. Then they called my parents who brought me back home. I even had to get admitted to the hospital," the woman alleged.
She also claimed that she had a strong suspicion that the accused was having an affair.
"Once I returned to my parent's house, he called me and pronounced triple talaq over the phone. Then a divorce declaration came home even though I pleaded with them not to do so. I want justice. I don't want him to ruin another woman's life in this manner," the woman added.
She also alleged that she was being intimidated and threatened ever since she approached the police and filed a complaint.
Speaking to the media, Inspector Manjula from the Central Crime Station (CCS) said, "The woman approached us on November 23. We offered to counsel the couple but the woman was determined that a case must be registered because she said she had undergone a lot of harassment. We registered a case and conducted an investigation."
"We had served a notice to the husband, mother-in-law and father-in-law of the woman and they completed all the legal formalities. Last week, we learnt that the accused gave triple talaq to the woman over the phone. We are taking up investigation again and we will follow the law," she added.
Instant triple talaq is interpreted as the Islamic practice of divorcing a woman by uttering the word 'talaq' thrice.
In August last year, in a landmark judgment, the Supreme Court by a 3-2 decision struck down the centuries-old practice of instant triple talaq among Indian Muslims as unconstitutional, manifestly arbitrary and void in law. Two judges said that it should be up to the Parliament to pass a legislation bill to officially ban the practice.
However, the minority judgment concluded that "talaq-e-biddat" was a matter of personal law of Muslims that does not breach the Constitution's Article 25 (right to practice one's religion).
In September this year, an ordinance to make triple talaq a criminal offence had been passed. Earlier this week, the Muslim Women (Protection of Rights on Marriage) Bill, 2018, commonly known as the Triple Talaq Bill, was introduced in the Lok Sabha.
This bill makes giving triple talaq void and illegal, and is punishable by up to three years imprisonment for the man. The bill, if passed, makes it a penal offence.
"The bill was brought in as per the direction of the Supreme Court to protect the rights of Muslim women. Several Muslim women suffered due to instant talaq. This bill is in the nation's interest and constitutional," Union Law Minister Ravi Shankar Prasad said before introducing the bill.
The government could not pass the bill in the Rajya Sabha during the previous monsoon session.
https://www.thenewsminute.com/article/hyd-woman-allegedly-given-triple-talaq-over-phone-having-baby-girl-93690
--------
Suicides of Young Women, Girls in Iran Speak Of Intolerable Pressure
21 December 2018
Suicides of young women and girls continued to be reported in recent days indicating increasing pressure on women in Iran.
On December 15, 2018, a young girl of about 18 years of age attempted suicide by jumping over the Piroozi Bridge in Isfahan.
On December 9, 2018, a young girl took her own life in Urmia. The incident happened in Daneshkadeh Street.
In another bitter catastrophe in Tehran on December 8, 2018, a young student of theology who received her Ph.D. on that day, threw herself off the eighth floor of the Kharazmi building at Alzahra University.
The suppression of women and especially female students in Iran is in such a state that they see no future for themselves, and find suicide as the only way out despite receiving their graduate degrees.
Two suicides were also reported on December 2, 2018. One in Babol and the second in the city of Minudasht.
A girl student ended her own life by taking pills while at a school in the Bandpey-ye Gharbi District of Babol. On the same day in Minudasht, a girl student at the Somayeh School committed suicide. This young girl took her own life by jumping off the roof of the school.
Iran's Coroner's Office announced that more than 7% of annual suicides in Iran are committed by adolescents.
According to the annual statistics released by the Journal of Forensic and Legal Medicine in September 2018, in Iran, the number of women committing suicide in 2017 alone were more than 1,365 people, i.e. at least 4 women per day.
The Iranian regime's officials and experts have acknowledged on various occasions that suicides are often not reported or announced. Thus, the data declared by the Forensics, the Coroner's Office or other government sources should be considered as being the minimum, not reflecting the whole truth.
https://women.ncr-iran.org/iran-women-news/5647-suicides-young-women-girls-iran-intolerable-pressure
--------
State Becoming Complainant In Honour Killings Makes No Difference In Pakistan
Waseem Ashraf Butt
December 22, 2018
GUJRAT: As many as 25 women have been killed in Gujrat district during the current year, showing a significant decline in honour killings compared to the last few years.
Most of the women were killed by their kin either to preserve honour or to settle domestic disputes. However, none of the suspects involved in these cases have been awarded punishment by the courts due to procedural hitches and reconciliation between complainants and accused.
The number of women killed during 2017 was 41 with 35 killed in 2016, 36 in 2014 and 51 in 2013. The conviction rate has been very low even though the state itself becomes complainant in such cases after legislation to the effect a few years ago. Most of the cases were reported in rural areas.
A senior police investigation officer told Dawn that he believed culture and traditions were the main reason behind violence against women. He stressed effective legislation and awareness campaigns to contain such violence as suspects would often get released on technical grounds mainly due to pardon or reconciliation with complainants, who were, ironically, the victim's relatives.
Asad Gujjar, the spokesman for the Gujrat police, told Dawn that all the 39 nominated suspects involved in these 25 reported cases of 2018 had been arrested.
He said challans in all cases were sent to the courts. Three cases were quashed since two of them were suicide cases and in third one the parties reconciled and two cases were still under investigation.
He said five women had been killed over honour and 20 others were slain over marriage and other domestic disputes. He said that the ratio of such cases had witnessed a sharp decline in comparison to the previous years as the number of all murder cases in the district had also decreased in the year 2018.
According to a rough estimate of the year 2018, around 100 people were murdered in various incidents as the number of such cases was more than 200 some 15 years ago.
A social scientist belonging to the University of Gujrat says Pakistan has high prevalence of violence against women owing to various factors such as a patriarchal society where gender inequality at various levels was accepted as a norm. Men had assumed higher status in society irrespective of caste, creed, finance and education, he said.
"Pakistani society is complex with various ethnic groups, but when it comes to gender inequality almost all groups, classes and sects seem to follow this rule. This unequal power lies at the root of violence against women," he explained.
https://www.dawn.com/news/1452831/state-becoming-complainant-in-honour-killings-makes-no-difference
--------
Egyptian Laws Protecting Women
Dec. 21, 2018
CAIRO – 21 December 2018: The whole world is working to move forwards towards a more equal world, where women are treated with the utmost level of respect and have equal rights to men.
Among those countries working towards bettering women's status is Egypt, with a number of key laws and legislative devices in place.
Egypt Today lists the top legislative tools protecting women in Egypt.
The two main legislative documents protecting and supporting women are the Egyptian Constitution of 2014, and the Criminal Code of 1937 and its amendments. Crimes against women in Egypt are divided into two groups: misdemeanors and felonies. Misdemeanors, such as catcalling or sexual harassment, are seen as less significant crimes than felonies, and are usually punished by fines and short-term jail time; the trails are also shortened. Felonies, like FGM, rape, kidnapping a female, or sexual assault, are punished by longer jail time, and a permanent record is placed for those convicted.
In the case of sexual assault, according to the Criminal Chamber of the Court of Cassation in Ruling No. 289 of April 24, 1950, there is no need to prove that the offender had complete sexual intercourse with the victim against the victim's will. It is sufficient for the offender to touch the victim with their hands, reproductive organs, or device against the victim's will. To ensure justice, Ruling No. 4794 of February 14, 1985, was amended to add that the assailant must have had mental intent, meaning that it was not accidental. Law No. 11 of 2011 was later added to increase the penalty against attackers of children under the age of 18, under article 269 of the Criminal Code, to three to fifteen years in prison.
Although previously denounced, FGM was further condemned in 2008, and in August 2016, Article 242(bis) of the Criminal code suggested that the punishment of performing FGM is imprisonment with hard labor for up to 15 years.
Over the past three decades, the government has also introduced many reforms to improve the living standards of women. In 2000, the groundbreaking Khula Law, known as Law 1 of 2000, allowed women to file for divorce, in registered and unregistered marriages, without the husband's consent. During the same year, Egypt also saw the establishment of the right for women to apply for a passport and travel without the husband's consent.
Law 10 of 2004 introduced the Family Courts, allowing women to demand their rights and seek legal protection from domestic violence. Building on Law 10, Law 11 of 2004 established the Family Insurance Fund, a system through which women can collect court-ordered alimony and child support money. Law 154 was also changed in 2004 to allow children of Egyptian mothers and a foreign father to have equal citizenship rights; in the past, one could only be an Egyptian citizen if their father is Egyptian.
In 2008 reforms were also made to extend the mother's legal custody to 15 years of age, raise the legal age of marriage to 18, and allow children to take their mother's name, if their father is not proven.
Articles 11, 52, 60, 67, 71, 80, and 89 of the 2014 Constitution ensure the protection of women against violence, torture, mutilation and organ trade, incitement of violence against women or specific women-based groups, "impingement of individual honor", sexual exploitation and assault, and human trafficking, respectively.
The first of its kind, the Violence Against Women (VAW) unit 2015-2020 aims to help women who report violent crimes by offering them social and psychological support. Although a groundbreaking establishment, the unit has not yet started functioning as regularly as it is supposed to. The strategy also aims to stop negative behavior against women at its roots by educating people and raising public awareness.
Recent law reforms, under the leadership of Abdel Fatah al-Sisi, have managed to curb the percentage of women harassed or assaulted – physically, psychologically, or sexually. To fill his 28 parliamentary seats, which are the Egyptian president's prerogative to fill, Sisi appointed an equal number of women and men, including women in high-level positions in the economic sector. Egypt's National Council of Women, as well as grassroots organizations and non-governmental organizations, have also actively sought to develop action plans and raise public awareness.
http://www.egypttoday.com/Article/2/62310/Egyptian-laws-protecting-women
--------
URL: https://www.newageislam.com/islam-women-feminism/makkah-tops-other-saudi-regions/d/117236
New Age Islam, Islam Online, Islamic Website, African Muslim News, Arab World News, South Asia News, Indian Muslim News, World Muslim News, Women in Islam, Islamic Feminism, Arab Women, Women In Arab, Islamophobia in America, Muslim Women in West, Islam Women and Feminism