New Age Islam News Bureau
8 May 2013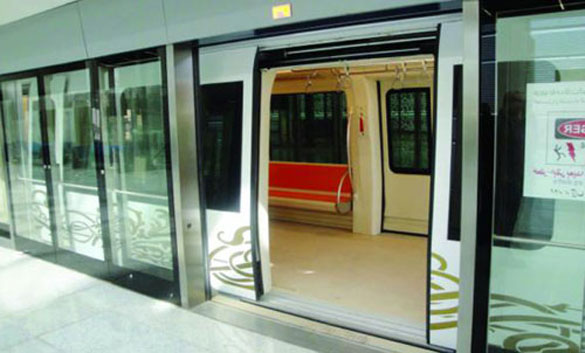 The car of a light train parked at a station on the campus. (AN photo)
--------------
• Majorities in Iraq and Afghanistan Agree Women Should Be Killed for Adultery
• Afghan Schoolgirls Poisoned by Taliban
• Saudi Women to Operate Metro Rail at PNU
• Is 'Lad Culture' Causing A Surge In Student Feminist Societies?
• Azerbaijan First Lady Inspires Mass Prisoner Release
• Covered, Yet Empowered: By The Women, For The Women
• For Mideast Women, Achieving Equality Won't Be Easy
• Bangladeshi Wife Remanded In Saudi Expat Killing Case
• Madonna auctions painting to raise money for girls' education in Pakistan, Afghanistan
• Indonesian Woman Suspected of Abuse in Death of 6-Year-Old Stepdaughter
• Islam and the West through the Eyes of Women
• Shariah Banking Market Share Reaches New Height
Compiled by New Age Islam News Bureau
URL: https://www.newageislam.com/islam,-women-and-feminism/new-age-islam-news-bureau/majorities-in-iraq-and-afghanistan-agree-women-should-be-killed-for-adultery/d/11473
------------
Majorities in Iraq and Afghanistan Agree Women Should Be Killed for Adultery
May 7, 2013
As the U.S. military winds down more than a decade of war in Iraq and Afghanistan this year, there are growing concerns about what will happen to the fragile progress of women's rights in those countries.
Those fears are underscored by the findings of a new Pew Survey of the social and political attitudes of Muslims worldwide. According to the report, of the 23 countries surveyed, Iraq and Afghanistan are the only two countries where majorities of Muslims surveyed said that honour killings of women are justified as punishment for alleged pre- or extra-marital sex.
Interestingly, Pew also found that, across the countries surveyed, attitudes toward honour killings were not consistently linked to religious observance; Muslims who pray several times a day are just as likely to oppose honour killings as those who do not. Together, those findings indicate a pervasive disregard for women's rights in both countries — one that is only likely to get worse as the U.S. troop presence and related human rights work diminishes.
The report also found that, as in many of the countries surveyed, support for making Islamic Sharia the official "law of the land" is overwhelming among Muslims in Afghanistan (99 percent) and Iraq (91 percent)
http://bulletinoftheoppressionofwomen.com/2013/05/07/majorities-in-iraq-and-afghanistan-agree-women-should-be-killed-for-adultery/
------------
Afghan Schoolgirls Poisoned by Taliban
May 7, 2013
The girls became ill after smelling gas at their school, Bibi Maryam, in Takhar province's capital, Taluqan. Many of the children remained in a critical condition in hospital last night.
The Ministry of Public Health is investigating and samples of the victims' blood have been sent for testing.
Sulaiman Moradi, Takhar governor's spokesman, said the attack was to try to prevent girls from going to school. He said 'enemies of the government and the country' were to blame for the mass illness.
There have been numerous substantiated cases of mass poisonings of schoolgirls in Afghanistan by ultra-conservatives who oppose giving women access to education.
The girls in Takhar, about 155 miles north of Kabul, were taken to a provincial hospital.
Most were released after being treated but Dr Jamil Frotan, head of the hospital, said several victims remained in a critical condition yesterday.
Read the rest: Afghan Girls Poisoned by Taliban.
RAWA is an Afghan women's group fighting for rights and freedom that we women in the west take for granted. For awhile, the plight of these women was the cause d'jour of the rad feminist groups but many opted out when the western nations went to war in Afghanistan to fight the Taliban.
It is sad but true, Afghan women will never stand a chance of gaining any basic human rights until the jackboot of Islam is taken off their necks.
http://bulletinoftheoppressionofwomen.com/2013/05/07/afghan-schoolgirls-poisoned-by-taliban/
------------
Saudi Women to Operate Metro Rail at PNU
ABDUL HANNAN TAGO & ALVIN RELOX
8 May 2013
RIYADH: The driverless metro rail, to be operated by a team of only Saudi women inside the women's school at Princess Nora bint Abdurahman University (PNU) in Riyadh, will start functioning in September.
The project belongs to Saudi Railway Company (SAR) and has a contract value of around $ 150 million (SR 563 million), said Eduardo La Ficara, the commercial manager for Ansaldo STS, a multinational technology company that produces signaling and automation systems for railways. He said his company trained more than 55 women in Copenhagen, Denmark.
"They are certified and professional female drivers," he said. The women however will not be driving the metro.
La Ficara talked to Arab News on the sideline of the fourth annual summit on Middle East Rail Opportunities that kicked off in Riyadh. The event highlights the rail infrastructure across the Kingdom based on case studies of successful railway networks.
"Over the last decade, the Middle East has seen a substantial increase in the number of established rail projects," said Business Director of Fleming Gulf Conferences, Rameem Mohammed.
He said the GCC has invested several billions of dollars to construct a railway line connecting major countries across the region. Saudi Arabia is constructing a speed line, a monorail, the North-South railway project and there are many others in the pipeline.
Abdullah Balhaddad, vice president of the Railway Land Bridge Project Steering Committee from Saudi Railways Organization highlighted in his opening speech the importance of safety at a time when the GCC countries are embarking on the construction of their railways in a challenging Gulf environment.
Abdullah Almotawa, director at Arriyadh Development Authority, addressed the participants on metro networks across the Kingdom and their economic feasibility.
Rabii Ouadi of Huawei Technologies, head of business development, dwelt on innovative ICT Solutions for Saudi Railway Projects.
With the rapid development of railway transport, simple voice and constraint data services couldn't satisfy the high-speed data requirement both from train operators and passengers, he said.
For train operators, a more efficient way to guarantee train operational safety and on-board security is becoming more and more important. Services such as on-board broadband video service are beyond the reach of GSM-R, an international wireless communications standard for railway communication. "They are readily available on a solution Huawei provides," he observed.
He pointed out that for the passengers, many people are enthusiastic about using mobile broadband services while on the move with laptops, mobile phones and cloud computing devices.
The first day of the summit was chaired by Shahid Khan from the Saudi Bin Laden Group. Other speakers on this day included Liu Gang, director for the International Business Division at CNR Changchun Railway Vehicles Co. Ltd (CNRCRC) in China, Hamad Bin Yousef of Saudi Railway Company and John Thomas and Ahmed Al-Musawa Al Hashemi from Etihad Rail.
Railway technology solution providers Vossoloh and Parsons will attend the event.
http://www.arabnews.com/news/450848
---------------
Is 'Lad Culture' Causing A Surge In Student Feminist Societies?
Emily Hilton
8 May 2013
With reports of slut shaming websites and pimp and hoe student nights littering the media, you might think that now is a hopeless time for feminism at universities. Lad culture appears to permeate all aspects of student life – from Facebook newsfeeds to the debating chamber of Glasgow University.
But women are fighting back – or at least that's what the recent surge in the number of student feminist societies suggests.
Students at the Universities of Westminster, Durham, Liverpool, Gloucestershire, Central Lancashire and Kings College London have each set up feminist societies in the last 12 months.
They hope their groups will provide a space for students to debate how they can tackle sexism on campus. They also want to dispel the myth that feminism is no longer relevant.
"I think we're sent the message by society that women are equal and that feminism has gone too far," says Eleanor Penny, founder of University College London Union (UCLU) gender and feminist society.
It's easy to think that, because there is legislative equality, this translates into real equality, but this often isn't the case."
Sexism isn't just an out-of-lecture problem. "I had one female student complain to me about a rape joke being made during a class presentation," recounts Cassie Agbehenu, founder of the University of Gloucestershire's feminist society.
"We're growing up in a society where that's acceptable and you're labelled a prude for getting offended. Women shouldn't have to face sexism in lectures and classes."
The feminist label still sits uncomfortably with some, particularly those who feel as if men are being demonised by feminists on campus. Katie, a third-year student at Cambridge University recalls a Reclaim the Night march last year, organised by the women's campaign at the university, where she was asked to hold a banner that read "Men beat eggs not women."
"I refused. It [the march] was meant to be about keeping everyone safe but it was turned into something rather different. A couple of my male friends came onto the march and were disgusted by it."
"I like that we have women's officers, they fight for good things, but they often fight in such a way that alienates those they seek to represent. Being a feminist should be something you can say with pride; I don't feel like it is a lot of the time."
New societies are keen to be as inclusive as possible, says Edinburgh student Flora Levy.
"We have worked hard to tackle and celebrate all kinds of gender identity. We have trans people who regularly attend the society and I would hope that they – for want of not sounding patronising – feel welcome. Our fundamental premise, is that feminism is for everyone," adds Penny.
And of course, everyone includes male students. Conscious of the damaging and age-old perception that "feminists hate men", new societies are busy recruiting male students.
It's a policy that some find problematic, as Jennie Hope, a second-year student at Nottingham points out: "People are slightly more open to female groups. There is a general hostility to the ideal of feminism, yet people simultaneously acknowledge that women are often discriminated against, and are legitimate in pursuing their interests. I think this is an issue with regards to humanising feminism – the word seems to carry stigma, but the ideas behind it do not."
But membership among men is also continuing to rise, with many men joining who "proudly label themselves as feminists" says Agbehenu. "It's essential to see a mix of genders in our feminist societies in order to be inclusive and challenge the status quo," he adds.
Jono Tiffany, a student at Durham University, agrees: "It's just as important for men to be involved [in feminist societies] because they have a role to play in achieving gender equality. It's a two-way issue and by its nature should be accessible to all. Feminism affects men too."
Inclusion takes many forms. Students at Birmingham University felt frustrated and let down when Ukranian feminist group Femen, held an "International Topless Jihad Day". Zarah Sultan one of organisers of Muslim Women Against Femen Campaign at Birmingham University, wanted to show that "Islam and feminism can accommodate each other. This campaign created an environment where women, both Muslim and non-Muslim, were able to discuss feminism and issues they have experienced."
"However on campus there isn't an environment to cater for those who self-identify as religious and feminist. I, like many other Muslim students, find it difficult to be religious and feminist because there is rife Islamophobia and racism on campus, and people are too set on the distorted things that they hear in the media."
There is an increasing belief in the need to make sure that women from all different backgrounds feel engaged with feminism on campus. "I think it's really important for feminist groups to portray a better image at being inclusive, with a more broad definition of what it means to be a feminist," says Ariella Silberstein, a Jewish student at the London School of Economics (LSE).
Despite some feeling uncomfortable about using the term feminism, the increased interest in gender equality on campus is creating new discussion, both around age-old stereotypes and new examples of sexism. "Being involved with feminism on campus is the most important thing I do," concludes Levy. "With every successful campaign, protest or policy victory, women feel safer and more included on campus genuine change is created."
From burnt bras to feminist graffiti and event flyers, we want to see the green shoots of the new feminism on your campus. Share your images and videos on Guardian Witness by clicking the blue 'contribute' button.
Guardian Witness is the home of user-generated content on the Guardian. Contribute your video, pictures and stories, and browse news, reviews and creations submitted by others. Posts will be published on Guardian Witness, and the best pieces featured on the Guardian site.
http://www.guardian.co.uk/education/2013/may/08/lad-culture-student-feminism
------------
Azerbaijan First Lady Inspires Mass Prisoner Release
May 08, 2013
BAKU: The Azerbaijani parliament on Tuesday approved a prisoner amnesty proposed by the country's glamorous and powerful first lady that will likely see thousands of convicts released.
The move — put forward by Mehriban Aliyeva, the influential wife of strongman President Ilham Aliyev — should see some 2,000 prisoners, mainly women, disabled and elderly convicts, released and 7,000 more have their sentences cut, according to the new law.
"I believe that being able to forgive, with goodwill and humanity, can change a lot in this world for the better," Aliyeva, who is a member of parliament, told the largely rubber-stamp legislative body before it approved the act without a debate. Aliyeva's husband Ilham — who in 2003 succeeded his father Heydar, a KGB officer and Communist-era boss, as president — has faced sustained criticism for the country's allegedly poor human rights record.
Oil-rich Azerbaijan's economy has boomed since Aliyev came to power, but rights groups say that freedom of expression is being suppressed and dissenting voices silenced.
Azerbaijani security forces earlier this year brutally suppressed several demonstrations including one over alleged hazing in the army and arrested scores of protestors.
Full report at:
http://www.nation.com.pk/pakistan-news-newspaper-daily-english-online/international/08-May-2013/azerbaijan-first-lady-inspires-mass-prisoner-release
------------
Covered, Yet Empowered: By The Women, For The Women
By Shabbir Mir
May 8, 2013
GILGIT:
Inflation, poverty, an 18-year-old paralysed son, three school-going daughters, a jobless husband: Khadija Bibi, a housewife in Gilgit, saw no apparent light at the end of the tunnel. With many government projects stalled due to lack of funds, her husband, a contractor, was not expected to start earning anytime soon.
Desperate times require desperate measures. Khadija, a woman from the very traditional province of Khyber-Pakhtunkhwa (K-P) was ready to plunge into the work field to provide for her family, but did not know how.
"Then one day, I came to know that the Gilgit-Baltistan (G-B) government and an NGO had some plans to assist women to increase their income," said Khadija. "The good thing was that they were providing technical and financial support for setting up small businesses."
Since a year, things are looking up for this 48-year-old woman who goes to the market every morning and returns home before evening, bringing enough money home to feed her family. "It's quite encouraging," she said with a hopeful smile.
In 2007, G-B's Planning Department and Aga Khan Rural Support Programme (AKRSP) worked out a plan to establish a string of 'women markets' in G-B. The idea of a market exclusive for women drew its strength from the cultural, religious and ethnic sensitivities of various communities living in G-B.
These markets have women as both shopkeepers and shoppers. Women feel comfortable on both sides of the shop counter, dealing with the other women rather than men.
The plan worked as more and more women came up with ideas to start a business. "Around 2,000 women expressed their desire to start independent work as we sought opinion from nearly 60,000 women across G-B," said Muzaffaruddin, a senior official in the AKRSP, an NGO working in G-B since early 80s in rural development. "We then conducted separate sessions with them, providing them necessary training on how to run a small business," he said.
As part of their commitment, the support provided to the women by the NGO includes installation of racks in the shops and payment of half of the rent of their shops for the first six months. In addition to that, the women were also taken to cities connecting them with the market forces. They were also linked with a micro-finance bank for loans.
Full report at:
http://tribune.com.pk/story/545998/covered-yet-empowered-by-the-women-for-the-women/
------------
For Mideast Women, Achieving Equality Won't Be Easy
BY FRIDA GHITIS
May 7, 2013
The road ahead for women in the Middle East is not just long and winding. It is breathtakingly steep.
A new poll by the Pew Research Center brings dispiriting news for women and all those fighting for equality in Muslim countries, particularly in the Arab world. Activists may sometimes ease their worries by interacting most frequently with other people who share their views. But the news from the Pew survey shows a region suffused with a deeply held view that women should be relegated to a role of subservience to men.
Among the many truly shocking finding of the poll was the answer to the question, "Must a wife always obey her husband?"
In Egypt, one of the epicenters of the fight for equality, 85 percent of respondents said Yes, a wife must always obey.
In Tunisia, frequently named as the most progressive of Arab countries, a stunning 93 percent said they believe a woman must always follow her husband's wishes. In the Palestinian Territories, 87 percent said Yes. Even in Turkey, the NATO member that says it wants to join the European Union, two-thirds believe a woman must always obey.
The view was not unique to the Middle East or to Arabs. In 20 out of 23 countries a majority viewed the woman as obligated to submit to her husband's wishes, a stark violation of the most fundamental equality. The only places where a majority disagreed were the European nations of Kosovo, Albania and Bosnia-Herzegovina. Enormous majorities of Muslims in Asia and Africa concurred with their inequality-minded fellow Muslims in the Middle East.
The question, along with other revealing inquiries, was made by interviewers speaking directly with Muslims in 39 countries and territories in the Middle East, Africa, Asia and Europe. A total of 38,000 interviews were conducted in more than 80 languages as part of the ambitious survey.
On the issue of whether men and women should have equal rights of inheritance, beliefs showed somewhat less favor for inequality. The question is of practical significance, because beliefs in this area go a long way in perpetuating economic disadvantages. European and Asian Muslims, with some notable exceptions, said they preferred equal inheritance treatment. But, once again, the results in the Middle East skewed sharply against women. In Egypt, just 26 percent believe in equal inheritance rules for sons and daughters. In Tunisia, the number is even lower; only one in eight supports equality. The numbers were similarly dismal in Iraq, Morocco, Jordan and Lebanon.
Progress in inheritance would boost women's ability to become self-sufficient, which could help them survive outside of marriage. But for women living in abusive marriages, the Pew poll had more disappointing results.
Interviewers asked if women should have the right to divorce their husbands. The right of men to divorce their wives has never been in doubt.
Here, the more modern Arab countries showed results similar to some European counterparts. Strong majorities in Tunisia, Morocco and Lebanon said women should be able to end their marriages. But support was minuscule in Iraq (14 percent), Jordan (22 percent), Egypt (22 percent) and the Palestinian Territories (33 percent), where people believe women should remain imprisoned in unhappy marriages unless the husband wants a divorce.
The survey showed deep disagreement over whether women have the right to decide if they want to wear the veil and wide-ranging views on whether Islamic law or Sharia should become national law.
Full report at:
http://www.kansascity.com/2013/05/07/4222663/frida-ghitis-for-mideast-women.html
------------
Bangladeshi Wife Remanded In Saudi Expat Killing Case
MAY 08, 2013
A court here on Monday placed a woman on a two-day remand in a case filed for the killing of her expatriate husband.
Police produced Kulsuma Begum, wife of Saudi expatriate Bahar Uddin, 32, before the court of Senior Chief Judicial Magistrate Habib ur Rahman Chowdhury with a five-day remand prayer. The court however, granted two days of police remand.
Earlier, Bahar married Kulsuma, a part-time teacher at Dubag Ideal High School, over cell phone while he was in Saudi Arabia.
On April 1, the man returned to Bangladesh to hold a function on marriage ceremony.
On April 10, police recovered the body of Bahar, son of Moynul Islam Moyna of Goylapur village of Bianibazar upazila, from Charia Ghat area of the Upazila, two days after he went 'missing'.
Full report at:
http://www.thedailystar.net/beta2/news/wife-remanded-in-expat-killing-case/
------------
Madonna auctions painting to raise money for girls' education in Pakistan, Afghanistan
May 8, 2013
Madonna sold an abstract painting by French artist Fernand Leger for $7.16 million to raise funds for girls' education projects in Afghanistan, Pakistan and elsewhere.
The 1921 painting, "Trois Femmes a la Table Rouge," which carried a pre-sale estimate of up to $7 million, was purchased by an unidentified buyer at Sotheby's Impressionist and Modern Art sale in New York, according to the auction house's website.
The pop singer said in April that she bought the painting in 1990 and that selling it would combine her passions for art and education by raising funds for the Ray of Light Foundation, a non-profit organization offering vocational training for street children and poor farmers.
"I cannot accept a world where women or girls are wounded, shot or killed for either going to school or teaching in girls' schools. We don't have time to be complacent," Madonna said in a Full report at:
http://dawn.com/2013/05/08/madonna-auctions-painting-to-raise-money-for-girls-education-in-pakistan-afghanistan/
------------
Indonesian Woman Suspected of Abuse in Death of 6-Year-Old Stepdaughter
May 8, 2013
Police are questioning a Depok woman suspected of having fatally abused her 6-year-old stepdaughter, a police officer said on Tuesday evening.
Susanti, a 30-year-old housewife, called her husband, Supriadi, to tell him that his daughter was suffering from a seizure. Supriadi then asked his father to help take the girl to the hospital, Depok City Police chief Sr. Comr. Ahmad Kartiko said.
But the nearest general hospital — the Cibinong General Hospital — was full. The child died en route to another hospital, the officer said.
The girl's grandfather, Untung Jayadi, reported the death to the police, saying he was suspicious of the circumstance surrounding it.
"The result of the autopsy conducted at the Kramat Jati [police] hospital in East Jakarta showed that the victim died because of wounds on the left side of the back of her head. There was a bump on the left ear. She suffered from trauma above her right eye, on the left arm and also on the forehead," Ahmad said.
Full report at:
http://www.thejakartaglobe.com/news/woman-suspected-in-death-of-young-stepchild/
------------
Islam and the West through the Eyes of Women
May 7, 2013
By: khaleelsarwar
Islam is that kind of religion that believes in the equality of rights. Women in Islam were given a special place. If you read the history of the ancient times, you would come to know that there were a number of people that thought that women should not be given any right for anything, and there are a number of examples in which it was written that people buried their young female girls soon after they were born, but as the teachings to Islam reached the people, they came to know the value of women.
In Islam, women were given the right to speak and the right to even veto. Of course, there are certain limitations on women as well as the man in the teachings of Islam. These limitations are defined very precisely in Islam. Particularly, if we talk about the western countries there are a number of religions that have been adopted by the people. There are Jews, Christians, Buddhist and Hindus that live in every part of the world.
All of these religions have different approaches towards the role of women in the society, but in Islam the role of women in society is very vital yet with limits. In Islam, women are not allowed to show her beauty to any other person except her husband. Obviously, she can show it to her parents and siblings, but she is not allowed to show it to any other individual. In western countries, women were almost given every right.
Particularly, if we talk about the teachings of Islam with the role of women in society, women are allowed to give divorce to her husband as well as in the western parts of the world.
Full report at:
http://muslim-academy.com/islam-and-the-west-through-the-eyes-of-women/
------------
Shariah Banking Market Share Reaches New Height
May 8, 2013
The market share of Islamic lenders in Indonesia during the first quarter of 2013 reached nearly 5 percent for the first time ever, Bank Indonesia said on Wednesday.
The market share of Shariah-compliant banks in the first quarter was 4.9 percent, mainly from Rp 214.5 trillion in assets, an increase of 37.8 percent compared to the same period in 2012.
"It is a market share in the Shariah banking industry that has never happened before," Bank Indonesia Deputy Governor Halim Alamsyah said during his opening speech at a discussion on Islamic banking at the State Enterprises Ministry.
Halim said the assets growth of Shariah banking is higher than conventional banking, which reached 16.8 percent year on year. Moreover, he said that the growth of Islamic banking within Indonesia exceeded the global rate, which averages 15 percent to 20 percent per year.
From the operational sector, the financing of Shariah banking is 70 percent to 80 percent dominated by lending to micro, small and medium enterprises. He added that the financing activity of Shariah banks is relatively active with funding and saving ratios above 90 percent.
Islamic lenders comply with the Shariah law that prohibits the receipt of interest payments, by instead receiving a pre-arranged percentage of revenue to repay a loan.
Full report at:
http://www.thejakartaglobe.com/business/shariah-banking-market-share-reaches-new-height/
------------
URL: https://www.newageislam.com/islam,-women-and-feminism/new-age-islam-news-bureau/majorities-in-iraq-and-afghanistan-agree-women-should-be-killed-for-adultery/d/11473