New Age Islam News Bureau
16 Nov 2014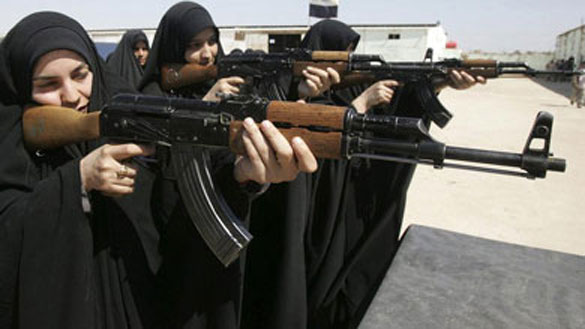 "Women of Justice," an all-female group aimed at fighting a jihadist group in Iraq, was recently formed in the Sunni-stronghold province of Anbar. (File photo: Reuters)
--------
• Saudi teenager Wins Case against Father after Being Tricked into Marriage with 90-Year-Old
• Women in Iraq's Anbar Form Group to Fight ISIS
• Peshmerga Women's Regiment Ready to Fight in Kobane
• Malala Faces Backlash At Home, Accused Of Spreading Western Values
• Jewish and Muslim Women Join at Interfaith Conference at Temple
• Domestic Violence Laws in Saudi Arabia Will Take Effect from1st Rabi Al-Awwal, Dec. 23
• Yazidi Girls Seized by ISIS Speak Out After Escape
• Christian Student Made To Wear Headscarf, Join Muslim Prayers
• Kalthoum Kannou, Tunisia's First Female Presidential Candidate
Compiled by New Age Islam News Bureau
URL: https://newageislam.com/islam-women-feminism/maharashtra-muslim-girls-kick-gender/d/100034
-----------
Maharashtra Muslim Girls Kick Out Gender Stereotypes
By Kamayani Bali-Mahabal
16 November 2014
They started off as a secret sports club. What brought them together was their shared love for football, a game they couldn't dream of playing owing to their conservative family backgrounds. After all, how could young girls, who weren't even allowed to step out of their homes without the 'Hijab' (veil), run around kicking ball in an open field? But they showed exceptional courage when they defied parental dictate to pursue their passion for the sport. Three years back, Sabah Khan, Salma Ansari, Sabah Parveen, Aquila, Saadia and 40 other girls got out of their homes in Mumbra, a small town 40 kilometres from Mumbai, Maharashtra, to play football. Today, this group that calls itself Parcham, inspired by Asrar ul Haq Majaz, an Urdu poet who saw women as crusaders with an inherent quality to revolt against exploitation and injustice, has truly lived up to its name. They have not only broken gender stereotypes by regularly playing football but have been responsible for bridging the gap between the Muslims and the Hindus in their communally volatile city.
Sabah Khan, the captain of this unique all-girls team, recalls how their journey of change began, "Around 2011, a bunch of us were approached by the NGO Magic Bus that uses sports as a means to help poor children lead a better life. They wanted to teach football to both girls and boys but we told them that in Mumbra Muslim girls cannot take up a sport let alone play alongside boys. That's when they decided to exclusively train girls who were keen to try out something they had only dreamt of."
The target was to put together a group of 40 girls but that was easier said than done. "Most of us hail from families that struggle to make ends meet. We can never really spare time for fun and games. We study, chip in at home or work. That's why we were unable to personally go to motivate girls to join in. However, some of us decided to make pamphlets and distribute them outside girls' schools and colleges. Apart from that we also approached the local wing of the Maharashtra Mahila Parishad that works with several self help groups to see if any of their members would be interested in sending their girls for this programme. In this way, we managed to build a team," elaborates Sabah.
The next challenge was to find a ground to practice on. "We went to every school and college in the vicinity that had a ground to find out whether they would allow us to play for two hours every Sunday. Unfortunately, no one was agreeable," shares the articulate leader. It was a member of the Mahila Parishad, who spoke to a board member of a temple trust to secure permission for using the open space around it for playing.
At the outset, the girls decided to call their team 'Parcham'. Aquila, one of the founding members, narrates the story behind it, "We decided to call ourselves 'Parcham' as we are inspired by Asrar ul Haq Majaz, better known as Majaz Lakhnawi. Through his romantic, revolutionary verses, Majaz urged women to look at the hijab not as a barrier but as a flag or banner. He has written: 'Tere Maathe Pe Ye Aanchal Bauhat Hi Khoob Hai, Lekin Tu Is Aanchal Se Ik Parcham Bana Leti To Achcha Tha… (The veil covering your head and face is beautiful, but if you make a flag out of it, it would be better)'. We, too, have transformed something that many see as a sign of repression into a symbol of revolution."
Through sports Parcham strives to build a just and equal society that is respectful of diversity and celebrates difference and interdependence. Their mission is to empower marginalised communities to access their fundamental rights, creating spaces for dialogue among diverse sections of society. "And our one great achievement has been getting official recognition for our struggle to get a playground for the girls," says Aquila. Last year, after they started a massive signature campaign with the support of 900 girls from across Mumbra, their demand for a ground was finally acknowledged. Female students from various schools, under the leadership of Parcham, wrote a joint letter stating: "We wish to play football and other sports. We believe that through sports we also come together in unity, forgetting our religious and other differences."
When they met with MLA Jeetendra Awhad he was amazed to see this strength of association. He told them that it was perhaps for the first time that 900 girls had got together to ask for a playground to be reserved for them. He also assured them of their very own space to play. "That promise was fulfilled and the football-loving girls of Mumbra are now able to practice freely. Moreover, the move gave a boost to our campaign that motivates girls and women to reclaim open spaces," states Aquila. Their dedicated practice sessions have fetched Parcham some rich rewards. They have won two major local tournaments - one in November 2013 and another in March 2014.
Of course, if the struggles of the group have been remarkable, then so are their individual journeys. Take the case of Saadia Bano (name changed). "When I had first heard about Parcham I immediately wanted to be a part of it. However, I did not have the courage to speak to my parents. I am not allowed to move from home without a 'hijab', so imagine them allowing me to play football! Initially, I used to step out every Sunday telling them that I was going to visit some friend. Then one day when I took my brother's T-shirt to wear for a tournament my mother immediately suspected that I was doing something without telling them. When she confronted me I had to confess to her and my sister."
Saadia's brothers still have no inkling. "After I won a trophy at a tournament I told them that it was a friend's. There are many like me who cannot yet be completely honest with all their family members. We don't want to make them unhappy nor do we want our freedom curtailed. This way we all get what we want," she says.
Adds Salma Ansari, 22, who has supportive parents and is pursuing an MBA degree, "What we need is for the society to accept that girls have an equal right to public spaces; that they too deserve to experience the joy of being able to run free, kick a ball, hold a bat, sprint, jump or swim. Nowadays, we are trying to break gender stereotypes by training a group of 50 young boys and girls together." The religious divide, too, has been overcome with the inclusion of girls from other faiths. Simran, 15, the youngest member of the team, is a Sikh. "We have so many misconceptions about other religions. But perceptions and attitudes change when we meet and interact. Being in Parcham, I am learning about gender, equality, justice… Watch out, I am a feminist in the making!" she says emphatically.
What's next on Parcham's agenda? "We want to set up a resource centre for our girls, complete with books, newspapers, computers and a Wi-Fi network. Every Saturday, we plan to hold meetings where we can discuss the latest news and concepts like secularism and citizenship to enable everyone to think and form opinions on subjects they are passionate about. The centre will be a safe haven for Muslims and non-Muslims to build friendships," says Sabah.
In the home town of Ishrat Jahan, the young woman who was tragically shot in an encounter in Ahmedabad in 2004, these girls are gearing up to drive out prejudice and hatred.
—(Women's Feature Service)
http://www.kashmirtimes.in/newsdet.aspx?q=38270
----------
Saudi teenager Wins Case against Father after Being Tricked into Marriage with 90-Year-Old
16 November 2014
A Saudi teenager, told she would marry a handsome young man whom she had been allowed to meet, was shocked when she discovered that her father had tricked her and that her groom was a man in his nineties. She is 17-years old.
Amazingly, the girl bolted and called the police. Headlines, and a social media campaign, condemned her father, accusing him of "selling his daughter to an old man." A court just ruled the marriage "null and void."
This news is both depressing and inspiring. Depressing because fathers are still arranging inappropriate matches for their daughters and sentencing them to a lifetime of misery. Depressing because, according to Sharia law, in the case of a divorce, custody belongs to fathers, not mothers. This girl was living with her father whose authority is traditionally considered supreme. She was, or so it seems, a child of divorce.
But the news is very inspiring because the girl actually fled her father's choice (which is unheard of), other Saudis supported her on the internet, and a court upheld her right not to be duped in this way.
This case follows another similar case in which a fifteen-year old Saudi girl "locked herself in her bedroom on her wedding night after being forced to marry a 90-year-old Saudi man." Social media condemned this arranged marriage, calling it "child trafficking and prostitution." The elderly man said he paid 10,767 pounds for her—and later insisted that both the bride and her parents had set out to "swindle him."
One must understand that the "selling" of girls into marriage is not seen as barbaric. To the contrary, it is viewed as taking care of one's daughter, protecting her reputation, ensuring that an (under-valued, useless, potentially dangerous) daughter is fed, clothed, and housed and not at her father's expense. In poverty-stricken, illiterate countries and cultures, marriage is a woman's only dignified and viable alternative other than prostitution.
Further, if a family has land or other economic resources, they will want to keep it "in the family;" for that reason they marry daughters to first cousins. And, if a family is wealthy, they must marry their daughters into similarly wealthy families or lose all honour.
It must be noted that Mohammed himself married a six-year-old girl when he was in his fifties and consummated the marriage with Aisha when she was 9 years old. The Prophet's life is considered a role model for Muslims. According to the Center for the Study of Political Islam, the Quran specifically notes "91 times that the Prophet's words and actions are considered to be the divine pattern for humanity." Thus, a 44-year difference between a husband and wife is not necessarily considered as abnormal but might be viewed as "divine."
Although Mohammed viewed "dolls" or "images" as forbidden, he allowed Aisha to bring her dolls with her into the harem. This implies that he was so fond of her that he made this exception.
Mohammed himself had eleven wives and two sex slaves. In Islam today, men are allowed four wives—and any number of dalliances with prostituted women and sex slaves.
Muslim women are (dishonourably) killed if they are suspected of having sex with someone who is not their husband or not the man chosen for them by their fathers. No one is exempt. In 1977, a Saudi princess, Misha'al bint Fahd al-Saud, was executed because she chose her own husband and tried to flee the Kingdom with him. Her love match husband was also executed.
Given this kind of tribal and Sharia-based culture, it is nothing short of a miracle that, in 2014, two Saudi teenage girls fled the marriage arranged for them by their fathers; were supported by others in the Kingdom; in one case, her decision was upheld by a Saudi Court. Apparently, neither girl has been killed by her father for having dishonoured the family.
It is a time of small miracles. Recently, King Abdullah's Advisory Council proposed a bill that would allow women to drive cars--but only during the day and only if they refrain from wearing any makeup. Let's see if this bill passes.
http://www.breitbart.com/Big-Peace/2014/11/14/17-Year-Old-Saudi-Girl-Wins-Case-Against-Father-After-Being-Tricked-into-Marriage-with-90-Year-Old
-----------
Women in Iraq's Anbar Form Group to Fight ISIS
16 November 2014
"Women of Justice," an all-female group aimed at fighting a jihadist group in Iraq, was recently formed in the Sunni-stronghold province of Anbar, Al Arabiya News Channel reported Saturday.
The 50-member group was formed following a popular tribal drive in Anbar to eject the Islamic State of Iraq and Syria (ISIS) jihadists from areas they have occupied in the western province.
Khansa Ahmed, head of a women centre in Anbar, told the news website PUK Online on Wednesday that "the 50-women military force is to support tribal forces fighting ISIS."
She added: "The women are currently being trained to carry weapons, and more recruits are expected," thanking the Anbar tribal council for allowing the formation of the group.
The group represents the first type of women militarization in Anbar.
The women are expected to be deployed to give backup to security and tribal forces during their operation against ISIS.
Earlier this month ISIS killed scores of male members of a prominent Sunni tribe called Albu Nimr in Anbar, offering a chilling glimpse of what could await both Shiites and many Sunnis if the capital were to fall.
Albu Nimr said 497 of its members, including 20 women and 16 children, were executed by ISIS, to spread fear among other tribes not to resist the jihadist group, which is currently occupying about one third of Iraq.
Meanwhile, there was mixed reactions to the group with some expressing support while others shunned the move as they feared the militarization of civilians outside the government's control.
http://english.alarabiya.net/en/News/middle-east/2014/11/15/Women-in-Iraq-s-Anbar-form-group-to-fight-ISIS-.html
-----------
Peshmerga Women's Regiment Ready to Fight in Kobane
16 November 2014
SULAIMANI, Kurdistan Region – The only Peshmerga women's regiment is fully trained and ready to fight the Islamic State (ISIS) in the Syrian town of Kobane, alongside the women already fighting with Kurdish defenders there, its commander said.
"Our regiment regularly receives training. We are always on alert," said Colonel Nahida Ahmed, who heads the all-female force. "We are ready to go and fight ISIS in Kobane whenever Massoud Barzani, president of the Kurdistan Region, gives the order," she said.
Kobane, the Kurdish town on the border with Turkey, has been resisting an ISIS takeover for nearly two months. Its main defensive force, the Kurdish People's Protection Units (YPG), also contains the Women's Protection Units (YPJ). According to some figures at least 10,000 YPJ fighters – or about a third of the guerrilla forces defending the city -- are women.
Last month, the Kurdistan Region's Peshmergas became the first foreign forces to enter the town to fight alongside the YPG.
Ahmed hoped her regiment – called the 2nd Women's regiment -- could help in Kobane's defence, fighting shoulder-to-shoulder with the YPJ.
"We have received training on all kinds of weapons, light and heavy," she said. "Before the war with ISIS, our unit was in training for three months. The trainers were male and they had a positive assessment of the women Peshmergas. The trainers even said that in some respects female Peshmergas were doing much better than their male counterparts."
Since June, when ISIS routed the Iraqi army and took over about a third of the country, the Peshmergas have remained the main bulwark against ISIS expansion in the north, backed since August by US and coalition airstrikes.
There has been no decision among Kurdistan's leaders to send women into battle, and the female Peshmerga are largely involved in logistics and other activities behind frontlines.
But Ahmed said her regiment had done its fair share against ISIS, even losing one fighter – Captain Rangin -- who died after an ISIS mortar attack in Kirkuk. "We were the first Kurdish force to enter Kirkuk," said Ahmed, who was involved in the formation of the female Peshmerga units.
"We wanted to join the military forces to send the message that there is no difference between men and women, and to increase women's awareness," she said. "We have Peshmergas from Khanaqin to Qandil. Women from different areas have joined our regiment. We even have Sunni and Shiite members."
Sakar Kamal, who is in her early 20s and part of Ahmed's regiment, said her mother worries about her only daughter being a Peshmerga. "Everything is possible in this war, especially if we move to the front lines," she said. "I have a duty to my family and to my nation."
http://rudaw.net/english/kurdistan/13112014
-----------
Malala Faces Backlash At Home, Accused Of Spreading Western Values
16 November 2014
Being a Nobel laureate and an education campaigner who is based in the West appear to have earned Malala Yousafzai some backlash at home in Pakistanis.
An association of Pakistani schools held an "I am Not Malala" day and organized walks, seminars and press conferences to condemn the renowned activist they see being used to spread Western values in the conservative Muslim Pakistan.
The All Pakistan Private Schools Federation (APPSF), a group that claims to represent 150,000 schools across Pakistan, has called for banning Malala's memoir because it "offends Islam" and the "ideology of Pakistan," the Huffington Post reported.
Mirza Kashif Ali, the organization's president, denounced Malala's book as offensive.
"We are all for education and women's empowerment," Kashif Ali told New York Times. "But the West has created this persona who is against the Constitution and Islamic ideology of Pakistan."
The group claimed that the memoir supports the controversial British Indian novelist Salman Rushdie who angered the Muslim World in 1988 with his novel "The Satanic Verses. The group reportedly accused the young activist as a member of "Rushdie's Ideological Club."
Child activist Malala was shot in the head by the Taliban in October 2012 but recovered and went on to win this year's Nobel peace prize.
She was hailed all over the world as a figure of courage but her fame was perceived differently in her homeland.
According to a study quoted by the Independent, 30 percent of the Pakistani population said they support Malala, about a fifth said they viewed her unfavorably and half said they felt indifferent.
http://english.alarabiya.net/en/perspective/features/2014/11/15/Malala-faces-backlash-at-home-accused-of-spreading-Western-values.html
-----------
Jewish and Muslim Women Join At Interfaith Conference At Temple
16 November 2014
The director of a major Muslim group told Muslim and Jewish women gathered Sunday that God "has put the spark of the divine in all of us."
Daisy Khan, executive director of the American Society for Muslim Advancement in New York City, was among the speakers at the Muslim-Jewish Women's Leadership Conference at Temple University. Its organizers called it "the first-ever national gathering of Muslim and Jewish women." About 100 women participated.
Khan urged audience members "to try to see things from God's perspective - that religions are part of the divine plan - and to see ourselves as part of the plan."
She said the goal of such interfaith efforts was "to celebrate these religions as God would want to celebrate them - to see ourselves as equals." Sheryl Olitzky, executive director of the Sisterhood of Salaam-Shalom in North Brunswick, N.J., told the group such discussions "could not happen until we built trust and respect."
The sisterhood - its name means "peace" in Arabic and Hebrew, respectively - organized the event with the Foundation for Ethnic Understanding in New York City, Olitzky said.
Walter Ruby, director of the Muslim-Jewish Program for the Foundation, said in an interview the gathering was meant to show "Muslim and Jewish women can be each other's best allies in dealing with issues that confront women of faith."
The conference was an outgrowth of the Foundation's Weekend of Twinning, begun in 2007 in New York City with a summit of rabbis and imams from around the U.S., Ruby said.
This year, the weekend of Nov. 14 to 16 is to be marked by Muslims and Jews in more than 30 countries whose efforts on those days are to range from visiting houses of worship to feeding the homeless, he said.
The purpose of the women's Philadelphia gathering, Olitzky said, was "to provide these women with the skill sets and motivation to go back to their communities as advocates for Muslim-Jewish dialogue and engagement."
Recent events, Ruby said, "had made it seem like it's hopeless to bring together Muslims and Jews."
"But this event is saying that women can play a very significant role in the process of reconciliation between our communities."
Olitzky said the sisterhood consisted of chapters of Muslim and Jewish women in Baltimore, Boston, Kansas City, Mo., New York City, and five locations in New Jersey.
The Dialogue Institute at Temple University hosted the event.
http://www.philly.com/philly/news/local/20141103_Jewish_and_Muslim_women_join_at_interfaith_conference_at_Temple_U_.html#L5xu6MLuIE8veBiA.99
-----------
Domestic Violence Laws in Saudi Arabia Will Take Effect from1st Rabi Al-Awwal, Dec. 23
16 November 2014
A judicial source has disclosed that the new domestic violence laws will take effect from the beginning of Rabi Al-Awwal (Dec. 23). The Council has examined a draft of the domestic violence law and has since finalized its text, confirmed the source.
The source said that the new text of the law pays full attention to violence against women, noting that the majority of domestic violence cases that are monitored by the Ministries of Justice and Social Affairs were against women, according to statistics.
The source said the new system incorporates a role for police by forcing them to respond to phone calls and complaints without any precondition.
The new law represents a major step forward in the modernity of the legislation concerning the protection of women, children and other vulnerable groups. He noted that the new system is compatible with international laws and agreements relating to domestic violence, as well as fundamental women's and human rights.
Under the new law, social security protection is offered to those who report cases of violence without revealing their identity. Also offered will be access to assistance, treatment, accommodation and social, psychological and physical health care for victims. The law also imposes penalties and sanctions against abusers.
The Kingdom's courts dealt with 454 cases of violence against women in the past year, with Makkah taking the lead at 314 cases, followed by Eastern Province, Riyadh. Courts in Najran and Al-Jouf did not report any case of violence against women.
The number of registered cases of violence against women was 234 cases involving Saudis versus 220 cases for non-Saudis.
http://www.arabnews.com/saudi-arabia/news/660366
----------
Yazidi Girls Seized by ISIS Speak Out After Escape
16 November 2014
KHANKE, Iraq — The 15-year-old girl, crying and terrified, refused to release her grip on her sister's hand. Days earlier, Islamic State fighters had torn the girls from their family, and now were trying to split them up and distribute them as spoils of war.
The jihadist who had selected the 15-year-old as his prize pressed a pistol to her head, promising to pull the trigger. But it was only when the man put a knife to her 19-year-old sister's neck that she finally relented, taking her next step in a dark odyssey of abduction and abuse at the hands of the Islamic State.
The sisters were among several thousand girls and young women from the minority Yazidi religion who were seized by the Islamic State in northern Iraq in early August.
The 15-year-old is also among a small number of kidnapping victims who have managed to escape, bringing with them stories of a coldly systemized industry of slavery.
Their accounts tell of girls and young women separated from their families, divvied up or traded among the Islamic State's men, ordered to convert to Islam, subjected to forced marriages and repeatedly raped.
While many of the victims are still living in areas of northern or western Iraq under the control of the Islamic State, also known as ISIS or ISIL, many others have been sent to Syria or other countries, according to victims and their advocates.
Five girls and women who recently escaped agreed to be interviewed at the end of October. Four of them were in Khanke, a predominantly Yazidi town in the far north of Iraq, and a fifth in the nearby city of Dohuk. Tens of thousands of Yazidi refugees have sought refuge in this region, in vast tent camps and in relatives' homes, after fleeing their villages around the Sinjar Mountains.
The five victims consented to speak publicly only on the condition that their names not be revealed for fear that the Islamic State would punish their relatives.
At first, though, the 15-year-old felt differently. "I want my name used because when the Islamic State reads it, it will be like a revenge for me," she declared at the outset of her interview, though she soon demurred on the advice of a Yazidi advocate with her, only permitting the use of her initials, D. A. The militants, she said, were still holding most of her immediate family.
The Islamic State itself has openly acknowledged its slavery industry. In an article last month in Dabiq, the group's online English-language magazine, the Islamic State said it was reviving a custom justified under Shariah.
"One fifth of the slaves were transferred to the Islamic State's authority to be divided as khums," a tax on war spoils, and the rest were divided among the fighters who participated in the Sinjar operation, the article said.
Yazidis follow a religion influenced by a medley of faiths, including Zoroastrianism, Judaism and Islam. But the Islamic State regards them as devil-worshiping pagans deserving of enslavement or death. By forcing Yazidi women and girls to marry Islamic State members and become their "concubines," the article said, the group is helping to protect its fighters against committing adultery.
In a video posted last month on YouTube, men purported to be Islamic State fighters sit in a room and banter about buying and selling Yazidi girls on "slave market day." One says he will check the girls' teeth. Another says he will trade a girl for a Glock handgun. They discuss the relative value of girls with blue eyes.
"Today is the day of (female) slaves and we should have our share," a fighter declares.
The Islamic State has kidnapped more than 5,000 Yazidis, and possibly as many as 7,000, most of them women and girls, according to Matthew Barber, a member of the Sinjar Crisis Management Team, an advocacy group that has conducted an extensive survey of displaced Yazidi families.
Human Rights Watch, in a report released last month, said the systematic abduction, abuse and killing of Yazidis might amount to crimes against humanity.
"We've all been living these cases," said Amena Saeed, a former member of the Iraqi Parliament and a Yazidi who has been advocating on behalf of the kidnapped.
The Yazidis' communal ordeal began on Aug. 3 when the Islamic State launched an attack on their villages in the Sinjar region, driving thousands to flee into the nearby mountains.
D. A. was part of that exodus, travelling in a car with her parents, five of her sisters and a niece. But their path was cut off by militant fighters who rounded them up, along with other families, and took them to a building in the town of Sinjar. There, the militants separated the female Yazidis and young children from the men and boys, then later in the day picked out the unmarried women and older girls, D. A. said.
"I was crying and grabbing my mother's hand," she said during an interview at a relative's house in Khanke, a Yazidi village near Mosul Dam Lake. "One of the Islamic State members came and beat me and put a pistol to my head. My mother said I should go so I wouldn't be killed."
Along with dozens of other girls, D. A. and two of her sisters — one 19, the other 12 — were loaded onto a convoy of three buses and driven to the Islamic State stronghold of Mosul.
D. A. and her two sisters were held in a house there for nine days along with women and girls from other villages in the region, then they were taken to a three-story building crowded with hundreds of captives.
The building functioned as a kind of clearinghouse. Islamic State fighters would stop by and take their pick of the girls and young women. Some, perhaps in a reflection of their lower rank, would take only one girl, while others took more, D. A. and other escapees said.
The man who chose D. A. "was wearing a beard, though not a long one, and not very long hair," she recalled. She refused to go at first, holding on to her older sister. But the sight of a dagger at her older sister's throat convinced her to submit. Her 12-year-old sister looked on in stunned silence.
"She couldn't talk, she couldn't cry," D. A. said. "It's like she had no feelings."
That was the last time she saw her sisters.
Over the next several weeks she was moved at least eight more times, among increasingly smaller groups of girls.
She was taken across the border into Syria. She remembers spending a day in a white house, next to a lake, near Raqqa, Syria, where Islamic State fighters engaged in another round of commerce involving the girls. She saw men haggling, money trading hands. "It was like an auction," she recalled.
At that house, the girls were forced to shed their clothes, bathe and change into conservative Islamic garb. Some of the girls were as young as 11.
At one point, while she was being held in another house near Raqqa, D. A. tried to escape along with five other girls. But their attempt failed, and D. A., accused of being the ringleader, was severely beaten and imprisoned.
She was released into the custody of yet another jihadist who locked her in a house with several other girls.
The jihadist told them he was going to force them to marry him at the end of the week. They could hear another group of girls living in a different section of the house being taken away from time to time for sex.
None of the five escapees interviewed said they had been raped while in captivity. But one said she had fought off a sexual assault, and most said they had met other girls who had been raped, sometimes by several men.
Several advocates said that even if the girls had been sexually assaulted, they might never admit it, particularly not to a stranger. Some advocates said they were concerned that the shame surrounding rape might drive victims to suicide, though Ms. Saeed and other community leaders insisted that there had been no suicide attempts among the estimated 150 Yazidi escapees.
The threat of forced marriage led D. A. to consider killing herself, but instead she decided to try another escape. Late one night, she and another girl squeezed through a small window, and the two ran into the darkness, eventually coming to a house in a rural area. They took their chances, knocked on the door and a sympathetic-seeming young Arab man answered.
He took them to the house of a Kurdish family who then contacted D. A.'s brother, arranged a meeting in a Kurdish area of Syria and agreed that the girls' families would pay $3,700 each to the Arab man for his help. (They withheld details of the transaction, including the route D. A. took out of territory controlled by the Islamic State, to protect the identities of those involved.)
Asked why the Arab took the extraordinary risk of helping the two girls, D. A. said, "I think he needed the money."
That meshes with other accounts suggesting that a cottage industry of for-profit rescuers has sprung up in response to the Yazidi girls' abductions. One 19-year-old woman, the daughter of a Yazidi police officer, said her family had paid a smuggler $15,000 to help her escape captors in Aleppo, Syria.
D. A.'s parents are still in captivity — if they are still alive — as are five sisters and her niece, relatives said.
Their absence, D. A. said, has left her feeling bereft. During the day, relatives, relief workers and television provide distractions. But at night, she said, when the house goes quiet and she is left alone with her thoughts that is when it hurts the most.
http://www.nytimes.com/2014/11/15/world/middleeast/yazidi-girls-seized-by-isis-speak-out-after-escape.html?_r=0
-----------
Christian Student Made To Wear Headscarf, Join Muslim Prayers
16 November 2014
Following allegations of Muslim students being used to subtly propagate Islam to their non-Muslim peers in secondary schools, fresh claims have surfaced that a Christian student at a primary school in Negri Sembilan was forced to wear a tudung (headscarf) and join a nasyid group.
A source close to the school told The Malaysian Insider the 12-year-old student from Sabah was also coerced into joining a Muslim prayer session at a camp she had attended recently.
"All this happened without the parents' knowledge and permission," said the source.
The source also said that when the matter came to light, school authorities told the teachers and students to keep it under wraps.
But the school's headmaster, Yunus Ismail, denied that the student was forced to don a tudung or forced to participate in the nasyid programmes.
"I have asked the student about it. She was not forced by her teachers. She wore the tudung willingly. We do not force our non-Muslim students to join the nasyid programmes, either," he told The Malaysian Insider.
Yunus said the matter was resolved two weeks ago, and that it was "not a big issue".
"I also met her parents, and they have no problems with the whole matter. I believe that several teachers are trying to make this into an issue," he said.
The girl's mother, when approached, appeared unnerved by queries over the incidents.
"I don't want to make it a big issue. I don't want my daughter to be shunned in school or get into trouble," she said.
The source said most parents of students at the school were uneducated or had very little education and were also poor. Some worked in nearby oil palm estates.
"The question is, why was a non-Muslim girl forced or encouraged to join Muslim activities and made to wear a headscarf?"
"Why aren't the teachers and headmaster in the school sensitive to the non-Muslim students? Is it because there are not many of them?" said the source.
It was learnt that the predominantly Muslim school has about 400-500 students, out of whom only seven are non-Muslims.
"The child is a minor, so how could this have happened to her without her parents' permission or knowledge?" the source said, questioning the motive behind the incidents.
Incidents or attempts to convert non-Muslim students in schools are not new and this year alone, similar claims have been made.
In June, Malaysia Hindu Sangam (MHS) president Datuk R.S. Mohan Shan claimed that Muslim students were being used to propagate Islam subtly to their non-Muslim peers in secondary schools.
During a dialogue with the National Unity Consultative Council, Mohan said one school had set a provocative question in an Islamic Studies paper last year.
The question, he said, was: "What are the ways to convert your friends?" (Cara-cara mengislamkan kawan-kawan anda).
"The school would not have framed such a question if that agenda is not part of the syllabus in Islamic studies," he said.
"The authorities cannot subtly use Muslim students to influence their non-Muslim counterparts with the intention to convert them."
There were also claims of covert religious conversion attempts of non-Muslim students at a school in Kuching, Sarawak by a Muslim NGO from the peninsula.
The students were said to have been placed under an "Anak Angkat" (adoption) programme run by the NGO at a school in Kuching.
The parents had complained that the programme, attended by mostly non-Muslim students in May this year, had all its talks conducted by "ustaz" (religious teachers) who spoke about Islamic religious matters to the Christian students.
The state's outspoken minister Tan Sri Dr James Masing had said then that the programme, held every Saturday since March, was a covert attempt to convert the students.
He demanded that the Public Service Commission investigate allegations that two teachers from the school had aided the group in conducting the programme and had coaxed the students to attend the programme under the guise of it being a "co-curriculum" activity.
"How could religious topics like the difference between 'air zam zam' which Muslims believe in, and the holy water Christians believe in, and questioning the sainthood of Mother Teresa, be discussed, if this is a school-sanctioned programme?" Masing asked.
The Sarawak government later suspended the "Anak Angkat" programme but claimed that the whole issue had been a misunderstanding.
http://www.themalaysianinsider.com/malaysia/article/christian-student-made-to-wear-headscarf-join-muslim-prayers-at-negri-schoo#sthash.TJwl5ux4.dpuf
-----------
Kalthoum Kannou, Tunisia's First Female Presidential Candidate
16 November 2014
Not only was she among only three women to dare to practice their constitutional right in running for presidency, but Judge Kalthoum Kannou has recently made history as the first female presidential candidate in modern-day Tunisia, marking yet another milestone for the "cradle" of the Arab Spring country.
A judge in the Court of Cassation, the highest court in the Tunisian judiciary system chiefly responsible for verifying the interpretation of the law, Kannou is Tunisia's first woman to seek a post higher than that of a parliamentarian.
Aiming to be the world's first "Tunisian, Arab, Muslim, female president," Kannou was able to garner more than 15,000 nominations from across the country while fielding her candidacy and is currently touring Tunisia for her electoral campaign competing against 24 men.
Early fight
Born on the east coastal islands of Karkna in 1959, just three years after Tunisia's independence from French colonial rule, Kannou grew up learning how to fight for her rights from her father, Mabrouk Kannou, a known member of the Tunisian General Labor Union who helped kick out the French.
Kannou earned a law degree from the Universite de Tunis in the capital to quickly become frontrunner in the battle for an independent judiciary and a fierce critic of corruption that marked the longstanding regime of Zine al-Abidine Ben Ali.
As a result of her outspokenness, the former Ben Ali government continuously used coercive measures to silence Kannou such as banning her from traveling, denying her promotions, cutting her salary, tapping her phone, and assigning her to courts in remote areas in the southern region although she spent most of her career in the capital.
Putting her 25-year career as a judge aside, Kannou is also a mother of three and is married to a physician.
Political independence
The 2011 revolution that toppled the autocratic Ben Ali regime has witnessed the emergence of two ideological camps at odds – Islamism and secularism – that deeply divided both the Tunisian political system and society.
Wary of the political schism and its effect on the government's efficiency and especially the judiciary system, Kannou continued to advocate for an independent judiciary as the president of the Association of Tunisian Magistrates (AMT).
But it wasn't until the Islamist Ennahda party started calling for a "consensus president" as a political solution for Tunisia's political deadlock in June this year that Kannou decided to step forward as a non-partisan, independent candidate and filed her candidacy in mid-July – a move that surprised many Tunisians.
"Her political independence is one of the things that qualify her for presidency," said Ayoub Massoudi, a prominent blogger and former senior media advisor to President Moncef Marzouki.
"She is standing up to the political oneness and is going to play the role of the mediator between the polarizing forces," added Massoudi, referring to the winners of the general elections: the secular Nidaa Tounes, which came out on top, and Ennahda, which won 69 of 217 seats.
"Kannou was above all the political bickering. And that's what the Tunisian citizen needs."
First woman
Tunisian intellectuals see her candidacy as "symbolic" and "historic" for a country already known as the Arab world's most progressive in terms of women's rights.
Gender studies academic and political writer Amel Grami told Al Arabiya News that Kannou's candidacy is opening the door for future female candidacies.
"It is a symbolic move. She is sending a letter of hope for the coming generations saying that it is possible for the Tunisian woman to consider and seek this post," Grami said.
"Kannou is an initiator. She is down on the streets leading her campaign and speaking to all kinds of people. She is on the media discussing politics and negotiating her views with others," said Grami, adding that Kannou is breaking the "psychological barrier" that kept women from running for the highest presidency.
Speaking about whether Tunisian society is ready for a female president, prominent journalist Neziha Rejiba said: "The Tunisian man already trusts a female pilot with his life; goes to a female doctor for medical treatment and consults with a female lawyer for legal issues."
"Why wouldn't he trust a female president?"
But Kannou does not see herself as a representative of Tunisian women only.
"I am not a candidate for women. I am a candidate for all of Tunisia," she said during an interview with Tunisian radio station Mosaique FM.
"I don't think the other male candidates are running for presidency because they are men."
Tunisians head to the ballot box again on Nov. 23.
http://english.alarabiya.net/en/perspective/profiles/2014/11/16/Kalthoum-Kannou-Tunisia-s-first-female-presidential-candidate.html
-----------
URL: https://newageislam.com/islam-women-feminism/maharashtra-muslim-girls-kick-gender/d/100034