New Age Islam News Bureau
23 October 2021
• A Women's Well-Being App Builds on Saudi Arabia's Health-Tech Success
• Women Reportedly Linked to IS Set Syria Camp on Fire
• UNESCO, L'Oreal Program Supports Female Scientists
• Egypt Must End State Oppression of Women and Girls; It Has One Of The Worst Records In The World For Gender Equality
Compiled by New Age Islam News Bureau
URL: https://www.newageislam.com/islam-women-feminism/maghrebi-paris-massacre/d/125632
--------
Maghrebi Women Writers in France Pull Down Wall of Silence on Paris Massacre
22/10/2021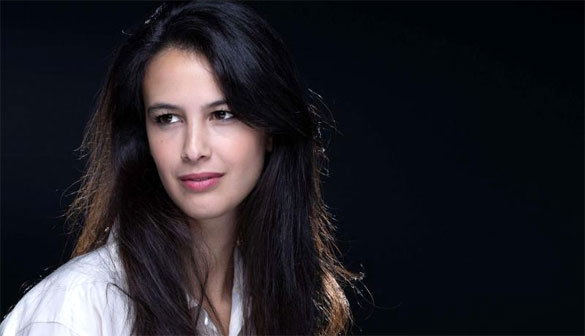 Algerian-French journalist and novelist Lilia Hassaine poses during a photo session in Paris. (AFP)
-----
PARIS--When writer Kaoutar Harchi was a little girl growing up in Strasbourg two decades ago, her teacher gave her a book with the inscription, "To my little Arab".
"It profoundly shocked me and I've never forgotten it," said Harchi, now 34 and a successful novelist and sociologist in Paris.
"It was a way of assigning me to my origins, to say that I was not French."
A reckoning is belatedly underway in France over its colonial past.
It is led by young female writers, filmmakers, and researchers like Harchi who are challenging the old myth that the millions who were brought for work after World War II, from Algeria, Tunisia and Morocco, were perfectly-integrated under the welcoming umbrella of French citizenship.
"France in the 1950s and 1960s was a place where, if you were Algerian and you were taking the metro, you would stick close to the wall because you were afraid someone would push you," said Salima Tenfiche, a researcher at Paris University.
This past weekend marked the 60th anniversary of the Paris Massacre, when dozens, perhaps hundreds, of Algerian independence protesters were killed by police, many of them drowned in the Seine, an incident blotted out from the national memory for decades. The first generation of immigrants responded by building a wall of silence.
"All these stories, this racism, these humiliations, they couldn't talk about it with their children. There was a lot of shame and suffering. Many never found their place in society," said Tenfiche.
Language of exile
Now a slew of novelists and artists is helping to pull down that wall.
Lilia Hassaine's "Soleil Amer" (Bitter Sun), Alice Zeniter's "The Art of Losing", Faiza Guene's "La Discretion", all are inspired by the arrival of their Algerian families in the 1960s by writers in their thirties.
Or there's Leila Slimani's bestselling "The Country of Others", which recounts how her Moroccan grandfather met her French grandmother.
"For the first generation, they had to remain discreet to survive. For the second, who had witnessed the sacrifices of their parents, the question of memory was secondary. It's the third generation, with enough distance from this painful history, who are able to tackle these questions," said Tenfiche.
Lina Soualem, 31, has just released a documentary, "Leur Algerie" (Their Algeria) that digs into the experience of her grandparents coming to France in the 1950s.
"We never spoke about these things because the norm was silence. A silence that was transmitted from generation to generation as if the language of exile was ultimately silence," she said.
Her grandfather, largely mute through the film, finally opens up when Soualem returns to Algeria and finds her family's graves, something none of her relatives had done since coming to France.
He had worked in a knife factory in Clermont-Ferrand.
The town is world-famous for its knives, but she could find no pictures of him in the town's museum because none were ever taken of the Algerian workers.
"It's not about forgiveness or reconciliation. It's about memory, the fact that we can finally talk about these people who have always been forgotten in the French national narrative," said Soualem.
It is the same for Hassaine, whose "Soleil Amer" was nominated for France's top Goncourt literary prize.
"The subject isn't so much Algeria, it's departure, unrooting," said Hassaine, 30.
"I wanted to speak about France and the way that first generation of immigrants was treated, the racism. But I didn't want to do it in an angry way. I just wanted to tell the story as it was, because it was also a beautiful story."
Source: The Arab Weekly
https://thearabweekly.com/maghrebi-women-writers-france-pull-down-wall-silence
--------
A Women's Well-Being App Builds on Saudi Arabia's Health-Tech Success
October 22, 2021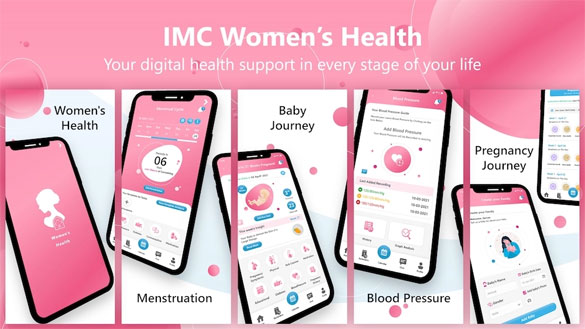 A preview of the IMC Women's Health App. (Supplied)
-----
DUBAI: Saudi Arabia's growing health tech sector will soon get a new smartphone application dedicated to monitoring women's well-being.
The IMC women's health app, due to launch on Nov. 1, will — according to its creators — track users' body metrics, offering them more control over their health and promoting overall well-being.
More than just a dieting and fitness tracker, the new app also gives information on gynecology services, polycystic ovary syndrome, fertility, fatigue and hormones. It includes a calendar and calculator for menstrual cycles, ovulation and fertility tracking, as well as for pregnancy and wellness management.
"We focus a lot on wellness and well-being," Farhaa Abdelhaq, who is in charge of the app's design and analysis, told Arab News. "It connects to our vision of healing the mind, body and soul by taking a holistic approach. Biologically, we know that women have longer life expectancies, but that longevity does not equate to better quality of health."
Different features allow women to predict their fertility, record and track their symptoms, and monitor contraception, blood pressure, blood sugar and medication. As Abdelhaq explained, such metrics require a service tailored specially for women to provide them with more control over the management of their health.
"It's really about dedicating a special app for their specific needs, for diseases that affect them, and to give them more opportunity and information, without visiting the doctor all the time," she said.
"It's about enabling and empowering patients to have information at their fingertips, which they can receive from a more (reliable) source rather than reading online."
Available on the Apple App Store and Google Play, the app will initially be released to patients at the International Medical Center Hospital in Jeddah, where it was developed in both Arabic and English, before it is offered to women across the country and, eventually, the world.
"We will assess, based on the feedback from our patients, whether any features need to be improved," Abdelhaq said. "There is no specific app for women to date in Saudi Arabia, so it's important this is done for them."
Technology geared toward women's health, known as femtech, is a rapidly emerging industry. According to a report from Research and Markets called "FemTech Market — Global Outlook and Forecast 2021-2026," the sector was expected to grow at a compounded annual rate of over 13 percent during those five years.
With the health care industry increasingly adopting digital tools, the report found that 80 percent of women spend money on health products and make 90 percent of household decisions related to health issues. Overall, the global femtech market linked to maternal health is expected to reach over $19 billion by 2026.
"It's a huge tech-based industry focusing on developing female health," Abdelhaq said. "It focuses on very specific issues for women.
"There are a lot of stages women go through — from menstruation cycles and pre- and post-menopause, to pregnancy, postpartum and using birth control. The idea is to improve our overall well-being, and digital tools are one way we can do that.
"Women are the primary decision makers when it comes to health care, but they also have little information, or they're misunderstood."
Such digital tools can be especially important for women in Saudi Arabia, as they take into account travel arrangements and religious duties, such as Umrah.
"It gives them that data, information and awareness overall to have everything listed out so that, when they go to the doctor, they know what symptoms to mention," Abdelhaq said. "It helps early diagnosis."
In particular, Abdelhaq highlighted the app's role in monitoring polycystic ovary syndrome, which affects fertility, weight and hormones, and can be difficult to diagnose.
The app is part of a set of digital solutions that the IMC Hospital aims to provide to women throughout Saudi Arabia.
"As health care is progressively becoming more patient-centric and personalized, it is imperative we take into account the different needs of Saudi women and use technology to ensure it is both affordable and accessible," Omer Sayyid, the app's project manager, told Arab News.
"Globally, for decades, health-care products were developed, designed and delivered without considering the fact that women's health care issues and needs are different from those of men. Machine learning, the internet of things, and artificial intelligence all have enormous potential to help devise interactive health solutions for women."
From improved cancer screening and diagnosis of women-specific diseases, to better self-care management and engagement in dealing with pregnancy, menstruation cycle issues, or treating diseases such as arthritis, osteoporosis, depression and Alzheimer's Disease, technology and science can work wonders at a faster rate if diverse needs and voices are incorporated into solutions, Sayyid believes.
"The majority of software, wearables and apps are focused on the fertility or pregnancy category of the femtech market, but we need to move beyond that," he said. "We need to take into account the needs of women of all ages, not just the reproductive age — menopause and senior care are also important, as well as addressing chronic conditions and hormonal disorders."
Abdelhaq admitted that there is also a financial incentive. Globally, software and tech companies addressing female biological needs generated $820 million in 2019. "But more importantly, it is a necessity, not a choice, that we include women to ensure we are healthier in current and future generations," she said.
The new app will no doubt find a ready market. More than 34 percent of patients who use digital tech to track their health feel more in control, according to the Philips' Future Health Index.
"The app is an extension of the 'digital front door' — which is an integrated digital strategy for engaging patients," Muhammad Siddiqui, the chief information officer at Jeddah's IMC, told Arab News.
"The digital front door empowers patients and offers them a greater sense of autonomy, making it easier and less stressful to enter an insightful conversation about their care. With more transparency and communication, the patient-provider relationship is enhanced."
The initiative also falls in line with Saudi Vision 2030, the Kingdom's economic diversification and reform agenda. Saudi Arabia launched the health sector transformation program earlier this year to develop the health care system across the whole country.
The program is designed to restructure the Kingdom's health sector and improve its capabilities, setting the health of every member of society at the forefront of its priorities.
"Overall, the IMC has a goal of aligning our facilities to Vision 2030," Abdelhaq said. "We are looking — from a health perspective — to use more technology for the right purpose, rather than just innovating in the tech sector for the sake of it.
"We're looking at empowering people, because without this process of improvement, technology is just a tool. In health care, we're lagging behind in adopting technology compared with banking and finance. But now is an opportune moment to take that leap."
Source: Arab News
https://www.arabnews.com/node/1953276/middle-east
--------
Women Reportedly Linked to IS Set Syria Camp on Fire
October 21, 2021
Zana Omer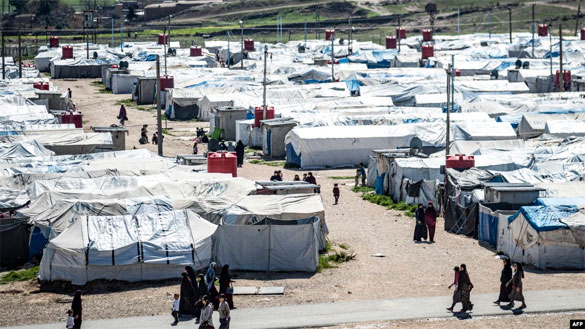 FILE - Women and children walk at Roj camp, where relatives of people suspected of belonging to the Islamic State group are held, in the countryside near al-Malikiyah in Syria's northeastern Hasakah province, March 28, 2021.
-----
QAMISHLI, SYRIA — Dozens of women linked to the Islamic State (IS) terror group set several tents on fire Wednesday in a refugee camp in northeast Syria, a local security source told VOA.
The arson reportedly caused damage to at least 16 tents in the Roj camp, which holds nearly 2,500 women and children with ties to IS militants. No casualties were reported.
A camp official, who requested anonymity, said fighters were quick to respond by putting out the fire and containing the situation.
In recent days, tensions have escalated between families of IS fighters and local security forces inside the camp. A protest preceding the fire was staged by dozens of women who reportedly hurled stones at the camp's security forces.
The camp official said the U.S.-Syrian Democratic Forces (SDF) has deployed female anti-terror units to control the situation inside the camp.
Roj is one of several detention camps in northeast Syria that have been housing thousands of people, including many foreign nationals, since the SDF and the anti-IS global coalition declared the territorial defeat of the terror group in March 2019.
Local authorities are urging countries to repatriate their citizens from Roj, al-Hol and other detention camps in northeast Syria. While some have been returned to their countries of origin, most of them are still held in the war-torn country.
"Many women held at the Roj camp are still strict believers of Daesh's radical ideology," said Dilbirin Khelo, a political analyst based in Qamishli, Syria, using an Arabic acronym for IS.
"Every time there is a Turkish threat against northeast Syria, these women think they might have a chance to be freed, so they cause trouble, hoping that chaos will help them flee the camp," he told VOA.
Turkish officials have recently increased their threats for a possible military incursion in northeast Syria against SDF-linked Kurdish forces, whom they consider to be terrorists.
Source: Voa News
https://www.voanews.com/a/women-reportedly-linked-to-is-set-syria-camp-on-fire/6280350.html
--------
UNESCO, L'Oreal Program Supports Female Scientists
OCT 22, 2021
The world needs science and science needs women more than ever.
That was the motto of this year's L'Oreal-UNESCO for Women in Science program, which has been supporting female scientists from all over the world for more than 20 years. Each year, the program supports more than 250 talented young female researchers. Through its 52 regional and national programs, the L'Oreal Foundation and UNESCO support them at a crucial period in their careers, during their thesis or post-doctoral studies.
Globally the program has been taking place since 1998, while in Turkey it was held for the first time in 2003. Since then, more than 3,000 female scientists, including 112 in Turkey, have been given financial support to help them turn their scientific projects into reality, and some of them have also been awarded the Nobel Prize.
The applicants have to go through a few steps to qualify for the program, Country General Manager at L'Oreal Turkey Sinem Sandıkçı Gökçen told Daily Sabah. They first have to enter a competition held locally in each country. Winners of the competition are included in the global fellowship program.
For example, in Turkey, L'Oreal UNESCO Fellowships For Women in Science, in partnership between L'Oreal Turkey and the Turkish National Commission for UNESCO, offers awards to promote, enhance and encourage the contribution of women pursuing their research careers in Turkey in the fields of life and material sciences.
The winners of the local program take part in the L'Oreal-UNESCO For Women in Science International Awards that are presented every year to five outstanding female scientists, one from each of the following regions: Africa and the Arab States, Asia and the Pacific, Europe, Latin America and the Caribbean, and North America in recognition of their scientific accomplishments.
Working in the physical, formal and life sciences on five different continents, these eminent female researchers are helping to change the world through their discoveries and are also role models for younger generations of female researchers who want to pursue their scientific careers and break the glass ceiling, UNESCO says.
"One of the main goals of the program is to empower women and give them the value they deserve and the place they deserve in society. Therefore, when you look at science, it is one of the areas where gender inequality is experienced at the highest level. If we take a look at the statistics, we see that an equal number of boys and girls choose to study science and have careers in this field, however, the number gradually drops in the process. Only 33% of researchers and only 3% of Nobel laureates are women," Gökçen explained.
"We have science in 'our DNA.' That's why we wanted to combine these two and provide real support to women scientists. That is why we have been continuing this project for many years," she added.
"Women are very creative and innovative, they bring different perspectives, and we think that women should be involved in the solving of world problems as much as men are. That's why we provide financial support so that they can bring the projects to life, and we try to encourage them to be role models for younger generations," she said.
Gökçen highlighted that L'Oreal has a few more social projects that are being implemented this year. One of them is named "Stand up against street harassment."
As harassment is one of the biggest problems of modern women, this project is very important for the company, she added. The project includes very simple training on what you should do if you are exposed to or witness any kind of harassment.
"Our aim is both to raise awareness on this issue and to encourage people to be a little more courageous and intervene in this matter," she said, adding that sometimes we don't really know what to do in these cases to protect ourselves or people around us. Another project is about a global sustainability program called "L'Oreal for the future."
For women in science 2021
The winners of the Turkish leg of the "For Women in Science" program, which has been implemented for the 19th time in Turkey through the cooperation of L'Oreal Turkey and the UNESCO Turkish National Commission, were announced this week. The event was held in Istanbul with the participation L'Oreal Turkey General Manager Gökçen, UNESCO's Turkey National Commission president, professor Öcal Oğuz, and Turkish writer and actress Gülse Birsel.
Eda Aydoğan Güngör from the METU Department of Metallurgical and Materials Engineering and associate Dr. Saniye Söylemez from Ordu University, faculty of arts and sciences, department of chemistry were awarded for their projects in physical sciences. Güngör is working on a project that aims to reduce carbon emissions in energy, aviation and space systems, while Söylemez is planning to develop a mechanism for the early diagnosis of Alzheimer's, one of the biggest problems of our time.
"Developing such projects requires a lot of time, and sometimes for us as women it can be hard. However, programs like this give us great motivation," Söylemez said.
Gülcihan Gülseren from Konya Food and Agriculture University, molecular biology and genetics department and Nihal Terzi Çizmecioğlu from the METU Department of Biological Sciences were awarded for projects in life and environmental sciences. Gülseren's project aims to develop an effective treatment against human pathogenic viruses, including COVID-19. New potential pandemics are looming, she said, and developing an adaptive biomaterial against different respiratory pathogens is crucial. Çizmecioğlu's project aims to better understand embryonic stem cell differentiation, which can lead to a better understanding of the formation of neurodevelopmental disorders and possible treatment pathways.
"It is critically important to encourage young scientists at an early stage. In this respect, the existence of an award for women of science is also very important in terms of gender equality," Çizmecioğlu said. "You should always think about your goal and remember that you will have to work very hard to achieve it. But, you should know, dreams come true," she added.
Each of the four Turkish scientists who were deemed worthy of an award in the program this year was supported with a prize of TL 120,000 (around $12,400) for their scientific research.
The winners were selected by the independent UNESCO jury, taking into account criteria such as their academic backgrounds, the contribution of their projects to science, their applicability, sustainability and scientific innovation, Gökçen said.
Source: Daily Sabah
https://www.dailysabah.com/life/science/women-in-science-unesco-loreal-program-supports-female-scientists
--------
Egypt Must End State Oppression Of Women And Girls; It Has One Of The Worst Records In The World For Gender Equality
Reem Abdellatif and Nimco Ali
21 Oct, 2021
The fate of Egyptian women and girls delicately hangs in the balance as the country continues to have one of the worst records in the world for gender equality. With oppression often state-sanctioned, Egyptian women face a daily struggle against sexual harassment and other violations of their basic human rights, including institutionalised violence.
Today, African Women Rights Advocates (AWRA) and The Five Foundation, The Global Partnership To End FGM, have come together with Equality Now, Democracy for the Arab World Now and several prominent voices from the region and beyond, to demand that the Egyptian government takes immediate steps to fix this situation. It needs to take clear action to enhance the rights of women and girls in all areas of life, including by ending child marriage and banning articles that perpetuate sexual violence and gender discrimination in the text of the country's laws.
The signatories to today's open letter are also demanding that the Egyptian government enforces laws against female genital mutilation (FGM). With 27.2 million affected – around 90 percent of the female population – Egypt has one of the highest number of survivors of FGM in the world, yet the government is failing to act effectively.
It's clear that if and when perpetrators are eventually arrested and convicted, they are given extremely short and suspended sentences, such as when 17-year-old Mayar Mohamed Moussa was killed in 2017 — and just over one year ago when yet another girl, 12-year-old Nada Hassan Abdel-Maqsoud, died in a private medical clinic in Manfalout.
In 2013, 13-year-old Soheir al-Batea's killer Dr. Raslan Fadl only spent a couple of months behind bars in 2016, after evading arrest for three years. The anti-FGM law was strengthened earlier this year, but we know of first hand reports of clinics in Cairo still openly offering to medicalise the harmful and sometimes deadly practice.
Furthermore, women cannot fully claim their basic right to bodily autonomy in a state where public laws do not criminalise marital rape or virginity testing. The government has made no effort to address domestic violence in Egypt, which has been long tolerated and accepted in society.
Egyptian women and girls have had enough. In the last couple of years they have come forward in unprecedented numbers to break the fear barrier and reveal harrowing lived experiences with sexual abuse. Survivors demanded justice and called on the state to help end impunity for perpetrators of sexual harassment. However, their pleas for bodily autonomy fell on deaf ears when in January 2021, the Egyptian cabinet proposed a personal status bill that would strip women of their basic rights even further.
Human rights activists and grassroots women protested the regressive proposal, which would have given fathers priority over mothers in child custody. It would also have allowed fathers to prevent mothers from travelling abroad with their children. In matters of marriage, a male guardian such as an uncle, father or brother would have had to sign a marriage contract on behalf of the wife.
Although this particular draft law is now unlikely to be passed, signatories of the Open Letter want more clarity to make sure it does not reappear in a new format since the law was proposed by the government as opposed to one political party representative.
In Egypt, the internet remains one of the only public avenues of alternative expression; and yet Egyptian female social media influencers who are unaffiliated with the state or ruling elite have been targeted with arrests.
Since 2020, authorities launched a highly abusive campaign against women social media influencers and have prosecuted over a dozen of them under vague "morality" and "public indecency" laws, accusing the women of violating "family values."
When famous influencer Haneen Hossam was acquitted after her arrest, authorities re-arrested her in 2021 and charged her with "human trafficking" for merely using social media in ways that challenged patriarchal norms.
Regional and global women's rights activists who are familiar with Egypt's bureaucratic and oppressive history towards women maintain that this is a state-sponsored crackdown to rein in female social media influencers by resorting to sexist "morality" charges that violate women's rights to freedom of expression, bodily autonomy, and non-discrimination.
Donors and corporations investing in Egypt should also take note of all of these violations against its female population, and provide support where it's critically needed - particularly to grassroots women activists.
The prosperous, fair, and peaceful vision that the United Nations and global powers hold for "Generation Equality" cannot be achieved when the Arab world's most populous nation grossly undermines its women and girls.
Egypt must live up to its role as a beacon of hope and civilization, and so the Egyptian government must be held to account to carry through the changes that are needed so that young girls are free to live dignified and fulfilled lives. Later this month, Egypt will have an ideal opportunity to do so, when it will be asked to be part of a review by the United Nations Committee on the Convention on the Elimination of All Forms of Discrimination against Women (CEDAW).
Egypt's economic transformation is already happening. It is one of the leaders in the region in terms of attracting foreign direct investment, but its potential will never be fully realised until its government allows the female half of its population to be safe, free and be able to contribute socially and economically to the country's future.
Reem Abdellatif is Director & Chief Operating Officer of the African Women Rights Advocates movement (AWRA). Nimco Ali is CEO of The Five Foundation, The Global Partnership To End FGM.
Source: The News Arab
https://english.alaraby.co.uk/opinion/egypt-must-end-state-oppression-women-and-girls
--------
URL: https://www.newageislam.com/islam-women-feminism/maghrebi-paris-massacre/d/125632
New Age Islam, Islam Online, Islamic Website, African Muslim News, Arab World News, South Asia News, Indian Muslim News, World Muslim News, Women in Islam, Islamic Feminism, Arab Women, Women In Arab, Islamophobia in America, Muslim Women in West, Islam Women and Feminism