New Age Islam News Bureau
2 Aug 2015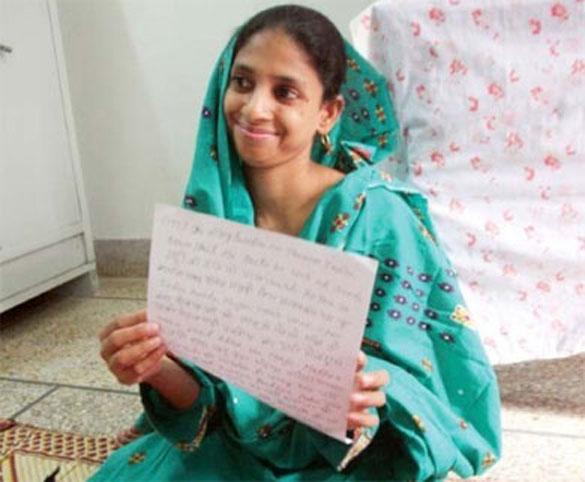 Geeta smiles as she shows one of her writings in Hindi. PHOTO: ATHAR KHAN / EXPRESS
-----------
• Madinah Women Playwrights Upset Over Gender Discrimination
• Iran's Working Moms Get the Sack after Taking Maternity Leave
• Activists Seek To Reunite Indian Girl, Geeta, With Family
• Sikh Girl, Manbir Kaur, Tops Matric Exams In Pakistan
Compiled By New Age Islam News Bureau
URL: https://www.newageislam.com/islam,-women-and-feminism/new-age-islam-news-bureau/madinah-women-playwrights-upset-over-gender-discrimination/d/104130
-----
Madinah Women Playwrights Upset Over Gender Discrimination
Saudi Gazette report
MADINAH — Members of Madinah Women Writers Association expressed frustration after they were excluded from participating at the King Fahd Park Theatrical Competition because they are women, Al-Watan daily reported.
Madinah Women Writers Association head Jamal Al-Saadi said she and her colleagues are devastated at being excluded from many theatrical activities organized by the city.
"The latest incident was the competition for theatrical performances organized in King Fahd Park Theater. Madinah Municipality excluded us from the competition although the conditions for the competition did not state it was for men only," said Al-Saadi.
She added there have been many instances of a lack of appreciation for the pieces of literature women writers in Madinah have to offer.
"We have had multiple theatrical productions under Madinah Society for Culture and Art and we had a great turn-up. The municipality rejected our participation in the competition because there weren't a panel of women judges," said Al-Saadi. She added the fact that the municipality views their excuse as valid shows that it does not appreciate the art the group offers to the community.
"We have a great group of writers such as Mariam Al-Harthy who wrote 'Malik Siwak' and 'Snow-white' and Milha Al-Abdullah who wrote 'Halmoush'. Not having women judges is not a valid excuse. They should have known that there is a great cadre of women playwrights and actresses who would want to participate in the competition," said Al-Saadi.
Madinah Municipality Public Security and Social Services Director Muhammad Al-Murdif said the competition received a lot of participants from Madinah and other cities.
"The judges had to choose eight finalists. Five of the finalists were from Madinah and the three from other regions in the Kingdom. The competition is judged by three people chosen by the Madinah Society for Culture and Art Judging Committee," said Al-Murdif.
He added the municipality left the theatrical details of the competition to its experts.
"The committee was headed by Turaif Hashim, the head of Madinah Society for Culture and Art. He was the one who chose the judges and we cannot have men judge a performance done by women," said Al-Murdif.
http://www.saudigazette.com.sa/index.cfm?method=home.regcon&contentid=20150802252139
------
Iran's Working Moms Get the Sack after Taking Maternity Leave
August 02, 2015
TEHRAN — Tens of thousands of working mothers have been sacked in Iran since the start of 2014 because employers found cheaper staff, an official said Friday, warning that a new maternity pay policy remains unfunded. The comments highlight the financial pressures on families and on the Iranian government, despite this month's nuclear deal with world powers that could pave the way for an economic rebound.
An austerity budget passed in March after a precipitous drop in global oil prices has left key Tehran ministries, including education and oil, struggling to pay wages. A new law enshrining nine months of paid leave for mothers has been passed yet there are no funds to pay its estimated 3.2 trillion rial ($985 million) bill, according to welfare bosses.
"So far, not one rial has been allocated," Mohammad Hassan Zeda, a deputy at Iran's Social Security Organization, told the ISNA news agency in an interview. He said studies showed that from 145,000 women who had gone on a six-month maternity leave in the past 18 months, 47,000 of them — almost a third — were sacked when they tried to return.
"This is because right now due to the situation in the job market, there are many individuals with higher education who are prepared to work for lower salaries," said Zeda, noting the trend would likely worsen.
"If maternity leave is increased to nine months, the number of women getting sacked, upon returning to work after using maternity leave, will increase much more."
According to the Statistical Center of Iran, the unemployment rate was 10.8 percent in 2014, though unofficial sources estimate the number is as high as 20 percent.
Unemployment is particularly bad among women (19.2 percent) and youths (25 percent). Underemployment has also become common in Iran, according to the World Bank, with a weak labor market leaving only 36.7 percent of the population economically active.
Zeda said the nine-month maternity leave term can start if the government allocates the money, but officials are "not allowed to implement a law for which no financial resources have been provided."
Around 160,000 working women would be eligible for the nine-month leave, he said. After a deep recession, Iran returned to growth of three percent last year, partly due to limited sanctions relief under an interim nuclear deal between Iran and six world powers.
A final deal struck on July 14 in Vienna stands to lift all UN, US and Europeans sanctions imposed on Iran as punishment for its disputed nuclear activities, raising hopes of better economic and job prospects. — AFP
http://www.saudigazette.com.sa/index.cfm?method=home.regcon&contentid=20150802252161
------
Activists Seek To Reunite Indian Girl, Geeta, With Family
By Rabia Ali August 2, 2015
KARACHI:
The Salman Khan-starrer Bajrangi Bhaijaan may have been a work of fiction, but sometimes life shocks us by imitating fiction. At the Edhi Foundation shelter in Karachi's Mithadar, far from the glamour of a Bollywood film production, real life heroes are working to find the hometown of an Indian girl who can neither speak nor hear.
"The Punjab Rangers brought her to us some 13 years ago," says Faisal Edhi of the Edhi Foundation. "For years, we have been trying to locate her family or her hometown so that she can return."
First brought to an Edhi Centre in Lahore, the girl was moved to the shelter in Karachi where Bilquis Edhi named her 'Geeta' and has become quite close to the girl.
Now 23 years old, Geeta is believed to have mistakenly crossed into Pakistani territory as a child. The only communication she has managed with the Edhi staff is recognising the Indian map on a mobile phone and breaking down into tears. Sobbing silently, she frantically points first at the Indian state of Jharkhand and then at Telangana, trying hard to tell something of her past that may be a clue for them.
The foundation's workers have also tried to use Geeta's ability to write and draw in an effort to be able to identify her hometown. With a sad smile, the slender girl shows her drawing of her country's map. She then brings a notebook and points to pages full of handwritten Sanskrit scripture. Some words are in Roman Hindi and communicate the obvious: that she misses her mother and home very much. Using her fingers and facial expression, Geeta says she has seven brothers and four sisters.
"We have shown her writings to people but nothing has come out of it. She copies Hindi words from magazines," explains Faisal.
A follower of Hinduism, the shelter home's staff have created a separate praying room for her, adorning it with colourful posters of Hindu deities, and an earthen lamp on the table. As Geeta gets up and prays, Faisal points toward one of the figurines: "This is the Ganesh that I got for her from Nepal."
With the success of the Bollywood film, activists have capitalised on the momentum to make more of an effort to reunite Geeta with her family. Activist Ansar Burney, who has raised this issue three years ago during a visit to India, is now running an active campaign for her on Facebook.
"Last year, officials from the Indian Consulate visited her, took her picture and records but they didn't come back," says Faisal. Journalists, including one from India, also interviewed her but no one was able to locate her family.
Without any luck in finding her family back home, Bilquis Edhi suggested Geeta begins a new life in Pakistan by getting married to a Hindu boy. In her sign language, Geeta refused and made it clear that she will only get married once she returns home.
In the meanwhile, Geeta is happy to spend her time doing household chores with a friendly smile always lighting up her face. "She cooks scrumptious vegetable dishes," says Humaira, one of the caretakers for Geeta. "She does all the work and tries to stay happy but when she remembers her family, she cries a lot."
Amongst her writings, the numbers '193' make a frequent appearance. In a last-ditch effort to solve the mystery, Faisal draws a house on a piece of paper and hands her a pen. Geeta takes it, smiles, and jots down the numbers beside it. '193', it seems, may be her house number.
http://tribune.com.pk/story/930806/activists-seek-to-reunite-indian-girl-with-family/?utm_source=Daily+Roundup+Newsletter&utm_campaign=efc11e2aed-Daily_Roundup_5pm&utm_medium=email&utm_term=0_19961368d8-efc11e2aed-65338937
------
Sikh Girl, Manbir Kaur, Tops Matric Exams in Pakistan
By Web DeskPublished: August 2, 2015
A 15-year-old Pakistani Sikh girl has become the first girl from the Sikh community to top the matriculation exam in the country.
Manbir Kaur, daughter of Giani Prem Singh the head granthi at Gurdwara Sri Nankana Sahib, scored 1,035 marks of 1,100 and emerged on top.
Kaur's accomplishment is no ordinary feat as Sikhs only comprise 1% of Pakistan's population.
"She achieved what even boys of the community could not. I think Manbir's hard work has paid off. She has always been a diligent student," Kaur's proud father said, while speaking to the Hindustan Times.
Further, her father said that the 15-year-old had taken admission in a pre-medical course at the Punjab Group of Colleges in Lahore as she wanted to grow up to be a doctor.
Reagrding girls' education in Pakistan, Kaur's father said, "I think women should be treated no differently from men as they have as much a right to pursue their dreams. If they can run homes so efficiently, why shouldn't they be allowed to conquer the world outside?"
Claiming that Kaur's cousins had also done really well in the Class 10 exams, Giani Prem Singh said that the 200 Sikh families living in Nankana Sahib were encouraging their daughters to excel in every field.
After the result was announced, the Pakistan Sikh Gurdwara Parbandhak Committee honoured Kaur with a siropa (robe of honour).
The Boards of Intermediate and Secondary Education announced results of the secondary school certificate examination across Punjab last week.
http://tribune.com.pk/story/930871/pakistani-sikh-girl-tops-matric-exams/?utm_source=Daily+Roundup+Newsletter&utm_campaign=efc11e2aed-Daily_Roundup_5pm&utm_medium=email&utm_term=0_19961368d8-efc11e2aed-65338937
-------
URL: https://www.newageislam.com/islam,-women-and-feminism/new-age-islam-news-bureau/madinah-women-playwrights-upset-over-gender-discrimination/d/104130