New Age Islam News Bureau
2 Dec 2017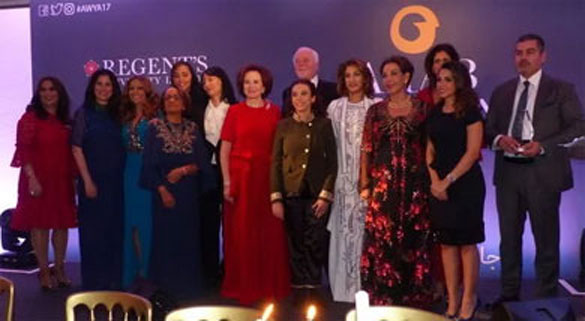 Arab Women of the Year 2017 Award Winners
------
• Saudi Women Shine at Arab Women of the Year Awards in London
• Instant Triple Talaq Non-Bailable Offence, 3 Years Jail, Fine For Guilty: Draft Law
• Special Centres to Hold Arrested Female Drivers in Saudi Arabia
• Women Join Opposition Police Forces in Aleppo's Liberated Areas
• Judge Suspends Part of Quebec's Face-Covering Ban
• Swiss Woman to Face Trial for 'Promoting Jihad'
• Malala Yousafzai Condemns Terror Attack in Peshawar
• Iran: Religious Authorities weigh in to Stop Women's Demand
Compiled by New Age Islam News Bureau
URL: https://www.newageislam.com/islam-women-feminism/madinah-leads-way-with-first/d/113433
--------
Madinah leads the way with the first all-women city council
YusUf Mohammed
2 December 2017
MADINAH: The first all-women city council is to be established in Madinah to provide women with complete municipal services and invest in their creative competencies, the Madinah municipality announced.
This step, which aims to empower women, is in line with the goals and aspirations of the Kingdom's Vision 2030 and National Transformation Program (NTP) 2020.
Municipal services provided by the council will include issuing licenses for all commercial activities, issuing building permits, providing surveillance services for women's activities and investments, and many other municipal services that women may need.
The secretary of the Madinah region, Mohammed Al-Amri, said: "The idea of establishing an all-women city council springs from women's efficiency and competency."
The official said: "It will serve as a bridge to facilitate work, improve productivity, and increase speed and efficiency.
"The city council will also act as an incubator for women's creative ideas. And we will work on establishing similar all-women city councils in other provinces."
He pointed out that among the leading supporters of such initiatives is Municipal and Rural Affairs Minister Abdul Latif bin Abdulmalik Al-Shaykh.
Businesswoman Arwa Turkistani told Arab News that "establishing an all-women city council will help businesswomen in Madinah complete procedures related to their businesses in a shorter time."
Positive step
She added: "This will also support the economic movement and encourage businesswomen to expand their businesses."
Eman Natheef, another businesswoman, said it was "a positive step toward achieving the goals of Vision 2030, especially in terms of empowering women and turning them into active players in the sustainable development process.
"This step will also help women, and especially businesswomen, overcome many obstacles and challenges."
http://www.arabnews.com/node/1202431/saudi-arabia
--------
Saudi women shine at Arab Women of the Year awards in London
1 December 2017
Princess Lamia Bint Majid Al-Saud was named winner of the Achievement in Philanthropies Award at the Arab Women of the Year 2017 held in London on Thursday.
Princess Lamia is Secretary General and member of the board of trustees at Alwaleed Philanthropies which over the past 35 years has supported and initiated projects in more than 124 countries regardless of gender, race or religion.
The Foundation collaborates with a range of philanthropic, government and educational organizations to combat poverty, empower women and youth, develop communities, provide disaster relief and create cultural understanding through education.
Princess Lamia was among eleven outstanding Arab women recognized for their achievements in a wide range of categories including social leadership, culture, music, women's advancement, trade development, motivation and wellbeing, education, journalism and public awareness.
A special award was presented to a program created by the OLE.IRD and UNHCR called 'The Tiger Girls'. Tiger Girls, which stands for 'These Inspiring Girls Enjoy Reading', enables 120 Syrian girls in the Zaatari refugee camp, supported by Syrian female coaches, to participate in team-based learning. Present to accept the award alongside her colleagues was UNHCR senior adviser, Reem bint Amr bin Abdelhamid from Saudi Arabia.
Event organizer Omar Bdour, Ceo, London Arabia Organization, said he had been completely overwhelmed with emotion when he visited the Zaatari camp in Jordan and met the young women benefitting from the program.
He described a moving moment during his visit to the desert camp when young girls released balloons carrying messages describing their hopes and dreams. For young people who "have almost nothing," he said, "their hopes and dreams are all that sustain them but that doesn't mean they don't want to break out of their box."
He added that the Arab Women Awards celebrated Arab women who 'aspire to make a difference.'
Award Advisory Chairman, Professor Aldwyn Cooper, Vice-Chancellor and Ceo, Regent's University London, said in the Arab world educational institutions are climbing up the global world rankings. He saw as a valuable element in this trend the social change being led and supported by the country's rulers. "There is recognition of the knowledge, skills and innovation of Arab women in many fields," he said.
On the UK, he said: "It is important that we recognize Arab students as creating genuine inputs into the cultures of our universities with new perspectives, new ideas and real innovation."
He said there would be announcements made by the UK government on Tuesday, Dec. 5, 2017, about changes to the visa arrangements for students studying in the UK and staying to contribute to the British economy.
He said: "We are open for business in Britain for education and everything else."
Guest speaker Desiree Bollier, chairwoman and global chief merchant, value retail management, said women make up 67 percent of her organization's workforce.
"Women are wives and mothers and working. All we have done over the years is stretch their days and hours. The average work and social life and expectation of being a wife, mum and working woman is an average 14-hour day. We support these women with flexible hours – the office today is merely a mobile – you can do your work from anywhere."
The glittering awards evening, hosted by Saudi social media influencer and entrepreneur Bayan Linjawi, was held in the Jumeirah Carlton Hotel in Knightsbridge. Entertainment was provided by the Scottish Egyptian multi-instrumentalist Ayoub Sisters, Sarah and Laura who played a range of wonderful classic pieces
The event was attended by royals, diplomats and a host of high achieving women showing their support for the award winners.
Dr. Hania Mursi Fadl, winner of the achievement in social leadership award, is one of the first Sudanese women to be trained as a radiologist. She established the Khartoum Breast Care Center using a family foundation fund of $14 million. The KBCCC is the only fully equipped and staffed cancer center available to women in the region.
Sheikha Intisar Alsabah, of Kuwait, winner of the achievement in community development award, is the founder of Alnowair, a first of its kind non-profit initiative in region.
The achievement in culture award went to Dr. Maha El-Khalil Chalabi. Born in the southern Lebanese city of Tyre, Chalabi has led numerous welfare and cultural campaigns for her native city which has been on UNESCO's World Heritage List since 1984. She notably initiated the establishment of a medical and social care center and the International Festival of Tyre.
The well-known Kuwaiti singer Nawal El-Kuwaitia won the achievement in music award. She is known as The Queen of Classic Music and famed for her Harp of Khaliji Song, the Gulf's Fairooz and the Sun and Moon of Kuwait. She currently has 16 albums and has collaborated with many composers and poets.
Yasmine Sabri won the award for achievement in promoting women's advancement. Sabri, who was a professional swimmer in Egypt, shot her first movie in Mumbai and was number one in the box office. She participated in the "You are more important campaign" celebration – "Smile of Gold" at the Childrens' Cancer Hospital during the World Children Cancer Day.
Shaikha Hind Al-Khalifa won the achievement in trade development award. Shaikha Hind was born and raised in the city of Muharraq, Bahrain and served as the Assistant Under-Secretary for the Ministry of Labor and Social Affairs. She is president of the Bahrain International Federation for Business and Professional Women.
The winner of the achievement in motivation and wellbeing award was Hala Kazim. She is a certified counselor and coach from the City University, London. Kazim established 'Journey through Change' in 2011 to positively impact people's lives by taking them out of their comfort zone and expanding their intellectual boundaries.
The achievement in education award went to Professor Karma Nabulsi a Fellow in Politics at St. Edmund Hall who lectures at the University of Oxford where she is currently Director of Undergraduate Studies at the Department of Politics and International Relations. Dr. Nabulsi recently directed, co-edited and co-curated 'The Palestinian Revolution,' a bilingual Arabic-English digital humanities and teaching resource exploring Palestinian revolutionary thought and practice in the 1950s, 60s and 70s.
Ragihda Dergham won the achievement in journalism award. Dergham is the Founder and Executive Chairman of Beirut Institute, a cutting edge independent think tank for the Arab region. She has been a columnist and senior diplomatic correspondent for the London based Al Hayat daily since 1989.
Hind Al-Eryani won the achievement in public awareness award. She is a writer, journalist whose articles are widely published on media including TV5, Alsafeer, and Lebanon Now.
Eryani has led many campaigns against Qat highlighting its negative effects on the economy, water and agriculture. Her latest campaign promotes peace in Yemen.
Arab Women of the Year 2017 was partnered and sponsored by Regent's University London, Bicester Village, La Vallee Village, London & Partners and the Arab British Business Association.
http://www.arabnews.com/node/1202116/offbeat
--------
Instant triple talaq non-bailable offence, 3 years jail, fine for guilty: Draft law
by ANANTHAKRISHNAN G
December 2, 2017
Over three months after the Supreme Court "set aside" the practice of instant triple talaq or talaq-e-biddat, the Centre has drawn up a draft law which makes it a "cognizable and non-bailable" offence, punishable with three years jail and a monetary fine. The draft law — Muslim Women (Protection of Rights on Marriage) Act — also allows a woman who has been given instant triple talaq to move court, seeking "subsistence allowance" for herself and dependent children, as well as custody of minor children. A Bill to this effect is likely to be tabled in the winter session of Parliament, highly placed government sources said on Friday.
The proposed law, which empowers Muslim women, applies to instant triple talaq in "oral, written, electronic or any other form". Any declaration of talaq-e-biddat by a Muslim man shall be "illegal and void", says the draft law.
The terms of the proposed legislation were finalised after discussions, by a Group of Ministers (GoM) which included Rajnath Singh, Sushma Swaraj, Arun Jaitley and Ravi Shankar Prasad.
Explaining the rationale behind the new law, sources said the practice of instant triple talaq has not stopped despite the Supreme Court order. The sources also expressed concern that the Muslim Personal Law Board had not been able to do anything on the issue despite its assurances to the apex court.
The Centre has forwarded the draft law to states, and asked them to send their views soon. Though marriage and divorce figure in the concurrent list, the Centre thought it proper, in view of the recommendations of the Sarkaria Commission, to consult the states, said a senior official. The law, however, will not apply to Jammu and Kashmir.
On whether the law would also have retrospective effect, the official said that would be for the Parliament to decide.
In a landmark verdict on August 22, the Supreme Court had "set aside" the centuries-old practice of instant triple talaq in which Muslim men divorce their wives by uttering talaq three times in quick succession.
Three of the five judges on the Constitution Bench — Justices Rohinton F Nariman, Uday U Lalit and Kurian Joseph — called the practice un-Islamic and "arbitrary" and disagreed with the view that triple talaq was an integral part of religious practice.
But the minority ruling of then Chief Justice of India J S Khehar and Justice S Abdul Nazeer underlined the primacy of Muslim personal law and said the practice enjoyed constitutional protection and was beyond the scope of judicial scrutiny. They were of the view that Parliament should consider an "appropriate" law to deal with the issue of talaq-e-biddat.
According to sources, 244 cases of triple talaq — 177 before the Supreme Court's verdict and 67 after that — were reported from across the country this year, with Uttar Pradesh topping the list. The actual figures could be much more, they said.
http://indianexpress.com/article/india/instant-triple-talaq-non-bailable-offence-3-years-jail-fine-for-guilty-says-draft-law-4964063/
--------
Special Centres to Hold Arrested Female Drivers in Saudi Arabia
2 December 2017
RIYADH: Special women's detention centers will be set up to hold anyone arrested after the ban on driving is lifted.
Labor and Social Development Ministry spokesman Khaled Aba Al-Khail told Al-Watan daily on Thursday that the ministry has been coordinating with the Interior Ministry about cases that would entail detention.
Sources told Al-Watan that universities had signed agreements with the General Directorate of Traffic Police to open driving schools within their campuses to train women wishing to learn to drive. Arrangements are underway to prepare these schools by the end of February 2018.
Sources from Noura University said that trainers' positions would be for Saudi women who hold international driving licenses.
These women would undertake a training course to improve their expertise and familiarize themselves with the basics of safe driving.
The sources added that the driving schools would target not just university staff, but interested women from outside the university.
http://www.arabnews.com/node/1202361/saudi-arabia
--------
Women join opposition police forces in Aleppo's liberated areas
Khaled al-Khateb
December 1, 2017
ALEPPO, Syria — Women wishing to join the opposition police in the areas liberated during Operation Euphrates Shield will be offered a second training course early December in the city of al-Bab, Mahmoud Ahmed, a police officer at al-Bab police station, told Al-Monitor.
The opposition's National Police and Public Security Forces in the liberated areas announced Oct. 22 the graduation of 90 policewomen who completed a 21-day training course in a police camp near the city of Azaz, close to the Syrian-Turkish border in the liberated areas, which are under the control of the Free Syrian Army (FSA).
As soon as their graduation leave was over on Nov. 1, these female officers started working in police stations across Azaz, Marea, Suran and Akhtarin.
Ahmed Zeidan, the Azaz police chief and director of the women's police training center, told Al-Monitor, "This is the first batch that graduated in the liberated areas. We started accepting women on Aug. 1 because we are in dire need of policewomen in these areas. Women between the ages of 18 and 35 took a medical and fitness test, and they received a 21-day intensive training course in the detection of criminal offenses, thefts and drug-trafficking operations. They were taught also how to use weapons and search people."
He added, "We resorted to Turkish police trainers to benefit from their techniques and have them share their expertise with the women. It was a successful experience despite the short period of time the women were given."
Zeidan noted that Turkey supervises the National Police and Public Security Forces in the liberated areas, and it pays the salaries of the police officers and its members. It provides them with weapons and armored vehicles, and it covered the cost of the women's police training course in Azaz.
Since the beginning of 2017, Turkey has trained and covered the salaries of more than 5,631 policemen in Syria.
"The involvement of women in the police and security forces is paramount at the security and Sharia levels, as these women can help us avoid potential security breaches by [other] women. There have been cases where people dressed in female clothes managed to escape from the police because according to Muslim customs, traditions and religion, men are not allowed to touch or search women," Zeidan said.
The National Police and Public Security Forces were established in early 2017 in the liberated areas under the auspices of Turkey, which trained these forces on its territory. The first batch of police forces entered the FSA-controlled city of Jarablus Jan. 24, followed by other batches that spread to cities in the liberated areas.
On March 1, a police force started working in Azaz after receiving a training course in the Turkish city of Mersin, and a police force entered al-Bab on April 26. But none of these forces included women.
Amani Mohammed, 20, is a veiled police officer who graduated from the women's police training course. She joined the traffic police department in Azaz after she finished the course. Like her colleagues, Mohammed wears a gray coat and carries a handgun.
"I did not expect to like this profession the way I do now. It has turned out to be very suitable for me despite some downsides that include night shifts. I joined the police because I love this profession, which allows me to offer a great service to the community," Mohammed told Al-Monitor.
"We search women at checkpoints and centers affiliated with the traffic police department, and we refer them to prison if need be," she added.
Mohammed married when she was 18 and has a daughter. However, her marriage only lasted a few months and she got divorced a year and a half ago. While looking for a job, she heard about the women's police and she applied.
"This job offers me a good income to provide for my little girl. I do not need my father's or my ex-husband's help to raise her. My job here has helped me socialize and it helped me get over the experience of a failed marriage," Mohammed noted.
While none of the women who graduated from the training course received a military rank, many are waiting to take part in the officer training course, to gain more experience and receive a military rank.
Zeidan told Al-Monitor that in early 2018, the police command will grant a military rank to policewomen who have a bachelor's degree and who are ready to join the officer training course.
Muna Sheikho, a policewoman who works in the criminal police department, told Al-Monitor at the police department in Azaz that she aspires to receive a military rank and is looking to take part in more training courses, even if this requires her to travel to Turkey to undergo specialized training.
Wael Khatib, the head of the traffic police department, told Al-Monitor, "We take into consideration the conditions of married women who work in the police force — they are offered a convenient schedule and are granted maternity leave."
https://www.al-monitor.com/pulse/originals/2017/12/syria-aleppo-women-police-turkey-training.html
--------
Judge suspends part of Quebec's face-covering ban
2 December 2017
A Canadian judge has suspended part of a Quebec law banning people from wearing full-face veils when giving or receiving public services, handing a provisional victory to civil liberties groups who argued that the law is unconstitutional and discriminates against Muslim women.
Judge Babak Barin on Friday suspended the portion of the act banning face coverings until the government enacts guidelines for how the law will be applied and how exemptions might be granted. The government of the mainly French-speaking province of Quebec now has a chance to clarify in detail how the law would be put into practice.
The law, passed in October, affects everyone from teachers and students to hospital employees, police officers, bus drivers and transit users.
While the law does not single out any religion by name, debate has focused on the niqab, a full-face veil worn by a small minority of Muslim women.
Lawyer Catherine McKenzie, who is representing the people challenging the law, said the judge "recognised the immediate harm the law was causing to the people it affects outweighed any theoretical public purpose of the law".
Quebec's centrist Liberal government is defending the law in court, saying it does not discriminate against Muslim women and is necessary for reasons of security, identification and communication. The act's name refers to "religious neutrality" and "accommodations on religious grounds".
"I'm not unsatisfied with the judgment because there's no mention that the law contravenes the charters (of rights)," the Quebec premier, Philippe Couillard, told reporters Friday.
The National Council for Canadian Muslims welcomed the ruling "as a successful first step", its executive director, Ihsaan Gardee, said.
Opponents of the law say it targets a visible minority that has been subject to threats and violence. Quebec had about 243,000 Muslims as of 2011, according to Statistics Canada, out of a population of 8 million.
In January a gunman walked into a Quebec City mosque and shot six people to death. A French-Canadian university student has been charged as the sole suspect.
France, Belgium, the Netherlands, Bulgaria and the German state of Bavaria have imposed restrictions on the wearing of full-face veils in public places. Denmark plans to institute its own ban.
https://www.theguardian.com/world/2017/dec/02/judge-suspends-part-of-quebecs-face-covering-ban
--------
Swiss woman to face trial for 'promoting jihad'
DEC 1, 2017
A suspect Swiss jihadist is to face trial accused of involvement in the Islamic State (IS) terrorist group after she converted to Islam and rejected her life in Switzerland. The 31-year-old woman is accused of inciting others to wage holy war and promoting suicide bombings in Western cities.
The woman converted to Islam in 2009 and was radicalised over the internet when she was living in the Swiss city of Winterthur in the north east of the country. She then took her then four-year-old son to Egypt and Syria, via Turkey, where she allegedly enrolled with IS.
She was later arrested in Turkey and sent back to Switzerland where her travel documents were confiscated. According to prosecution documents seen by the Swiss news agency, she promoted Jihad to others once she was back in Switzerland. She wanted to "set an example to potential imitators", prosecutors claim, and said martyrs would earn a place in heaven if they blew themselves up in Western cities.
Because Swiss law outlaws membership of IS and other terrorist groups, she was convinced that Switzerland was at war with IS, according to the indictment.
In recent years Winterthur has become associated with Islamic radicalisation and young people going abroad on jihad, resulting in a controversial mosque being shut down in the summer.
The woman will face a trial in Bellinzona starting on December 15 charged with belonging to banned radical groups.
https://www.swissinfo.ch/eng/radicalised-online_swiss-woman-to-face-trial-for--promoting-jihad-/43722144
--------
Malala Yousafzai condemns terror attack in Peshawar
Dec 01 2017
Nobel laureate and social activist Malala Yousafzai condemned the terror attack in Peshawar on Eid Milad-un-Nabi (PBUH).
The activist wrote on Twitter: "When you pick up a gun in the name of Islam and kill innocent people, you are not a Muslim anymore. Strongly condemn the brutal attack in Peshawar killing innocent people on #EidMiladunNabi (PBUH) - a holy day for Muslims." Nine people were martyred and more than 30 injured after terrorists attacked the student hostel inside the Directorate of Agriculture Extension on University Road, Peshawar early Friday morning.
The security forces later managed to kill all the terrorists after a gunfight which lasted over an hour.
SSP Operations Sajjad Khan told Geo News that five attackers wearing suicide jackets reached the compound in a rickshaw.
They were said to be wearing burqas in the rickshaw so as to avoid detection.
The police official said the attackers' first target was the security guard of the premises, following which they made their way inside towards the students' hostel of the Agriculture Training Institute.
"They could have wreaked havoc but the police and army successfully neutralised the threat," he said further.
Later, army spokesperson Major General Asif Ghafoor praised the police performance during the operation. Speaking to a private news channel, Maj Gen Ghafoor said the terrorists were in contact with their partners in Afghanistan throughout the attack.
https://www.geo.tv/latest/170257-malala-yousafzai-condemns-terror-attack-in-peshawar
--------
Iran: Religious authorities weigh in to stop women's demand
01 December 2017
Religious authorities in Iran once again underlined the prohibition of women's entry to sports stadiums.
"The issue was tabled by the previous government but the Supreme Leader and other religious authorities opposed it. Unfortunately, however, some people are seeking to pass a bill despite having knowledge (of such opposition)," stated Mullah Makarem Shirazi and added, "It is a deviation to bring up this issue, again." (The state-run ISNA news agency – November 29, 2017)
Mullah Nouri Hamedani also tried to justify the ban by saying, "It is not permissible for men and women to be present in the same sports event because women cannot properly hold their veil." (The state-run Razavi news agency – November 29, 2017)
http://www.women.ncr-iran.org/iran-women-news/4547-iran-religious-authorities-weigh-in-to-stop-women-s-demand
--------
URL: https://www.newageislam.com/islam-women-feminism/madinah-leads-way-with-first/d/113433
New Age Islam, Islam Online, Islamic Website, African Muslim News, Arab World News, South Asia News, Indian Muslim News, World Muslim News, Women in Islam, Islamic Feminism, Arab Women, Women In Arab, Islamophobia in America, Muslim Women in West, Islam Women and Feminism