New Age Islam News Bureau
22 Feb 2015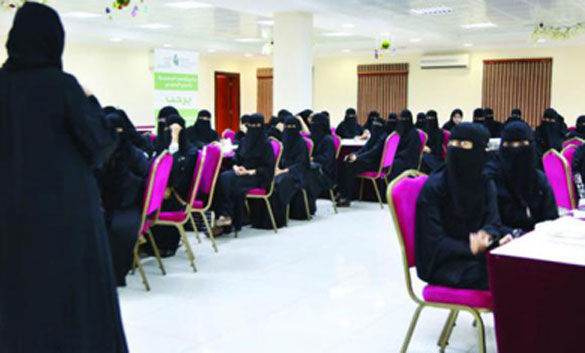 Women Power: The Jazan Economic Forum is expected to draw over 200 Saudi women. volunteers to take part
------------
• 'Syria-Bound' Schoolgirls: East London Mosque Calls for Worshippers' Help
• Turkish Men Don Skirts to Campaign for Women's Rights
• Saudi Women Desire to Shape Kingdom's Future
• Saja Al-Dulaimi, Baghdadi's Ex-Wife and ISIS's Prima Militant?
• Violence against Women Is Turkey's Bleeding Wound, Says Erdogan
• Female Muslim Basketball Player to Play with Hijab
• Muslims Respond to Violence against Women with Protection Group
• Bijnor Elopement: Bajrang Dal Cries 'Love Jihad', Threatens Stir Across Western UP
• Gazan Child with Autism Memorizes Entire Holy Quran
• Pakistan: Life-Threatening Disease Torments Rape Victim
• Honouring Heroes: Malala, Kailash Speak To Terrorism Victims
• Running A Saudi Household Without Indonesian Help
Compiled by New Age Islam News Bureau
URL: https://newageislam.com/islam-women-feminism/lured-isis-how-young-girls/d/101640
---------
Lured by Isis: how the young girls who revel in brutality are offered cause
February 22, 2015
As the numbers of western women travelling to join Isis in Syria and Iraq have grown – recent estimates suggest there are up to 550 from around the world – so has the understanding of their motivations and what analysts term the push and pull factors behind their actions.
Battles over personal identity have long been thought to have persuaded some Muslim teenagers to subscribe to the utopian goals of radical Islamists. Evidence from a slew of former radical recruiters suggests that they seek to free their targets from being caught between the traditionalist strictures their parents impose and the more mainstream liberal expectations of schoolfriends. The recruiters offer a third way, a sense of belonging to a global cause in which the young radical is free to join the caravan of war wherever it may be in the world.
But in recent years it is the pull factors that have never been stronger. Isis insurgents have been masterful manipulators of social media. Aside from creating YouTube videos trumpeting their crimes from the battlefield in high definition, they have also established outlets such as the Zora Foundation, specifically aimed at drawing women to their cause by offering tips, travel advice and even recipes for battle snacks.
Other female jihadis have been tweeting and blogging in English on sites such as Tumblr for well over a year. Their references to cats, Nutella and the travails of home life read like many other discourses until you realise where they are posting from and what they are ultimately evangelising about.
A study released last month by the Institute for Strategic Dialogue found that women on the receiving end of that social media onslaught were captivated by the violence they saw. Examining the social media accounts of six European women who ultimately travelled to Syria and Iraq, they discovered that one described the brutal murder of the American aid worker Peter Kassig and 18 Syrian hostages as "gut-wrenchingly awesome".
Another woman, who watched a different beheading video, wrote: "I was happy to see the beheading of that kaffir [non-believer], I just rewinded to the cutting part," and called for "more beheadings please!", according to the study.
"Umm Hussain", alternately named in reports as mother-of-two Sally Jones from Kent, tweeted: "Know that we have armies in Iraq and an army in Sham [Syria] of angry lions whose drink is blood and play is carnage."
The study concluded: "There is no doubt … that the women who migrate to the territory controlled by Isis revel in the gore and brutality of the organisation. They appear desensitised to the horrific nature of the violent acts being committed."
Charlie Winter, of the Quilliam Foundation, said that although Isis propaganda sometimes suggested that women would have an active, and even armed role, the reality was that they were heavily controlled once they arrived.
Winter recently helped translate a long Isis communique that set out in great detail the designated role of women under the group's version of sharia law. Circulated late last month and titled Women in the Islamic State: Manifesto and Case Study, the document railed against westernised notions of female liberation, damning fashion shops and beauty salons as the work of the devil.
"It is always preferable for a woman to remain hidden and veiled, to maintain society from behind this veil," it said. It added that girls could marry at the age of nine, and "pure girls" should ideally settle with a husband by 17 and should not be "corrupted" by careers. It was also clear that women would not take up arms unless the survival of Isis depended on it.
Winter said the contents of the communique would be likely to shock all but the most hardcore British female jihadis. "Young female jihadists who have really sworn in to the ideology and believe in the caliphate … they're a different kettle of fish. They will be going out expecting to be put in this role, expecting to be married off to a fighter, and to then have children. That's their way of contributing to the Islamic State programme," he said.
He agreed that it was ludicrous that children were often the targets of Isis recruiters, but said the organisation needed to maintain its momentum with a "constant stream of recruits".
"Yes, a 16-year-old is almost a child, but that doesn't matter if she is going to be bearing the next generation," he said.
http://www.theguardian.com/world/2015/feb/20/push-pull-lure-western-women-isis
-----------
'Syria-bound' schoolgirls: East London mosque calls for worshippers' help
February 22, 2015
Worshippers at the East London mosque have been asked to come forward with information that could help police trace three schoolgirls who are feared to be on their way to territory controlled by Islamic State (Isis) in Syria.
The request was made during Friday night prayers at the mosque in Whitechapel, which is one of the largest in Europe.
Salman Farsi, a spokesman for the mosque, said a sister of one of the girls approached the mosque for help and had broken down in tears on the phone.
"I told her that if you need anything from us just let us know and she said that all they need is our prayers and she started crying – that really upset me. I can empathise with them. The community here is quite close and this feels quite close to home," he said.
Farsi said the girls had been misled and manipulated but said he did not know who or what had persuaded them to flee Britain.
The girls, named as Shamima Begum, 15, Kadiza Sultana, 16, and an unidentified 15-year-old girl, slipped out of their homes in east London last Tuesday and flew from Gatwick airport to Istanbul, Turkey, from where they are thought to be travelling to the Syrian border.
British counter-terrorism police have begun an international hunt to find the girls, all students at Bethnal Green academy in east London.
They were friends with a 15-year-old girl who is believed to have travelled to join Isis last December.
Prime minister David Cameron said the matter was deeply concerning.
"The fight against Islamist extremist terror is not just one that we can wage by the police and border control. It needs every school, every university, every college, every community to recognise they have a role to play," he said.
"We all have a role to play in stopping people from having their minds poisoned by this appalling death cult."
Rushanara Ali, MP for Bethnal Green and Bow, said there was deep concern in the community at the way young people were being radicalised.
'This is like grooming'
"There is shock in what's just happened. This is a closeknit community," she told BBC Radio 4's Today. "One of the things that we have got to do as a country is make sure that schools and teachers and parents who are concerned get advice and help," she said.
"We need to make sure that we counter these ideologies. This is like grooming, this is child exploitation, and in the worst-case scenario they are potentially being used as weapons of war in those countries."
Mussurut Zia, general secretary of the Muslim Women's Network UK, said she had grave concerns for the girls and warned it was unlikely they would be able to return home should they join Isis in Syria.
She told BBC Breakfast: "Not for a moment do I believe the girls know what they're getting into. I don't think they will be told the true reality. I don't think they will be actually fighting on the front line ... I think they will be used.
"Jihadi brides is a notion that's been expressed before; there's no root in that in religion, but quite possibly that is something they would be used for. I don't think there is any return for them. I don't see how they would be able to get back."
In the first public appeal of its kind, Scotland Yard counter-terrorism detectives asked for information about the whereabouts of the girls and urged them to return home to their "devastated" families.
The three girls were interviewed in December by detectives about the whereabouts of their friend but were not themselves considered at risk of fleeing Britain. There are now concerns that the girls may be planning to meet up with their friend in Isis-held territory.
Scotland Yard said on Saturday there was nothing to suggest at the time that the trio were at risk of emulating their friend, adding that their disappearance had come as a great surprise, not least to their own families.
Counter Terrorism Command (SO15) Commander Richard Walton said: "We are extremely concerned for the safety of these young girls and would urge anyone with information to come forward and speak to police. Our priority is the safe return of these girls to their families."
He said it was possible the girls have not yet travelled far from Istanbul, given the snowy weather conditions there, but they are thought to be intending to go to Syria.
Counter-terrorism officers said the three girls left their homes before 8am last Tuesday providing their families with plausible reasons as to why they would be out for the day. One of the girls told her family she would be studying.
Instead they met and travelled to Gatwick airport. They boarded Turkish Airlines flight TK1966, which departed at 12:40pm to Istanbul, Turkey, landing at 6:40pm local time.
Turkish Airlines is facing questions about why it failed to notify police that the girls were travelling alone on a well-worn path to Isis-held territory.
Shamina, who travelled using her sister Aklima's passport, is described as about 5ft 7in tall. She was wearing black thick-rimmed glasses, a black hijab, a light brown and black leopard-print scarf, dark red jumper, black trousers and jacket, and was carrying a dark blue cylindrical holdall with white straps. She is a British national and speaks English with a London accent. She also speaks Bengali.
Kadiza is described as 5ft 6in tall, of slim build and wearing black-rimmed glasses, a long black jacket with a hood, grey striped scarf, grey jumper, dark red trousers, and carrying a black holdall. She is also a British national who speaks English with a London accent, and also speaks Bengali.
The third missing girl, who is not being named at the request of her family, is described as 5ft 6in tall and of slim build. She was wearing black thick-rimmed glasses, a black headscarf, long dark green jacket with fur-lined hood, light yellow long-sleeved top, black trousers, white trainers and carrying a black Nike holdall. She speaks English and Amharic.
Anyone with information about the girls' whereabouts can call the freephone anti-terrorist hotline on 0800 789 321.
http://www.theguardian.com/uk-news/2015/feb/21/east-london-mosque-calls-worshippers-help-trace-schoolgirls-syria
-----------
Turkish men don skirts to campaign for women's rights
22 February 2015
Some Turkish men have taken to wearing women's skirts in a bid to campaign for women's rights, a week after the attempted rape and murder of a woman shocked the country.
After the violent death last week, of 20-year-old Ozgecan Aslan, a student in a southern Turkish town who has abducted and stabbed to death by a bus driver - allegedly after a rape attempt - protests, rallies, and campaigns in solidarity with Aslan have been frequent, with many taking place in Istanbul's Taksim square.
News of her killing sparked a widespread public debate about sexual violence in the Turkey. And under the Twitter hashtag "sendeanlat" (tell your story too) many women have started to share their experiences of assault at the hands of men.
http://english.alarabiya.net/en/variety/2015/02/22/Turkish-men-don-skirts-to-campaign-for-women-s-rights.html
-----------
Saudi women desire to shape Kingdom's future
Feb 22, 2015
More than 200 Saudi female volunteers are being trained to participate in the Jazan Economic Forum taking place under the patronage of Gov. Prince Mohammed bin Nasser bin Abdulaziz on Feb. 25-26.
The forum, which is expected to have over 500 experts, will discuss economic growth, the investment opportunities and development potential of Jazan City. It will also instil the spirit of voluntary work in a professional setting.
Fatima Sayeed, who will participate in the forum as a volunteer, told Arab News it was her dream to see Jazan as one of the advanced cities in the world, especially in the field of architecture.
"It's my dream that we will have modern buildings with a touch of tradition and history in the city, and I hope that we as Saudi women can be a part of the economic development of the Kingdom," she said.
"After I graduate as an architectural engineer, I wish to participate in shaping the future of Jazan," she said.
Another volunteer, Huda Najeeb, who is studying the art of translation, said she wants Jazan to be among the largest Saudi cities in terms of population and opportunities. Her ambition, she said, is to open a women's section where they can work safely and proudly for the benefit and economic growth of the country in government agencies and the private sector.
Najeeb hoped Jazan would benefit from the experiences of other countries that preceded the Kingdom in the field of urban development, such as Japan and Malaysia.
Manal Alkhozai, secretary, public relations at Jazan University, said Jazan will change completely and turn into an economic city by increasing investment opportunities and by building it as economic city.
She said the Economic Forum for Jazan will provide a valuable opportunity to encourage investors to learn about the potential of the region.
Most of the people are expecting that Jazan will become an exporting region for a number of large products such as petroleum, iron and gas and other industries, as well as become a popular destination for tourists from within and outside the Kingdom, she noted
http://www.arabnews.com/saudi-arabia/news/708126
-----------
Saja al-Dulaimi, Baghdadi's ex-wife and ISIS's prima militant?
22 February 2015
As more women abandon the safety of their homes to join the Islamic State of Iraq and Syria (ISIS), new details have emerged on one of the militant group's most important female affiliate, Saja al-Dulaimi.
Dulaimi, believed to have been married to elusive ISIS chief Abu Bakr al-Baghdadi at a point in time, was detained by Lebanese authorities last year and has since been held in a jail near Beirut.
The Daily Mail reported that the Iraqi-born woman is well-connected to the group and has been linked to several prominent militants, by marriage and family relations, in Iraq and Syria.
The "striking beauty," as described by a Lebanese official, is the daughter of a high-ranking extremist militant believed to have facilitated her marriage to Baghdadi to solidify an alliance.
While she has denied her marriage to the militant chief during questioning by Lebanese officers, DNA tests show her 5-year-old daughter, who was with her when she was captured, is Baghdadi's child.
The two have disclosed little information since their capture, suggesting that they had been trained not to crack under intense interrogation, the British daily reported. Military officials have described her as strong-willed and independent, the Washington Post reported.
Dulaimi is of special interest considering her activity and affiliation to Islamist groups, which is unusual for the wives of extremist militants.
Her marriage to Baghdadi six years ago was short-lived, lasting only three months, Sheikh Hassan al-Dulaimi, a prominent elder from the same tribe as Saja, told the Washington Post in January.
Before wedding the ISIS chief, she was married to another Iraqi with whom she had two sons.
Upon her capture, Dulaimi was charged in a Lebanese military court with financing and aiding terrorist activity, she has been denied access to a lawyer.
She was reportedly based in the Lebanese town of Arsal, which saw clashes between Islamist groups and Lebanese forces last year, and is suspected of moving money to militants operating along Lebanon's border with Syria.
She reportedly received more than $200,000 in wire-transfers and through charity organizations, a sum she then distributed to fighters, a senior military intelligence official said.
Dulaimi used her gender to her advantage as conservative Lebanese traditions make soldiers at checkpoints hesitant of searching women and girls at border crossings, helping her conceal money meant for militants.
Along with her daughter, Dulaimi is still detained, but unlike other militants whose families had been captured by authorities, Baghdadi has not issued any threats demanding her release.
http://english.alarabiya.net/en/perspective/profiles/2015/02/22/Saja-al-Dulaimi-Baghdadi-s-ex-wife-and-ISIS-s-prima-militant-.html
-----------
Violence against women is Turkey's bleeding wound, says Erdogan
Feb 22, 2015
Turkey's president described violence against women as the "bleeding wound" of the country after a woman was stabbed and beaten to death after trying to fight off a man trying to rape her.
Despite a surge in violence against women in Turkey last year, the particularly brutal, and public, attack on Ozgecan Aslan, 20, has become a rallying point, prompting protests and condemnation by politicians.
Police said she was travelling home on a mini-bus in the southeastern seaside province of Mersin on Wednesday when a man tried to rape her, according to reports carried widely in Turkish media.
When she retaliated with pepper spray, the suspect stabbed her and beat her to death with an iron bar before enlisting his father and a friend to help dispose of her body by burning it and dumping it in a river.
A 26-year-old man has been arrested with his accomplices, Hurriyet Daily News reported.
Women nationwide have worn black in condemnation of the murder, posting photos on social media. The hashtag #sendeanlat, meaning "you tell us too" was trending globally on Sunday with women sharing stories of abuse on public transport. #OzgecanAslan continued to trend worldwide on Monday.
Several hundred minibuses in Diyarbakir in the southeast were adorned with black ribbons and carried Aslan's photograph.
President Tayyip Erdogan and his wife called Aslan's family on Saturday, when her funeral was held, and Erdogan's two daughters have visited the family's house, according to the pro-government Daily Sabah.
"I will personally follow the case so that they will be given the heaviest penalty. I am already following the case. Violence against women is the bleeding wound of our country," Erdogan said during a speech in Ankara.
Human rights monitor Bianet said 281 women were murdered in Turkey in 2014, a 31% increase on the previous year.
Erdogan, a devout Sunni in the patriarchal Muslim majority nation, has in the past been criticised by women's groups for failing to speak out more domestic violence, and for saying he does not believe in equality of the sexes.
http://www.therakyatpost.com/world/2015/02/22/erdogan-violence-against-women-is-turkeys-bleeding-wound/#ixzz3STOkVt3X
-----------
Female Muslim Basketball Player to Play with Hijab
February 22, 2015
Indira Kaljo, a female Muslim basketball player, plans to paly with Islamic hijab at European basketball games.
She took the decision following an "awakening" during a charity trip to earthquake-hit Haiti, World Bulletin reported.
But the Bosnian-American player quickly realized she would not be able to play professionally in Europe as basketball's governing body had forbidden the use of any type of headgear, including hijabs, turbans or yarmulkes, during official games.
"It doesn't make sense," says Kaljo, who believes the ban to be discriminatory towards athletes who want to follow their faith.
"It sucks," said Kaljo, who is currently in Istanbul. "This is our passion, our dream. This is what we worked for since we were little kids."
She said she has been comfortable while playing covered.
"The first time playing with the hijab, I had a good game," she said.
"It makes me really sad when I hear of women who stopped playing after deciding to wear hijab," complains Kaljo.
In 2014, she launched an online petition, which collected some 70,000 signatures, attracting worldwide attention to the ban and influenced the International Basketball Federation, or FIBA, to soften its position on head scarves.
Indeed, in September 2014, FIBA announced that women would be permitted to wear religious head coverings in domestic basketball games for a two-year provisional period.
http://english.farsnews.com/newstext.aspx?nn=13931202000324
-----------
Muslims respond to violence against women with protection group
February 22, 2015
Following the shootings in Copenhagen, many muslim women have reported on social media that they have experienced a rise in unprovoked violence. A Facebook group exists within the muslim community called "Beskyt dine søstre" (Protect your sisters), which offers support to these women.
The group's spokesperson told MetroXpress that there are several hundred men in the group poised and ready to move out if they receive a distress call.
More than one
The group lists a number the women can call. If the attacker is still at the scene when the men arrive, they will try to perform a citizen's arrest.
The group was born following hate crimes caused by Charlie Hebdo in January. The spokesperson said that several sister groups exist all over the country.
http://cphpost.dk/news/muslims-respond-to-violence-against-women-with-protection-group.12748.html
-----------
Bijnor Elopement: Bajrang Dal cries 'love jihad', threatens stir across western UP
February 22, 2015
Calling it a case of "love jihad", VHP's youth wing Bajrang Dal has threatened to launch an agitation across west UP if the police fails to arrest the Muslim youth who had allegedly abducted a Hindu girl on January 31 from Bijnor to forcibly marry her. While the police recovered the girl from Jammu and Kashmir on Thursday, the youth is yet to be traced.
On Saturday, before the local court, the girl, an adult, clarified in her statement that the youth was her friend and that she had gone with him on her own will. The court, however, directed that she be sent with her parents, confirmed SHO of Dhampur police station, Ravindra Pratap Singh.
The right-wing outfit, on the other hand, plans to take the matter up across the western belt of the state through agitation. Claiming that the organisation will meet with Bijnor SP Dinesh Kumar on Monday and submit a memorandum demanding the youth's arrest, its Meerut convenor, Balraj Dungar termed the incident "a clear case of love jihad".
He added that if the police fail to make the arrest within a week, Bajrang Dal will hold agitations across Meerut prant along with a mahapanchayat.
Incidentally, on Wednesday, a day before the girl was recovered from Jammu and Kashmir, the youth's family in Bijnor was attacked by a group of armed men. Besides beating up the members of the family, including women, the group had also ransacked the house. Fearing more such attacks, the youth's family and relatives have fled the village even as heavy police force has been deployed in the area. The youth has been booked on charges of abducting the girl to forcibly marry her.
While calling out threats of agitation, Dungar also said the local unit has been directed to meet the girl's family and assure them of all kinds of support it may need in pursuing the matter. The unit will also try to convince the girl to end her relationship with the youth by telling her about "love jihad", he said.
While the girl hails from Moradabad and is an undergraduate student at a women's college in Bijnor where she was staying in a hostel, the youth runs a mobile phone repairing shop close to the college.
http://indianexpress.com/article/cities/lucknow/bijnor-elopement-bajrang-dal-cries-love-jihad-threatens-stir-across-western-up/
-----------
Gazan Child with Autism Memorizes Entire Holy Quran
February 22, 2015
An autistic ten-year-old child from Gaza has memorized the Holy Quran in one year.
An educational expert, Nedve Abdulal, from the private school where children with autism undergo rehabilitation, has said that the Gazan child, Khalid Abu Musa memorized the whole Holy Quran by listening to the verses being read to him repeatedly.
Abu Musa has also learned to read and write, despite these things being extremely difficult for children with autism. In addition, he has been able to communicate with other children and play games.
Children with autism, a disorder of brain development, experience difficulties in social interaction, verbal and nonverbal communication and repetitive behaviors.
http://www.dailysabah.com/life/2015/02/20/gazan-child-with-autism-memorizes-the-holy-quran
-----------
Pakistan: Life-threatening disease torments rape victim
Feb 22, 2015
LAHORE: It seems that there is no end to the misery of a seven-year-old girl who has developed a serious medical condition — septicemia — at the Children's Hospital Lahore a week after she was repeatedly raped by gangster(s).
She underwent a first surgical procedure at the Children's Hospital, where the doctors applied stitches to the wounds on the inner part of her body to stop massive bleeding.
The unfortunate baby girl (R ), daughter of a poor villager, was raped at a small town in Sargodha district a week ago. She was found unconscious with blood on her dress.
According to doctors, the girl has developed septicemia. They termed Sepsis (Septicemia) a life-threatening illness medical condition. In severe cases, they said one or more organs fail and in the worst cases, infection leads to a life-threatening drop in blood pressure, called septic shock.
Children's Hospital Medical Director Dr Ehsan Waheed Rathore told Dawn the wounds on the lower part of the girl's body have got infected which according to him has emerged as a serious issue for the treating doctors.
He said the girl had developed septicemia, an infection that has spread through the body. He said the rape victim was also suffering a chronic stress which has led to severe trauma syndrome as was evident from her medical condition.
"We have activated our Child Protection Unit too to address the rape-related post-traumatic stress disorder to avoid further memory loss and to prevent her from entering in the acute phase," Prof Rathore said.
An antibiotic therapy has been advised immediately to disinfect the wounds, he said adding that the girl has undergone a surgical procedure to apply stitches on the profound tears or cuts surfaced in the wake of the potential sexual assault.
The girl's father (F) told Dawn the police had lodged a criminal case the same day and arrested two suspects. But, he added, his relatives told him by phone on Saturday that police had declared the accused arrested in the case innocent.
http://www.dawn.com/news/1165127/life-threatening-disease-torments-rape-victim
-----------
Honouring heroes: Malala, Kailash speak to terrorism victims
Feb 22, 2015
KARACHI: Mujataba Hasan had only just started speaking when his voice trailed off, shaken by emotion upon recalling the memory of his younger brother Aitzaz Hasan, the boy from Hangu who sacrificed his life while averting a suicide attack on his school.
"Aitzaz was overweight and all of his classmates would jokingly remark that with his physique, he can single-handedly tackle any suicide bomber. In reply, he would make up heroic stories about what he would do if he ever encountered a bomber. Who knew his stories would actually become a reality," said Mujataba to an audience gathered at Arts Council in an event organised by Citizens for Democracy (CFD).
He was not alone in his grief. Along with him in the auditorium were survivors of the Army Public School (APS) attack and families of victims of sectarian killing. To show solidarity with them, Nobel Peace laureates Malala Yousufzai and Kailash Satyarthi also spoke through live video links from Birmingham and New Delhi.
"Pakistan needs to promise that these incidents never occur again. That is the biggest consolation we can give to terrorism victims," said Malala. "Raising voice for our right has a lot of power, a power greater than any gun or Kalashnikov can behold. If you see injustice in your society, in your home, speak up, that can only bring about change in society."
Kailash also shared his experiences when he had been attacked numerous times because of his cause, two of his friends had been killed in the attacks, yet he remained steadfast in his mission.
He expressed his sentiments on the Peshawar school incident and acknowledged the bravery of the children, "The children in Pakistan are my children too. What happened in Peshawar, may it never happen to any child in any part of the world. When I heard about the news, I had pleaded at that time for the terrorists to take me as hostage but don't kill my children in Peshawar."
With the death of another APS student who succumbed to his injuries on Saturday, memories of the massacre seemed more pronounced than ever. Yet, the survivors answered questions and spoke with surprising courage and optimism, little expected from teenagers who had suffered from a heart-wrenching tragedy.
"The attackers can't be Muslims, they are terrorists. We have all lost a lot of our friends but I know that they are martyrs and that's a consolation," said Mohammad Talha, an intermediate student of APS who survived after sustaining three bullets, his face still half-hidden by a surgical mask covering the unhealed bullet wound to his jaw.
"I am not going to school for as I am still under the recovery process but I am studying for my exams at home. Some of my schoolmates said they would join the army and avenge the terrorists, but I will fight back through education. I want to become a civil engineer one day," said Talha while speaking to Dawn.
Another APS student present was Ahmed Ali Shah, an eighth grader who had survived because of his elder brother, Sher Shah who had shielded him just in time and taken the bullets instead. "I cannot concentrate on studies for now, the tragedy is still too fresh in my mind. But I do know I will fulfill my brother's dream of becoming a journalist," said Ahmed.
Amidst the silent tears, the standing ovation and words of encouragement, the fact remained that life for the survivors would never be the same again. Mehreen Kausar was in the middle of her degree in BS Zoology from Sardar Bahadur Khan Women's University Quetta when a shia pilgrims' bus was attacked near Quetta. Mehreen lost her mother and sister in the suicide blast and with them, her dreams had shattered too.
"I have the responsibility of managing the house now so I can't continue my studies. My mother had wanted us to get higher education. My sister Kaniz wished to be an anchor, all dreams left unfulfilled."
http://www.dawn.com/news/1165038/honouring-heroes-malala-kailash-speak-to-terrorism-victims
-----------
Running a Saudi household without Indonesian help
Feb 22, 2015
Indonesian President JokoWidodo recently called for a ban on sending female citizens to work as domestic workers in foreign countries. He described this measure as a way to preserve Indonesian women's pride and dignity.
The president has directed the concerned minister to come up with a clear roadmap on when the country can stop sending female domestic workers abroad.
The reason for not sending domestic help abroad seems to be a logical and noble one as it aims at safeguarding the dignity and self-respect of its citizens, in addition to boosting their confidence in engaging in work to support their families instead of contributing to their country's growth and development through earning foreign money. It also helps to strengthen their individual freedom within society.
There is no doubt that Indonesian domestic workers, including housemaids and drivers, have an excellent history of rendering sincere services in our households. They have become part and parcel of our households and enjoy great relations with family members, especially children. The Indonesian government wants the return of its domestic workers with a noble objective of preserving their dignity and nobody can question the true intentions behind this.
The consequences of implementing this decision will be far reaching as far as the Saudi and other Gulf communities are concerned. These communities are the major beneficiaries of Indonesian domestic help for several decades.
In our country, relations between domestic workers and their employers continue to remain cordial, respectful and appreciable. Of course, there might have been some exceptions to this and in such cases, the erring housemaids and employers have to face penal actions.
Indonesia, the most populous Muslim country, and Saudi Arabia maintain strong bilateral relations.
When I went through the words of the Indonesian president, I realized it was high time for us to have a thorough review of how we handle our domestic affairs and identify our priorities. Perhaps, we need smaller houses and less luxury.
We also need collective efforts and cooperation of family members in running household affairs and meeting requirements of family members.
We may need to downsize our lives; less clothes, furniture, kitchen utensils and the like. We need to review how often we want our clothes washed and houses cleaned. It would be ideal if we can receive training to achieve some level of self-reliance in doing chores. Perhaps, reducing the number of rooms we have in our houses would be a good step so that we can become accustomed to living in simple facilities to cope with any future eventualities in the absence of domestic workers. We may have to dispense with big gardens, multipurpose giant store rooms, as well as the number of cars and parking areas.
I emphasize this aspect because of the fact that we are not at all accustomed to living with such an anticipated environment and lifestyle. Moreover, we have to show equal and gentle treatment to all domestic workers, many of who have been serving us since childhood.
Under any circumstances, if the Indonesian president translates his words into action and deprives us of help from his female citizens, we will certainly lose big time the services of such a sincere and hardworking people. Our loss will be colossal and hence, we have to appreciate their devoted services to us and our children.
http://www.saudigazette.com.sa/index.cfm?method=home.regcon&contentid=20150222234602
-----------
URL: https://newageislam.com/islam-women-feminism/lured-isis-how-young-girls/d/101640