New Age Islam News Bureau
10 Sept 2014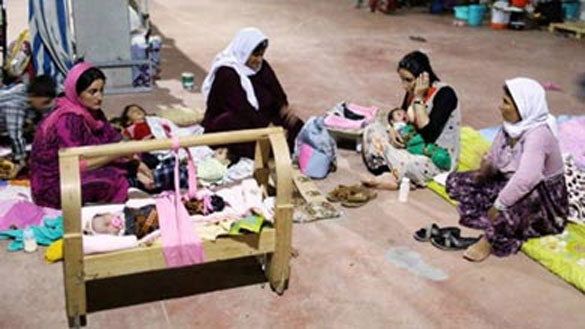 Women from minority Yazidi sect, who managed to flee the violence, look after babies at Bajed Kadal refugee camp, southwest of Dohuk province
----------
• 'Love Jihad' Pamphlets in Vadodara, India, Warn Girls against Becoming 'Prostitutes'
• 16 Girls Expelled From Jeddah Govt Schools for Drug Abuse
• French Court Acquits Femen Activists over Topless Cathedral Stunt
• Sri Lankan Muslim Women Want Reform of The Law
• Teenage Jihad: 2 Austrian Girls Stopped En Route to Join ISIS
• Islamic State Said To Form 2 All-Women Police Brigades
• Two out of Three Children in Malawi Experience Violence- UNICEF Report
Women Fearful In South Sudan Camps
• 28 People Commit Suicide Everyday in Bangladesh Mostly Females between 15 and 29 Years
• St. Paul's First Female Somali Police Officer Has Critics and Fans
• Woman Imprisoned For Two Months for Trying To Watch Volleyball Game
• Edmonds PCC to Host Used Bicycle Drive to Help West African Girls Stay in School
Compiled by New Age Islam News Bureau
URL: https://www.newageislam.com/islam,-women-and-feminism/new-age-islam-news-bureau/love-jihad-warning-for-muslim-girls-on-whatsapp/d/99001
-------------
Love Jihad Warning for Muslim Girls on WhatsApp
Mumbai Mirror | Sep 10, 2014
A Hindi WhatsApp message doing the rounds of a group called 'Meem to Meem' (Meem means Muslim) cautions Muslim girls about recharging their mobile phones. They should either get the recharge done at Muslim-owned shops, or buy coupons and do it themselves.
Any method in which a Hindu shop owner writes down the phone number is fraught with danger, the message says. That's because the shop owner passes on their number to the RSS, which then starts 'operation seduction'. The girl ends up converting and marrying a Hindu, who divorces her after few months. Spurned by her parents, she has no option then but to follow the RSS diktat and help ensnare other Muslim girls.
Aam Aadmi Party member Zafar Ali Shaikh, administrator of the WhatsApp group, told Mumbai Mirror he has no idea who sent the message. He said he started the group during Ramzan to share religious sayings. "If such messages are posted, I will have to delete the group," Shaikh said.
The message, however, is only one manifestation of an existing fear in the community. This reporter was told last week about 'Smart friends', a group allegedly set up to ensnare Muslim girls. In 2009, a question about 'Smart Friends' was asked on 'Yahoo answers. com', and last year a blog post described it as an RSS group comprising Hindus trained in seducing Muslim girls. However, the only activity seen on the group's Facebook page was in 2010, when its profile picture — a saffron flag — was uploaded.
Surendra Sharma, Karyalay Pramukh of RSS in Mumbai, told Mirror no such group was set up by the Sangh.
On the flip side is a WhatsApp message that emerged from a group called `Yoddha Shetkari', set up by Aurangabad farmer leader Jayajirao Suryavanshi to exchange news about their problems. But the message now being circulated has little to do with farmers. It describes a discussion among friends about love jihad, in which one girl was unconvinced. The group then proceeded to convince her through a series of arguments against marrying Muslims that ranged from four wives, Burqa, slaughtering one animal a day for food, producing children every year, not being allowed to work, etc.
Like Shaikh, Suryavanshi denied knowledge of the message. "I've been involved in people's movements led by Medha Patkar and Baba Adhav. I don't believe in communal and caste differences," he said. "I also condemn this love jihad theory."
Suryavanshi said any of the 30 group members may have Hindutva connections and might have posted the message. Like Shaikh, he too felt he would have to close down the group if it was being misused.
However, human rights activist Shakeel Ahmed, who received the two messages on his WhatsApp account, said he felt "sickened" by both. "This is just a way by the men of both communities to restrict women. Inter-religious marriages should be encouraged with no conversion on either side."
http://www.mumbaimirror.com/mumbai/crime/Love-jihad-warning-for-Muslim-girls-on-WhatsApp/articleshow/42128424.cms
-------------
'Love Jihad' Pamphlets in Vadodara Warn Girls against Becoming 'Prostitutes'
Sep 10, 2014
VADODARA: Pamphlets on "Love Jihad" being discreetly circulated in parts of Vadodara in Gujarat are being investigated by the police.
The pamphlets, written in Gujarati, name the Vishwa Hindu Parishad (VHP) as the source and have apparently been printed at a press in Rajkot.
They begin by asking - "Do you want to become a Prostitute? No? Then Read, Think and Behave" - and go on to list statistics that claim an increasing number of Hindu women are being lured by Muslim men into marriage, and are living as "second, third or fourth wives."
Hindi films are blamed for facilitating "Love Jihad", the term used by pro-Hindu groups for what they call an Islamist strategy to seduce and convert Hindu women.
"For the last 10 years, dons like Dawood Ibrahim, Haji Mastan have spent crores in Hindi films and serials. Hindu priests and saints are shown in a bad light in these films and serials whereas Muslim clerics are shown in a good light. Hindu girls are shown romancing Muslims heroes in films, Muslims boys get influenced by this and as part of an international conspiracy they dress up well and roam around in motorbikes to trap our Hindu daughters and sisters," the pamphlets say.
The VHP, which is affiliated to the ruling BJP's ideological mentor Rashtriya Swayamsevak Sangh, has refused to talk about the pamphlets but some insiders say the organization does release "awareness campaign" material "from time to time."
The Vadodara police say they are investigating the leaflets.
Vadodara will hold by-polls this Saturday after Prime Minister Narendra Modi vacated the seat and chose to retain his other constituency, Varanasi in Uttar Pradesh.
The BJP last month avoided the term "love jihad" when it adopted forced conversions as a campaign issue for the by-polls in key states including Gujarat and Uttar Pradesh. But some of its members have been less circumspect. Among them is BJP MP Yogi Adityanath, who has been accused of making inflammatory statements in Uttar Pradesh, where polls will be held in 11 assembly seats and one Lok Sabha seat on Saturday.
http://www.ndtv.com/article/india/love-jihad-pamphlets-in-vadodara-warn-girls-against-becoming-prostitutes-589407
-------------
16 Girls Expelled From Jeddah Govt Schools for Drug Abuse
Sep 10, 2014
JEDDAH — Sixteen girls were expelled from various secondary government schools in Jeddah and sent for rehabilitation at the local Department for Girls Education's guidance service unit after they were found abusing drugs.
Quoting informed sources, Makkah daily reported on Tuesday that the girls were also accused of maintaining unlawful relationships with boys and causing trouble in some other nearby intermediate schools.
The sources said the girls were given social and psychological treatment and would not be allowed to go back to their schools without an official letter from the rehab unit proving that they were clean.
They attributed the lack of statistics about the number of drug abusers and traffickers among girl students to the absence of a unified disciplinary code.
The sources said an attendance and behaviour chart was only implemented for the first time last year.
They said specialized female psychiatrists and sociologists were treating the girls.
According to the sources, the Ministry of Education recently made some amendments to the chart but some educationalists believed the system would be futile as long as teachers responsible for its application were not properly trained.
Fareeda Farsi, member of the committee of the owners of private schools in the Jeddah Chamber of Commerce and Industry (JCCI), described the changes as pointless.
"Every year the chart is amended and altered but remains useless because the male and female teachers responsible for its implementation are not qualified enough," she said.
She believes that the schools will not need any charts if they have the qualified teaching cadres.
Farsi said the main cause of the girl students' lack of commitment to good behaviour and school attendance is because teacher training colleges always accept them regardless of their low grades.
"The girls are haphazardly enrolled in these colleges only to ensure them with jobs after graduation.
"So it is only natural that they do not respect the ministry's rules or charts."
Farsi said before they are given teaching jobs, graduates of teacher training colleges should undergo rigorous examinations to make sure that they are qualified for their jobs.
http://www.saudigazette.com.sa/index.cfm?method=home.regcon&contentid=20140910217635
-------------
French Court Acquits Femen Activists over Topless Cathedral Stunt
10 September 2014
A French court on Wednesday acquitted nine members of the Femen feminist movement who were on trial over a topless protest they staged in Paris's Notre Dame Cathedral to celebrate Pope Benedict XVI's resignation.
Three guards were meanwhile given suspended fines of $390 to $1,300 for manhandling three of the activists when evicting them from the famous Paris landmark in February 2013.
The Femen activists entered the Gothic cathedral on February 12 last year dressed in long coats which they whipped off once inside, perching on the base of three bells that were on show to mark the 850-year anniversary of the cathedral.
Flashing their breasts, they screamed "Pope no more!", "No more homophobe" and "Bye bye Benedict!" in front of stunned visitors, while ringing the big bells with bits of wood.
The activists were accused of damaging one of the bells, but the Femen denied this, saying they had covered their sticks of wood with felt.
The Paris court ruled that there was not enough proof that the activists were behind the damage done to the bell.
http://english.alarabiya.net/en/News/world/2014/09/10/French-court-acquits-Femen-activists-over-topless-cathedral-stunt-.html
------------
Sri Lankan Muslim Women Want Reform of the Law
September 10, 2014
(Colombo, Sri Lanka Guardian) I attended the launch of a book titled "Women Claiming Rights and Spaces" by the Muslim Women's Research and Action Forum recently. I was pleasantly surprised since I least expected the discourse in terms of gender equality, fundamental rights and liberal values from such a Forum. Of course the Forum consisted of highly educated Muslim women quite unlike the usual Muslim stereotypes we often meet with. They had organized themselves to canvass for the reform of the Muslim Personal Law which applies to them instead of the General Marriage Ordinance applicable to the majority of people. Of course there are also the Kandyan Marriage Law and the Tesawalamai applicable to particular groups of women covered by their being born into such a community.
Gender Equality is a universal right today
The position of women in society and the principle of gender equality are now included in the United Nations Mandate. The UN expects its Member States to ensure gender equality. Our Constitution provides for equality of all persons before the law and for equal rights for both men and women. But the Muslim women have been subject to a separate law of Marriage and Divorce which does not treat women and men on an equal footing.
The Foreword to the book by Human Rights Commissioner Jezima Ismail refers to the work of a group of educated Muslim women who have made it their task to campaign for equal rights for Muslim women. They have published this book after an exhaustive study of the Muslim Personal Law for nearly three decades. They have now chosen to go public and to solicit the support of the liberal elements in other communities in their campaign. They have studied and quoted the teachings of Islam and find that the problem of gender equality does not go against the true spirit of the teachings of Islam except that they have been interpreted or misinterpreted by males and applied throughout the ages by custom. Even then there have been reforms in other Muslim majority countries like Indonesia which they cite in their work. In fact the Government has established several Committees headed by eminent lawyers and judges over the years since Independence. But the Muslim politicians invariably males, have opposed changes on the ground of preserving the cultural and religious identity of the Muslims. But the Forum has pointed out that they have been catering exclusively to the male political electorate and the majority community representatives have swallowed their argument about the need to protect the Muslim cultural identity.
Some of these Committees have been headed by Muslims as in the case of the Sahabdeen Committee or the reform proposals of H.M.Z Farouque CCS. The majority community politicians did not want to antagonize the Muslim community during the long period of the ethnic war perhaps not wanting to displease the Muslims who were with the majority community. I remember the late Felix Dias Bandaranaike in the early 1970s talking of reforming the Waqfs Ordinance but he was dissuaded by the Muslim MPs of the SLFP.
The Struggle for Reform
The Muslim Women's Research and Action Forum (MWRAF hereafter) says their struggle has been long and arduous. They had first sought to educate the Quazis and equip them with modern legal knowledge. It is the Quazis who adjudicate in matters of Muslim marriage, divorce and administer the Muslim Personal Law. They managed to bring about some reforms in administrative procedures. The Quazi courts were brought under the Judicial Service Commission and their salaries and status upgraded by raising the minimum qualifications to be appointed as Quazis. But no woman could be appointed as a Quazi and their campaign to change the law in this respect had failed. They had discussed women's issues with the Quazis and sought to educate them on such issues. But on the Law itself they had failed to carry out their reforms, despite the availability of several enlightened and scholarly reports by several government's appointed Committees.
Right to Equality in our Constitution
They have pointed out in the book that the right to equality of the sexes enshrined in our Constitution has been subordinated to another right provided for in the Constitution namely the right to religion and culture. But they point out that the State should not be protecting special rights and collective rights "at the expense of fundamental rights and human dignity of individuals within the community in the name of religion and culture".
They refer to various attempts at the reform of the Muslim Personal Law since independence in 1956, 1978,1984 and 1990 and point out that all these efforts were thwarted by the Muslims conservative lobby on the basis of 'religion and culture'. But they say that the concept of one homogeneous Muslim world is a myth as social formulations have overloaded the power of Islam in the lives of women glossing over their complexities.
The Muslim women like other women in our society have been affected by the various ideas and practices of modern liberal thought elsewhere in the world, which have led to the reform of the General Marriage and Divorce Law. For example the Muslim Personal Law provides for plural marriages for men but does not allow the same right in the same way to women. It does not exclude the need for the Muslim woman's consent in marriage for the registration of the marriage; nor is the woman's consent required for the easy divorce procedure available to Muslim men. The marriageable age restriction of 18 years applicable to other Sri Lankan women doesn't apply to Muslim women although child marriages among them are not common. The Forum is however cautious in the reforms suggested, not wishing to tread on the toes of Muslim orthodoxy. Thus while they want the marriageable age for Muslim women to be the same as for other women they are prepared to allow girls of 12-14 to be married with the special permission of the Quazi. They also do not oppose plural marriages by men but seek to impose restrictions on such right of the men. Some of the other issues the MWRAF have taken up are set out on page 44 of the book. They include among other recommendations the following;
" At the time of registration of a marriage, arrangements should be made to obtain the signature of the bride in addition to the signature of the "Wali", this gives an opportunity for the bride to give her direct consent to her marriage
" The status of Quazis should be elevated to that of other judicial officers
" Muslim women should have the right to be appointed as assessors or advisers to Quazi Courts
" The present name "Board of Quazis" must be changed; it should be designated as "Quazi Appeal Court"
" With regard to maintenance payable to the wife/children, if the incapacity of the husband to earn and/or make any payment under the Act is proved, or if he is not available to take responsibility or to make payment, 'a special trust fund' must be established to help the wife/children who are deprived of their dues in the aforesaid manner.
Other suggestions are to add a pre-emption clause in respect of properties exchanged by the parties on account of the marriage and the details or properties exchanged to be recorded in the Marriage Register.
Compensation to be made to the wife when she is divorced without any fault by the wife. The wife doesn't have the right to divorce on the same lines as the husband who does so by invoking the words 'Talaq" and he can do without the consent of the wife. There is no similar right for the wife to do so without the consent of her husband.
With regard to polygamy the recommendation is not to do away with it but to require an inquiry by a Quazi with the right to accept or reject the application for a subsequent marriage. There are recommendations regarding the division of property in the event of separation or divorce. The history of changes in Muslim Law by legislative action from the colonial times to the present day, have been documented by Mr. S.M.A Jabbar in Chapter 2. There are enough precedents for reform through legislative procedures. Modern human rights workers and all liberal minded people would agree wholeheartedly with the recommendations of the Muslim Women's Forum.
The book says that "for two and a half decades of advocacy grounded in experiential learning MWRAF has attempted to build allies within the community, at national and international levels with women and (some) men not only within the Muslim community but also among non-Muslims". It is time that the rest of Sri Lankan society should support these efforts without merely lumping all Muslims together and blaming local Muslims for the excesses of Muslim extremists in the Middle East. The Muslim Women's Campaign deserves the support of liberal people in all communities.
http://www.srilankaguardian.org/2014/09/muslim-women-want-reform-of-law.html
-------------
Teenage Jihad: 2 Austrian Girls Stopped En Route To Join ISIS
September 10, 2014
The Austrian authorities have stopped two schoolgirls who were willing to leave the country and join the jihadists in the Islamic State (IS, formerly ISIS). A third girl was planning to join them, but was stopped by her mother.
A 14-year-old girl and her friend, 15, both from Vienna, were earlier reported missing, said Interior Ministry official Alexander Marakovits.
The third girl, who is 17 years old, was planning to join them in Graz, the second-largest city in Austria. However, her mother became suspicious of the large suitcase she was taking and stopped her from going.
The elder girl's mother decided to call the local police on Saturday and they managed to track down her two friends.
The girls were reportedly born in Austria. The parents of the 15-year-old have Iraqi origins, but have lived in Austria for about 20 years. The younger girl reportedly comes from a foster home. It is still unclear how and why the girls decided to join the Islamic militants.
The teens told police that they didn't like Austria, reported Kronen Zeitung newspaper. They were planning to go to Syria or Iraq, said AP.
British rocker mom joins ISIS, vows to 'behead Christians with blunt knife'
The Interior Ministry didn't reveal what the girls planned to do there.
This is not the first case in Austria when citizens have attempted to join the Islamic State.
In April, two girls from Vienna, Samra Kesinovic, 16, and Sabina Selimovic, 15, disappeared from their homes.
The first hints of where the girls went were a number of social media posts claiming the girls had gone to fight a 'holy war'.
New photos on their Facebook pages showed them holding Kalashnikov automatic rifles, and in some cases surrounded by armed men. In their latest post, they said they were going to get married so they could become 'holy warriors', according to the Daily Mail.
In the meantime, the girls' parents said they don't believe the Facebook messages are being written by their daughters, but admitted they had recently started going to a local mosque run by a radical Imam, Ebu Tejma.
The girls come from Bosnian refugee families who settled in Austria after the war in the 1990s, but both were born in Austria.
About 160 Austrian citizens are among hundreds of Europeans who joined the Islamic militants in Iraq and Syria.
According to the report in Der Standard newspaper, Vienna has become a hub for European jihadists who plan to join extremists at the 'holy war' in Syria.
"The conflict in Syria is attracting foreign fighters from all over Europe to Austria. The route to Syria is simple and safe," a report from Austria's Federal Agency for State Protection and Counter Terrorism (BAT) said, as reported by the Local.
The report said that Austria is now used as a place for recruiting jihadists from the EU who plan to travel through the Western Balkans to Syria.
The document adds that those radicals who return to Austria represent a particular threat for the country.
"After returning from the war zone with battle experience, having had traumatic experiences and associated behavioural changes, and having deepened their radical beliefs present a significant security risk for Austria," it says.
The number of Islamic State recruits is much higher than that estimated by foreign observers – around 100,000, says one of Iraq's foremost security experts with unique access to intelligence. The terrorists are swallowing up other insurgent groups. Foreign estimates put the figure between 20,000 and 50,000.
http://rt.com/news/186536-austria-schoolgirls-join-isis/
-------------
Islamic State Said To Form 2 All-Women Police Brigades
Sep 10, 2014
Islamic State, which is fighting to create a caliphate in Syria and Iraq, has formed two women's police brigades to enforce a strict reading of Islamic law, a media report says.
The U.K. Independent reported that the two brigades are designed to spot male activists who disguise themselves as women to avoid being detained at checkpoints; and to ensure that women follow the rules, including fully covering themselves and being chaperoned by males.
One of the brigades, al-Khansaa, operates in Raqqa, the Syrian headquarters city for IS, the Independent reported. The paper said that as many as 60 British women may have joined al-Khansaa.
And the paper cited the U.K.-based International Centre for the Study of Radicalisation as saying that a key member of the women's police force is Aqsa Mahmood, 20, of Glasgow, who went to Syria in November 2013.
Last week, her parents pleaded with her to return home, saying she'd been brainwashed, the paper reported.
http://www.haaretz.com/news/world/1.614908
-------------
Two out Three Children in Malawi Experience Violence- UNICEF Report
September 10, 2014
A United Nations Children's Fund (UNICEF) report has said that about two out of three children in Malawi experience violence before the age of 18.
The reports adds that one in five girls also experience sexual abuse as a child, and almost half before the age of 13.
The agency's report made available to APA on Tuesday revealed that twice as many girls as boys experience sexual abuse, and the perpetrator who is usually known to them, carries out such activities on multiple occasions. It adds that one in four children who experienced physical violence, suffer a serious injury, it said.
"Physical violence is more common for boys than girls and is most commonly carried out by parents, peers and male teachers," it said.
The report which is entitled "Hidden in Plain Sight", draws on data from 190 countries, documenting violence in places where children should be safe including in their communities, schools and homes.
It details the lasting, often inter-generational effects of violence, finding that exposed children are more likely to become unemployed, live in poverty and be violent towards others.
Malawi contributed to the study with its own data on violence against children, drawn from research carried out across the country in 2013.
http://en.starafrica.com/news/two-out-three-children-in-malawi-experience-violence-unicef-report.html
----------
Women Fearful In South Sudan Camps
September 10, 2014
MALAKAL, 9 September 2014 (IRIN) - Julie Francis's self-imposed curfew starts when the sun sets. The widowed mother of four has been living at the UN base outside Malakal since December, one of more than 17,000 people who have fled there to escape episodic fighting in South Sudan's Upper Nile State capital. But the overcrowded camp is not without its own dangers, especially for women and girls.
Francis can hear drunken teenagers hound women as they make their way around the site's darkened paths. She has seen the holes men have cut through the tarpaulin walls of the showers so they can peep and leer at women. She has comforted rape survivors.
"It is too much," she said. "They attack us at the place of the toilets or at night where we collect water." There were 28 reported cases of sexual assault in the Malakal camp between January and June of this year, according to an assessment released by the inter-agency Global Protection Cluster late last month. But aid workers acknowledge the vast majority of attacks probably go unreported.
So Francis has decided it is best to push a bedframe in front of the entrance to her tent as soon as it gets dark. If she or her daughters need to go to the bathroom, they just use a bag.
But she doesn't think it is fair. "People should take this seriously," she said. "They should be serious to help. There are still people who need to know that it is not right to rape."
Where, she wants to know, are the floodlights that could roust deter men hiding near the latrines, or the regular UN Police (UNPOL) patrols to protect women who want to visit their friends at night or go to the bathroom? Why, she asked, does it seem like she is the only one taking steps to make sure she does not get raped?
The problem is not in Malakal alone. Since fighting broke out in South Sudan in mid-December, nearly 100,000 people have crowded into 10 UN Mission in South Sudan (UNMISS) bases across the eastern half of the country. They have been dubbed "Protection of Civilian" or PoC, sites. Though there are no official statistics, humanitarian groups say sexual and gender-based violence (SGBV) - including rape, but also beating, harassment and domestic violence - exists in varying degrees at all of the larger camps, as does a growing resentment among women and girls that more is not being done to protect them.
"Increasing frustration"
"Of course there's increasing frustration," said Nana Ndeda, the advocacy and policy manager for Care International. She has been talking to women living in the camps about their experiences since the conflict started. "They're getting very frustrated by the fact that UNMISS is not able to provide the kind of security that they would want provided."
What is most galling, she said, is that the strategies for what should be done already exist. The 87-page Guidelines for Gender-Based Violence Interventions in Humanitarian Settings, compiled by a committee of UN agencies and humanitarian groups, offers detailed recommendations, including lighting communal areas, creating safe spaces where women can confidentially seek help and consistently soliciting the input of women and girls on how to improve the situation.
But in the early days of the conflict, with unprecedented numbers of civilians seeking shelter at the UN bases and scores of humanitarian workers evacuating, UNMISS employees were scrambling just to provide basic services.
"We had many more people than we could house and we needed to find a way to still be able to operate the base, as well," said Derk Segaar, who heads UNMISS's protection team. In the early days of the conflict, as people flooded into bases across the country, "it was a matter of trying to get them in a sustainable space that would allow just enough space for them to be there."
Thousands of people are still living in shelters hastily constructed in the early days of the fighting, when issues like SGBV took a backseat to rescuing as many people as possible.
Tidial Chany is a community leader elected to represent one of the original parts of the Malakal camp, known as PoC 2. He works closely with UNPOL on security concerns in his area, but said it is nearly impossible to monitor all of the boggy, unlit alleys and has ultimately concluded, "It's no good for security within the PoC."
Aware of the problems, UNMISS started working to secure additional land and to construct more strategically planned sites almost from the beginning of the conflict, Segaar said, but their efforts were slowed by both bureaucracy and continued fighting.
New camps finally opened in Juba and Malakal in June. Within the new spaces, attention has been paid to the guidelines: women's latrines are stationed near well-lit arteries and are separated from the men's, for instance. Another site is slated to open in the Jonglei State capital, Bor, later this month.
"It's not a matter of a few weeks or a few months and people will all be happy to go home," Segaar said. "That's why we built these bases. We need to be able to keep people safe and healthy for potentially a much longer period of time."
Space constraints
But, at least in Malakal, there is still not enough space in the new site for all of the displaced. When more people surged into the base on rumours of another attack last month, they had to take refuge in the same shelters people had recently left. In Bentiu, currently the largest displacement site with more than 47,000 people, ongoing rains have made it impossible to start work on a new PoC.
That has shifted the focus back to implementing other, more basic interventions to stop SGBV. And while the Mission works closely with aid groups, issues including lighting and latrine location are "a very clear humanitarian responsibility", Segaar said.
Ndeda said aid groups are constrained by the space issues - especially in Bentiu, where "really you cannot fit in one more tent." That means they cannot create permanent safe spaces for women. Instead, they have turned to temporary options, taking advantage of empty rooms in health clinics to hold temporary counselling sessions.
But she also acknowledged that, in her experience, it has been difficult to find the funds needed for interventions like improving latrines and shower blocks. "Very few people were coming out saying they want to provide lighting facilities," she said.
That is starting to change as more people become aware of the gaps. Oxfam, for instance, is providing 6,400 solar lamps to people in Malakal, which will make it safer for women to go to the bathroom at night.
After nearly nine months, Ndeda said it is past time for UNMISS, aid agencies and camp leaders to figure out how to shore up their protection efforts. As peace talks between the government and rebels led by former vice-president Riek Machar continue to sputter in the Ethiopian capital, Addis Ababa, she warned, "there's no end in sight to the PoC world." And even if all of the camps are overhauled, security is going to remain a problem.
Not enough police
UNMISS has roughly 1,300 police officers - including Formed Police Units, who are specially trained to deal with crowd control - deployed across all of the sites. That is up from the 900 UNPOL originally assigned to the mission three years ago. But Segaar said by the time they assign officers across all of the camps and then further split them into three different shifts, only a handful are actually patrolling at any given time.
"I would say that's the biggest constraint we have," he said.
At the same time, the social structures that could have offered women some protection have broken down. "Many of the protective mechanisms that might have been in place before are not in place now," said Lea Krivchenia, a senior programme manager with Nonviolent Peaceforce, a non-profit helping protect and engage women in some of the camps, as well as rural areas. That includes community meetings and traditional justice systems, which have been difficult to re-establish in the crowded camp environment.
Rachel Nayik, has lived at the Malakal base since February. The former secondary school teacher now organizes weekly women's meetings in the camp. She blames most of the SGBV on young men who have been traumatized by the violence that started in mid-December. She said their experiences have made them aggressive, which is then fuelled by the alcohol they turn to to relieve the enforced idleness of camp life. "The traditions here don't allow rape," she said. "It is only because of the war that it is becoming rampant."
As SGBV continues, she told IRIN that women are worried that the attacks have become part of the fabric of camp life. So in the absence of more UNPOL patrols or redesigned camps, she said women living in the camp are willing to take on the task of protecting themselves.
But they want better options than shoving a bedframe in front of their doors or going to the bathroom in a bag.
Surendra Kumar Sharma heard the same thing during a listening campaign he helped organize in one of the Juba camps a few months ago. Sharma, the chief technical adviser for the UN Development Programme (UNDP), had some money available for a pilot project to improve conditions in the camp. So he asked the communities how UNDP could help.
"Security was absolutely one of the major issues which was of concern to everybody, especially for the women and children," he said. Leaders within the base had already organized themselves into community watch groups, but were looking for assistance to more effectively canvass the camp and prevent crime - especially SGBV.
Together with UNPOL, UNDP put together a week-long training on the basics of how to effectively monitor the camp and defuse potential aggression. They have been on the beat for nearly a month now. Sharma said it is too early to tell if crime has come down, but he is hopeful.
The community police groups fit the need to "find a solution to this problem within the existing parameters," Sharma said. He said they would happily export the training to other camps if they can get funding for it. "If a solution comes from within, if they want to do something themselves, and we support them in that, I think it's more likely to be sustainable."
http://www.irinnews.org/report/100591/women-fearful-in-south-sudan-camps
----------
28 People Commit Suicide Everyday in Bangladesh Mostly Females between 15 and 29 Years
September 10, 2014
About 28 people commit suicide each day in Bangladesh, mostly young females between 15 and 29 years. The number of incidents has grown over the last four years.
According to the Bangladesh Police the number of suicide deaths was 9,663; 9,642; 10,108 and 10,129 each year from 2010 to 2013 respectively. In the last seven months of this year, the number recorded was 6503.
Health experts said the materials used in certain suicide cases are easy to obtain therefore the increase in numbers. Parents, family members and friends should be sensitive and pay attention if one expresses the desire to commit suicide.
Dr Helaluddin, assistant professor of the National Institute of Mental and Research (NIMHR) told the Dhaka Tribune that suicide trends in Bangladesh were different from developed countries.
In developed countries older people and males are more prone to committing suicide due to their loneliness, he said. But in Bangladesh it is mostly young women who take their own lives.
He said the lack of a proper relationship with family members was the prime cause of suicide.
In addition, domestic violence, stalking, eve-teasing, physical and sexual assault, demands for dowry, failures in examinations and romantic frustrations were major causes of suicide, he said.
On 4th September, the World Health Organization (WHO) published a report titled Suicide in the World.
More than 800,000 people die by suicide every year – around one person every 40 seconds, according to WHO's first global report on suicide prevention, published yesterday.
Some 75% of suicides occur in low and middle-income countries.
Pesticide poisoning, hanging and firearms are globally among the most common methods of suicide.
The chief chemical examiner of the Central Chemical Examination Office in Mohakhali, Dr Dilip Kumar Saha, told the Dhaka Tribune that most toxicological deaths were caused by ingesting organophosphorous compounds, commonly used in pesticides.
On average, 60% of poisoning victims were female and 40% male. The highest number of toxicological death case samples were sent from Shailakupa Upazila of Jhenaidah district, he said.
Evidence from Australia, Canada, Japan, New Zealand, the United States and a number of European countries revealed that limiting access to these means of committing suicide can prevent such deaths.
Another key to reducing deaths by suicide is a commitment by national governments to establish and implement a coordinated plan of action.
Currently, only 28 countries are known to have national suicide prevention strategies.
"This report is a call for action to address a large public health problem which has been shrouded in taboo for far too long," WHO Director-General Dr Margaret Chan said.
Suicide occurs all over the world and can take place at almost any age.
Globally, suicide rates are highest among people aged 70 and over. In some countries, however, the highest rates are found among the young.
Notably, suicide is the second leading cause of deaths among 15 to 29 year-olds globally.
In wealthier countries, three times as many men die by suicide than women. Men aged 50 years and over are particularly vulnerable.
In low and middle-income countries, young adults and elderly women have higher rates of suicide than their counterparts in high-income countries. Women over 70 years are more than twice as likely to die by suicide as women aged 15-29 years.
WHO member states have committed to the global target of reducing the suicide rate in their countries by 10% by 2020.
http://www.dhakatribune.com/crime/2014/sep/10/28-people-commit-suicide-everyday
-----------
St. Paul's First Female Somali Police Officer Has Critics and Fans
September 10, 2014
Kadra Mohamed walks into an old haunt, the Grocery and Meat Market on the city's north side, where as a girl she shopped with her mother.
She breathes in the heady smell of Somali spices, Halal meat and the bread she has loved since growing up in a nearby public housing project.
Two girls in silky Abaya gowns rush to embrace her, their mother standing back shyly. The market's owner, Abdi Mohamed, steps from behind his shelves.
"Kadra, it's you," he says in the lilting Somali language. He asks about her mother, then pauses. "It's good to see you in uniform."
At 22, Mohamed is a newly minted cop on the beat, a community liaison officer making a courtesy call to a merchant, a time-tested neighbourhood policing method. Still, this visit — and each one she makes in this immigrant bastion — breaks new ground.
In March, the St. Paul Police Department hired Mohamed, its first female Somali officer, a move designed to improve the sometimes tense relations with 80,000 Somali Americans in the Twin Cities — more than half of them in St. Paul — the nation's largest Somali community.
Each time she wears her crisp blue police uniform with its thick black leather belt and handcuffs, the 5-foot-1 Mohamed also dons her Hijab, the traditional head scarf worn in public by many Muslim women.
Her presence has divided this Midwestern city of 290,000 residents. One blogger called her hiring a politically correct and potentially perilous gesture. By allowing her to wear a Hijab, he wrote, the department "has placed her life on the line in more ways than one."
Some officers complain she is breaking a long-standing uniform code.
The department modified the Hijab with metal snaps that allow the head scarf to come off in a scuffle. But Mohamed makes no excuses. Once an aspiring lawyer, she shifted her goal to police work because of her desire to help her community.
"I'm a target for those with concerns about safety," she says. "I'm a short, black, Muslim female. Of course I stand out."
But criticism has also come from the Somali American community. Older Somalis say she's breaking a cultural creed: wearing pants and short-sleeve shirts and working closely among men in public. After Mohamed passes her police exams, she will apply for a job as a sworn officer. That means she'll carry a gun.
Mohamed's hiring comes at a crucial time for the Somali community. The rise of such Somali street gangs as the St. Pistol Boys and Somali Outlaws has followed news reports that Somali American youths here have been recruited to join extremist forces in Somalia, Syria and Iraq.
Some say the tension between Somalis and the city is as high as it's been since 2001.
"And here comes Kadra Mohamed, who has defied logic for whites and Somali alike," local activist Omar Jamal said. "She's a mystery to both cultures."
Mohamed was born in a refugee camp in Kenya in 1991, not long after her parents fled Mogadishu, Somalia's capital, and its nearly daily bombings and strife. Her father, Hassan, was Ethiopian, and he and her Somali mother, Zamzam, were joined by an arranged marriage.
"Love takes time," Mohamed said. "Their relationship started off cordially, then a friendship developed before they grew into loving one another. They got lucky."
The family eventually relocated to the Twin Cities, an area with more than 60,000 Hmong residents and a reputation for welcoming immigrants. The couple had four more children — two boys and two girls.
Her father, an immigration case worker, died when she was 12, and Mohamed grew up fast.
While at St. Cloud State University, she decided to start wearing her Hijab — and quickly learned about racism in provincial Minnesota. Strangers told her to "take the towel off your head." An older woman drove up to her in a parking lot and ordered, "Go back to your terror state."
Last year, St. Paul police disciplined two officers after pictures surfaced online of them wearing Muslim women's clothing — one in blackface makeup — to a Halloween party. Both publicly apologized.
As a community liaison officer, Mohamed is often called upon to translate, but most of her duties are to show a friendly face in public housing projects. Often she rides with partner Tom Lee, 24, who works in the Hmong community.
Civil rights activists have applauded St. Paul's move to join Washington, D.C., police as the only two departments nationwide to allow female officers to wear a Hijab. They dismiss claims that the scarves will make them targets.
"That's similar to the argument made by white policemen in the 1950s against working with a black officer, because they didn't want to be targeted by a bigot," said Ibrahim Hooper, a spokesman for the non-profit Council on American-Islamic Relations. "It didn't make sense then and it doesn't make sense now."
St. Paul Police Assistant Chief Todd Axtell said all rules, even uniform codes, were made to be changed. "In the early 1970s, you had to be at least 5-foot-8 to become a St. Paul police officer," Axtell said, who is 5 feet, 7 inches tall. "If that rule hadn't been changed, I wouldn't be here today."
Later, walking to a community cookout at a housing complex, Mohamed runs into a high school classmate, Nada Mohamed, also wearing a Hijab. The friend is proud of Kadra, but says women her grandmother's age don't agree.
"They think she's crazy," she says. "They don't think a Muslim woman should be a police officer, no matter if she wears a Hijab or not."
Mohamed walks away smiling, a gap between her two front teeth giving her a girlish look.
She's still set on being hired as a sworn officer, even if her mother insists she won't let a gun in the house. "I tell her, 'Mom, you've been though a civil war. How can you be afraid of guns?'"
One day, Mohamed says, she might be working as a gang unit officer or helping the department identify political extremists in her community. One thing she's not afraid of is arresting a Somali man, an unimaginable scenario for many in the male-dominated culture.
"I'll speak to him in our language — Somali to Somali," she says. "I'll explain that this is my job.
"He broke the law. And there are steps that must be taken."
http://www.latimes.com/nation/la-na-somali-female-cop-20140909-story.html
-------------
Woman Imprisoned For Two Months for Trying To Watch Volleyball Game
Sep 10, 2014
A British woman has been in an Iranian prison for more than two months for trying to watch a men's volleyball match.
Ghoncheh Ghavami, 25, was arrested along with more than a dozen women as they tried to enter a stadium where the Iranian national men's team was playing Italy on 20 June.
She was released from custody but when she went back to collect her belongings days later, she was arrested a second time and transferred to Tehran's notorious Evin jail, which is known for holding political prisoners and journalists.
Miss Ghavami's brother, 28-year-old Iman Ghavami, said she rang her family in tears saying she had been put in solitary confinement for 41 days.
"[The family] can barely hold themselves together," he told ITV News.
"They are torn apart – not just my parents but my grandparents, my uncles, everybody."
Miss Ghavami, a budding lawyer who studied in London, has dual Iranian and British nationality.
A Facebook campaign to free her has started, garnering almost 9,000 "likes" and lead to protests at
The Foreign and Commonwealth Office said it was "aware of reports" of her imprisonment and was looking into them but its diplomatic powers are limited in Iran.
She had been protesting with other female rights activists at the Azadi Stadium, which means "freedom", against a ban on women watching male sports.
The law was introduced after the 1979 Islamic Revolution as mixed crowds enjoying games, where men are not considered fully dressed, was deemed un-Islamic.
"In the current conditions, the mixing of men and women in stadiums is not in the public interest," said Iran's head of police, Esmail Ahmadi Moghadam, according to the Fars news agency.
"The stance taken by religious scholars and the supreme leader remains unchanged, and as the enforcer of law, we cannot allow women to enter stadiums."
The ban, which extends to female journalists, has been lifted in exceptional circumstances but hardliners have said it is needed to protect women from "lewd behaviour".
Foreign women who have travelled to Iran to watch volleyball matches have been permitted inside venues in the past but only when displaying their passport.
Shahla Sherekat, the editor of a monthly women's magazine Zanane Emrooz (Today's Women) had published a report on the sports stadium law and was called before Iran's Press Court after hardliners accused her of promoting feminism and un-Islamic values.
Human rights activists in Iran had hoped the election of moderate President Hassan Rouhani would lead to more liberal laws and moves towards equality but the religious establishment under Ayatollah Khomeini holds huge power.
http://www.independent.co.uk/news/world/middle-east/britishiranian-woman-imprisoned-for-two-months-for-trying-to-watch-volleyball-game-in-tehran-9722733.html
-------------
Edmonds PCC to Host Used Bicycle Drive to Help West African Girls Stay In School
September 10, 2014
The Edmonds PCC will host a Bicycle for Education drive Saturday, Sept. 27 from noon-2 p.m. People can drop off used bikes at the store, located at 9803 Edmonds Way.
The event is sponsored by Alaffia, an organization with mission of "alleviating poverty and advancing gender equality in West Africa," according to the Alaffia website.
The Bicycles for Education program, which started in 2004, collects bicycles in Washington and Oregon and then Alaffia pays to send them to West Africa, said Alaffia Communications Liaison Ian McGregor. Bicycles are typically sent to girls between the ages of 14-18, he added.
In Togo, one of the areas where the bikes are sent, there is a 90 percent dropout rate before sixth grade for girls in rural areas, according to the Alaffia website. One of the contributing factors is the students' commute from home to school. Since the program began, Togo has seen a 95 percent passing rate on annual exams for recipients, McGregor said.
"This is such an important way for Edmonds and Washington to take part in what's happening around the world," McGregor said.
At each event, organizers hope to collect 20-50 bikes, with the goal of 1,000 bike for the year, McGregor said.
Alaffia also operates a Certified Fair Trade beauty store in Olympia, which funds the bicycle program. Products can also be purchased online or in select groceries stores.
Since the program collects only used bicycles, it keeps them from ending up in landfills. Any bicycles that are not in good enough condition to ship to Togo are sent to scrap metal recyclers; and small bikes are donated to local food banks and foster care programs in Washington State.
You can learn more about Alaffia's Bicycles for Education program or their beauty stores at www.alaffia.com.
http://myedmondsnews.com/2014/09/edmonds-pcc-host-used-bicycle-drive-help-west-african-girls-stay-school/
----------
URL: https://www.newageislam.com/islam,-women-and-feminism/new-age-islam-news-bureau/love-jihad-warning-for-muslim-girls-on-whatsapp/d/99001