New Age Islam News Bureau
18 November 2020
• Saudi Arabia Kicks Off First Kingdom's First Women's Football League
• MoU For Jobs For Women In Water Sport, Diving Sector
• Bangladesh Launches All-Female Police Team To Fight Online Abuse
• Turfah Al-Mutairi, First Saudi Woman To Obtain A License From General Authority for Military Industries
• Spotify Hands The Mic Over To Mideast's Female Artists With 'Sawtik'
• Pakistan- Girls Education Is Key To End Child Marriages
Compiled by New Age Islam News Bureau
URL: https://www.newageislam.com/islam-women-feminism/love-jihad-double-attack-rights/d/123503
--------
Love Jihad: Double Attack On Rights Of Both Hindu And Muslim Women
By R Jagannathan
Nov 18, 2020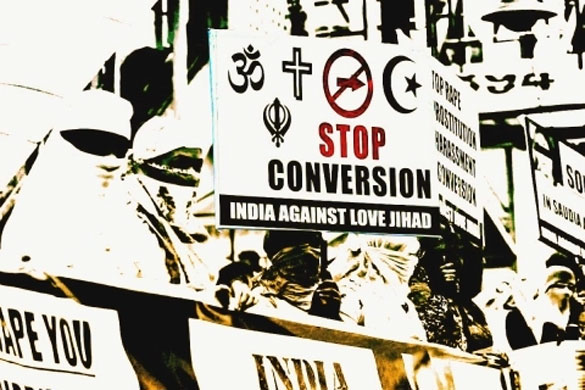 Women hold placards and form a human chain to protest against love jihad and conversion to Islam. (Original picture by Mujeeb Faruqui/Hindustan Times via GettyImages)
------
Some Bharatiya Janata Party (BJP) ruled states, including Haryana, Madhya Pradesh, Uttar Pradesh, and possibly even Karnataka, are considering legislation to minimise the incidence of love jihad – a phenomenon that can be loosely defined as a Hindu woman converting to marry a Muslim. (Read here, here, here)
Though the conversion pressure can go the other way too – of a Hindu boy being asked to convert if he wants to marry a Muslim girl – the anecdotal evidence suggests that the trend is largely in one direction, of Hindu girls and young women converting away from the religion of their birth.
The problem is that laws cannot deal with an issue that relates to society and its attitudes to religion. A law to prevent love jihad may, on the contrary, tend to give false comfort to Hindus, who worry about such conversions when no law can prevent anyone from changing his or her faith, covertly if not overtly.
Hindus look for simplistic solutions where none exist. Many states have banned "forced" conversions, but this has not prevented the long-term trend of tribals or non-tribals moving away from Hinduism.
Similarly, a ban on conversions before marriage will not solve a problem that emanates from what is intrinsic to Islam: the duty of Dawa, of spreading the faith, that is enjoined on every Muslim. It should, therefore, be no surprise that some use the ruse of marriage to achieve conversions, even though the love may be substantially genuine.
Given that this driving force to convert "pagans" and "non-believers" also exists in Christianity, one should presume that the same pressures operate on any non-Christian woman seeking to marry a Christian, especially if the marriage is solemnised in a church with blessings from the clergy.
To marry a Christian in a church is no different from marrying a Muslim through a niqah, for both require conversions. Among Hindus, marriage is more about the rituals practised by a particular sampradaya, and a Hindu-style wedding of an inter-faith couple does not involve an active conversion angle.
Put simply, there is no legal route away from love jihad, except by stressing women's rights and free choice – and educating them about it. Most cases of love jihad happen because Hindu leaders and the government have simply not explained to the larger society what happens when they – men or women – marry in a church or opt for a niqah.
The only legal thing that the government can do is to make the Special Marriages Act, or civil marriage, applicable to all inter-faith marriages, or better still, to all marriages. The religious ceremony of any community can thus retain its cultural significance, but with no legal sanction beyond affirmation that two people have tied the knot willingly.
Making things worse is the inherent weakness of Hinduism, which does the exact opposite of what Islam and Christianity do: the latter make it easy for someone outside the faith to convert into their own and make the reversal of the process difficult.
Hinduism does the exact opposite: make it easier to opt out, and extremely difficult to opt in and become a Hindu. It is just not about caste; at one point, organisations like the Arya Samaj had found ways of seeking conversions, but now only the Sangh's ghar wapsi programme is at work. Unless Hindus in general adopt practical conversion techniques and strategies, they are going to lose the war of numbers.
Coming specifically to love jihad, it is essentially a double blow to women's rights; one is the rights of Hindu women who throw away their religious and identity rights if they opt to convert to Islam; the other is the denial of similar rights to Muslim women who may want to marry outside their faith, but are restricted by cultural pressures to cover their faces, avoid the company of men outside the family, and generally forced to conform to patriarchal demands.
If their men marry women from another faith, or marry twice over, Muslim women pay the price. Love jihad is thus about a denial of women's rights in both communities. It is worth recalling that Hindu men seeking to court Muslim women have often been killed for their temerity (read here, here, here, here). Any Muslim woman who dares to think of marrying outside the faith thus faces the prospect of getting her love murdered.
What is needed is a general public educational campaign where women of all faiths are told which rights the Constitution provides them regardless of faith and which rights they give up based on which community they marry into. They also need to be informed that no faith can tell them what to do, and love ought to be about love and not their religious or cultural identities. Reformist Muslims must also be encouraged to openly affirm that apostasy will not be a crime even in Islam.
Hindus have an additional job to do. They need to prepare themselves for enabling conversions into their fold. Simple reason: the Abrahamic faiths are not going to be less conversion oriented no matter what the law says. To defend Hinduism, they need to be on the conversion offensive. These capabilities can be created over time, but the key is commitment to do it.
A disarmed community is in no position to fight another that comes fully armed to a battle of conversions.
https://swarajyamag.com/politics/law-cant-curb-love-jihad-which-is-a-double-attack-on-rights-of-both-hindu-and-muslim-women
--------
Saudi Arabia Kicks Off First Kingdom's First Women's Football League
Hala Tashkandi
November 18, 2020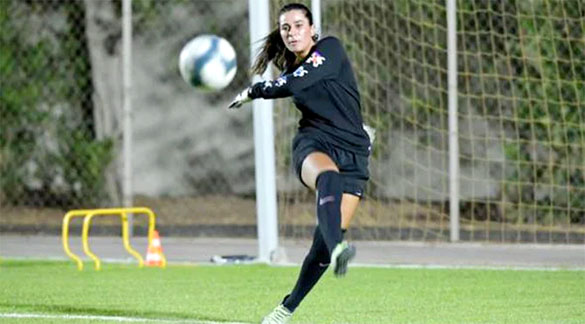 The tournament has been lauded as an important step for the Saudi sports world. (SPA)
-----
RIYADH: First they opened the grandstands to women, now Saudi Arabia is encouraging them to cross the touchline and compete in the Kingdom's first Women's Football League tournament.
The historic competition kicks off on Tuesday morning, with 24 teams across Jeddah, Riyadh and Dammam competing for a championship cup, and a $133,000 cash prize.
The Kingdom opened its stadiums to women football supporters in January, 2018, but this is the first time they will have been allowed to compete in a tournament.
The competition has been lauded as an important step for the Saudi sports world, with many in the game throwing their support behind the event.
Calling the competition a "positive step," Abdullah Alyami, Saudi football coach and sports reporter, said he expects many more women to participate in future tournaments.
"This is a very happy day for all athletes, be they male or female. And based on what we've seen, and how beloved the sport of football is all over the Kingdom, I believe we will see many more of our sisters getting involved in professional sports," he said.
Saudi sports reporter Riyan Al-Jidani tweeted his support.
"To all my dear sisters participating the Women's Football League, your success in the tournament is a step in the right direction towards our dream of universality and representing our homeland to the outside world. Raising the flag on the field is a glory and pride," he said.
The tournament was due to start in March – but the coronavirus pandemic stopped play.
But for some that just presented the opportunity to up their game.
"We started preparations early, and the delay due to the pandemic actually worked in our favor. We were able to take more than two months to prepare for the tournament," Maram Al-Butairi, general manager and head coach at Dammam-based Eastern Flames FC.
Amal Gimie, 26, an Eritrean midfielder for Jeddah's Kings United, previously told Arab News that she had been playing the beautiful game since she was eight.
"There was a match every weekend. The boys made us play as goalkeepers in the beginning, and in 2002, when I first saw the Women's World Cup, it sparked my passion to learn more about this sport," said Gimie, who is also a management information systems graduate. She joined her first female football team, Challenge, in Riyadh in 2014.
She said: "It was the first time I joined something organized. I was happy to be playing but at the same time I felt as though it was an unreachable goal (to become a professional athlete or join an official league), I felt like I was growing older without achieving anything."
The matches won't be broadcast, but Saudi's army of football fans remain excited by the tournament.
Wejdan Al-Shammary, who grew up playing sports in school, said she would have tried for a team "in a heartbeat" if she had been just a few years younger.
"I played both basketball and football on my high school teams. I was a complete sports nut, but it makes me happy to know that even if it's too late for me to achieve those dreams, there's a chance now for young Saudi girls that I never had," she said.
Najla Ahmed, a 16-year-old from Riyadh who plays on her school's football team, said she would try for a local team in 2021.
"I'll be 17, and therefore eligible, and I would love to see anyone try and stop me," she said.
Both women said they hoped this was just the start and that more sports would be opened up to women.
"Football is just the beginning. I would love to see more focus on other sports, as well. Basketball, tennis, maybe even competitive swimming," said Al-Shammary. "I'm sure we have so many potential Olympians among us who just need their talents nurtured."
https://www.arabnews.com/node/1764696/sport
--------
MoU For Jobs For Women In Water Sport, Diving Sector
November 17, 2020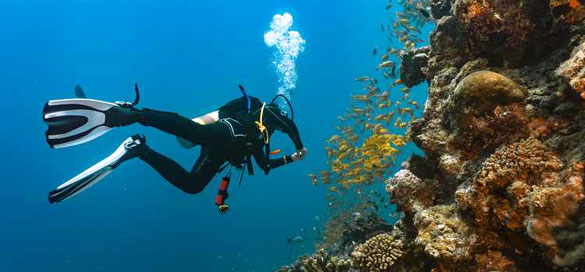 Suba diver exploring the great barrier reef. Image used for illustrative purpose.
Getty Images
-----
RIYADH — The Ministry of Human Resources and Social Development (MHRSD) signed a joint memorandum of understanding (MoU) with the Saudi Water Sports & Diving Federation (SWSDF) aimed at increasing Saudization and empowerment of women in the water sports and diving sector.
Minister of Human Resources and Social Development Eng. Ahmed Al-Rajhi and Prince Sultan Bin Fahd Bin Salman, chairman of the Board of Directors of SWSDF and president of the Water Sports Association, inked the MoU, which aims to regulate the work of the water sports and diving sector, and strive to increase the percentage of Saudi participation in it.
The deal also targets raising the rate of women's participation in the labor market through private sector establishments operating in the field of water sports and diving.
The agreement provides for the formation of a joint working group to define aspects of the professions and jobs targeted for Saudization, and to define training requirements and coordination with the parties and relevant authorities to achieve the objectives of localization and to implement joint media and marketing campaigns.
As per the deal, the ministry will start adding facilities operating in the field of water sports and diving services to the electronic platform for self-employment so as to issue documents of agreed activities.
Speaking on the occasion of the signing ceremony, Al-Rajhi said that the goals of MoU include organizing the work of the water sports and diving sector in the Kingdom in private sector establishments and individuals engaged in the field of self-employment and providing them with support.
The ministry will enumerate the professions and jobs targeted for Saudization, determining the training requirements and coordination with the parties and relevant authorities to achieve the objectives of Saudization and create new job opportunities for national cadres in this field, in addition to increasing the percentage of women's participation in the labor market.
The signing of MoU comes in line with the move of the ministry and SWSDF to enhance cooperation to serve the development of the water sports and diving sector and create a safe and attractive work environment in it.
Through this deal, the ministry seeks to achieve the Kingdom's Vision 2030 as well as to support the objectives of the National Transformation Program so as to build and develop partnerships with government agencies and the private sector to ensure coordination in joint projects.
It also targets to increase the percentage of Saudi participation, and to raise the percentage of women's participation in the employment market.
It is noteworthy that the water sports and diving sector includes several sports activities such as motor sports, including power boats and jet ski, sport fishing, recreational and technical and free diving, and fly board and other emerging sports.
https://saudigazette.com.sa/article/600396/SAUDI-ARABIA/MoU-for-jobs-for-women-in-water-sport-diving-sector
--------
Bangladesh launches all-female police team to fight online abuse
17 Nov 2020
Bangladeshi police has launched an all-female unit to tackle a rise in online abuse and harassment targeting women, the country's police chief said, as authorities seek to address growing public concern about gender-based violence.
Police hope the unit will encourage more women to come forward to report digital abuse, including so-called revenge porn, hacking of their social media accounts and online threats from blackmailers.
"We have different teams working with cybercrime in the police… but many (women) don't want to approach these areas, that's why we have created an all-woman team," said Benazir Ahmed, inspector general of police, on Monday.
"We believe that women will be more comfortable to speak to the all-woman team… the unit will not reveal the names of the women who complain. This will further encourage them," he told a news conference on Monday.
Women account for most of the victims of the nearly 6,100 cases filed under various laws to prevent digital abuse in Bangladesh, police say.
Monday's announcement comes as authorities respond to growing concern in the country about an increase in sex crimes, including rape in recent years.
Last month, the government extended the use of the death penalty for rapists following protests sparked by an online video that showed a group of men sexually assaulting a woman.
Nearly 1,350 women were raped in Bangladesh in the first 10 months of this year, according to rights group Ain o Salish Kendra, about 100 more than the number of rapes reported during the same period last year.
Women's rights activist Maleka Banu said the surge in online sexual abuse reflected a steep increase in internet usage in the South Asian nation, where the number of people online has doubled over the last five years, official data shows.
"It's easier to target women online rather than in the real world. All you need is a phone," said Banu, general secretary of women's rights group Bangladesh Mahila Parishad.
"Starting an all-female police unit is a good step. But this unit needs to be monitored properly, so that women can reach out to them, or else it won't create any change," she said.
https://www.aljazeera.com/news/2020/11/17/police-in-bangladesh-launch-all-woman-team-to-fight-digital-abuse
--------
Turfah Al-Mutairi, First Saudi Woman To Obtain A License From General Authority for Military Industries
November 18, 2020
Turfah Al-Mutairi is the first Saudi woman to obtain a license from the General Authority for Military Industries (GAMI) for a military outfit factory.
Al-Mutairi has a bachelor's degree in arts and design from Princess Nourah bint Abdulrahman University, where she majored in textile design. She has also attended training programs on small and medium enterprises (SMEs) at Leipzig University, Germany, and on promoting industrial innovation and technological facilities from the UN Industrial Development Organization (UNIDO). She has also received qualifications from UNIDO in industrial policies and planning strategy.
From 1999 to 2009, she worked as an educationalist at Al-Riyadh Schools. She is now the founder and CEO of the Sondos Al-Dibaj Trading Co., the Sondos Advanced Manufacturing Co. and the Sondos Al-Dibaja Factory for Civil and Military Textile Industries. She also has a factory producing medical products and equipment.
Al-Mutairi's military outfit factory is among the first of five companies to receive licenses from GAMI. The factory works with international companies specialized in localizing production of military equipment.
Al-Mutairi, who is the deputy head of the businesswomen's committee at the Riyadh Chamber, is planning to build partnerships with more international companies to develop the field, quoting Crown Prince Mohammed bin Salman, who said: "The sky is the limit." She has had meetings with Chinese and Greek industrial companies, and said she will work with any company that wishes to enter the Saudi market.
According to Al-Mutairi, she employs some 170 workers in her factory, most of whom are women, and will hire a further 213 new employees as part of its expansion strategy.
https://www.arabnews.com/node/1764716/saudi-arabia
--------
Spotify Hands The Mic Over To Mideast's Female Artists With 'Sawtik'
November 18, 2020
DUBAI: Some of the most prolific female singers in the Arab world, including Umm Kulthum and Fairouz, have paved the way for present superstars such as Nancy Ajram, Elissa and more. Despite their legacy, the number of Arab female artists who have been signed by regional music labels has significantly reduced over the last decade, according to studies by Spotify.
This is just one of the disheartening statistics uncovered by the music streaming platform through months of comprehensive research which has prompted Spotify to establish Sawtik, a new initiative dedicated to supporting and nurturing the immense talent to be found among Arab women creatives residing in the Middle East and North Africa.
"The diversity and richness of the female creatives in this region is greatly underrepresented," said Claudius Boller, managing director for the Middle East and Africa at Spotify. "This is why we started Sawtik."
Sawtik, which translates to "your voice" in Arabic, aims to celebrate and support unsigned female artists from the MENA region and boost their careers by helping them break into the music industry via marketing campaigns, workshops and educational opportunities.
Meanwhile, the Sawtik playlist on Spotify will serve as the gateway for labels to discover new and emerging female talent. Some of the artists on the playlist include Algerian rapper N1YAH, Egyptian singer Felukah, Dubai-based artist Layla Kardan and many more.
"We looked globally at female versus male representation on the platform, and it is clear that female artists are underrepresented. We decided that we need to get down to what the reason for the underrepresentation is and what can be done about it," shared Boller.
The initiative debuted with sixteen emerging artists across a different mix of genres hailing from Saudi Arabia, Morocco, Tunisia, Algeria, Palestine, Syria, Lebanon, Egypt and the UAE. Artists include Saudi Arabia's Jara, Moroccan rapper Khtek and Emirati singer Almas.
Tunisian superstar Latifa was also tapped to help mentor and guide the rising talents. "It's incredible how passionate and excited Latifa is about Sawtik. From people like Latifa, we can all learn so much. Her expertise here is wonderful and we're happy to have her on board on this initative," said Boller.
With over 320 million monthly users globally, Spotify can no doubt provide unsigned female artists with the exposure needed to further their careers as well as opportunities to be discovered by labels internationally and listeners across the world.
"Spotify will continue to find new ways to uplift the careers of female artists from the region," said Boller. "This is just the beginning."
https://www.arabnews.com/node/1764751/lifestyle
--------
Pakistan- Girls education is key to end child marriages
11/18/2020
Ending child marriage is critical for girls 'rights, health, wellbeing, and ability to survive into violence-free adulthood. Global good practices suggest that ending child marriage lessens the burden on health infrastructure and reduces the human footprint of resource-poor countries.
It reduces human suffering, recognizes human dignity, and challenges gender-based discrimination. Ultimately, ending child marriage frees untapped human resources and enables girls and women to more effectively contribute to global human development.
With the legal age of marriage for girls being 16 except in Sindh where it is 18, Pakistan has the sixth-highest number of child brides in the world (1.9 million). According to UNICEF. 'The State of the World's Children, 2017 Child marriage prevalence rates in Pakistan remain alarmingly high; more than 21 percent of girls in Pakistan are married before 18 and 3 percent before they are 15 years old. Across provinces, prevalence is reported to be highest in Sindh (33%), followed by Khyber Pakhtunkhwa (29%), Balochistan (22%), and Punjab (20%).
According to World Bank' The Economic Impacts of Child Marriage'. It is estimated that by ending Child and Early Age marriage (CEAM) the country could potentially save 77 million dollars by 2030 or lead to a 6229 million dollar raise in earnings and productivity. It would also lead to a reduction of the multi-dimensional poverty level – the number 1 priority for the government.
One fruitful but not fully tapped strategy is to use girls' education as a mechanism for reducing child marriage. Indeed, there is a newly emerged global consensus on the importance of girls' education as a strategy to combat child marriage—but it has yet to be translated into action in Khyber Pakhtunkhwa.
While the Health and Demographic Survey, report 2017-2018 of Pakistan reflects that among the household population of Pakistan 50% of women have no education compared with 34% of men. Only 9% of the women have secondary and 10% have a higher level of education.
Education for girls is one of the best strategies for protecting girls against child marriage. When they can stay in school and avoid being married early, girls can build a foundation for a better life for themselves and their families. Besides, if they have already been married young, access to education, economic opportunities, and health service become a distant dream for them.
According to the survey conducted by Khyber Pakhtunkhwa Elementary and Secondary Education Department in the year 2018, 1.8 million children are out of school in the province which makes 23% of the total population aged 5-17. Of the total out of schoolchildren, 64% are girls while 36% are boys. However, beyond access, there is a critical need for attitude change among opinion leaders toward girls' education as well as reforms in the education system, the school environment, and the pedagogy of the curriculum.
The education system needs to be reformed to provide quality education by recruiting more female teachers. Additionally, new policies should be introduced that could encourage and facilitate married adolescents a second chance to get an education.
It is good to see that the current PTI government is serious about improving girls' education as it has allocated 70% of the education budget towards girls' education. These funds must be utilized for making the school environment safe and secure for girls and basic needs like hygiene and sanitation must be met. The curriculum needs to be designed in a way that could equip girls with life skills and marketable aptitudes which will empower girls to have viable alternatives to early marriage.
https://menafn.com/1101144233/Pakistan-Girls-education-is-key-to-end-child-marriages
--------
URL: https://www.newageislam.com/islam-women-feminism/love-jihad-double-attack-rights/d/123503
New Age Islam, Islam Online, Islamic Website, African Muslim News, Arab World News, South Asia News, Indian Muslim News, World Muslim News, Women in Islam, Islamic Feminism, Arab Women, Women In Arab, Islamophobia in America, Muslim Women in West, Islam Women and Feminism