New Age Islam News Bureau
28 December 2020
• Sports for All Federation Announces First Ever Global Goals World Cup Saudi Arabia; Encouraging Women to Participate In Sports
• Missing Bangladeshi Woman Returns Home after 13 Years with Nepali NGO's Help
• Palestinian Authority's Grand Mufti: Women May Not Visit Dubai without Male Relative
• International Appeal After Hundreds Of Kurdish Women Kidnapped And Transferred To Libya
• Yazidi Woman Once In ISIS Captivity Reunited With Family In Duhok Province
• Peshawar's Women Polio Workers Accuse Seniors Of Harassment, Threaten To Boycott Vaccine Drive
Compiled by New Age Islam News Bureau
URL: https://www.newageislam.com/islam-women-feminism/loujain-al-hathloul-saudi-womens/d/123902
--------
Loujain Al-Hathloul, Saudi Women's Rights Activist Sentenced to Nearly Six Years
By Aya Batrawy
28 December 2020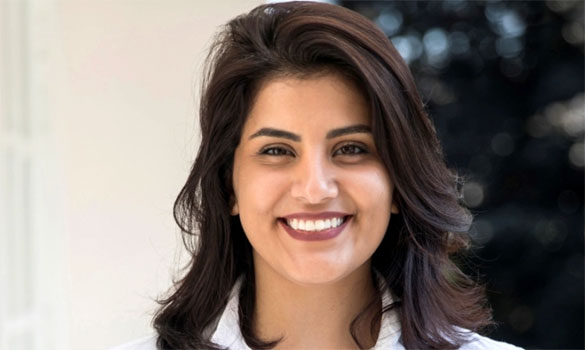 Loujain al-Hathloul, Saudi women's rights activist
------
DUBAI, United Arab Emirates (AP) — One of Saudi Arabia's most prominent women's rights activists was sentenced on Monday to nearly six years in prison under a vague and broadly-worded law aimed at combating terrorism, according to state-linked media.
Loujain al-Hathloul's case, and her imprisonment for the past two and a half years, have drawn criticism from rights groups, members of the U.S. Congress and European Union lawmakers.
Al-Hathloul was among a handful of Saudi women who openly called for the right to drive before it was granted in 2018 and for the removal of male guardianship laws that had long stifled women's freedom of movement and ability to travel abroad.
State-linked Saudi news outlet Sabq reported that al-Hathloul was found guilty by the kingdom's anti-terrorism court on charges including agitating for change, pursuing a foreign agenda, using the internet to harm public order and and cooperating with individuals and entities that have committed crimes according to anti-terror laws. She has 30 days to appeal the verdict.
A rights group called "Prisoners of Conscience" that focuses on Saudi political detainees said that al-Hathloul could be released as early as the end of March 2021 based on time served. She has been imprisoned since May 2018 and 34 months of her sentencing will be suspended.
The judge ordered her to serve five years and eight months in prison for violating anti-terrorism laws, according to Sabq, which said its reporter was allowed inside the courtroom during Monday's session.
Sabq reported that the judge said the defendant had confessed to committing the crimes and that her confessions were made voluntarily and without coercion. The judge said the verdict was issued in the presence of the prosecutor, the defendant, a representative from the government's Human Rights Commission and a handful of select local media representatives.
https://apnews.com/article/dubai-saudi-arabia-united-arab-emirates-womens-rights-terrorism-8efe30413089eaf4eee574d76eb7bfd2
--------
Sports for All Federation Announces First Ever Global Goals World Cup Saudi Arabia; Encouraging Women To Participate In Sports
December 27, 2020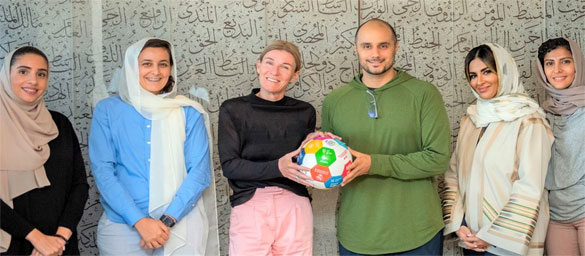 Sports for All Federation announces the first ever Global Goals World Cup Saudi Arabia
------
RIYADH — The Sports for All Federation (SFA) announced its first ever Global Goals World Cup (GGWCUP) Saudi Arabia, encouraging women across the country to participate in sports, boosting overall health of the community.
The SFA is inviting women across the Kingdom to take part in GGWCUP Saudi Arabia by forming teams and hosting events, activations and programs based around the United Nations' Sustainable Development Goals (SDGs), thereby using sport to engender social good and create lasting positivity in their local communities.
The initiative will take place over a series of months in 2021, culminating in a 5v5 (five-a-side) community football tournament that will give participants a final opportunity to advocate for their chosen SDG. The winning team of the tournament — based on how well they take action for their goal on and off the field — will go on to compete at the final Global Goals World Cup in New York City with the team travel and gear fully sponsored by the SFA.
Launched in 2015, GGWCUP is described as the 'social good world cup', featuring all-women community level teams from around the world — united by a drive to create meaningful social impact and a love of physical activity. The initiative uses the power of sport to take action on the UN's 17 SDGs; motivated by a love of the game and the desire to improve local communities.
"The initiative is aligned with SFA's own focus on wellness, community participation, and the SFA's desire to play a leading role in fostering positive impact and lasting change. GGWCUP Saudi Arabia will be delivered as part of the Quality of Life program, a vertical of Vision 2030, and as part of the Federation's ongoing commitment to increase participation in physical activity," said SFA Managing Director Shaima Saleh Al-Husseini.
"The close guidance of the Ministry of Sports together with the support of the Saudi Arabian Olympic Committee has allowed this program to lift off with extreme excitement matched by preparedness," Al-Husseini added. "GGWCUP Saudi is ready to bring the UN Sustainable Development Goals to life!"
"We are proud to bring the GGWCUP to Saudi Arabia for the first time in strong partnership with the Sports for All Federation. They are truly advocates in their way of recognizing the value of sports for the Global Goals," said GGWCUP Founder Majken Gilmartin, adding that the Saudi Greens' impressive participation and dedication to the Sustainable Development Goals distinguished the female athletes as sports leaders.
Indeed, the overall aims of the SDGs run parallel to Vision 2030 and the SFA. Adopted by all of the United Nations Member States in 2015, the goals are a universal call to action to end poverty, protect the planet, and ensure that all people enjoy peace and prosperity by 2030.
The clearest alignment between the SDGs and SFA are goals No. 3: "Ensure healthy lives and promote well-being for all at all ages", and goal No. 5: "Achieve gender equality and empower all women and girls". By activating public spaces, launching community programs, and encouraging the participation of everybody in society, regardless of age, gender, ability or location, the SFA is helping to achieve the-se particular goals.
Other SDGs that stand out as aligned with SFA are goal No. 8: "Decent work and economic growth", goal No. 10: "Reduced inequalities", goal No. 11: "Sustainable cities and communities", and goal No. 17: "Partnerships for the Goals".
A further link between the SDGs, GGWCUP and SFA is the Saudi Greens — the Kingdom's first team to compete in the global challenge that was formed under the auspices of the Federation — clearly advocating for SDG No. 5.
The Greens secured second place in GGWCUP 2019 in New York, having had a successful showing at the semifinal GGWCUP event in Denmark earlier that year.
Made up of members from different community sports groups from across the Kingdom, the Saudi Greens came together to play for UN SDG No. 15: "Life on Land". They focused on reusable plastics and the devastating effect these plastics have on the environment.
The Greens continued their association with the Global Goals World Cup earlier this year when team players held online workout session as part of the GGWCUP Club House virtual fitness program.
Participating alongside athletes from all over the world, three of the Greens team members staged a total of 10 online training sessions each themed with a different SDG. The team's link with GGWCUP will take on a more local angle next year, as official ambassadors of the inaugural GGWCUP Saudi Arabia.
The applications process for the program is already open for women aged 18 years or older who interested in take part in the event. Registration closes on Feb. 1, 2021.
To apply, simply form your team of eight including one coach, choose a team name and SDG, and register. Once you have applied, start to brainstorm with your team on how use your SDG to do good in the community, and start planning your community work.
When your team has been accepted, submit your team photos, player names, and a description of your SDG initiatives on the website. There is no requirement on the number of initiatives that you must exe-cute.
Teams are encouraged to beginning planning and executing innovative community social good events, and share the results and progress on Instagram and Twitter tagging @Saudi_SFA @Greens Saudi @GGWCup and using these hashtags #GGWCUP and #GGWCUPKSA.
Finally, teams will participate in the GGWCUP community tournament, competing in games lasting eight minutes each. The winning team will be decided by a combination of factors, including the number of goals scored during the games, how they engage the crowd during the games, how well their uniforms reflect the team's theme, and the positive impact their efforts had on their communities prior to the tournament. — SG
https://saudigazette.com.sa/article/601859/SAUDI-ARABIA/SFA-announces-first-ever-Global-Goals-World-Cup-Saudi-Arabia
--------
Missing Bangladeshi woman returns home after 13 years with Nepali NGO's help
Tajul Islam Reza
December 26th, 2020
Children ecstatic seeing mother after 13 long years
A Bangladeshi woman, who went missing from Gaibandha about 13 years ago after losing her mental balance, has finally returned home with the help of Manav Sewa Ashram (Human Service Ashram), a Nepali non-governmental organization.
Momena Begum, 50, returned home on Thursday thanks to the efforts of some workers of the Nepali organization.
Workers of the NGO's Chitwan city branch restored her health with long-term medical care and brought her back to her relatives.
But time did not wait for Momena.
Abdul Kuddus Ali, her husband, remarried two years after she went missing. Both of her parents also died. Meanwhile, her five children found new homes at the residence of their two maternal aunts.
In such circumstances, Momena took refuge in the home of her elder sister Afroza Begum in Ghoramara village of Kamardaha union in Gobindaganj.
Kamardaha union parishad Chairman Syed Shariful Islam said: "Momena used to go missing from her husband's house from time to time due to her mental illness. One day she went missing for what would be years, leaving behind her 2 daughters and 3 sons.
"She crossed the border on foot and went to a forest in Ramnagar, Chitwan. Some workers of the Manav Sewa Ashram saw her around five years ago and took her to their shelter. After she was nursed back to health by the workers, Momena told them her address."
The young workers of Manav Sewa Ashram then returned Momena to her family on Thursday, Shariful added.
The UP chairman continued: "As her husband's second wife was unwilling to let her stay in their house, Momena was taken to her father's house in Ghoramara village. Her children and other family members were ecstatic at seeing her after all these years."
Momena's children expressed their gratitude to the staff of Manav Sewa Ashram for bringing back their mother.
Gobindaganj Upazila Nirbahi Officer Ramkrishna Barman said Momena would be rehabilitated as she was helpless.
"Momena will be given a piece of land and we will see to it that she has a roof over her head," said Abdul Latif, chairman of Gobindaganj upazila parishad.
https://www.dhakatribune.com/bangladesh/2020/12/26/missing-bangladeshi-woman-returns-home-after-13-years-with-nepali-ngo-s-help
--------
Palestinian Authority's Grand Mufti: Women May Not Visit Dubai without Male Relative
December 28, 2020
Palestinian women may not travel to Dubai with their daughters unless accompanied by a male family member, according to the Palestinian Authority's grand mufti.
Mufti Muhammad Ahmad Hussein's remarks came during a Dec. 16 interview on Fatwa, a program broadcast on official P.A. TV, according to Palestinian Media Watch. Hussein was appointed to his post by P.A. leader Mahmoud Abbas in 2006.
While the P.A. is often considered religiously moderate, its top religious leaders, including Abbas's adviser on Islam, have been given air-time on official P.A. TV over the years to advance fundamentalist religious positions, according to PMW.
For example, in one interview regarding the Muslim holy month of Ramadan, Hussein was asked whether a woman could refuse to have sex with her husband if he failed to fast and pray as required. Hussein replied: "That is not a reason … It is his right [to have sex]. …This woman may not and has no rights to deny him this right, especially during the permissible time, which is night time."
In the same broadcast, the program's host asked whether women could go shopping at night during Ramadan. Hussein replied: "In general, a woman must [only] leave home at the discretion of her husband."
In 2016, P.A. TV broadcast an interview with an academic lecturer on Islam and mufti Sheikh Samih Hajjaj in which he laid out the Quran's rules for beating women.
"Let's say that a husband senses that his wife is lying," Hajjij tells the host. "First he needs to rebuke her and quote the Quran and Hadith on the ban on lying."
Only afterwards can he proceed to beat her.
"The [Muslim] scholars said that the beating can be with a small brush or a handkerchief, and the number of blows should not exceed 10," says Hajjij.
"Not with a stick or pipe," the host clarifies.
"No, no," Hajjij replies. "Not in the face. Even when we hit with a handkerchief or small brush, Prophet [Muhammad] said: 'Do not hit the face, and do not make her ugly.' If you want to hit, hit [her] back or leg, hit in places that are not seen, and do not cause a permanent mark."
https://www.jns.org/top-pa-religious-official-women-may-not-visit-dubai-without-male-relative/
--------
International appeal after hundreds of Kurdish women kidnapped and transferred to Libya
DECEMBER 27, 2020
AN INTERNATIONAL appeal has been launched to rescue hundreds of Kurdish women and girls that have been kidnapped by jihadist mercenaries in northern Syria and taken to Libya to be sold as sex slaves.
A shocking new report also describes a gruesome pile-up of womens' bodies after their execution by Turkish-backed militia.
"The fugitives from Afrin speak of Afrin hospitals littered with the corpses of kidnapped women and children, [killed] after being accused of terrorism and threatening the security of the Turkish state," said Ibrahim Sheikho, director of the Afrin Organisation for Human Rights.
Others are raped and sexually abused by the jihadists, who take the women prisoner while fighting as part of Turkish-backed militia on the side of Libya's UN-supported government.
According to the Afrin Report news network, Salwa Ahmed Shasho, a young Kurdish girl from the village of Dar Kara, was kidnapped and taken to Turkey where she was to be sold as a sex slave to Qatari merchants and transferred to Libya.
She was rescued by her family, but according to those on the ground hundreds have been kidnapped and trafficked via Turkey.
One Kurdish man with the pseudonym Bengin Darwish explained: "The captives are transported to Turkey either through the military crossing (Hawar Kilis) at the Syrian-Turkish border or through the border village of al-Khalil with Turkey, as well as from the military post (Al- Hamam) in the district of Jindersse, which links Afrin to the Turkish state."
Women's organisations in the largely Kurdish enclave known as Rojava have called for the international community to take action to secure the safe return of those kidnapped and have drawn comparisons with the treatment of Yazidi women in Sinjar in 2014.
More than 3,000 women and girls remain missing after being abducted by Isis as it swept to power across large swathes of Syria and Iraq.
They have been abandoned by the international community despite the United Nations designating the slaughter and kidnappings as a genocide.
More than 1,000 women and girls are believed to be missing from the Afrin canton, which has been subject to invasion and subsequent occupation by Turkey and its jihadist allies following the Turkish army's Operation Olive Branch in 2018.
The Missing Afrin Women Project maps the details of those kidnapped, with some of them held by mercenaries for a ransom before being returned to their communities.
In May, the Morning Star reported the discovery of a "torture camp" in Afrin where mainly Kurdish and Yazidi women were held by militia from the Hamza Division.
Amid allegations of rape and sexual abuse, footage circulated on social media appearing to show the women being stripped naked and tortured in the northern Syrian camps.
According to Afrin News report a network of such camps has been established across the canton.
"After Turkey occupied Afrin … institutions and schools turned into secret hostage centres. Testimonies from survivors have revealed that violent crimes of rape have stained the ground," it said.
But the kidnappings have been deemed "legal" by the occupying forces, with Turkey's courts complicit in the detention at torture camps.
A UN report in February found that Turkish-backed militia were guilty of the "war crimes of hostage-taking, cruel treatment, torture and pillage" in Afrin.
https://morningstaronline.co.uk/article/w/international-appeal-after-hundreds-kurdish-women-kidnapped-and-transferred-libya
--------
Yazidi woman once in ISIS captivity reunited with family in Duhok province
28 December 2020
ERBIL, Kurdistan Region — A Yazidi woman arrived in the Kurdistan Region's Duhok province on Sunday to be reunited with her family, two months after being rescued from a camp from northeast Syria (Rojava).
Rafida Naif Issa, 22, was abducted by the Islamic State (ISIS) when the group attacked her hometown in the Yazidi heartland of Shingal in the summer of 2014.
Issa was found in al-Hol camp in Hasaka, northeast Syria (Rojava) in October when she was moved to a Jazira branch of the Yazidi House, an umbrella organisation in Rojava for the protection of the ethnoreligious minority's people and culture.
Issa's mother, Ilhan Yousif Mato, visited Rojava one week ago to be reunited with her. They both came back to Duhok province on Sunday, where the young woman was officially handed over and reunited with the rest of her family.
"I am very happy. I have not seen her for seven years," her mother told Rudaw.
Issa spoke good Kurdish, but did not want to speak to media about her traumatic experience.
According to the Office for Abducted Yazidi Affairs, affiliated to President of the Kurdistan Region Nechirvan Barzani, there are as many as 500 Yazidis at al-Hol – home to thousands of families suspected to have links with ISIS.
Hussein Qyi, head of the office told Rudaw that they have rescued 3,543 of the Yazidis that were held in ISIS captivity, but 2,872 still remain missing.
Another Yazidi woman, 27-year-old Nasrin Ibrahim, was reunited with her family in Duhok in late November after being rescued from al-Hol.
Abdullah Shiren, based in both Shingal and Duhok, has faciltated the rescue of 399 Yazidi women and girls since November 2014, when he help rescue his own niece from ISIS captivity.
Shiren told Rudaw's Shahyan Tahseen on Sunday that his rescue work has become more difficult because ISIS is now spread over a wider area, albeit more thinly.
"When Daesh [ISIS] was destroyed we thought we would be relieved, but actually our work became harder... Daesh used to be present in some specific areas, but now they have spread over cities, villages, camps and countries."
However, rescues of Yazidis have become less costly.
"When Daesh was in control of Baghouz, Raqqa and other places, we spent a large amount of money which ranged from $5000 to $10,000 [per case]," Shiren said. "Sometimes it was even higher. But the cost is not high anymore, thanks to al-Hol camp, Yazidi House and Rojava [administration]."
Asked what is hindering the release of Yazidi women and girls still at al-Hol, Shiren said they have been "brainwashed" by other residents of the camp who are affiliated with ISIS, who tell them "that life is better in the camp."
https://www.rudaw.net/english/middleeast/iraq/28122020
--------
Peshawar's women polio workers accuse seniors of harassment, threaten to boycott vaccine drive
UNNATI SHARMA
28 December, 2020
New Delhi: A group of women polio workers from the Hayatabad Union Council in Peshawar, staged a protest against harassment by senior officers Saturday. The polio workers alleged that officials called them for meetings at any time and threatened them with removal if they did not oblige.
The protestors also submitted a written application against the officers responsible.
The workers highlighted how several women had lost their jobs because they refused to entertain the demands of seniors and many suffered from mental stress due to the rude behaviour of the officers.
The workers urged the health minister of the Khyber Pakhtunkhwa district, Taimur Khan Jhagra, to take note of the situation or threatened to boycott the entire polio campaign.
According to the Global Polio Eradication Initiative, Pakistan is the only country with consistent barriers preventing vaccination and the eradication of polio, which are linked to religious extremism and harassment of polio workers.
Polio workers are often harassed, and even killed in some cases, due to the narrative that vaccination is a western agenda forced upon Pakistan.
Local carpet industry in Pakistan adversely affected by pandemic
Pakistan's hand-made carpet industry is in shambles due to the Covid-19 pandemic. The carpet industry in Pakistan's northwestern province — the areas of Peshawar and across Khyber Pakhtunkhwa — has been badly hit by the economic downturn of the past year and close to 17 large and small carpet factories have closed down, putting over 200 artisans out of work.
According to Hassan Khan, an Afghan businessman associated with Peshawar's carpet industry for the past 40 years, the few remaining skilled weavers in the region are now finding other means of work amid the economic slowdown.
"Much of this is owed to Covid-19, which has put so many people across so many sectors in straitened circumstances. Our handmade carpets once sold like hot cake across western markets. But in the last eight months, with travel bans and falling economies, we've barely sold a carpet locally let alone in foreign markets," he said.
The carpet industry in Peshawar is mainly driven by highly-skilled migrant Afghan workers, who came to Pakistan during the refugee movement in the late 1970s. Now, the sector has recorded a drastic fall in business. Carpets that were being sold for $150 (around Rs 11,000) some eight months ago are now being sold for as low as $50 dollars (Rs 3,700), according to Khan.
Pak regulatory body issues notice to Google, Wikipedia for 'sacrilegious content'
The Pakistan Telecommunication Authority (PTA) — the country's telecommunication regulatory body — has issued notices to Google Inc. and Wikipedia for "disseminating sacrilegious content" through the platforms.
The authority said it has received complaints regarding misleading search results associated with "Present Khalifa of Islam" and an unauthentic version of the Holy Quran uploaded by the Ahmadiyya Community on Google Play Store.
PTA said that the matter is of a very serious nature, and thus it has approached Google Inc with directions to immediately remove the "unlawful" content.
It added that in case the platforms remain non-compliant, PTA shall be constrained to initiate further action under the Prevention of Electronic Crimes Act 2016 (PECA) and Rules 2020.
Seven deer die mysteriously in zoo
Seven spotted deer (Chital) mysteriously died in Bahawalpur zoo in the Punjab province of Pakistan Friday. According to eyewitness accounts, the deer collapsed while having their food and died soon after.
The zoo curator said they provided first-aid to the deers after their condition worsened, but seven out of 22 deers died. Spotted deer (Chital) are a rare species.
Wildlife Bahawalpur Division Deputy Director Rai Zahid Ali told a leading daily that it was premature to say anything about the cause of deer casualties but the "possibility of mischief could not be ruled out".
He added that a three-member committee had been formed to probe the incident. Wildlife societies in Pakistan have condemned the action and have demanded action against those responsible.
This comes a day after an African giraffe worth $10 million died in a Peshawar zoo under mysterious circumstances.
The Islamabad High Court had earlier compared the condition of Pakistan's zoos with concentration camps. The high court had also scolded the government for depriving two Himalayan bears of their natural habitat in the Margazhar zoo in Islamabad. The zoo also housed Kaavan — who was termed as world's loneliest elephant — and was sent to Cambodia on 1 December after spending 35 years in the zoo.
https://theprint.in/go-to-pakistan/peshawars-women-polio-workers-accuse-seniors-of-harassment-threaten-to-boycott-vaccine-drive/575069/
--------
URL: https://www.newageislam.com/islam-women-feminism/loujain-al-hathloul-saudi-womens/d/123902
New Age Islam, Islam Online, Islamic Website, African Muslim News, Arab World News, South Asia News, Indian Muslim News, World Muslim News, Women in Islam, Islamic Feminism, Arab Women, Women In Arab, Islamophobia in America, Muslim Women in West, Islam Women and Feminism