New Age Islam News Bureau
19 Aug 2019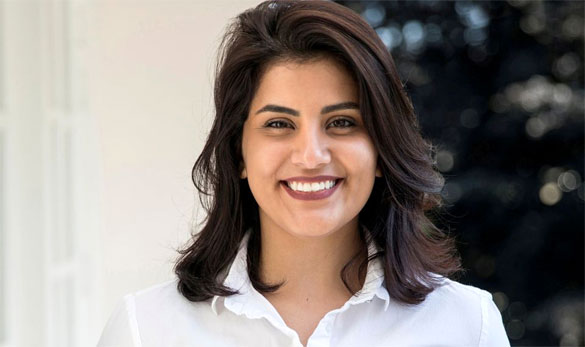 Loujain al-Hathloul was arrested more than a year ago along with other women's rights activists. Photograph: Loujain al-Hathloul
----
• Gloria Steinem, Feminist Icon Blasts Israel PM Over Travel Ban on Reps. Rashida Tlaib and Ilhan Omar
• Iran Must Free Women Held Over Veil Protests, Say UN Experts
• PPP Women Protest 'Mistreatment' Of Faryal Talpur
• Afghanistan's Female Presidential Contender, Dr. Massouda Jalal, Warns of Regional, Global Instability
• Triple Talaq Cases Rise in India after Law Comes Into Force
• Saudi Arabia Women's Rights Reforms Less Extensive than They Appear, Campaigners Warn
Compiled by New Age Islam News Bureau
URL: https://www.newageislam.com/islam-women-feminism/loujain-al-hathloul-jailed-saudi/d/119504
--------
Loujain Al-Hathloul, Jailed Saudi Feminist Refuses To Deny Torture to Secure Release
13 Aug 2019
The prominent Saudi women's rights activist Loujain al-Hathloul has rejected a proposal to secure her release from prison in exchange for a video statement denying reports she was tortured in custody, her family said.
Hathloul was arrested more than a year ago with at least a dozen other women's rights activists as Saudi Arabia ended a ban on women driving cars, which many of the detainees had long campaigned for.
Some of the women appeared in court earlier this year to face charges related to human rights work and contacts with foreign journalists and diplomats, but the trial has not convened in months.
The case has drawn global criticism and provoked anger in European capitals and the US Congress after the journalist Jamal Khashoggi was murdered by Saudi agents inside the kingdom's Istanbul consulate last year.
Rights groups say at least three of the women, including Hathloul, were held in solitary confinement for months and subjected to abuse including electric shocks, flogging and sexual assault.
Saudi officials have denied torture allegations and said the arrests were made on suspicion of harming Saudi interests and offering support to hostile elements abroad.
In March, Hathloul and some of the other women described in a closed court session the mistreatment they had experienced, sources familiar with the matter said at the time.
Hathloul, 30, initially agreed to sign a document denying she had been subjected to torture and harassment, her brother Walid tweeted.
In a recent encounter, however, state security officials asked her to make a video denial, which her family said she had refused.
"Asking to appear on video and to deny the torture doesn't sound like a realistic demand," Walid said.
Hathloul's siblings allege that Saud al-Qahtani, at the time a senior adviser to Crown Prince Mohammed bin Salman, who has also been implicated in Khashoggi's murder, was present during some of the torture sessions and threatened to rape and kill her.
The Saudi public prosecutor has said his office investigated the allegations and concluded they were false. Some of the charges against the women fall under the kingdom's cybercrime law, which stipulates prison sentences of up to five years, according to rights groups.
Those against Hathloul include communicating with 15 to 20 foreign journalists in Saudi Arabia, attempting to apply for a job at the United Nations and attending digital privacy training, her brother has said.
Scores of other activists, intellectuals and clerics have been arrested separately in the past two years in an apparent attempt to stamp out possible opposition, despite the crown prince's push to open up Saudi society and end the economy's dependence on oil.
https://www.theguardian.com/world/2019/aug/13/jailed-saudi-feminist-refuses-release-in-exchange-for-denying-torture
--------
Gloria Steinem, Feminist Icon Blasts Israel PM Over Travel Ban on Reps. Rashida Tlaib and Ilhan Omar
August 18, 2019
JERUSALEM: Feminist icon Gloria Steinem has called Israel's prime minister a "bully" and says she will not visit as long as he remains the country's leader.
In a statement posted online on Saturday, she said Israeli Prime Minister Benjamin Netanyahu's decision to bar a visit by two Democratic congresswomen was "a welcome sign that I never have to enter any country or place under your authority."
Israel denied entry to Reps. Rashida Tlaib and Ilhan Omar last week over their support for the Palestinian-led boycott movement. The two are outspoken critics of Trump and of Israel's treatment of the Palestinians. They were subjected to a series of racist tweets from Trump last month, in which he told them to "go back" to their "broken" countries. Both are US citizens.
"I know that Donald Trump, the accidental occupant of the White House, is drawn to successful bullies," Steinem wrote, addressing Netanyahu. "If you and Trump continue to imitate each other, you will eventually be alone together at the table. I could wish both of you no greater punishment than that."
Israel later granted permission for Tlaib to visit her grandmother in the occupied West Bank on humanitarian grounds, and released a letter purportedly signed by Tlaib in which she promised not to advocate boycotts during her visit.
Tlaib declined to come, saying Israel's "oppressive" conditions were designed to humiliate her.
Israel accused her of staging a provocation.
Tlaib tweeted that she could not allow Israel to "use my love for my sity to bow down to their oppressive & racist policies."
"Sitty," spelled different ways in English, is an Arabic term of endearment for one's grandmother.
Online supporters have rallied under the hashtag #MyPalestinianSitty, posting pictures of their grandmothers and descriptions of their struggles under Israeli occupation. Many were said to have lived through what the Palestinians refer to as the "Nakba," or "Catastrophe," when hundreds of thousands fled or were forced from their homes in what is now Israel during the 1948 Arab-Israeli war.
"#MyPalestinianSitty is trending and I am overcome with emotions realizing how we are finally humanizing one of the world's most dehumanized peoples," Omar tweeted.
http://www.arabnews.com/node/1541846/middle-east
--------
Iran Must Free Women Held Over Veil Protests, Say UN Experts
August 16, 2019
GENEVA: A group of UN human rights experts on Friday called for the immediate release of three Iranian women given long jail terms for protesting laws compelling women to wear veils.
The trio were charged after a video posted online showed them handing out flowers on Tehran's metro on March 8, International Women's Day, according to a statement co-signed by five UN special rapporteurs and another expert.
The women — named in the statement as Mojgan Keshavarz, Yasaman Aryani and Monireh Arabshahi — were not wearing veils.
They "peacefully protested against Iran's compulsory veiling laws and advocated for a woman's right to choose whether or not to wear the hijab," the statement said.
According to the experts, who are independent and do not speak for the world body, the women were detained in April, "forcibly disappeared" for up to two weeks, and denied access to a lawyer through the initial investigation.
"Their legal representatives were also reporte
dly prohibited from representing them at their trial," the statement said.
Keshavarz has been sentenced to 23-and-a-half years in prison while Aryani and Arabshahi were both given 16-year terms.
All were convicted of national security violations, spreading anti-state propaganda and "encouraging and providing for (moral) corruption and prostitution," the UN experts said. Keshavarz was convicted of the additional crime of "insulting the sacred."
"We call upon the Iranian authorities to quash these convictions and immediately release all human rights defenders who have been arbitrarily detained for their work in advocating women's rights," the statement said.
It was co-signed by Javaid Rehman, special rapporteur on rights in Iran, Dubravka Simonovic, UN expert on violence against women and Michel Forst, rapporteur on human rights defenders.
David Kaye, the expert on freedom of expression, Meskerem Geset Techane, who heads the UN working group on discrimination against women and girls, and Ahmed Shaheed, rapporteur on religious freedom, also signed the letter.
The experts said Tehran responded to their concerns by noting that the women "had been arrested on charges relating to morality and national security offenses."
The rapporteurs also reported that arrests of women's activists have risen in recent weeks, with Iran's government having issued an official warning that those who do not wear a veil will face severe punishment.
They cited unidentified reports that 32 people had been arrested, and at least 10 imprisoned, since January of last year for protesting against ruled mandating that hijabs be worn.
http://www.arabnews.com/node/1541041/middle-east
--------
PPP Women Protest 'Mistreatment' Of Faryal Talpur
August 18, 2019
LAHORE: PPP women workers held a demonstration outside the press club on Saturday against, what they termed, the PTI government's mistreatment of their leader Faryal Talpur.
Led by Samina Khalid Ghurki, a good number of PPP workers and office-bearers participated in the demonstration.
Holding banners and placards to express solidarity with Ms Talpur, who is also a sister of former president Asif Ali Zardari, they chanted slogans against Prime Minister Imran Khan for 'showing no respect to women'.
Addressing the protesters, Ms Ghurki said Imran government's main focus was political victimisation of the opposition leaders, instead of Kashmir issue. "The way Faryal Talpur was shifted to Adiala Jail from hospital against the advice of the doctors was deplorable. The Imran Khan government has no respect for women. We will not remain silent over mistreatment of women," she added.
Ms Talpur, who is in custody of the National Accountability Bureau (NAB), was shifted to the Adiala Jail from Polyclinic Hospital, Islamabad, last Sunday. She was under house arrest since June 14 after the Islamabad High Court (IHC) rejected her bail in connection with a case of alleged money laundering through fake accounts. She was shifted to the Polyclinic Hospital after her condition had deteriorated.
The PPP leaders, including its chairman Bilawal Bhutto Zardari strongly condemned the move and asked PM Khan under what law a female prisoner was shifted to jail at midnight against the advice of doctors.
https://www.dawn.com/news/1500127/ppp-women-protest-mistreatment-of-faryal-talpur
--------
Afghanistan's Female Presidential Contender, Dr. Massouda Jalal, Warns of Regional, Global Instability
18 Aug 2019
Dr. Massouda Jalal, the only female presidential contender in Afghanistan's presidential elections has warned of regional and global instability due to the ongoing violence in Afghanistan.
In an opinion editorial to Khaama Press, Dr. Jalal said the 40-year long conflict in Afghanistan has sparked unprecedented concerns among the people, government and society amid political, social, economic, cultural and security crisis.
Dr. Jalal further added that the ongoing conflict has also sparked ethnic, religious and political tensions, warning that the instability will not remain limited to the geography of Afghanistan only if the current situation persists.
Furthermore, Dr. Jalal blamed some regional countries for sparking violence in Afghanistan to guarantee their own interests, emphasizing that the outspread of violence in the region and across the globe will become uncontrollable and will inflict massive regional and global casualties and financial losses.
Meanwhile, Dr. Jalal also blamed certain individuals and specific Mafia groups for sparking war and violence in a bid to preserve their wealth and power.
According to Jalal, efforts are underway to spark ethnic clashes as well besides sparking religious tensions, emphasizing that the current conflict has no root with the religious and ethnic tensions.
In other parts of her Op-Ed, Dr. Jalal claimed that certain groups linked in pursuing their personal interests, turned Afghanistan into a State marred with crisis, instability, tensions and conflict with the consultations of certain countries located close to and far from Afghanistan.
Without disclosing the names of the groups and involved countries, Dr. Jalal said the ongoing conflict in Afghanistan has roots with the war on wealth and power as local and international Mafia groups are fighting to preserve their wealth and power in Afghanistan, specifically pointing to cultivation and smuggling of drugs, looting of natural resources and land.
Drugs and illegal mining fueling Afghan war
She also added that the war in Helmand, Zabul, Kandahar, Farah, Shinwar and Badakhshan have direct links with the cultivation of opium as well as unprofessional mining of natural resources, including the extraction of Lapis and Gold in Badakhshan.
Dr. Jalal also added that the conflict in Afghanistan also has direct links to foreign interferences considering the geo-political, geo-strategic and geo-economic situation of the country as well as the water resources of Afghanistan which madly flow out of the country in the absence of a proper administration.
According to Dr. Jalal, the war in Afghanistan is not a conflict among the Afghans but the ongoing conflict has been shaped by rivalries between certain countries including Pakistan, India, China, Iran, Saudi Arabia, Turkey, Russia, U.S. and the European Union countries.
Dr. Jalal believes that the peace and stability would be impossible to be maintained in Afghanistan unless the political and armed groups and the government of Afghanistan reach to an agreement and recognize Afghanistan as a sovereign state and stop the flow of resources to warmongers, insisting that the UN Security Council's role will also be important for peace and stability in Afghanistan.
Emphasizing that the ongoing conflict is not a war among the Afghans, Dr. Jalal said the Afghan people believe that the continuation and end of war in Afghanistan has links with the candid will of the regional and global powers.
According to Dr. Jalal, the ongoing conflict will be further prolonged and a real peace and stability would not return unless the involved parties declare an end to it.
Peace Process, Elections and Role of Women
Furthermore, Dr. Jalal said the women are defending the peace process at a critical time when their concerns have remained unanswered, no international guarantee exists to respect the women's rights and face ambiguity regarding their participation in political, social, economic, cultural and security arena.
She also added that the Afghan women, forming half of the population of Afghanistan, have concerns regarding the peace talks and its outcome as they believe that no individual or group can represent the women to end their dilemma of deprivation, condemnation and oppression.
Dr. Jalal also added that the Afghan women are closely monitoring the peace and elections process and supports the two processes in a legal manner and in support of the majority of the society, believing that none of the two processes should be sacrificed.
Furthermore, Dr. Jalal said the Afghan women believe that national unity also remains a high priority besides the vital roles of peace and elections.
She also added that the Afghan women believe that extensive participation and fair distribution of power will ensure national unity, peace and stability in Afghanistan, insisting that false participation by nefarious individuals cannot ensure national unity.
In conclusion, Dr. Jalal said peace can be maintained by considering the vital values of national unity, security, fair stability, respect to citizenship rights and human rights, warning that the future government will not remain stable and firm if it did not value the aforementioned values and will lose the support of the people which would not only help with the efforts to maintain peace but will result into a change in conflict methods.
About Dr. Massouda Jalal
Dr. Massouda Jalal is the only female presidential contender who has previously served as the minister of women's affairs, laid out the national strategy for salvation of women from various forms of injustice and drafted the law eliminating violence against women.
Her activities in the ministry of women's affairs have been reflected two books "Activities of Ministry of Women's Affairs" and has been recorded in the history of the country. She also ventured out the establishment of Jalal Foundation in a bid to better serve the Afghan people, specifically the Afghan women. She has also served in various international organizations in tough moments including WFP. She will run as running mate in Security and Justice electoral team in upcoming presidential elections.
https://www.khaama.com/afghanistans-only-female-presidential-contender-warns-of-regional-global-instability-03687/
--------
Triple Talaq Cases Rise in India after Law Comes Into Force
August 19, 2019
In recent weeks, there has been a spurt in such cases in UP.
The Muslim Women (Protection of Rights on Marriage) Act, 2019 which criminalises triple talaq has, so far, failed to act as a deterrent to the cases of triple talaq in Uttar Pradesh.
In recent weeks, there has been a spurt in such cases in the state.
A woman from the Shamli district has alleged that her husband gave her triple talaq over the phone earlier this month. "My husband gave me triple talaq over the phone. I have his call recording to prove this. I want justice. If justice is not given to me then I will immolate myself," the victim said.
In another incident, a woman has claimed that her husband gave her triple talaq inside the premises of the Chief Judicial Magistrate (CJM) court in Etah earlier this month. The couple had come to the court regarding a case.
Similarly, in Hapur district, a woman has alleged that her husband gave her triple talaq after she was not able to fulfill his dowry demands.
A senior police official who spoke on condition of anonymity, has said, "There has, undoubtedly, been a spurt in cases of triple talaq which is baffling because the law on this issue is already in place. We see no reason for this except a kind of retaliation from the men in the community."
The law, which sanctions a jail term of three years for the husband who gives instant triple talaq, came into effect on August 1. Since then over a three dozen cases of violations have already been reported from across the state. In the cases reported to the police, action has been slow.
"In some cases, the families (especially, the women's) ask us not to take action since they hope for a rapprochement between the couple. In other cases, the men simply deny having given triple talaq to escape action," said a top police official.
A Muslim woman activist, however, said that the spurt in cases of triple talaq was a result of growing indignation among Muslim men who feel that their rights have been encroached upon.
"If the police take quick action, this law will serve as a deterrent in the future," she said.
https://www.khaleejtimes.com/international/india/triple-talaq-cases-rise-in-india-after-law-comes-into-force
--------
Saudi Arabia Women's Rights Reforms Less Extensive than They Appear, Campaigners Warn
Maya Oppenheim
11 August 2019
Saudi Arabia's reforms on women's rights are radically less extensive than they initially appeared to be and women remain "second-class citizens" in the country, campaigners have said.
The warning comes after Saudi Arabia, in a historic move, last week announced women would finally be allowed to apply for a passport and travel without gaining the consent of a male guardian.
The new royal decrees give women the right to register births, marriages and divorces, to be issued official family documents and be guardians to minors.
But it has now emerged there is a serious lack of clarity over whether women will be able to travel abroad independently. Saudi Arabia's Centre for International Communications and local media outlets reported the changes will also allow women to leave the country without permission from a male guardian, but the council of ministers' (the Saudi Arabian cabinet) decision made no mention of changes to that requirement.
Human Rights Watch has urged the Saudi authorities to immediately clarify whether women in Saudi Arabia can leave the country without permission, but they have failed to do so.
Under the kingdom's restrictive guardianship system, women are deemed legal minors and cannot marry, divorce, travel, get a job, be released from prison or have elective surgery without permission from their male guardians. Often a woman's male guardian is her father or husband and in some cases a woman's own son.
Most elements of the guardianship system remain in place despite the newly announced reforms – women still need the permission of a male guardian to get married or divorced, open a business or, sometimes, even to access healthcare.
They also require permission from a male relative to live on their own, as well as leave prison if they have been detained, or exit a domestic abuse shelter. Unlike men, they still cannot pass on citizenship to their children, nor can they provide consent for their children to marry.
Rothna Begum, senior women's rights researcher at Human Rights Watch, said it was imperative the Saudi authorities clarified whether women can travel without the permission of a male guardian.
"It is the piece of news everyone has taken away from the announcement," she told The Independent. "It has been leaving us all very confused. I think they are trying to take as much credit as possible without having already done it. They have got all the headlines."
She noted that if it does transpire women still require a male guardian's permission, a controversial Saudi government app that can be used by men to track women and stop them from travelling will remain in force.
Absher, an app owned and operated by the kingdom's interior ministry which is available in the Saudi version of Google and Apple online stores, is still allowing men to permit or decline travel for female dependents, Ms Begum said.
The app, which has been dubbed the "wife-tracking app", has been downloaded more than one million times and gives men the power to grant and rescind travel permission for women and to set up SMS alerts for when they use their passports.
Ms Begum said: "The reforms are really important in some ways but in other ways, they are not as big as they seem.
"However, we do have to celebrate – these are really big changes and this is a crucially important decision. But we can't say this has dismantled the system. There is still a long way to go to make sure women are not second-class citizens."
She drew attention to the crackdown over the last year on some of the country's leading women's rights activists who had campaigned for the right to drive or gain equal rights to men.
These women, including prominent campaigner Loujain al-Hathloul, who defied the kingdom's recently overturned ban on female drivers, are currently facing trial and several of them say they have been tortured while in detention. In November last year, human rights organisations started reporting accusations Saudi interrogators tortured at least four of the women, including with electric shocks and whippings, and had sexually harassed and assaulted them.
"When the driving ban was lifted we could not celebrate it as women were in jail," Ms Begum added. "And now we have the same problem with these reforms. It is a bittersweet victory for the women's rights activists. They are not being honoured. They are being punished for the campaigning the authorities have conceded to."
But Ms Begum hailed the new decision to allow women to register their marriages and divorces – saying this tackles the problem of men not registering them.
"It is really important," she said. "If a man divorces a woman which often happens unilaterally, she can try and ensure the divorce is registered. But it does not change the discrimination within divorce. Men can just divorce women with no cause whatsoever and without having a witness.
"Normally in any jurisdiction, you still have to go to the courts. They can do it in a text message. Sometimes he does not have to notify her. There are times where the woman might not find out she has been divorced until years later. Women do not have the same right in Saudi. They have to go to court."
The reforms allow women, along with their husbands, to be considered a "head of household" to their children, which should improve Saudi women's capacity to carry out government business on their children's behalf. The government removed language requiring women to live with their husband.
Dana Ahmed, a researcher on Saudi Arabia at Amnesty International, hailed the new reforms as a "major breakthrough" for women's rights and one of the biggest steps the authorities have taken in recent years to ease guardianship laws.
She said: "It is unclear how some of the reforms will be implemented and how far they will go given that not all of the reforms mentioned have been amended under law. There is some way to go for women's equality in Saudi because there are still gaps and laws that enable discrimination against women".
Ms Ahmed said it was not clear whether the reforms would stop male guardians being able to file cases of disobedience and absence from home against women, which are punishable by imprisonment and flogging in the kingdom.
Saudi Arabia imposes a very strict interpretation of Islam known as Wahhabism and women are forbidden from mixing freely with members of the opposite sex.
The guardianship system in Saudi makes it almost impossible for victims of domestic violence or sexual abuse to seek justice or protection because the police often insist that women and girls obtain their guardian's authorisation to file complaints even if the complaint concerns the guardian.
Abortion is illegal in the Middle Eastern country unless a woman's health is at risk and sexual relations outside of marriage are criminalised – with unmarried women faced with prosecution and even jail if they are found to be pregnant.
https://www.independent.co.uk/news/world/middle-east/saudi-arabia-women-rights-reforms-male-guardian-travel-passport-a9047431.html
--------
URL: https://www.newageislam.com/islam-women-feminism/loujain-al-hathloul-jailed-saudi/d/119504
New Age Islam, Islam Online, Islamic Website, African Muslim News, Arab World News, South Asia News, Indian Muslim News, World Muslim News, Women in Islam, Islamic Feminism, Arab Women, Women In Arab, Islamophobia in America, Muslim Women in West, Islam Women and Feminism