New Age Islam News Bureau
5 Jun 2018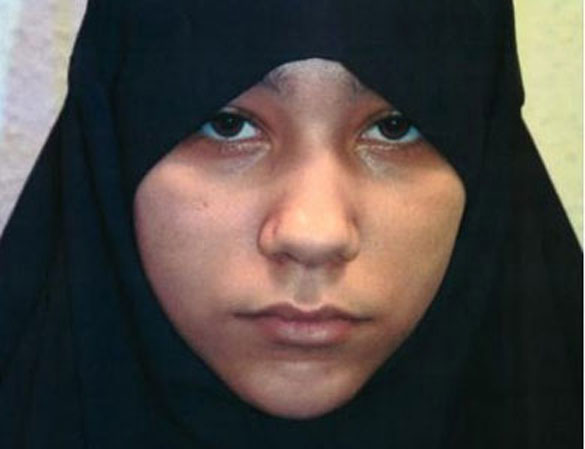 Safaa Boular plotted a grenade and gun attack in her home town after the authorities intervened to stop her travelling to Syria to marry an ISIS fighter she had met online. PHOTO: AFP
-----
• Saudi Arabia Issues First Driver's Licenses to Women
• Late By 3 Years Due To Injuries, HC Lets Muslim Girl Topper Join CISF
• Locals Praise Malala for Building Modern School, College in Shangla
• Malaysia Housewife Proposed Polling Day Attack to ISIS
• Wife of Malaysia's Najib Questioned by Anti-Graft Agency
• Saudi Female Driving Instructors Getting the Best Trainers
• Iran: Women Prevented From Watching Beach Soccer in Boushehr
Compiled by New Age Islam News Bureau
URL: https://www.newageislam.com/islam-women-feminism/london-teen-found-guilty-plot/d/115456
--------
London teen found guilty of plot with all-female terror cell
June 05, 2018
LONDON - A London teenager was found guilty Monday of preparing an attack on the British Museum as part of the country's first all-female cell linked to the Islamic State group, police and prosecutors said.
Safaa Boular, 18, plotted the grenade and gun attack in her home town after the authorities intervened to stop her travelling to Syria to marry an IS fighter she had met online. She is the youngest female to be charged with planning an IS attack in Britain. Boular was only 16 when she made contact with British-born IS fighter Naweed Hussain, 32, discussing marriage and how they would don his-and-hers suicide belts. But her hopes of joining him were dashed when she was stopped at the airport in August 2016 following a family trip to Morocco, and her passport was confiscated. Instead Boular decided to plan an attack in Britain, detailing it in coded language - grenades were "pineapples" - to online contacts who were in fact undercover agents.
Hussain was later killed in a drone strike.
When Boular was charged with preparing terrorist acts in April 2017, she passed the baton to her sister Rizlaine, 22, and their mother Mina Dich, 44, who hatched their own plan.
The trio were taped talking about an Alice in Wonderland-themed tea party, which the prosecution argued was code for an attack.
Rizlaine and her mother were arrested after being tracked by police visiting potential sites around Westminster and buying knives.
They pleaded guilty to terror offences, along with a fourth woman, Rizlaine's friend Khawla Barghouthi, 21, who later admitted failing to alert the authorities.
Safaa Boular denied the plot but was found guilty on Monday after a trial.
Dean Haydon, Britain's top counter-terror police officer, said the plot "involved a family with murderous intent, the first all-female terrorist plot in the UK connected to Daesh (IS)".
He added: "All three women were filled with hate and toxic ideology and were determined to carry out a terrorist attack.
"Had they been successful, it could well have resulted in people being killed or seriously injured."
Rizlaine, her mother and their friend will be sentenced on June 15, although a date has not yet been set for Safaa Boular's sentencing.
https://nation.com.pk/05-Jun-2018/london-teen-found-guilty-of-plot-with-all-female-terror-cell
--------
Saudi Arabia issues first driver's licenses to women
04.06.2018
Saudi Arabia issued driver's licenses to 10 women on Monday.
The announcement comes three weeks before a ban on women driving is set to be lifted following King Salman's decision last year to allow women to drive .
Saudi Arabia is the only country in the world where women are not allowed drive but this will change on June 24.
Read more: Saudi Arabia's Mohammed bin Salman: Reformer and hard-liner
About 2,000 licenses are expected to be issued for women next week, according to a statement from the Ministry of Information.
"The general directorate of traffic today started replacing international driving licenses recognized in the kingdom with Saudi licenses, in preparation for allowing women to drive," the official Saudi Press Agency (SPA) said.
The women – who already held driver's licenses from other countries, including the UK, Lebanon and Canada – took a brief driving test before having the right granted to them in Saudi Arabia.
Campaigners detained
But the positive move follows the detention of 17 people last week for "undermining" the kingdom's security, in what campaigners have said is a crackdown against activists.
Rights groups have identified some of the detainees as women campaigners for the right to drive and to end the conservative Islamic country's male guardianship system.
Read more: Women's rights in the Islamic world
Authorities said eight of the detainees had been "temporarily released" until their investigation is completed. However, the Saudi Press Agency reported that nine suspects, including four women, remained in custody after they "confessed" to a number of charges including suspicious contact with "hostile" organizations and recruiting people in sensitive government positions.
http://www.dw.com/en/saudi-arabia-issues-first-drivers-licenses-to-women/a-44073401
--------
Late by 3 years due to injuries, HC lets Muslim girl topper join CISF
Abhinav Garg
Jun 5, 2018
New Delhi: The Delhi high court has made an extraordinary intervention to allow a Muslim girl from an orthodox family a shot at working in India's Central armed police forces, saying she could become a shining example for her community, and for women in general.
A bench of Justices Hima Kohli and Pratibha Rani recently ordered the Central Industrial Security Force (CISF) to induct Noor Fatima three years after she emerged as one of the all-India toppers in the Central Armed Police Force examinations in 2015 but was bedridden due to a series of injuries.
Fatima, who faced great resistance from her family which wanted her to get married immediately rather than work, had moved court when the CISF refused to allow her to join after she missed the deadline due to injuries.
"We are of the opinion that it is a fit case for intervention as irreparable loss and injury shall be caused to the petitioner, who will miss a lifetime opportunity to become a part of a disciplined force. That apart, if the petitioner is inducted into the force, then she will be a shining example for the rest of her community and will encourage other similarly placed women to participate in the CAPF's examination, thereby opening new professional avenues for them," the bench observed.
The HC noted that the "petitioner is a young Muslim girl from an orthodox family having a rural background. She hails from a village situated in district Jalaun, Uttar Pradesh. Aspiring to join the uniformed force, she worked hard and excelled in the competitive examination."
Fatima, in her plea, told the bench frankly that she had received next to no support from her family to give wings to her dream of joining one of the forces but had yet come an all-India third in the exam. But just 10 days before she was to join the CISF academy in Hyderabad, her ankle got twisted and doctors advised not only medication but also three weeks' bed rest.
CISF authorities took a sympathetic view and allowed Fatima two extensions. But, as luck would have it, she developed severe lower back pain a month later, in November 2016, and had to undergo physiotherapy with bed rest. When she sought another extension, the authorities agreed to one last opportunity but she could not avail of that because she remained bedridden.
When in September 2017 doctors declared Fatima fit for duty, the CISF told her the appointment offer had lapsed and her request was denied.
Fatima informed the HC that she couldn't join the CISF for two reasons: one, a sprained ankle just 10 days before she was to join training; and two, stiff resistance from her family members who insisted she get married instead.
The bench opined that "equity demands this court takes into consideration the unusual circumstances of the present case, where the petitioner, who belongs to a remote village in UP and comes from a conservative family, decided to give wings to her dreams of becoming a force personnel (sic) but ended up facing insurmountable difficulties both on the personal front and health front".
The court gave Fatima a last chance and directed the CISF to permit her to join basic training at the National Industrial Security Academy, Hyderabad, and issue a letter to her extending the reporting time to enable her to join training with the next batch.
https://timesofindia.indiatimes.com/city/delhi/late-by-3-years-due-to-injuries-hc-lets-muslim-girl-topper-join-cisf/articleshow/64455652.cms
--------
Locals Praise Malala for Building Modern School, College in Shangla
June 05, 2018
SHANGLA: Shangla district residents have appreciated Nobel Prize winner Malala Yousafzai for constructing a state-of-the-art school and college for orphans and poor students in their locality, a report published in local English newspaper said.
The school, which has been built in Barkana where there was no functional government girls college, aims to boost education facilities for girls in the backward region.
Initially, the school enrolled 190 girls from nursery to class three, and now it has students till class 6th. It was constructed in a span of two years over 20 kanals of land at a cost of Rs60 million financed by the Malala Fund.
The locals said out of 190 students, 90 were orphans, who were getting free education.
Faiz Mohammad, a local activist, said they were thankful to education activist Malala for constructing the college in the backward area to enable the local girls to get quality education at their doorsteps.
Dr Afsarul Mulk, a PPP leader, said Shangla was at the bottom of literacy rate in Khyber Pakhtunkhwa after Kohistan due to the apathy of the government towards girls education. "Malala's initiative to build the college deserves praise," he added. He also urged the education department to improve the schooling system in the district.
Sajid Shah, the school principal, said the institute was fully equipped with modern facilities. However, he said the road leading to the area was in bad condition.
Sidra Bibi, a 6th grader, said she was quite happy getting education in the institute because all the facilities were available there. She thanked Malala Yousafzai and his father for executing the project for the girls of Shangla.
"I will study in the school till graduation because it is near my house," she said.
District education officer, female, Parveen Rehman said the school was equipped with modern facilities. She said there were two girls high schools in Koz Kana and Shahpur and a middle school in Damorai, so it was a good opportunity for the girls to get higher education in the Malala-funded college.
the building hosts 183 students, most between the ages of five and 12. Thirty-eight of them are orphans.
The road leading to its solid yellow gate is paved only partially, and girls walking up it are often escorted by fathers or elder brothers.
Some, said principal Sajid Shah, are transported by the school — an initiative paid for, along with the books, uniforms, tuition for the orphans and poorer students, teachers' salaries and the building itself, by the Malala Fund.
Police have promised they will soon deploy three officers to guard the campus. When AFP visited Friday, they had not yet arrived.
TARGET:
The school is built on the outskirts of Shahpur, a town in Malala's home district of Shangla — part of the region known as Swat, the scenic valley once infested by the Pakistani Taliban.
In 2007, the militants took control, waging a campaign of beheadings, other violence and attacks on girls' schools before the army deployed 30,000 troops in 2009, declaring it secure by July that year.
Since then Pakistani and at times US officials have held up Swat — recently designated a safe tourism destination once more — as a success story in the country's fight against Taliban and Al-Qaeda-linked militants.
But critics have long warned that Pakistan is not doing enough to fight the root causes of extremism, and beneath the surface peace in Swat was always fragile, as the attack on Malala herself three years later demonstrated.
By then she and her family had moved to Mingora, the main town in neighbouring Swat district — also part of the Swat region — and it was there that gunmen stopped her school bus on October 9, 2012, asked for her by name, and shot her in the head.
Her near-miraculous survival and subsequent fierce education campaigns have turned her into an instantly recognisable force for human rights.
But her emotional return to Pakistan Thursday for the first time since the shooting has refocused attention on Swat.
Security there has improved "significantly", analyst Rahimullah Yusufzai said Friday, but rare attacks — such as one that killed 11 soldiers in Swat on February 18 — show the danger is not yet over years on.
"They (the militants) still have their facilitators and sleeper cells there," Yusufzai told AFP.
In Shangla, Afshaar Alam, a medical student who is guardian to his seven-year-old sister attending the Khpal Kor school, said it was the best school in the area.
However his family had opposed his decision to send her there, he said, "fearing it may be targeted".
MALALA IS EVERYWHERE:
Militancy aside, residents in Shangla said life in Swat was changing for girls and women, particularly in a conservative region where their access to education had long been problematic.
Education is highly valued in Swat, which is also plagued with natural disasters such as earthquakes and floods that in the past have left children studying in the open air even through harsh winters.
"I am grateful to Malala for her invaluable efforts to promote education, a task our leaders failed to accomplish," Shangla shopkeeper Farman Ullah said after dropping his three daughters at the school.
"We have just one Malala today but after a decade or so, we will have Malalas everywhere."
There was still no word Friday on whether the 20-year-old herself would go to Swat during her brief, unannounced visit to Pakistan.
Her schedule is being kept tightly under wraps out of security fears, which Yusufzai said was telling.
"Not taking her to her hometown means they are not confident," he said, referring to the government and military establishment.
"If the government can't provide her security, then what does it mean?"
https://www.pakistantoday.com.pk/2018/06/04/locals-praise-malala-for-building-modern-school-college-in-shangla/
--------
Malaysia Housewife Proposed Polling Day Attack to ISIS
Jun 05, 2018
KUALA LUMPUR The militant housewife in Malaysia, whose plan to run over voters on polling day was thwarted by police, volunteered to carry out the attack for terror group Islamic State in Iraq and Syria (ISIS) and flee to Syria after that.
The 51-year-old is also believed to have suggested to the terrorist organisation that ramming into voters with a car full of gas canisters and explosives would show that ISIS is against any form of "un-Islamic democracy".
"She was in discussion with senior ISIS leaders and brought up the idea to them a few weeks before the May 9 general election," an intelligence source told The Star.
The woman, who began joining ISIS-affiliated chat groups in 2014, planned to head for Syria if her attack was successful.
Sources said the woman, who has two sons, turned to extremism after her husband had a stroke three years ago.
"The authorities believe she fully immersed herself in ISIS teachings after her husband's plight. She was quite vocal in calling for more attacks on home soil as well as urging other members to head to Syria to join the terror group's leadership there," said another source.
Malaysian police said on Friday that the housewife, along with a teenager and a restaurant owner, were among 15 detained for planning ISIS attacks.
The 17-year-old student wanted to attack entertainment outlets and non-Muslim houses of worship in the city with Molotov cocktails.
The 41-year-old Bangladeshi restaurant owner was found to be a gun runner for terrorist groups.
Sources said the authorities were still investigating how long the restaurateur had been running his "side" business.- THE STAR
https://www.tnp.sg/news/world/malaysia-housewife-proposed-polling-day-attack-isis
--------
Wife of Malaysia's Najib Questioned by Anti-Graft Agency
June 05, 2018
KUALA LUMPUR: The wife of former Prime Minister Najib Razak arrived at the headquarters of the anti-graft commission on Tuesday to give her statement on investigations into a former unit of state fund 1Malaysia Development Berhad (1MDB).
The multi-billion scandal at 1MDB dogged Najib and his family in the last three years of his near-decade-long rule, and was a key reason for his shock defeat in a May 9 election.
Najib has already made a series of statements to anti-graft investigators. Attention has shifted to his wife, Rosmah Mansor, after police found hundreds of luxury handbags, jewelry and cash during raids on apartments linked to the family.
Rosmah arrived in a convoy of four private cars at the headquarters of the Malaysian Anti-Corruption Commission (MACC).
Flanked by security guards and her lawyers, she stepped out of a silver Mercedes carrying a bright red handbag that appeared to be a model made by Italian luxury fashion brand Versace.
Rosmah walked through a throng of journalists waiting for her arrival and was accompanied by her daughter Nooryana Najwa.
Rosmah is expected to give her statement to anti-graft investigators in connection with a suspicious transfer of about $10.6 million into Najib's personal bank account that has been traced to the former 1MDB unit SRC International.
The sum is just a fraction of the billions of dollars allegedly siphoned from 1MDB, the state fund that Najib set up.
He has denied any wrongdoing and was cleared of any offense in an earlier Malaysian enquiry.
Earlier on Tuesday, some lawyers representing Najib and Rosmah on the SRC case said they had quit.
M. Puravalen, a lawyer acting for Najib and Rosmah in connection with the SRC investigations, said on Tuesday he had "ceased acting" for Najib and Rosmah.
He said a second lawyer, Yusof Zainal Abideen, had also quit. News site The Malaysian Insight reported that Puravalen, Abideen and other members of their legal team had walked out because they failed to reach common ground with Najib on several issues.
Abideen could not be reached immediately reached for comment. Najib and Rosmah could also not be reached for comment.
In raids over the past weeks, police have seized 114 million ringgits ($28.6 million) in cash and more than 400 handbags. Experts were being brought in to value the jewelry, watches and other seized items.
Najib and Rosmah have been barred from leaving the country and enforcement agencies have relaunched a probe into how the 1MDB funds went missing.
1MDB is also the subject of money-laundering probes in at least six countries, including the United States, Switzerland and Singapore.
http://www.arabnews.com/node/1315846/world
--------
Saudi Female Driving Instructors Getting the Best Trainers
June 05, 2018
Jeddah — Women from Wales, Canada and the US have been selected as part of a global team to train the first female driving instructors in Saudi Arabia, Al Arabiya English reported quoting BBC.
"Susan Newbon, Canadian Deborah Sherwood and American Norma Adrianzen will be able to train women from June 24," the BBC reported.
They will work as "senior assessors" for up to two years, training new examiners and instructors, according to the report.
"Being in Saudi Arabia is totally different to what I expected, the people are so welcoming," Susan Newbon, 56, from Llantwit Major in Vale of Glamorgan, told BBC.
She said about 1,500 people applied for the three jobs.
She said some Saudi Arabian women had traveled to other countries in the region to get their driving licenses and experience in preparation for the team's arrival. "After spending the last few weeks with the ladies, and learning about their culture and how not being able to drive has impacted their everyday lives, it is a real honor and privilege to be part of the changes," she said.
"There are a lot of very excited ladies over here who can't wait to get in the driving seat,» added Newbon.
Nearly 8,000 female applicants have obtained driving licenses in the Kingdom so far.
Driving schools for women have been set up across five cities in the country, and teachers will include Saudi women who obtained their licenses abroad.
In September 2017, a royal decree announced the end of a decades-long ban on women driving.
Women 18 years of age and older will be allowed to apply for a driver's license.
http://saudigazette.com.sa/article/536268/SAUDI-ARABIA/Saudi-female-driving-instructors-getting-the-best-trainers
--------
Iran: Women Prevented From Watching Beach Soccer in Boushehr
04 June 2018
The security department of the Ministry of Sports and Youths prevented women from sitting to watch a beach soccer match between South Pars and Shahin Khazar, on Friday night, June 1, 2018.
The spectators chanted slogans in support of women and called for official support for their presence to watch the game. A number of women waited outside until the end of the game, but they were not allowed in and they did not manage to watch the games.
On Saturday, June 2, 2018, the security department of the Ministry of Sports and Youths, sent out a letter, announcing that Boushehri women are not allowed to watch the beach soccer games.
Parviz Abdi, head of the soccer delegation of Boushehr, told the media, "Based on the law, women are banned from entering sports stadiums in Iran and prevention of Boushehri women from watching the beach soccer games was in line with enforcement of this law." (The state-run ILNA news agency – June 2, 2018)
Officially, women are banned from enterning stadiums and watching men's games in Iran.
https://women.ncr-iran.org/iran-women-news/5229-iran-women-prevented-from-watching-beach-soccer-in-boushehr
--------
URL: https://www.newageislam.com/islam-women-feminism/london-teen-found-guilty-plot/d/115456
New Age Islam, Islam Online, Islamic Website, African Muslim News, Arab World News, South Asia News, Indian Muslim News, World Muslim News, Women in Islam, Islamic Feminism, Arab Women, Women In Arab, Islamophobia in America, Muslim Women in West, Islam Women and Feminism