New Age Islam News Bureau
25 March 2017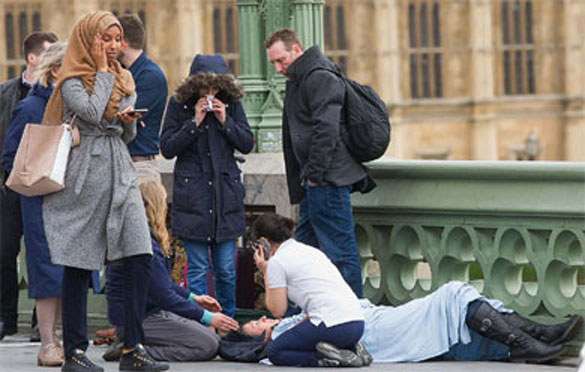 The photographer has also criticised those who have taken the image out of context to push a 'hate agenda' Jamie Lorriman
--------
• London Attack: Muslim Woman in Photo Speaks Out
• Uniform Code Won't Help, Says Tamil Nadu Women's Jamaat Founder
• In 1 Week, 2 Reports of Men Threatening To Shoot Muslim Women in San Francisco
• White Man Shouts 'Go Back To Lebanon' To Sikh-American Girl
• Third of Saudi Businesses Owned By Women: Report
• First Woman Arrested Under Pakistan's New Cyber-Crime Law
Compiled by New Age Islam News Bureau
URL: https://www.newageislam.com/islam-women-feminism/london-attack-muslim-woman-photo/d/110533
-----
London Attack: Muslim Woman in Photo Speaks Out
25/03/2017
In the aftermath of Khalid Masood's attack at London's Westminster Bridge on Wednesday, a Muslim woman was photographed in front of a group of people treating an injured person.
Many people soon condemned the woman when the picture was widely circulated on social media. Critics believed the image showed her indifferently walking past
Saw pic of a Muslim woman on her phone while casually walking past a victim of terror attack pic 2 says a different story, clearly upset
But she has now spoken out, slamming online trolls for hateful and xenophobic comments.
"I'm shocked and totally dismayed at how a picture of me is being circulated on social media," she told tellmamauk.org - a UK Muslim support group.
"I would like to say not only have I been devastated by witnessing the aftermath of a shocking and numbing terror attack, I've also had to deal with the shock of finding my picture plastered all over social media by those who could not look beyond my attire, who draw conclusions based on hate and xenophobia.
"My thoughts at that moment were one of sadness, fear and concern."
What the image didn't show were her efforts to help at the scene, she said.
She also thanked Jamie Lorriman, the photographer who took the picture, for speaking to the media in her defence.
"My thoughts go out to all the victims and their families."
Mr Lorriman told The Daily Mail: "I saw dozens of people walk past and the woman on the phone had just come from the part of the bridge where most of the victims were struck.
"That is why she clearly looks mortified and it is obvious that she is in shock. The woman would have seen people under buses; she had just walked past the worst of it."
http://www.newshub.co.nz/home/world/2017/03/london-attack-muslim-woman-in-photo-speaks-out.html
------
Uniform Code Won't Help, Says Tamil Nadu Women's Jamaat Founder
March 24, 2017
The uniform civil code won't help Muslim women as majority of them won't approach a court if it's violated, the founder of Women's Jamaat Sharifa Khanum has said.
Khanum had started the Tamil Nadu Women's Jamaat (Mosque). She feels that Muslim women don't enjoy any Islamic rights or any constitutional rights in India, but bringing in the uniform civil code won't have an impact.
"It is okay to bring in the Uniform Civil Code (to replace the personal laws based on the scriptures and customs of each major religious community) but 90 per cent women won't go to the court as the debates will end in families and not go beyond," Khanum said.
She was speaking at a session on "Right To Pray: Are Women Children Of A Lesser God?" that was organised at India Today Woman Summit here on Friday.
"When we were trying to build the women's mosque. The major things stopping us, for our women workers, were character assassination and physical abuse," she said.
Khanum pointed out that in the past 20 years, more than 100 girls have been killed in the name of suicide.
"I've been working for Muslim women all these years. The Muslim Personal Law Board does not support us. Muslim women are getting talaq for no reason. Quran does not say that, the personal law does not say that," she said.
She also went in-depth about her own subjugation experience as a teenager.
"When I was 15, I was not given the permission to even stand outside my house. I got beaten up by my own brother for not believing in religion or god. But I'm not bothered about any of that," Khanum said.
"I was labelled 'characterless' and 'anti-religious' by the people around me. I feel that we women are discriminated in the name of religion. We need space and power for Muslim women," Khanum added.
Civil Rights Activist Trupti Desai was also a participant at the discussion.
"In 1950, women were given equal rights by the Indian constitution. But that's not applicable in reality. We are just raising the obvious question when all men and women are born out of a woman, how can she be impure," Desai questioned.
"When I tried to enter the Shani Shingnapur temple for the second time, people said I was going to go through a divorce and be thrown out of the house for doing so. We were blackmailed, detained by the police, but nothing could stop us," she said.
Asked how she explains things to her seven-year-old son, Desai said: "I never needed to explain anything to him. He saw me on television being thrashed by the police. He told me to not come home and stay with those women for their protection.
She said that the little kid understood things much better than adults. "My son said -- 'I have girls with me in my class. They are everywhere. Why shouldn't they be allowed to enter worship places?'"
"Every worship place should have equality. If the government passes such a rule, 'sab ke liye acche din aa sakte hain' (there can be good days for everyone)," Desai asserted.
Both had suggestions to make about resolving the Babri Masjid issue.
Desai said: "No matter what they build -- mandir, masjid, dargah...women should walk hand-in-hand with men into it."
For Khanum, it was more important to build education centres. "I would rather build an education centre instead of Babri Masjib as education is very important for every religion."
http://www.business-standard.com/article/news-ians/uniform-code-won-t-help-says-women-s-jamaat-founder-117032401033_1.html
------
In 1 Week, 2 Reports of Men Threatening To Shoot Muslim Women in San Fancisco
24/03/2017
In less than a week, at least two men in America have allegedly threatened to shoot Muslim women who were in public with their children.
San Francisco police announced Thursday that they had arrested Joshua Ruano, 27, for allegedly threatening to shoot a woman wearing a hijab on March 17. Ruano allegedly approached the woman, who was playing with her child in a park, and made anti-Muslim remarks. (A police spokeswoman wouldn't elaborate on those remarks.) He then threatened to shoot her, according to police.
The woman and her child fled the park and contacted police. Ruano was arrested a short time later.
A spokesman for the San Francisco district attorney's office confirmed that Ruano was arraigned this week on charges of making criminal threats with a hate crime enhancement, and other unrelated crimes.
Joshua Ruano was arrested in San Francisco for allegedly threatening to shoot a woman wearing a hijab.
On March 21 in Charlotte, North Carolina, a Muslim woman wearing a hijab and an abaya says she was breastfeeding her 1-month-old baby in a parking lot when a man in a pickup truck pulled up next to her car, according to The Charlotte Observer.
The woman says the man stared at her for several minutes before taking out a long rifle and pointing the barrel directly at her.
"'I'm not going to sit here and let him shoot me,'" the woman recalled thinking. She clutched her baby and ran inside a store. The man ― white and balding, in his 40s or 50s, she said ― sped away.
"We ask law enforcement authorities to use all resources available to apprehend the alleged perpetrator and to bring all appropriate charges, including that of ethnic intimidation," Ibrahim Hooper, spokesman for the Council on American-Islamic Relations, said in a statement this week.
The Charlotte-Mecklenburg Police Department didn't immediately respond to a request for comment Friday.
The two sets of horrifying allegations come amid an apparent surge in such hate crimes across the country.
In recent months, America has seen the fatal stabbing of a black man in New York City by a white supremacist; the shooting of two Indian men in Kansas, one of whom died; the shooting of a Sikh man in Washington; the burning of at least four mosques; the vandalism of gravestones in Jewish cemeteries; and the destruction of Qurans in an Arizona mosque and a New Mexico library. There have also been more than 100 bomb threats against Jewish community centers, synagogues and Anti-Defamation League offices across the country; instances of racist graffiti in Connecticut and Oregon; assaults of Latinos in California and New York; and the killings of at least seven transgender women of color.
James Harris Jackson, a white supremacist, was arrested this week for murdering a black man in New York City.
The Southern Poverty Law Center tracked more than 1,000 bias-related incidents in the month after the Nov. 8 election, a surge they attributed to the hateful speech of President Donald Trump. The SPLC stated that in some 37 percent of those incidents, the perpetrators directly referenced the president, his campaign slogans or his comments about sexual assault.
Earlier this month, more than 150 civil rights groups ― including the SPLC, Amnesty International, the Anti-Defamation League, the NAACP, Muslim Advocates and the National Bar Association ― signed an open letter accusing the president of fostering an atmosphere of hate and being to slow to condemn hate crimes when they happen.
Hate crime data in the U.S. is woefully inadequate. The FBI counted 5,479 hate crimes in 2015 ― a 7 percent increase from the year before, driven largely by a 67 percent increase in anti-Muslim hate crimes ― but another government report estimates that number to be much higher. A survey by the U.S. Bureau of Justice Statistics found that the number of hate crimes in America each year probably approaches a staggering 260,000 ― or about one every two minutes.
The disparity between the FBI's figures and the BJS' estimation exists largely because police departments in the U.S. aren't required to report hate crimes to the FBI, and many hate crimes go unreported to police in the first place.
That's why The Huffington Post has partnered with ProPublica, a nonprofit news organization dedicated to investigative journalism, and with other news outlets to help make a national database of reported acts of hate and bias.
http://www.huffingtonpost.in/entry/men-threaten-to-shoot-muslim-women_us_58d44625e4b03787d3569be9
------
White Man Shouts 'Go Back To Lebanon' To Sikh-American Girl
Mar 25, 2017
NEW YORK: A Sikh-American girl was harassed on a subway train here when a white man, mistaking her to be from the Middle East, allegedly shouted "go back to Lebanon" and "you don't belong in this country," the latest in a series of hate crimes against people of South-Asian origin.
Rajpreet Heir was taking the subway train to a friend's birthday party in Manhattan this month when the white man began shouting at her, according to a report in the New York Times.
Heir recounted the ordeal in a video for a Times section called 'This Week in Hate', which highlights hate crimes and harassment around the country since the election of President Donald Trump.
Heir said she was looking at her phone when the white man shouted at her saying, "Do you even know what a Marine looks like? Do you know what they have to see? What they do for this country? Because of people like you."
He told Heir he hoped she was sent "back to Lebanon" and using expletives said, "You don't belong in this country," before he left the subway.
Heir, a Sikh, said she was born 30 miles from Lebanon, not the Middle Eastern country but a namesake city in the American state of Indiana.
Heir said as the man left the train, she saw a young white woman in the train staring at her "with tears in her eyes."
"What had just happened provided evidence of what I had sensed beneath the surface for a long time - racism that can turn violent and lately does," she said.
The report added that two fellow passengers stepped in to help Heir after the incident on the train. One woman tapped her on the shoulder and asked if she was all right. "That meant something because when you're a minority, you're so used to just experiencing things on your own," Heir said.
Another woman reported the incident to a police officer at a subway station.
The report said that as New York City works to respond to a rise in reports of discrimination and harassment, subways have emerged as a source of special concern.
It said the anti-harassment group Hollaback has received nearly double the usual number of reports of harassment on the subway and more than usual involve racist, Islamophobic or anti-immigrant comments since the election of Trump.
Heir's case is a yet another disturbing incident of racial discrimination in which people of South Asian origin have been targets of abuse and hate crime.
Last month, Indian-origin woman Ekta Desai had posted a video online of an African-American man racially abusing her and calling her inappropriate names as she was traveling on a subway train.
Fear and anxiety had gripped the Indian community following the tragic shooting in Kansas of 32-year old Indian engineer Srinivas Kuchibhotla, who was killed when 51-year old US Navy veteran Adam Purinton opened fire at him and his friend Alok Madasani before yelling "get out of my country."
Purinton had assumed the two Indian men were "Middle Eastern."
Earlier this month, a 39-year-old Sikh man was shot while working on his car in his driveway in Washington state. The gunman reportedly told him to "go back to your own country" before pulling the trigger, according to the Seattle Times.
http://timesofindia.indiatimes.com/nri/us-canada-news/white-man-shouts-go-back-to-lebanon-to-sikh-american-girl/articleshow/57824588.cms
------
Third of Saudi Businesses Owned By Women: Report
AISHA FAREED
Saturday 25 March 2017
JEDDAH: There has been a significant increase in the proportion of women entrepreneurs in Saudi Arabia in recent years, according to the 2016/17 Global Entrepreneurship Monitor (GEM).
"Women entrepreneurs are catching up really quickly in Saudi Arabia — almost 33 percent of the owners of established businesses are women," said Ignacio de la Vega, director of Babson Global Center for Entrepreneurship Leadership (BGCEL).
The GEM study found that Saudi Arabia has the strongest global ranking in terms of people's favorable perceptions about becoming entrepreneurs.
"(Saudis) quit their jobs, find their opportunities and make it happen within a few years. There is a lot of optimism, passion and entrepreneurial drive," said Vega, who is also professor of entrepreneurship at Mohammed bin Salman College (MBSC), which will welcome its first class of graduate students in September 2017.
The GEM study is the largest study of entrepreneurship in the world, with over 1,000 indicators.
"We are interviewing 200,000 (people) every year. We have over 500 researchers, 200 sponsors, many governments involved, more (than) 250 academic institutions," Vega said.
The GEM study found that the perception of Saudi Arabia's population toward entrepreneurial activity is very positive.
There are many emerging businesses entering the market in Saudi Arabia.
"The ecosystem in Saudi Arabia is supporting these businesses; the good news is that Saudi Arabia is very well prepared in physical infrastructure, including government programs and support, and the Vision 2030 is also pushing this," said Vega.
The entrepreneurship atmosphere is however still lacking in some areas, said Vega. Such areas include professional financial support, despite the fact that Saudi Arabia has one of the highest global levels of foreign investment.
Entrepreneurial education in the Kingdom is also a big issue and needs to be improved, Vega added.
"If Saudi Arabia started launching unrelated measures to foster entrepreneurial education, it is not going to work — we need a comprehensive state-wide plan, and this takes a while," he said.
Vega shared some recommendations for Saudi entrepreneurs: get along with others; create and innovate; and get team members and investors from day one.
"Get financial support from former entrepreneurs or family members and friends until you get professional investors on board," he advised. "It is much better to have a 20 percent of something big than 80 percent of something small."
Vega also reassured aspiring Saudi entrepreneurs that there is nothing wrong with failure. Learning and failure are two amazing things everyone should experience, he added.
Alan Chinoda, chief executive and general manager of Lockheed Martin Saudi Arabia, also spoke to Arab News on the sidelines of an event to mark the release of the GEM report.
The global security company formed a partnership with MBSC some years ago. One important area for Lockheed Martin is attracting talent, Chinoda said.
"The new Saudi generation is highly interconnected," he said. "You have a new smart, innovative generation that asks a lot of questions and wants to accomplish and bring a higher level… this lines up directly with the Saudi government's goals."
Commenting on the GEM report, which was released on Thursday at King Abdullah Economic City (KAEC), Chinoda said: "Today marks a significant day for all of us here in the Kingdom, as we launch one of the most comprehensive and ambitious reports of the state of entrepreneurship in Saudi Arabia."
http://www.arabnews.com/node/1073611/saudi-arabia
------
First Woman Arrested Under Pakistan's New Cyber-Crime Law
Adnan Malik March 25, 2017
SIALKOT: The Federal Investigation Agency (FIA) on Saturday arrested a Pakistani woman for blackmailing activities on social media, which makes her the first female to be taken into custody under the recently-passed cyber-crime law.
The woman – Sadia Mirza – has been accused of blackmailing Ahsan Rana, a resident of London. Hassan Rana, the latter's brother, filed the complaint and alleged that Mirza had sent messages to Rana over social networking website Facebook, demanding money.
As per the FIR, Mirza has been charged with "sending threatening, abusive, and lewd messages."
The investigation and arrest were undertaken by a team headed by Inspector Humaira Kanwal, and a case has subsequently been registered according to the Prevention of Electronic Crimes Act, 2016 – clauses 20 (1) and 24(b)(c).
Mirza has been shifted to the women section of the local police station on remand.
This development comes as part of measures carried out by the federal government in an effort to control social media activity in Pakistan.
https://www.geo.tv/latest/135503-First-woman-arrested-under-Pakistans-new-cyber-crime-law
----
URL: https://www.newageislam.com/islam-women-feminism/london-attack-muslim-woman-photo/d/110533
----
New Age Islam, Islam Online, Islamic Website, African Muslim News, Arab World News, South Asia News, Indian Muslim News, World Muslim News, Women in Islam, Islamic Feminism, Arab Women, Women In Arab, Islamophobia in America, Muslim Women in West, Islam Women and Feminism