New Age Islam News Bureau
28 Jan 2013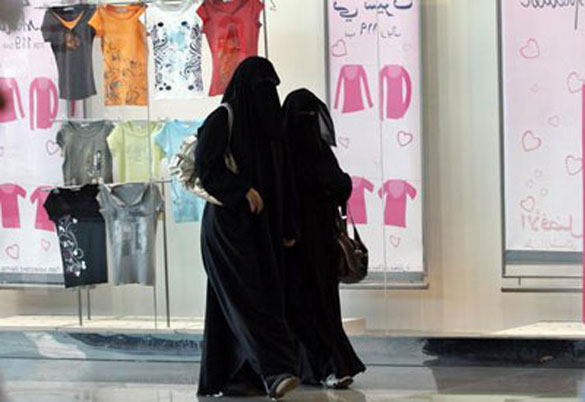 • 'Bias Makes Muslims Women Shun Govt Hospitals' In India
• Women Employment at Lingerie Shops in Saudi Arabia Gets New Boost after Haia Agreement
• Muslim Abuser Who 'Didn't Know' Sex with A Girl of 13 Was Illegal Is Spared Jail
• Trial against Minor for "Consensual Sexual Relations" In Maldives to Continue
• Saudi Religious Scholars Support Role for Women in Shura
• Woman Held In Connection With Acid Attack in Pakistan
• Pakistani Woman Set Herself and Her Daughter on Fire
• Tahrir Square Sexual Assaults Reported During Anniversary Clashes
• Prosecutors Call for Death Penalty of UAE Torture Dad and His Girlfriend
• Despite Setbacks, Women's Rights Activists in Lebanon Press Forward
• The Right to Wear a Cross Should Be a Practical Matter
Compiled by New Age Islam News Bureau
Photo: Women Employment at Lingerie Shops in Saudi Arabia Gets New Boost after Haia Agreement
URL: https://newageislam.com/islam-women-feminism/little-ima-dies-neglect-bangladesh,/d/10172
---------------
Little Ima Dies for 'Neglect in Bangladesh,' Sweeper of the Hospital Gave Injection
A CORRESPONDENT, Kishoreganj
28 January 2013
None of the accused in the case for the sad death of a schoolgirl at Kishoreganj Sadar Modern Hospital was arrested as of yesterday.
The girl, Ima, 9, a class three student at Katiyarchar Primary School, died soon after a sweeper of the hospital gave her an injection on Friday night.
Daughter of woodcutter Jalal Mia, Ima was injured in a road accident on Wednesday afternoon. She was taken to the hospital where orthopaedic surgeon Dr HR Habib found her left leg broken.
He told Ima's family that operation was not possible at the hospital and advised them to admit her to Kishoreganj Clinic adjacent to the hospital.
As per advice of the doctor, Ima was admitted to the clinic on Thursday morning and operated upon by Dr Habib. After operation, she was released and again taken to the hospital on Friday.
Ima's brother Helal alleged that Aklima Akhter Happy, a nurse of the hospital, demanded Tk 50 from him for pushing an injection prescribed by Dr Habib.
"As I refused to give the money, nurse Aklima sent sweeper Nilufa who gave the injection to Ima" Helal said.
He further said the condition of Ima deteriorated after a few minutes and she died at around 7:00pm.
Protesting the death of Ima, locals demonstrated in front of hospital and blocked the hospital road for three hours from 7:00pm.
They withdrew the barricades after police and hospital authorities assured them of taking necessary actions against the persons responsible for Ima's death.
Ema's family lodged a case with Kishoreganj Police Station on Friday night, accusing Dr Habib, nurse Aklima and sweeper Nilufa.
On Saturday, locals and relatives of Ima formed a human chain in front of the hospital and then submitted a memorandum to the deputy commissioner, Kishoreganj, demanding immediate arrest and exemplary punishment of the accused.
Contacted, Dr Mohammed Ali, resident medical officer (RMO) of Kishoreganj Sadar Modern Hospital, said a four-member committee was formed to investigate the matter.
The hospital authorities have suspended the accused nurse and the sweeper, he added.
Meanwhile, both the accused went into hiding immediately after the incident.
Mir Mosharaf Hossain, officer in-charge of Kishoreganj police station, said they were trying to arrest the accused.
http://www.thedailystar.net/newDesign/news-details.php?nid=266822
---------------
'Bias Makes Muslims Women Shun Govt Hospitals' In India
By Prasad Nichenametla
January 28, 2013
A sense of discrimination is keeping Muslim women away from the government-run health institutions for labour and post-natal check-up. The Planning Commission has made the startling observation in its 12th Plan document, which was recently approved by the National Development Council
headed by the prime minister.
Births to Muslim mothers are much less likely to take place in a health facility and are least likely to be followed by a postnatal check-up, the section on socio-economic condition of the minorities says quoting from the National Family Health Survey-3.
Compared to 59% Buddhist and 58% Sikh mothers, only 33% Muslim mothers give birth in a health facility.
The section goes further to say that, "This could in part reflect social and economic circumstances of Muslims, as well as their hesitation in approaching state institutions due to a real or perceived sense of discrimination."
Surprisingly, the observation is not substantiated by corroborative data in the document, which is the top government plan governing socio-economic growth of the nation for five years.
Dr Syeda Hameed, member in-charge of the minorities and women issues was not available for comment.
"True, statements should be supported by related data. However, the observations made might be from the individual field studies or experiences," Prof Abhijit Sen, another member said.
But, some within the commission criticised the comments as uncalled for in the plan document, more so when lacking in evidence. "Unfortunately, the document contains several such invalid observations that put its credibility in question."
For example, the same section on minorities observes that Assam, West Bengal, Uttar Pradesh, Bihar and Gujarat as largely accounting for the poverty among Muslims nationwide. But it does not assert the statement with corroborative data, except according it to "the latest Planning Commission estimates."
http://www.hindustantimes.com/India-news/newdelhi/Bias-makes-Muslims-shun-govt-hospitals/Article1-1002730.aspx
-----------
Women Employment at Lingerie Shops in Saudi Arabia Gets New Boost after Haia Agreement
JEDDAH: ARAB NEWS
28 January 2013
In a significant move to create more jobs for women, the Labour Ministry yesterday signed an agreement with the Commission for the Promotion of Virtue and Prevention of Vice. "The agreement aims at expanding job opportunities for women and appointing women at lingerie shops," a statement by the ministry said.
It referred to the directives of Custodian of the Two Holy Mosques King Abdullah and Crown Prince Salman to create suitable working atmosphere for Saudi women. The agreement covered employment of women in all lingerie shops. Women's sections in large multipurpose shopping centres should be separated by a 160-cm-high wall. Women workers must contact the Haia or police if they face any harassment at work by male employees or shoppers. According to the accord, only Saudi women will be allowed to work in such shops.
http://www.arabnews.com/saudi-arabia/women-employment-lingerie-shops-gets-new-boost-after-haia-agreement
-------------
Muslim Abuser Who 'Didn't Know' Sex with A Girl of 13 Was Illegal Is Spared Jail
Adil Rashid admitted travelling to Nottingham and having sex with the girl
He met the 13-year-old on Facebook and they communicated by texts and phone for two months before they met
He was educated in a madrasa and 'had little experience of women'
Said he had been taught 'women are no more worthy than a lollipop that has been dropped on the ground'
Added he was reluctant to have sex but that he was 'tempted by [the girl]'
By PAUL BENTLEY
25 January 2013
A Muslim who raped a 13-year-old girl he groomed on Facebook has been spared a prison sentence after a judge heard he went to an Islamic faith school where he was taught that women are worthless.
Adil Rashid, 18, claimed he was not aware that it was illegal for him to have sex with the girl because his education left him ignorant of British law.
Yesterday Judge Michael Stokes handed Rashid a suspended sentence, saying: 'Although chronologically 18, it is quite clear from the reports that you are very naive and immature when it comes to sexual matters.'
Earlier Nottingham Crown Court heard that such crimes usually result in a four to seven-year prison sentence.
But the judge said that because Rashid was 'passive' and 'lacking assertiveness', sending him to jail might cause him 'more damage than good'.
Rashid, from Birmingham, admitted he had sex with the girl, saying he had been 'tempted by her' after they met online.
They initially exchanged messages on Facebook before sending texts and chatting on the phone over a two-month period.
They then met up in Nottingham, where Rashid had booked a room at a Premier Inn.
The girl told police they stayed at the hotel for two hours and had sex after Rashid went to the bathroom and emerged wearing a condom.
Rashid then returned home and went straight to a mosque to pray. He was arrested the following week after the girl confessed what had happened to a school friend, who informed one of her teachers.
He told police he knew the girl was 13 but said he was initially reluctant to have sex before relenting after being seduced.
Earlier the court heard how Rashid had 'little experience of women' due to his education at an Islamic school in the UK, which cannot be named for legal reasons.
After his arrest, he told a psychologist that he did not know having sex with a 13-year-old was against the law. The court heard he found it was illegal only when he was informed by a family member.
In other interviews with psychologists, Rashid claimed he had been taught in his school that 'women are no more worthy than a lollipop that has been dropped on the ground'.
When Judge Stokes said Rashid 'must have known it was illegal, unless he was going round with his eyes shut', defence lawyer Laban Leake said reports suggested Rashid had a 'degree of sexual naivety'.
'The school he attended, it is not going too far to say, can be described as a closed community and on this occasion this was perpetuated by his home life.
'It is not too far to say that he may not have known that having sex with a 13-year-old girl was illegal.' Judge Stokes sentenced Rashid to nine months youth custody, suspended for two years, along with a two-year probation supervision order.
Describing Rashid, the judge said: 'He's had an unusual education, certainly in terms of the sexual education provided. Comparing women to lollipops is a very curious way of teaching young men about sex.'
But he said that Rashid knew what he was doing was wrong.
'It was made clear to you at the school you attended that having sexual relations with a woman before marriage was contrary to the precepts of Islam,' he said.
Addressing Rashid, the judge said: 'I accept this was a case where the girl was quite willing to have sexual activity with you. But the law is there to protect young girls, even though they are perfectly happy to engage in sexual activity.'
http://www.dailymail.co.uk/news/article-2268395/Adil-Rashid-Paedophile-claimed-Muslim-upbringing-meant-didnt-know-illegal-sex-girl-13.html#ixzz2JFyxnuIr
---------------
Trial against Minor for "Consensual Sexual Relations" In Maldives to Continue
By Ahmed Nazeer and Neil Merrett | January 27th, 2013
The case of a 15 year-old minor charged for having "consensual sexual relations" is to continue in the Juvenile Court on Wednesday (January 30), despite the Prosecutor General (PG's) Office confirming it is reviewing its decision to prosecute the minor.
A Juvenile Court Spokesperson confirmed to Minivan News that the case was expected to continue this week despite calls during the previous hearing on Wednesday (January 23) from the PG's Office for the case to be delayed pending review.
Full report at:
http://minivannews.com/society/trial-against-minor-for-%E2%80%9Cconsensual-sexual-relations%E2%80%9D-to-continue-this-week-51821
---------------
Saudi Religious Scholars Support Role for Women in Shura
Hardliners asked to present conclusive evidence to the contrary
By Habib Toumi
January 26, 2013
Manama: Saudi religious scholars have held up the view that women are entitled to become members of the Shura (Consultative) Council and challenged those opposing the move to produce religious evidence to the contrary.
King Abdullah Bin Abdul Aziz this month appointed 30 women to the Shura Council in a landmark breakthrough for the advisory body launched in 2004. The decision by the monarch, seen as a leading reformer in the conservative kingdom, was hailed as a positive step and was warmly welcomed by the society.
Full report at:
http://gulfnews.com/news/gulf/saudi-arabia/saudi-scholars-support-role-for-women-in-shura-1.1137765
---------------
Woman Held In Connection With Acid Attack in Pakistan
By Vaqas Asghar
January 28, 2013
ISLAMABAD: A woman was arrested by the Islamabad police on Sunday for her role in an acid attack on the branch manager of a private bank last Tuesday. The woman was arrested after two men already in custody named her as the person who paid them to throw acid at the victim.
In the evening on that fateful Tuesday, Murad Amir Shah, 29, was at home with his wife and two young children. A bell rang, and he went to the door. As he opened it, Naveed, a janitor who worked at Murad's previous office stood before him. Before he knew, Naveed had doused Shah's face with liquid from a small container. Naveed tried to run, but Shah quickly tackled him and saw his accomplice drive off.
Full report at:
http://tribune.com.pk/story/499519/woman-held-in-connection-with-acid-attack/
-------------
Pakistani Woman Set Herself and Her Daughter on Fire
January 28, 2013
BAHAWALPUR: A woman and her two-year-old daughter died shortly after they were taken to Bahawal Victoria Hospital on Sunday with burn injuries. The woman had apparently set herself and her daughter on fire after she came to know about her husband's second marriage.
Full report at:
http://tribune.com.pk/story/499427/suicide-or-murder-woman-daughter-burn-to-death/
---------------
Tahrir Square sexual assaults reported during anniversary clashes
Campaigners in Egypt say at least 25 women have been assaulted as state of emergency is declared in three provinces
Patrick Kingsley in Cairo
28 January 2013
Amid Egypt's ongoing civil unrest, at least 25 women have been sexually assaulted during clashes in Tahrir Square, according to local women's rights campaigners.
In a typical attack, crowds of men quickly surround isolated women, groping them and attempting to remove their clothes. Some women have been stripped naked and one was raped, the campaigners said.
Full report at:
http://www.guardian.co.uk/world/2013/jan/27/tahrir-square-sexual-assaults-reported
---------------
Prosecutors Call for Death Penalty of UAE Torture Dad and His Girlfriend
Salam Al Amir
Jan 27, 2013
The couple accused of torturing an eight-year-old Emirati girl to death should be executed, prosecutors told a court today.
Wadeema's badly beaten body was found buried in the desert, and her father and his girlfriend have been charged with killing her.
Her brutal death has since inspired new child-protection legislation, known as Wadeema's law.
Full report at:
http://www.thenational.ae/news/uae-news/courts/prosecutors-call-for-death-penalty-of-uae-torture-dad-and-his-girlfriend
-------------
Despite Setbacks, Women's Rights Activists in Lebanon Press Forward
January 28, 2013
By Olivia Alabaster
CAIRO: Two years after the revolution that toppled Hosni Mubarak, much of the Egyptian population is still seething, unimpressed with the direction in which the new government is taking the country and disheartened by the memory of empty promises made before a set of free elections.
As Tahrir Square filled with protesters on the anniversary, activists from the region held a conference to discuss the situation for women in a post-Arab Spring era, expressing concerns over the rise in Islamist attitudes and the simultaneously regressive direction in which women's rights seem to be heading.
Full report at:
http://www.dailystar.com.lb/News/Middle-East/2013/Jan-28/203988-despite-setbacks-womens-rights-activists-press-for.ashx#ixzz2JFts66hN
---------------
The Right to Wear a Cross Should Be a Practical Matter
The air hostess who won the right to wear a cross to work
Katharine Whitehorn
27 January 2013
Anyone looking back at the saga of the air hostess who wanted to wear a cross with her uniform, and has finally won by invoking EU law, might wonder why on earth there should have been such a fuss about an inconspicuous little piece of neckwear. But, of course, it wasn't just about that; the airline must have thought that if they allowed her cross they might have to let Islamic girls wear some form of the veil. There are certainly jobs where it doesn't matter whether a woman's face is visible or not, but there are others which are more interactive – teaching, for example, or some medical consultations. To ban people in such professions from hiding their faces is more akin to the entirely practical ban in banks on motorcycling helmets that make their wearers unidentifiable.
Full report at:
http://www.guardian.co.uk/lifeandstyle/2013/jan/27/right-wear-cross-practical-matter
----------
URL: https://newageislam.com/islam-women-feminism/little-ima-dies-neglect-bangladesh,/d/10172