New Age Islam News Bureau
2 Feb 2013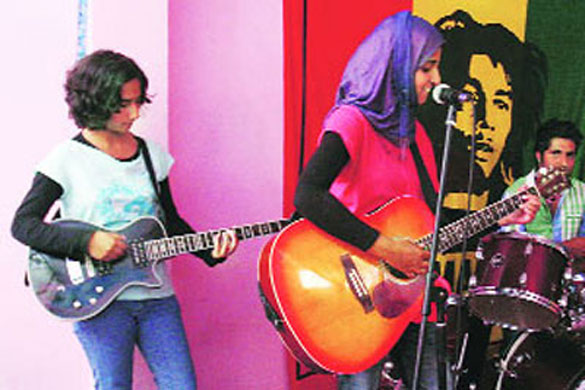 • Abducted Egyptian Christian Girl Possibly Smuggled to Libya
• UK Islamic Vigilante Group under Fire for Harassing Women
• IIS, Jeddah Female Students Bring Dowry System in Play, "Civilized Beggars" To Light
• After Threats, J&K's First All-Girl Rock Band Stops Live Shows
• Islamisation in Gaza Erodes Women's Rights
• A New Twist: Modest Modelling By Muslims
• Arab Women to Gain Global Perspective on Multiculturalism and Leadership Skills
• OIC 'Women Development Organization Statute' Ratified by Gambia National Assembly
• Women Leaders to Nudge Fairer Sex into Better Jobs
• 'Mama Zulekha' A Pioneer in UAE's Healthcare Sector
• Nobel Laureate Optimistic About Her Country, Yemen
Compiled by New Age Islam News Bureau
Photo: J&K's First All-Girl Rock Band Stops Live Shows
URL: https://newageislam.com/islam-women-feminism/little-girls-with-islamic-veil,/d/10240
-----------
Little Girls with Islamic Veil, Revolt in Tunisia on Kuwaiti Preacher's Fatwa
Preacher issued fatwa against Sponge Bob, 'homosexual, pervert'
01 FEBRUARY 2013
(ANSAmed) - TUNIS, FEBRUARY 1 - A dozen little girls, the older not even eight years of age, wore the Islamic veil when they posed around a Kuwaiti preacher who is visiting Tunisia to preach conservative Islam. The photos led to vibrant protests across the country with even 70 lawmakers in the Constituent Assembly signing a motion to condemn what the Tunisian association for the rights of minors slammed as a 'crime against children'. The little girls, the rights association said, were 'used to convey an idea which is far removed from our culture and the noble precepts of Islam' with a clear intention to indoctrinate the population.
The preacher at the centre of the controversy, Kamil Al Awhadi, said he did not come to Tunisia to change its society or impose religious choices.
Al Awadhi is known across the Middle East and North Africa thanks to his ability to use television to broadcast his ideas.
He is also well known for issuing a fatwa against cartoon character Sponge Bob accused of 'homosexuality' and of 'inducing children to pervert behaviour'.
His visit, which kicked off a week ago, has caused a major controversy in Tunisia with secularists accusing Al Awadhi of trying to exert an influence on Tunisians with his radical sermons. Meanwhile the cleric is continuing his tour from Zarzis - where the controversial photos were taken - to Sousse and Sfax in a tour 'surrounding' the capital until Carthage where he spoke at a mosque. Meanwhile in the capital Tunis, the el Fath mosque considered a haven of the Salafite movement would be reportedly ready to receive him with open arms. Al Awadhi has been warmly welcomed in his tour - with people in Cite' Kabaria acting like football fans - and seems to have reached his objective of broadening consensus in Tunisia around Wahhabism, a conservative form of Sunni Islam which is a minority in Tunisia but enjoys great financial wealth thanks to Gulf kingdoms. This strategy has political as well as religious implications as Tunisia still needs the help of allied countries like Kuwait and, even more, Kuwait. The help does not appear to be without its implications.
http://www.ansamed.info/ansamed/en/news/sections/generalnews/2013/02/01/Tunisia-little-girls-Islamic-veil-revolt-country_8174419.html
-----------
Abducted Egyptian Christian Girl Possibly Smuggled to Libya
2-2-2013
(AINA) -- Hundreds of Christian Egyptian girls having been abducted and forced to convert to Islam and marry Muslim men since the 2011 Egyptian Revolution. But the case of 14 year old Sarah has become symbolic, bringing to confrontation Muslims groups, whose members are implicated in the kidnappings, and the Coptic Church and human rights organizations.
On Sunday, September 30 Sarah Ishaq Abdelmalek, born on August 1, 1998 in the town of el-Dabaa, 130 kilometers from Mersa Matrouh, was on her way to school with her cousin Miriam, when they stopped at a bookshop. Miriam went ahead of Sarah to school, leaving Sarah behind. Sarah never made it to school and no one has seen her since then. Her father was hesitant at first to contact the authorities for fear of harm to his family and his other children by the Salafi Muslims, who have a large presence and influence in Mersa Matrouh and Alexandria. He finally filed a report with the police on October 20, accusing 27 year old bookshop keeper and Salafist Mahmoud Abu Zied Abdel Gawwad, a married man and father of children, of abducting Sarah and marrying her against her will (AINA 11-2-2012).
"Sarah was smuggled across the borders to Libya with the help of the Interior Ministry," said Ebram Louis, founder of the Coptic non-governmental organization Association of Victims of Abduction and Enforced Disappearance (AVAED), which handles cases of abducted Coptic minors. Louis blamed the interior ministry for all the disappearances of Coptic minors, saying the ministry colludes with the Muslims.
The recently elected Coptic Orthodox Pope Tawadros II said the kidnapping and forced conversion of Sarah is a "disgrace for the whole of Egypt." During a meeting with a delegation of the Journalists Syndicate Council at Anba Bishoy Monastery in Wadi Natrunon on November 12, he said "Can any family accept the kidnapping of their daughter and her forced conversion?"
The Pope dismissed the term "emotional ties" for what is happening among young men and girls from different religions, cited as the apparent cause of conversions by the Salafists. In an interview with Al Ahram Daily he said it is "sentimental coercion of girls who have not reached adulthood." The Pope said it is now common among Coptic families not to send their daughters to school because of fear kidnapping and forced conversion. Anba Pakhomios, the bishop of Mersa Matrouk, said Coptic families are increasingly choosing not to send their girls to public schools, making them study at home and only go to school during the examinations.
The Muslims accused the Coptic Church of causing sedition, because they claim Sarah left home, embraced Islam and married a Muslim of her own free will. They have denied that she is a minor. "When they talk of adulthood, it is not adulthood in the legal sense (18 years old)," says Dr. Naguib Gabriel, head of the Egyptian Union of Human Rights Organization, "but according to their concept that a girl reaches adulthood when she starts menstruating."
The Coptic Church and several rights organizations, including the Egyptian National Council for Women, categorically regard Sarah as a minor and insist on upholding the law and the United Nations Convention on the Rights of the Child (CRC), ratified by Egypt, including the Minimum Age Convention, which clearly declares anyone below the age of 18 as a minor.
Dr. Ahmed Rifaat, a law professor at Beni Suef University confirmed that Sarah is a minor in the eyes of the law, hence she may not copulate nor marry until she reaches the age of 18 and any talk about her marriage or change of her religion is completely against the law; her marriage is considered void and she must get divorced . Also the authorized Islamic marriage registrar (mazoun) and her husband bear full responsibility as they knew she was a minor. Al-Azhar also stipulates a minimum age of 18 years for changing one's religion to Islam.
Reverend Bigemi Anba Paula, from the Mersa Matrouh dioceses, where Sarah attended church, replied to the Salafist accusations that the church is meddling, saying "If the State did its work, the church would not have been pushed into the problem. We reported the case to the director of security, central security, military security, minister of interior, heads of Bedouin tribes and NGOs. We also hand delivered a complaint to President Morsy on October 18 during his visit to Mersa Matrouh. The prosecutor in Alexandria ordered the arrest of the Muslim husband, but no action was taken by the police." He accused the authorities of siding with the Salafists, "all the time security knew where Sarah was, I wonder whether security are afraid of a confrontation with the Salafists?"
In a statement, Salafist Front made clear that they will not hand over Sarah under any circumstances. They claim that "When we take up the issue of the girl Sarah, our response is purely in terms of her human rights." Their spokesman, Khaled el Masry, said that once a girl has embraced Islam she has no Christian guardian and can therefore get married without consent.
By Mary Abdelmassih
http://www.aina.org/news/20130201192615.htm
-----------
UK Islamic Vigilante Group Under Fire For Harassing Women
01 FEBRUARY 2013
LONDON – British Muslim leaders have condemned the actions of a self-proclaimed Islamic vigilante group that has been harassing women for being immodestly dressed on the streets of East London.
Videos of the group's activities, posted on YouTube, also show them chastising one man for drinking alcohol, telling him "not to drink in this area, it's a Muslim area".
The hooded members of the gang then use homophobic language against another man, before chastising a group of women telling them they should dress more modestly.
The chief executive of the Ramadhan Foundation, which campaigns for peaceful co-existence between communities, has condemned the group's actions.
Mohammed Shafiq said: "We live in the UK and we are governed by the UK law. There should be no mob rule. If people are involved in this behaviour, it is worrying but it is an isolated incident."
A spokesperson for the East London mosque said: "These actions are utterly unacceptable and clearly designed to stoke tension and sow discord. We wholly condemn them.
"The East London Mosque is committed to building co-operation and harmony between all communities in this borough. The actions of this tiny minority have no place in our faith or on our streets."
"We advise anyone who has been harassed by these individuals to contact the police. "We will monitor the situation closely and our Imams will speak out against such actions."
The police has so far arrested four men allegedly connected with the group and is still looking for others, including the author of the off-camera voice on the video.
The Muslim vigilantes are not the only ones calling on women to dress and behave more modestly. Last week, an English Conservative MP was criticised for his comments saying women risked rape by wearing short skirts and high heels.
Richard Graham, Conservative MP for Gloucester, was quoted in the British media as saying: "A night out is about having fun without putting yourself at risk.
"If you are a young woman on her own trying to walk back home through a park early in the morning in a tight, short skirt and high shoes, and there's a predator… if you are blind drunk wearing those clothes how able are you to get away?
"Although we have a pretty heavy police presence, life doesn't give you full protection from a predator all the time. You have got to help look after yourself as well.
"It's not about the impact of your clothes on a potential predator in my view – it's about whether the clothes you're wearing make it harder to get away from a predator."
A spokeswoman for the Women's Resource Centre said such comments reallocated blame from the perpetrator to the victim.
Vivien Hayes commented: "The problem is not female vulnerability but a macho culture which produces the notion of male entitlement – a culture which consistently fails women through disbelief, victim-blaming and failure to investigate." A spokeswoman for Rape Crisis England and Wales said: "These comments have set us back about 100 years.
"It doesn't matter if you are off your face and lying naked on a bench – that man takes it upon himself to rape you. "This should be about putting the blame back on perpetrators."
http://thelinkpaper.ca/?p=26245
-----------
IIS, Jeddah Female Students Bring Dowry System in Play, "Civilized Beggars" To Light
2 February 2013
Female students and teachers of Indian International School Jeddah (IISJ) who acted in the play "Civilized Beggars" (Dowry Takers), which brings to light the heavy burden of India's dowry system, received an appreciation award by various India organizations.
The appreciation awards presented at a local restaurant were given for the best performance and message against dowry to the public at Andhra Pradesh day in Indian festival organized by India Forum last week.
M.K. Quraishi, head of Chancellery, Consulate General of India, and Prabhat K. Jain, Consul (Labour) presented the prizes to Ishrat un-Nisa, author of the play, and Asfia Hussaini, its director.
Quraishi and Jain said the topic was immensely appealing, but the performance was so excellent that this play should be staged again and the message conveyed to as many people as possible.
Hasan Bayazid, president of Andhra Pradesh United Forum, announced that the counsel general and the India Forum have consented to stage the show again.
Mementos were presented by Syed Ali, Shameem Kausar, Zaki Ghazanfar, Razaq Mohiuddin, Mudassar Bukhari and Aijaz Ahmed Khan.
Among the honoured students were Farah Shafiullah, Imran Syeda, Noora Rizwan, Fareeha Almas, Roman Asawari, Asma Imtiyaz, Sidder Maliha, Nazneen Ibrahim, Sana Faiyaz Ahmed, Zehra Yousuf and Syed Rumina Zareen.
Syed Khwaja Viqaruddin, president of Twin Cities Welfare Association, saluted all student artists as future asset of the community. He said it was the moral obligation of the community to encourage these students and teachers who have talent.
Aleem Khan Falaki, president Socio Reforms Society, shed light on the scenario of dowry system in India. Falaki said only 10 to 15 percent of the people are financially well off while the rest is on the verge of economic disaster due to this dowry system.
"People spend their whole life in hard work and save nothing for their old age, neither they can help their sons to do business," said Falaki. "They are bound to give away their hard earned savings to the grooms of their daughters and live an appalling life thereafter."
Sons who could become a businessman or industrialist are compelled to look for odd menial jobs. As a result, the community is living from hand to mouth, Falaki said.
"Boycott of such marriages where the dowry is exchanged, where the dinner expenses are imposed on the bride's parents" is a must to save the social equilibrium," he said.
He also said it is hypocritical to condemn the dowry system on one hand and participate in the ceremonies of such type.
Earlier in the program young children amused the audience by presenting poetry and jokes. Hadia M. Siddiqui presented the Bagged Raichuri's humor poetry "Chammak Chhakka," and Syed Kausar Ali presented "Announcement in Hyderabadi Airlines before takeoff."
Masood Siddiqui entertained the audience with Sulaiman Khateeb's poem "Raste." Yousufuddin Amjad offered "Kaun Banega Sau Pati."
http://www.arabnews.com/iisj-students-bring-light-dowry-system-play
------------
After Threats, J&K's First All-Girl Rock Band Stops Live Shows
Mir Ehsan
Feb 02 2013
They called their band 'Pragaash' — to mean from darkness to light. Kashmir's first all-girl rock group is now struggling to find some of that hope. Following threats and criticism on social networking sites, its three Class 10 members have decided to stop live performances in the Valley for some time.
Farah Deeba, Aneka Khalid and Noma Nazir started receiving the threats soon after Pragaash's first live performance, at Srinagar's Battle of the Bands — an annual music festival — in December last year. They had been written about following the performance, and their interviews appeared on news channels.
Since then, Pragaash had held several live shows in the city.
"As a section of the society criticised the girls after their first live performance in the city, we told them to quit the band," Deeba's mother said.
"We will stay quiet for some time as we were threatened by people on Facebook and on the phone directing us to stop this band, or to face the consequences," Nazir said.
Khalid said they would continue to pursue music though, while giving up live performances.
Incidentally, none of these threats has come from any militant organisation.
It was in August last year that Deeba, Khalid and Nazir met at a local music institute, Band Inn, and soon joined hands to form Pragaash. While Nazir, 16, is the vocalist and guitarist, 15-year-old Khalid is the bass guitarist and Deeba, also 15, the drummer.
After the Battle of the Bands, where they competed against dozens of male bands, the three had said their families supported their unusual vocation. Pragaash had come in third at the contest, and had received invitations to perform in several parts of the country.
Among the criticism dumped on the girls on a Facebook page named 'Kashmir News' was that they had brought shame upon their society.
However, the girls continue to have supporters. There is now another Facebook page — 'I support Pragaash — Kashmir's First All-Girls Rock Band'.
http://www.indianexpress.com/news/after-threats-valleys-first-allgirl-rock-band-stops-live-shows/1068212/
---------------
Islamisation in Gaza Erodes Women's Rights
By: Asmaa al-Ghoul for Al-Monitor Palestine Pulse
02 February 2013
Al Aqsa University, a public university in Gaza, has introduced an Islamic dress code for women. After being characterized for more than 20 years by political and intellectual diversity, female students are now bound to adhere to a strict dress code, including an abaya (cloak) and hijab (veil) while on campus. The decision has caused uproar and sparked heated debates.
Dr. Naaman Ulwan, an independent academic and advisor for cultural affairs at Al Aqsa University, revealed to Al-Monitor that he did not know about the decision ahead of its announcement on Jan. 26, 2013. Ulwan affirmed that even if such decision was approved, it certainly complies with the conservative society of Gaza that does not tolerate attire showing women's curves.
Dr. Faiq al-Naouk, advisor for managerial affairs in Al Aqsa University and the decision maker, expressly denied the "Taliban" aspect of this decision. He reiterated that it was unanimously approved two months ago and would be implemented at the beginning of the next semester, underlining that he was not a representative of Hamas in the university board.
Naouk elaborated on the implementation process, stressing that it was a matter of "persuasion" not "coercion." Female employees would stand at the front gate of the university to observe the students; any female with alluring apparel would be reprimanded, once or twice, until she abided by the decision. "If we were intransigent, I would not have received you while you were unveiled, but even though you weren't veiled, we received you and gave you an interview. We are not extreme, we are moderate," declared Naouk, addressing Al-Monitor's reporter.
The Palestinian Authority (PA) has taken some decisions that have been seen as sexist, religiously irrelevant, and merely related to personal interpretations. Women have been prohibited from riding bicycles and smoking water-pipes, it is not allowed to display lingerie in storefronts, and females are required to wear hijab in public schools and courts. This is all part of a national campaign to restore virtue implemented under the auspices of the police force.
Secret endorsement of decisions
"Women's rights in Gaza are regressing. Many decisions are being passed in secret and only become public by chance, such as the decision to destroy curriculum books that are thought to be morally corrupting, in addition to the imposition of the hijab in schools and the prohibition of female participation in folklore dancing. When Hamas officials are asked about these matters, they always end up finding shallow justifications," said feminist activist Dunia al-Amal Ismail.
Ismail contends that whenever women call for change and an improvement in their social situation, they are asked to put their demands on hold under the pretext that it is not the right time; the people are fighting the Israeli occupation. Ismail, however, notes dangerous changes being made by the government pertaining to the endorsement of the penal code without informing the feminist movement. Causes like gender equality are seen as a western product and feminist movements are thought to contradict Islamic feminism. "Accusations are heaped upon the feminist movement, even though the struggle it led — on the level of amending laws and imposing quotas for women — has ushered in the participation of Hamas' women in the legislative council," she added.
Islamic speech
Currently, the streets of Gaza are cluttered with advertising signs that read: "An honorable man treats women with honor and integrity, and only a vile and dishonorable man violates and degrades women." Quoted from the Hadith, these sayings are used to promote the new policies of the government.
Amira Haron, under-secretary for the Ministry of Women's Affairs, says that the ministry aims to enhance the situation of Palestinian women and reinforce their roles on all levels. The strategic plans are focused on different areas such as laws, economy, studies and raising awareness. Haron says that the ministry is playing a positive role in changing the situation of women in Gaza through many achievements, such as acknowledging the right of widows to have full and permanent custody over their children. She stressed that the ministry does not simply wait for the laws to be amended, rather it exerts pressures on the government to take decisions that do women justice.
Article 18 of the 1936 penal code, applicable in the Gaza Strip and used by judges to mitigate the sentence of a murderer who kills his daughter, wife, mother, sister or relative in the name of "honor" states the following: "Any person who commits a crime to defend himself or another person or their money, honor or pride shall benefit from a reduced sentence."
Haroun says that the issue with the penal code is not limited to this article alone, but also includes several articles and provisions that should be amended. Several articles have been suspended because their modification requires a lot of effort. They are based on an old and hackneyed law and should be replaced by a unified Palestinian law in the West Bank and the Gaza Strip.
Regarding the opinion of the Ministry of Women's Affairs on gender, Haroun stated, "We are not fighting gender, but we are addressing women's issues from an Islamic perspective. We are also investigating women's real needs in Gaza, and we do not have to put up with anything that does not suit their situation and role. We have our own agenda and we are not infected with a Western phobia. We just take what is convenient for us and leave out what opposes our religion and Sharia."
Traditional society
The regression of the situation of women in the Gaza Strip is not only obvious to female activists, but it is also clear from the figures of the Palestinian Central Bureau of Statistics for 2011. A total of 15% of families with a female majority suffer from extreme poverty in the Palestinian lands, with a rate of 20.6% in the Gaza Strip and 12.5% in the West Bank. In 2011, the unemployment rate among women reached 28.4% in the Palestinian lands compared to 13.8% in 2001. The highest and lowest rates of violence were reported in the Gaza Strip and Rafah district, south of the strip, and were respectively 58.1% and 23.1%.
Director of the Women's Affairs Technical Committee, Nadia Abou Nahla, mentioned in a meeting with Al-Monitor, held at the committee's headquarters that "the statistics of the Palestinian system show a slow but clear increase in the participation of Palestinian women in the overall workforce. The numbers show a rise from a maximum of 12% in 2006 to 16% in 2011, as opposed to over 85% male participation. It is noteworthy that Palestinian society has the highest rates of female graduates and higher education in the Arab world. However, these rates contradict those showing the presence of women in the workforce, which can be attributed to the traditional mindset of Palestinian society regarding women and their role.
Abou Nahla affirmed that the female employment rate in the government of Hamas reached 35% — a relatively high rate considering the fact that it is political employment. The same can be applied to the West Bank, which has taken several decisions and issued laws independently in this regard. Significantly, however, most of the decisions were in line with women's rights, but only in the context of the annulment of the article that reduces the murderer's sentence in honor crimes.
Abou Nahla clarified that, obviously, there was a decline in honor crimes in Gaza Strip in 2012. Only three cases were reported, relative to many more in the previous years. She believes that this is due to the police affirming their presence as the sole body entitled to implement the law. Moreover, there is now a safe shelter for women in danger — the "Aman" governmental center. She added, "Even if we disagree with the way this center deals with battered or abused women and with its religious orientation, we cannot deny that it is protecting women from violence and murder."
Abou Nahla said, "The Hamas government took more than 200 decisions and issued legislative laws that were approved by the members, such as the amendment of the Law of Associations, including women's associations. Granting permanent child custody for a widow was another amendment that mainly benefits Hamas women. As for the right of custody for divorced women, judges are dealing with it temperamentally. Other decisions include those of the virtue campaign related to wearing the veil and smoking water-pipes — an activity which hasn't improved the situation of women but has influenced the idea of public liberties negatively."
She said that the decision taken by the board of Al Aqsa University to impose a dress code was against the law, since it was taken without the knowledge of the university's board of trustees.
Abou Nahla added, "It is true that unveiled women are a minority in Gazan society, but their rights should be protected in a pluralistic society. Consequently, any decision that violates the articles of the basic Palestinian law will be deemed illegitimate."
Moreover, she considered that the Islamic women's discourse stems from the idea of doing good and religious forgiveness; whereas the national pluralistic women's discourse is issued by feminist movements in the Gaza Strip and is based on partisanship, change of concepts and spreading values of gender equality and justice. The first type trains women to memorize the Quran and the principles of obedience to men, while the second empowers them and teaches them self-defense and gender values.
Asmaa al-Ghoul is a journalist and writer from the Rafah refugee camp based in Gaza.
http://www.al-monitor.com/pulse/originals/2013/02/islamization-in-gaza-eroding-wom.html#ixzz2JjAfSoKP
-----------
A New Twist: Modest Modelling By Muslims
RELIGION NEWS SERVICE
February 1, 2013
Ever since she was a little girl, Savannah Uqdah longed to pose for pictures and strut down a runway with flashbulbs bursting. But as an observant Muslim who didn't want to violate Islam's tenets on modesty, the aspiring model assumed that designers wouldn't hire someone unwilling to show some skin.
Uqdah shelved her modelling dreams and instead expressed herself through the fashions she wore.
Nailah Lymus started her fashion label, Amirah Creations, in 2004. She has met and heard about lots of Muslim women who were interested in modelling, but didn't pursue it because they assumed they would be asked to model clothing that violated their beliefs.
In New York last February, during Fashion Week, Lymus launched Underwraps Agency, which connects modesty-minded models — Muslim and non-Muslim — with designers.
Since then, her agency has contracted with four Muslim female models, getting them work in photo and video shoots, as well as runway shows during Fashion Week.
One of them is Uqdah, whom Lymus knew from the Brooklyn mosque they both attended, who will be modelling for the plus-size label Ann Nahari during the upcoming Fashion Week Feb. 7-14 in New York.
"It was a dream come true," said Uqdah.
Lymus is mostly focusing on Muslim models, as Muslims are underrepresented in the industry. But she said the demand for modest clothing cuts across religions and cultures. Ultimately, she wants Underwraps to be known more for its modesty than a Muslim orientation.
As an example, she points to Kylie Bisutti, a Victoria's Secret model who abruptly retired from lingerie modelling last February, citing her Christian beliefs and desire to be a good wife. She still models less racy clothing.
Islamic views on modeling vary. Scholars from the Darul Uloom Deoband seminary in India issued a fatwa in 2010 condemning female modeling as un-Islamic because it puts the female body on exhibit. A few fashion magazines in some Muslim countries will not show women's faces.
But Imam Talal Eid, an Islamic law expert in Boston and former member of the U.S. Commission on International Religious Freedom, said modelling is acceptable as long as models maintain their modesty.
"You have to show the clothes. You can't have fashion without models," said Eid, whose daughter is a designer with Calvin Klein in New York.
Industry veterans say there's a need for modesty-minded models.
"I'm in constant need of models for my company and a Muslim modeling agency would help me profusely," said Melanie Elturk, CEO and chief designer of HauteHijab.com, an online Muslim fashion retailer in Chicago. She shows fashions on dress forms to avoid any controversy, but some products just need to be displayed on a human body, she said.
Lymus said there's greater demand for modesty than the fashion industry realizes.
Since launching Underwraps, she has received more than 400 queries from aspiring Muslim models from several different countries, including the United States, Indonesia, Great Britain and Australia.
"There are a lot of individuals, Muslim or not, who wear modest clothing," Lymus said.
http://www.mysanantonio.com/news/local_news/article/A-new-twist-modest-modeling-by-Muslims-4244371.php#ixzz2JjApylB0
-----------
Arab Women to Gain Global Perspective on Multiculturalism and Leadership Skills
Feb 01 2013
Dubai, 1st February, 2012: Al-Maktoum College of Higher Education in Dundee will receive 48 Arab Women students from both local and federal universities of UAE, such as The British University in Dubai, Zayed University, UAE University, Dubai Women's College, Abu Dhabi University, American University of Sharjah and Arabic and Islamic Studies College in Dubai. The month long Academic Training Programme will be held from 9th February till 8th March and is titled "Multiculturalism and Leadership". The program is under the patronage of His Highness Sheikh Hamdan Bin Rashid Al-Maktoum, Deputy Ruler of Dubai and Federal Minister of Finance. It is designed to prepare the students in the key contemporary global issues of multiculturalism, leadership, cultural engagement and global awareness.
Prof Abdullah Alshamsi, Vice-Chancellor of The British University in Dubai welcomed all the students and chaperons at an event hosted yesterday by The British University in Dubai to brief the students enrolling for the Academic Training programme. The event was also attended by HE Mirza Al Sayegh, Director of the office of H.H Sheikh Hamdan Bin Rashid Al Maktoum, Chairman of the Board of Al-Maktoum College, Dr Hossein Godazgar, Acting Principal Al-Maktoum College, Colin Crabbe, Regional Manager Middle East, Scottish Development International, The British Embassy and representatives of other participating universities.
During yesterday's event, Prof Abdullah Alshamsi expressed great honor in hosting this event and contributing in a small way to the great efforts of H.H Sheikh Hamdan Bin Rashid Al-Maktoum , Patron of Al-Maktoum College in Scotland towards promoting a greater understanding of Islam and the role of Muslims in the contemporary world. Prof Abdullah Alshamsi said "Due to the Arab countries strategic geographical location; they are home to several different cultures and nationalities and it is only rational for us Arabs to develop Multiculturalism and Leaderships skills to ensure a peaceful co-existence". I am sure my counterparts, students and parents present here today see this Academic Training Programme as a great commitment from the Rulers of Dubai to ensuring that the UAE and the wider Gulf provides a harmonious and secure environment for nurturing global communities." He wished all the students the very best for their trip and advised them to be great role models for the countries they will be representing.
The participating students can expect to gain experience in the broad field of the study of Islam and Muslim, within the unique framework of a new agenda, pioneered and developed by Al-Maktoum College. H E Mirza Al Sayegh , who has been a driving force in successfully running this winter programme since its initiation in 2008 also addressed the students and parents; he said "Al-Maktoum College of Higher Education, earlier called Al-Maktoum Institute has hosted a total of 541 students from the UAE (and Qatar) so far and with this new cohort of 48 students it will rise to 589.The primary aim of the academic training programme is to challenge and expand all participants' intellectual skills and approaches, to prepare them with the knowledge and skills required for active leadership (social and academic) for the twenty-first century globalised world, and to help them develop their leadership skills for the particular career path that they may choose".
The program and its parallel summer programme aim to broaden the students understanding of different cultures, understand how each culture is different and yet similar and gain global perspective of Multiculturalism and Leadership skills through lectures, discussions, debates and workshops that promote interaction between people.
Dr. Hossein Godazgar, Acting principal of Al-Maktoum College inDundee, who flew down from Dundee to address the students said "We very much look forward to welcoming the students to Dundee and to Scotland for the 2013 Academic Training Programme. This is the 15th such educational visit we have hosted. The programme we have devised for them is both educational and cultural -and we believe it will prove to be demanding, interesting and stimulating. It is carefully tailored to advance their overall learning and understanding of Scotland as well as the challenges of global dialogue and exchange. Students who have come before to Al-Maktoum College leave with fond memories and as 'ambassadors' for us when they return home. I hope this latest group will feel the same after their time with us."
Mr. Collin Crabbe, Regional Manager Middle East, Scottish Development International of The British embassy was also present to bid Farewell and also a warm "Welcome to Scotland" note to the new cohort of Academic Training Programme students. Ms Budoor Ali, student of BUiD's M Sc in HR Management and an Alumna of Dundee Training Programme held last year also shared her experiences from the training and thanked Al-Maktoum College of Higher Education for helping her and many other students develop skills for effective leadership in the twenty-first century.
One of Zayed University student Fatima Hasan Al Marzooqi selected for the ATP programme said "I feel very fortunate to be selected for this training programme. I hope to gain a better understanding of my strengths in leadership and multiculturalism and also gain new skills and knowledge. I expect to be a better team player and enhance my networking skills to exchange knowledge and skills. I hope to gain confidence in my abilities as a leader and positively represent Arab world through meaningful discussion and debates."
The students along with their chaperons will leave for Scotland by 1st week of February. The programme is structured around at least 60 hours of classroom time (and on occasions may be well in excess of this). Students are also expected to devote at least 20 hours of independent learning time during the programme. The medium of instruction of the programme is English. The programme will be assessed by the writing and submission of three extended pieces of work; i.e. Reports. The Graduation Ceremony for this training will be held on 4th March in Dundee, Scotland.
About The British University in Dubai
The British University in Dubai (BUiD) was established in 2003 to be the Middle East's leading research-based postgraduate university, facilitating world-class education, training and research. It provides an important and growing community and resource for young professionals, leading academics, corporate managers and aspiring leaders of all description.
BUiD located in Dubai International Academic City , a truly local university, is licensed by the UAE Ministry of Higher Education and Scientific Research and internationally ( NARIC) recognised for its top quality education, which is on par with British standards thanks to its association with UK-based universities including the University of Edinburgh, the University of Birmingham, the University of Manchester, Cardiff University, King's College London and most recently ,the University of Reading.
BUiD offers full and part-time research based Masters Degree programmes, PG Diplomas and Certificates; the regions first accredited Doctorate in Education and the PhD in Project Management. Masters programmes and Post Graduate Diplomas in: Education, Finance and Banking, Human Resource Management, Informatics (Knowledge and Data Management), IT Management, Project Management, Construction Management. Systems Engineering, Construction Law and Dispute Resolution, Sustainable Design of the Built Environment and Intelligent Building Design and Automation.
In 2012 BUiD launches its Undergraduate portfolio after obtaining the required approvals from UAE Ministry of Higher Education and Scientific Research.
The non-profit university has attracted academic experts to develop regionally tailored programmes, in which they extend and challenge the boundaries of knowledge, understanding and research.
BUiD works in collaboration with leading organization and institutions including Atkins, Emirates Green Building Council, , the federal Ministry of Education, government and associated bodies Human Resource Forums agencies for Academic and professional development across the UAE's public and private sectors.
The founders of the University are the Al Maktoum Foundation, the Dubai Development and Investment Authority, Rolls-Royce, the British Business Group and the National Bank of Dubai. The University is governed by a Council under the chancellorship of His Highness Sheikh Ahmed bin Saeed Al Maktoum.
http://www.zawya.com/story/Arab_Women_to_Gain_Global_perspective_on_Multiculturalism_and_Leadership_Skills-ZAWYA20130202071859/
-----------
OIC 'Women Development Organization Statute' Ratified by Gambia National Assembly
BY ISATOU SENGHORE, 1 FEBRUARY 2013
The members of the National Assembly of The Gambia Thursday unanimously considered and ratified the Statute of the Organization of Islamic Conference (OIC) Women Development Organization during an extra-ordinary session at the National Assembly Chambers in Banjul.
Laying the motion before lawmakers, Balla Garba Jahumpa, Minister of Health and Social Welfare and also Minster responsible for National Assembly Matters on behalf of the Vice President and Minister of Women's Affairs, said the extra-ordinary Islamic Summit Conference held in Makka al Mukarrama in Saudi Arabia and the 1st and 2nd Conference on the Role of Women in the Development of OIC member states held in Istanbul and Cairo and the 36th session of the council of foreign ministers held in Damascus, all agreed on the establishment of a specialized organization specifically to develop women through capacity building and encourage their effective participation in the society.
The statute, he said, has been developed to create in the OIC, a specialized organization called the 'Women Development Organization' in member states of the OIC.
It will be responsible for the development and promotion of the role of women in the OIC member states, through capacity, skills and competence building through various mechanisms, including training, education and rehabilitation.
The main aim of the organization, among others, is to highlight the role of Islam in preserving the rights of Muslim women, especially at international fora in which the organization is involved.
It also seek to develop plans, programmes and projects necessary to implement policies, orientations and decisions of the OIC in the area of women's development; support and encourage national efforts in member states to develop human resources in the area of women's development.
Minister Jahumpa also informed the Assembly that the organization will activate the rights of women stated in the OIC charter by working to remove the restrictions to ensure the full participation of women in community building, adding that it will also establish an information network that will enable member states to identify experiences and practices regarding women, through cooperation with civil society.
The ratification of the statute, he said, shall permit The Gambia to be a member of the organization, and hence has a say in the running of the organization.
It would also allow Gambians, Gambian women in particular, to benefit from programmes and projects to be implemented by the organization to enhance the socio-economic development and the promotion of the role of women in OIC member states.
The ratification of this Statue will further enable The Gambia to qualify in its bid to host the 2017 OIC Summit, he concluded.
Seconding the motion, Honourable Fatou Mbye, deputy speaker of the National Assembly, described the motion as very important, noting that the Gambia is a member of the OIC and 95% of the population is Muslim.
She said the motion was a 'non-controversial' one, noting that Islam holds women in high esteem, as there is no Islamic law that discriminates women.
According to Honorable Mbye, the creation of the organization is very important and relevant for Gambian women, citing that the country has registered tremendous progress in women empowerment.
On her part, Haddy Nyang-Jagne, member for Jeshwang Constituency, said the Statue is in line with the tenets of the government and President Jammeh's proactive measure for women development.
According to her, women are key participants in the development of Islam, saying the Organization is in recognition of the critical role of women in the society. "This Statue will help to build the capacity of women. This is a non-controversial motion and I urge my colleagues to ratify it," she added.
On his part, Fabakary Tombong Jatta, member for Serrekunda East and Majority Leader said the organization will help to enlighten the people about the tenets and principles of Islam.
According to him, there is already policies and legal framework that seek to develop women, noting that the country is second to none to recognizing the critical role of women in the society.
http://allafrica.com/stories/201302011254.html?viewall=1
-----------
Women Leaders to Nudge Fairer Sex into Better Jobs
2 February 2013
A mystery keynote speaker will be leading the debate on how women can break the career glass ceiling at an upcoming forum.
Murdoch University is hosting the second in their annual Women's Lunchbox series, with a forum titled "Breaking the Glass Ceiling", which 200 women are expected to attend.
The Women's Lunchbox has become Murdoch's signature event highlighting the scope of its research and student-led initiatives, the university said.
The university said it would not be revealing the identity of the primary speaker till a later date, but described the woman as "a high-profile UAE national that crashed through the barriers and tradition long before it became widely accepted for women to work alongside men". She will be talking alongside five other high-profile female speakers.
The keynote speaker would be leading a discussion into what sets the successful female speakers apart and how they have overcome the challenges to compete with their male counterparts — and whether these challenges still exist in the modern business world.
The other female speakers are Hala Kazim, founder of Journey Through Time; Jayshree Gupta, partner at DLA Piper ME; Angela Maglieri, regional director of Marketing at Al Tamimi Group; Leigh Ann Khosla, director of Business Development, Education Cluster - TECOM Investments; and Jennifer Hardie, CEO of Pinnacle PR. Putting the hard questions to the panel will be Dubai One TV presenter and producer Katie Fielder.
http://www.khaleejtimes.com/nation/inside.asp?xfile=/data/nationgeneral/2013/February/nationgeneral_February12.xml&section=nationgeneral
-----------
'Mama Zulekha' A Pioneer in UAE's Healthcare Sector
2 February 2013
There is compassion or perhaps a mantra in Dr Zulekha's brand of care, which has been benefiting in numerous patrons since almost half a century and has had a lasting impact in the region.
In her own words, "Beyond the technology, besides the specialists, something more is there — the magic of a caring touch." Others fondly call her 'Mama Zulekha' and she leads the Zulekha healthcare group.
Dr Zulekha Daud, founder and managing director of Zulekha Healthcare Group, has been selected for the outstanding contribution of an individual to the Middle East Healthcare Industry at Arab Health this year.
The journey began in the early 1960's when Dr Zulekha came to the UAE after completing her medical degree from the Government Medical College in Nagpur. It was her father, Sadiq Vali, who advised her to go to the Gulf.
She chose the UAE over a lucrative job opening in the UK to help people in the deep need of medical treatment. Then, in the 1960's, the UAE was a vast expanse of desert without any electricity and medical facilities were rudimentary to say the least. But despite all these unfavourable conditions, Dr Zulekha decided to stay on and serve the people.
Since there were no hospitals in those days, she had to travel door-to-door even to carry out a normal delivery. "What I did was nothing greater than the need for medical attention. I borrowed strength from this overwhelming need of the people of this country," she says.
Even though today her involvement is largely administrative, the 73-year-old woman never feels tired or consumed by her work. About women she says, "A mother is a feeling. It is an emotion of care. As a thumb rule, women tend to nurture and love more than others. They empathize, they give, they feel thus they are motherly. Even as a little girl I knew I wanted to care and give comfort to society so I grew to become a doctor and with it came my identity."
In 1991 she met with a horrific accident and was battling for her life in the ICU for several days with 18 bones fractured. With sheer determination she took to heavy exercises as she recuperated and began to walk again. Today, at her age, her health can be the envy of people much younger.
Dr Zulekha started practising from her clinic in Sharjah as early as 1964. With just a bag and a few basic amenities (there were no nurses or assistants), she dedicated herself to the women who needed her service. Some cases came from faraway places and she treated one and all. In fact, she has attended to more than 10,000 deliveries till date.
In 1992, Dr Zulekha established Zulekha Hospital Sharjah followed by a medical centre in Dhaid. The year 2005 saw the establishment of a second hospital in Dubai. The 75-bed multi-specialty hospital has since proved to be a boon for the residents of Al Qusais, Al Nahda and Mirdiff.
Today, the Zulekha Healthcare Group is one of the largest private healthcare networks in the Gulf with two multi-specialty hospitals, three medical centers and three pharmacies. The group has over 1,250 personnel that include more than 200 qualified doctors, staff nurses and a host of paramedical staff.
Dr Zulekha has also been voted as the Gulf's most powerful Indian woman by Arabian Business Power. She was also included in the top 10 of the most influential Indians in the Gulf by Arabian Business Power list.
The International Women's Day Excellence Award by 'Dhwani,' the New Global Indian Excellence Award and the Lifetime Achievement – Healthcare Award for her Iconic Leadership and outstanding contribution to the industry at the Power Brands Hall of Fame 2012 are a few tributes.
In 2012, Zulekha Hospital (Dubai & Sharjah) received the Dubai Quality Award from Shaikh Maktoum bin Mohammed bin Rashid Al Maktoum, the Deputy Ruler of Dubai and President of DIFC for emphasizing quality healthcare in the region.
She established a charitable trust under the name of Zed vocational and training centre in 2004, mainly providing education to the needy and poor segment of the society in Nagpur.
"I think the biggest success comes when we allow ourselves to be large enough to accept when we have been wrong. To move forward with learning is better than only moving forward and not understanding the lessons along the way. Times change, circumstances change, people change – how you change with these changes is what makes or breaks you."
news@khaleejtimes.com
http://www.khaleejtimes.com/nation/inside.asp?section=todayevent&xfile=/data/todayevent/2013/February/todayevent_February3.xml
-----------
Nobel Laureate Optimistic About Her Country, Yemen
Tawakkul and Yemen are a testament to vast array of Islamist voices rising in region
By Jeffrey Fleishman, Los Angeles Times
February 1, 2013
Sana'a, Yemen: Tawakkul Karman hurried through the morning chill with the burden of a rebel who has crossed from obscurity to fame. The youngest Nobel Peace Prize laureate in history, she slipped past boys playing soccer and soldiers stirring on the narrow streets of this garrisoned city.
"I brought you flowers," she said to a guest. "They bring hope."
Her secretary, conjuring up the fidgety air of the White Rabbit, checked his watch to nudge her toward her next appointment. But time here is negotiable and Tawakkul would not be distracted from a conversation that ranged from the way tribal women, veiled and hushed, can disappear in plain sight to the upheavals reshaping the Arab world. "It is a changing era," said Tawakkul, 33, co-winner of the Nobel in 2011 for her human rights activism.
"We are stepping from darkness into light." She was nicknamed the "Iron Lady" during the revolution that brought down President Ali Abdullah Saleh's decades-long autocratic rule, and her relentless voice unnerved conservative members of her Islamist party and taunted the president from a pitched tent beyond his palace walls. She was arrested but quickly released after her supporters threatened larger protests over her detention.
Piercing the post-revolutionary clamour with a fresh message, however, is difficult if not impossible for a woman, even one with a prestigious prize who travels from New York to Brasilia to raise the profile of her country. Tawakkul, whose colourful head scarves spur extremists into fits of piousness, seeks to sharpen her relevance in her country's patriarchal society.
"I live in a Yemen that was suppressing women. But that was before the revolution," she said. "I could have moved to the West, but I stayed to make a difference. Women are fighting a masculine culture, not just a religious or social culture. We will revolt against the wrong Fatwas and the wrong religious advice."
But like her country, where assassins race on motorcycles and lute music echoes along ancient fortress walls, Tawakkul is a prism of many angles. A journalist, mother and women's rights advocate, she also belongs to the Islah party, whose members include a preacher who once mentored Osama Bin Laden. Tawakkul and Yemen are a testament to the vast array of Islamist voices rising in the Middle East, where ultraconservatives battle moderates over the contours of an emerging political Islam.
It is a dangerous struggle of values between the teachings of the Quran and a modernising region beset by economic turmoil. Tawakkul sweeps into a room as if blown by a wind. Her dark eyes dart and flash beneath brows tweaked into perfect arcs. Her long, tapered hands come alive when she speaks.
She seems as if she would wither without a cause to fight for or a placard to raise. She projects two lives: public rebel, private mother.
Her husband, Mohammad Al Nahmi, told journalists after she was awarded the peace prize, "Before she is my wife, she is a colleague, and a companion in the struggle."
When she was asked how she endured the travel, speeches and expectations of a Nobel laureate while still protesting for wider freedom, she used the word "duty."
She then said that the flowers she gave visitors came from near her house; they are used in cooking and decorating weddings and funerals. They, like her, are all-purpose, surviving with curious glamour in a parched and dangerous land.
Yemen is as unforgiving as it is beguiling. Its coasts are scattered with refugees floating across the straits from East Africa and its mountains whisper with the movements of rebels and militants. Tribal factions, a divided military and a resurgent Al Qaida have ruptured the air with political recriminations and echoes of suicide bombs.
The atmosphere has been further complicated by Tawakkul's Islah party: Supporters say it offers the path toward a moderate Islamic government, while critics describe it as Al Qaida's political wing.
Tawakkul's membership in a party that prefers women demure and on the sidelines is a sensitive point for some activists, who see it as a contradiction. Some of her critics praise her spirit but suggest she was given the peace prize too soon in a move by the Nobel committee to quickly recognise and honour the ideals that ignited the "Arab Spring."
"Tawakkul is dominated by Islah's conservatives," said one critic, Fatima Al Aghbari, a female blogger who wears a black abaya, bright yellow head scarf and sneakers. "What she says doesn't always come from her own mind. If she strays from Islah's principles, she can get burned not only in Yemen but across the region."
This tightrope stretches through Tawakkul's life. Quiet moments are few these days. Phone calls from far away find her; her passport, once a nearly blank slate, is well-stamped. Outside her office, where a man clangs canisters used for cooking gas, the faces of the "disappeared" are stenciled in black on walls. Arrested, tortured, gone. Small bands of protesters still camp in the city but they were silent on a recent Friday as the devout hurried to listen to preachers.
Their voices skimmed Tawakkul's courtyard walls. She said she was not constrained by Islah and that the revolution that forced Saleh to resign transcended religious tendencies and would ultimately deliver greater rights and a more inclusive government. Such a vision may be overly optimistic given Yemen's tribal instincts and the exclusionary nature of regional Islamist parties.
"Moderate Islamists coming to power will limit ultraconservatives and put an end to extremist movements," she said. "The Arab Spring has brought a new equation not based on ideologies but on what political parties can do for their countries. ... Islah will not occupy power by itself. It will have to cooperate with socialists and other parties."
Tawakkul's transformation from a rebel in the Arab world's poorest country to a polished Nobel laureate remains unfinished. One newspaper ventured that she would "mature" into the role. Tawakkul appears earnest, and possesses a keen ability to summon sound bites against injustice. She stopped wearing a face veil years ago, saying it hid her from her message. She and others became an example as more young women peeled away the fabric of custom.
Today, Tawakkul's days are spent updating her website and travelling with a small entourage that meets at her headquarters, Women Journalists Without Chains. She speaks of stemming government corruption, restructuring military and intelligence services and writing a new constitution to speak to the ideals of the young. "We are in a clash with extremism and terrorism," she said as her secretary paced the threshold, looking at his watch. "The real battle now is for tolerance."
Such talk has brought occasional death threats, including a would-be assassin who moved toward her with a dagger, but they haven't stopped her demands from crackling through loudspeakers. Saleh is gone, but other troubling figures are angling for power. But Tawakkul said the old guard is not inventive enough for new ways; women and youth are the future. "We will create a new power, a new movement. The revolution has changed the way women look at themselves," she said. "We will lead the way to change." The man with the watch pointed her to the courtyard, where a human rights delegation waited amid flowers.
http://gulfnews.com/news/gulf/yemen/nobel-laureate-optimistic-about-her-country-1.1140563
-----------
URL: https://newageislam.com/islam-women-feminism/little-girls-with-islamic-veil,/d/10240