New Age Islam News Bureau
21 Sept 2012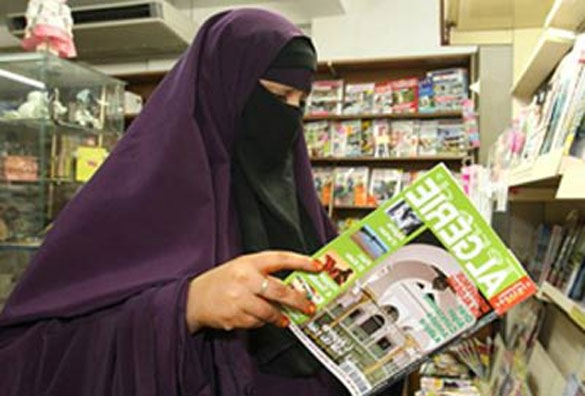 • Veiled French woman imprisoned for biting police officer
• Timbuktu Islamists Crack Down On Women without Veils
• Giving A Voice To Families of All 'Detained Without Charges'
• Baloch Women Resolve To Continue Protest
• 'Didn't Know' She Was Pregnant, but UK Soldier in Afghan Gives Birth
• First All-Women's List Seeks to Break into Palestinian Politics
• Sydney Islamic Community Reports Surge in Hate Mail
• For Malaysia Women, Heart Disease Is Top Killer
• Tunisia: Women's Rights and the New Constitution
• World's Youngest Palestinian Mayor Goes Back to School
• Woman's body flown to Pakistan from Dubai
• How an Iranian Actress Is Now Banned From Her Country's Movie Industry
Compiled by New Age Islam News Bureau
Photo: Veiled French woman imprisoned for biting police officer
URL: https://www.newageislam.com/islam,-women-and-feminism/new-age-islam-news-bureau/libyans--exploiting-syrian-women--with-marriage-offers/d/8742
-----------
Libyans 'Exploiting Syrian Women' With Marriage Offers
20 September 2012
Hard living conditions for Syrian refugees in Libya are forcing some families to marry off their daughters to wealthy local men. Syrians say Libyans often knock at their doors asking for especially underage girls, as BBC Arabic's Ahmed Maher reports from Benghazi.
Ahmed Atrash is among hundreds of Syrian refugees in the country's second largest city, Benghazi. He and his family have fled the raging war back home.
He says he would rather see Syrians beg in the street than married off to rich Libyans for money, lamenting that many were targeting underage Syrian girls.
"We arrived in Benghazi two months ago and last month a Libyan man knocked at my door and asked whether I had a daughter or a sister to marry in return for money. I laughed and told him yes, I do have a two-year-old daughter," he told BBC Arabic TV.
"He became angry, then I told him: 'Fear God! We sought refuge and protection in your country not to be humiliated'," recalls Mr Atrash, 38, who was a graphic designer in Damascus, but now works as a carpenter in Benghazi.
The father-of-two is appalled that penniless Syrian families are being forced to sell off their daughters.
"They are exploiting our financial distress. Many families here cannot provide even a square meal for their children."
An official from the self-styled Syrian Revolutionary Union (SRU) said Libyan men often ask them to direct them to Syrian families, hoping to marry girls.
One Libyan man told me: "Syrian girls are beautiful."
Another pointed out that to marry a Libyan woman, her family would ask for a dowry of $19,000, while Syrians would only seek a few hundred dollars.
There are neither refugee camps for Syrians nor an organised government scheme to host them, unlike in other Arab and Muslim countries, chiefly Turkey and Jordan. They are scattered across several Libyan cities and there are no official statistics on their numbers in the North African country.
The SRU in Benghazi puts the number of Syrian refugees in the city at 1,000.
Turkey hosts the largest number of Syrian refugees, with more than 80,000 at 14 separate camps.
The United Nations said earlier this month that the number of Syrian refugees in neighbouring countries had reached a quarter of a million, with the unabated conflict accelerating the exodus.
'Modern-day slavery'
Some Muslim scholars believe the marriages are merely an expression of solidarity by wealthy Libyans, as Syrians are in dire need.
"There is nothing wrong in such marriages if the men are financially able, whether they are single or married," said Sheikh Ashraf Al-Aqrabi, Imam of the Garyounis Mosque.
"This is a religious duty as long as it is done by mutual consent. We must encourage Libyans to help protect such vulnerable families, because they might be forced into prostitution."
But Mr Atrash doesn't agree.
"This is modern-day slavery," he said angrily. "Using the word marriage is just a euphemism."
Several Arabic newspapers reported recently that requests had appeared in online forums and chat rooms from men seeking marriage with Syrian girls in refugee camps for meagre prices. These requests, however, could not be verified.
Mr Atrash and his family consider the marriages to be sexual exploitation. And it only adds to the trauma of leaving the homeland.
"If they were really honest, they would come along with their mothers and fathers, not on their own. This is not a decent way to propose to respectable families in all Muslim societies."
Mr Atrash chooses to speak up because he wants to protect the dignity of Syrian women who have sought safety abroad.
"Syrian women escaped from rapes by [President] Bashar al-Assad's thugs to face rapes in the name of religion," he said.
http://www.bbc.co.uk/news/world-middle-east-19660293
-----------
Veiled French woman imprisoned for biting police officer
Sep 21 2012
Marseille : A French Muslim teenager who was arrested for wearing a full Islamic veil was sent to prison for two months today after being convicted of biting a policewoman.
Louise-Marie Suisse, 18, was stopped by two police officers near a mosque in the centre of Marseille in late July.
She was wearing a full-face veil, in breach of a ban introduced last year, and refused to cooperate with the police when asked to produce identity papers, her trial was told.
The teenager, who admitted biting one of the officers in the ensuing altercation, was given a six-month jail sentence with four suspended.
The judge went further than the prosecutor who had demanded a six-month suspended sentence.
Suisse turned up for the hearing in a full-body black niqab but with her face uncovered.
France has outraged many Muslims with its law against full veils, which came into force in April 2011 and bans covering one's face in public.
Violations are punishable by a fine of up to USD 190 or mandatory citizenship training.
http://www.indianexpress.com/news/veiled-french-woman-imprisoned-for-biting-police-officer/1005819/
-----------
Timbuktu Islamists Crack Down On Women without Veils
21 Sep 2012
BAMAKO — Islamists controlling Mali's northern city of Timbuktu on Thursday began arresting women not wearing a veil and have ordered any women caught out in the street late at night jailed, residents reported.
"The Islamists are today criss-crossing the town's market and arresting girls not wearing a veil," El Mehdi Cisse, a resident of the Djinguerey Ber neighbourhood, told AFP by phone.
Any woman seen on the street after 11:00 pm would be taken to prison and must pay a fine, he added, citing an edict from the Ansar Dine Islamists, who have ties with Al-Qaeda in the Islamic Maghreb.
"Since last night, they've visited imams to tell them that from now on all girls must be decently dressed," said another resident Boubacar Yattara.
The imams were also told of the creation of a "women's prison" and different fines for contravening "Islamic law", one imam said.
The move is the latest in a series hard-line rules imposed by jihadists and radical Islamists in Mali's north, where Sharia law has been enforced.
Amnesty International on Thursday decried what it said was an increase in violence and severe punishments in the north.
They cited cases in which they had stoned to death an unwed couple, carried out amputations on suspected robbers and flogged cigarette smokers.
A March 22 coup in the capital Bamako led to chaos in the north, with Tuareg rebels and Islamists quick to exploit the army's weakened hold on the expansive desert part of the west African country.
Ansar Dine fighters have also destroyed several ancient Muslim sites and shrines in Timbuktu, declaring the relics "Haram", or forbidden.
Copyright © 2012 AFP. All rights reserved.
-----------
Giving A Voice To Families of All 'Detained Without Charges'
Seema Chishti
Sep 20 2012
New Delhi: If you talk casually to Nikhat Perween or text her, she might come across as any 22-year-old management graduate, who means "fine" when she texts "F9". Those who have known Nikhat, however, are conscious of her sudden graduation to adulthood.
From a cheerful BBA student confident of working her way to an MBA and then the IAS ("my father, being with the Bihar administration, had even bought IAS prelim books for me to study"), she is now on a somewhat unplanned study programme of the Indian Evidence Act and the Indian Penal Code, and not because she intends appearing for the IAS this time.
News items, scraps of information volunteered by a few friendly diplomats or helpful contacts, and Supreme Court proceedings on a habeas corpus petition, now dismissed, are what preoccupy her. The travails of her engineer husband Fasih Mehmood, 28, have changed her life. They had been married eight months when Fasih was detained on charges of being involved in terror cases while on a job in Saudi Arabia this May. The chargesheet is yet to be filed and he is currently in a Saudi Arabian prison, awaiting deportation to India.
She quietly observed her first wedding anniversary on September 7. Nikhat is carrying a child, who is due in December. Her mornings — mostly in Patna, her parents' home — start with a leap towards "the Net" for any fresh update on her husband. An indifferent breakfast and she is off to various "seminars, panels and talks" where she speaks on terror, and on behalf of all those who she says have been detained, not quite charged formally, but pushed into a grey zone that is actually a dark end, from where very few can actually make a blemish-free comeback.
"Look at Amir, acquitted after so many years, and the prisoner from where my sasural is, Barh Samalia, killed in prison."
In this new role of the travelling ambassador of families of accused — she is heading to Lucknow to speak at a seminar organised by some PUCL activists to "expose ATS" on the fourth anniversary of the Batla House shootout — has she not found people restraining her from speaking on matters beyond her own? "I have been told by some relatives not to pick up cudgels and comment on the prisoner killed in Pune, for example, and only talk about Fasih," she agrees. "But his detention has alerted me to so much injustice. And I will speak."
Even her responsibility towards her unborn child has got short shrift. She has been able to visit a gynaecologist just twice in seven months. It does not seem to worry her too much, though she says, "I have applied to be registered at a government hospital in Patna. Let's see."
Given her clear and confident articulation, was she a debater as a student? "No, I wasn't a very activist student," she says. "I did manage good results, not because I studied through the year but by burning the midnight oil at the last minute. This incident has changed my life."
Is there any distance between her and her in-laws as she finds herself in a vortex of attention? "Not at all," she says. "I am with my parents as my father-in-law is busy with his work as a doctor. My mother-in-law is nervous and attending to my brother-in-law, travelling between Delhi to look after him and Patna to talk about what to do about Fasih's matter."
She adds, "Fasih would call his mother or receive calls from her at least three or four times a day. She would be so concerned about if he had eaten, had his glass of milk or fruit. Think of what she is going through. I am just the wife; they are parents.
"My saas has responded by spending time with her elder son and somehow keeping herself occupied. My father-in-law rings me almost every day, asking if I have heard from Fasih. I keep them going by telling them it would be all right. After all, it is nearly five months since he has gone. Time has passed and it has to be resolved. That comforts him.
"Do people hurling accusations without a proper chargesheet, too, realise what even one person's arrest shrouded in mystery like this does, not just to his family but also to at least 10 or 15 people close to him? My brother-in law, employed with a bank in Dubai, has had to resign and come back to Delhi as leave was just not possible as frequently as he wanted it. Apart from my in-laws' life, my parents' and mine too have changed completely." She doubts if it will ever be the same again.
Cooking suddenly for lots of people, whom Fasih would get home and expect her to host in Saudi Arabia where she had joined him for some time, is a frequent, fond memory. Otherwise, it is "the Net" with hopes of a small news item of his release that keeps her going.
http://www.indianexpress.com/news/giving-a-voice-to-families-of-all-detained-without-charges/1005058/
-----------
Baloch women resolve to continue protest
By Mohammad Zafar
September 20, 2012
QUETTA: Snubbing allegations and threats by armed organisation Tehreek-e-Nifaz-e-Aman Balochistan, female relatives of the missing persons on Wednesday declared that they will not back down from protesting and will continue the hunger-strike camp for the recovery of their loved ones.
Addressing a press conference at the hunger strike camp, female relatives of the missing Baloch persons rejected Nifaz-e-Aman's objection over Baloch women raising their voices to recover their missing family members.
Full report at:
http://tribune.com.pk/story/439659/recovering-missing-persons-baloch-women-resolve-to-continue-protest/
-----------
'Didn't Know' She Was Pregnant, but UK Soldier in Afghan Gives Birth
Sep 20 2012
London: A UK soldier serving on the frontline in Afghanistan has given birth at the NATO base where she is posted - days after it came under attack from the Taliban, the defence ministry said.
The woman, who gave birth to a baby boy on Tuesday at Camp Bastion, in Helmand Province, did not know she was pregnant, British media reports said.
Two US Marines were killed and unprecedented material damage caused when attackers armed with guns, rockets and suicide vests stormed the base - where Britain's Prince Harry is also located - last Friday.
The mother and baby, both said to be in a stable condition, are waiting for the arrival of a specialist medical team from a hospital in Oxford, southeast England, before
being flown home.
A Ministry of Defence (MoD) spokesman said: "We can confirm that on September 18 a UK servicewoman serving in Afghanistan gave birth in the Camp Bastion Field Hospital to a baby boy.
Full report at:
http://www.indianexpress.com/news/didnt-know-she-was-pregnant-but-uk-soldier-gives-birth-in-afghan-army-camp/1005356/
-----------
First All-Women's List Seeks to Break Into Palestinian Politics
BY MATTHEW BELL
SEPTEMBER 20, 2012
The server at w.soundcloud.com can't be found, because the DNS lookup failed. DNS is the network service that translates a website's name to its Internet address. This error is most often caused by having no connection to the Internet or a misconfigured network. It can also be caused by an unresponsive DNS server or a firewall preventing Google Chrome from accessing the network.
Palestinians in the West Bank city of Hebron are gearing up for a municipal election in October. The last time residents of Hebron were able to choose city officials directly was back in 1976. And this time around, voters will have also have a novel choice. One of the candidate lists on the ballot is made up entirely of women.
Maysoun Qawasmi has been busy with old fashioned politicking, knocking on lots of doors to get her campaign off the ground. On a recent afternoon, she walked into a Hebron appliance shop, held out her hand and began to introduce herself.
Full report at:
http://www.theworld.org/2012/09/first-all-womens-list-seeks-to-break-into-palestinian-politics/
-----------
Sydney Islamic Community Reports Surge in Hate Mail
John Masanauskas
September 21, 2012
VICTORIA'S Islamic community is reporting a surge in hate mail in the wake of the violent protests in Sydney and around the world.
Islamic Council of Victoria spokeswoman Sherene Hassan said community members were being urged to report anti-Muslim messages and incidents to the police.
"There's been a surge in obscene hate mail around the state, but there's also been a significant number of support letters and emails,'' she said.
``We will be encouraging our community to be vigilant in reporting any hate crimes to the authorities and to the ICV.''
Ms Hassan said the ICV was also consulting with its community and religious leaders to work out ways to deal with issues such as the US-made anti-Islam video.
``We will be discussing the way forward. How do we prevent anything like that (violent protests) happening in Victoria in the future,'' she said.
Full report at:
http://www.heraldsun.com.au/ipad/americans-must-steer-clear-of-anti-amierican-protests-
-----------
For Malaysia women, heart disease is top killer
Alisha Hassan | 21 September 2012
KUALA LUMPUR: Malaysia's National Heart Association has reported that heart disease is the top killer of Malaysian women and two and a half times more common than all cancers.
The association's president Azhari Rosman dispelled the common perception that only older men were prone to heart diseases and strokes.
"Women must maintain a high index of suspicion," he said on Thursday.
"Cancer does not take as many lives as cardiovascular diseases. Women also tend to dismiss pain more easily than men and generally have a higher pain threshold."
Full report at:
http://www.bikyamasr.com/78061/for-malaysia-women-heart-disease-is-top-killer/
-----------
Tunisia: Women's rights and the new constitution
21 Sep 2012
Women in Tunisian are concerned that the new Constitution may slow down their progress towards gender equality.
There are concerns amongst vociferous civil society activists about the status of women in the country's new constitution, the drafting of which may require longer time than initially anticipated. Whereas these voices are legitimate and should provide the questioning and citizenry input demanded by genuine democratic transition, there is a degree of misrepresentation, by some forces and discourses of the issues involved.
This question is one of many that have over the last a few months added to political dynamism by a polity and society learning to find voice and found presence, but inevitably also produced polarisation, which excludes no single political party or group of actors.
There are a few issues that are at the core of rising polarisation within Tunisia's polity. This article looks at the rights of women within the process of constitution-framing.
Women: Place and Space
Full report at:
http://www.aljazeera.com/indepth/opinion/2012/09/2012918102423227362.html
-----------
World's Youngest Palestinian Mayor Goes Back to School
Dalia Hatuqa
20 Sep 2012
Fifteen-year-old Palestinian girl served as mayor of Allar in West Bank after town leaders gave their jobs to teenagers.
For the past week, Bashaer Othman has been busy meeting with parliamentarians in Jakarta, Indonesia, pushing them to enact projects to incorporate young people into civic life. The trip, however, cost her some precious time away from her high school studies back home in the West Bank - after all, she's only 15.
For two months this summer, Othman took the mayoral reigns of a small town with a population of about 8,000 called Allar, just outside the northern West Bank city of Tulkarem. As part of a youth empowerment programme, Othman became Allar's - and the world's - youngest mayor, listening to citizens' problems, signing documents, reading reports and chairing meetings.
Full report at:
http://www.aljazeera.com/indepth/features/2012/09/20129208339518467.html
-----------
Woman's body flown to Pakistan from Dubai
Asma Ali Zain / 21 September 2012
The body of the Pakistani woman who was allegedly murdered by her husband earlier this month was sent to Pakistan on Thursday evening.
The Sharjah Police released the body on Thursday after completing all formalities and allowed her relatives to take the body for burial. She will be buried in Islamabad. The woman's four children were also flown home earlier this week, according to their maternal uncle.
The children will be staying with their maternal grandmother and uncles, said S.K., a relative of S.A.K., 36, who was allegedly murdered by her fugitive husband, A.K., after a bitter marital row. Her body was dumped in a car in Sharjah Industrial Area on September 8.
"The children have yet not been informed of the reason for the absence of their parents," said S.K., adding that the news would be delivered to them in due time.
Full report at:
http://www.khaleejtimes.com/kt-article-display-
-----------
How an Iranian actress is now banned from her country's movie industry
Charlie Gillis
September 20, 2012
Golshifteh Farahani, a beloved and apolitical Iranian film star, went from pride to pariah
Golshifteh Farahani would have to choose between her country and her art—that much was clear even before the ayatollahs invited the Iranian film star to stay away from her homeland. It was retribution for baring her breast eight months ago in a video to promote the Césars, the French equivalent of the Academy Awards. But Farahani had already been banned from working in her homeland and fined $2.5 million for failing to wear a hijab at a Hollywood premiere. She'd been living in France for four years, a de facto exile.
The 29-year-old phenom has since come to embody the self-spiting nature of Tehran's moralism and its growing distance from the liberal-thinking world. Celebrated before the hijab incident for her success in Western cinema, Farahani was a national icon whom Iranians had watched grow up on the screen. Her breakthrough performance at 14 in The Pear Tree set the table for a whirlwind rise in her own country, while opening doors abroad. Her roles include the lead in M for Mother, where she played a pregnant woman who had been gassed during the Iran-Iraq war, and a starring turn opposite Leonardo DiCaprio in Body of Lies, a CIA thriller directed by Ridley Scott (it was the first appearance by an Iranian woman in a Hollywood film since the Islamist revolution of 1979). Versatility is Farahani's meal ticket: she can summon smouldering heat or emotional isolation with equal alacrity—in the same scene, if necessary.
Full report at:
http://www2.macleans.ca/2012/09/20/from-pride-to-pariah/
-----------
URL: https://www.newageislam.com/islam,-women-and-feminism/new-age-islam-news-bureau/libyans--exploiting-syrian-women--with-marriage-offers/d/8742