New Age Islam News Bureau
12 Feb 2014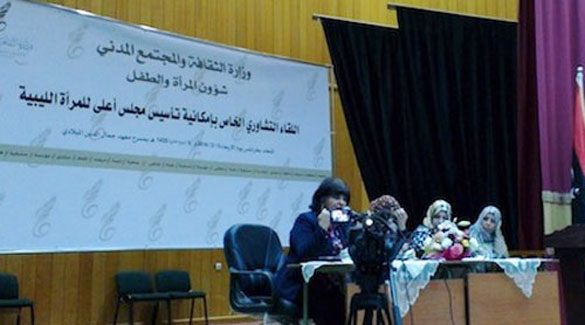 Plans for a Women's Supreme Council discussed in Tripoli (Photo: Taziz Hasairi)
-----------
• Women Are Targets of Repression in Egypt
• 22 Women to Contest Municipal Council Polls in Saudi Arabia
• International Purple Hijab Day against Domestic Violence, February 13th
• Afghan Domestic Violence Law Draws International Outcry
• Bahrain Pledges to Boost Women's Rights
• Palestinian Women Make Strides in High-Tech
• Why Cannot Saudi Women Issue Their Own Passports?
• Promoting Culture: Indian Actress Shabana Azmi Visits Sindh Festival
• 16 pc Of Pak Punjab's Children Aged 6-16 still out Of School
Compiled by New Age Islam News Bureau
URL: https://www.newageislam.com/islam,-women-and-feminism/new-age-islam-news-bureau/libyan-women-want-women's-supreme-council/d/35720
--------------
Libyan women want Women's Supreme Council
February 12, 2014
Women activists in Tripoli have endorsed proposals for a Women's Supreme Council to be set up which would represent them, help empower them and campaign for their interests.
Meeting last week at Jamaladeen Almilady College for Music and Arts, they were divided, however, as to whether this was the right time to launch such the body.
The meeting, the second in a roadshow which had previously taken place in Beida and Benghazi, was organised by the Women's and Children's Affairs Office at the Ministry of Culture and Civil Society.
Deputy Minister of Culture and Civil Society Jamila Fallag stressed the importance of creating a Council in her opening address, noting that women were not being properly represented in Libya. The suggestion had been presented to the Prime Minister several times, she said, and he had asked the ministry to take it on board. That was why it was now promoting it.
However, she stressed, only Libyan women themselves had the authority to create such a council.
The women attending the Beida and Benghazi meeting the previous week had also agreed on the need to create such a body, Fallag said. The only issue, again, had been about the timing.
For lawyer and activist Amal Abu Gaegis, one of the most important roles of the council would be to represent Libyan women locally and internationally as well as developing and training women. It was also needed to create a database about women's status in different areas of life around the country.
Among those attending last Wednesday's meeting were the former Social Affairs Minister Kamla Al-Mazini, political activists Gaida Atuwati and Farida Allaghi, a number of Congresswomen as well as teachers, lawyers and ordinary housewives.
http://www.libyaherald.com/2014/02/11/libyan-women-want-womens-supreme-council/#ixzz2t9MgZez7
--------------
Women are targets of repression in Egypt
BYDEBASISH MITRA | FEBRUARY 12, 2014
In November last year 14 young women in Egypt found themselves in a rather bizarre surrounding. Police had dumped them in the desert far away from Cairo and their homes.
They had been arrested for protesting against draconian laws banning public demonstrations and trial of the civilians who took part in the uprising against Hosni Mubarak. They walked back to Cairo, exhausted and baked, and alleged that while in police custody, they suffered massive ignominy at the hands of their captors — beaten and abused.
On October 31, 2013, following a peaceful pro-Mursi demonstration, 21 female protesters were subjected to sexual violence, convicted and imprisoned. Over 90 women were openly molested, raped and beaten up by ruffians that Hosni Mubarak unleashed on the Tahrir protestors in a desperate bid to break the movement, which ultimately pulled the former dictator down.
One picture of 2011 appalled the world. Hosni Mubarak was still in power and protestors at Tahrir Square were still swelling in number. During a police crackdown on the protestors a young woman was seen being dragged down by a few policemen. She was almost stripped to bare minimum, her abaya yanked and policeman kicking her belly. The picture not only became a symbol of police atrocity but also of an infamy of which Egypt probably would never ever be able to come out. The world hanged its head in shame.
Unfortunately, Egypt did not. Its hooligans, its police and its military still continue with the disgraceful legacy of targeting women, sexually abusing them, beating them and imprisoning them for not agreeing with whoever had been in power.
Egyptians got rid of Mubarak, in a coup the military toppled the country's first ever elected president promising the gullible teeming millions equality, fraternity, liberty and rule of law. Yet, women in Egypt continued to live in utter ignominy — as targets of not only lust but also of unspeakable
violence and torture.
They say, if you are a woman you must not be in Egypt. Egypt is the worst place for women in the Arab world says a survey report of Thomson Reuters Foundation. And it is true. The survey on "women's rights in the region puts Egypt at the bottom — thereby silencing those voices that take up the fight against antiquated social perceptions and discrimination."
The fall of Mubarak has not augured well for Egypt and most so for the women of the country. For them the past three years have been the most harrowing — a journey back to the Stone Age. They have suddenly become the receiving end of all measures rulers and ruling parties in Egypt undertook to quell political unrest. They are systematically raped, beaten, abused and imprisoned to break the morale of political opponents.
It is a medieval age out there in Egypt today when barbarian plunderers not only looted and killed but also ravaged women to bring the conquered down on their knees. And worst, in Egypt today the perpetrators are the law enforces (police) and men in uniform (the army) whom the citizens have always trusted and revered.
The liberal and secular Egyptians brought the dictatorship of the army and facilitated a coup to boot out Mohamed Mursi because they feared that Muslim Brotherhood was taking the country on the path of complete Islamisation.
Abdel Fattah el-Sisi who usurped power promised the country better governance but in reality continued with the despicable policy of violence against women as a weapon to subjugate.
Authorities deny this and their denial is predictable. Yet, a senior of the army which now rules the nation reportedly said that the women who partake in demonstrations along with men on streets can never be and are not the daughters and sisters of Egypt.
As it is we are appalled by the soaring instances of violence, abuse and maltreatment of women in the country we were further shocked by the reports of what he said. Didn't he very tacitly justify what his soldiers are doing against Egypt's daughters and sisters on the streets and inside police stations?
Oh! What a shame.
Field Marshal Sisi and his soldiers know that killing is messy. Even a drop of blood spilled stirs strong emotion, evokes outcry world over. Stains of blood are not easy to hide. But ravaging women isn't that difficult a task to cover. And, especially so when the new pharaoh is the monarch of all he surveys.
And then he and his boys have in their favour a tacit indulgence of the patriarchal society which has been the biggest sponsor of the coup they pulled up to kill democracy.
Politically, the revolution which brought down the dictator Mubarak was a failure. Egypt has gone back to the square one with just a change of face. Dictatorship has returned with Sisi. The country did not get what it had yearned for. And for the women too the revolution had not been the point from where they and their status in society could have progressed.
A highly visible poster at a demonstration of women against rising violence against them said loud and clear: "He who violates the honour of our girls cannot be entrusted with our country."
But did anyone notice what the poster said, especially the country new pharaoh Sisi? Evidently not or else how could he agree to fight elections for president's position?
The author is the Opinion Editor of Times of Oman
http://www.timesofoman.com/Columns/Article-1701.aspx
--------------
22 Women to Contest Municipal Council Polls in Saudi Arabia
February 12, 2014
ABHA – The Ministry of Municipal and Rural Affairs is expected to announce this month the new bylaw for municipal councils.
According to ministry sources, there will be provisions in the bylaw to make municipal councils more effective, people-friendly and strengthen women empowerment.
Some 22 women are expected to contest in the coming municipal council elections.
The bylaw will outline the modalities for women's elections and nominations to municipal councils. According to the bylaw, there will be separate municipal headquarters for women members. Male and female members will have interaction only through telecommunications facilities.
There is a provision in the bylaw to give more executive powers to the councils. There will be a mechanism to evaluate the performance of the councils across the Kingdom. Under the mechanism, a maximum 100 points will be given to those councils which show outstanding performance. Points will be given to each area of performance with a focus on frequency of interaction with people and addressing their problems.
Apart from more executive powers, the councils will have separate budgets. The members are allowed to make their proposals and suggestions with regard to spending and revenues before presenting the draft budget to the ministry for approval.
According to the sources, the number of municipal councils in major cities and various regions of the Kingdom is expected to increase to 290 by the year 2015. These councils will have more than 1,500 men and women members.
http://www.saudigazette.com.sa/index.cfm?method=home.regcon&contentid=20140211195369
--------------
International Purple Hijab Day against domestic violence, February 13th
By Voice of Libyan Women
February 12, 2014
On February 12, 2009, Aasiya Zubair, a Muslim American co-founder of Bridges TV (a network dedicated to promoting cultural awareness about Muslims), was murdered her husband. he cut off her head. Prior to her death, she had faced countless incidents of domestic abuse. Her husband excused himself in court, stating that Islamicly it was permissible for him to kill her as she did not obey him
Zubair's death has sparked a grassroots movement among Muslim communities around the world to end domestic violence. Many initiatives were created including International Wear a Purple Hijab Day.
International Purple Hijab Day on 13 February is a day in which all Muslims, men and women, unite against domestic abuse. The Voice of Libyan Women (VLW), a leading Libyan women's NGO, is calling on everyone to wear a purple hijab, scarf or necktie to show their support for this cause. The campaign is to stress that domestic abuse in any form is not in any way tolerated.
It has been argued many times that violence against women is allowed in Islam, however, this is a grave falsehood due to the misinterpretation and misuse of religion. Islam does not teach, condone, or allow for the abuse of any living thing. It teaches Muslims not to harm others and Muslims are taught to believe there is a grave punishment for Muslims who do harm to others or abuse the land, sea or plant life.
The Prophet Muhammad (PBUH), the example of how excellent a human being can be, was known to have never harmed anyone in his family. He only used violence when on the battlefield against a clearly identified enemy. He taught self-restraint and peace during his time here on earth.
Muslim advocates against domestic violence want to make it clear without any doubt that these heinous crimes that have been committed in some of the homes in the Islamic community are not supported by the Holy Quran or the valid Hadith (the sayings of the Prophet) and are not the norm.
These are learned behaviours that have nothing to do with religious teachings or practices. On February 13, we are asking you to participate with women around the world in speaking out against domestic abuse. As a Muslim community, let us support this cause and protect what is sacred to our religion and human rights. Wear your purple clothing proudly as you take on this mission of continuing the education of domestic violence to your own communities.
We appreciate all your support on this day and ask you to please wear purple hijabs, scarves or neckties on 13 February 2014.
http://www.libyaherald.com/2014/02/11/international-purple-hijab-day-against-domestic-violence-february-13th/#ixzz2t9KXnMaq
--------------
Afghan domestic violence law draws international outcry
February 12, 2014
KABUL, Afghanistan -- A new draft law in Afghanistan that would limit testimony in domestic violence cases is drawing international outcry, with activists warning it is part of a broader trend toward rolling back women's rights in the nation.
Afghanistan's parliament last month approved changes to the country's criminal code that would prevent relatives of alleged abusers from testifying against them. Legal experts say this would have a chilling effect on prosecutions involving violence against women, where relatives are often the only witnesses.
As the law awaits final signature from President Hamid Karzai, a growing chorus of Afghan activists and of Kabul's Western allies alike are urging him to veto the legislation.
The issue is buried in about 100 pages of Afghanistan's new criminal code - labeled Article 26. While it does not specifically mention women or domestic violence, Article 26 bars a broad swath of "relatives" for acting as witnesses - an issue in a country where the bulk of violence against women is committed by or in front of family members, especially given how restricted freedom of movement is for many women.
In practice, legal experts say, it would mean that a woman cannot testify that her uncle raped her, that a mother who sees her daughter beaten by her father or brother, cannot testify, that family members witnessing a young woman being forced into marriage by her father cannot be used in a prosecution, that a sister or brother who witnesses an honor killing cannot be questioned.
They say it would mean there would have been no short-term justice for Sahar Gul, a child bride who became the bruised and bloodied face of women's rights in Afghanistan when it emerged that her in-laws had kept her in a basement for six months after her arranged marriage, tortured her with hot irons, and ripped out her fingernails.
Her in-laws were sentenced to 10 years in prison - an outcome that never would have been possible if Gul's relatives were unable to testify.
Kimberley Motley, who represented Gul, called the new legislation a "catastrophic nightmare for women's rights" in Afghanistan and goes against the nation's constitution and Shariah law.
One rationale for Article 26 appears to be to prevent people from being forced to testify against relatives. However, when the upper house of parliament revised the wording to allow relatives to testify voluntarily, a parliamentary commission went back to the earlier broad ban.
Motley said while the rationale is unclear, one clear effect will be dissuading women from reporting that they are victims of crime.
"It's already bad enough - all the obstacles they go through to report a crime - and this law will make it nearly impossible for them to have the legal standing to even try to report a crime," she said.
While Karzai's office has stayed silent on the matter, Justice Ministry Official Mohammad Asharf Azimi said Tuesday that given the recent concerns raise by human rights organizations, a meeting will be held by "relevant authorities" on Wednesday to discuss Article 26.
Azimi acknowledged there is ambiguity in Article 26 that needs more clarification.
Gul's case - and many others - are prime examples of why Karzai should not sign the law or have it amended, according to a growing number of international voices.
Human Rights Watch has said doing so would be "effectively silencing victims of domestic violence and forced or child marriage and their family members who have witnessed abuse."
The European Union's foreign policy chief, Catherine Ashton, said signing the legislation would be "a serious backward step" for the rights of women and girls in Afghanistan.
The U.S. Embassy in Kabul said Thursday that, "like others," it too is "extremely concerned" about the changes to the criminal procedure code and has raised those concerns both with Afghanistan's Parliament and government.
"We will continue to urge the government of Afghanistan, as we do countries around the world, to uphold its human rights commitments and protect the rights of women and girls," it said in a statement.
Britain's International Development Secretary Justine Greening also weighed in.
"Deeply concerned at reports that women's protection is threatened in Afghanistan," she said on Twitter. "We can't allow progress to be lost."
Women have won back many of the rights they lost during Taliban rule from 1996 to 2001, when the Islamic movement was ousted by an American invasion following the Sept. 11 attacks against the United States. Under the Taliban, girls were barred from attending school, women were forced to stay indoors and cover their heads and faces with burqas.
There are fears that many of those freedoms may shrink as foreign forces depart by the end of this year and much of the international aid and assistance they brought to Afghanistan goes with them.
Afghanistan in 2009 enacted its Elimination of Violence Against Women law (EVAW) which criminalizes child marriage, selling and buying women to settle disputes, assault and more than a dozen other acts of violence and abuse against women.
The U.N. mission in Afghanistan has said that the law has seen Afghan authorities register more reports of violence against women under the law, but that prosecutions and convictions remained low.
Activists warn that passing the change to the criminal code would effectively dismantle any progress made by EVAW - and say Article 26 is one more strand in a chain of events signaling an erosion of freedoms ahead of the foreign combat troop withdrawal.
"There's a real likelihood that what this law will do is it will make it impossible for any woman to win in court against an abuser," said Heather Barr, Afghanistan researcher with Human Rights Watch. "That will deter other women from bothering to try, will deter women from reporting crimes to the police and it'll make women think that everything is the same as it always was, that women have no option except to tolerate whatever is done to them."
Particularly worrying, she said, is that it didn't "come out of the blue."
In recent months, lawmakers have argued to repeal the EVAW, while a newly appointed member of Afghanistan's Independent Human Rights Commission has done the same and students have mounted protests to have it repealed. There have been high-profile attacks on female lawmakers and security forces. Meanwhile, a proposal circulated to reinstate public execution by stoning for adulterers - but was abandoned after it was leaked in the press.
And Sahar Gul's family members were released from prison last year, their convictions quashed.
The new law is "not an isolated incident of the government doing something harmful to women's rights," she said. "It's the latest in what's been a pretty relentless series of attacks on women's rights."
© 2014 The Associated Press. All Rights Reserved. This material may not be published, broadcast, rewritten, or redistributed.
http://www.cbsnews.com/news/afghan-domestic-violence-law-draws-international-outcry/
--------------
Bahrain pledges to boost women's rights
February 12, 2014
BAHRAIN yesterday stressed its commitment to implementing laws to improve the status of women and ensure they become key partners in decision-making.
A 30-member team, including Shura Council member Dalal Al Zayed and MP Sawsan Taqawi, outlined the plan during the 57th session of the United Nations Committee on the Elimination of All Forms of Discrimination Against Women in Geneva.
It was headed by Supreme Council for Women (SCW) vice-president Dr Shaikha Mariam bint Hassan Al Khalifa.
Representatives of civil societies also attended, along with Bahrain's National Institution for Human Rights, to highlight Bahrain's achievements and challenges.
"Women have become key partners in development in its various aspects. Their participation rate has increased in the labour market, as well as in the economic, social and cultural spheres, in addition to the continued efforts to empower women at economic and political levels," said Dr Shaikha Mariam.
She said the total percentage of women working in the government sector had reached 48 per cent, compared to 52pc of men, according to the latest statistics.
"A research paper by the Economic Development Board indicated that the number of Bahraini women working in the private sector had increased in 2011 compared with 2002 by 73.5pc to reach more than 25,000 women. Women own 29pc of commercial registrations in the kingdom," said Dr Shaikha Mariam.
She also lauded efforts by Her Royal Highness Princess Sabeeka bint Ibrahim Al Khalifa, wife of His Majesty King Hamad and SCW president, for her initiative in marking Bahraini Women's Day annually on December 1.
"The percentage of women's participation is a third of the national workforce, which reflects the keenness of the leadership to achieve the effective participation and empowerment of women in all fields," said Dr Shaikha Mariam.
She welcomed proposed changes to Bahrain's social allowance policy, saying it would give around 15,000 working women the same employment benefits as men.
UN officials were also briefed about the creation of a family reconciliation unit - under the umbrella of the Justice, Islamic Affairs and Endowments Ministry - which will begin operating on February 16.
It aims to help couples with marital problems by giving them access to experts, who can try and resolve their issues before they file for divorce.
Dr Shaikha Mariam revealed that an SCW political empowerment programme in preparation for next year's parliament was underway
"Twenty-five women have already started taking part in the training programme, which will last for a period of one year," she said.
"In addition, other areas of focus will be tackled - such as raising awareness among voters, and encouraging them to participate and choose the qualified candidate based on their independence."
Dr Shaikha Mariam spoke about proposed amendments to Bahrain's law to enable children of Bahraini women, married to non-Bahrainis, to be granted nationality.
She also highlighted an impending legislation to tackle family violence. "We realise that areas of improvement will always be present, and that all societies should proceed by making efforts to achieve further improvements," she added. sandy@gdn.com.bh
http://www.gulf-daily-news.com/NewsDetails.aspx?storyid=370494
--------------
Palestinian women make strides in high-tech
The Associated Press
February 12, 2014
West Bank (AP) — Growing up in a traditional society, Abeer Abu Ghaith was often told a woman's future is in her husband's kitchen. Quietly, the 29-year-old proved everyone wrong.
Abu Ghaith has become the first female high-tech entrepreneur in the West Bank, setting up an Internet employment brokerage and software development firm. Last month, the Palestinian trailblazer was recognized by regional high-tech leaders as a recipient of the Women in Technology Awards in the Middle East and Africa for 2014.
Abu Ghaith has put in 16-hour days, showing how the local IT and communications sector can transform the lives of other women by giving them access to jobs and financial independence. Some say the sector, the most vibrant in an otherwise stagnant economy, could double in size over the next five years and employ thousands more.
Palestinian women already make up a majority of students in many colleges and universities in the West Bank and the Gaza Strip, but often have trouble transitioning into the job market. After they graduate, the traditional gender expectations usually kick in — that they should get married first and worry about a career later.
Those determined to work face a tough job market with double-digit unemployment and employers who often prefer male applicants still seen as the main breadwinners. Job choices are further constricted by family concerns that a young woman's reputation could be tarnished if she returns home late from work or has to travel for the job. Only about 20 percent of Palestinian women work outside the home, compared to nearly 70 percent of men, according to the International Labor Organization.
"Palestinian women face a lot of challenges," said Abu Ghaith, the second-oldest of nine brothers and sisters, speaking at her family home in the town of Dura, one of the most conservative areas of the West Bank. "We have plenty of qualified women in my area who have no access to jobs.
Abu Ghaith graduated from the Polytechnic University in the nearby city of Hebron in 2007 and still works for her alma mater as a career counselor for IT students.
Last year, she set up her company, StayLinked, which serves as a talent broker between Palestinian freelancers and businesses in need of services, such as translation, data entry, graphic design, online marketing and website development. Customers include companies in the US and in Gulf countries, she said.
Abu Ghaith has three business partners, including a female friend, a male expert in IT training and a company that offered advice in the early stages. The two women pooled their savings to contribute to $30,000 in startup costs and control 70 percent of the business.
So far, StayLinked has generated several thousand dollars in business — Abu Ghaith won't say exactly how much — and has provided paid employment for about 40 freelancers, half of them women.
The company hasn't turned a profit yet, but Abu Ghaith said that's in line with expectations. The past year has shown that the business model works, she said, hoping to expand significantly in 2014.
Abu Ghaith has been a cautious rebel, pushing boundaries gradually instead of crossing them at once.
In a nod to custom and her own beliefs, she wears the headscarf of devout Muslim women, prays regularly at a local mosque and lives with her parents and several of her siblings, as is expected of unmarried women.
At the same time, she won't let anyone deter her.
"As a woman, I can help and change the world in my own way, even if the society wants to confine us in the kitchen and the house," she said, sitting at a desk in her cramped bedroom, which doubles as an office. "I have changed the world from the house."
The women who found work through her are grateful.
"She gave us a job opportunity," said Zeina Abu Sneineh, 24, a recent university graduate who believes she'd be unemployed if it wasn't for Abu Ghaith. "People over here think that what women have to do is get married and have children," added Abu Sneineh, who grew up in Houston but returned to the West Bank with her family.
The "office" of StayLinked is a Hebron coffee shop where Abu Ghaith and some of the freelancers meet once a week. During a recent meeting, Abu Ghaith and three other women sat around a low table, drinking coffee and lemonade while a customer at another table strummed an oud, a guitar-like instrument, and a man smoked a water pipe.
Hassan Kassem, who heads the association of IT companies in the West Bank, Gaza and east Jerusalem, said Abu Ghaith is unique in the sector as a woman who started her own company. Several other women run businesses on the edge of the sector, including firms involved in e-marketing and social media, according to a local business women's group.
Kassem's association represents about 150 medium and larger companies in IT and communications technology that employ about 8,000 people. He said the sector could double over the next five years and make up 20 percent of Palestinian economic activity.
The Palestinian economy has been hampered by years of conflict and continued trade and travel restrictions by Israel. The IT sector, however, is largely immune to such obstacles.
Kassem said IT jobs are especially appealing to women, in part because they can work from home, within the confines of tradition. He said he expects that "in five years, we will have many Abeers in our country."
Abu Ghaith, meanwhile, hopes the award she won last month, as "best technology enabler and facilitator," will give her venture an extra boost. The award was one of seven handed out by a group called Women in Technology in the Middle East and Africa. The jurors included executives from IBM, Cisco and HP.
Abu Ghaith couldn't attend the prize ceremony in Dubai because of visa restrictions. As encouragement, the glass trophy now sits on her desk, next to her laptop.
Copyright 2014 The Associated Press
http://www.timesofisrael.com/palestinian-women-make-strides-in-high-tech/#ixzz2t9TcP0uS
--------------
Why cannot Saudi women issue their own passports?
February 12, 2014
Officials at the Passports Department are working hard to facilitate services for citizens and expatriates by providing the "Absher" online service where they can complete their paperwork themselves. Absher has saved a lot of time and energy for both the public and passport officials.
Now citizens are able to complete their government paperwork from the comfort of their homes or offices.
Despite the fact that the Passports Department has entered the digital era, the situation of women is still the same. Saudi women are not benefiting from the online system.
A Saudi woman can now issue her identification card by bringing two witnesses or her passport. She, however, cannot issue her passport herself.
Our problems with women are always connected to tradition and not religion. It is a woman's right whether she wants to issue her ID or passport.
In other words, the system should be set up so that she can issue her passport herself just like she can issue her ID. Both are considered forms of identification, although they are different.
Inside the country, a man or a woman can show ID for identification and outside the country they can show their passports.
Forbidding a woman from issuing her passport without the approval of the guardian is depriving her of her right as a citizen. Where is the equality in rights and duties between male and female Saudis?
I am not going to say that Saudi women have reached the top positions, but they are responsible and have rights and duties.
They are responsible before God on what they say or do. They should be honored if they do well and punished if they do wrong.
Our problems with women are taking many forms and shapes. It starts from the wrong understanding of culture and tradition.
We may understand and justify why they are forbidden from issuing passports to their children. But we cannot understand or justify why they cannot issue their own passports.
Civil rights are guaranteed to everybody and exclude only children and the mentally ill. This means a woman's right is guaranteed in Islam and she is accountable for it.
It is not logical that we use modern technology and get help from women to carry out different tasks and at the same time we deprive them of the right to issue their own passports.
Saudi women are representing the country on an international level at parliamentary and scientific levels, but when it comes to issuing their passports we say they are ineligible.
We are still not clear on how to deal with women.
http://www.saudigazette.com.sa/index.cfm?method=home.regcon&contentid=20140212195470
--------------
Promoting Culture: Indian Actress Shabana Azmi Visits Sindh Festival
February 12, 2014
KARACHI: Indian film star Shabana Azmi and PPP leader MPA Owais Muzaffar toured the Sindh "Festival" city at Bagh-e-Ibne Qasim on Tuesday. Azmi purchased souvenirs from various stalls and sampled the food available there.
She praised Bilawal Bhutto Zardari for organising the event, saying it will highlight the culture of Sindh at an international level. Azmi said people from both sides of the border should press their governments to play their role in ensuring a lasting peace between India and Pakistan. The actress added that when she visits Sindh, she feels she is at home.
Owais Muzaffar said the festival is a much-needed source of entertainment to those living in the province and added that the opening ceremony at Mohen jo Daro has given a new identity to the heritage site. He praised the festival as a unique event in the province's history.
http://tribune.com.pk/story/670607/promoting-culture-shabana-azmi-visits-sindh-festival/
--------------
16 pc Of Pak Punjab's Children Aged 6-16 Still Out Of School
February 12, 2014
Lahore—Despite the recent focus of the provincial government on enrolment drives as a rhetoric on Article 25 A, 16 percent of Punjab's children aged 6-16 still remain out of school, according to the Annual Status of Education Report –ASER 2013 National survey. The remaining 84% that are enrolled in the 6-16 age bracket are not learning much either.
These findings were made public in the provincial launch of Pakistan's largest-annual citizen-led household based ASER Survey 2013 – the fifth ASER Survey report in a row – launched in Lahore on 10th February 2014. The ASER 2013 survey has been conducted by 10,000 volunteers managed by Idara-e-Taleem-o-Aagahi (ITA) along with many key civil society /semi autonomous organizations that include the National Commission for Human Development (NCHD), Sindh Education Foundation (SEF), Democratic Commission for Human Development (DCHD), HANDS, NRSP and several civil society organizations across Pakistan.
The ASER survey findings for Punjab have been based on the testing of 59,092 children (including 44 per cent girls) by thousands of volunteer citizens, who personally visited 21,365 households in 1,074 villages as well as 3,542 children (including 47per cent girls) 1,339households in 67 blocks in urban areas of 4 districts across Punjab. For the year 2013, the ASER rural survey has been conducted in 36 rural districts in the Punjab, wherein 5-16 year age cohort children were tested for English, Language (Urdu/Sindhi/Pashto), and Arithmetic competencies.
The report aims to inform the progress or lack thereof with respect to Article 25 A of the constitution making education a fundamental right for 5-16 year old children since 2010. To date the implementation has yet to take place as both laws and rules remain in abeyance! In spite of public demand the state response at best continues to remain neutral to education as a basic need. Parliamentarians and Ministers made commitments to be held accountable as duty bearers – but they must walk the talk. They must decide between a future based on an educated Pakistan and a dead end that marginalizes learning and undervalues social capital. The narrative on education must change dramatically under the current democratic dispensation.
Released by the Chief Minister Punjab Shahbaz Shareef, the report states that the private sector is performing better than the government sector as far as the learning levels of children, student and teacher attendance are concerned. The survey reveals a clear- urban-rural divide, whereby urban areas perform better in terms of access and infrastructure facilities; however learning levels remain marginally better than rural areas with a high incidence of private tuitions in urban areas.
http://pakobserver.net/detailnews.asp?id=233178
--------------
URL: https://www.newageislam.com/islam,-women-and-feminism/new-age-islam-news-bureau/libyan-women-want-women's-supreme-council/d/35720