New Age Islam News Bureau
3 Jul 2013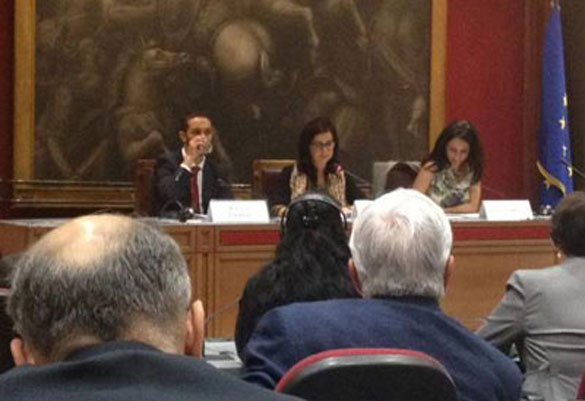 Photo: A moment of the conference on Arab Spring reconciliation processes
-----------
• 65% of Saudi women meet spouses online
• Businesswoman among first to file papers for JeddahCCI elections
• Filipina Woman executive convicted of embezzling Dh139,438
• Marriage-wrecker Mursi? Egyptian beats wife for mocking president
• Female beggars feel the heat in Riyadh
• Global Support, Women's Empowerment Are Keys to Countering Pakistani Terrorism
• Women's Crime Rate on the Rise in Uzbekistan
• Almost 100 Women Sexually Assaulted In Cairo: HRW
• Afghan Woman Fights for Women's Education
• '20m Unsafe Abortions Take Place in Pakistan Every Year'
• Jennifer Lopez Sparks Controversy with Show for Turkmenistan President
• Bollywood Star and SNP Political Hopeful Tasmina Reveals Joys of Ramadan Fasting
• Filipino moms asked to meet embassy staff for repatriation
Compiled by New Age Islam News Bureau
URL: https://www.newageislam.com/islam,-women-and-feminism/new-age-islam-news-bureau/libyan-woman-tells-of-rape,-torture-in-italian-chamber-of-deputies/d/12413
----------
Libyan Woman Tells Of Rape, Torture in Italian Chamber of Deputies
02 July, 2013
ROME- A Libyan woman who did not want her identity made public went before the Italian Chamber of Deputies Tuesday morning to speak as part of a conference on Arab Spring reconciliation processes.
With her face and body covered by the Niqab, the traditional Islamic attire leaving only the eyes visible, she spoke on condition of not revealing her identity, a request granted and aided by dimmed lights and video cameras switched off. She told of the rape, torture and electric shocks she was subjected to, causing her to miscarry and making her sterile. The conference dealt with the issue of rape as a weapon of war - a practice that continues in post-conflict countries, including in those of the Arab Spring uprisings of a still uncertain fate. The woman said that she had been arrested after she and some female friends were filmed by Al Jazeera while urging other female students to take to the streets in protest against Gaddafi. A few hours later her nightmare began. ''They arrested me and kept me nude the entire time. I was raped continually and subjected to electric shocks. I asked them to at least close the door while I was sleeping. I didn't see my female friends again, and my family said that if I hadn't started making statements nothing would have happened to me,'' she said. After the woman finished talking, she was given a long hug by Chamber Speaker Laura Boldrini, who in her opening remarks at the conference underscored that peace and reconciliation of populations torn apart by war can only be achieved through the truth, especially as concerns the widespread use of rape in conflict and post-conflict situations as a weapon of war - against not only women but also children and men. The perpetrators must be brought to justice, in order to bring the victims out into the light and allow them to shed the burden of shame inflicted on them by their communities. ''Remembering is a very painful exercise,'' Boldrini said.
''Not all victims are able to do so...But the stories can help to move towards the future, both for individuals and for communities and society. Only by telling the truth can peace and reconciliation be achieved.'' Boldrini noted the proposal under debate in Libya to grant rape victims the status of war victims, which would entitle them to financial compensation and assistance. Libyan National Congress Vice President Juma Ahmad Atiga announced that this law - held to be essential for Libya to move in a new direction - would soon be brought in. At the conference, organised in collaboration with the Ara Pacis Initiative and the Observatory for Gender in Crisis, the first Libyan witness to war crimes to speak was a father whose son had spent time in a Libyan prison, where he had been brutally tortured. ''My son had two of his fingers cut off and can no longer walk well. He's in terrible shape,'' said 'Hussein', who video-cameras were not allowed to film either. He told of the dozens of torture chambers in the regime's prisons where his son was hung up entirely nude, at the total mercy of his torturers. The conclusions of the conference were entrusted to Deputy Foreign Minister Marta Dassu', who considers women's role and security in Arab countries undergoing transformation to be decisive for the countries' future and to assess their level of democratic maturity. ''Silence was broken here, today,'' Dassu' said, ''thanks to the stories of the victims of violence in this chamber. The truth is essential, since without it there can be neither justice nor reconciliation.''
http://www.ansamed.info/ansamed/en/news/sections/politics/2013/07/02/Libyan-woman-tells-rape-torture-Chamber-Deputies_8964249.html
----------
65% of Saudi women meet spouses online
3 July 2013
A total of 65 percent of Saudi women meet their spouses on social networking sites, while only 35 percent resort to the traditional way of proposing with the consent of family members, a survey conducted by a local newspaper has found.
However, marriage brokers and consultants warn that girls and women face manipulation by insincere men, which could lead to quick divorces after marriage.
"It is usually not recommended, especially for girls, to find their spouses through social networking sites," says Marwan Hadi, a marriage consultant. "They might not see the harm in it now, but results have shown that the majority of such cases have failed."
Many young Saudis have recently turned to matchmaking websites to find partners.
According to a report earlier this year, there are more than 200 Twitter pages and dozens of other forums on the Internet offering services for Saudi men and women seeking spouses. This has angered traditional matchmakers.
"Finding a spouse online will totally ruin one's marital life, at least for girls," says Amra Shari, a marriage broker. "I have seen many such cases where the relationship between the man and his wife was not as happy as it could have been with the blessings of the parents."
Shari says that it is prohibited in Islam for a woman to have contact with a man until he becomes her mahram.
"Most children nowadays want independence from their parents," says Dr. Khalid Bahaziq, a family consultant and psychologist. "They are not interested in following traditions and agreeing to live with total strangers."
He says many young women say they want to fall in love and know more about their prospective partners before marriage.
Bahaziq recommends women looking for spouses online but says they should investigate the men they choose afterwards. "Online matchmaking sites are only the beginning; there is a lot to do after that."
He adds that women choose spouses online because meeting publicly could see them fall foul of the Commission for the Promotion of Virtue and Prevention of Vice.
"We cannot trust a man with a woman alone because even in Islam it says the third person is always the devil. My only advice is that they find them online but do a background check on their family values, manners and behavior."
http://www.arabnews.com/news/456895
---------
Businesswoman among first to file papers for JeddahCCI elections
3 July 2013
Businesswoman Maimuna Bafakeeh was the first to file the nomination papers for election to the board of the Jeddah Chamber of Commerce and Industry (JCCI). The elections are to be held in mid-September. Among businessmen, Ahmad Al-Dosari was the first to file his papers before the election committee.
Major industrialists and businesspersons are expected to file nomination papers in the coming days to contest the election. The last date for the filing of nomination papers is July 14.
Yahya Azzan, head of the committee supervising the elections, urged both male and female entrepreneurs who are eligible to contest to come forward and file their nomination papers. The election committee has three members: Abdullah Al-Hilali, Amer Al-Enzi and Ministry of Commerce and Industry's representative Faisal Al-Shaikh.
The qualification criteria stipulates that candidates should be Saudi, they should be members of the JCCI and not younger than 30 years of age (25 years if the candidate holds a bachelor's degree in business or industrial field). The minister of commerce has the power to decrease the term to one year for a holder of a college degree in business.
Muhieddeen Hakami, JCCI's deputy secretary-general, said all arrangements were made to ensure smooth conduct of the election process, and that there were 50,000 members who are eligible to vote.
"For the first time ever, the elections will be conducted via TV circuit and sorting and counting of votes will be done electronically," he said, adding that for the first time again, candidates can submit their nominations through the website.
The elections will be held at the Jeddah International Exhibition Center, Hakami said, and called on all JCCI members to update their personal and business data, and pay membership fees so that they can qualify for voting.
http://www.arabnews.com/news/456896
------------
Filipina Woman executive convicted of embezzling Dh139,438
Marie Nammour (mary@khaleejtimes.com) / 2 July 2013
An ex-Nakheel woman executive who fled to her home country after embezzling more than Dh139,438 worth of tenancy contract cheques, has been sentenced in absentia to three years in prison.
The 35-year-old Filipina, J.B., was based in the Nakheel-owned Dragon Mart when she embezzled the money. She was in charge of coordinating the tenancy contracts, meeting with shop tenants of Chinese nationality and collecting the cheques from them.
She helped the Chinese tenants issue the cheques in the name of her workplace. But she, along with a compatriot accomplice, 33-year-old J.T., embezzled four cheques which they forged to make J.T., who was an administrative secretary, the beneficiary. J.T. has also been given a three-year prison sentence.
The Court of First Instance also fined them Dh139,438 and ordered their deportation.
According to prosecution records, J.B. abused her post at the Dragon Mart administration and forged the blank cheques worth Dh139,438 and wrote J.T.'s name as the beneficiary.
And J.T. collected the forged cheques from the banks.
They were accused of embezzlement of public funds, forgery and use of forged documents and criminal complicity.
J.B.'s alleged wrongdoing ran from January to June, 2011.
An Emirati director of government relations in Nakheel, based at the Dragon Mart, said that J.B. had worked for them for three years. "In May 2011, she left her job and returned to her country on the pretext that her mother was sick."
After her departure, many tenants were served a notice for not settling their tenancy dues.
But when those tenants checked with the administration, it was known that they did have copies of the cheques they had issued to J.B. The cheques they had were stamped with the administration's seal. Through auditing, the administration learnt that J.B. had collected four cheques and kept them for herself instead of putting them in the company's record of revenues. The administration knew of J.T.'s part after contacting the banks on which the cheques were drawn and learnt that J.T. was named as a beneficiary.
http://www.khaleejtimes.com/nation/inside.asp?xfile=/data/crime/2013/July/crime_July2.xml&section=crime
------------
Marriage-wrecker Mursi? Egyptian beats wife for mocking president
2 July 2013
Not only is Mohammed Mursi's presidency proving divisive on Egypt's streets, the embattled leader is also sparking marital tiffs – of the violent kind.
An Egyptian woman has had enough of her husband, who she says has repeatedly beaten her for mocking the Islamist president.
Filing for divorce this week, the 31-year-old schoolteacher, who was not named by Egyptian press, told the court that her 35-year-old partner battered her on several occasions, for speaking about the embattled Egyptian president in a "disrespectful way."
The violence resulted in her often leaving home to stay with her parents, according to local media reports.
The husband confessed in court that his wife continually mocked Mursi.
"I cannot live with him anymore," said the woman, as quoted by Egypt-based al-Masry al-Youm. "We've been fighting over this for 8 months."
The couple has been married for 12 years.
This is not the first time that controversy over Egypt's president has resulted in domestic violence.
During last year's presidential elections, an Egyptian plumber in Alexandria beat his pregnant wife to death when he learned that she had not voted for Mursi.
The woman died on the way to hospital from sustained injuries.
The issue of domestic violence in the country dominated Egyptian news headlines during the election, when the bid fell on Islamist Mursi and former regime prime minister Ahmed Shafiq.
http://english.alarabiya.net/en/variety/2013/07/01/Marriage-wrecker-Mursi-Egyptian-beats-wife-for-mocking-president-.html
------------
Female beggars feel the heat in Riyadh
3 July 2013
RIYADH — Female beggars are indifferent to the heat, humidity or rain, as they roam the streets looking for benefactors in the same way they are indifferent to repeated warnings from the authorities that they could face punishment if they continue in the trade.
Their only concern is their children who have lost bread winners and are not content with the social security support they receive from the state, as it is barely enough to meet their basic needs.
The summer vacation and the approach of the holy month of Ramadan have witnessed an increase in the number of beggars on the streets.
Umm Mariam said she begs after Friday prayers to provide for her three daughters. She receives SR1,500 a month from the social security, but that is hardly enough to pay her rent, let alone other expenses.
Full report at:
http://www.saudigazette.com.sa/index.cfm?method=home.regcon&contentid=20130703172158
------------
Global support, women's empowerment are keys to countering Pakistani terrorism
By Kavya Sukumar
02 July, 2013
WASHINGTON -- Pakistan's efforts to combat terrorism are misunderstood by most of the world, leading to the misconception that radicalization there is something the country should deal with itself, a former Pakistani regional information minister said Monday.
Mossarat Qadeem, founder of Pakistan-based sociopolitical activism group Paiman Alumni Trust, appealed to the U.S. for sympathetic understanding in countering terrorism in Pakistan while speaking at an event on moderating extremism.
Qadeem, who is the former minister for information, education and social welfare in Pakistan's Khyber Pakhtunkhwa province, said terrorism is a global issue that is not isolated to Pakistan.
Full report at:
http://www.upi.com/Top_News/World-News/2013/07/01/Global-support-womens-empowerment-are-keys-to-countering-Pakistani-terrorism/4941372713057/
----------
Women's Crime Rate on the Rise in Uzbekistan
By Shakar Saadi
2013-07-02
TASHKENT – Kokand resident Jamilya Nazarova recently spent two years in prison for circulating banned religious literature.
Her husband had gone to Kazakhstan in search of work, she said, but he disappeared, leaving her to fend for herself.
After his disappearance, one of his distant acquaintances came and offered her money, food and clothes.
"She called it charitable assistance in God's name," Nazarova said of the outreach. "But after a while, she demanded full repayment."
"I found myself in a trap and had to repay the debt by circulating banned literature," Nazarova said.
Full report at:
http://centralasiaonline.com/en_GB/articles/caii/features/main/2013/07/02/feature-01
----------
Almost 100 women sexually assaulted in Cairo: HRW
July 03, 2013
CAIRO: Close to 100 women have fallen victim to "rampant" sexual attacks in Cairo's Tahrir Square during four days of protests against Egypt's Islamist President Mohamed Mursi, Human Rights Watch said on Wednesday.
"Mobs sexually assaulted and in some cases raped at least 91 women in Tahrir Square... amid a climate of impunity," HRW, which is based in New York, said in a statement.
It cited figures from the Egyptian Operation Anti-Sexual Harassment/Assault, which runs a hotline for victims of sexual assault, showing that there were 46 such attacks against women on Sunday, 17 on Monday and 23 on Tuesday.
Another women's rights group, Nazra for Feminist Studies, reported that there were another five attacks on Friday, said HRW.
Full report at:
http://dailystar.com.lb/News/Middle-East/2013/Jul-03/222403-almost-100-women-sexually-assaulted-in-cairo-hrw.ashx#ixzz0VR898xel
----------
Afghan Woman Fights for Women's Education
JULY 03, 2013
MICHEL MARTIN, HOST: Now we'd like to bring you the story of one young woman for whom going to school was literally an act of courage. Shabana Basij-Rasikh was six when the Taliban took over in Afghanistan. They made it illegal for girls to go to school. As a result, for years, Shabana and her sister put their lives on the line to go to a secret school in Kabul. Her persistence and bravery eventually led her to Middlebury College, where she graduated magna cum laude in 2010.
Now she's cofounder of the School of Leadership, Afghanistan, that's a nonprofit that helps young Afghan women access education around the world and jobs back in Afghanistan. And Shabana Basij-Rasikh is with us now from the Aspen Ideas Festival. Welcome, thank you so much for joining us, and congratulations on everything you've accomplished.
Full report at:
http://kuow.org/post/afghan-woman-fights-womens-education
----------
'20m Unsafe Abortions Take Place in Pakistan Every Year'
JULY 03, 2013
ISLAMABAD: Speakers at a seminar said on Monday that approximately 20 million unsafe abortions take place each year around the globe, posing a major threat to the lives of women.
Addressing a seminar on 'Safe Motherhood', they said that unsafe abortion was one of the major health problems in developing countries and a serious concern for women in their reproductive years.
"Around 13 percent of maternal deaths around the world are due to abortion," said Social Welfare District Officer Muhammad Shafiq, sharing his remarks during the seminar organised by Rahnuma-Family Planning Association of Pakistan (FPAP). He said that 95 percent of the abortions occurred in developing countries.
Full report at:
http://www.dailytimes.com.pk/default.asp?page=2013\07\02\story_2-7-2013_pg11_6
----------
Jennifer Lopez Sparks Controversy with Show for Turkmenistan President
Miriam Elder
JULY 03, 2013
The US pop star Jennifer Lopez has added to her long history of performing for unsavoury characters with a birthday concert for the president of Turkmenistan – a man accused of committing widespread human rights abuses while ruling over the hermit nation.
Human rights activists criticised the star, also known as JLo, for singing at the flashy southern resort of Avaza on Saturday night to mark the 56th birthday of Gurbanguly Berdymukhamedov, attended by a select group of officials, diplomats and executives.
With a shout of "Turkmenistan!", Lopez took to the stage to sing and dance her way through her biggest hits. At the end, she changed from a skimpy white dress into a long, traditional Turkmen outfit to sing Happy Birthday, Mr President.
Full report at:
http://www.guardian.co.uk/world/2013/jun/30/jennifer-lopez-performance-turkmenistan
----------
Bollywood Star and SNP Political Hopeful Tasmina Reveals Joys of Ramadan Fasting
2 Jul 2013
TASMINA, whose CV includes lawyer, actress and chairman of the Scottish Asian Women's Association, speaks about the positives of the Muslim period of fasting.
TASMINA AHMED-SHEIKH is a mother of four, a lawyer, actress, chairman of the Scottish Asian Women's Association, SNP women's officer, and is hoping to become Scotland's first Asian MEP.
Despite her busy life, as a practising Muslim she will next week celebrate Ramadan by abstaining from food and drink. She told Clare Johnston why she is looking forward to the 30-day fast.
EVERY day during this ninth month of the Islamic calendar, Muslims around the world will spend the hours of dawn till dusk in a fast, where no food or drink can be taken.
Full report at:
http://www.dailyrecord.co.uk/news/real-life/bollywood-star-snp-political-hopeful-2017044
-----------
Filipino moms asked to meet embassy staff for repatriation
3 July 2013
RIYADH — The Philippine Embassy has advised Filipino women with undocumented children to turn up at a field office at Riyadh's Umm Al-Hammam district for initial processing by the embassy staff and a subsequent interview by local officials.
Although the embassy started the processing of undocumented Filipino mothers and children who requested repatriation within the grace period on June 25 in coordination with the Saudi Interior Ministry, many of those who had registered with the embassy earlier failed to report at the field office on schedule, the embassy said in a press statement.
Full report at:
http://www.saudigazette.com.sa/index.cfm?method=home.regcon&contentid=20130703172160
----------
URL: https://www.newageislam.com/islam,-women-and-feminism/new-age-islam-news-bureau/libyan-woman-tells-of-rape,-torture-in-italian-chamber-of-deputies/d/12413