New Age Islam News Bureau
4 March 2013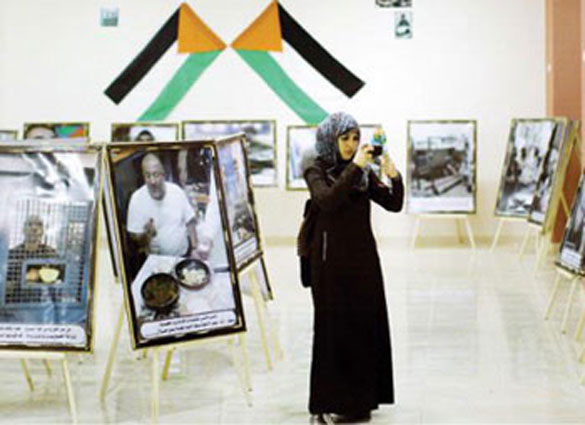 • Female Iranian Communists Organize Topless Protest against Hijabs in Swedish Capital
• Women's Empowerment Conference in Geneva Witnessed Intensified Presence
• I Have Got 75,000 Marriage Proposals, Looking For More Records: Veena Malik
• Acid Attack on Woman Who Exposed Bomb-Making Hubby
• Exhibition Showcasing the Life of Palestinian Prisoners' In Israel Jails
• Top Police General Married Teen Pageant Queen to Hide Ill-Gotten Booty
• Recreational Outlets for Women More Important Than Ever
• Tough Law Sees Acid Conviction Rate Triple in Pakistan
• Bias in Penal Code Puts Women and Girls in Danger in Morocco
• Iranian Female Lawmakers to Partake In UNCSW Meeting
• Rwanda: First Lady Urges Self-Respect
• Nigeria: Governor's Wife Donates Artificial Limbs to 39 Amputees
• Ten Years On What Happened To The Woman Who Revealed Dirty Tricks On The UN Iraq War Vote?
Compiled by New Age Islam News Bureau
Photo: Exhibition Showcasing the Life of Palestinian Prisoners' In Israel Jails
URL: https://newageislam.com/islam-women-feminism/liberian-women-battle-ex-grades/d/10632
------------------
Liberian Women Battle against 'Sex for Grades' At Universities
Female university students are mobilising to change a culture where academic success is often dependent on sexual favours
Liz Ford in Monrovia
Monday 4 March 2013
During her first few days at the University of Liberia, a male student asked Famata Adrekis if she was taking the "Sex 101" class. "I said: 'What do you mean?' I was shocked," says the fourth-year sociology student.
"Sex 101" was a reference to the expectation that female students will have sex with their male lecturers to get good grades or pass their degree courses. The practice is often referred to as "transactional sex" – sex for grades – and it's common not only in Liberian universities but also throughout sub-Saharan Africa.
A 2011 survey conducted by ActionAid in three Liberian universities found that about 85% of female students had been sexually harassed or involved in transactional sex while they studied. Some women said they were forced to keep repeating classes if they refused to have sex with their male lecturers. If a woman reported her lecturer and he was sacked, the teacher would often simply move to another institution, the survey revealed.
Adrekis is now involved in setting up a women's forum at her university. The forum will provide a safe space to report incidents, find support and lobby the university's student affairs office to take action against perpetrators. The forum will also seek to educate men about a woman's right not to be harassed. The forum met for the first time in February, following weeks of leaflet drops and awareness-raising among students.
"I'm trying to organise a women's forum so people are able to speak out," Adrekis said at a meeting of the forum's steering committee in Monrovia last month. "We will be talking to students about the issues affecting women at university and what is the way forward."
Aside from sex for grades, women interviewed by ActionAid spoke of routine harassment from male teachers including whistling, catcalling, and unwanted language and touching. They were often blamed for violence committed against them because of the way they dress. Poor campus facilities, such as a lack of lighting at night – despite late classes – made women feel unsafe at university.
"Sometimes classes run from 5pm to 8pm. I am more at risk leaving university at that time, but it's seen as my problem, not the University's," Amanda Doteh, another member of the forum steering committee, told the Guardian. Doteh recently graduated with a degree in social work from the University of Liberia, a state-run institution in the capital, Monrovia, that has a high proportion of students from poor backgrounds.
"Girls don't really have support," says Doteh. "If I say this [about abuse], who is going to defend me? The teacher is in a good position. Schools are not willing to let go of teachers for one of their students. Teachers have the advantage."
"Sometimes women feel intimidated taking their complaints to the [university] authorities," says Ernestine Ledlum, executive director of Women Care International Foundation, an NGO working with ActionAid to set up the women's forum. "The forum will discuss the issues and then, as a body, take up the issues with the authorities. We have to engage government and university authorities to ensure they put policies in place to protect women in school."
But change will be far from easy. Sexual harassment of young women and girls in education is common throughout sub-Saharan Africa. An ActionAid report, Destined to fail? (pdf), published in 2010, found that about 60 million girls and young women were sexually assaulted at, or on their way to and from, their place of study. Studies conducted in 2003 by the UK's Department for International Development in Zimbabwe, Ghana and Malawi found girls were routinely subject to sexual harassment and violence from male teachers and students as well as "sugar daddies" – older men who target girls and women with gifts and money in exchange for sex.
Elizabeth Gbah, programme manager for women's and girls' rights at ActionAid Liberia, says transactional sex is so entrenched in university life that it's a seemingly accepted practice. And tackling the problem is not helped by the fact that some women willingly choose to do it – knowing they are unlikely to pass their course if they don't "pay" for grades – or believe that this is how women get on in life. Gbah says girls grow up thinking they are inferior to men, and often don't feel able to articulate their concerns or fight back.
Although Liberia now has legislation outlawing rape, which carries the threat of life imprisonment, prosecution rates remain low. This is because women don't feel able to report crimes or, when they do, cases are not taken seriously by police. Liberia has not yet outlawed domestic violence. In her annual address in January, President Ellen Johnson Sirleaf called on parliament to work towards adopting a law to end all forms of gender violence.
Gbah says publication of the survey results in 2011 prompted heated debate in the media and fierce denials by universities that sexual harassment was happening on campus. But after talking to their students, all three institutions finally admitted there was a problem and agreed to tighten their guidelines "and see that they are women friendly", says Gbah.
However, Keturah Beyan-sie, a masters student at Cuttington University and a member of the women's forum steering committee, believes more needs to be done. She wants a national body established to oversee lecturers' behaviour. She says teachers should be given licences to teach – like doctors have in order to practise medicine – which can be revoked if they are involved in sexual harassment. Losing their licence would mean they could not get a job at another university.
"Students have said, 'Let's have a national organisation that will look at these things happening on university campuses and decide what to do with perpetrators.' The decisions should not lie with the university," she says.
http://www.guardian.co.uk/global-development/2013/mar/04/liberian-women-battle-sex-grades-universities
------------------
Female Iranian Communists Organize Topless Protest against Hijabs in Swedish Capital
March 04, 2013
The Iranian female activists have followed the footsteps of the scandalous Ukrainian FEMEN movement, flashing their breasts in protest against the Hijab headscarf, women wear in the Islamic world.
The action performed by members of the Iranian Communist Party and the Organization Against Violence on Women in Iran took place in the centre of the Swedish capital, Stockholm on Sunday, and was dedicated to International Women's Day, which is celebrated on March 8.
The women painted their bodies with slogans such as "My nudity is my protest" and "No to Hijab" and displayed pictures from anti-Islamic demonstrations by FEMEN.
The topless photos from Stockholm first appeared on FEMEN's official website, with members of the "sextremist" movement expressing their confidence that "in the historical battle 'woman v. Islam' women will win!"
The Ukrainian topless protesters have recently teamed up with Egyptian activist, Alia Al Mahdi, to attract public attention to "the threat of Islamisation of the Egyptian constitution and the introduction of [Mohamed] Morsi's Shariah Law", with the action being staged in front of the Egyptian embassy in the Swedish capital.
The FEMEN activists have become famous for organizing topless protests at major international public events in different countries against sex tourism, religious institutions, international marriage agencies, sexism and other social and international issues.
The movement quickly spread across the Ukrainian border as the group recently opened their new headquarter in Paris, promising offices in New York, Montreal and Sao Paulo as well.
http://rt.com/news/femen-iranian-topless-protest-stockholm-767/
------------------
Women's Empowerment Conference in Geneva Witnessed Intensified Presence
2 MARCH 2013
Chairwoman of the National Council for Women (NCW) Mervat el-Telawi said on Friday 01/03/2013 that she participated, upon a personal invitation sent to her, in the works of the high-level conference held recently in Geneva under the title of "Strength of Women Empowerment" on the sidelines of the meeting of 22nd session of the UN Human Rights Council.
Telawi pointed out that the conference aimed at promoting policies that work to achieve gender equality and women empowerment. She added that this conference was held upon an initiative by a number of ambassadors to the United Nations in Geneva, which was supported by the office of the United Nations High Commissioner for Human Rights.
NCW Chairwoman noted that the conference witnessed the exchange of expertise and experience in the field of women empowerment and gender equality.
She stressed that the conference witnessed the attending of a large number of women who achieved great successes at the local, regional or international levels in all economic, political, cultural, diplomatic and social fields.
http://allafrica.com/stories/201303030158.html
------------------
I Have Got 75,000 Marriage Proposals, Looking For More Records: Veena Malik
New Age Islam News Bureau
March 4, 2013
Karachi: Controversial Pakistani actress Veena Malik has said that she has the distinction of getting 75, 000 marriage proposals and will create more records in future. Recently she was in the news for getting 175 kisses on her hand but said the kisses were a part of her new film 'The city never sleeps". However, she says that in our society, kissing someone on the hand is a manifestation of love and affection and I feel proud because of the fact that so many people kissed my hand expressing their love and respect for me. She also said that very soon she was going to create another three or four records. Veena who has been criticised for her on screen kisses in Big Boss and her films interestingly said that she hates being kissed on screen. She also revealed that she started getting marriage proposals since the age of 12 and till now she had received a total of 75, 000 marriage proposals. Nevertheless, she is of the view that marriage is an ominous moment in a person's life.
------------
Acid attack on woman who exposed bomb-making hubby
ByPrashant Dayal, TNN | Mar 4, 2013
AHMEDABAD: Reshma Rangrez, a 32-year-old braveheart, who had exposed her husband Shehzad in July 2011 for making crude bombs, was attacked by her in-laws who threw acid on her.
Angry for sending their son to jail, Shehzad's parents often fought with her. Even as Danilimda police were investigating the complaint, the in-laws recently forced their way to her home near Bombay Hotel area of the city. "My in-laws burst into the house at 3.30am with a bottle. Before I could understand what was happening, they threw acid at me. My shrieks of pain alerted my neighbours who rushed to my help," she said.
Full report at:
http://timesofindia.indiatimes.com/city/ahmedabad/Acid-attack-on-woman-who-exposed-bomb-making-hubby/articleshow/18784704.cms
------------------
Exhibition Showcasing the Life of Palestinian Prisoners' In Israel Jails
March 04, 2013
A Palestinian woman Sunday visits a photography exhibition showcasing the life of Palestinian prisoners in Israeli jails in Gaza City. The exhibition presents a collection of leaked pictures showing Palestinian prisoners held in Israel. The death last week of Palestinian inmate Arafat Jaradat, 30, triggered several days of clashes between Palestinian demonstrators and Israeli soldiers in the West Bank that left dozens of Palestinians wounded.
http://www.saudigazette.com.sa/index.cfm?method=home.regcon&contentid=20130304155375
------------------
Top Police General Married Teen Pageant Queen to Hide Ill-Gotten Booty
Hans Nicholas Jong
March 04 2013
At a glance, the relationship between teen pageant queen Dipta Anindita and top police general Djoko Susilo, 48, might be described as naive gold digger meets dirty old man.
Dipta, a former Putri Solo, was only 19 when she married Djoko, who gave her a handsome Rp 15 billion (US$1.5 million) dowry.
However, as the Corruption Eradication Commission (KPK) digs deeper into the Djoko's case, investigators have found indications that his polygamous marriage to Dipta was aimed at covering up the wealth he allegedly illicitly amassed.
Full report at:
http://www.thejakartapost.com/news/2013/03/04/kpk-says-djoko-married-teen-hide-ill-gotten-booty.html
------------------
Recreational outlets for women more important than ever
SABRIA S. JAWHAR
4 March 2013
IN THE "hey-this-is-kinda-funny" category of newspaper reporting, the Saudi media published articles recently about Saudi women taking scuba diving lessons in the Red Sea and how they face the usual obstacles to practice their sport.
One reader remarked that there are more important issues facing Saudi women than whether they can scuba dive. Believe me, Dear Reader, I once agreed that the trivialities of swimming and driving cars pale in comparison to equal rights in domestic courts, obtaining employment and having the freedom not to have money a woman earns stolen by lay-about brothers and sons who have a sense of entitlement.
Full report at:
http://www.arabnews.com/columns/recreational-outlets-women-more-important-ever
------------------
Tough Law Sees Acid Conviction Rate Triple In Pakistan
March 4, 2013
ISLAMABAD: Few have much faith in the Pakistani courts, but campaigners say the conviction rate for acid attacks has tripled since tough new penalties were signed into law in late 2011.
Dozens of people, mostly women, but also men and children, are disfigured every year by one of the most brutal forms of domestic violence in a country where women are often treated as second-class citizens.
Full report at:
http://tribune.com.pk/story/515608/tough-law-sees-acid-conviction-rate-triple-in-pakistan/
------------------
Bias in Penal Code Puts Women and Girls in Danger in Morocco
1 MARCH 2013
In March 2012, Moroccan 16-year-old Amina Filali swallowed rat poison and killed herself, after being forced to marry the man she said had raped her.
Amina's tragic story was not uncommon in Morocco, where Article 475 of the Penal Code has allowed rapists to escape prosecution if they marry the victim.
But Amina's tragic end struck a cord in Moroccan society and the ensuing public outcry prompted the authorities to propose a change to the outrageous article in January 2013.
Human rights organizations including Amnesty International applauded the move but warned that many other articles of the Penal Code needed to be modified if women and girls were to be protected from violence and discrimination.
Full report at:
http://allafrica.com/stories/201303010609.html?viewall=1
------------------
Iranian Female Lawmakers to Partake In UNCSW Meeting
4 MARCH 2013
TEHRAN (FNA)- The Women's Fraction of the Iranian Parliament is slated to dispatch two female MPs to the UN Commission of the Status of Women (UNCSW).
The Iranian parliamentarian delegation will include members of Iranian Parliament Sakineh Omrani and Nayyereh Akhavan who will leave for New York later this week to attend the 57th session of UNCSW meeting at the UN headquarters.
Full report at:
http://english.farsnews.com/newstext.php?nn=9107149512
------------------
Rwanda: First Lady Urges Self-Respect
BY JEAN PIERRE BUCYENSENGE
3 MARCH 2013
THE FIRST LADY, Jeannette Kagame, has urged female students at the National University of Rwanda (NUR) to uphold Rwandan values and set out principles that will help them build a better future for themselves and the country in general.
Mrs Kagame, who is also the founder of Imbuto Foundation, made the remarks at the weekend while addressing first year female students at the Huye-based University.
The function, which is part of the Foundation's youth empowerment programme was themed: 'Begin with the end in mind'. The programme appeals to the young girls to start with clear understanding of where they want to go and make sure that every action they do contributes to that vision.
Full report at:
http://allafrica.com/stories/201303040361.html
------------------
Nigeria: Governor's Wife Donates Artificial Limbs to 39 Amputees
3 MARCH 2013
The wife of Kwara Governor, Mrs Omolewa Ahmed, has donated artificial limbs to 39 amputees in the state.
This is contained in a statement issued by her Chief Press Secretary, Mrs Funke Oludipe, in Ilorin on Sunday
Full report at:
http://allafrica.com/stories/201303030361.html
------------------
Ten Years On What Happened To The Woman Who Revealed Dirty Tricks On The UN Iraq War Vote?
In the runup to the critical vote on war in Iraq, Katharine Gun exposed a US plot to spy on the UN. As a film of her story is planned, she tells of her anger and frustration – but not her regrets
Martin Bright
3 March 2013
Ten years ago, a young Mandarin specialist at GCHQ, the government's surveillance centre in Cheltenham, did something extraordinary. Katharine Gun, a shy and studious 28-year-old who spent her days listening in to obscure Chinese intercepts, decided to tell the world about a secret plan by the US government to spy on the United Nations.
She had received an email in her inbox asking her and her colleagues to help in a vast intelligence "surge" designed to secure a UN resolution to send troops into Iraq. She was horrified and leaked the email to the Observer. As a result of the story the paper published 10 years ago this weekend, she was arrested, lost her job and faced trial under the Official Secrets Act.
Full report at:
http://www.guardian.co.uk/world/2013/mar/03/katharine-gun-iraq-war-whistleblower
------------------
URL: https://newageislam.com/islam-women-feminism/liberian-women-battle-ex-grades/d/10632