New Age Islam News Bureau
6 Apr 2018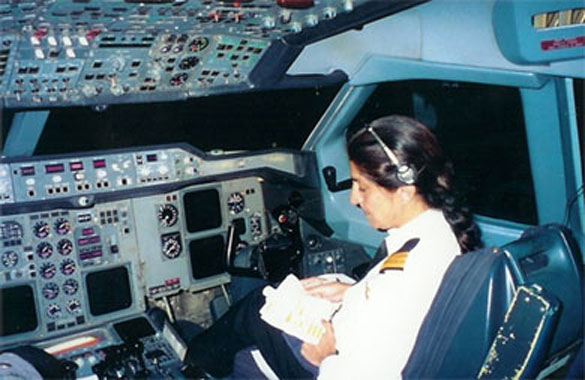 The Lahore High Court (LHC) on Thursday ordered the Pakistan International Airlines (PIA) to allot 10 per cent of the recruiting quota to female pilots
-----
• Qatar Introduces National Military Service for Women
• Muslim Woman Fights for Greater Participation of Females In Sports
• Saudi Arabia Set To Host Its First Fashion Week
• Women Lead Push For Rights in Bangla Fashion Factories
• Seven Sudan Women Linked To Daesh Return Home
• Strong and Brave Women of Iran Will Achieve Democracy – Sonia Hornery
• Iran: 1.8 Million Women Declared Illiterate
• Malaysian Woman, Fighting With IS In Syria, Wants To Come Home: Police
• 25 Women Killed In Turkey In March: Women's Rights Group
Compiled by New Age Islam News Bureau
URL: https://www.newageislam.com/islam-women-feminism/lhc-orders-pia-ensure-10/d/114845
--------
LHC Orders PIA To Ensure 10 Percent Quota For Female Pilots
Apr 6, 2018
LAHORE: The Lahore High Court (LHC) on Thursday ordered the Pakistan International Airlines (PIA) to allot 10 per cent of the recruiting quota to female pilots.
The decision has come in lieu of an aspiring pilot, Komal Zafar's petition in the LHC which accused the national airline of disregarding the female quota in its advertisement regarding fresh recruitments and termed it "unconstitutional".
The petition was made last month and was accepted by LHC judge Farrukh Farhan Khan, who had then issued a stay order on the recruitment process on March 16 until a final ruling was passed.
On Thursday, Komal's lawyer had apprised the court that PIA is still hiring new recruits without allocating any quota to female applicants, ignoring the court's stay order.
He further appealed to the court to charge the national airline officials with contempt of court for insubordination to the court.
Justice Khan concluded the hearing by once again ordering the PIA recruitment manager to include 10 per cent quota for women and added that the process will have to be started from square one.
https://www.pakistantoday.com.pk/2018/04/05/pia-ordered-to-include-10pc-female-quota-while-recruiting-pilots-by-lhc/
--------
Qatar introduces national military service for women
Apr 6, 2018
Qatar's emir has signed off on a law enabling women to do voluntary military service and extending the service for men for as long as one year.
The official Qatar News Agency said the legislation, which was endorsed by Emir Tamim bin Hamad Al Thani on Thursday, men and women aged between 18 and 35.
Under the law, "national service for females is voluntary."
It is the first time women are allowed to take up roles in the military beyond administrative duties.
Under previous legislation, Qatari men holding a bachelor's degree could complete the service in three months and those without one had to serve for four months.
The new law, however, makes the one-year-long military service for all men mandatory regardless of their level of education.
Men have to report themselves for draft within 60 days of turning 18 or face a jail term reaching a maximum of three years and a fine of up to 50,000 Qatari riyals ($13,700).
The new law comes amid a diplomatic crisis pitting a Saud-led quartet of states against Qatar.
Persian Gulf tensions
The quartet – Saudi Arabia, Bahrain, the United Arab Emirates and Egypt -- cut their diplomatic ties with Qatar and imposed an economic blockade on the country last June, accusing it of sponsoring "terrorism" and destabilizing the region. Doha rejects the claims.
Since then, Qatar has been stepping up military cooperation with Turkey, which has backed Doha in the standoff, signing several military agreements with other countries and parties, including NATO and the European Union.
Taking advantage of the tensions, Washington has also increased its arms sales to both sides, holding separate joint drills with the parties to the conflict in the strategic Persian Gulf waters.
Qatar and Saudi Arabia have also turned to Russia for the purchase of S-400 missile defense systems amid the tensions.
In recent months, Qatar and the UAE, which has adopted a tougher line against Doha, have exchanged accusations of airspace violations and even taken their claims to the United Nations.
Last October, Qatar's former deputy prime minister Abdullah bin Hamad al-Attiyah told the Spanish daily ABC that the UAE had planned a military invasion of Qatar with thousands of US-trained mercenaries, but failed to secure Washington's support.
http://www.presstv.com/Detail/2018/04/06/557575/Qatar-military-service
--------
Muslim Woman Fights for Greater Participation of Females In Sports
By News Desk
April 5, 2018
Soon after Ibtihaj Muhammad became the first ever American to compete in the Olympics in a hijab, another star awaits to shine.
Ali Najeeullah, known as Dr Ali, the fitness doc is a rising personification of a strong Muslim woman who possesses the power to compete with their head held high. She is a fitness trainer, a science teacher and an author currently based in Baltimore, Huffington Post reported.
Against all odds: First-ever sports festival for women gets under way in Mohmand
She also made the first all Muslims Ragnar Relay happen, leading 12 women in a 200-mile nonstop race. A participant in three full marathons and 14 half ones, Dr Ali discussed her future aspirations and the significance of her ventures. The Rangar Relay, as Dr Ali explained to Huffington Post, aimed to demonstrate how being born in the same land establishes a basic sense of similarity in any race, be it American or Muslim American.
Answering a question, she elaborated on the spiritual bond she shared with each participant of the Rangnar Relay. A group of strong women going against the conventional notions of society while still maintaining their modesty, she saw, invoked inspiration in those who once hesitated before pursuing an athletic career.
The race had quite a high number of married women and mothers which, she said, showed that it was, in fact, the attire that kept females from participating from a young age. Sports gear of any sort tends to be insubstantial in fulfilling the modesty requirements for any Muslim female, the expansion of which has now made it possible for women from all races to take part. Now even as spouses and mothers, they aren't only representing themselves but also fulfilling their dreams they once hesitated to pursue.
Dr Ali found it essential for women to be able to identify with those they derive inspiration from, saying: 'Once you see someone out there running who is still maintaining modesty and is Muslim, it's like, 'Oh, she can do this, I can do it too.'
Running, she said, fosters a sense of freedom in her. She saw it as a way to energise herself before her daily tasks as a teacher, wife and mother of three engulf her.
https://tribune.com.pk/story/1678128/9-muslim-woman-fights-greater-participation-females-sports/
--------
Saudi Arabia set to host its first fashion week
April 6, 2018
London: Saudi Arabia will host its first fashion week from April 10 to April which will take place at the Ritz Cartlon in Riyadh.
The four-day event will feature local Arab designers and European brand names including Roberto Cavalli and Jean Paul Gaultier.
"Since the initial announcement made in February, Arab Fashion Week Riyadh has garnered significant interest from international guests wanting to attend," said Layla Issa Abuzaid, the country director for Saudi Arabia at the Arab Fashion Council, the Dubai nonprofit responsible for the event.
Originally supposed to be held in February the event was postponed "to accommodate all the international guests who had applied to attend," said Jacob Abrian, the chief executive of the Arab Fashion Council. "We are extremely thankful for all the trust and support that we have received to make it happen."
The high-profile, high-stakes plan for a first fashion week in Saudi Arabia, unthinkable even two years ago, comes at a time of groundbreaking reform in the country, led by Crown Prince Mohammad Bin Salman.
Saudi Arabia is trying to shift away from a reliance on oil and gas revenues and is repositioning itself as a dynamic place for business, hospitality and leisure.
Saudi officials have gone to great lengths of late to spotlight promises by the crown prince to let women drive and play a greater role in the country's work force; to expand entertainment opportunities; and to encourage foreign investment.
Change, they say, is in the air.
Arab Fashion Week Riyadh, at which shows will be held in the evening for women-only audiences, will come at a time when women have more access than ever to public arts and entertainment: In January, female fans were welcomed into soccer stadiums for the first time, and a decades-long ban on cinemas was lifted in December.
Now the Arab Fashion Council, which opened its regional office in Riyadh in December, plans to position Saudi Arabia as a hub for an emerging regional fashion industry, appointing Princess Noura Bint Faisal al-Saud as its honorary president.
Recently it also forged an alliance with the British Fashion Council to provide support in establishing a sustainable infrastructure for the fashion industry in the Middle East and the 22 countries of the Arab League.
"The first Arab Fashion Week in Riyadh will be more than a world-class event," Ms. Issa Abuzaid said when the project was announced.
"It is a catalyst through which we believe the fashion sector will lead other economic sectors such as tourism, hospitality, travel and trade. Our retail sector is among the fastest growing in the world."
Fashion shows in Riyadh will come at a time when Saudi Arabia's rules constraining the attire of women outside their homes are showing signs of relaxing.
In an interview with "60 Minutes" on CBS this month, the crown prince said that women should be able to choose what they wear and the traditional black abaya—loose-fitting garment—was "not necessary".
"The laws are very clear and stipulated in the laws of Shariah (Islamic law): that women wear decent, respectful clothing, like men," Prince Mohammad said.
"This, however, does not particularly specify a black abaya or a black head cover," he added.
"The decision is entirely left for women to decide what type of decent and respectful attire she chooses to wear."
http://gulfnews.com/news/gulf/saudi-arabia/saudi-arabia-set-to-host-its-first-fashion-week-1.2197779
--------
Women lead push for rights in Bangla fashion factories
By Anuradha Nagaraj
Apr 6, 2018
WHEN Ayesha Akhter walks into the factory where she works, the supervisor greets her with a smile and wishes her a pleasant day — a major change after years of physical and verbal abuse from managers in Bangladesh's $28 billion garment industry.
The seamstress said it is her biggest victory since being elected president in October of the workers' union at Jeans Factory Limited in Dhaka, amid a push to improve conditions across the global fashion supply chain.
"In all these years, I have heard supervisors yell, verbally abuse, call us prostitutes and slap us behind our heads to work faster," Akhter, who spends eight hours a day stitching pockets on jeans and shorts, told the Thomson Reuters Foundation.
"Then I became the union president and everything changed. Overnight, I became important."
Akhter, 28, is among scores of women in Bangladesh standing up to head unions and negotiate with male-dominated management for more pay, safer workplaces and respect on the job.
Bangladesh is the world's second-largest garment exporter with some 4 million people working in its 4,000-plus factories, nearly 80 percent of them women, campaigners say.
Poor working conditions and low wages have long been a concern in the sector, which suffered one of the worst industrial accidents in 2013, when more than 1,100 people were killed in the collapse of the Rana Plaza complex.
Garment factory workers attempting to set up unions have encountered resistance across the region, with many losing their jobs or being suspended by managements that fear the power of unions, leaders said.
"Freedom of association and collective bargaining are the biggest challenges the industry faces today," said Nazma Akhter, a former child worker and founder of Awaj Foundation, which campaigns for labor rights.
"Without that power, workers are just surviving, not leading normal lives, and it's almost a crime."
Five years after Rana Plaza, one of the region's strongest movements to organize workers and help them exercise collective bargaining has emerged — led by Bengali women.
The number of registered unions in Bangladesh has increased about fivefold to almost 500 since 2013, according to Jennifer Kuhlman of US-based workers' rights charity Solidarity Center.
"Many of them are being headed by young, dynamic women who are choosing to lead from the front to bring about change," said Kuhlman, who heads its Bangladesh programs.
Campaigners estimate that women make up about half of the new factory union leaders.
Although women said their newfound union power had opened their eyes to their rights — from social security benefits to overtime — they fear losing their jobs.
Akhter remembers the "big fight" she had with her husband when she said she was considering standing for president.
"He was mad and upset and clearly told me not to," said the mother of two. "He was scared and worried about my safety. He relented but we always worry because of what we see and hear."
It was easy to unionize immediately after the Rana Plaza disaster but activists are now being harassed, workers fired and union meetings disrupted, said Babul Akhter, president of the Bangladesh Garment and Industrial Workers Federation.
"It is difficult and workers are facing a tough time," said Akhter, whose organization supports workers across 52 unionized factories. — Thomson Reuters Foundation
http://www.saudigazette.com.sa/article/532087/World/Asia/Women-lead-push-for-rights-in-Bangla-fashion-factories
--------
Seven Sudan women linked to Daesh return home
April 5, 2018
Cairo: Ten young Sudanese nationals linked to the terrorist Daesh group had returned late Wednesday from neighbouring Libya, a Sudanese security official has said.
The returnees included seven women, two children and a man, Brigadier Al Tijani Ebrahim, an official in the Sudanese anti-terrorism agency, added at a press conference.
They were flown home aboard a Turkish airway flight that arrived at the Khartoum airport late Wednesday.
Ebrahim said that the returnees will attend ideological courses in order to determine the motives that prompted them to join the militant group.
The repatriation of the 10 people came in coordination with Libyan security authorities after they had been found in the coastal city of Sirte, a former Daesh stronghold in Libya, according to the official.
In 2015, the Sudanese Interior Ministry estimated that around 70 Sudanese citizens had joined Daesh in Libya and Syria, although the figure is believed to be far higher.
"The [anti-terrorism] agency has received directives from presidency to retrieve all Sudanese from battlefields in Syria and Libya," Ebrahim said.
Two of the 10 returnees included twins Manar and Abrar Abdul Salam, who are believed to have left Khartum in August 2015 aboard a flight heading to Istanbul via Sharjah.
Daesh terrorists have in recent months suffered military setbacks in Libya, Syria and Iraq where they once declared a self-styled Islamic caliphate.
http://gulfnews.com/news/mena/sudan/seven-sudan-women-linked-to-daesh-return-home-1.2200429
--------
Strong and brave women of Iran will achieve democracy – Sonia Hornery
05 April 2018
Sonia Hornery, Member of Parliament from Australia
Remarks at IWD conference on "Women Force for Change, Iran Uprising and Women's Role"
Paris – February 17, 2018
A big Australian good day to Madam Rajavi and all my sisters and brothers, here today.
It's wonderful to be standing here on a stage surrounded by women. That's very heartening and I love it.
For several decades, a struggle for women's rights has been ongoing. And when much has been achieved, especially in our Western democracies --although there is much to be done-- it's heartening of course that in Australia, we were one of the first countries in the world --after our New Zealand counterparts-- to have women achieve the vote.
Isn't it wonderful that recently in New Zealand we have a wonderful new female Prime Minister?
It's always heartening also to see that I'm surrounded by women who have leaders in great democracies, who are democratically elected leaders who are women, just like we want to see, and we know that we'll see, our dear Madam Rajavi elected, too.
But when it comes to Iran sisters since 1979, their progress has been reversed. In fact, today, Iranian women don't have the same freedoms that our Western democracies share. Why is it then that in Iran, women's testimony is only half that of men? Why?
Why is it that women can't choose in Iran what they choose to wear and what they want to wear?
But I know that our Iran sisters are strong and brave, and I know that they will achieve much in a quest for democracy.
And it's about our international countries, our Australian democracy and our Australian leadership, that we must help our counterparts in Iran to achieve democracy and to achieve equal rights for women.
And I want to acknowledge that you, Madam Rajavi, have done so much to provide equality and hope for women. We'll celebrate this very soon for the rest of the world. I'm confident, of course, that our Iranian sisters, especially with the leadership of Madam Rajavi, can achieve equality for all women for International Women's Day. Thank you.
http://www.women.ncr-iran.org/speeches/4935-strong-and-brave-women-of-iran-will-achieve-democracy-sonia-hornery
--------
Iran: 1.8 million women declared illiterate
02 April 2018
There are 1.8 million Iranian women between 10 and 49 years of age who are illiterate. Evidence indicate, however, that the actual number is much higher.
In an interview published by the state media, Ali Bagherzadeh, deputy Minister of Education and head of the Literacy Movement Organization, announced, "There are some 2.7 million illiterates between 10 and 49 years of age in Iran, nearly 1.8 million of whom are women."
The official said there is an equal number of illiterates in Iranian cities and villages, however, the correlation of illiterate women in villages is higher than the cities. (The state-run ILNA news agency, March 31, 2018)
In some Iranian provinces, the per centage of illiteracy is over 30 per cent and a considerable number of children under 17 do not have the opportunity to continue their education. The parents of most of these children are illiterate, themselves, and there is a meaningful correlation between the level of education of parents and children who drop out of school.
The number of girls dropping out of school in western Khuzistan and other cities on the Iran-Iraq border is alarming.
The provinces of Sistan and Baluchistan, Khuzistan, West Azerbaijan and East Azerbaijan top the list with regards to illiteracy of girl children.
Poverty of families and not affording to pay for their children's education, children's participation in the family's economic activities, cultural problems, seasonal immigrations, not having a registered birth certificate, are among the reasons children are deprived of going to school. These reasons are more acceptable among families when it gets to girls.
In some provinces, early marriages prevent girls from continuing their education and many families need their daughters to help them in earning the family's income.
Mixed-gender high school classes are also among the reasons girls have to quit school in some regions.
According to a report published in 2015 by the presidential Directorate on Women and Family Affairs, the illiteracy of women and girls in Iran is alarming and the situation is critical in some 40 cities.
According to Principle 30 of the Iranian Constitution, "The government is obliged to provide free elementary and high school education for all members of the nation and facilitate free higher education for all until the country is self-sufficient."
http://women.ncr-iran.org/iran-women-news/4916-iran-1-8-million-women-declared-illiterate
--------
Malaysian woman, fighting with IS in Syria, wants to come home: Police
By OMAR OSMAN
April 5, 2018
SUNGAI PETANI: A Malaysian woman, in her 30s, believed to be a member of the Islamic State militant group, is seeking the police's help to bring her and her four children home.
Federal police's Counter-Terrorism Division principal assistant director Datuk Ayob Khan Mydin Pitchay said the woman's father had contacted Bukit Aman and told police about his daughter's intention to return to Malaysia.
He said the woman contacted her father more than a week ago, claiming that she and her four children were detained at a camp in Syria while her husband, an IS fighter, is being held by the YPG (Kurdish Militia People's Protection Unit) rebels.
"This is the first time we receive such information and the woman is the only one so far had contacted her family for help.
"Checks showed she and her husband had entered Syria in 2015 and they were among the 53 Malaysians who are still in the country.
"From that number, 24 of them are men, 12 are women, followed by nine boys and eight girls," he told reporters after attending the Institut Perguruan Sultan Abdul Halim (IPSAH) Integrity Day here today.
He said based on the information, Bukit Aman is gathering more information on the matter and will look into ways of bringing them home.
Ayob said police have also received information from an international human rights body in the area that a woman, believed to be either a Malaysian or an Indonesian national, was detained at the Al-Qul camp in Syria with her children.
"We believe the information could be correct," he said.
Ayob said for the time being, it would be difficult to bring the woman and her children out of Syria as the country is being controlled by different militant groups including Al-Qaeda, IS and others.
He added that police have also received information that many Malaysians, involved in militant activities there, are planning to return home.
https://www.nst.com.my/news/crime-courts/2018/04/353548/malaysian-woman-fighting-syria-wants-come-home-police
--------
25 women killed in Turkey in March: Women's rights group
April 05 2018
A total of 25 women were killed in Turkey in March, according to a new report released by the country's We Will Stop Femicides Platform.
The women's rights organization stated that the number of women killed in February was 47.
The province of Istanbul had the highest number of femicide incidents in March, followed by the Mediterranean province of Antalya and the capital Ankara.
According to data provided by the platform, 11 out of 25 cases were "suspicious deaths," while eight of the women were "murdered for taking decisions regarding their own lives."
The report underlined that more than half of the women killed in March were aged between 36 and 65.
The report also stated that cases of child abuse and sexual assault continued in March, with at least 28 women reported to have been exposed to sexual assault.
Among the most striking incidents of March were the reports of 186 underage pregnant girls having been treated in the northwestern province of Edirne in 2017.
In 2017, a total of 409 women were killed and 387 children were reported as having been sexually abused in Turkey, according to data compiled by the same group.
On March 8 thousands of women flocked to central Istanbul for this year's International Women's Day demonstration, demanding greater women's rights and denouncing violence against women.
http://www.hurriyetdailynews.com/25-women-killed-in-turkey-in-march-womens-rights-group-129828
--------
URL: https://www.newageislam.com/islam-women-feminism/lhc-orders-pia-ensure-10/d/114845
New Age Islam, Islam Online, Islamic Website, African Muslim News, Arab World News, South Asia News, Indian Muslim News, World Muslim News, Women in Islam, Islamic Feminism, Arab Women, Women In Arab, Islamophobia in America, Muslim Women in West, Islam Women and Feminism