New Age Islam News Bureau
5 Nov 2012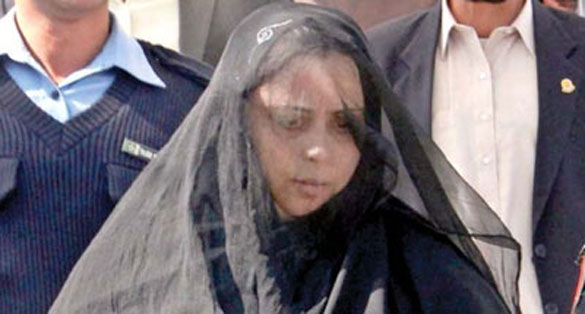 • Saudi Courts to Look Into 3,124 Women Harassment Cases
• Housewife Murdered, Acid Attack on Another in Bangladesh
• Love Marriage in Pakistan: Man Kidnaps Daughter, Kills Her Father-In-Law
• Pakistan Girl 'Fated' To Die in Acid Attack: Mother
• Waheeda Shah PPP leader slapped with two-year ban
• Empowerment Initiative: A First for SAARC Women Parliamentarians
• Saudi Gold Traders Refuse Employment of Women
• Women Gain Ground As Activists, but Some Question the Extent of Progress in Yemen
• Lahore's Woman Artists Bring 93 Masterpieces to Nairang Art Gallery
• Malala's Reconstructive Surgery in UAE
• Palestinian Businesswomen Finding Their Own Solutions
• Somalia Forms New Govt, Woman Named Foreign Minister: Official
• Nigeria: Exploiting Young Girls
Compiled by New Age Islam News Bureau
Photo: Waheeda Shah PPP leader slapped with two-year ban
URL: https://newageislam.com/islam-women-feminism/legislators-divided-readmitting-mother-students/d/9198
--------------
Legislators Divided Over Readmitting 'Mother' Students
5 NOVEMBER 2012
MEMBERS of Parliament have been divided over the issue of reinstating girls who have dropped out of school due to pregnancy after they give birth.
A cross-section of legislators has proposed that the girls be allowed to continue with their studies after delivery but others were against the idea because it will encourage teenage pregnancies.
The current education does not allow for girls in primary and secondary schools to return to school after they drop out to give birth.
Former Minister for Gender, Children and Social Development, Mrs Margaret Sitta (Special Seats-CCM) was among the MPs who were vocal in supporting the idea, saying most of the girls are from poor families and therefore they should be accorded an opportunity to complete their education.
"Most of these girls hail from poor families and they study in difficult conditions," an emotionally charged Mrs Sitta, also Chairperson of the Parliamentary Committee on Community Development, said. Adding; "The case is different for girls from affluent families who are enrolled in private schools and continue from where they left. We should not blame the girls because what they undergo is due to problems in our societies."
She attributed incidences of early pregnancies for girls in schools to hardships they encounter while studying as well as inducements from some irresponsible men. The MP, who was also at one time the Minister for Education and Vocational Training, gave her views during a workshop on gender concepts and its importance for women development and empowerment, facilitated by the United Nations Development Programme (UNDP).
She was eager for an education policy that would allow the girls to be allowed re-entry into schools, noting that there are a number of countries in Africa which allow girls to continue with education after delivering. She observed that a commission chaired by then Deputy Minister for Education and Vocational Training, Ms Mwamtumu Mahiza, formed to examine the matter had recommended that the girls should be allowed back to classrooms but only after a policy is in place.
Speaking earlier, the Minister for Gender, Children and Social Development, Ms Sophia Simba, was however contradictory while making contributions at the workshop when she stated that teachers who were interviewed by the commission were against the idea."According to feedback from the commission, teachers said they could not teach children-mothers, however the government is still considering readmitting the girls to schools. However, as we speak the matter is now under the Ministry of Education and Vocational Training," she said.
Special Seats MP, Ms Suzan Lyimo (CHADEMA), also supported the idea, saying women have historically been denied access to education. However, in a varying school of thought, Nkenge MP, Ms Assumpter Mshama, suggested that girls who get pregnant while in school should not be re-admitted and study in same classes with those who are yet to undergo the same experience.
"I suggest an alternative training and education for girls with child/children, we will not be fair by mixing them in the same class," she charged. Deputy Chairperson of the Parliamentary Committee on Social Services, Mr Juma Nkamia (Kondoa South- CCM), who chaired proceedings at the workshop, said the subject was very sensitive and needed to be addressed in a broad spectrum.
The workshop was attended by MPs from about six standing parliamentary committees and it is part of Legislature Support Project 2011-2015, implemented by the Parliament of Tanzania supported by UNDP.
http://allafrica.com/stories/201211050157.html
--------------
Saudi Courts to look into 3,124 women harassment cases
Riyadh tops infamous women harassment list
By Habib Toumi
November 5, 2012
Manama: More than 3,100 cases of women harassment have been recorded in Saudi Arabia in 2012, a local daily said.
Saudi nationals were involved in 1,696 of the 3,124 cases (59.9 per cent) while foreigners were implicated in the other 1,128 cases (39.9 per cent), Al Sharq reported on Monday.
The report said that 12 foreign nationalities were involved in the harassment cases and that most cases were filed against Yemenis. The lowest number of cases was filed against nationals from Lebanon and Sri Lanka.
The Saudi capital Riyadh topped the infamous list with 700 cases, well ahead of the Red Sea resort of Jeddah with 300 cases.
Saudi Arabia has a plethora of shopping malls and reports indicate that most harassment cases occur in these complexes.
http://gulfnews.com/news/gulf/saudi-arabia/saudi-courts-to-look-into-3-124-harassment-cases-1.1098388
--------------
Housewife Murdered, Acid Attack on Another in Bangladesh
November 4, 2012
A housewife was murdered while another was hurled acid allegedly by husbands in Chuadanga and Magura districts on Friday and on the previous day.
A woman was killed allegedly by her husband for dowry in Boldiya village under Shankorchandra union in Chuadanga Sadar upazila on Friday night.
The deceased was identified as Momotaj, 30, daughter of Moyruddin and wife of Abdullah of the village, reports a correspondent.
Victim's mother Sahida Khatun said Momotaj was married off to Abdullah, son of Motleb Ali Mondol of Phulbariy village of the upazila eight years back.
During the marriage, Abdullah was given Tk 2 lakh and other goods as dowry. But recently Abdullah demanded Tk one lakh more and often tortured Momtaj for the money.
On the fateful day, Abdullah locked in an altercation with Momtaj in the evening over the issue and at one stage he and his family members poured poison into her mouth.
Later Momtaj was rushed to Chuadanga Sadar Hospital where she died at night at 9pm.
In Magura, a housewife sustained severe burn injuries in an acid attack allegedly by her husband at Amalsar village in Sreepur upazila on Thursday night, reports UNB.
The victim was identified as Aklima Begam, 47, daughter of Afazal Sheikh of the village.
Family sources said, Kalam Joardar, 58, son of Ekdel Joaraer of Kudla village of the same upazila, married Aklima long ago.
Police said the couple used to quarrel over extramarital affairs of Kalam.
At one stage, Aklima went back to her father's house.
On Thursday night, Kalam to the house and threw acid on Akima's body, leaving her seriously injured.
Hearing her cry for help, local people rescued her and took her to Sadar Hospital.
Kalam went into hiding after the incident.
http://www.thedailystar.net/newDesign/news-details.php?nid=256105
--------------
Love Marriage in Pakistan: Man Kidnaps Daughter, Kills Her Father-In-Law
November 5, 2012
MULTAN: A man killed his daughter's father-in-law, shot and injured his son-in-law and took away his daughter from her home on Saturday. His three-month-old grandson was also injured in the event. Police have arrested one of the suspects named in the FIR.
Police said that the main suspect, Ghulam Muhammad Noon, broke into his daughter's home to take her away with him. When her husband, Rab Nawaz, and father-in-law, Muhammad Yaqoob, tried to stop him, he and his men shot at them killing Yaqoob on the spot. He also tried to snatch his three-year-old grandson, Faheem, but abandoned him when he heard the police approach. Police said they were called by some neighbours who heard the gunshots.
Rab Nawaz and the baby were taken to a rural health centre in Luddan, from where doctors referred them to the district headquarters hospital in Vehari.
Doctors treating the two at the DHQ hospital later said that they were now out of danger and discharged them a few hours later.
An FIR was registered against Noon and his accomplices for murder and kidnap. Rab Nawaz also asked police to recover his wife from his father-in-law's custody.
He later protested in front of the district police office in Vehari demanding immediate arrest of the assailants and his wife's recovery. His family and some residents of the area joined him in the protest.
Talking to The Express Tribune, Rab Nawaz said that he had wanted to marry Noon's daughter, Najma. He said his sister, Kulsoom, was married to Noon's son, Sarfaraz, in 2011 on the understanding that Noon will allow him to marry Najma. However, he said, Noon later backed out from the commitment.
He said Safaraz divorced Kulsoom after Najma married him without her family's consent and demanded that Najma be returned. He said Sarfaraz and his father had been harassing them for a year. On Saturday, he said, Noon, Sarfaraz and their accomplices broke into their house and killed his father, shot him injured and took away Najma. He said their son was also injured.
DPO Shakir Hussain Dawar told The Express Tribune that police were looking for the suspects that remained at large.
He threatened to suspend the investigation officers and the station house officer unless they were arrested in two days. Rab Nawaz said he would stage a protest in front of the IG's office in Lahore if his wife was not recovered in two days.
http://tribune.com.pk/story/460751/love-marriage-man-kidnaps-daughter-kills-her-father-in-law/
--------------
Pakistan Girl 'Fated' To Die in Acid Attack: Mother
November 05, 2012
ISLAMABAD: A Pakistani mother who killed her teenage daughter by dousing her with acid for looking at a boy has told the BBC it was the girl's destiny to die in this way.
Police in Pakistan-administered Kashmir arrested Mohammad Zafar and his wife Zaheen for the October 29 attack on their daughter Anusha, 15, who died in hospital two days later after suffering horrific acid burns.
Full report at:
http://www.dailystar.com.lb/News/International/2012/Nov-05/193911-pakistan-girl-fated-to-die-in-acid-attack-mother.ashx#ixzz2BL2jeVdR
--------------
Waheeda Shah PPP leader slapped with two-year ban
By Qamar Zaman
November 5, 2012
ISLAMABAD: The appointment of the new chief election commissioner appears to have changed the fate of Pakistan Peoples Party leader Waheeda Shah, as the election commission has upheld its earlier decision of disqualifying her from contesting elections.
The ruling party's electoral candidate for the by-polls for Sindh Assembly seat PS-53 had made headlines earlier this year after she was caught on camera slapping a polling officer and interfering in the polling process on the voting day.
Full report at:
http://tribune.com.pk/story/460834/waheeda-shah-slapped-with-two-year-ban/
-----------
Empowerment Initiative: A First For SAARC Women Parliamentarians
November 5, 2012
ISLAMABAD: Women parliamentarians representing countries from South Asia met for the first time on Sunday since their incorporation as a committee in the association of the SAARC Speakers and Parliamentarians last year.
In a meeting held as part of the regional conference, women parliamentarians of the region vowed to play a pivotal role in empowering women besides strengthening democracy and social justice in the member countries.
Full report at:
http://tribune.com.pk/story/460945/empowerment-initiative-a-first-for-SAARC-women-parliamentarians/
--------------
Saudi gold traders refuse employment of women
'Women cannot handle large amounts of money and may be scared of crowding'
November 4, 2012
Gold merchants in Saudi Arabia have described the idea of employing women in jewellery stores as "failed" because "women cannot handle such responsibilities," a Saudi newspaper reports.
If men face difficulty in handling jewellery worth up to a million Saudi Riyals and in protecting the stores from thieves, it would be significantly more difficult for women to do the job, male retailers have argued, according to the Saudi newspaper Al Riyadh.
Full report at:
http://gulfnews.com/news/gulf/saudi-arabia/saudi-gold-traders-refuse-employment-of-women-1.1098117
--------------
Women Gain Ground As Activists, but Some Question the Extent of Progress in Yemen
5 November 2012
Nadia Abdullah (photographer), Mohamed Al-Samei (writer)
Recently, the number of female activists in Yemen has increased, largely as a result of the 2011 peaceful revolution. Many women have emerged as political and human rights leaders.
Although the media focused on the role of Yemeni females during protests and sit-ins at change squares across Yemen, many believe their role is still lacking, despite growing numbers.
Thekra Al-Wahedi, a human rights activist, said there were few female activists before the revolution due to the lack of self-confidence and absence of opportunities for the advancement of women.
Full report at:
http://www.yementimes.com/en/1621/report/1566/Women-gain-ground-as-activists-but-some-question-the-extent-of-progress.htm
--------------
Lahore's Woman Artists Bring 93 Masterpieces to Nairang Art Gallery
November 5, 2012
LAHORE: An exhibition of Naqashi masterpieces titled 'Daughters of Walled City' by Afshan Ejaz and Noshi Ejaz kicked off at Nairang Art Gallery on Sunday. Babar Ali Foundation Chairman Syed Babar Ali inaugurated the exhibition.
Total 93 paintings have been put on display with beautiful colour strokes showing an effort by colourful Naqashi motives brought to life. Along with Naqashi paintings, the artists also made some attractive decoration pieces such as ashtrays and jewellery boxes that were appreciated by the visitors.
Full report at:
http://www.dailytimes.com.pk/default.asp?page=2012\11\05\story_5-11-2012_pg13_7
--------------
Malala's reconstructive surgery in UAE
November 05, 2012
DUBAI - Malala Yousafzai, the 15-year-old Pakistani girl who was shot a month ago will soon undergo reconstructive surgery in the United Kingdom, said Pakistan's Ambassador to United Arab Emirates (UAE) Jamil Ahmad Khan on Sunday.While speaking to Khaleej Times, Khan said surgery could be done 'within weeks'. "Doctors just want to make sure her brain swelling has normalised enough and is ready to accept a patch," he said.He also said she was walking, talking and even reading at Queen Elizabeth Hospital in Birmingham where she was flown in an air ambulance provided by the Crown Prince of Abu Dhabi, His Highness Sheikh Zaid for treatment after being shot at close range by a Pakistani Taliban on October 9 in Mingora. Full report at:
http://www.nation.com.pk/pakistan-news-newspaper-daily-english-online/national/05-Nov-2012/malala-s-reconstructive-surgery-in-uae
--------------
Palestinian businesswomen finding their own solutions
MORGAN MCDANIEL
5 November 2012
Abeer Abu Ghaith, a poised young woman overflowing with optimism, works tirelessly to help Palestinian women achieve their dreams and improve their lives. She is just one of many women who are finding creative ways to overcome the restrictions Palestinians face in finding work and starting a business.
Abu Ghaith, herself Palestinian, knows first hand how hard it is for women to succeed in the job market. Even with a degree in computer systems engineering, she had difficulty breaking into the overwhelmingly male field, and therefore turned her attention to empowering women and youth through information and communications technology (ICT) and social media.
Full report at:
http://www.arabnews.com/palestinian-businesswomen-finding-their-own-solutions
--------------
Somalia Forms New Govt, Woman Named Foreign Minister: Official
4 Nov 2012
Somali Prime Minister Abdi Farah Shirdon Said announced the members of his new government on Sunday, noting that a woman has been named as foreign minister for the first time in the country's history.
"After long discussions and consultations, I have named my cabinet which consists of only 10 members. Among them is a female foreign affairs minister for the first time in Somali history," the prime minister said.
Full report at:
http://english.ahram.org.eg/NewsContent/2/8/57165/World/Region/Somalia-forms-new-govt,-woman-named-foreign-minist.aspx
--------------
Nigeria: Exploiting Young Girls
BY DENRELE ANIMASHAUN
4 NOVEMBER 2012
"Those who deny freedom to others deserve it not for themselves." - Abraham Lincoln
The successful conviction of Osezua Osolase 42 was welcomed by AFRUCA (Africans Unite against Child Abuse) that commended British government on the successful prosecution of a prolific child trafficker. The agency stated such conviction will serve as a warning to others who are willing to exploit young girls with a promise of a better live in Europe only to be sold into prostitution.
Full report at:
http://allafrica.com/stories/201211040090.html?viewall=1
--------------
URL: https://newageislam.com/islam-women-feminism/legislators-divided-readmitting-mother-students/d/9198