New Age Islam News Bureau
9 Oct 2013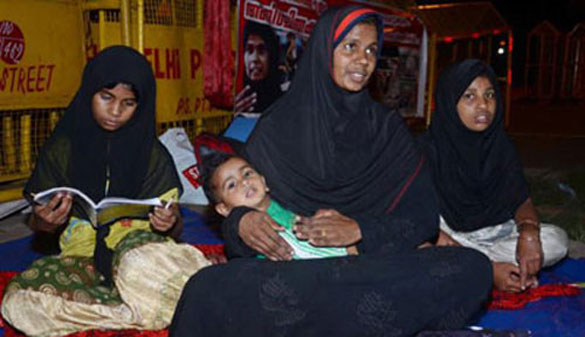 Jazeera V., crusader against sand-mining, along with her children, sitting on a dharna on a pavement near Kerala House in New Delhi on Monday. Photo: Sushil Kumar Verma
-----------
• Miss Universe 2012 Caught On the Wrong Foot at Taj Mahal
• Jazeera Takes Her Protest against Illegal Mining to New Delhi
• 'Bomb Belt' Woman to Be Tried In Top Court Of Dubai
• Israeli female soldiers, Shin Bet agents storm Al-Aqsa
• Driving is an economic need: Saudi women
• Malala continues to shine a year after the attack
• Female Jawazat team to inspect women pilgrims
• 3 Saudi Shura Council Women Urge Female Drive Ban Lifted
• Turkish TV Presenter Fired Over Low-Cut Dress after Criticism from AKP Spokesman
• More Local Women Being Used As "Bait" In African Parcel Scam
• Dh22 Million Pledged For Girls' Education
• Increase in Educational Expenditure Fails To Boost Female Literacy in FATA
Compiled by New Age Islam News Bureau
URL: https://www.newageislam.com/islam,-women-and-feminism/new-age-islam-news-bureau/legal-centres,-in-an-indian-state,-to-educate-muslim-women-on-rights/d/13912
-----------
Legal Centres to Educate Muslim Women on Rights
October 09 2013
GUWAHATI: In a bid to create awareness among Muslim women about their rights and existing laws, an NGO will set up legal information centres across the state.
Marg, the NGO working for providing justice to women through legal empowerment, has decided to open these centres in the villages of the state. Initially, it has planned to open one centre. The project is supported by the British High Commission.
On the sidelines of the 'state-level meeting on strengthening institutional linkages and workshop on rights of Muslim women' held recently, Marg programme officer Rajesh Deoli said, "There are many Muslim women who have no idea about their rights or existing laws. They think that the laws formulated for the women of the country are not meant for them as almost everything in their lives are decided by imams. As a result, they remain deprived of their rights. We will open the legal information centres to create awareness among them about their rights."
He said the centres will work through local NGOs. Legal advisers would provide counselling to women in distress. The centres will also work for providing legal training and organize legal empowerment programmes.
"Even government offices discriminate against Muslim women. There are several cases when a Muslim woman who is a victim of domestic violence goes to a government organization dealing with women's issues are refused aid. Officials usually hesitate to take up the case on the premise that there are different laws for them, though that is not the case. Laws against domestic violence are meant for each and every woman in the country. However, now, the government is trying to change the scenario," he added.
http://articles.timesofindia.indiatimes.com/2013-10-08/guwahati/42828622_1_muslim-women-centres-rights
-----------
Miss Universe 2012 Caught On The Wrong Foot At Taj Mahal
October 07, 2013
Miss Universe Olivia Culpo may have been caught on the wrong foot at the altar of love.
The Archeological Survey of India on Monday threatened to lodge a police complaint against the 2012 Miss Universe after a visit to the Taj Mahal – the Mughal monument to love – turned out to be thinly disguised photo-event for footwear.
US-born Olivia Culpo is on a ten-day India tour as part of her commitments as the holder of the prestigious title.
However, her shoes raised as much eyebrows as her visit on Sunday as the American beauty tried one pair after another, posing with footwear next to her on a marble platform, in a bag and on her feet.
The covert 'promotion' carried out under the nose of tourism police and Central Industrial Security Force (CISF) officials in violation of Supreme Court guidelines generated much heat later, with the Archeological Survey of India threatening to file an FIR against the agency behind the visit.
"We are gathering information from the tourism police about those who were managing the visit. After we get the names, an FIR would be lodged against the agency involved in violating norms at the Taj," said superintending archaeologist for ASI's Agra circle NK Pathak on Monday.
Culpo visited the world heritage monument for about an hour on Sunday evening. She enquired about the white-marbled beauty and showed interest in its architecture like any other tourist. The visit seemed to be going well till Culpo reached the marble platform, popularly known as the Diana Seat, near the Central Tank.
Here, her team produced a bag full of shoes and she started trying out various pairs as eager photographers clicked on. Her shoes were also placed on the bench and photographed repeatedly with the Taj in the background, with no objection from the officials and cops on duty.
According to Supreme Court directives, any branding or publicity on the Taj premises is prohibited. Questions are also being raised on how a bag full of sandals was taken inside, as there are strict restrictions on items inside the Taj premises.
"We have taken note of the incident and are appraising the superintending archaeologist in writing. Indeed, there are guidelines prohibiting branding and publicity on the Taj premises but facts related to the incident are yet to be verified," said Munazzar Ali, conservation archaeologist (CA) for the ASI office at the Taj.
Sources said explanations may also be sought from tourism police and CISF staff on duty at the time of the visit. "Steps would be taken in compliance of guidelines issued by the Supreme Court," said Munazzar Ali.
However, sources at tourism police station claimed the cops were merely providing security to the visitor. They were not in a position and did not have the status to remind her about the guidelines applicable at Taj, one of them said.
http://www.hindustantimes.com/India-news/uttarpradesh/Miss-Universe-caught-on-the-wrong-foot-at-Taj-Mahal/Article1-1132152.aspx
-----------
Jazeera Takes Her Protest against Illegal Mining to New Delhi
October 09 2013
It is late at night and Jazeera V., crusader against sand-mining, is putting her children to bed under a Peepal tree on a pavement outside Kerala House in the national capital.
As her 64-day sit-in in front of the Secretariat in Thiruvananthapuram and assurances by Chief Minister Oommen Chandy did not yield results against the illegal mining in her village in Kannur, Ms. Jazeera took her protest to Delhi.
On a bright blue tarpaulin spread out, the 31-year-old crusader is camping with her three children, the youngest Mohammad barely a year-and-a-half old, in this unfamiliar city.
"I have come to Delhi in the hope that there will be some action…On the third day of my protest outside the Secretariat, the Chief Minister met me, he assured me there will be some action, a lot of politicians came and met me; there was talk of action, yet nothing on the ground has changed," she says sitting by the lonely stretch of road and unmindful of the attention she draws.
The Delhi Police have cautioned her against staying out after 10 p.m., but Ms. Jazeera is steadfast in her resolve, "A 9 a.m.-to-5 p.m. protest is not what I want," she says.
She questions the administration's motives. "I don't know if anyone has taken bribe, I don't know what their compulsions are, but no one seems serious to do anything against the problem," she says.
An auto rickshaw driver by profession, Ms. Jazeera is also fighting against a part of her own family. Her brother, she says, is part of the mafia that illegally dig sand, so the pressure to call off the protest has been immense even at home. "My husband, a madrasa teacher, supports me. He couldn't come to Delhi, but my children are here," she says.
Her daughters — 12-year-old Rizwana and 10-year-old Shifana — have been through the worst, but are not complaining.
They miss being at school, but would rather be with their mother. "Some students from Jawaharlal Nehru University have offered to teach them while we are here. I couldn't have left them behind," Ms. Jazeera says.
Does the mother in her feel scared, sleeping out in the open with her two daughters in a city that has earned the sobriquet of crime capital? "I've seen much worse, they attacked me at home and went scot-free…this road seems much safer," she says, fanning her children and ensuring that the mosquito repellent coil is still burning.
http://www.thehindu.com/news/national/kerala/jazeera-takes-her-protest-to-the-national-capital/article5211191.ece
-----------
'Bomb Belt' Woman to Be Tried In Top Court Of Dubai
Marie Nammour / 9 October 2013
Dubai — Attorney-General Issam Issa Al Humaidan of Dubai has said the woman, who walked into the Public Prosecution headquarters and threatened to blow up an explosives belt she had strapped around her waist, would be referred, along with her accomplice, to the State Security Prosecution in the Capital for a jurisdictional reason.
The Technical Office has investigated the matter under the supervision of Senior Advocate-General Youssef Al Muttaweh and Advocate-General Khalifa bin Demas, who is the head of the office.
The Public Prosecution recorded the statements of the defendants, witnesses, law enforcement officers, prosecution staff and members of the public, who happened to be present on September 1 and witnessed the incident.
The prosecution also looked into the criminal evidence reports and CCTV footage and other pieces of evidence relevant to the case.
The standoff, which caught public attention on a wide scale, started when the 33-year-old Uzbek woman barged into the reception hall of the Dubai Public Prosecution building. She had her ten-year-old son with her.
She threatened to blow herself and the building up with what looked like an explosives belt she had strapped around her body unless her demand was met.
She wanted her son to be subjected to a DNA test to prove that an Emirati man was his father.
A Dubai Police team, headed by Deputy Commander-in-Chief Major-General Khamis Mattar Al Mazeina, evacuated the building and started negotiations with her. The standoff continued till 1am the following day. No repressive measures were taken against her to protect her life and that of her son till she was caught.
It emerged through the investigation that the woman had filed a case to prove that an Emirati man was the biological father of her son before the Sharjah Shariah Court in 2007. But that court dismissed the case as per the Shariah rules.
The woman claimed that her accomplice, a Gulf national, had arranged for the belt which looked look like an explosives belt. He suggested that she went to the Prosecution building and threatened to blow herself and the place up so that the officials would respond to her claim of proving that her son was the biological son of the Emirati man.
On checking the belt she wore that day, the Criminal Evidence Department's explosives experts found there were no explosives in it.
"In spite of the fact that the belt was fake with no explosives, what the woman did made her legally accountable for her act, which terrified the public and put their lives at risk. She disturbed the public order and harmed the society's safety and security. What the woman committed falls within the jurisdiction of the Federal Supreme Court and accordingly, the case has been referred to the State Security Prosecution in Abu Dhabi," Al Humaidan said.
http://www.khaleejtimes.com/kt-article-display-1.asp?xfile=data/courtroundup/2013/October/courtroundup_October14.xml&section=courtroundup
-----------
Israeli female soldiers, Shin Bet agents storm Al-Aqsa
October 09 2013
RAMALLAH – Dozens of Israeli soldiers and agents of internal intelligence service Shin Bet stormed the Al-Aqsa Mosque Compound in occupied Jerusalem, a Palestinian official said.
The Al-Aqsa Foundation for Endowment and Heritage said that a group of 87 female soldiers in their uniforms and a group 39 of Shin Bet agents stormed the Muslim's third holiest shrine through the Al-Magharebah gate that connects the mosque with the Al-Buraq Plaza (the Western Wall Plaza).
The foundation said that the two groups toured the Al-Aqsa Mosque plaza under the heavy guard of Israeli police and Border Guard officers. No clashes with Muslim worshipers were reported.
The foundation said that Israel has longstanding plans to take control of the Al-Aqsa compound. It underlined the fact that the second Intifada, also called the Al-Aqsa uprising was sparked on 28 September, 2000, by a controversial visit by former Israeli Prime Minister Ariel Sharon.
On last July, the rightist Israeli Housing Minister Uri Ariel said that the government has to build the second temple on the ruins of the Al-Aqsa Mosque Complex.
Ariel, form the rightist Habayit Hayehudi (Jewish Home) party, reportedly said that the "we have built many buildings, including many 'small temples'," employing a term used in the Jewish world to refer to synagogues.
"We need something that is not like the Temple. We need the Temple. On the Temple Mount (Al-Aqsa Mosque Complex)," Ariel told participants at the Shilo Conference on Biblical Research and Archaeology. Shilo settlement located to the north of Ramallah in the West Bank.
http://www.saudigazette.com.sa/index.cfm?method=home.regcon&contentid=20131009183158
----------
Driving is an economic need: Saudi women
October 09 2013
JEDDAH – Three female members of the Shoura Council reportedly filed a recommendation on Tuesday that a ban on women driving in the Kingdom be lifted.
Latifa Al-Shaalan, a Shoura member, was quoted as saying by AFP that she and two fellow members, Haya Al-Mani and Muna Al-Mashit, filed a recommendation urging the consultative body to "recognize the rights of women to drive a car in accordance with the principles of Shariah and traffic rules."
They backed their recommendation with results of studies on the various justifications for women to drive. "There is no law that bans women from driving. It is only a matter of tradition," Shaalan told AFP.
Saudi women have "made many achievements... and have acquired leading positions in the government and the United Nations, yet they are still banned from driving. This creates a negative image (for the Kingdom) abroad," she said.
Welcoming the move, Abdullah Al-Alami, author of the book, "When Would Saudi Women Drive," told Saudi Gazette that the sooner this recommendation and other recommendations that have to do with women rights the better for the women and the country.
Talking about the "Oct. 26th, driving for women" campaign, he said, "This is a major step forward toward women getting their legal right for freedom of transportation as well as a major step forward for women to gain access to their jobs, schools and other needs.
"This campaign will be successful because it is women who are demanding their rights. Saudi women are not any different from any other women in the world. Saudi Arabian population represents less than two percent of the total Muslim world population and as such Saudi women are entitled to all the rights as other Muslim women are entitled to. In addition, Saudi women are not any different from the remaining three billion women worldwide."
In his opinion the real obstacles are "some traditional beliefs that are making it difficult for women to prosper, develop and gain their legitimate right."
"Many government high officials have indicated over the last few years that there is no legal or judicial or Shariah reasons why women can't drive," Al-Alami said.
A Saudi woman artist in Jeddah said that "driving is not a luxury or fun, but an economic necessity." Her sentiments were echoed by other women, one of whom said that she would be much more careful than a stranger driving her children to school.
The move by Shoura women members comes ahead of the Oct. 26 initiative by Saudi activists to defy a longstanding driving ban.
A petition signed in March by 3,000 Saudis had urged the Shoura to launch a debate on the driving ban. The online petition entitled "Oct. 26th, driving for women" has gathered several thousand signatories.
http://www.saudigazette.com.sa/index.cfm?method=home.regcon&contentid=20131009183151
----------
Malala continues to shine a year after the attack
October 09 2013
KARACHI: It was on October 09, 2013 that a Taliban bullet tried to silence Malala Yousafzai's voice which had been demanding education for girls.
Malala was on her way home from school when she was attacked in Mingora, Swat. The attacker stopped the school van, identified Malala and opened fire. Malala received a bullet wound to the head, while two of her classmates, Kianat and Shazia were also injured in the attack. The bullet was removed from Malala's head during an operation at CMH Peshawar, following which she was taken to a hospital in Rawalpindi for further treatment. After receiving treatment in Pakistan, Malala was admitted to the Queen Elizabeth Hospital in Birmingham where she made a full recovery after a second surgery.
That day back in October 2012 not only changed Malala's life but also changed the lives and prospective of millions of Pakistanis who stood united in her cause for education and equality. A year since the attack Malala's star continues to shine brighter than ever. The 16-year-old has won several international awards and is considered one of the favourites for this year's Nobel Peace Prize.
Malala addressed the United Nations on her 16th birthday which was dubbed as Malala Day. This was Malala's first public speech after the attack and she advocated the power of education and how it was the right of every child.
In her recently published autobiography, Malala speaks of the day she was attacked, living life under the Taliban threat, her ambitions of entering politics, along with her love for Justin Beiber and the Twilight series. In a series of interviews prior to the launch of the autobiography, Malala spoke of her dream to return to Pakistan.
The Taliban however continue to threaten one of Pakistan's brightest stars. A recent statement by Taliban spokesman, Shahidullah Shahid threatened to kill Malala if she returned home from Birmingham where she now resides with her family.
http://www.thenews.com.pk/article-121766-Malala-continues-to-shine-a-year-after-the-attack-
----------
Female Jawazat team to inspect women pilgrims
October 09 2013
JEDDAH — A team of trained female Passports Department (Jawazat) officials will inspect the identification papers of women pilgrims and ensure their legal status in the Kingdom before letting them start their Haj journey, Ahmad Al-Luhaidan, spokesman of the Passports Department, told Saudi Gazette.
"This female team is trained on forgeries and is assigned to inspect female identification cards and check documents before letting women pilgrims cross the security checkpoints," he added.
Penalties will imposed on those attempting to perform Haj without a permit. Those who are caught without Haj permits, will be fingerprinted and their punishments include deportation and bannrf from entering the Kingdom for 10 years," said Al-Luhaidan.
The security checkpoints to enter Makkah include: Al-Shumaisi Highway, Old Al-Shumaisi, Al-Buhaita, Al-Kar, Al-Taneem, Al-Kaakiya, Al-Husayniya and Al-Okaishiya, Al-Luhaidan said.
The Directorate General of the Passports Department, he added, has worked on several plans for the Haj season. Among them is "to ease the entry of pilgrims through airports and seaports."
Meanwhile, the Makkah governorate has warned that those arranging unauthorized Haj pilgrimages will be referred to the Bureau of Investigation and Prosecution.
Saudi vehicle drivers carrying illegal pilgrims will be imprisoned for a year and will have their cars impounded.
Saudis violating rules will have their cases referred to the Ministry of Interior, which will set punishments.
About 70 Passports Department vehicles will be tracking illegal pilgrims. Besides, 30 security checkpoints have been set up around the holy sites to monitor any violations during the entire Haj season.
This year, authorities are also making use of an electronic gadget to detect forged Haj permits.
http://www.thenews.com.pk/article-121766-Malala-continues-to-shine-a-year-after-the-attack-
----------
3 Saudi Shura Council women urge female drive ban lifted
(AFP) / 9 October 2013
Recommendation submitted to council urges to recognise the rights of women to drive a car in accordance with Shariah and traffic rules.
Three female members of Saudi Arabia's Shura Consultative Council filed a recommendation on Tuesday that a ban on women driving in the kingdom be lifted, one of them said.
The move comes ahead of an October 26 initiative by Saudi activists to defy a longstanding driving ban on women in Saudi Arabia.
Latifa Al Shaalan told AFP that she and two fellow council members, Haya Al Mani and Muna Al Mashit, filed a recommendation urging the kingdom's top consultative body to "recognise the rights of women to drive a car in accordance with the principles of Shariah and traffic rules".
They backed their recommendation with results of studies on the various justifications for women to drive.
"There is no law that bans women from driving. It is only a matter of tradition," Shaalan said.
Saudi women have "made many achievements... and have acquired leading positions in the government and the United Nations, yet they are still banned from driving. This creates a negative image (for the kingdom) abroad," she said.
In January, 30 women members were appointed for the first time to the advisory body — also known as the Saudi Consultative Council.
A petition signed in March by 3,000 Saudis had urged the council to launch a debate on the driving ban in Saudi Arabia, the only country where women are not allowed behind the wheel of a vehicle.
More recently, an online petition entitled "October 26, driving for women" has gathered several thousand signatories.
Activists say that some 20 women are planning to take part in the campaign in the kingdom's Eastern Province.
A similar campaign in June 2011 drew only a few women, some of whom were stopped by police and forced to sign a pledge not to take to the wheel again.
The 2011 call, which spread through Facebook and Twitter, had been the largest mass action since November 1990, when 47 Saudi women were arrested and severely punished after demonstrating in cars.
http://www.khaleejtimes.com/kt-article-display-1.asp?xfile=data/middleeast/2013/October/middleeast_October88.xml&section=middleeast
-----------
Turkish TV presenter fired over low-cut dress after criticism from AKP spokesman
October 09 2013
A television presenter has been dismissed over a low-cut top she wore on a television program, following criticism from ruling Justice and Development Party (AKP) spokesperson Hüseyin Çelik.
Çelik criticized the presenter's costume during a TV program, without giving a name, saying he found the dress "extreme" because of its open cleavage.
"We don't intervene against anyone, but this is too much. It is unacceptable," he said.
Following Çelik's remarks, it was revealed that the host in question was Gözde Kansu, who was taking part on the show "Veliaht" on the ATV station, and rumors spread that she had been fired.
The show's producer, Caner Erdem, yesterday said nothing had been resolved, adding that Kansu might not take part in the program next week "due to her busy schedule."
However, after discussions between the channel and the producer, Kansu's dismissal was confirmed.
Çelik said today that the discussions following his remarks were "ill-intended."
"I never named a show or a person," he wrote on his Twitter account. "It was the media who alleged the names. This is a general sensitivity."
Çelik also said it was his fundamental right to express his opinion on issues as an individual, viewer and politician.
http://www.hurriyetdailynews.com/turkish-tv-presenter-fired-over-low-cut-dress-after-criticism-from-akp-spokesman.aspx?pageID=238&nID=55896&NewsCatID=341
-----------
More local women being used as "bait" in African parcel scam
October 09 2013
SHAH ALAM: African parcel scam syndicates are increasingly using local women as "bait" to lure businessmen into the con game.
The key players, usually African men, would first use female names to randomly "contact" potential victims via Facebook or email.
And as soon as there is a response, a local woman would be used to make a follow-up call to the contact.
The women would talk their victims into investing in certain businesses, including receiving supplies of materials via couriers from overseas.
But she would claim that the goods were stuck in Customs and persuade her victim to bank in money into an account to clear the goods.
Selangor police chief Senior Deputy Comm Datuk Mohd Shukri Dahlan said such cases have become common in the state.
"The victim deposits the money into the account but will never see the goods. Only then will he realize that he has been conned," he told reporters at the police headquarters here.
Mohd Shukri said the most recent case involved a 41-year-old man from Selayang who was cheated of more than RM76,000.
The man ended up making six transactions after "getting to know a Malaysian woman" in July.
Mohd Sukri said police tracked down the culprits to a house in Sungai Buloh on Oct 5 and arrested two Malaysian women and seven African men, aged between 30 and 45.
"The raid, led by Insp T. Thilagesh of the Sungai Buloh Commercial Crime squad also resulted in the seizure of mobile phones, laptops and a modem," he said.
He said such scams were also common in other states, including Kedah, Malacca and Johor.
http://www.thestar.com.my/News/Nation/2013/10/08/africans-parcel-scams.aspx
-----------
Dh22 million pledged for girls' education
Muaz Shabandri / 9 October 2013
The money offered by Dubai Cares to be used to create new classrooms, more teachers and better school infrastructure.
Thousands of girls in the Philippines, South Sudan and Mozambique without access to education will return to schools as Dubai Cares pledged Dh22 million on Tuesday, in support for girls' education.
New classrooms, more teachers and better school infrastructure will be created with the money offered by Dubai Cares.
"This is one of the gifts from Dubai to the world. As future mothers and wives, who will play an integral role in nurturing and raising families, these girls hold the key to a future generation of educated and enlightened children," Tariq Al Gurg, CEO of Dubai Cares, said at a media roundtable. The financial commitment has been pledged in support of the International Day of the Girl, a United Nations-recognised day, which will be celebrated on October 11.
"Dubai cares has always championed girls' education and each of our programmes has touched the lives of girls," added Tariq.
Dubai Cares will work in partnership with Plan International Canada, a leading international development agency, to distribute funds over a period of four years. Both agencies will design unique education programmes to help address the needs of local communities.
In South Sudan, the commitment is expected to support teacher-training initiatives and help support the country's new education framework. The new programmes will also hope to reach out to girls who have discontinued education due to social pressures. All initiatives will work with local NGOs and government partners in an effort to reduce barriers to education. Globally, one in five adolescent girls around the world are denied education by the daily realities of poverty, discrimination and violence.
Forced marriage, sexual exploitation and gender discrimination are common in places with low literacy and poor access to schools and sanitation.
"Girl education breaks the cycle of poverty. We are very impressed to see a young organisation like Dubai Cares take a leadership role in this cause," said Dr Tanjina Mirza, vice-president of International Programmes at Plan International.
The International Day of the Girl was declared by the United Nations in 2012 to recognise girls' rights globally and support action to address discrimination. -muaz@khaleejtimes.com
http://www.khaleejtimes.com/kt-article-display-1.asp?xfile=data/educationnation/2013/October/educationnation_October16.xml&section=educationnation
-----------
Increase in educational expenditure fails to boost female literacy in FATA
October 09 2013
PESHAWAR: Literacy rate for girls stands at a modest 10.5% compared to 36.66% for boys despite considerable expenditure incurred by the FATA Secretariat to improve education statistics in the Federally Administered Tribal Areas (Fata) and Frontier Regions (FRs).
According to the Annual Development Programme 2013-14 for Fata, Rs3.68 billion has been allocated for education, of which Rs2.8 billion is being used for 184 ongoing schemes while Rs877 million will be used for 33 new schemes. But the literacy rate for the area still stands at only 24.5% even in wake of significant expenditures made by the FATA Education Department.
According to the FATA Education Atlas 2011-12 report released by Directorate of Education FATA Education Management Information System, the proportion of girls enrolled in educational institutions stands at 7.5% in South Waziristan, 4.26% in North Waziristan, 21.03% in Kurram Agency, 4.75% in Bajaur, 5.72% in Mohmand Agency, 5.15% in Orakzai Agency and 16.13% in Khyber Agency.
Similarly, the proportion stands at 5.88% in FR DI Khan, 1.81% in FR Lakki Marwat, 2.28% in FR Tank, 1.07% in FR Bannu, 24.09% in FR Kohat and 16.66% in FR Peshawar.
The report states around 124,424 girls were enrolled in 1,551 primary schools, 19,614 girls enrolled in 158 middle schools, 13,837 girls enrolled in 42 high schools and 1,134 girls enrolled in five higher secondary schools in Fata.
It adds out of 1,015 primary schools for girls in Fata, 87 have no boundary walls; 583 have no drinking water facilities; 454 have no electricity; and 344 have no toilets.
In addition to lack of basic facilities in educational institutions, tuition fees remain unaffordable for the general public, despite the current abysmal teaching standards.
Assistant Director Education FATA Zar Wali said recent militant activity and poor law and order in Fata has hampered girls education. He said the government is now taking steps to provide education in all areas of Fata.
Zar Wali added the education budget has increased significantly which will boost literacy rates in the tribal belt. He also claimed the main focus of the government is to improve female literacy rates in the area.
Agency Education Officer of Khyber Agency Atiqur Rehman said lack of awareness and mobilisation has adversely affected girls education in Fata. He said cultural barriers are also an impediment to promoting female education.
Rehman added Bara tehsil of Khyber Agency is the area hardest hit by the ongoing insurgency. Most government schools were destroyed in the area as a result of militant activity while the remaining schools in Jamrud and Landikotal tehsils are in poor condition.
Rehman said they are trying their best to facilitate female education in the area but are suffering from a severe shortage of funds.
http://tribune.com.pk/story/614898/telltale-statistics-increase-in-educational-expenditure-fails-to-boost-female-literacy-in-fata/
-----------
URL: https://www.newageislam.com/islam,-women-and-feminism/new-age-islam-news-bureau/legal-centres,-in-an-indian-state,-to-educate-muslim-women-on-rights/d/13912