New Age Islam News Bureau
23 Jan 2020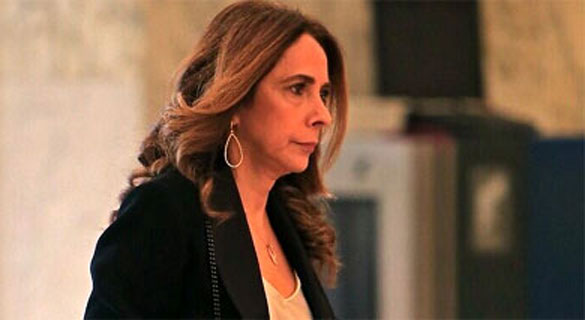 Zeina Akar named as defence minister in Lebanon's new government
------
• Lebanon and Comoros Sign Up For Arab Women Sports Tournament
• Largest Swimming Pool in Russia's Muslim South Bans Women
• Kuwaiti Woman Makes Kickboxing History
• 'Let Noor Run' Initiative Aims To End Discrimination in Sports, Starting With Hijab Bans
• Women Politicians Trolled More: Amnesty India
• Shoura Panel Examines Demand to Reject Complaints about Missing Adult Women
• 'Marry-Your-Rapist' Bill To Be Introduced By Lawmakers in Turkey
• Egypt Is Boosting Economic Growth Rates, Women's Role: Minister At Davos
Compiled By New Age Islam News Bureau
URL: https://www.newageislam.com/islam-women-feminism/lebanons-new-defence-minister-first/d/120870
--------
Lebanon's New Defence Minister Is First Woman in Arab World to Hold Post
22 January 2020
Zeina Akar was named Tuesday as defence minister in Lebanon's new government, making her the first woman in an Arab country to hold the post.
Akar, one of six women named to Prime Minister Hassan Diab's cabinet, was also appointed deputy prime minister.
Diab's naming of a cabinet ended a painful wait for Lebanon, but the government was promptly scorned by protesters and faces the Herculean task of saving a collapsing economy.
More than a month after he was designated, with backing from the powerful Shiite terror group Hezbollah, and nearly three months after his predecessor Saad Hariri resigned under pressure from the street; Diab on Tuesday announced his cabinet.
The academic and former education minister, who was little-known in Lebanon until last month, insisted in his first comments as premier that his cabinet was a technocratic one that would strive to meet protesters' demands.
"This is a government that represents the aspirations of the demonstrators who have been mobilized nationwide for more than three months," he said.
He said his government "will strive to meet their demands for an independent judiciary, for the recovery of embezzled funds, for the fight against illegal gains."
Groups of demonstrators had gathered in the streets of Beirut before thw cabinet was even unveiled, blocking off a main street in the center of the capital where violent scuffles with the police left dozens wounded over the weekend.
Close to the parliament building, protesters attempted to rip down barbed wire and throw stones at police, who responded with tear gas and water cannon, an AFP journalist witnessed.
The post of foreign minister, which had been held by President Michel Aoun's controversial son-in-law Gebran Bassil, was handed to respected diplomat Nassif Hitti.
The new cabinet is made up of unfamiliar figures, many of them academics and former advisers, but protesters were quick to argue that the absence of the biggest names in Lebanon's widely reviled hereditary political elite was but a smokescreen.
'Not serious'
"We want a new Lebanon, a Lebanon with no corruption," Charbel Kahi, a 37-year-old farmer, told AFP as fellow protesters beat drums behind him.
"They are not taking the Lebanese people seriously with this government," he said.
Diab admitted that "Lebanon is experiencing a difficult time in its history" and called for stability but within minutes of his address protesters were out in the streets of several cities, including Tripoli, Sidon and Byblos.
Hilal Khashan, a professor at the American University of Beirut, argued that the idea of a genuinely technocratic government in Lebanon was "wishful thinking."
"Behind every candidate, there is a political party backing their nomination," he said.
Paula Yacoubian, a former journalist and independent MP, scorned the new line-up as "patches on old clothes."
"Hassan Diab did not keep his promise of forming a government of independent" experts, she said.
Diab, a 61-year-old engineering professor at the American University of Beirut and self-professed technocrat, had come under pressure on both the political and economic fronts.
Every day that passed without a cabinet had fueled the anger of protesters and tested the patience of foreign donors warning that the quasi-bankrupt state could ill afford further delays.
Mission impossible?
Donors and citizens are pinning their hopes on a new government to spearhead reforms, unlock billions in international aid and help stabilize a plummeting currency.
"The task that awaits any cabinet during this serious period is Herculean," said Karim Mufti, a political scientist.
"In view of the multidimensional nature of the crisis, it seems difficult to envisage short-term solutions to the country's financial, economic and social problems."
A grinding dollar liquidity crisis and informal caps on withdrawals of the greenback have compounded the crisis, leaving Lebanon on the brink of default.
The outgoing government included all of Lebanon's political factions, but Hariri's Sunni-dominated movement and some of his allies have opted to stay out of the new cabinet.
This leaves the small country of six million led by a government dominated by the sanctions-hit Hezbollah and its allies.
Both the Christian bloc of President Michel Aoun and the Shiite Amal party of Parliament Speaker Nabih Berri are political allies of the Iran-backed terror organization.
Observers have warned that such a lopsided government could struggle to foster enough goodwill at home and abroad to implement much-needed reforms.
https://www.timesofisrael.com/lebanons-new-defense-minister-is-first-woman-in-arab-world-to-hold-post/
--------
Lebanon and Comoros Sign Up For Arab Women Sports Tournament
January 22, 2020
Sharjah: In keeping with its commitment to offering sportswomen a platform to compete and showcase their talents, the Arab Women Sports Tournament (AWST) 2020 has announced the participation of Lebanon and the Comoros at the fifth edition of the event, which runs from February 2–12 in Sharjah.
With this addition, the number of participants has increased to 18 countries represented by 78 clubs, making it the largest participation in AWST since its inception in 2012 by the Sharjah Women's Sports.
Lebanese female equestrians will compete with their counterparts from the UAE, Syria, Sudan and Jordan while the Comorian show jumping team faces the UAE, KSA, Oman, Bahrain, Palestine and Libya.
Nada Askar Al Naqbi, Deputy Head of AWST's Supreme Organising Committee, Head of its Executive Committee and Director General of SWS, said: "The steady rise in number of countries and clubs highlights the soaring popularity of AWST, which is a coveted platform for participants to develop their skills, talents and capabilities.
Launched in 2012, the bi-yearly Olympics-themed women sports tournament hosts a number of women's sports clubs from more than 15 Arab nations to compete across 9 sports: karate, basketball, volleyball, fencing, show jumping, shooting, archery, athletics and table tennis.
https://gulfnews.com/sport/uae-sport/lebanon-and-comoros-sign-up-for-arab-women-sports-tournament-1.69179033
--------
Largest Swimming Pool in Russia's Muslim South Bans Women
January 22, 2020
The largest swimming pool in Russia's Muslim-majority North Caucasus area has banned all women from using the pool.
Rights groups and others criticized the new policy, calling it discrimination.
The pool is part of a large sports and spa center near Makhachkala, capital of the Russian republic of Dagestan. The center announced its policy change Monday on the Instagram social media service. "From Jan. 20 onwards attendance of the pool is open only to men," the message said.
Three women from Dagestan brought an official complaint to the local Prosecutor's Office, Reuters news agency reported. The complaint states that the ban violates the constitution because it discriminates based on gender.
However, the operators of the pool said they made the decision for financial reasons. The center explained on Instagram that previously, women were permitted to visit the pool on Fridays for woman-only sessions. The Instagram messages were reported by Russia's state-operated RIA news agency.
The center said that very few women came to visit on Fridays. Because of this lack of business, "the difficult decision was made that keeping days for women open in our pool was not viable," the pool operators said on Instagram.
Fatima Abdulkhalimova is a 31-year-old former professional swimmer and a swim teacher at the pool. She questioned that reasoning. She noted that if having women-only days was not working financially, the pool could return to its earlier system. In the past, men and women could share the pool at the same time.
Abdulkhalimova added that she thinks the decision has something to do with religion. "I believe it is because a lot of religious guys come here," she said.
In the North Caucasus, many people hold traditional social and religious beliefs. It is common for sports centers in the area to separate the days of use for men and women. But activists say a complete ban on women violates Russia's constitution.
One of the women who brought an official complaint is Svetlana Anokhina. She is the editor of a locally-based internet website that addresses women's rights issues. She told Reuters the practice of separating public spaces by gender was on the rise in the area.
"I have a daughter here and she has three daughters too. I'm angry because... I'm afraid for them. I don't want them to live in a special ghetto for women," Anokhina said.
Another woman who said she had often used the pool said she had been refused a membership pass last month. Commenting on Instagram, the woman wrote that the pool's operators told her she couldn't buy a pass because there was not enough locker room space for men.
https://learningenglish.voanews.com/a/largest-swimming-pool-in-russia-s-muslim-south-bans-women/5256017.html
--------
Kuwaiti woman makes kickboxing history
January 23, 2020
KUWAIT CITY, Jan 22: Sports in its various games in Kuwait are no longer restricted to men, as women have made giant strides on the path of development, defeating shyness from society's view, and reached the podiums in international forums, says mixed martial arts player, kickboxing coach and world champion Siam Al-Kharif.
She told the Al-Qabas daily, "Some people see that martial arts games and kickboxing are violent sports, but in my view it is a sport for every girl, as well as children, to learn self-defense and reach high levels of fitness."
She said, "It is easy for a girl to practice kickboxing or any sport with martial arts if she has the will, and from a personal experience, as I have been overweight and short of breath, and I never imagined that I would be a world champion in these sports and a special coach for girls."
About her beginnings, she said: "I started in these sports 3 years ago, where I practiced karate, and then I entered the field of martial arts, where the beginning was in local championships for amateurs, and kickboxing committees contributed to my development, where I organized a number of championships for women.
"Then it gave me an opportunity to participate in a championship for professional men, and I was the only girl and the first Kuwaiti woman to participate in this kickboxing championship, and here I made history for Kuwaiti kickboxing as the first woman and champion to play in a professional women's match.
https://www.arabtimesonline.com/news/kuwaiti-woman-makes-kickboxing-history/
--------
'Let Noor Run' Initiative Aims To End Discrimination in Sports, Starting With Hijab Bans
January 22, 2020
Aysha Khan
(RNS) — In October, a 16-year-old cross-country runner made headlines across the country when her fastest 5K of the season was disqualified from a local district meet because she ran while wearing a hijab.
One week after her disqualification, Noor Alexandria Abukaram was back at the finish line with a new personal record, once her coach had acquired a waiver for her to wear a hijab for the race. Last month, after the teen won support from prominent Muslim figures including Olympic medalist Ibtihaj Muhammad and U.S. Rep. Ilhan Omar, officials say they changed uniform regulations to allow student athletes to compete in religious headwear without requiring waivers.
But Abukaram, a junior at Sylvania Northview High School in eastern Ohio, isn't finished yet. The athlete aims to remind the world that her case was no anomaly with a new initiative called Let Noor Run.
"Unfortunately, what happens is that people see this happened to me here in Toledo and decide 'OK, yeah, this happens like once in a decade,'" Abukaram said. "But it's not. It happens every single day to Muslim athletes around the country. This is bigger than me."
In its early days, the organization will focus on educating the public about the discrimination Muslim women face in sports and advocating for policy changes that promote inclusivity.
Later, she hopes to offer legal aid and media attention to "help expose the many faces of discrimination in sports," Abukaram said — whether it's a Muslim woman swimming in a burkini, or a black woman competing with natural hair, or a Sikh man wrestling in a turban. The teen has recruited a lawyer and press manager to her team in preparation.
Let Noor Run will kick off with an event on Friday (Jan. 24) at Lourdes University's Franciscan Center in Sylvania, Ohio. Abukaram will speak on a panel alongside fellow hijab-wearing athletes Bilqis Abdul-Qaadir, who was the first Muslim woman in a headscarf to play NCAA Division I basketball, and Minnesota-based teen boxer Amaiya Zafar, who spent two years fighting for a waiver to wear a hijab while boxing.
Abukaram has not yet met her fellow speakers in person.
But they already share a close bond, she said.
"We're three different people, from three different parts of America, sharing our stories," Abukaram said. "We have this personal connection already, because we've all been through discrimination in the sports industry. And now we've all decided we want to make this industry better."
The event will offer a screening of the documentary "Life Without Basketball," which traces how rising basketball player Abdul-Qaadir's life was derailed by the International Basketball Federation's ban on religious headgear.
Abdul-Qaadir broke an 18-year Massachusetts record to become the state's highest all-time high school scorer before she went on to play for the University of Memphis and Indiana State University.
But the ban denied Abdul-Qaadir the chance to go pro.
Her dogged activism eventually succeeded and the federation agreed to amend the rules. But the change did not go into effect until she aged out of the game.
Now, Abdul-Qaadir runs "Muslim Girls Hoop Too," offering motivational speeches and leading Muslim girls' basketball clinics around the country, while working as an athletic director for a Toronto-area Muslim community center and a Memphis Islamic school. This spring, she will offer her first basketball camp in Canada.
"When they see that documentary and hear us, I hope people leave with an understanding of how personal it is," Abukaram said. "It's not just a game. It's a person's life. We can't just move on."
Abdul-Qaadir and Abukaram will be joined on stage by Zafar, who in 2016 was forced to forfeit her first competitive boxing match because she refused to remove her hijab, long-sleeved shirt and long pants. After a two-year battle, she won the right to a religious exemption from USA Boxing's uniform regulations.
Abukaram's high-profile disqualification seems to have led to a policy change, as well.
When Abukaram ran the Oct. 19 race, she wore her usual uniform: a Nike hijab, Nike leggings and a long-sleeved Under Armour shirt with the team's jersey layered over the top.
She had never been asked to submit a waiver for any previous races, but Ohio High School Athletic Association officials told media they were simply enforcing their uniform regulations by disqualifying her.
The association's rulebook banned most head coverings and caps and required anyone who needed an exemption for any reason to request a waiver beforehand.
But on Dec. 5, the board of directors voted to amend the uniform regulations regarding headwear. A waiver is no longer required, association spokesman Tim Stried confirmed to Religion News Service.
Abukaram told RNS that she has not heard about any policy change. She has not been asked for a waiver since the end of the cross-country season, and track season has not yet started up again.
The move came after her disqualification was covered by HuffPost, Sports Illustrated, ESPN, The Washington Post, BBC, Good Morning America, Teen Vogue and dozens of other outlets.
"Before all of this, I felt crushed, betrayed by a sport that I have grown to love so dearly," Abukaram wrote on Facebook in October. "I was scared with apprehension that my coach and teammates would be negatively affected by all the media … but I knew I had to do something so that no other student athlete competing in hijab would ever endure the humiliation and anguish that I went through last weekend."
And that work doesn't stop as long as anyone needs a waiver to stay true to their faith while playing sports, she said.
https://religionnews.com/2020/01/22/let-noor-run-initiative-aims-to-end-discrimination-in-sports-starting-with-hijab-bans/
--------
Women Politicians Trolled More: Amnesty India
JANUARY 23, 2020
If they belong to the Muslim community, it is 55% more abuse than others, finds study
Twitter is a toxic space for Indian women politicians, who face substantially higher abuse on the social media platform than their counterparts in the U.S. and the U.K., according to a recent study. In fact, one out of every seven tweets mentioning them is problematic or abusive, with many women targeted by a relentless flow of threats and sexist, religious, racist and casteist slurs.
While all women are targeted, Muslim women politicians faced 55% more abuse than others, according to the study of 95 politicians carried out by Amnesty India during the 2019 Lok Sabha election.
"Being a Muslim woman sometimes becomes a huge burden. I am subjected to so much [more] hate than a Muslim man," said BJP leader Shazia Ilmi, who was quoted in the report. "Only 25% of what I get is based on the content of my politics, 75-80% is about being a woman and a Muslim woman." She said many women do not enter politics because the price of constant online harassment and trolling was too high.
Women politicians trolled more: Amnesty India
Hasiba Amin, social media convener for the Congress, said she faced "traumatising" abuse since she entered politics in 2014. "Rape threats were routine, as were character assassinations, insinuations about my sexual relationships with older men...Now in 2019, I have considerably reduced my activity on Twitter. I ask myself how trollable is that and whether I really need to put up my opinion," she said, according to the report.
Women from marginalised castes, unmarried women, and those from non-BJP parties faced a disproportionate share of abuse.
The Troll Patrol India study trained volunteers to sift through the tweets mentioning these 95 women between March and May 2019.
https://www.thehindu.com/news/national/women-politicians-trolled-more-amnesty-india/article30631355.ece
--------
Shoura Panel Examines Demand to Reject Complaints about Missing Adult Women
January 22, 2020
RIYADH — The Committee of Islamic and Judicial Affairs at the Shoura (Consultative) Council is studying a recommendation, mooted by two members of the Council, asking the Ministry of Justice to reject complaints filed against missing of women aged 21 or above.
This is the first recommendation of its kind in the history of the Council, regarding the case of women who reached their age of adulthood, after the Council of Ministers approved amendments to the Civil Status and Travel Document regulations.
Latifa Al-Shaalan and Moudhi Al-Khalaf, the female members, justified their recommendation saying that the basic principles in the amended law is that they do not contradict one another. The members noted that the amendments in the Civil Status and Travel Document regulations, including granting women equal rights with men without discrimination whether in the case of issuing passports and other travel documents or choice of their residence, contradict the Ministry of Justice's continued acceptance of cases involving missing women. The members pointed out that they monitored cases in which women were being subjected to injustice as a result of the ministry's continuing practice of accepting such cases.
http://saudigazette.com.sa/article/587472/SAUDI-ARABIA/Shoura-panel-examines-demand-to-reject-complaints-about-missing-adult-women
--------
'Marry-Your-Rapist' Bill To Be Introduced By Lawmakers in Turkey
Maya Oppenheim
January 23, 2020
A law which would allow men accused of having sex with girls who are under 18 to avoid punishment if they marry their victims is set to be introduced to parliament in Turkey.
The controversial so-called "marry-your-rapist" bill, which lawmakers are planning to introduce to Turkish parliament at the end of January, has sparked fury among women's rights campaigners in the country.
Critics argue the legislation, which the opposition Peoples' Democratic Party (HDP) is urging the government to axe, not only legitimises child marriage and statutory rape but also paves the way for child abuse and sexual exploitation.
A similar bill was defeated in Turkey in 2016 after national and global outrage. The legislation would have only pardoned men if they had sex without "force or threat".
United Nations agencies warned the bill would generate a landscape of impunity for child abuse and leave victims vulnerable to experiencing additional mistreatment and distress from their assailants.
"Marry-your-rapist" bills have been seen across the world and are pushed in the name of protecting and safeguarding family "honour".
Suad Abu-Dayyeh, a campaigner who specialises in the Middle East, North Africa, Afghanistan, and Pakistan for Equality Now, a non government organisation which aims to promote the rights of women and girls, said it was "shocking" politicians are trying to pass a bill that "provides impunity for perpetrators of child sexual exploitation".
She told The Independent: "I applaud the brave work of women's rights campaigners in Turkey who are taking a stand against this discriminatory bill and pushing back again regressive forces that are seeking to remove current legal protections for girls. Similar 'marry-your-rapist' legal provisions have been on the statute books of countries across the Middle East and North Africa.
"Thanks to years of campaigning by women's rights activists and lawmakers, Egypt, Jordan, Lebanon, Morocco, Tunisia, and Palestine have all removed these loopholes in recent years. Rather than attempting to introduce legislation that harms women's rights and protections, Turkish lawmakers should take heed of these advances in repealing gender discriminatory laws."
While the legal age of consent is 18 in Turkey, a 2018 government report on child marriage estimates a total of 482,908 girls were married in the last decade.
Violence against women and girls is prevalent in Turkey – with 38 per cent of Turkish women having suffered physical or sexual violence from a partner according to the United Nations.
A campaign group called We Will Stop Femicide estimates some 409 women were murdered by a partner or a family member in the country in 2017 – a stark rise from the total of 237 four years beforehand.
Turkish President Recep Tayyip Erdogan said equality between men and women is "against nature" at a summit in Istanbul back in 2014.
The world leader said: "You cannot put women and men on an equal footing. It is against nature."
He urged women to have at least three children and argued a woman's life was "incomplete" if she did not reproduce back in 2016.
"A woman who says 'because I am working I will not be a mother' is actually denying her feminity," he said. "A women who rejects motherhood, who refrains from being around the house, however successful her working life is, is deficient, is incomplete".
https://www.independent.co.uk/news/world/europe/turkey-marry-rapist-bill-child-marriage-a9296681.html
--------
Egypt Is Boosting Economic Growth Rates, Women's Role: Minister At Davos
22 Jan 2020
Egypt's Minister of International Cooperation Rania El-Mashat said that Egypt is working on pushing economic growth rates through structural reforms across all sectors after finalising the required fiscal and monetary policies that targeted dealing with its economic distortions.
El-Mashat's statements came during her participation in the World Economic Forum, held currently in Davos.
She said Egypt is eager to further the participation of the private sector in achieving sustainable development as a key engine for Egypt's economic growth.
The ministry aims to integrate projects funded by the international development partners and private sector investments through enhancing partnerships between the public and private sectors to carry out developmental projects, she added.
"The government is focusing on boosting the role of women as key partners in Egypt's development, which is in line with Egypt's strategy for women empowerment until 2030 that was launched by President Abdel-Fattah El-Sisi in 2017. This strategy aims to make the Egyptian woman an essential partner in sustainable development in the country, in addition to enabling her economically, politically, and socially", El-Mashat stated.
She added that the ministry is keen on working with its development partners to raise Egyptian women's living standards through implementing projects in education, healthcare, social solidarity, and SMEs projects.
El-Mashat asserted that inclusive development is the way to achieve equality and increase job opportunities and young people participation.
On technological advancements, El-Mashat said that technology has introduced several new kinds of jobs. By 2025, the internet will have created more that a million new jobs in the Egyptian market, provided by the non-official sector, she added.
http://english.ahram.org.eg/NewsContent/3/12/360054/Business/Economy/Egypt-is-boosting-economic-growth-rates,-womens-ro.aspx
--------
URL: https://www.newageislam.com/islam-women-feminism/lebanons-new-defence-minister-first/d/120870
New Age Islam, Islam Online, Islamic Website, African Muslim News, Arab World News, South Asia News, Indian Muslim News, World Muslim News, Women in Islam, Islamic Feminism, Arab Women, Women In Arab, Islamophobia in America, Muslim Women in West, Islam Women and Feminism