New Age Islam News Bureau
10 Dec 2016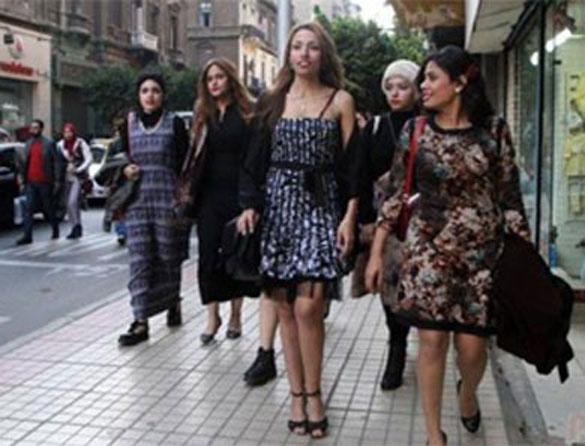 As onlookers watched on in silent amazement, the women waved signs carrying the message against harassement. (Photo courtesy: Youm7)
---------
• Egyptian Women Resist Harassment with Short Dresses
• Iran Just Sentenced Twelve People To Jail Because Of Their 'Un-Islamic' Instagram Photos
• As a Muslim Woman, I Support Angela Merkel's Ban on Niqabs in Germany
• 100 Women 2016: The Arab Women Told 'Girls Don't Do Maths'
• Global Women Organizations Discuss Women Empowerment in Arab States
• Tigris Lioness: Iraqi Militiawoman Fights for Revenge against Islamic State
• Haseena Faras Became the First Muslim Woman Mayor of Kolhapur
• Mumbai Teacher Resigns after Harassment over Hijab, School Refutes Allegations
• Algeria praised for its inclusion of women in politics
Compiled by New Age Islam News Bureau
URL: https://www.newageislam.com/islam,-women-and-feminism/new-age-islam-news-bureau/lebanon-'closer-to-repealing'-controversial-rape-law/d/109345
-------
Lebanon 'Closer To Repealing' Controversial Rape Law
9 December 2016
After several campaigns by women's rights activists, several members of parliament in Lebanon have agreed to work to revoke a nearly 70-year-old law allowing rapists to avoid prosecution if they marry their victim.
Many Lebanese women, dressed as brides in white wedding dresses stained with fake blood and bandages, gathered last week outside government buildings in Lebanon's capital to protest against the law.
Article 522 of the Lebanese penal code states: "In the event a legal marriage is concluded between the person who committed [crimes including rape, kidnapping and statutory rape] and the victim, prosecution shall be stopped and in case a decision is rendered, the execution of such decision shall be suspended against the person who was subject to it."
"We reject this violation of women regardless of their age, background, environment, whether they have special needs or the circumstances of the rape," said Ghida Anani, head of Abaad, a local NGO campaigning against the law.
https://english.alarabiya.net/en/News/middle-east/2016/12/09/Lebanon-closer-to-repealing-controversial-rape-law.html
-------
Egyptian women resist harassment with short dresses
10 December 2016
A group of Egyptian women have resorted to a new and original way to fight sexual harassment during a march in the capital, Cairo - wearing short dresses.
As onlookers watched on in silent amazement, the women waved signs carrying the message: "we are wearing the dresses of the past, we want the streets of the past". The message was referring to the sixties and seventies when women's skirts and dresses were fashionably much shorter, but they received less unwelcomed attention.
Dr Riham Atef, the organizer of the march, told Al Arabiya.Net: "The concept behind this march is inspired by European traditions… We wanted to take part in the movement and raise awareness of the problem of sexual harassment in Egypt's streets."
She said that although Egyptian women dressed modestly, they were still exposed to violent, verbal and sexual harassment. This bad reputation has earned Egypt a high ranking in the list of countries where sexual harassment is a problem, just after Afghanistan. And she stressed that the current laws did not deter offenders, especially in a culture where women refuse to report their aggressors, fearing scandal.
Atef said the idea behind wearing short clothing in the march was intended to "shock the community", as the women of the sixties and seventies enjoyed wearing fashionable trends and did not appear to be subjected to the same levels of harassment.
She added: "Nor did the phenomenon exist all together. Indeed, the prevailing morality of the past endowed women with a respectful status whenever they were in the streets, in public transportations, universities and clubs, so we wanted to march, to remind the community that we as women want to return to the morals and the streets of the past."
https://english.alarabiya.net/en/features/2016/12/09/Egyptian-women-resist-harassment-with-short-dresses-.html
-------
Iran just sentenced twelve people to jail because of their 'un-Islamic' Instagram photos
Dec 8, 2016
Twelve people have been jailed in Iran for posting photos of 'un-Islamic acts' on Instagram.
It's part of the Iranian government's 'Spider II' program, which is tasked with cracking down on what they consider to be inappropriate online activities. Since the program launched in March more than 170 people have been arrested.
Twelve people have been given prison sentences, ranging from five month to six years, for images they put on Instagram. The eight WOMEN and four men have not been publicly named, but were convicted in Shiraz, in South-West Iran, and won't be able to leave the country for two years after their sentences.
Instagram is popular in Iran, because unlike Facebook, Twitter and YouTube, it isn't actually blocked by the government. But that has made it a target of Spider II.
Last November. seven modelling agencies were shut down for "endangering moral security and public ORDER," and in May, eight other people were arrested for photos they put online.
https://www.indy100.com/article/iran-just-sentenced-twelve-people-to-jail-because-of-their-un-islamic-instagram-photos-7463671
-------
As a Muslim Woman, I Support Angela Merkel's Ban on Niqabs in Germany
QANTA AHMED
12.10.16
Accepting her party's nomination for what would be her fourth four-year term as Germany's chancellor, Angela Merkel announced that Germany must ban the niqab (full face veil) "wherever legally possible." Smacking of political expediency, the timing of this announcement underlines her need to draw hard-right nationalists critical of her Syrian refugee policy away from the populist and far-right political parties gaining strength in Germany.
Yet Chancellor Merkel's ban is one I support as an observant Muslim woman. In 2011, I argued that then-President Nicolas Sarkozy's legislating of France's burka ban was a brave step. Merkel's announcement, while politically opportunistic, is to be commended.
Any ban on wearing the niqab in public is one that defends secular society. In Germany today, secularism and the perceived integrity of the nation are strained with the influx of 1.2 million Syrian refugees, the rise in Islamist terrorism, and the looming threat from the so-called Islamic State. Germany is a fragile state within a fragile post-Brexit Europe. In this climate, niqabs become a direct challenge to national cohesion, connote a neo-orthodox expression of Islam, and are often associated with Islamist ideologies: ISIS, al Qaeda, the Taliban, and others.
Predictably, liberals, others, and The Council on American Islamic Relations, a prominent American Muslim advocacy group, have already launched a backlash claiming this burka ban violates the rights of Muslim WOMENlike me—a uniquely Islamist, and not Islamic, claim. Being de facto political totalitarianism, Islamism, also known as "radical Islam" or "political Islam," centers on absolute domination of the individual, forcibly imposing a perversion of Islam through the concept of Islamic statehood.
While some Muslim women may not be in a position to choose within the confines of their family, in secular societies where women are free to choose their DRESS, rote ritualism and de novo rituals including the wearing of the niqab indicate neo-orthodoxy. WOMEN who choose to adopt the niqab in secular society may do so in solidarity with today's militancy du jour: Islamism. Wherever neo-orthodoxy flourishes, Islamism, not Islam, thrives near by.
Literal, inflexible interpretations of the veil are a hallmark of Islamism. Because so many Muslims are ignorant of the true dictates of Islam, and so many live under Islamist governments (Iran, Pakistan, Turkey, among others), rituals founded on cultural mores, rather than Islamic ideals, are co-opted as "Islamic." These rituals then work to reinforce misogyny in some societies: the infantilization of women in Saudi Arabia as legal minors, their immobilization both within their society and internationally (banned from travel without the permission of designated male guardianship), and a strict gender segregation of the public space, all penalize women.
Problematically, these cultural mores come to pass as manifestations of Islam, when they are clearly counter in every way to the egalitarian spirit that Islam holds for both genders. Denying that these traditions are steeped in misogyny deprives Islam of its true identity. Certainly, living in these societies under such confines as I have in Saudi Arabia, women who must enter the public space do veil themselves, because they must. In this way, the legally mandated veil, whether hijab or niqab, also liberates: Women can leave the home if they are veiled to earn, to study, to work.
Merkel's ban, therefore, like Sarkozy's previously, does not confine religious freedom but instead rejects cultural traditions that truly repress women—whether in our mobility, or freedom to choose our DRESS, and our literal visibility and interaction as members of society.
Many Muslim WOMEN in Muslim-majority countries agree that face veiling is not required, according to a fascinating survey by the University of Michigan examining Muslim attitudes to female DRESS. Even among Muslim women, the face veil is not widely supported. Yet reaction to a burka ban can be guaranteed to reveal the enormous ignorance surrounding Islam, an ignorance of which both Muslims and non-Muslims are guilty.
Certainly, legislating dress, and thereby self-expression, smacks of draconian states like Iran and Saudi Arabia (where I lived from November 1999 to November 2001 and was forcibly veiled by law). How could secular democratic societies permit legislation of dress, you may ask? The answer: Dress can, and indeed must be, legislated when societal integrity is threatened and the resulting polarization fuels the development of parallel societies within nationhood. It is exactly within such fragmentation that Islamism takes root as a form of rebellion and rejection of the host society.
Germany is an intensely secular society, which not only tolerates, but celebrates diversity, though recently it has become more jaded where multiculturalism is concerned. Six years ago, in a rising anti-immigration climate, Chancellor Merkel declared multiculturalism as dead, giving way to RENEWED German nationhood and national identity.
Yet anti-immigration sentiment, however repellant, may have some basis in reason. In many European countries, secular pluralistic democracies have been exploited by insular, Islamist neo-orthodoxy. Following the ghettoization of some Muslims in Britain, Britain has struggled with homegrown Islamist terrorism. In France, where ghettoization and marginalization of Muslims is much more marked, lethal outcomes have been borne from such ghettoization, most recently in the Charlie Hebdo massacres and the Bataclan attacks.
Certainly, the opportunist exploitation of tolerant democracies by Islamism comes at the expense of the pluralistic Muslim, who is imperiled both by the actions of Islamist terrorists and subject to retaliatory xenophobia often triggered by Islamist attacks. Criminalizing wearing the niqab in all public places, sparked cries of Islamophobia in Sarkozy's France and is likely to do the same in German, even as legislation to follow SUIT in many European countries—such as Belgium and France, as well as regions in Spain (Barcelona) and Italy (Lombardy)—is already either enacted into law or being proposed as legislation.
But here in Europe, Muslims, and German Muslims in particular, have a role to play in explaining the true meaning and nature of veiling in Islam.
From Islam's origins, the word khimar, "veil," did not necessarily connote face covering. In the Quran, Sura 24:31, referring to the "khimar" reminds Muslim WOMEN of the need to "draw… [it] over their bosoms" as integral to female modesty. Similarly, the verse of the veil commanded only the prophet Muhammad's wives, as a mark of high distinction, to speak from behind a "hijab," meaning a curtain (Quran Sura 33:53).
Traditions asserting "khimar" specifically meant "niqab" may have been exaggerated. Records show Aisha—one of the prophet's wives and among the foremost teachers of early Muslims—provided great detail on the khimars in her day, yet no record exists as to how exactly they were worn.
Make no mistake, secular liberal democracies can overstep the mark. This summer, shortly after the Bastille Day attacks in Nice, France lost its bearings, criminalized the burkini and forcibly stripped a Muslim woman on the beach in a shocking assault. The event rightly triggered international outrage and despite strong local support, France's highest courts ruled the actions to be a breach of democratic values, reversing the legislation. Hearteningly, despite being in a state of emergency ongoing since Charlie Hebdo, France found a way to reason with itself and preserve its vital democracy.
Germany must walk a similar tightrope, between asserting national identity and championing secularism while resisting temptations to demonize all Muslims. To walk this fine line, Chancellor Merkel will need the support of the German Muslim intelligentsia as well as the established German Muslim clergy. Merkel truly has an opportunity to strengthen Germany's civil Islam and thereby Europe's. Both communities have the chance to empower and embrace Germany's Muslims who are as European and as German as they are Muslim; Muslims, who like me, observe Islam as they repudiate Islamism; and Muslims who value the shared nationhood secular liberal democracy affords them, a national identity within which pluralistic Islam can truly thrive.
Certainly in the short term, Merkel's proposal will trigger intensely inflammatory reactions but as Germany and Chancellor Merkel tangle with the veil, public discourse surrounding Islam may in fact deepen and yield opportunities for European Muslims to SAVE not only the veil, but Islam, from the Islamists.
http://www.thedailybeast.com/articles/2016/12/09/as-a-muslim-woman-i-support-angela-merkel-s-ban-on-niqabs-in-germany.html
-------
100 Women 2016: The Arab women told 'Girls don't do maths'
6 December 2016
In some conservative countries in the Arab world, female students are outnumbering men in the fields of science, technology, engineering and maths - widely known as Stem.
But after graduation, things change. Arab WOMEN represent only one fifth of the workforce in Stem.
The BBC 100 Women 2016 team met three Arab women who fought sexism in their maths careers, and they tell us how women can reverse the gender gap in these fields.
Our 100 WOMEN season showcases three weeks of inspirational stories about 100 influential and inspirational women around the world . We create documentaries, features and interviews, giving more space for stories that put women at the centre.
We want YOU to get involved with your comments, VIEWS and ideas. You can find us on: Facebook, Instagram, Pinterest, Snapchat, and YouTube using the hashtag #100Women. You can also listen to the programmes.
Spread the word by sharing your favourite posts and your own stories using #100women
http://www.bbc.com/news/world-middle-east-38213764
-------
Global Women Organizations Discuss Women Empowerment in Arab States
Dec 09, 2016
International WOMEN's Peace Group (IWPG) as a global women network group takes part in the sixth conference of Arab Women Organization (AWO) in Cairo, Egypt on December 13th to 14th. With the vision of empowerment of Arab women, AWO discusses how to seek a necessary change in Arab women's role in societies and strengthen their participation in societal development.
Ms. Nam Hee Kim, Chairwoman of IWPG, the only Asian speaker in the first ministerial conference held by the Arab League last September, emphasized that she was inspired by the passion and warmth of the women of the Arab region and would be a bridge to interact with the international network established through the organization "The International Women's Peace Group (IWPG)" to voice the development of peace and empowerment of the Arab women. In the sixth conference, Ms. Kim will state with an emphasis on concrete action plans for women's expanded roles in peace and security, which are to be discussed at the UN and international communities.
In the conference, sessions include problems of female refugees and victims of violence, extremism, and terrorism. With these, female leaders will figure out measures to strengthen financial abilities in an international economy and to develop a sense of responsibility based on their experiences of their leadership.
According to a press release HWPL sent to WIC, Arab Women Organization is leading a movement to improve women's role in changing society. Furthermore, it coordinates international/regional women issues in Arab countries, fosters cooperation and exchange of experience to ENHANCE the status of women, and provides essential education services for women.
IWPG is a non-governmental organization, closely cooperating with women all across the world, regardless of age, to come together to achieve peace. It has a vision to end war and achieve peace with spirit of peace by women referred to as "motherly hearts" to protect our children and hand down a legacy of peace.
It engages in the establishment of strategies to achieve world peace by facilitating active communication among women from all walks of life, such as holding Global Women Leaders Seminars and World Women Peace Forums.
http://www.waltainfo.com/index.php/news/international/detail?cid=26262
-------
Tigris lioness: Iraqi militiawoman fights for revenge against Islamic State
Dec 8, 2016
Wearing a camouflage cap over her headscarf, Miaad al-Jubbouri cuts an unusual figure among the hundreds of men fighting to retake a village from Islamic State in northern Iraq.
The mother of five was the sole woman among a joint force of Iraqi army and tribal militias who attacked the village of Kanous on Wednesday - one of multiple fronts in a campaign to drive the insurgents from their remaining strongholds in Iraq.
Like the men around her, Jubbouri said her motive for taking up arms was hatred of Islamic State, which overran large parts of the country more than two years ago, meting out brutal punishments and killing its opponents, including several of her cousins.
But unlike them, her mere presence on the battlefield goes against the weight of tradition in a society where women are often confined to the home and seldom seen near the frontlines, except when fleeing.
"These soldiers are all my brothers; I am proud to be with them," said Jubbouri, to voices of approval from the men standing around her. "They (Islamic State) came to destroy Iraq but we will ... burn those dogs."
Despite the fighting talk, Jubbouri joined the 'Lions of the Tigris' tribal militia just 10 days ago and has no prior combat experience.
The militia is one of dozens that have sprung to support Iraqi forces advancing on Mosul - Islamic State's last major urban stronghold in the country - in a U.S.-backed campaign that began in October and is regarded as crucial to dismantling the caliphate the jihadists declared over parts of Iraq and Syria in 2014.
The men treat her more like a mascot than a sister in arms.
A Kalashnikov is slung across her small frame, but not once did Jubbouri fire it during Wednesday's battle, and she remained a short distance behind the first line of fire.
"They (the men) don't let me go to the very front. They fear for me, but I want to go," said Jubbouri apparently unperturbed by the deafening sound of mortars being fired at Kanous – her hometown.
On the roof of a house further forward, a dozen soldiers and militiamen positioned on a roof fired round after round indiscriminately towards the village, facing only light resistance.
LIKE A WOLF
During the two years she lived there under Islamic State rule, Jubbouri said she secretly informed Iraqi security forces about the militants' movements, and flouted their order that women veil their faces.
She left Kanous with her family this summer and joined thousands more displaced Iraqis at a camp in the Kurdish region, where her husband was picked up by security services and put in jail.
Jubbouri is not sure why, but said her husband's name may have been confused with that of a suspect, or that someone bearing a grudge against him may have accused him of links with the militants. "As far as I know he's done nothing wrong," she added, the flag of Iraq tied around her neck like a scarf.
After her husband was detained, Jubbouri went south to Tikrit and left her children - aged between one and nine - in the custody of a relative so she was free to join the fight against Islamic State.
"My children cried and said, 'We are scared you will die'," Jubbouri said. "I told them I won't."
Neither her father nor mother are alive, and Jubbouri did not tell her uncles, who might have objected to her taking up arms. Her mother-in-law however encouraged Jubbouri to go and avenge the death of a son who was killed by insurgents in 2012.
Jubbouri's husband, who remains in a Kurdish prison, is not aware of his wife's militia role. "He wouldn't be satisfied ... but he knows I am a wolf, that I am a fighter and that I am like a man," she said.
Backed by the Iraqi government, the Lions of the Tigris' ranks are drawn from young local men, many of whom used to be in the army and have lost friends and loved ones to the militants.
The men asked to have their photograph taken beside Jubbouri and said she would be awarded the home of an Islamic State fighter in Kanous after it was liberated.
"It raises the soldiers' morale to see a woman with them, fighting against terrorism and Daesh," said 27-year-old fighter Amer Kadhim.
One commander talked about making Jubbouri the head of a female battalion, but the fighters were less enthusiastic about the prospect of their own wives and sisters taking up arms alongside them.
Asked whether he would allow his female relatives to join the battle, Kadhim evaded the question. "We have customs and traditions," he said.
http://mobile.reuters.com/article/worldNews/idUSKBN13X18P
-------
Haseena Faras became the first Muslim woman mayor of Kolhapur
December 8, 2016
Kolhapur (Maha): Nationalist Congress Party (NCP) candidate Haseena Faras today became the new mayor of Kolhapur.
In the election held in the Kolhapur civic body, Faras defeated the Tararani Front candidate Smita Mane by a margin of 11 votes. While Faras won 44 votes, Mane bagged 33.
This is for the first time in Kolhapur that a Muslim woman has become a mayor.
Meanwhile, Arjun Mane of Congress won the post of Deputy Mayor, defeating Vijaysinh Khade Patil of BJP by same margin.
http://www.siasat.com/news/haseena-faras-became-first-muslim-woman-mayor-kolhapur-1082417/
-------
Mumbai teacher resigns after harassment over hijab, school refutes allegations
Dec 10, 2016
A teacher from a school in Mumbai's Kurla has resigned after being allegedly harassed for wearing a hijab, or Muslim headscarf.
In her resignation letter addressed to the management of Bharat Education Society's Vivek English High School, Shabina Khan blamed a head teacher for employing "torturous" techniques, including verbal abuse and intolerance against her religious garments. A?hijab covers the head and neck but leaves the face uncovered.
When HT spoke to Vikram Pillai, the principal of the school, he refuted claims of religious intolerance by the school staff and said that the teacher's resignation letter has been forwarded to the management.
"I've worked in the school for two years and nine months and enjoyed my job. But ever since the new head teacher took over in June 2016, the same atmosphere of school has been in turmoil," states the resignation letter submitted by Khan.
The letter further alleges that the head teacher has often verbally abused her and attacked her religious and cultural belief, more particularly on wearing hijab and headscarf to work. "These tactics directly oppose my personal religious philosophy. I cannot work in such a hostile environment as it is also physically and mentally stressful for me," said Khan.
"There always is a problem when a new person joins an organisation. It doesn't seem to be a major issue but can be a case of ego-clash between teachers. We have received the resignation letter and forwarded it to the management. They will take a decision by next week," Pillai said.
http://www.hindustantimes.com/mumbai-news/mumbai-teacher-resigns-after-harassment-over-hijab-school-refutes-allegations/story-pmfRomb8HgiLDsqNBtPYnL.html
-------
Algeria praised for its inclusion of women in politics
December 10, 2016
Algerian female participation in the political field was hailed during the Fifth Annual Arab-American Day in Washington this week.
Organised by the Chamber of Arab-American Commerce and the Council of the Arab Ambassadors, the conference was on Arab WOMEN and the enhancement of leadership and resilience.
Algeria was highlighted at the conference for its progress in the participation of women in the political field and presence in political decision-making process.
The recent revision of the Constitution, decided by President Abdelaziz Bouteflika, was discussed, with an emphasis on its effort to consolidate equality between men and women in employment and to encourage the PROMOTION of female personnel to senior positions within public institutions and administrations.
Algeria was also praised for adopting a quota system to improve women's representation in elected assemblies which grant women 30 per cent of parliamentary seats.
These attempts have also permeated into the economic field where the government last year launched the International Bureau of Labour programme to promote female entrepreneurship in Algeria and increase the number of companies created by women.
https://www.middleeastmonitor.com/20161210-algeria-praised-for-its-inclusion-of-women-in-politics/
-------
URL: https://www.newageislam.com/islam,-women-and-feminism/new-age-islam-news-bureau/lebanon-'closer-to-repealing'-controversial-rape-law/d/109345
New Age Islam, Islam Online, Islamic Website, African Muslim News, Arab World News, South Asia News, Indian Muslim News, World Muslim News, Womens in Islam, Islamic Feminism, Arab Women, Womens In Arab, Islamphobia in America, Muslim Women in West, Islam Women and Feminism, Moderate Islam, Moderate Muslims, Progressive Islam, Progressive Muslims, Liberal Islam