New Age Islam News Bureau
4 March 2018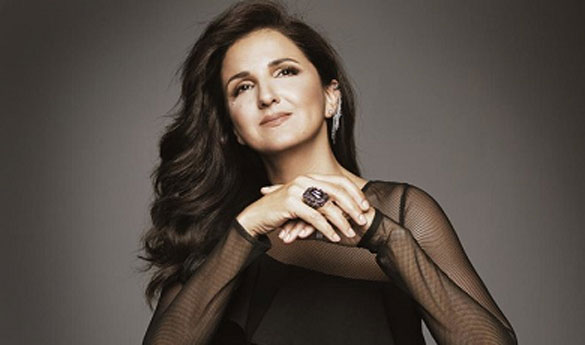 Photo: Tania Saleh has flourished as an independent musician in the Middle East. (Photo supplied)
--------
• Saudi Fashion Designer Puts Local Women in the Driving Seat
• The Story behind Saudi Arabia's Most Famous Female Architect
• Hindu Woman Elected To Pakistan's Senate in Historic First: Report
• Woman Photographer Daringly Captures Beauty of Kuwait City's Backstreets
• Saudi Arabia To Establish 233 Centres To Host Children Of Working Women
• Angelina Jolie's Animated Film about Afghan Girl Nominated for Oscar Award
• Woman Arrested While Planting Roadside Mine in North of Afghanistan
• ISESCO Calls Upon Muslim World to Empower Women
• Arab Women's Council Lionizes Kuwaiti Academicians
Compiled by New Age Islam News Bureau
URL: https://www.newageislam.com/islam-women-feminism/lebanese-music-star-tania-saleh/d/114473
--------
Lebanese Music Star Tania Saleh: 'Being a Woman Has Been A Blessing, Not A Problem'
ADAM GRUNDEY | Published — Sunday 4 March 2018
DUBAI: Surviving as an independent musician in the Middle East takes a level of determination and, occasionally, stubbornness that many would reasonably feel was just too demanding. Tania Saleh has survived for more than two decades. Not just survived, but thrived.
Saleh, who first gained recognition in Lebanon in the late Nineties, when support of any kind for non-mainstream art was practically non-existent, is now hailed as a pioneer of the alternative Arabic music scene. She's lauded for her singular, emotive vocal style and her heartfelt, unflinchingly honest lyrics that have tackled both the personal and the political. And she has made her name without the backing of a label, or even a manager.
You might expect Saleh's struggle to have been all the greater because she's a woman. But, as she tells it, that's not the case. If anything, as an artist, she feels it's been a blessing.
When she spoke to Arab News on the eve of her appearance at Wasla music festival in Dubai in early February, Saleh had recently attended a workshop in Sweden about how women in the MENA region are making themselves heard in the music industry.
"Sometimes (at these events), the conversation veers into 'Oh, poor woman. It's so tough …' But, in my case, I never felt like I was mistreated because I was a woman or I didn't get certain offers because I was a woman," she said. "I always felt that I wanted to be a good musician before my gender even came into it.
"So, I never felt like being a woman was my problem," she continued. "I felt that the market was the problem. The people were the problem. People were used to listening to a certain kind of music; either the traditional, like Fayrouz or Umm Kulthoum — old but good material — or the mainstream on TV or the radio. The majority of people didn't want to look for something new, but those who did found us. And they realized there was something there."
The real struggle for independent artists in the region, Saleh feels, is unrelated to gender. It's simply the restrictions on self-expression.
"In general, in this region, it's not as easy to express yourself, because of religion, because of society, because of how people view you as an independent person," she explained. "When you can't express yourself, whether you're a woman or a man, it's a problem. And it's not because you don't have enough guts, it's because whatever you say isn't going to be accepted."
In her latest project, the album "Intersection," released in October last year, Saleh uses classical Arab poetry, and also produced a number of street-art pieces around the region, to examine some of these themes. It is, she said, "an ode to the Arab streets."
It started with one of the two tracks from the LP for which she wrote the lyrics herself, "Show Me The Way."
"The song is a question about the Arab world. Like, 'Is this really the Arab world? Are you still brothers? Or are you killing each other?' That's the main question," she said. "So I chose poems and poets related to this topic. Poets who talked about their societies and their streets. And nothing has really changed. If you hear these poems today, you'd think they were written today."
Setting the words of legendary poets including Khalil Gibran, Mahmoud Darwish and Nizar Kabbani, among others, to song was, Saleh said, "a big responsibility." It was also a chance to bring a feminine perspective to traditionally male-dominated Arabic poetry (although, she pointed out, most of the poets she selected were "very open to their feminine sides," and two of the poets featured — Nazik Al-Malaika and Joumana Haddad — are women).
For Saleh, the importance of a female perspective in art cannot be overstated.
"Man is a hunter. In every way. Hunting food, war, women … The woman is not a hunter, and that shows in her way of expression," she said. "Women can bring something to poetry — to art of all kinds. The ways women express their emotions are different from men. That's why it's so important to have more songwriters who are women. It's not because of feminism, or equality, it's because the feelings we bring in are different. The way we see things is different. Particularly when we become mothers. And it's important to see that perspective on things."
The guiding principle behind Saleh's long music career has been integrity. The emotional honesty of her vocals and lyrics is mirrored in her actions. And sometimes in her lack of action. Like turning down big-money offers to perform for, say, "a TV show that supports stupid stuff."
"It can be a statement to say no," she said. "When you see how your image has remained intact because of all those decisions you've taken, you're fine. And you know people will remember you how you want to be remembered."
It's the reason she still fights to control every aspect of her career. "I'm not making a lot of money, but I'm fine," she said, while admitting she'd "maybe" like to own a small boat one day.
"I don't dream of having a lot of money. I don't like expensive stuff. To me, it doesn't matter," she explained. "What matters is how I feel and the integrity of my work, and having honest relationships with people.
"After all, you write your own story," she continued. "You don't want someone else to write it for you."
arabnews.com/node/1258751/art-culture
---------
Saudi fashion designer puts local women in the driving seat
RAWAN RADWAN | Published — Sunday 4 March 2018
JEDDAH: A leading Saudi fashion designer has released a short film celebrating the changing role of women in the Kingdom.
The film, entitled "sa'aqood," or Arabic for "I will drive," was produced by Hatem Al-Akeel, founder and creative director of the Toby label. It highlights women's ability to drive and lead, both physically and metaphorically.
Al-Akeel has been showing support for women's empowerment through his innovative designs for some time.
"The driving concept is very symbolic," he said.
"Seeing a woman drive shows how we're heading toward a more progressive and moderate Saudi Arabia. Women now are more empowered and are moving forward with respect to the culture and traditions.
"My whole ethos has been to show the tremendous potential and capabilities of Saudi Arabia. The video's message is to empower women and also show the levels of excellence, luxury and sophistication Saudi women can strive for," he said.
The video features Saudi entrepreneur Bayan Linjawi, co-founder of Blossom MENA, an online platform that promotes technology entrepreneurship in the Kingdom.
"It's not about driving a car, it's about having the choice as a woman to participate in social, economic and political activities. It's steering one's life," said Linjawi.
The video sends a message that women are ready to take on leadership roles and tackle any challenge.
"I am a firm believer in creating messages, and they have always been that Saudi Arabia can hold its own against any culture — we have so much to offer," said Al-Akeel.
The fashion founder wants to show the positive side of tradition with designs that have transformed the common abaya into a style statement, for example.
arabnews.com/node/1258661/saudi-arabia
---------
The story behind Saudi Arabia's most famous female architect
Meet Nadia Bakhurji.
2018-03-04
After completing her bachelor's degree from King Faisal University's College of Architecture and Planning in the 1980s, Nadia Bakhurji figured out that companies in the country weren't ready to take on women in the workforce yet.
Driven by an urge to work, she started her own business in 1989 by establishing an architectural and interior design consultancy called Riwaq of the Kingdom (ROK).
Initially, Bakhurji got work through her father's business contacts, with one of her first major clients being American telecommunications giant AT&T.
Then in 1996, she formed a partnership with Prince Al Waleed Bin Talal, which extended ROK's prospects considerably. Together, they served hospitality, medical, educational, and corporate sectors.
In 2007, she was one of the first women in the kingdom to be granted an architectural consultant license. Soon after, she launched her own company, Nadia Bakhurji Architectural and Interior Design Consultants (NBA), through which she made some of her most famous work.
Bakhurji started to work on major projects and formed international joint ventures with globally renowned companies like HKS from the United States, Expanish from Spain, and Vahanen from Finland.
Through NBA, Bakhurji targets a niche market – the female clientele who want a womanly touch to their interiors and overall architecture.
The activist
Throughout her career, Bakhurji has campaigned for the advancement of women in engineering, education, and business. She received widespread recognition for becoming the first Saudi woman to attempt to run for the municipal elections in 2005.
This move gained her importance in higher decision making and policy drafting for women in the society. Later that year, she became the first woman to earn a seat on the Board of the Saudi Council of Engineers (SCE).
She was also the founding board member of the Arab Women's International Forum and is currently a board member of the Arab Women Engineers Committee.
Bakhurji even briefly served as the Secretary-General for Prince Al Waleed's foundation in 2012.
Bakhurji today
She serves as the president of NBA and Riwaq, and has won numerous awards for her works in architecture, design, and even for her activism.
Bakhurji was a Chevening Fellow at University College of London and awarded the Arab Women's Excellence Award for Excellence in Architecture and serving the engineering sector in 2012.
Two years later, she won the International QS100 Gold Quality Crown Award for achieving a high standard of client satisfaction and quality services.
Today, her best-known work is in the form of palaces in Riyadh and major community development projects. She continues to work for major brands and has recently designed retail outlets and office spaces for Nissan and SABB.
stepfeed.com/the-story-behind-saudi-arabia-s-most-famous-female-architect-5820
---------
Hindu woman elected to Pakistan's senate in historic first: Report
PTI | Updated: Mar 4, 2018
Krishna Kolhi, 39, from Thar is a member of Bilawal Bhutto Zardari-led Pakistan People's Party (PPP).
She won the election for the reserved seat for women from Sindh province, Dawn News reported.
Krishna Kumari won the election for the reserved seat for women from Sindh province, Dawn News reported. (Courtesy: Facebook | Krish Kumari)Krishna Kumari won the election for the reserved seat for women from Sindh province, Dawn News reported. (Cour... Read More
KARACHI: Kirshna Kumari Kolhi from Pakistan's Sindh province has become the first-ever Hindu Dalit woman Senator in the Muslim-majority country, the Pakistan People's Party has said.
Kolhi, 39, from Thar is a member of Bilawal Bhutto Zardari-led Pakistan People's Party (PPP).
She was elected Senator on a minority seat from Sindh. The PPP awarded her the Senate ticket, it said.
Her election represents a major milestone for women and minority rights in Pakistan. Earlier, PPP had elected first Hindu woman named Ratna Bhagwandas Chawla as a senator.
Kolhi belongs to a remote village in Nagarparkar district of Thar in Sindh province.
Read this story in Bengali
Born to a poor peasant, Jugno Kolhi, in February 1979, Kolhi and her family members spent nearly three years in a private jail owned by the landlord of Kunri of Umerkot district. She was a grade 3 student at the time when held captive.
She was married to Lalchand at the age of 16, when she was studying in 9th grade. However, she pursued her studies and in 2013 she did masters in sociology from the Sindh University.
She had joined the PPP as a social activist along with her brother, who was later elected as Chairman of Union Council Berano.
Read this story in Marathi
Kolhi also actively participated and worked for the rights of downtrodden people of marginalised communities living in Thar and other areas.
She is from the family of the valiant freedom fighter Rooplo Kolhi, who had waged a war against the invading British colonialist forces when they had attacked Sindh from Nagarparkar side in 1857. Subsequently, he was arrested and hanged by the Britishers on August 22, 1858.
Pakistan's ruling PML-N of ousted prime minister Nawaz Sharif yesterday won 15 seats in Senate and became the largest party in the upper house of Parliament, according to the provisional results.
Provincial and federal lawmakers voted to elect 52 Senators in the Senate elections, according to the Election Commission of Pakistan (ECP).
Twelve seats each from Punjab and Sindh, 11 each from Khyber-Pakhtunkhwa and Balochistan, four from tribal region and two from federal capital territory were up for grab due to retirement of 52 senators this month.
More than 130 candidates, including those nominated by political parties and independent candidates were in the contest.
timesofindia.indiatimes.com/india/hindu-woman-elected-to-pakistans-senate-in-historic-first/articleshow/63155600.cms
---------
Woman photographer daringly captures beauty of Kuwait City's backstreets
Salem faced several obstacles in a country where women were often not expected to be roaming alone photographing backstreets.
March 04, 2018
DUBAI - Kuwaiti photographer Farah Salem has spent five years roaming the back streets of Kuwait City to discover and capture the multicultural aspect of the capital through photos and video installations featured at her "In-Between the Skyline of Kuwait City" exhibition.
The exhibition, at La Galerie at the Alliance Francaise of Dubai, was the outcome of a journey that began when Salem was an undergraduate student and resulted in a book with the same title that was published in June 2016.
Salem's work invites viewers to a "dynamic meditative experience" and the video-and-sound installation offers an experience similar to a visual walking tour around the streets between the skylines of the city.
"I aim to allow people to see that there is more to Kuwait City's urban life than the dazzling modern and luxurious buildings that somehow feel lifeless. Behind them are the most scenic streets and passages that tell a far more powerful story," Salem said.
"I was an 18-year-old woman with dreams of travelling to explore new cultures and places. At that time, I had to focus on my education.
I could not afford to travel. I had a car and a camera and I decided to use these tools every weekend to park somewhere in the city and go on walking adventures," she said via e-mail from Chicago, where she is working towards a master's degree in art therapy and counselling.
Salem faced several obstacles in a country where women were often not expected to be roaming alone photographing backstreets.
"However, I made it work for me and I built honest human connections with strangers on those streets. Often, I would return with a printed photograph to offer it to shop owners or craftsmen whom I had met on the street," she said
Salem's documentation of a 5-year period of a city that is constantly shifting generated great interest inside and outside Kuwait.
"There was great feedback," she said. "At one point a few individuals who were not happy with 'this specific image' of Kuwait asked me why I didn't document any of the modern buildings or malls. Ironically, this was my very point from this project: not to show Kuwait's modern architecture that can be easily found on a search engine but to capture the beauty that lies within the rawness of the backstreets. To include all aspects of the city and those who reside in it."
In her journey towards a full-time creative life Salem can count on the support and encouragement of her father, who is creative himself, and friends. "I also receive encouragement from the creative community that I am surrounded by and deeply appreciate the support from viewers and art enthusiasts," she said.
Salem started experimenting with photography when she was "14 going on 15," with a digital camera she would carry in her pocket to capture moments of life around her.
"My father saw potential and bought me a (professional) camera when I was 17. I began learning on my own and then enrolled in a photography course. I continued practising and taking as many courses as I could," she said.
"By the time I was 20, I was experimenting with film and instant photography. Eventually, I started attending both photography and other art practice programmes. Like every artist, it's an ongoing practice of building your own aesthetic and conceptualisation of themes."
The media Salem is currently working with are photography, video, installation, performance and projection/light work.
"Through my artwork, I question ways of erasing socio-cultural conditioning, through looking at the societal gendered trauma, particularly rooted within my experience as an Arab woman, as well as debating ways of defeating silence and overcoming boundaries of a restricting culture. Other themes such as existential questioning also appear in my work," Salem said.
Salem said censorship is still a large issue in the Gulf region. "I don't believe art should be restricted by any kind of ideology," she said. "It is often easier to censor women and keep their voices down. It is a part of the culture after all."
Stressing the importance of applying feminist theories in the Gulf region, she said: "I don't mean the Western version of feminism or simply the equality of gender but also taking into consideration class, race, religion, nationality and socio-cultural backgrounds. Feminism is freedom of choice. Feminism is about dismantling the systems of oppression."
"Creating platforms that can act as safe spaces, finding new processes to empower our own choices and engaging all members of society in a just way is what is needed right now," she added.
thearabweekly.com/woman-photographer-daringly-captures-beauty-kuwait-citys-backstreets
---------
Saudi Arabia to establish 233 centers to host children of working women
ARAB NEWS | Published — Sunday 4 March 2018
DUBAI: Saudi Arabia's Ministry of Labor and Social Development and Human Resources Development Fund Khaled Aba Al-Khail explained that the program to support children's advocacy "Qurrah" has been adopted so far 233 child-care centers in the Kingdom, according to Saudi state-news channel Al-Ekhbariya.
Aba Al Khail invited Saudi women working in the private sector to enroll in the program by selecting one of the approved centers on the program's website.
The program, which was recently launched by the Saudi Ministry of Labor and Social Development in cooperation with the Human Resources Development Fund, aims to contribute to the goals of the National Transition Program in supporting working women and helping them overcome the challenges they face.
The program aims at empowering Saudi women and increasing their participation in the labor market, supporting their job stability, increasing child support centers, developing and improving the quality of these centers, and developing models of childcare services such as childcare centers.
arabnews.com/node/1258821/saudi-arabia
---------
Angelina Jolie's animated film about Afghan girl nominated for Oscar award
By KHAAMA PRESS - Sun Mar 04 2018
An animated film produced by Angelina Jolie depicting the life of a young Afghan has been nominated for the Oscar award along with several other animation films.
The Oscar official informed regarding the nomination of the animation film "The Breadwinner" late in January.
According to reports, Pixar's Coco is the favorite however it will be seen on Sunday night as the Oscars will pick the best animated feature during the awards distribution ceremony.
The trailer of "The Breadwinner" was released in the month of October last year was exhibited in the theaters on 17th November of thhe 2017.
Directed by Nora Twomey, the animated film depicts the life of a 11-year-old Afghan girl Parvana who lives under the Taliban rule in war-torn Kabul.
The film shows the challenges the young girl faces after her father is arrested wrongfully, leaving her and her family without a way to make any money.
With the women prohibited to leave the home without a male relative under the Taliban regime, Parvana is forced to cut her hair short and wear her brother's clothes in a bid to earn for her family.
By doing so, Parvana experiences the freedom she has never enjoyed before despite facing the tough challenges.
The film also covers the efforts by the young girl to figure out where her father is so that she can rescue him.
khaama.com/angelina-jolies-animated-film-about-afghan-girl-nominated-for-oscar-award-04570/
---------
Woman arrested while planting roadside mine in North of Afghanistan
By KHAAMA PRESS - Sat Mar 03 2018
A woman has been arrested while planting a roadside mine (Improvised Explosive Device) in northern Faryab province of Afghanistan.
The 209th Shaheen Corps of the Afghan Military in the North said the woman was arrested from the vicinity of Qaisar district.
No further details have been given regarding the detained woman and it is yet not clear to which group the woman belong to.
The anti-government armed militant and terrorist groups often use Improvised Explosive Device as the weapon of their choice to target the security forces and government officials.
However, in majority of such attacks the ordinary civilians are targeted besides the roadside mines claim the lives of the militants.
A total of 10,453 civilian casualties – 3,438 people killed and 7,015 injured – were documented in the 2017 Annual Report released last week by the UN Assistance Mission in Afghanistan (UNAMA) and the UN Human Rights Office.
The report further added that the high number of casualties to the civilians were inflicted by suicide bombings and other attacks using improvised explosive devices (IEDs).
In the meantime, the Shaheen Corps said at least two militants were killed and five others were wounded during a clash with the security forces in Qaisar district.
khaama.com/woman-arrested-while-planting-roadside-mine-in-north-of-afghanistan-04567/
---------
ISESCO calls upon Muslim World to empower women
RABAT, 4th March, 2018 (WAM) -- The Islamic Educational, Scientific and Cultural Organisation, ISESCO, has called upon the member states, non-governmental, and civil society organisations to empower women to contribute to the building and advancement of society and to intensify efforts to preserve their rights.
A statement issued by the organisation yesterday in Rabat on the occasion of International Women's Day, which is marked on March 8th, said that the occasion highlights the conditions and difficulties women face in different countries around the world.
The statement said that identifying those challenges helps in reaching recommendations, proposals and ideas to improve the situation and reduce women rights violations in the Muslim world and empower them to contribute to building a prosperous society.
wam.ae/en/details/1395302671717
---------
Arab Women's Council Lionizes Kuwaiti Academicians
03/03/2018
By Ayoub Khaddaj BEIRUT, March 3 (KUNA) -- The Arab Women's Council on Saturday honored two Kuwaiti academicians in recognition of their great efforts in the social domain.
The honouring of Suad Al-Suweidan and Suad Al-Zeid took place during the Arab Women's Festival held here today to mark the International Women's Day, which falls on March 8.
Speaking to KUNA on the sidelines of the event, Director of the Kuwaiti Education Ministry's Regional Childhood and Maternity Center Suad Al-Suweidan said Kuwaiti women have greatly contributed to Kuwaiti society in all fields.
She underscored that it is necessary to promote Arab women's role and to enable them to play a bigger role in various realms.
On his part, Dr. Suad Al-Zeid, the general manager of a consulting and training group, stressed the significant and historic role played by Kuwaiti women in the effective management of family affairs, especially with the absence of their husbands in pursuit of livelihood.
Arab women are effectively seeking to prove themselves in all areas, particularly sustainable human development, she added. (end) ayb.mt
kuna.net.kw/ArticleDetails.aspx?id=2698182&language=en
URL: https://www.newageislam.com/islam-women-feminism/lebanese-music-star-tania-saleh/d/114473