New Age Islam News Bureau
22 March 2016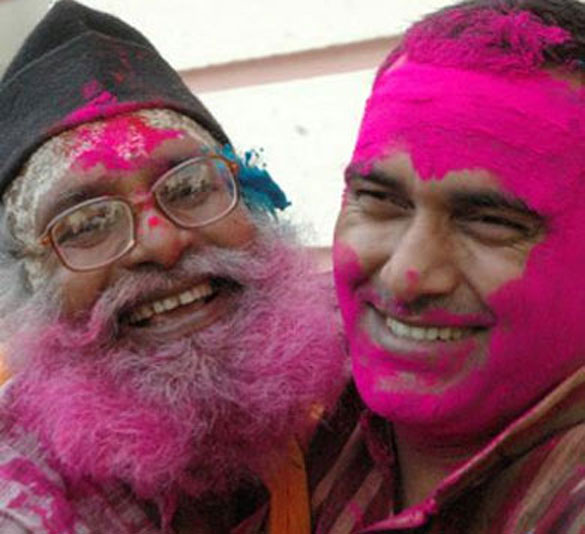 Holi - a shared colourful heritage of Hindus, Muslims, Photo TOI Mar 9, 2009
---------
• Leaving Cultural Differences Behind, Hindu-Muslim Women Together Play Holi In Varanasi
• Woman's death highlights Texas shelter's mission
• Female Prisoners Torch Accommodations in Kabul Pul-e-Charkhi Jail, Kabul
• Baptist Youth Pastor's Wife Says She's Wearing Hijab on Mondays to Show Solidarity with Muslims
• UK Home Secretary Joins Muslims and Jews for Sadaqa Day
• Actress Juliet Stevenson Hugs Child Refugees from Syria Reunited With Their Family
• Raymond Moore, Tennis Exec Who Slammed Women Pros, Quits
Compiled by New Age Islam News Bureau
URL: https://newageislam.com/islam-women-feminism/leaving-cultural-differences-behind,-hindu/d/106733
---------
Leaving Cultural Differences Behind, Hindu-Muslim Women Together Play Holi in Varanasi
22 March 2016| Keshav Yadav
Amid shouts of 'Holi hai', a large number of Hindu and Muslim women came together in Varanasi to jointly celebrate the festival of colours.
The women came together at Vishal Bharat Sansthan, Varunanagram colony and danced on the tunes of "Holi Khele Raghuveera Avadh Mein...Shiv khele Kashi mein Holi...." to play Holi.
Dancing to the beat of drums, Muslim women applied gulaal and abir on Hindu women, spreading the message of religious unity.
The women appealed everyone to play Holi with flowers instead of chemicals.
Najnin Ansari, a Muslim woman, said, "Be it Eid of Holi every festival gives the message of unity. In a democratic country like India people have the right to celebrate all the festivals."
Rajeev Shrivastava, Chairman of the Organization, said, "Women are conveyor of culture. On the occasion of Holi, the unity of Hindu-Muslim sisters symbolise the country's common culture. This initiative by Muslim and Hindu women will spread the message of brotherhood in every home."
http://www.dnaindia.com/locality/varanasi/leaving-cultural-differences-behind-hindu-muslim-women-together-play-holi-varanasi-88583
----
Woman's Death Highlights Texas Shelter's Mission
March 21, 2016
PLANO — Nishat Karimi of Plano wishes she had seen the signs that could have saved her sister's life. She said she did not know the extent to which Noshin Chambers was struggling and hurting.
"I feel very guilty," Karimi said.
Chambers was found dead in her Plano home last Thursday. Her estranged husband, Gardner Chambers, was also found dead at the same location. Police are investigating the deaths as a possible murder-suicide, but they are waiting to hear from the medical examiner's office for an official ruling.
Shelter helps Muslim women escape violence
"Never a frown and never complained about anything," Karimi said about her sister. "Her eyes showed joy. How would we know?"
Plano police said they have no record of domestic abuse in the home. The family told WFAA that the signs of abuse were not evident. Karimi said her sister did confide in several friends about being very afraid. Karimi is now on a mission to give help other domestic violence survivors.
And that help isn't very far away. Hind Jarrah is the executive director of the Texas Muslim Women's Foundation. It is a unique domestic violence shelter in Texas that is built to be sensitive to cultural and religious guidelines.
Jarrah said they don't just help Muslim women; in fact, she said 20 percent of the survivors currently in their facility are non-Muslims.
"It's the abuser's insistence on having total control," Jarrah explained.
Noshin Chambers' family said the program could have helped her. What is especially hard for Sister Nishat Karimi is that she was a board member the foundation, and was instrumental in getting it off the ground.
"Victims always have a feeling of shame that there must be something they must have done," Jarrah said, adding that the foundation has already helped for more than 400 women and children.
Karimi admits that her emotions have been on a roller-coaster since Chambers' death. Feelings of anger and sorrow come up at random times during the day. In the meantime, her family is focusing its attention on three children who are now parentless.
Karimi said her sister had just served divorce papers the day before her death; the initial court hearing had been scheduled for Tuesday.
"She tried to save her children until the very end," Karimi said. "Please don't let yourself be stuck in this situation. Reach out to someone... whether it's your sister or a friend."
Nishat Karimi is now on a mission to find other survivors to give them a voice... a voice she wishes she had heard from her own sister.
http://www.wfaa.com/news/womans-death-highlights-shelters-purpose/94614627
-----
Female Prisoners Torch Accommodations in Kabul Pul-e-Charkhi Jail, Kabul
Mon Mar 21 2016
A group of female prisoners have reportedly torched certain accommodations in Pul-e-Charkhi prison of Kabul following a demonstration that turned violent.
Pictures emerging from the prison purportedly show certain accommodations on fire inside the jail with reports suggesting the female prisoners started demonstrations after complaining regarding cells where they are kept.
There are also reports that an individual was taken hostage by the rioting prisoners but there are no reports regarding the possible casualties.
The security officials have not commented regarding the incident so far.
Pul-e-Charkhi prison is located in the east of capital Kabul and is the largest prison in Afghanistan where the prisoners are kept.
Completed in the 1980s, the government keeps both the male and female prisoners in separate sections but the living conditions of the prison have been criticized by several human rights groups.
The rights groups in their reports have mainly cited the prison for being overcrowded and the living conditions as sub-par.
http://www.khaama.com/female-prisoners-torch-accommodations-in-kabul-pul-e-charkhi-jail-0399
----
Baptist Youth Pastor's Wife Says She's Wearing Hijab on Mondays to Show Solidarity with Muslims
March 21, 2016
North Kansas City High School guidance counselor Martha DeVries fixes her hijab during this undated video posted to YouTube on March 18, 2016.
A Baptist high school guidance counselor and youth pastor's wife in Missouri is wearing a hijab (Muslim headscarf) to school every Monday as a way of showing solidarity with Muslims and combating anti-Muslim rhetoric.
Martha DeVries, the guidance counselor at North Kansas City High School, began wearing a headscarf to school every Monday after she was inspired by a sermon from her pastor in which he challenged his congregants to make a difference.
Wheaton College Provost Called Professor's 'Same God' Comments 'Innocuous' Before Suspending Her
"I am a follower of Jesus. I do believe that I am called to live out His message. I believe that the most important commandment is 'love God and love others,'" DeVries said in an interview with the Religion News Service. "It's not my intent to take on the establishment of the entire Islamic faith, it's my intent to say I stand with Muslim women in my community."
DeVries said that wearing a headscarf helps her identify with with Muslim women at a time when moderate and peaceful Muslims are being overshadowed by the violent and brutal acts of Islamic extremists, who are affecting how many perceive Muslims as as whole.
"I've just gotten very tired of hearing so many negative things, like Donald Trump's 'let's not let Muslim immigrants into the United States' and the scare on Syrian refugees," DeVries told Baptist News Global.
"I said I'm trying to walk in someone else's shoes," she added.
DeVries asserts that there is little difference between her and Muslim women and she doesn't see the reason why people should be frightened over a person's religion or cultural dress.
"What's a headscarf? I mean, its three yards, if even," she told RNS. "That shouldn't separate me from someone whose humanity is so much like mine."
DeVries asserted that her purpose is to let Muslims know that there are "Christians in this nation who love them."
"I think of Muslims in my community as my neighbours and it's not my job to judge them or determine their salvation," she explained. "My job is to love them."
DeVries said she has not been treated any differently while wearing the headscarf in public but added that she gets "knowing looks" from Muslim students that she considers to be "appreciative smiles."
"Especially on Mondays when I am wearing the Hijab, I feel like I get knowing looks from Muslim students and appreciative smiles but I could just be imagining that too," DeVries stated. "I figure one of these days, some girl is going to come to me and say you are not wearing that scarf correctly, let me show you how to put it on your head but so far, that hasn't happened."
Mike DeVries, Martha's husband and a part-time youth pastor, is supportive of his wife's decision to wear a hijab on Mondays, pointing out that there are students from over 60 nations that attend North Kansas City High.
"We have encountered a lot of Muslim students and the ones we have encountered have been sweet, good kids," DeVries told Baptist News Global.
In the interview with RNS, Mike DeVries said Christians need to be less judgmental.
"I just think Christians need to take a step back and evaluate their actions and are we really making a difference in what our purpose is by bashing people," he said.
DeVries' hijab-wearing campaign comes after former Wheaton College political science professor Larycia Hawkins gained headlines when she wore a hijab throughout the Advent to show solidarity with Muslims.
Hawkins was later placed on administrative leave after she wrote in her Facebook post explaining that she was wearing the hijab because Muslims and Christians worship the same God.
"I stand in religious solidarity with Muslims because they, like me, a Christian, are people of the book. And as Pope Francis stated last week, we worship the same God," Hawkins wrote. "But as I tell my students, theoretical solidarity is not solidarity at all. Thus, beginning tonight, my solidarity has become embodied solidarity."
Wheaton College's provost Stanton Jones recommended in January that Hawkins' employment be terminated. Although the school and Hawkins reconciled last month, Hawkins left the school and was later hired by the University of Virginia.
Although Hawkins, DeVries and other women believe that they are showing solidarity with Muslim women by wearing hijabs, two Muslim women originally from Egypt and India argued in December that non-Muslims who wear hijabs for good intentions are actually helping solidify a conservative Muslim ideology that is oppressive toward women.
"We reject this interpretation that the 'hijab' is merely a symbol of modesty and dignity adopted by faithful female followers of Islam," the women wrote. "As Americans, we believe in freedom of religion. But we need to clarify to those in universities, the media and discussion forums that in exploring the hijab, they are not exploring Islam, but rather the ideology of political Islam as practiced by the mullahs, or clerics, of Iran and Saudi Arabia, the Taliban in Afghanistan and the Islamic State."
"We don't buy it," the women added. "This ideology promotes a social attitude that absolves men of sexually harassing women and puts the onus on the victim to protect herself by covering up."
http://www.christianpost.com/news/baptist-youth-pastor-wife-wears-hijab-solidarity-muslims-159672/
-----
UK Home Secretary Joins Muslims and Jews for Sadaqa Day
March 21, 2016
Home Secretary Theresa May joined Muslims and Jews for a day of charity, inspired and partnered by Mitzvah Day.
Marking the Muslim-led day of social action – Sadaqa Day – Theresa May joined members of the Jewish and Islamic faith at JW3 in London, to cook for the homeless.
The team of 14 cooks delivered their three course meal to a community centre in Cricklewood, in one of many events across the UK.
The Home Secretary said: "This event – and hundreds like it around the country – shows how coming together can help us create resilient, cohesive communities."
May added, she "was delighted to see first-hand some of the important work that Mitzvah Day and Sadaqa Day are doing."
Hampstead and Kilburn MP Tulip Siddiq participated in another interfaith cooking event at JW3 earlier in the week.
Jewish-Muslim friendship group 'Unity' also marked the day, packing and donating items for Goods4Good – a charity assisting refugees in Borehamwood – where they packed items including socks, clothing, toothbrushes and stationary.
They also supported the Jewish-Muslim Women's Network Nisa Nashim in Harrow for their project, funding and packing lunches for the homeless at Stanmore Mosque.
Unity project co-ordinator Radha Dudhia said: "Working together in this way on social action initiatives is really important and means a great deal to our members. We are able to build understanding and friendship between our communities whilst helping those in real need."
Rosalind Bluestone the CEO of Goods4Good said: "Its inspiring that Jewish and Muslim women have united to make a huge impact and difference".
Sadaqa Day, which was started in 2015 by Julie Siddiqi was inspired by Mitzvah Day, a Jewish-led day of social.
Siddiqi said: "People rose to the challenge with those of all ages, and all backgrounds, joining in and creating a great buzz." Mitzvah Day founder Laura Marks said Sadaqa Day "is a gift for the Jewish community. It provides another day for Jewish/Muslim engagement."
Mitzvah Day's interfaith chair Daniela Pears said: "It is a privilege for Mitzvah Day to partner with Sadaqa Day, which offers both Jews and Muslims another opportunity to get together through a mutual desire to help those in need around us"
Other interfaith projects took place across the country between 17 and 20 Marc
http://www.jewishnews.co.uk/home-secretary-joins-muslims-and-jews-for-sadaqa-day/
----
Actress Juliet Stevenson Hugs Child Refugees from Syria Reunited With Their Family
Monday 21 March 2016
Juliet Stevenson shared a hug with three child refugees from Syria as they arrived to be reunited with their family in Britain.
The three boys, who cannot be named for legal reasons and are all 16, had been stuck in the Jungle camp in Calais.
The charity Citizens UK said they are the first unaccompanied minors to be brought to the UK under Dublin III - European legislation which allows child refugees to have their asylum claims transferred to another EU country if they have family there.
In an emotional gathering to celebrate the "historic day", Stevenson joined lawyers, campaigners and relatives who have battled for months to bring the children to Britain.
The actress hugged each boy in turn, and said the day was a "triumph" for those who want to welcome refugees.
She said: "I wanted to say that the times I've been to Calais I went there to see people who I thought I could try to help, but in fact the people I met there were quite humbling in terms of what they managed to survive and come through.
"It is quite humbling for the rest of us who have never had to deal with that.
"I think when we came to Calais and had that event I said there are two Europes - there is the Europe of governments who refuse their responsibilities and deny their humanity.
"But there is a very different Europe which has millions of members. And that Europe is the Europe that welcomes you and is delighted to have you in our community.
"It is a triumph for that Europe, and I'm much happier as a citizen of this country now that you are here because I feel that we have managed to have some influence.
"So let's hope that is the Europe that will prevail for all your friends."
The three boys smiled and repeatedly thanked the group, whose words were translated to them.
Captain Nick Coke, from the Salvation Army and a member of Citizens UK, told the Press Association: "We are absolutely delighted. For us it is an historic day seeing these boys coming coming from Calais to be reunited with their loved ones in the UK.
"We are overjoyed to share this moment with them, but we are also saddened it has taken so long.
"The conditions in Calais are pretty desperate, it is not suitable for decent human living, but for children to be there is another level."
He said celebrities such as Stevenson who have signed up to buddy refugees arriving in the UK are showing the Government "we do need to act - we can't ignore Calais, we have a responsibility to do something".
Citizens UK estimates that around 150 unaccompanied children who have a legal right to come to Britain remain in Calais.
http://www.asianimage.co.uk/news/14373647.Actress_Juliet_Stevenson_hugs_child_refugees_from_Syria_reunited_with_their_family/?ref=ebln
-----
Raymond Moore, Tennis Exec Who Slammed Women Pros, Quits
March 22, 2016
LOS ANGELES -- The tournament director of the BNP Paribas Open, who said women's pro tennis players "ride on the coattails of the men," resigned Monday night.
Tournament owner Larry Ellison said in a statement that Raymond Moore was quitting as chief executive officer and tournament director of the $7 million event featuring men's and women's players in the California desert. Moore informed Ellison of his decision when they spoke earlier in the day.
"Ray let me know that he has decided to step down from his roles as CEO and tournament director effective immediately," Ellison said. "I fully understand his decision."
A tournament spokesman could offer no further details on Moore's resignation, citing only Ellison's statement.
Moore apologized after he was roundly criticized by executives from the women's and men's pro tours, players Serena Williams and Victoria Azarenka, and on social media for his comments Sunday.
Williams objected, saying, "Those remarks are very much mistaken and very, very, very inaccurate."
The 69-year-old former touring pro from South Africa has been CEO of the tournament since 2012. In the event's early years, Moore and fellow ex-player Charlie Pasarell started PM Sports Management, which oversaw the tournament as it expanded.
"In my next life when I come back, I want to be someone in the WTA because they ride on the coattails of the men. They don't make any decisions and they are lucky. They are very, very lucky," Moore said. "If I was a lady player, I'd go down every night on my knees and thank God that Roger Federer and Rafa Nadal were born, because they have carried this sport."
Williams said, "Obviously, I don't think any woman should be down on their knees thanking anybody like that."
Williams called Moore's comments a disservice to Billie Jean King, one of the co-founders of the WTA Tour, female athletes and "every woman on this planet that has ever tried to stand up for what they believed in and being proud to be a woman."
King later tweeted: "Disappointed in (hashtag) Raymond Moore comments. He is wrong on so many levels. Every player, especially the top players, contribute to our success."
Moore also referred to women's players as "physically attractive and competitively attractive." Moore later apologized, calling his comments "in extremely poor taste and erroneous."
"I am truly sorry for those remarks, and apologize to all the players and WTA as a whole," the statement said. "We had a women's final today that reflects the strength of the players, especially Serena and Victoria, and the entire WTA. Again, I am truly sorry for my remarks."
Moore clearly had no intention to leave his post based on comments he made to reporters Sunday on the last day of the two-week tournament. Before the backlash over his controversial comments began, he was asked how long he planned to remain in charge.
"Firstly, I love what I'm doing. I'm passionate about it. I enjoy it," Moore said. "Who knows who the face of the tournament will be down the road? But I don't think that, oh, I'm going to stop next year or three years."
Ellison, a billionaire and executive of Oracle Corp., credited Billie Jean King, Martina Navratilova and Serena and Venus Williams, as well as other female athletes, for their leadership in treating women and men equally in sports.
"I'm proud to say that it is now a decade-long tradition at our tournament at Indian Wells, and all the major tennis tournaments, to pay equal prize money to both the women and the men," Ellison said in his statement.
Ellison thanked the "great women athletes" who fought so hard in pursuit of equal prize money in pro tennis.
"All of us here at the BNP Paribas Open promise to continue working with everyone to make tennis a better sport for everybody," he said.
http://www.cbsnews.com/news/raymond-moore-tennis-exec-who-slammed-women-pros-quits/
----
URL: https://newageislam.com/islam-women-feminism/leaving-cultural-differences-behind,-hindu/d/106733