New Age Islam News Bureau
5 Apr 2014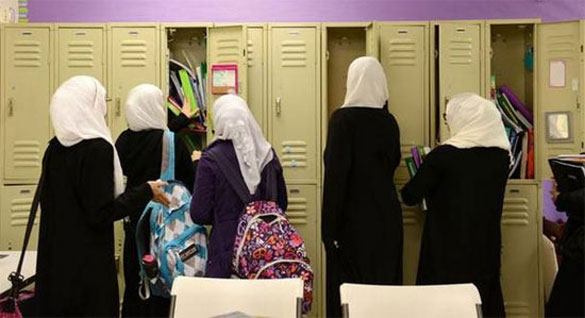 "Girls are geniuses, but they need the right environment," said Qadeer Qazi, who opened Qalam Collegiate Academy in August.
---------
• Pornography for Dowry: Husband Held after Wife's Lawsuit in Dhaka
• All-Girls Islamic Academy in Texas Grows Little By Little
• Queen Rania Urges Education for Arab Women
• Tanzania: Special Pact Targets Child Marriages
• Polygamy Bill Allows Kenyan Men Many Wives
• Syrian Women Activists Speak of Country's Plight at Summit
• Two Indonesian Women Have Fallen Victim to a Human Trafficking Syndicate to Malaysia
• Can A Saudi Woman Travel without Her Guardian's Permission?
• Documentary 'To Kill a Sparrow' Shows Afghanistan's Double Standard on Adultery
• Man Kills Wife for Honour in Karachi
• African First Ladies Committed To Zero New HIV/Aids Infections
Compiled by New Age Islam News Bureau
URL: https://newageislam.com/islam-women-feminism/law-bans-raped-10-year/d/66425
-------------
Law Bans Raped 10-Year-Old Senegal Girl From Aborting Twins
5 Apr, 2014
A 10-year-old girl, pregnant with twins after being raped by her neighbour, is being forced to continue her pregnancy, after human rights campaigners lost their fight to secure a legal abortion.
The case of the girl, who lives in the southern region of Zinguinchor, Senegal, highlights the price women and children are paying for archaic abortion laws in the country.
Fatou Kiné Camara, president of the Senegalese women lawyers' association, told the Guardian: "She is going to have to go through with the pregnancy. The best we can do is keep up pressure on the authorities to ensure the girl gets regular scans and free medical care".
She added: "Senegal's abortion law is one of the harshest and deadliest in Africa. A doctor or a pharmacist found guilty of having a role in a termination faces being struck off. A woman found guilty of abortion can be jailed for up to 10 years."
The women lawyers' association is campaigning for MPs to change the country's abortion legislation with the African charter on women's rights. Legal medical abortion in circumstances of rape and incest, in which a woman's physical and mental health is at risk, have not been added to the statute book.
It is estimated that hundreds of Senegalese women die each year from botched illegal abortions. According to official figures, around 40 women were held in custody on charges linked to abortion or infanticide in the first six months of the year.
Camara said: "For a termination to be legal in Senegal, three doctors have to certify that the woman will die unless she aborts immediately. Poor people in Senegal are lucky if they see one doctor in their lifetime, let alone three."
She added: "A single medical certificate costs 10,000 CFA francs ($20), which is prohibitive. We had a previous case of a raped nine-year-old who had to go through with her pregnancy. We paid for her caesarean but she died a few months after the baby was born, presumably because the physical trauma of childbirth was too great."
Camara, a law professor at Cheikh Anta Diop University in Dakar, said abortions were readily available to wealthier women at private clinics. Yet poor women are "expected to go through the legal motions or risk your life in a backstreet clinic".
Muslim Senegal is constitutionally secular, but customary law is in widespread use. More than 96% of the Senegalese population is Muslim, and this population practices a Sunni Islam. The lives of women are shaped by religion and local custom. Around 10% of girls are married before the age of 14.
https://uk.news.yahoo.com/senegal-law-bans-raped-10-old-girl-aborting-172527106.html#395rs02
-------------
Pornography For Dowry: Husband Held After Wife's Lawsuit In Dhaka
5 Apr, 2014
Taking obscene shots of his wife with a hidden camera, Sharif ur Rahman shared the footage on Facebook and demanded Tk 10 lakh from her.
The Detective Branch of Dhaka Metropolitan Police on Wednesday arrested Sharif, a student of a private university.
The arrestee had been blackmailing his wife, a public university student, for dowry since they got married in July last year, the victim told this correspondent yesterday.
The footage was uploaded on a fake Facebook account.
"At one point, I realised that as the footage was up on the internet for all to see, I had nothing more to hide. So I filed a case with Sher-e-Bangla Nagar Police Station on Wednesday morning and spoke about the ordeal I have been going through, hoping that it would help me get justice," said the victim.
DB police produced the arrestee before a Dhaka court yesterday and prayed for his remand in the case. Rejecting the remand prayer, the court sent Sharif to jail and fixed Sunday for hearing on a bail prayer of the accused, said Mahmuda Afroze Lucky, assistant commissioner of the DB.
The accused was arrested in October last year on the same charge, only to be released on bail. Since then, the couples have been living separately and Sharif has been up to his old tricks again.
The victim now spends her days fearing harassment by people who might have seen the video footage on Facebook.
http://www.thedailystar.net/pornography-for-dowry-18661
-------------
All-girls Islamic academy in Texas grows little by little
5 Apr, 2014
RICHARDSON, TEXAS — The father of four daughters, Qadeer Qazi is one man in a family of all girls.
Now he runs a school full of them.
In August, Qazi opened Qalam Collegiate Academy — the first all-girls school in Richardson.
Initially, there were nine students and six teachers at the sixth- through 10th-grade academy. That's since expanded to 17 students and eight teachers.
"Having an all-girls school is nothing new to Dallas, but it's new to this area," said Qazi, noting prominent Dallas-based all-girls schools such as The Hockaday School and Ursuline Academy of Dallas. "Girls are geniuses, but they need the right environment."
The academy is among at least six Islamic schools in the Dallas-Fort Worth area, including Richardson-based IANT Quranic Academy. Qalam Collegiate Academy, however, is the city's only all-girls school. In the Middle East, schools and universities separated by gender are a cultural norm, Qazi said.
The school is a mile west of Dallas Central Mosque, which Qazi and his family attend.
Housed in an office building on West Buckingham Road, a sign stenciled on the door is one of the only outside markers to the Islamic school.
Inside, a long hallway leads to seven classrooms, two of which are reserved for religious practices. There's a large front room for salat, an Islamic practice for praying five times daily.
In the back, students — dressed in black abaya robes with white scarves over their heads — kneel on rugs around five small podiums to memorize the Quran.
"In our religion, when you're doing the holy book, it's more respectful to sit on the floor. It's humbling," said Dhuha Qazi, a 10th-grader at the academy. The second-oldest daughter of Qadeer Qazi, she was home-schooled for two years before the academy opened.
Qadeer Qazi said that's common for many Muslim girls who are either waitlisted at other Islamic schools or whose parents do not want them to attend public school, where religious values are not taught.
Qadeer Qazi and Richardson Mayor Laura Maczka said the school fills an education void for local Muslim girls.
According to a 2010 religious census by the Association of Religious Data Archives, the Muslim population estimate in Dallas County totaled 25 congregations and more than 84,000 adherents.
"The mosque is a significant community in Richardson," said Maczka who attended the school's opening ceremony March 1. "If you read the world news, you know the Islamic faith is the fastest-growing community in the world. As the population in Richardson grows, so does the Islamic faith."
In recent years, economic opportunities in Dallas and Richardson have brought Muslims from Chicago, California and New York, said Qazi, who came to the U.S. in 1990 to pursue his master's degree in physics from Idaho State University.
Now, Qazi is an adjunct physics and electrical engineering professor at Richland College. A pioneer of sorts for the Muslim community, he also owns Rahma Funeral Home, one of the first Muslim funeral homes in the Dallas-Fort Worth area.
"My dream is to help the community, to execute a project no one has done," Qazi told The Dallas Morning News.
Community donations and seed money from Qazi's pockets funded the opening of the school. Most of its supplies were furnished from school supply auctions, such as the copy machine bought for $100 and the overhead projectors for $30 each.
Many teachers have master's degrees in their subjects. In January, teachers received STAAR training for students to complete the state annual assessment. A partnership with Richland College for students to earn dual credit also was established, along with a track for students to become scholars in the Islamic religion.
In October, students ventured on their first field trip to the McKinney Airport, where they flew in a four-seat, single-engine Cessna 172SP. In January, the school held its first science fair.
"One good thing about Brother Qazi is he didn't sit there and say, 'I'm going to wait two or three years while the school flourishes a little bit,'" said Ambreen Jafri, whose oldest daughter is a seventh-grader at the school. "He has them out there. They're doing everything and covering everything that any school that's been around for years would be doing."
Next year, Qazi plans to expand the school to include 11th and 12th grades.
One day, he hopes to open an adjoining women's college for students to receive their associate degree after their high school graduation.
Now others are asking him to open an all-boys Islamic school, he said. That also would be a first for the city of Richardson.
"This school is just an infant, but this school is running," he said.
http://www.thetowntalk.com/viewart/20140405/LIFESTYLE/304050022/All-girls-Islamic-academy-Texas-grows-little-by-little
-------------
Queen Rania urges education for Arab women
5 Apr, 2014
Education is the "best route" for women in the Middle East to win their rights, Queen Rania of Jordan told the fifth annual Women in the World Summit in New York on Thursday night.
Some of the issues holding woman back in the region include "misinterpretation" of religion, she added.
Islam "does give women the right to pursue a career, to have independence, to have her financial autonomy," she said.
"We have social norms and traditions that hold women back. The best way to overcome these challenges is by a woman being empowered with education, knowledge and experience. That's what allows you to break barriers," the queen added.
Over the last three years, some changes in the Arab world "have armed [women] with the legacy of self-confidence that nobody can take away. Although some would continue to sideline them, they'll never be able to silence them," she said.
Women in the Middle East are trying to change both the laws and social perceptions that stand against them, she added.
Syrian refugee crisis
Queen Rania also addressed the challenges posed by the influx of refugees from neighboring Syria into Jordan, which has a population of about six million.
Numbering 600,000, Syrian refugees represent 10% of Jordan's population, she added.
"To put it in perspective, it's like having 30 million seeking refuge in the United States," she said.
"It's been a tremendous stress on our trade deficit, on our financial situation. We've seen prices go up."
Given Jordan's water shortage, the impact of refugees is especially felt on water resources, the queen said.
"According to polls, Syrians use five times as much water as the average individual in Jordan, because they were used to water in abundance," she added.
"So it's really been a tremendous strain on our infrastructure, on our health infrastructure, schools, and that's really exasperating the poorest segments of our society."
Former U.S. Secretary of State Hillary Clinton and Christine Lagarde, head of the International Monetary Fund, were among the featured guests of the summit.
http://english.alarabiya.net/en/News/middle-east/2014/04/04/Queen-Rania-education-best-route-for-Arab-women.html
-------------
Tanzania: Special Pact Targets Child Marriages
5 Apr, 2014
THE United Nations Population Fund (UNFPA), Children's Dignity Forum and Graca Machel Trust Forum (CDF) have signed a memorandum of understanding (MoU) for a two year agreement to strengthen efforts to end child marriages in Tanzania.
UNFPA's Advocacy and Communications Analyst, Ms Sawiche Wamunza, noted in Dar es Salaam that the specific purpose of the MoU is to strengthen national dynamics for realisation of rights of adolescent girls, through ensuring rights holders participate and duty bearers are held accountable for ending child marriages, as well as any other interventions aimed at realisation of human rights of adolescent girls.
She observed that the three organisations would cooperate to undertake studies in target regions, with the aim of better understanding of the economic factors, traditional practices, cultural and religious beliefs which underline the perpetuation of child marriages.
They would also identify and map key players within the community to engage and build a common understanding of reasons child marriage is detrimental to girls and women's rights, as well as to societal development at large.
She noted that they would empower girls and women to claim their rights using community- based approaches, disseminating legal and constitutional rights and building capacity to understand and apply protection instruments to prevent child marriages.
They would also leverage cooperation with key decisionmakers including parliamentarians to build further involvement for the achievement of the ICPD Programme of Action, the MDGs and incorporation of sexual and reproductive health and rights into the Post-2015 development framework.
Child marriage is a global problem that impedes the attainment of the key Millennium Development Goals in particular poverty, gender equality, child health, maternal health and HIV and AIDS. Political commitment is vital for creating the environment to end child marriages.
UNFPA country Representative, Mariam Khan said it was vital to invest in girls, adding that longer schooling; later marriage makes for a healthier and wealthier family.
"A girl who marries later is also more empowered to choose when she wants to have children and how many children she wants to have," Ms Khan said. In Africa alone, over 42 per cent of girls are married before they reach 18 years, with millions of girls given away to marriage before they reach puberty.
Thirty one out 41 countries in the world where prevalence rates of child marriages are, more than 30 percent are in Africa. "The vision of an economically prosperous Tanzania can only be achieved if there is investment in girls and young women to enable them grow up healthy, well-educated, well nourished and protected from violence, FGM and child marriage.
The choice made now in terms of protecting and developing girls and young women is the future investment in our families, communities and nation at large," said CDF Executive Director, Koshuma Mtengeti.
Commenting during the signing ceremony, a representative from Graca Machel Trust said, "With political will, appropriate investments and programmes tailored to local settings, together with robust legal and judiciary frameworks, we can bring an end to child marriages within a generation."
http://allafrica.com/stories/201404040916.html
-------------
Polygamy bill allows Kenyan men many wives
5 Apr, 2014
Nairobi, Kenya - Kenyan men have practiced polygamy, or plural marriage, as far back as they can remember. In fact, the country has produced Ancentus Akuku Ogwela, who married 130 wives, and, when he died at 92, left behind 210 children.
But a new marriage bill that gives men the liberty to marry as many wives as they want - and without any consultations with their partners - is, according to many, going too far.
"Those days of marrying dozens of wives are gone," said Tom Akuku Ogwela, the polygamist's son, and a polygamist himself. "Socially and economically, it's difficult to have more than three-to-four wives."
Ogwela, a doctor who runs a small clinic in a village near Lake Victoria, said his father wouldn't have married hundreds of wives if there were restrictions to stop him, noting that, "in those days what was needed was a lot of food, which my father had a plenty of as a farmer, and less cash, unlike right now".
The bill, passed by parliament last month but still unsigned by the president, has split Kenyans into two main camps: Those who vehemently support it for religious or cultural reasons, and others who say it will create unnecessary divisions and hostilities in families in a country where many people still live in poverty. Some even say that unchecked polygamous marriages have the potential to dramatically increase the population of the country.
The head of the Catholic Church in Kenya, John Cardinal Njue, called the passage of the bill "a painful" move by a male-dominated parliament, and urged President Uhuru Kenyatta to reject it.
'Shameful and retrogressive'
The local media has also attacked the bill, with the country's largest newspaper, The Daily Nation, calling it "shameful" and "a retrogressive move that is simply taking us back into the dark ages, at a time when we should be strengthening family values".
Some Kenyans have derisively suggested that lawmakers consider polyandry too, a practice that allows women to take multiple husbands. Others have speculated that lawmakers may also in the future legalize wife-beating.
"What exactly is the value of taking up extra wives without regard to the feelings of the first spouse?" asked The Standard, the second largest paper in the country in an editorial last month. "What would the male MPs have to say if their own wives suggested a situation where they would also wish to bring in an extra husband or two?"
Despite this clamor for rejecting the bill, though, there are no clear signs that President Kenyatta - who has so far kept quiet on the issue - will reject it. In the recent past, he signed a controversial media bill into law despite protests from the public and media.
The adoption of such a bill by well-informed lawmakers, however, underscores the cultural gap that still exists between Africans, who value polygamy as a part of their heritage, and Western countries that prohibit polygamy and instead treat monogamy and spousal equality as principles fundamental to their society.
"In Africa, polygamy is a way of life, and when you're making a law you must go back to what the society wants," said Nderitu Njoka, the chairman of Men's Empowerment and Development in Kenya, an advocacy group established four year ago to counter focus on women and girls affairs "at the expense of men and boys".
Njoka rejects the notion that polygamy is exploitative of women, saying that plural marriages are "very practical" unions that reduce prostitution, HIV/Aids, infidelity and cheating.
"It is now time people came out of their hypocrisy and accepted polygamy," he said.
Equity concerns
Samuel Chepkong'a, a Kenyan lawmaker who proposed the deletion of the sub-clauses that gave wives the right to either approve or disprove of another wife, told lawmakers last month that, "under all the customs of Kenya in all the 42 tribes, marriages are potentially polygamous" and that a Kenyan wife "potentially" expects another wife.
"So, any time a man comes with a woman, it would be assumed that, that is the second or third wife," he said reminding his fellow lawmakers of the renowned polygamist, Ogwela, who is also known as Danger.
The National Council of Churches in Kenya (NCCK) lashed out at lawmakers for engaging in debates that were "extremely demeaning to the women of our country, and the bill itself does not respect the principle of equality of spouses in marriage especially with regard to polygamy".
The marriage bill - which also recognises Islamic, Christian and Hindu marriages - contains some progressive portions, such as the setting of the minimum age of marriage at 18 and ordering all marriages to be registered, steps interpreted by many as welcome attempts to protect women's right in customary marriages and to prevent early marriages.
Many African men and even their leaders have practiced polygamy for many years, most notably Mswati III, the current King of Swaziland, who last year took his 14th wife, a tradition he inherited from his father who is said to have married more than 125 wives.
Polygamy, which is also practiced by Mormon communities in North America, is popular in some Asian and Muslim countries.
'Times have changed'
"The idea that men can marry as many wives as they wish does not sit well with the expectations of a modern society like ours," said The Daily Nation newspaper, the largest paper in the country, in an editorial. "Women are no longer chattels that have no say in decisions that directly affect them."
Women activists say the bill is a throwback to old days, when gender equality meant little to Kenyan men and husbands. They also say polygamy destabilises spousal relations, particularly when happens without consultations.
"We shouldn't say this used to happen," said Ruth Aura, the chairwoman of the Kenyan chapter of the Federation of Women Lawyers. "We should move with time. Things have changed."
By allowing men to take more wives without the consent of their current wife or wives, Aura said, the bill violates the country's constitution that speaks of equality in marriage.
"Why do you want to go against the constitution, and why women are always treated as second-class citizens," she asked lawmakers who passed the measure.
Aura said women will go to courts if President Kenyatta signs the bill because, it "waters down the gains the country have made against inequality".
In recent years, Kenyan women, who represent almost half of the country's population of about 40 million, have registered major successes professionally, with six female ministers occupying crucial portfolios, such as defence, foreign affairs, land, and tourism ministries.
Although Kenyan men deny that they're being driven by randiness in their support for polygamy, many poor men still marry more than one wife, raising serious questions about their children's future.
Financial concerns
In Kenya, polygamy is common and even some wives, especially childless ones, willingly urge their husbands to take another wife. So the current debate about the bill is strangely not focused on telling men to stick to only one wife, but on women's right to know their husbands decisions that have a bearing on their lives and families.
Njoka, the chairman of Men's Empowerment and Development, lauds Kenyan lawmakers' decision to give a husband a free hand to take more wives and disregard partners' consent, "because you can't go and seek consent from a violent wife who does not respect you."
"One should have as many children as he is capable of supporting them," said Njoka, who advocates for the rights of men and admits having "several" wives.
While it is hard to find studies on the impact of polygamy on families in Kenya, internationally there are an increasing body of evidence showing that polygamy affects children and wives, economically, socially and psychologically.
In Ogwela's case, for example, his son, Tom, Ogwela junior, says only three of his brothers have managed to attain university education, and now many children are "scrambling for very few resources."
"The leaner the family, the better," said Ogwela, adding that he himself is grappling with the effects of marrying three wives and supporting a brood of children.
Asked if he has any advice for those itching to take another wife, he said, "They should brace themselves for a lot of stress and financial frustrations."
http://www.aljazeera.com/indepth/features/2014/04/polygamy-bill-allows-kenyan-men-many-wives-201443132059130919.html
-------------
Syrian women activists speak of country's plight at summit
5 Apr, 2014
As top women gathered in an annual summit in York Friday to discuss the situation of women's rights around the world, two Syrian women took the stage to highlight the plight of the Syrian people ravaged by a three-year civil war.
Hiba Sawan, one of the Syrian women activists at the summit, described being among those targeted by a chemical bomb.
"We had been hearing missiles and bombs but we didn't recognize that the bombing was different," said Sawan at a panel discussion at the Women in the World Summit in New York on Thursday night, which was attended by former U.S. Secretary of State Hillary Clinton and Christine Lagarde, head of the International Monetary Fund, among other prominent figures.
"Our eyes were burning… I saw dozens of corpses in the streets, many of them were women and children."
In her account of the attack, Sawan then described going to a hospital to help out, washing and removing the clothing of victims. For a week after the bombing, she said that she was unable to see.
Another panelist, Rania Kisar, who is a founder of the Syrian Womens' Revolution Committee, described witnessing a barrel bombing which destroyed two buildings.
Dead future
"The future is dead. I have read about the situation in Kosovo and the Holocaust," said Kisar. "But all of that is happening at the same time in Syria."
Also joining the panel was David Miliband, a former British politician who heads the International Rescue Committee.
While Syria is the worst humanitarian crisis of this era, humanitarian groups have failed to deliver help effectively – in part due to the fact that the Syrian civil war has not held people's attention, he said.
"Humanitarian aid can stop the dying, but it takes politics to stop the killing," said Miliband, warning against politicizing aid. "But rather than politicizing the humanitarian movement, put humanity in politics."
http://english.alarabiya.net/en/News/middle-east/2014/04/04/Syrian-women-activists-speak-of-country-s-plight-at-summit.html
-------------
Two Indonesian Women Have Fallen Victim to a Human Trafficking Syndicate to Malaysia
5 Apr, 2014
At least two Indonesian women have fallen victim to a human trafficking syndicate, which employed them as prostitutes in Malaysia.
According to local media in Kuala Lumpur on Thursday, Malaysia Police rescued the two women after conducting surveillance on two locations in the Bukit Rahman Putra area of Sungai Buloh, Selangor, on Wednesday.
The police's assistant superintendent, Shahrul Nizam Jaafar, confirmed that the two Indonesians had been forced to work as prostitutes after having been promised retail jobs.
"They sought work in Malaysia to pay off their debts. Unfortunately, they were sold to a prostitution agency," he said as quoted by Antara news agency.
The surveillance operation, which was led by Shahrul, also rescued 10 Vietnamese women aged between 22 and 31, who were employed as prostitutes at the two locations.
Shahrul noted that the case would be investigated under the Human Trafficking Law.
"Our preliminary investigation indicates that all the women were sold to the prostitution agency," he declared.
The police also arrested two men, aged 25 and 30, who were employed as housekeepers at the locations.
http://www.thejakartapost.com/news/2014/04/04/two-ri-women-trafficked-malaysia.html
-------------
Can a Saudi woman travel without her guardian's permission?
5 Apr, 2014
The spokesman of the Passports Department (Jawazat) recently dropped a bombshell. He said in a recent statement that there are no written instructions which prevent Saudi women from traveling without the written consent of their male guardians. He added, moreover, that the only existing regulations are those that prevent people under 21, regardless of their nationality, from traveling abroad without the approval of their parents.
The spokesman explained that preventing Saudi women from traveling abroad is left to the discretion of the passport officer at the point of departure from the Kingdom. The officer will evaluate the woman's appearance and age before deciding whether or not to allow her to travel. Therefore, each Saudi woman now has two male guardians: one is their normal guardian (father, husband, brother or son) and the second is the passport officer.
I cannot verify the authenticity of these statements, but it is commonly known that Saudi women should have the written consent of their male guardians in order to be allowed to travel. Keeping pace with technological progress, the written consent has become electronic replacing the old yellow piece of paper. If the statements of the Jawazat spokesman are to be believed, it is clear that we have all been deceived men and women alike. We all believed that there was a system preventing Saudi women from traveling without the written consent of a male guardian, while in fact this ban was only imaginary.
This state of affairs can equally be applied to the issue of women driving. There is no traffic law preventing women from driving. If a woman is caught driving a car, she will be ticketed for committing the violation of driving without a license. However, the Interior Ministry has recently issued a statement rejecting for security reasons the call for allowing women to drive. It is obvious that it will be many years before Saudi women realize their legitimate rights and until that time they will remain victims of the dictatorship of their male guardians and of ambiguous rules and regulations.
http://www.saudigazette.com.sa/index.cfm?method=home.regcon&contentid=20140405200869
-------------
Documentary 'To Kill a Sparrow' Shows Afghanistan's Double Standard on Adultery
5 Apr, 2014
A young Afghan woman named Soheila ran away with a man after her father forced her to marry a 70-year-old. She and her lover were caught after three years and both were jailed for adultery.
Soheila tells her story in the documentary "To Kill a Sparrow," produced by the Centre for Investigative Reporting. The PBS News Hour will air an excerpt on Friday.
While covering women's issues in Afghanistan, freelance Iranian photojournalist Zohreh Soleimani visited women in prison and safe houses who faced abuse by their fathers or husbands for resisting arranged marriages. There behind bars, she encountered Soheila taking care of her toddler son.
Unlike some of the other women, Soheila was willing to go in front of a camera and describe her ordeal. "I think she's a very brave woman and she was the one who could talk and tell her story, but many others that I've met in the same situation, basically they didn't do any crime according to the constitutional law of Afghanistan," Soleimani told Kelly Chen, news engagement specialist for CIR.
"They want to live as any human being. They want to live with the partner that they want to, not the one that fathers force them to be with because of a piece of land, or money or because of exchange in the family."
Soheila's brother had "stolen" the much younger wife of the 70-year-old man. To keep the brother from getting into trouble, Soheila's father promised her to the older man to marry. "Soheila was exchanged for her brother's crime," said Soleimani.
Like many women, when Soheila is eventually released from prison, her problems will not end. The women will continue to be dependent on sometimes hostile male relatives. "In Afghanistan as a woman, you can't really live alone. There is no way to see that an Afghan woman can live on her own without family or without a main member of the family. That's why the future for these women is really unclear," said Soleimani. "Most of them, they have to go back to their family, or otherwise many of them will be killed or they end up in a shelter forever."
In August 2009, the Afghan government for the first time passed a law criminalizing practices such as handing over a woman to settle a dispute. In all, the Elimination of Violence Against Women outlawed 22 such practices, including child marriage, forced marriage and rape. It also defined punishments for the perpetrators.
But a report issued by the United Nations in December showed implementation of the EVAW law has been slow four years later. Although Afghan authorities registered more cases of violence against women (an increase of 28 percent from the previous year), the use of the EVAW law itself for indictments had increased by only 2 percent in 2013.
Instead, police and prosecutors tend to use mediation to settle the alleged cases of violence, and therefore the perpetrators don't get the full punishment under the EVAW law.
"It's an uphill battle in so many ways for women in Afghanistan," said Patricia Gossman, a senior researcher on Afghanistan at Human Rights Watch. "In general, few cases of crimes are prosecuted in Afghanistan, and women are always getting the least sort of support in the law in Afghanistan."
The Afghan government also recently has tried to restrict the law. Parliament proposed prohibiting relatives from testifying against defendants, which critics said would make it difficult to prosecute domestic abuse of women, since it usually happens within the home in sight of other family members. At first, President Hamid Karzai supported the measure but later backed down under international pressure. Groups such as Gossman's are watching to see what the Parliament will do next.
Gossman said human rights organizations are concerned there will be even more attempts to roll back the advancements made since 2001 after U.S. and NATO troops leave at the end of this year and fewer eyes are on the country. "That's all the more reason the international community needs to continue to be engaged so that women are not abandoned and those gains are not completely eroded."
Sen. Jeanne Shaheen, D-N.H., is one of the lawmakers looking into possibly granting Afghan women asylum in the United States in domestic abuse cases. "It seems to me this issue of violence against women is something we ought to revisit," she said in an interview with CIR. You can watch part of the interview below:
"When half of a country's population is not allowed full equality, then what's their future going to be? It's going to be half as promising as it could be if everyone enjoys the same rights and opportunities," said Shaheen.
But filmmaker Soleimani says laws and their improved implementation can only do so much. "The problem in Afghanistan is not the system — it's the tradition. I think it's because tradition is still more strong than laws, and also because of the Taliban and extremists," who still reign supreme in rural areas.
http://www.netnebraska.org/node/910348
http://www.pbs.org/newshour/updates/kill-sparrow/
-------------
Man kills wife for honour in Karachi
5 Apr, 2014
KARACHI- Police arrested a man after he killed his wife in the name of 'honor' today.
According to the police, the man was arrested when he was trying to flee with two of his children. The incident took place in Industrial Area of New Karachi where 55-year-old man Ghulam Qadir killed his 35-year-old wife Razia on suspicion that she was having illicit relations with some other people. The police shifted the body of Razia to the Abbasi Shaheed Hospital for legal formalities.
http://www.nation.com.pk/national/04-Apr-2014/man-kills-wife-for-honour-in-karachi
-------------
African First Ladies Committed to Zero New HIV/Aids Infections
5 Apr, 2014
The First Lady of the Republic has reaffirmed that the Organisation of African First Ladies Against HIV/AIDS (OAFLA) remains committed to the global vision of getting to zero discrimination, zero new HIV infection and AIDS related diseases. She noted that their campaign to prevent the transmission of HIV from mothers to their babies is at a particularly crucial moment.
Her Excellency Madam Zineb Yahya Jammeh was speaking Thursday while launching the Early Infant Diagnosis of HIV (EID/HIV) in The Gambia at the Jammeh Foundation for Peace Hospital (JFPH) in Bundung. Organised by her office, the initiative is under the auspices of the Organisation of African First Ladies Against HIV/AIDS-Gambia Chapter (OAFLA-GAM).
The OAFLA was established in 2002 by 37 African First Ladies in Geneva, Switzerland, at a meeting facilitated by UNAIDS and the International AIDS Trust (IAT), as a collective voice for Africa's most vulnerable people, women and children infected and affected by the HIV/AIDS pandemic. Its chapter was launched in The Gambia in April 2004, which was later followed by the launching of a campaign against mother to child transmission of HIV/AIDS.
Since then, OAFLA has transformed itself from a forum of ideas to an institution capable of providing the continent-wide leadership needed to bring about change in the lives of people. With its permanent secretariat in Addis Ababa, Ethiopia, OAFLA has moved from addressing the symptoms of the HIV/ AIDS crisis to the root causes of poverty and the overall inequality of women in the region.
Madam Jammeh, who addressed a well-attended event including the vice president and Women's Affairs minister, said the work of African First ladies has been increasingly visible and has made real difference in the lives of those infected by HIV/AIDS. But that achievement, she noted, could not have been possible without the support of "our husband heads of state who continue to deliver on their promises".
She asserted that over the past years in The Gambia, access to the prevention of mother to child transmission services has been significantly improved. "In 2013, 50, 251 pregnant women were tested and received their post test HIV results. Out of the total, 773 were tested positive of which 729 were provided with prevention from mother to child treatment Antiretroviral (ARV) prophylaxis to prevent the transmission of HIV to their babies," she indicated.
First Lady Jammeh further pointed out that the vulnerability of women and girls to HIV remains high globally, saying women are at the very center of human life, of families and communities. She argued: "If they are robbed of their rights and dignity, we are losing the opportunity to tap half the potential of mankind to achieve the MDGs. We are here today to make a difference and to demonstrate to all that people living with HIV and AIDS are our brothers and sisters, husbands and wives." She underscored that people living with HIV play important roles in life, saying her initiative always wants to share with them their joys and difficulties. "This is why my office joins efforts to launch this initiative," she concluded. The Health and Social Welfare minister, Omar Sey at the occasion, said to meet the targets of zero discrimination, zero new HIV infection and AIDS related diseases requires the participation of everyone. He noted that from the very beginning, The Gambia has made significant progress in the fight against HIV/AIDS, particularly in the last five years.
The Kanifing Municipality mayor, Yankuba Colley, the host of the occasion, disclosed that in the past decades, new HIV infections have declined by more than 25% worldwide with 56 countries seeing the epidemic stabilised or reversed. Colley however cautioned that the vulnerability of women and girls to HIV remains particularly high in sub-Saharan Africa with about 76% of all HIV positive women living in the region. "It was reported that in 2009, 2.6 million people became newly infected with HIV/AIDS and 1.8 million died from AIDS related illnesses," he told the gathering.
Presenting an overview of the OAFLA-GAM, the deputy director of the National Aids Secretariat (NAS), Alpha Khan, said since the launching of the initiative in The Gambia, it has set-off several activities which included efforts to reduce stigma, advocate for the expansion of prevention and treatment strategies.
The strategic goals of OAFLA-GAM, he said, are to prevent the further spread of HIV/AIDS. "With sustained commitment and support from the First Lady; we will meet the targets of addressing mother to child transmission of HIV/AIDS," he concluded.
Gambia
Ebola - Two Persons Samples Tested 'Negative'
The ministry of Health and Social Welfare in Banjul has revealed that the tests for Ebola at the regional reference … see more »
http://allafrica.com/stories/201404040994.html
-------------
URL: https://newageislam.com/islam-women-feminism/law-bans-raped-10-year/d/66425