New Age Islam News Bureau
27 Apr 2015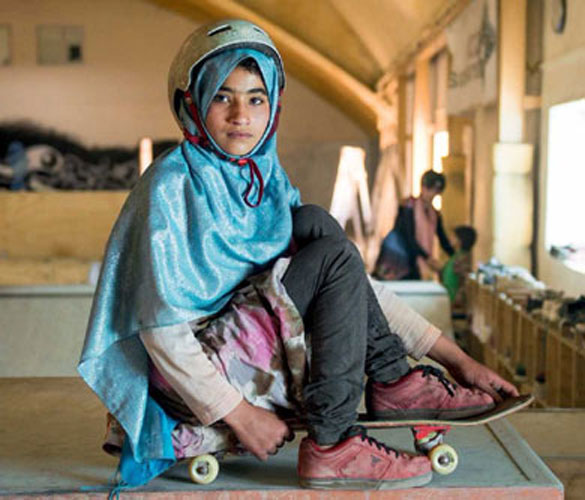 Young Girls in Afghanistan Are Skateboarding To Fight for Gender Equality
-----------
• Pregnant Girls, 9, Having Secret Abortions after Being Raped By Twisted I S Militants
• Hizbut Tahrir: Muslims Can 'Force' Sex on Their Wives
• Female Flight Dispatchers Doing Saudi Arabia Proud
• Young Girls in Afghanistan Are Skateboarding To Fight for Gender Equality
• Child Marriage Is Dealt another Blow Thanks to New Law in Malawi
• 'Isis' Schoolgirls: Missing British Teenager Tweets Picture of Her Syrian Takeaway
• US "Unveiled" Show Tells Muslims' Stories
• 50% of Gulf Women Employees Eyeing Top Posts
• MCA Veep Must Apologise For Insulting All Housewives, Pakatan Insists
• Zalora Joins the Islamic Fashion Boom
• Daughter-in-law Not Entitled to Claim Maintenance from Father-in-law: Hyderabad HC
Compiled by New Age Islam News Bureau
URL: https://newageislam.com/islam-women-feminism/lankan-muslim-intelligentsia-back-woman/d/102695
----------
Lankan Muslim Intelligentsia Back Woman Writer under Extremist Threat
27 April, 2015
COLOMBO: The Sri Lankan Muslim intelligentsia on Sunday urged the authorities to bring to book extremists who have been harassing and intimidating Sharmila Seyyid for her writings and remarks against the Talibanisation of Sri Lankan Muslim society.
Seeking a "thorough and fair" investigation into the complaints made on behalf of Sharmila, the 57 signatories to the appeal have urged the authorities to hold those responsible for all the misconduct accountable.
They also requested community religious leaders like the Jamaithul Ulema to take steps to "halt the targeting of fellow Muslims based on spurious religious justifications."
The signatories said that there is a "critical need within the Muslim community and also in the country at large, for developing processes to respond to critical issues, not through vilification, harassment or violence, but through a process of dialogue that is in keeping with the law and norms of democratic society."
A single mother, young Sharmila from Eravur in the Eastern Province, is a poet, novelist, journalist and social worker. She has been writing against the institution of purdah and the subjugation of women in Lankan Islamic society. Through her Organization of Social Development, she had taken up the cause of Muslim women in an increasingly restrictive Lankan Muslim society. She had won accolades for her writings in Tamil Nadu as well as Lanka.
What triggered the tirade against her was an interview given to BBC's Tamil Osai in 2012 in which she said that the sufferings of prostitutes could be mitigated if prostitution was legalized. Arsonists attacked the educational institution she was running, and the social media was liberally used to tarnish her reputation. According to the media, this included an audio of a "lustful" conversation she had allegedly had with a top cop in Tamil Nadu and a picture of her battered "dead body" suggesting that death was in store for her. Forc
http://www.newindianexpress.com/world/Lankan-Muslim-Intelligentsia-Back-Writer-Under-Extremist-Threat/2015/04/26/article2784417.ece
---------
Pregnant Girls, 9, Having Secret Abortions after Being Raped By Twisted I S Militants
27 April, 2015
Doctors in Kurdistan are breaking the law by performing abortions on young Yazidi girls who have been released after being held as sex slaves by ISIS fighters.
Traumatised after months of rape and torture at the hands of ISIS militants, some of victims have returned after falling pregnant by their captors and further at risk at being ostracised by their community, which frowns upon pre-marital sex.
Now, some Kurdish doctors are allegedly performing illegal abortions and secret surgeries to 'reverse loss of virginity' on the victims, some of whom are as young as eight, the Sunday Times reports.
The young girls, some barely teenagers, are some of around 40,000 people kidnapped at gunpoint when Islamic State fighters attacked Yazidi villages last summer.
The women who have escaped now face being shunned by their strict religious communities, and many are erasing to hide the physical evidence of their time in captivity, Hala Jaber writes in the Sunday Times.
Some Yazidi girls are secretly undergoing abortions, banned in Kurdistan even in cases of rape, and seeking hymen surgery to 'reverse the loss of virginity'.
A recent study by Human Rights watch has found that ISIS fighters have been kidnapping women and children as young as eight, forcing them to marry and convert to Islam and raping them repeatedly.
Around 40,000 people were kidnapped at gunpoint when Islamic State fighters attacked Yazidi villages last summer.
Hundreds have been able to return, either by fleeing or being set free by ISIS, and many young women who has been held as sex slaves.
Their terrifying campaign of systematic rape was tantamount to war crimes - and possibly crimes against humanity, the report adds.
Human Rights Watch has collected the accounts of 20 women and girls who escaped from ISIS, which they say shows a system of organised rape and sexual assault, sexual slavery and forced marriage – acts that constitute war crimes.
Now they are urging that survivors get the medical and psychological treatment that they need to cope with the unimaginable trauma they suffered.
A 31-year-old Yazidi woman named Rashida told the charity she was told by her brother to commit suicide if she was unable to escape the ISIS fighters who had captured her.
'Later that day they made a lottery of our names and started to choose women by drawing out the names', the 31-year-old said.
'The man who selected me, Abu Ghufran, forced me to bathe but while I was in the bathroom I tried to kill myself.
'I had found some poison in the house, and took it with me to the bathroom. I knew it was toxic because of its smell.
'I distributed it to the rest of the girls and we each mixed some with water in the bathroom and drank it. None of us died but we all got sick.'
Another woman, identified as Dilara, said she was taken to a wedding hall in Syria where ISIS fighters told the group to forget their relatives and prepare to marry them and bear their children.
From 9:30am in the morning, men would come to buy girls to rape them.
ISIS ARE 'COMMITTING GENOCIDE' AGAINST THE YAZIDI MINORITY
The survivors' stories come as United Nations (UN) investigators found evidence ISIS are committing genocide against the Yazidi minority in Iraq.
The human rights office published a horrifying report in March describing killings, torture, rape, sexual slavery and the use of child soldiers by the extremists.
It suggested they may be guilty of 'war crimes, crimes against humanity and genocide'.
The report, based on interviews with more than 100 witnesses and survivors between June 2014 and February 2015, highlights brutal ISIS attacks on the Yazidis.
The jihadists consistently separated out men and boys over the age of 14 to be executed, according to investigators.
Younger boys were forced to become child soldiers and women and girls were abducted as the 'spoils of war'.
Head of the investigation Suki Nagra said: 'These attacks were aimed at destroying the Yazidi as a group.'
She added that ISIS was guilty of 'genocide' against the minority.
She told Human Rights Watch: 'I saw in front of my eyes ISIS soldiers pulling hair, beating girls, and slamming the heads of anyone who resisted.
'They were like animals…. Once they took the girls out, they would rape them and bring them back to exchange for new girls.
The girls' ages ranged from eight to 30 years… only 20 girls remained in the end.'
This comes just weeks after the release of 216 Yazidi prisoners who had been held captive since last summer when ISIS militants attacked their villages in the area around Sinjar in north-western Iraq.
The freed prisoners said that they had been led to believe they were being led to their execution, but instead, were piled onto a minibus that drove them to Peshmarga positions.
It was not clear why the radical jihadists had decided to release the Yazidis, whom they consider devil-worshippers, but the group previously freed 200 more it was holding under similarly mysterious circumstances.
Yazidi activists say many remain in the hands of Islamic State, which has often subjected women to rape or sexual slavery.
The United Nations said last month that the Islamic State may have committed genocide against the minority.
The Yazidis are an ancient, predominantly Kurdish, people who follow their own religion derived from Islam, Christianity and Zoroastrianism.
http://www.dailymail.co.uk/news/article-3056111/Traumatised-Yazidi-girls-young-8-having-abortions-finally-return-communities-months-used-sex-slaves-Isis-fighters.html
---------
Hizbut Tahrir: Muslims can 'force' sex on their wives
27 April, 2015
BANGI, April 27 — A Muslim does not need his wife's consent to have sex with her as marriage gives a man a right to his spouse's body, hardline Islamist group Hizbut Tahrir Malaysia (HTM) has claimed.
HTM spokesman Ustaz Abdul Hakim Othman said it is sinful for a Muslim woman to reject her husband for sex and that Islam only permits her to do so if she is "exhausted", not "merely tired"; ill; or if intercourse will harm her health.
"Even if it's by force, it's not sinful for him; the sin is on his wife," Hakim told Malay Mail Online when met at HTM's headquarters here yesterday.
"But if he hits or kicks his wife in order to have sex, that's wrong. You have to look at the level of their struggle — if it doesn't harm her, it's okay; but if it harms her, it's wrong.
"The wife, though, must know that it's wrong to reject him," he added.
Several Muslims said on Facebook recently that marital rape does not exist in Islam even if a Muslim has non-consensual sex with his wife.
They were responding to DAP's Damansara Utama assemblyman Yeo Bee Yin's rape awareness campaign called "Rape is rape. No excuse" that lists as rape — sex with an intoxicated woman, sex with a girl below 16 years of age, sex with one's own wife without her consent, and sexual assault by strangers.
Hakim said marriage legalises a Muslim to have sexual relations with a woman.
"Your body is to be used by your husband, to put it crudely. When you marry a woman, there's no need to get consent [for sex], no need at all," he said.
He also said a Muslim woman cannot reject her husband's sexual advances on the basis that she has "no mood", but stressed that a Muslim man is similarly obligated to fulfill his wife's requests for sex.
"Those are the rights of husband and wife...When you have premarital sex, it's sinful. But if you do it with your wife or husband, you get blessings," he added.
The spokesman of the conservative Muslim group told a forum earlier that according to several hadiths, a woman who rejects her husband for sex will be "cursed by angels throughout the night".
Hadiths are sayings and actions attributed to Prophet Muhammad.
Association of Women Lawyers president Meera Samanther said marital rape is not a criminal offence in Malaysia, noting that Section 375A of the Penal Code only criminalises the act of a husband hurting his wife, or putting into her the fear of death or hurt, in order to have sexual intercourse with her.
"It's not the act of rape that's an offence; it's putting the fear," Meera told Malay Mail Online.
"There's this view that women are property of husbands. That archaic view is still there," the women's rights activist added.
Meera also said the Joint Action Group for Gender Equality, a coalition of women's rights groups, has been lobbying since the 1980s for marital rape to be criminalised.
Criminal lawyer Datuk Geethan Ram said he knows of cases where both Muslim and non-Muslim women lodge police reports about being raped by their spouses, but the complainants do not continue to have their cases prosecuted in court.
"In most instances, they want a report to be used in their divorce application or proceedings," he said.
The former deputy public prosecutor said women do not want to proceed with prosecution of their rape complaints because some of them are homemakers who are financially dependent on their husbands and noted that even when their spouses are charged with rape, they still have to continue living together.
"[There's also the] misconception that they are duty bound to 'provide' sex since they are married," said Geethan, noting that this misconception is not unique to Muslim women but is prevalent among "most women, even the educated".
http://www.themalaymailonline.com/malaysia/article/hizbut-tahrir-muslims-can-force-sex-on-their-wives#sthash.eIk6r5SC.dpuf
---------
Female flight dispatchers doing Saudi Arabia proud
27 April, 2015
Twenty Saudi women are attending a 13-week intensive course to become flight dispatchers at Aviation Pioneer Academy in Jeddah.
Eight of them have already received licenses to work as flight dispatchers.
Flight dispatcher Nouf Allam said she got inspiration for the job from her father who was a pilot.
Manal Kutbi, spokesman of the academy, said more women are interested in such courses.
"Dispatchers play a big role in helping the pilots fly aircraft by providing him with the necessary information, including weather conditions," she said. "The job requires good concentration and precision."
Dispatchers keep pilots from flying into turbulence, volcanic ash and thunderstorms. They also save them from running out of fuel or arriving at airports where runways are icy. They serve as the pilots' eyes and ears on the ground.
Dispatchers also watch the conditions at the destination airport, and propose alternate airports where the plane could be landed during an emergency. They can order a pilot to divert or reroute the plane, said an expert.
When the plane is in the air, the dispatcher tracks it. When a pilot radios in that he has a sick flight attendant or an unruly passenger, the first person he speaks to is the dispatcher.
http://www.arabnews.com/featured/news/738461
---------
Young girls in Afghanistan are skateboarding to fight for gender equality
27 April, 2015
For women in Afghanistan, riding a bicycle is a big no-no.
On the spectrum of cultural taboos, it ranks between driving a car and keeping company with a man who is not a relative.
But no one ever said anything about riding a skateboard. Frankly, so few people owned them in the country's capital, that it was never an issue.
Now, thanks to non-profit Skateistan, girls from marginalized and displaced families can learn to ride for free at the largest indoor sports arena in Afghanistan. And they become all the more badass for it.
Photographer Jessica Fulford-Dobson visited Skateistan's Kabul location, one of the largest indoor sports sports facilities in the country, in 2012 and captured these portraits of the participants.
Skating in Afghanistan?
In 2007, Australian skateboarder Oliver Percovich relocated to Kabul when his former girlfriend took a job there. He began cruising on his skateboard to pass the time, and noticed crowds of children marvel as he passed. They would follow him around, asking for rides and lessons.
Shortly after, Percovich dedicated himself to the creation of a small non-profit skate school, the country's first. Using the three boards he brought with him from Australia, he began teaching a handful of young adults on the streets of Kabul. Fired up by their rapid progress, Percovich, who the kids call "Ollie," set out to build an indoor skatepark and education facility.
Using land donated by the Afghan National Olympic Committee, his dreams came to fruition in October 2009. Today, the organization operates schools in Afghanistan, Cambodia, and South Africa, and reaches 1,200 youth each week.
Blazing a new trail
The opportunity is especially meaningful for the school's female students, who make up 40% of the class. For them, the skatepark serves as a platform for personal development.
As recently as 10 years ago, almost all women were excluded from education systems and institutions in Afghanistan. Skateistan seeks to overcome those deep social barriers by bundling academics and skateboarding in one school.
Students enrolled in lessons may also participate in an arts-based curriculum, which focuses on developing the tools young people need to express themselves, think critically, and solve problems abroad in their own backyard. In addition, Skateistan offers an accelerated learning program and a leadership initiative.
The little girl shown below was just seven years old at the time the photo was taken. She's since passed three educational grades and enrolled in the national school system - an incredible accomplishment. Photographer Fulford-Dobson credits her success in part to skateboarding.
"I met so many impressive woman and girls in Afghanistan," Fulford-Dobson wrote in a press release, "[who were] passionate about being seen as strong and willing to fight for themselves, rather than as victims of circumstance."
She met teachers "as tough and determined as any man," and children who lit up with the unadulterated fun that can only come from sports.
To learn more about the skater girls, you can check out Jessica Fulford-Dobson's website and her upcoming book, "Skate Girls of Kabul." A photography exhibition of the same name is now underway at Saatchi Gallery in London.
http://www.businessinsider.in/Young-girls-in-Afghanistan-are-skateboarding-to-fight-for-gender-equality/articleshow/47045640.cms
---------
Child Marriage Is Dealt another Blow Thanks to New Law in Malawi
27 April, 2015
A law passed last week in the Republic of Malawi—a small, landlocked country in southeast Africa—seeks to put an end to the custom of child marriage while also granting wives and husbands equal status.
Despite strong opposition by traditionalists, the Marriage, Divorce and Family Relations Act of 2015 was passed by parliament in February and signed into law by Malawi President Peter Mutharika. It sets the minimum marrying age at 18, allows widowed women to inherit their husband's property, and adds a requirement that all marriages be registered with the government.
The new legislation is a welcome development for Malawi, a country where one in two girls is married before the age of 18, and some tie the knot at just 12 years of age. Malawi has the eighth highest child marriage rate in the world, according to a report released in March by Human Rights Watch, which has long been pressuring the Malawi government to change its marriage laws.
High child marriage rates in developing countries are usually the result of poverty (half of Malawi's population—some 15 million people—live in poverty), lack of access to education, limited employment opportunities for girls and women, and a male-dominated cultural tradition that regularly views women with less value, according to the HRW report. As a result, young girls are often trapped in marriages against their will and become victims of domestic and sexual violence.
Once they reach puberty, parents consider their girls as adults ready for marriage," humanitarian activist Milliam Chilemba told the AFP news agency. "Many parents cannot afford to pay [school] fees for their girls, and they opt to marry off their children to relieve themselves of the burden."
Girls being forced into early marriages have long been an international problem. Nearly 15 million girls around the world are married each year before they turn 18, according to USAID. In developing nations, one in every three girls are married before 18, with some as young as eight or nine years old. Forty-one percent of these marriages occur in East and Central Africa, 29 percent in Latin America and the Caribbean, and 15 percent in the Middle East and North Africa.
The research also shows that, aside from being subject to abuse and sexual violence at a young age, girls married before 18 are at a higher risk of dying from childbirth complications and being infected with HIV/AIDS. There are also high rates of infant mortality and malnutrition among young mothers.
The issue is a global one that also touches down within our borders.
A 2011 survey conducted by the Tahirih Justice Centre found that as many as 3,000 forced marriages occur every year within immigrant communities across the United States, many of them involving children. While the child marriage problem here is small compared with other countries, there are still troubling consent laws on the books, reports The Atlantic. For example, Kansas set the minimum legal age for marriage at 15 in 2006 but previously had no minimum age for marriage if the minor had parental or judicial approval. Most U.S. states allow marriage at 16 or younger with parental consent or court permission; California and Arizona have no minimum age at all with parental consent or court permission.
"By enacting a new marriage law, Malawi is telling the world that it is ready to protect girls from the abuse and exploitation that result from child marriages," said Agnes Odhiambo, senior women's rights researcher at Human Rights Watch.
Other recent cases around the globe continue to highlight the issue: A 13-year old girl in India made headlines by begging her teacher to help her stop a marriage her parents had arranged. In Jharkhand, the state where the girl lives, 40 percent of women are married by the age of 18, according to the U.N. Indian law prohibits child marriage, but very few cases are actually prosecuted; the practice, driven by cultural tradition, continues with little legal consequence.
The same could happen in Malawi, even with the new law—which is why HRW is pushing for constitutional amendments that will make it more than just window dressing. "[The Malawi government] should go a step further and amend the constitution to provide stronger protections to girls against this harmful practice," said Odhiambo.
This is a key step, as constitutional provisions and cultural traditions often override such laws in Malawi. Most child marriages are currently arranged by parents or guardians, which is legal under the constitution, and arranged marriages for girls under 15 are merely "discouraged" under the provision. HRW would like to see constitutional amendments that say partners in a marriage should each have "full and free" consent to marry or not, and it should be made clear that no one under 18, even with parental consent, can be married.
Progress is also being made on the issue in other parts of the world. The Malawi law's passage comes on the heels of Pakistan's announcement that clerics who officiate child marriages will face prison time and fines.
HRW and other activists are taking marriage advocacy one step further. They are demanding that the Malawi government remove parts of the new act that discriminate against lesbian, gay, bisexual, transgender, and intersex (LGBTI) people. Under the act, marriage is only permitted between "persons of the opposite sex," and a conviction under Malawi's Penal Code—which criminalizes same-sex relations—can be used as evidence in a divorce proceeding.
"In passing this marriage law, Malawi's government has itself recognized its obligation to uphold international law," Odhiambo said. "But the provisions that discriminate on the basis of gender identity and sexual orientation flagrantly violate internationally recognized human rights, reinforcing the perception that LGBTI Malawians are second-class citizens."
https://www.takepart.com/article/2015/04/24/new-child-marriage-laws-malawi
---------
'Isis' schoolgirls: Missing British teenager tweets picture of her Syrian takeaway
27 April, 2015
One of the schoolgirls who disappeared from her East London home in February to travel to Syria has tweeted a picture that appears to confirm she has joined Isis.
Amira Abase, 15, posted a photograph of a takeaway meal including fried chicken and chips which she said she was sharing with a 16-year-old girl who recently tweeted that she wanted to "behead some kafirs [unbelievers]".
Amira left her home in East London with friends Shamima Begum, 15, and Kadiza Sultana, 16, in February and is believed to have travelled through Turkey and reached the Syrian city of Raqqa.
She tweeted the picture under the name Bintt Abbas and captioned it: "dawla takeaway w/ @um_ayoub12." Dawla is one of several names for Isis or its self-declared Islamic State, while @um_ayoub12 is the Twitter identity of the 16-year-old dinner companion.
The Twitter post comes a few days after it was reported that Amira and her two runaway "Jihadi bride" classmates are training with the feared all-female religious police, the al-Khansa Brigade.
Women and girls in the unit carry automatic weapons while covered head to toe in black and patrol the streets to ensure the populace sticks to rigid religious dictats. Women found to be in contravention of the rules, such as a ban on wearing heels, are subjected to 40 or more lashes.
http://www.independent.co.uk/news/uk/home-news/missing-schoolgirls-one-of-the-teenagers-tweets-picture-of-her-syrian-takeaway-10205578.html
---------
US "Unveiled" Show Tells Muslims' Stories
27 April, 2015
CAIRO – Giving voice to American Muslim women, a California show will depict the negative portrayals of veiled women post 9/11 in a bid to create dialogue, amid soaring Islamophobia.
"I hope it's entertaining and I hope it creates dialogues," Rohina Malik, Muslim Chicago playwright and actress, told Times Herald.
"I'm looking forward to the after-show discussion where we can really have an honest conversation."
Malik was talking about her play, Unveiled, that goes on stage on Sunday, April 26, at the Benicia Historical Museum at the Camel Barns.
Wrote in 2008, the play tells the stories of love, compassion, culture and tolerance from the eyes of five Muslim women.
Its concept comes from an expression in the Qur'an, which asks people to remove the veil from their heart.
"The world premiere sold out so quickly, and I realized that Americans are really hungry to hear from a Muslim voice, especially with the current climate," said Malik, who's Indian and Pakistani in ethnicity.
Mixing fiction and personal experience, the one-woman show aims to highlight abuse faced by veiled Muslim women in the US.
"People are stereotyping and it's really dangerous," she said.
"Discrimination never starts with a gun or a knife, it starts with the environment."
Malik's free show at Benicia Museum is co-organized by a continuing global Abraham Path Initiative by the St. Paul's Episcopal Church, which encourages the understanding of Abraham's faiths, mainly Christianity, Judaism and Islam.
"It's important to learn about people's cultures from hearing their stories," Rev. Jeanne Forte said.
"Especially post 9/11, there's so much negativity portrayed in the media about Islam. I think it's really important to hear and learn the positive stories, especially from a Muslim woman."
Since the 9/11 attacks, US Muslims, estimated between 6-8 million, have complained of discrimination and stereotyping in their communities due to their Islamic attire or identities.
An Economist/YouGov poll found that a 73 percent of Americans believe that US Muslims are victims of discrimination amid recent attacks against the community.
A Pew Research Center study, Public Remains Conflicted Over Islam, has revealed that the majority of Americans know very little about Muslims and their faith.
http://www.onislam.net/english/news/americas/485223-us-qunveiledq-show-tells-muslims-stories.html
---------
50% of Gulf women employees eyeing top posts
27 April, 2015
Around 50 percent of women employees in the Gulf aspire for leadership positions in companies during the next seven years of their careers, a survey has found.
Pearl Initiative, a GCC-based private, non-profit organization, found that women occupy just 12 percent of CEO positions around the world.
Alarmingly, the number of women who have now stopped progressing in their career is two to three times more than that of men, according to the report.
However, international employment rate was found to be even between men and women.
Despite challenges, women in GCC countries appear to understand the importance of education and, therefore, have big ambitions when it comes to career.
Sixty-two percent of the respondents said they aspire to reach administrative positions, while 86 percent said education was a significant factor in their success and career progress.
The survey found 71 percent admitting their families had played a key role in their success at work.
On the other hand, 34 percent said they are unwilling to propel their careers at the cost of commitments such as family and children.
The report stated that 45 percent of the respondents believed there is some sort of acceptable flexibility to balance between work and social life, while 64 percent believed that society does not yet accept the idea of a working wife and mother.
The report was revealed during a regional forum held in Dubai recently which brought together Pearl Initiative and the United Nations Global Compact (UNGC).
The results and recommendations of the report are in line with many initiatives for the global empowerment of women.
http://www.arabnews.com/saudi-arabia/news/738386
---------
MCA Veep Must Apologise For Insulting All Housewives, Pakatan Insists
27 April, 2015
PERMATANG PAUH, April 27 — Pakatan Rakyat (PR) members accused today an MCA leader of criticising PKR president Datuk Seri Dr Wan Azizah Wan Ismail and by extension, all housewives in Malaysia.
Batu Tiga assemblyman Rodziah Ismail cited a report published on news portal Malaysiakini that she said had reported MCA vice-president Datin Paduka Chew Mei Fun insulting the role of all housewives in Malaysia, insisting that Chew issue an apology.
"She fails to understand the significance of a housewives' (sic) voice and the strength it can carry in a parliamentary sitting," the PKR assemblyman said in a statement, referring to Chew's purported insult to Dr Wan Azizah and all housewives.
"I hope she will apologise to all women especially housewives who have been...insulted," she added during the daily PKR press conference at the PKR Permatang Pauh media centre.
Penang PKR chief Datuk Mansor Othman also called the alleged insult a "personal attack" and derogatory to all homemakers.
"It's a big insult to housewives, a personal attack and really insults housewives in this country," he said.
The PR members, however, did not say how the news article had insulted Dr Wan Azizah and housewives; neither did the article quote Chew referencing Dr Wan Azizah in the context of being a housewife.
The Malaysiakini article only quotes Chew as saying that Dr Wan Azizah should represent the people and not just her husband and members of her family, after the latter announced that she would contest for the Permatang Pauh seat that was previously held by her husband, PKR de facto leader Datuk Seri Anwar Ibrahim.
The Permatang Pauh federal seat is considered a PKR stronghold after Anwar held the seat for 16 years on a Barisan Nasional (BN) ticket before he was sacked.
Dr Wan Azizah led the formation of PKR and recaptured the seat, holding it for another 9 years.
She later relinquished her role as Permatang Pauh MP to make way for Anwar after he was released from jail in 2008, and he went on to hold on to the seat until last February when he was convicted for sodomy and sentenced to five years in jail.
http://www.themalaymailonline.com/malaysia/article/mca-veep-must-apologise-for-insulting-all-housewives-pakatan-insists#sthash.8i2ATQni.dpuf
---------
Zalora Joins the Islamic Fashion Boom
27 April, 2015
According to 2013 data from the Indonesia E-Commerce Association , or idEA, e-commerce transactions in Indonesia that year stood at around $ 8 million.
Some 74 million Indonesians, or 30 percent of the population, use the Internet regularly. But currently, only 7 percent of the country's Internet users make online transactions — the rest are unfamiliar with e-commerce or don't trust it yet.
That, however, is expected to change.
"We believe that in the next five-to 10 years, e-commerce in Indonesia will grow 50-100 times," said, Fredrik Thomassen, chief executive of Zalora Indonesia, an online fashion retailer based in Singapore which operates across Southeast Asia.
Its Indonesian unit, Zalora.co.id, was launched in March 2012 and only continues to grow, said Thomassen
"Zalora is growing incredibly well in Indonesia, much faster than what we could have hoped for," he said.
"We see that the market has passed the inflection point and there is a wave of growth coming in.
"A lot more people are going online. Indonesia's [gross domestic product] is growing. People are getting richer and then they start to buy online."
The CEO claimed the site is currently ranked number one in Indonesia's online fashion market.
Muslim wear
Zalora Indonesia has more than 800 brands, of which 750 are local. One of the leading categories is Muslim wear, which "has grown at least [five fold] since last year," said Thomassen.
Anthony Fung, the retailer's managing director of buying, added: "More than 15 percent of our revenue comes from Muslim wear," of which Zalora offers more than 100 brands by local designers.
"We're very focused as a local company, bringing local brands and local designers online," Fung said.
"There is a huge demand for Muslim wear in Indonesia," said Fung. "So, we will continue to work with local designers to provide a wide variety of clothing items and accessories.
"It's all about being the fashion destination for Muslim wear in Indonesia."
The online retailer recently announced its collaboration with three leading designers or Islamic fashion: Jenahara Nasution, Restu Anggraini and Ria Miranda.
"These designers offer the whole spectrum of elegance, edginess, a good [combination of] colors and versatility," Thomassen explained.
The three designers created a Spring/Summer 2015 collection exclusively for Zalora Indonesia.
For Jenahara and Ria Miranda, this is their second collaboration with Zalora Indonesia; their first was to mark Idul Fitri last year.
"Sales were very good last year," Ria said. "It's because Zalora had great promotional strategies and their website is really easy to access."
This year, "[Zalora and I] conducted more in-depth research before creating the collection," the 29-year-old said. "We went through their customer profiles to find out what shoppers really want."
The result was showcased in a fashion show at high-end eatery Potato Head Garage, South Jakarta.
Ria's collection consisted of loose-fitted tops, A-line skirts and flowy outerwear in soft pastel colors.
"The collection is pretty basic and much simpler than my usual designs, so every item can be easily mixed and matched," Ria said. "I hope these clothes can cater to a wider market segment."
In the same fashion show, Jenahara presented her collection, "Natural."
"Bold colors are my signature [style]," she said. "But in this collection, I also use a lot of earth tones, such as khaki, dark brown, black and white."
The line consists of simple, clean-cut items, including mullet tops, and streamlined skirts and dresses that can also be easily mixed and matched.
"The clothes can be worn by both Muslim and non-Muslim [women]," Jenahara added.
For Restu, the project is her first collaboration with an online retailer.
"I'm so happy to be able to work with Zalora Indonesia," Restu said. "They're one of the main [online] stores in Indonesia and have a huge customer base."
Her collection, "Minimalist," consists of 50 Muslim work wear for women.
"Work attire for Muslim women is quite different: it is more loose-fitted and is meant to hide any curves," Restu said.
"Minimalist" is made of shirts with puffed sleeves, tailored pants, A-line skirts and jackets made of cotton, rayon and jersey. The latter are adorned with elbow-high slits that allow more movement for the wearer.
Restu is optimistic that e-commerce will help boost Indonesia's fashion industry.
"I believe e-commerce offers huge potentials for [Indonesian] fashion designers," she said. "These days, the traffic jams in large cities are so bad that people prefer to buy their clothes online."
All three collections are readily available at Zalora.co.id and are priced between Rp 299,000 and Rp 699,000 ($23-$54).
The retailer plans to expand its collection of Muslim wear five fold by the end of this year, while targeting a 25-fold increase by June 2016.
"Twenty-five times [growth] in two years is very exciting," Thomassen said.
http://thejakartaglobe.beritasatu.com/features/zalora-joins-islamic-fashion-boom/
---------
Daughter-in-law Not Entitled to Claim Maintenance from Father-in-law: Hyderabad HC
27 April, 2015
HYDERABAD: The Hyderabad High Court has ruled that there is no obligation on the part of the father-in-law to provide maintenance to the daughter-in-law. Equally, there is no obligation on the part of the paternal grandfather to provide maintenance to the grand children.
Justice T Sunil Chowdary made this order on a petition filed under Section 482 of CrPC seeking to quash the proceedings in a maintenance claim application pending before the First Class Judicial Magistrate, Nizamabad.
As for the case details, a Muslim woman was married to the son of the petitioner Masthan. The marriage was performed as per Muslim rights and customs in 2004. They were blessed with a child. Unfortunately, her husband died in 2006. She along with her child approached the First Class Judicial Magistrate seeking maintenance from her father-in-law under Section 125 of CrPC by claiming that they do not have any source of income to maintain themselves. The father-in-law (Masthan) moved the High Court seeking to quash the proceedings pending before the lower court.
As per Section 125 (1) of CrPC, an order for maintenance of wives, children and parents arises if any person having sufficient means neglects or refuses to maintain - a) his wife who is unable to maintain herself, or b) his legitimate or illegitimate minor child, whether married or not, unable to maintain itself, or c) his legitimate or illegitimate child (not being a married daughter) who has attained majority, where such child is by reason of any physical or mental abnormality or injury unable to maintain itself, or d) his father or mother, unable to maintain himself or herself, a Magistrate of the First Class may, upon proof of such neglect or refusal, order such person to make a monthly allowance for the maintenance of his wife or such child, father or mother, at such monthly rate, and to pay the same to such person as the Magistrate may from time to time direct.
Further the Magistrate may, during the pendency of the proceeding regarding monthly allowance for the maintenance under this sub-section, order such person to make a monthly allowance for the interim maintenance of his wife or such child, father or mother, and the expenses of such proceeding which the Magistrate considers reasonable, and to pay the same to such person as the Magistrate may direct from time to time.
Relying upon a 1996 judgment in Ved Prakash vs Leena Kahar case, the petitioner's counsel contended that there is no obligation on the part of the father-in-law to provide maintenance to the daughter-in-law, and hence the case filed before the lower court is not maintainable under law.
The public prosecutor submitted that the claim of the petitioners (daughter-in-law and her child) in seeking maintenance before the lower court falls outside the purview of Section 125 of CrPC. The father-in-law who have received notice remained ex parte.
After hearing the rival contentions and perusing the material on record, Justice Sunil Chowdary found that Section 125 of CrPC clearly indicates that legitimate and illegitimate children are entitled to claim maintenance from their father; the wife as well as the divorced wife is entitled to claim maintenance from her husband and age-old parents, who are unable to maintain themselves can also file a petition under Section 125 of CrPC claiming maintenance.
There is social and moral obligation on the part of the husband, father and son to provide maintenance to the wife, legitimate and illegitimate children and age-old parents respectively. There is no obligation on the part of the father-in-law to provide maintenance to the daughter-in-law. Equally, there is no obligation on the part of the paternal grandfather to provide maintenance to the grandchildren. The judge noticed that the relief sought by the respondents (daughter-in-law and grandchild) in the maintenance claim application falls outside the purview of Section 125.
"I am of the considered view that the respondents (daughter-in-law and grandchild) herein are not entitled to claim maintenance from the petitioner herein by invoking the provisions of Section 125 of CrPC, therefore, continuation of legal proceedings against the petitioner herein certainly would amount to abuse of process of Court.
The averments made in maintenance claim bereft all the basic ingredients of Section 125 of CrPC,'' the judge observed.
Taking into consideration the principles enunciated by the Supreme Court in RP Kapoor vs. State of Punjab case, Justice Chowdary allowed the petition by quashing the proceedings pending before the First Class Judicial Magistrate.
http://www.newindianexpress.com/states/telangana/Daughter-in-law-Not-Entitled-to-Claim-Maintenance-from-Father-in-law-HC/2015/04/27/article2785196.ece
---------
URL:
https://newageislam.com/islam-women-feminism/lankan-muslim-intelligentsia-back-woman/d/102695